If this is your first time building a website, you might want to use a website builder to get online easily (jump down for a list of recommended builders).
Choosing the wrong hosting solution can mean your site will load slowly or sometimes be unavailable. You might end up paying a lot of money for features you don't really need, or find that customer support isn't around to provide help when you need it.
With all this in mind, I've tested dozens of web hosting services to create this list of the very best for church websites.
What We Look For in the Best Web Hosting Services for Churches
During my search for the best web hosting plans for churches, I paid special attention to the following features:
Affordability. Your web hosting plan shouldn't put a strain on your budget. The hosts included in my list offer low prices, but provide a lot of value in terms of resources and extra features.
Reliability. You'll want your hosting provider to guarantee that your website will be up and running at all times.
One-Click Installer. A powerful tool like this ensures that you can easily set up WordPress, or a different content management system (CMS). It also allows you to install useful applications, such as calendars and image galleries, in a few simple steps.
Website Builder: Some hosts offer drag-and-drop builders with a wide range of themes and customization options, so you can get started on your site as soon as you sign up for a plan.
Security: If you accept donations through your website, you'll want to make sure it's secure so everyone's information is safe.
Good Customer Support: If you have a question or a problem, you'll want assistance right away, from a competent support agent.
InterServer's Standard web hosting plan
provides unlimited storage and bandwidth, as well as over 450 one-click-install apps, including popular content management systems such as WordPress and Joomla, as well as useful plugins like calendars, image galleries, and video sharing.
This plan is free for US-based nonprofits registered as 501(c)(3)s with the IRS.
You'll just need to provide the tax identification letter for your church. If you're not in the US, you'll be glad to know this plan is still very affordable.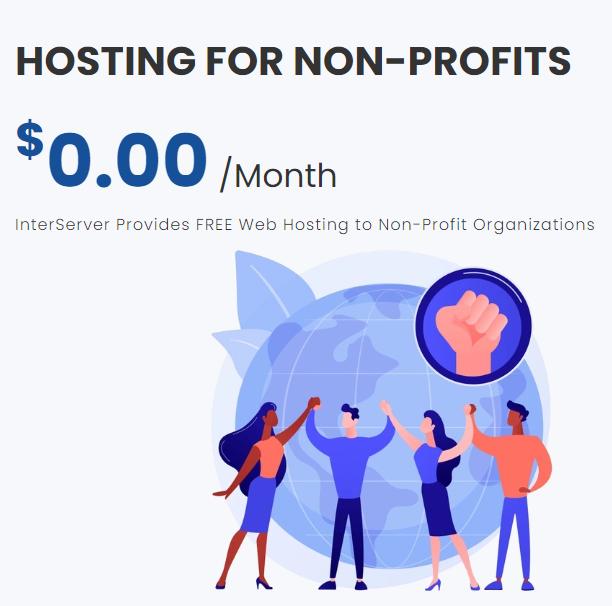 If you'd rather not use WordPress to build your site,
InterServer provides free access to the SitePad website builder, a drag-and-drop tool with over 300 different themes.
Here are some other interesting features InterServer offers:
Affordable monthly pricing:

If you're based outside the US, InterServer offers one of the cheapest monthly rates out there. With many other hosts, you'd have to pay upfront for several years of hosting just to get a good deal.

SSL certificates: You can set up a donation page and know that your donors' credit card information is safe.
InterShield Security: Includes a firewall, malware detection software, and an automatic virus scanner to protect your website from hackers.
For a full list of features, read our
in-depth InterServer review
.
By far the cheapest web hosting service on my list,
Hostinger offers three shared hosting plans
, and even the basic one is more than suitable to support a church website.
You can use Zyro, the simple drag-and-drop website builder that comes with every plan, to build your site.
All you have to do is choose from a library of professionally designed templates, and then upload your own content.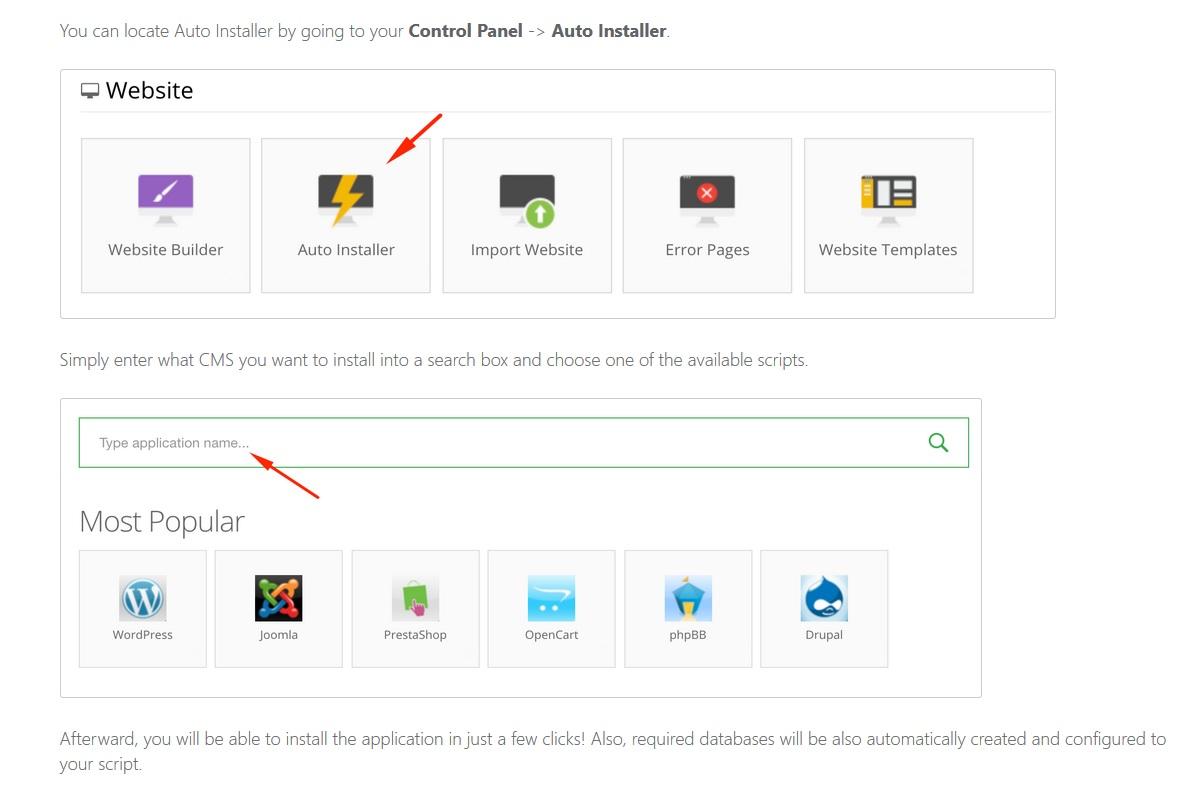 Hostinger's Single plan includes one website, one email account, 10 GB of storage, and plenty of extra features – but no SSL certificate. You can add one for a fee, or sign up for the Business plan, which gives you 30 GB and a free SSL. Let's take a look at what else Hostinger offers:
The hPanel control panel: This is Hostinger's proprietary control panel. It's similar to cPanel and just as easy to use.
Automated daily backups: If something goes wrong, you can always restore an older version of your website.
Specialized WordPress hosting plans: If you find the Zyro website builder restricting, you can choose one of Hostinger's WordPress-optimized plans. These include one-click installations for WordPress and hundreds of plugins, as well as automated updates.
To learn more about this host, read our
full Hostinger review
.
A2 Hosting's cheapest plan
provides 25 email accounts and unlimited storage and bandwidth, making it a great option for a church website.
cPanel and Softaculous are both included with all plans
so you can easily manage your domain and plugins, as well as one-click install useful apps
.
The A2 SiteBuilder, also available on all plans, gives you a variety of themes to choose from.

Last but not least,
if you represent a church that is registered as a nonprofit, A2 Hosting will give you a considerable discount
. What else does A2 Hosting have to offer?
SSL certificate: Your donors' payment information will be encrypted and safe from hackers.
Perpetual Security: A firewall, malware detection and removal software, and a tool that notifies you of any outdated and potentially vulnerable plugins on your website.
Spam filtering: A2 Hosting provides basic spam filters for your domain emails and gives you the option to purchase Barracuda, an advanced filter.
To learn more, read our
expert A2 Hosting review
.
Offering generous shared hosting plans and extensive support, HostPapa can help you quickly set up your website.
HostPapa's Starter plan
includes 100 GB of storage, unlimited bandwidth, and 100 email addresses, which is more than enough for a church website.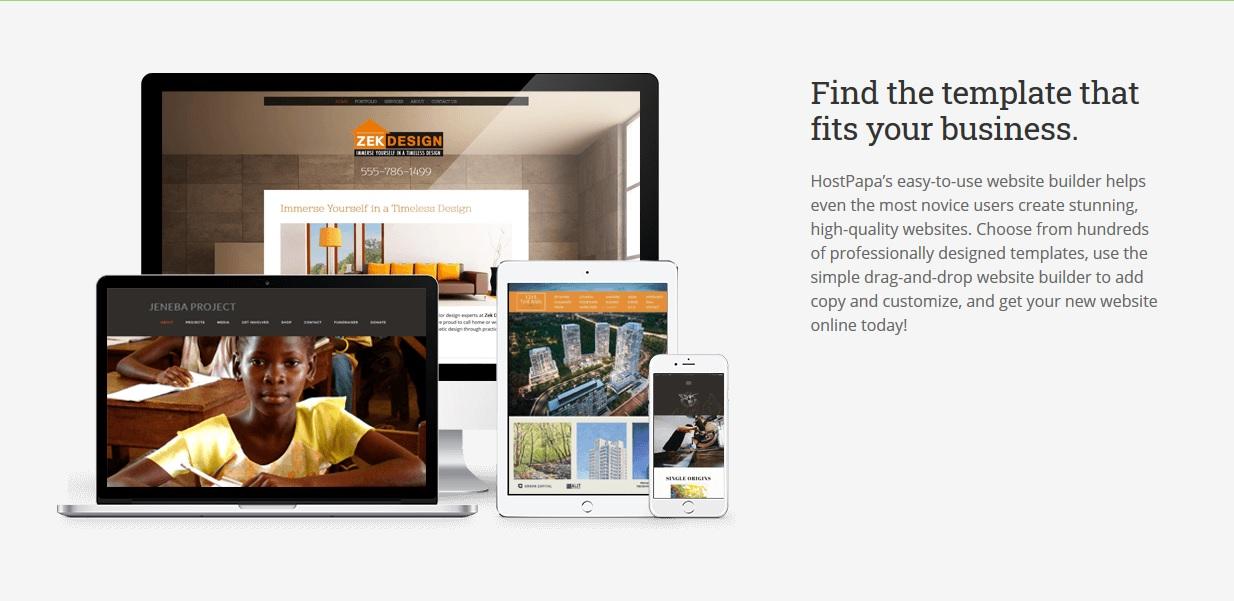 A number of additional features – including
cPanel, Softaculous, and a website builder with dozens of templates
– are included with all plans. You will want to pay attention to the renewal fees, though. The prices of the three shared hosting plans go up after the first year.
SSL certificate: This valuable security feature is included with all HostPapa's plans.
Improved security: HostPapa gives you advanced email spam filtering and a firewall on all plans.
Free 30-minute one-on-one training session with a PapaSquad expert: You can discuss the features included in your HostPapa plan, the best tools to use to build your website, how to navigate the dashboard and cPanel, or how to keep your site secure.
Want to know more? Don't miss our
full HostPapa review
.
SiteGround has a user-friendly interface that guides you through the process of creating and launching your website. From the moment you log into your SiteGround dashboard for the first time, there are step-by-step instructions about what to do next. If you ever get stuck, excellent customer support is available Unlike other hosts,
SiteGround doesn't charge extra for managed WordPress hosting.
If you're planning on using WordPress to build your church site, this could be a great option: the managed plans include free WordPress installation, automatic updates, and more features to make your life easier.
SiteGround's shared hosting plans
give you access to
Weebly
, one of the easiest site builders to use.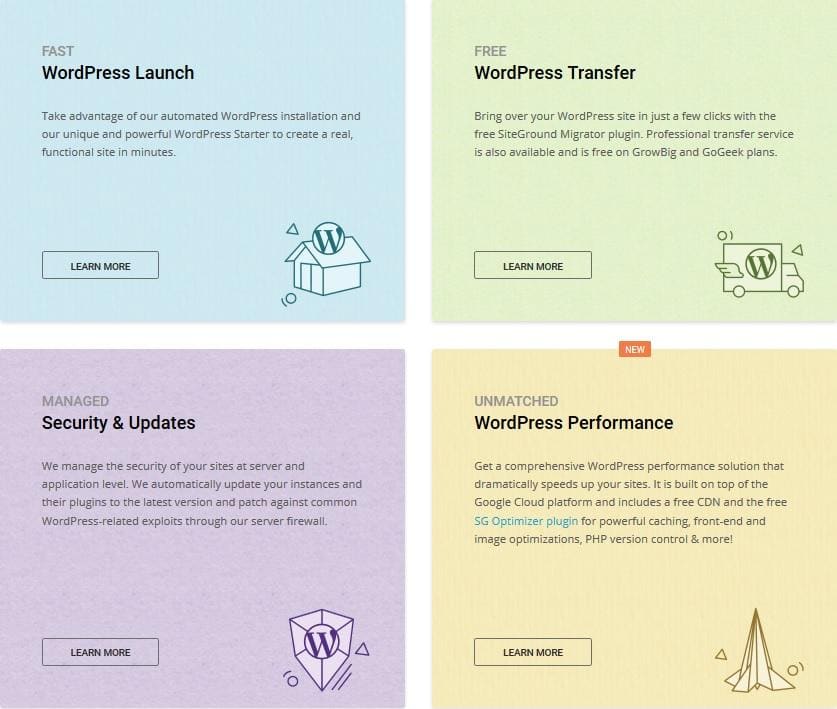 The StartUp plan for both shared hosting and WordPress hosting provides 10 GB of storage, and unlimited emails and bandwidth. Here are some other features that make SiteGround a top choice:
SSL certificate: Included for free with all plans.
Site Tools: SiteGround's proprietary control panel is easy to use. With just a couple clicks, you can install a CMS, set up security plugins, and update your software.
24/7 support: SiteGround's customer support agents are helpful and knowledgeable, so you can rest assured that if you have a problem with your website, it will be fixed as soon as possible.
For more features and tips, see our
in-depth SiteGround review
.
GoDaddy's shared hosting and WordPress hosting plans
are both suitable options for a church website, but since the price difference is minimal, I recommend the latter. WordPress hosting comes with the popular CMS pre-installed and includes daily backups, as well as automatic updates for WordPress and its plugins. GoDaddy can be tricky to work with because
some of the features it advertises as free – such as a domain name or an SSL certificate – are only free for the first year.
Before choosing a plan, be sure to consider your long-term needs.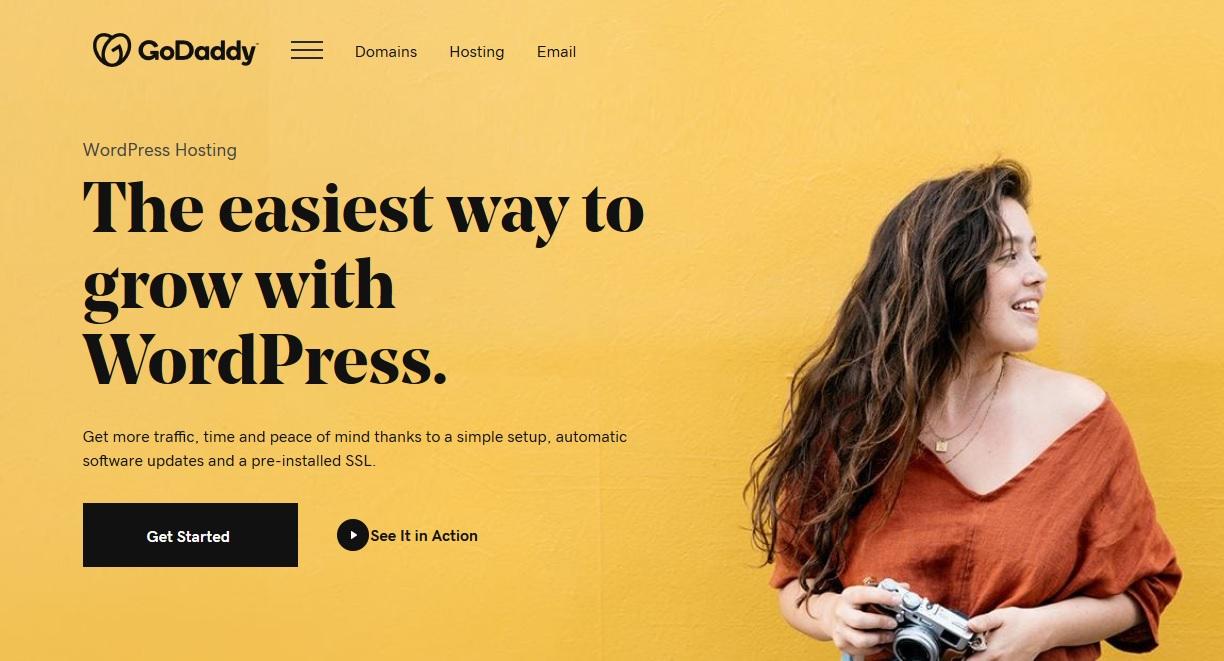 With GoDaddy's cheapest shared plan, you get 100 GB of storage, unlimited bandwidth, and access to cPanel.
GoDaddy Website Builder
, you can sign up for one of the builder plans, all of which include web hosting. Here are some other interesting features GoDaddy offers:
Beginner-friendly hosting: The hosting dashboard is clean and easy to navigate. If you experience any difficulties, there's 24/7 customer support.
Daily automated backups: GoDaddy creates backups for all websites, no matter the plan you choose.
99.9% uptime guarantee: For every hour of downtime in addition to the initial 0.1%, you get a 5% refund of the monthly cost.
To find out if GoDaddy is the right choice for you, read our
in-depth GoDaddy review
.
Even Scala Hosting's cheapest plan offers enough features to create and host a church website,
including generous storage space, a powerful website builder, and extra security features.
The Start plan offers the same features, plus unlimited space, for just a small increase in price.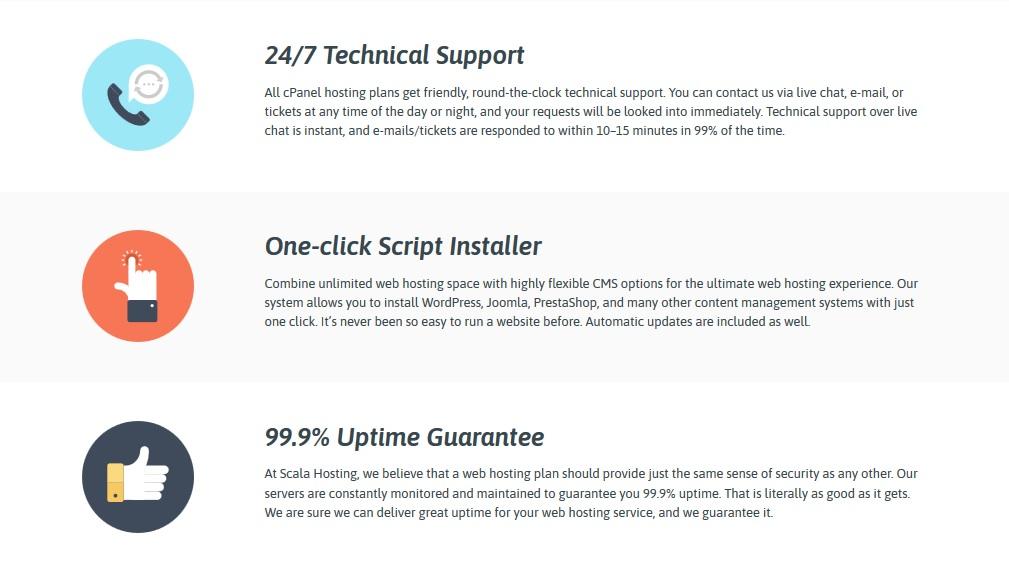 The one-click script installer can help you set up WordPress or another  popular CMS in a few simple steps. Access to cPanel and the
Weebly
 website builder is included with all plans.
Features:
SSL certificate: included for free on all plans.
SShield Security on higher-tier plans: Scala Hosting's proprietary security solution relies on AI technology to prevent more than 99% of attacks on your website.
Automated updates: Whether you use WordPress or any other popular CMS, Scala Hosting ensures that all plugins are up to date so that your website is less vulnerable to hackers.
For a full list of features, head over to our
expert Scala Hosting review
.
Which Host Is Best for Your Church Website?
If you're representing a US-based church registered as a nonprofit with the IRS, go with
InterServer's free standard hosting plan.
It includes generous resources, a versatile website builder, and an SSL certificate to keep your website safe. If you're working with a tight budget, but still want quality features and access to a website builder,
try out one of Hostinger's plans
. If excellent customer support is your priority,
look into one of SiteGround's plans
. If you're not using a managed WordPress plan, you can also take advantage of the versatile Weebly website builder included on all shared hosting plans.
FAQ
1. Is Wix good for church websites?
Yes, Wix is actually one of the best website builders. It has a variety of religion-themed templates you can use for your design, and the drag-and-drop editor simplifies the process of building a website. You can get started right away with Wix's free plan. To learn more about Wix's features, support, and pricing, you can read our expert Wix review.
2. How can I build a church website?
The easiest way to build a church website from scratch is to use a website builder, an easy-to-use tool designed to help you create and launch your site. A good website builder gives you access to features like templates, a drag-and-drop website editor, social media integration, and more. To find the right website builder for your needs, read our in-depth review of the best website builders for churches.
3. Why does a church need a website?
According to survey results on the CRCNA (Christian Reformed Church in North America) website, as many as 60% of church-goers use their church website to participate in the congregation's activities. Given the widespread use of the internet, church websites can help parishioners stay up-to-date with events and gatherings, share information, and appeal to prospective worshippers.
4. How much does it cost to build a church website?
Building a church website doesn't have to be expensive. There are quite a few web hosting companies that offer excellent services starting at several dollars per month. Some of them can host your church website for free, or at a significant discount, if your church is registered as a non-profit. In addition, most plans also include easy-to-use drag-and-drop website builders. If you're not sure which host is the best choice for you, check out our list of the top 10 best web hosting services.