You definitely don't want to pick the wrong website builder for your church site. Why? Not only could it be a waste of precious time you could be investing in your community, but it may also compromise your financial data.
To avoid these potential issues, you need to make sure the website builder you choose is trustworthy, but also has all the features to make your church site the best it can be – everything from newsletter signup to a video player for your sermons.
I tested dozens of website builders to bring you this list of the five which have what it takes to build a secure, engaging church website.
Short on Time? These Are Our Top Website Builders for Churches in May 2021:
Wix – Has over 900+ fully customizable templates, including 20 designs for church and community websites
Squarespace – Offers great ways to keep in touch with your church members, including newsletters and custom contact forms
SITE123 – Lets you easily implement donation forms, even on the free plan
What We Look For in the Best Website Builders For Churches
Along with my Website Planet colleagues, I have tested numerous website builders to see which ones offer the most important features for church websites:
Ease of Use: These builders have intuitive interfaces that allow you to get your church website online quickly, even if you have no previous experience.
Mobile-friendly designs: You need a site that looks good on any screen size, so your parish members can easily view it on-the-go.
Customization options: These builders let you edit colors, fonts, and other visual details that can reflect the personality of your church community.
Scalability: These builders let you easily upgrade your plan as your congregation grows.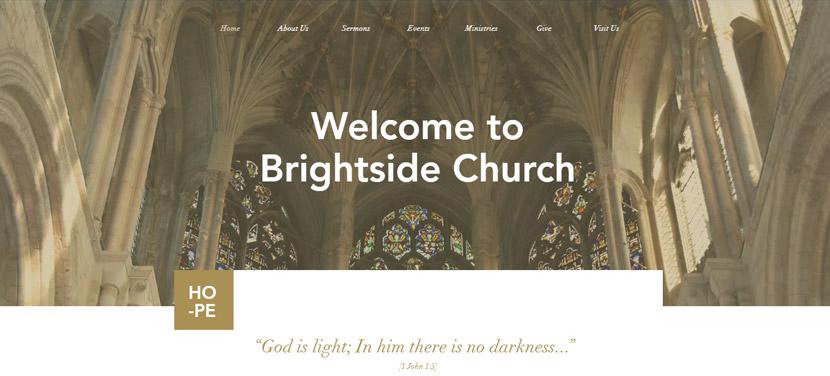 Wix gives you two options for building your site. The easier one is Wix ADI (Artificial Design Intelligence) that generates a website for you based on a series of questions related to your church.
If you prefer, you can choose a template and customize it in the drag-and-drop editor to make it your own. Some templates come with prebuilt features, such as a donation page, event calendar, social media links, and even a place to share your sermons.
To add even more functionality to your site, you can easily add apps from the Wix App Market, such as social media streams, holiday badges, and customizable welcome messages.
Notable Wix Features
Templates designed especially for church sites – Wix is the only builder on this list that offers church-specific and community-focused designs. You'll find 20 in the Religion and Non-Profit
Media sharing – Upload or embed audio and video content, or host live streams of your weekly gatherings so church members and guests can join you at home or on the go.
Forums – Give your parishioners a place to interact online. You can have both public and members-only areas dedicated to prayer requests, news, and questions about religion.
Event management – Make it easy for members to learn more about upcoming church events and register for them. You can also track RSVPs, sell tickets, and send out reminders before your big gathering.
Donor support options – Use your site to show all the ways members can support your church, including online donation forms, email, text messages, and in-person donations.
Read our in-depth Wix review to learn about other apps and features you can add to your church site.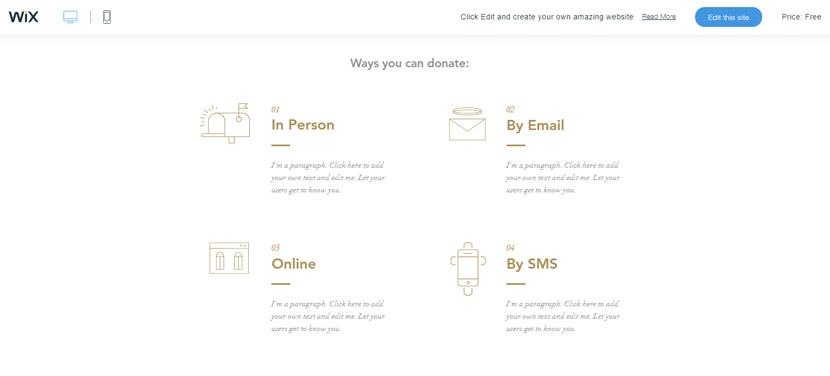 Offers a Free Plan or Trial Period?
✔
Lets You Collect Donations?
✔
Number of Templates
900+
Starting Price of Paid Plan

$

8.50
A word of warning: Once you've chosen a template using the Wix Editor, you can't switch it later. You can, however, customize it to make any changes you like. If you use Wix ADI, though, you can switch themes (color variations) and page layouts.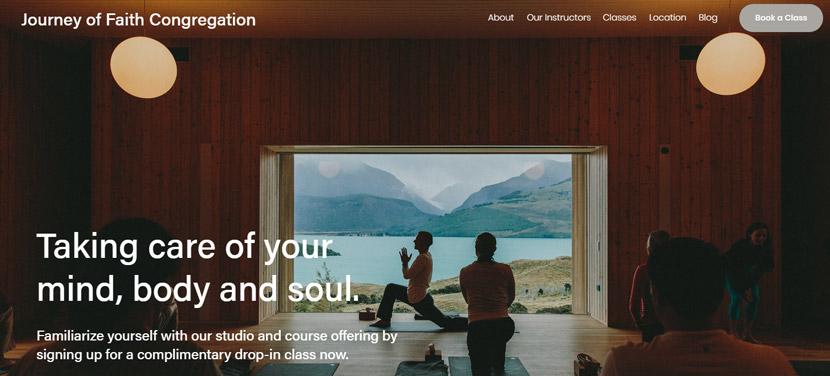 Squarespace is known for its collection of 100+ professionally-designed templates. It doesn't offer any specifically religion-themed templates, but you can choose any design you like and customize it with your own images. No matter what template you choose, you'll be able to take advantage of any of Squarespace's built-in features, including appointment bookings, event pages, and social media integration.
The Squarespace editor has a clean, uncluttered interface. The structured templates and built-in integrations save you from unintended design mishaps and technical issues that can come from using third-party apps.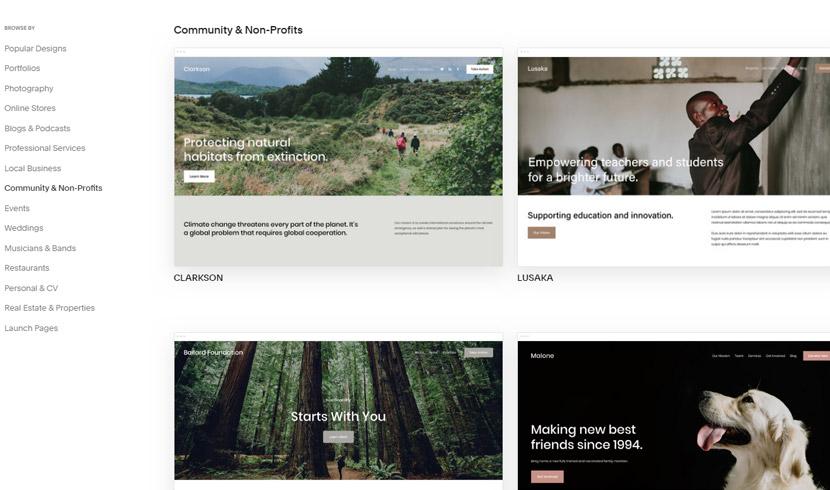 Notable Squarespace Features
Excellent mailing list management – Send out church event invitations, special announcements, and regularly-scheduled parish newsletters.
Donations and recurring payments Set up pages for one-time donations and recurring payments so church members can make pledges when it's convenient for them.
SEO Features – Squarespace lets you customize your page titles and descriptions; this can help people who are looking for a place to worship find you via localized searches. There's also an SEO checklist to help you identify relevant keywords and optimize site content.
Discover more features in our full Squarespace review.
Offers a Free Plan or Trial Period?
14-day free trial, no credit card required.
Lets You Collect Donations?
✔
Number of Templates
100+
Starting Price of Paid Plan

$

12.00
Squarespace doesn't have a free plan, although you do get a free 14-day trial period. You'll also need to upgrade to a Business or Commerce plan to accept payments on your site, and transaction fees apply to donations.
#3: SITE123 – Lets You Build a Site in a Matter of Minutes
If you want a quick, yet fully-featured website, SITE123 could be the builder for you. It's very easy to use, especially if you're short on time or technical experience. There aren't any religion-themed templates, but you can customize any of their 175+ templates with your own image uploads or its library of royalty-free content.
I was impressed with how quickly I could add useful features such as clickable maps, a music player, and worship team bios. You can even include call-to-action buttons that make it easy for visitors to reach you by phone or social media accounts. In our expert SITE123 review we provide some extra tips for easy website customization.
Notable SITE123 Features
Easy-to-implement donation forms – Not sure how to set up a donation form? No worries, SITE123 offers pre-made forms you can customize with church images and a choice of donation amounts.
Ready-made content pages – Ready-to-implement pages contain placeholder content you can modify for your specific needs, such as event promos, faith testimonials, and even a countdown page for your next church gathering.
Historical timelines – You can show your faith community how you've grown over the years with an interactive timeline page that breaks down the most important achievements you've made along the way.
Single or multi-page sites – If you're just starting out, you can build a basic single-page site that includes the most important features, such as a contact form, map, and mass schedule. As you grow, you can upgrade to a multi-page site.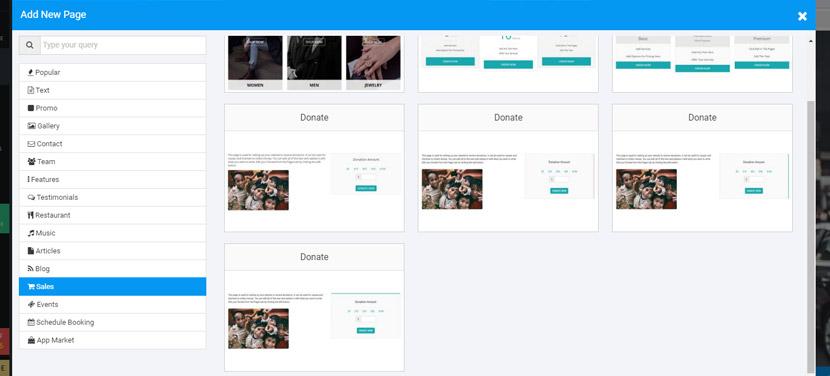 Offers a Free Plan or Trial Period?
✔
Lets You Collect Donations?
✔
Number of Themes
175+
Starting Price of Paid Plan

$

12.80
#4: Jimdo – Use the AI Builder to Speed Up the Site-Building Process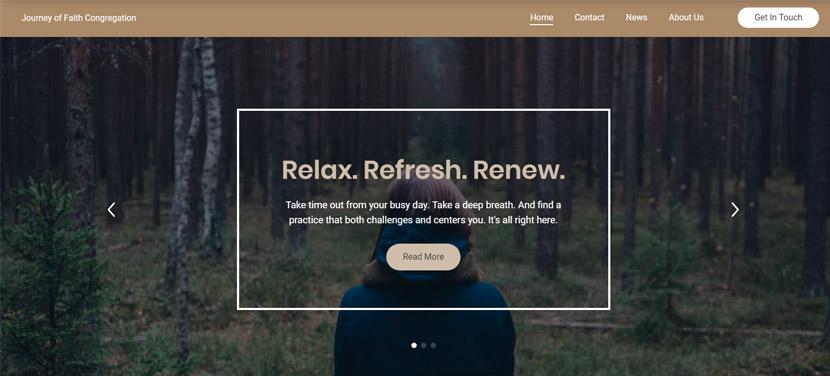 Like Wix, Jimdo gives you a choice between two ways to build your site. Its AI (Artificial Intelligence) site builder can get you online much faster with a design that's tailored to your preferences.
The template-based site builder lets you really dig into the details of your site. You can choose any of its 40+ templates – there are no religion-themed ones, unfortunately, but each template has several variations (over 100 collectively) that you can customize with your own images and content. You can also switch templates at any time without losing any of your site's content.
Jimdo is intuitive and very easy to use, but if you need a little extra guidance, there are plenty of helpful tutorials on the site.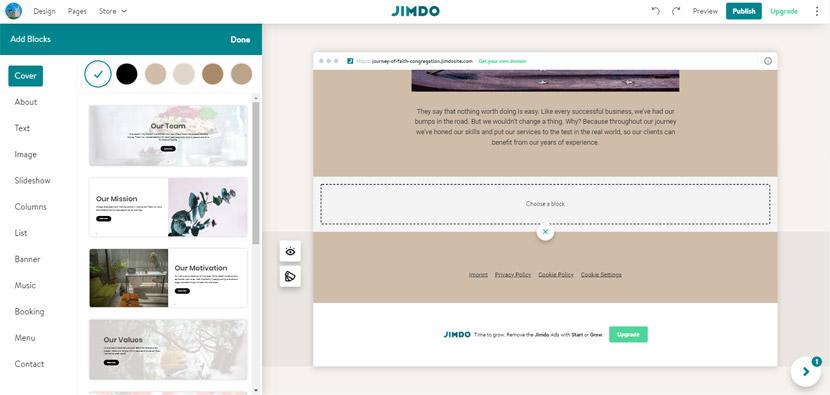 Notable Jimdo Features
Build your site using existing social media content – Already have a Facebook page, Spotify playlist, or Instagram profile for your church? The AI-powered builder lets you easily import cover images and banners, streaming music links, and videos into your new website.
Form Archives– You can check all your contact form submissions from the site dashboard, just in case you missed any important messages or contact information.
Privacy and security settings – Although Jimdo is looking out for you, you can let your visitors know you're looking out for them too. You can give them the option to disable tracking cookies, and even offer password-protected areas with exclusive content for your donors or church groups.
Offers a Free Plan or Trial Period?
✔
Lets You Collect Donations?
✔
Number of Templates
40+
Starting Price of Paid Plan

$

0.00
Keep in mind that once you choose between the AI builder or the standard Jimdo editor, you won't be able to switch your site to the other editor. You can learn more about it in our in-depth Jimdo review.
The AI builder requires you to upgrade to an Online Store plan to use payment gateways, while the standard editor lets you embed widgets to enable donation buttons, even on lower-tier plans. So, while the standard editor might take a bit longer to use, it will give you access to more apps and integrations.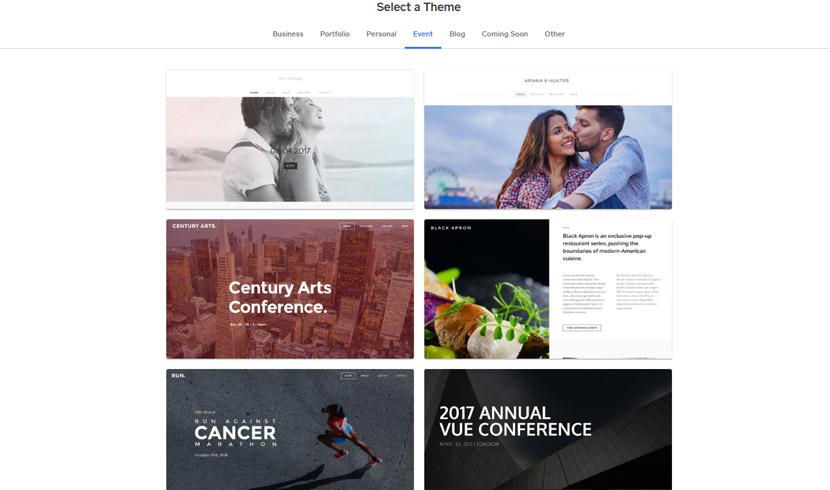 [/VendorExternalUrl]You can modify any Weebly theme to your liking.
Weebly's slick editor offers drag-and-drop content blocks for better design flexibility and control. It's also very beginner-friendly, so instead of having to spend a lot of time figuring out the basics, you can focus on adding content your visitors will enjoy, such as slideshows, blog posts, and worship team pages.
Weebly offers a nice selection of third-party apps as well, including donation buttons and a high-definition video player. You can even offer your church members remotely-hosted audiobooks and ebooks from Scribd.
Notable Weebly Features
Customizable forms, polls, and surveys – Create custom forms to gather opinions, collect church event RSVPs, and encourage your site visitors to get in touch.
Built-in live chat – Enable a live chat box on your website so visitors can interact and even send prayer requests while you're away from the computer.
Site Booster – This app from the Weebly App Center, helps your site get found more easily in search engines, but also in popular map apps, so even passers-by can stop in for prayer.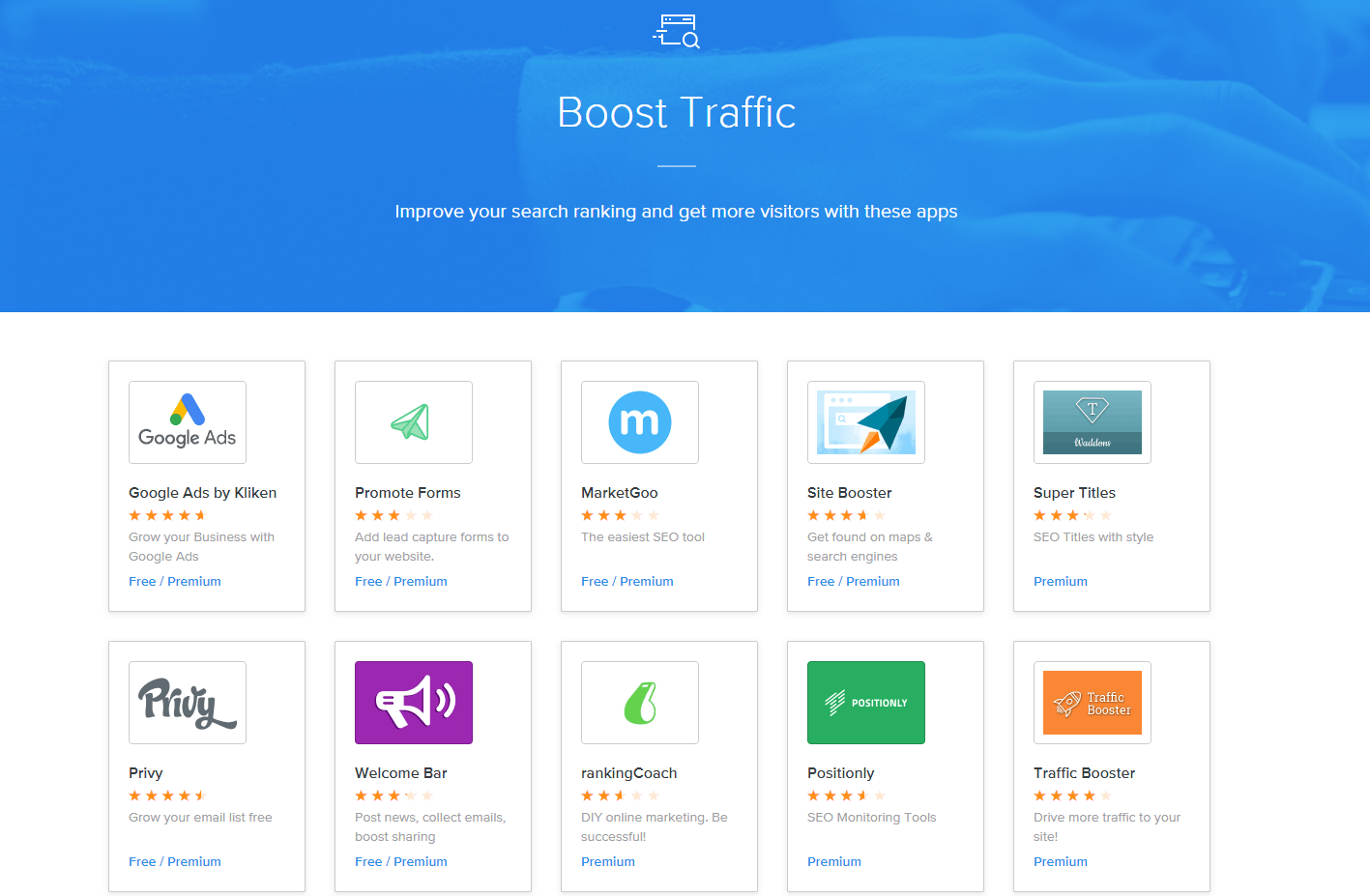 While Weebly has a very limited theme selection (only about 40), and none are related to religious sites, you can purchase a third-party theme from a marketplace like ThemeForest and upload it into Weebly.
Offers a Free Plan or Trial Period?
✔
Lets You Collect Donations?
✔
Number of Themes
40+
Starting Price of Paid Plan

$

6.00
Final Recommendations
Now that you know you don't have to spend a lot of time and money to create a church site, which website builder do you choose? Here are my recommendations:
If you want a church website that's packed with content but also affordable and simple to maintain, Wix offers everything you need. The religion-themed templates give you a variety of beautiful designs to work with. Plus, there are lots of apps, in-depth tutorials, and customer support options should you need it.
If you want a professional-looking site with excellent blogging features and the ability to collect recurring donations, Squarespace is a great choice. The combination of attractive design with powerful features makes this builder ideal for churches trying to grow their online presence.
Do you need a logo for your church? Learn how you can make a church logo for free.
Here's a final look at the website builders I've covered here, including the best features each has to offer.
| | |
| --- | --- |
| | Standout Feature(s) for Church Websites |
| Wix | The only builder featured here with religious-themed site templates |
| Squarespace | Robust mailing list management lets you set up carefully-curated lists for newsletters and subscription-based content |
| SITE123 | Ready-made pages let you modify placeholder content to suit your churchgoer's needs. Great donation form options, too. |
| Jimdo | You can speed up the site-building process by importing content from your church's social media and streaming music sites |
| Weebly | Site Booster app helps you get discovered by worshipers both in search engines and on popular map apps |
FAQ
How do I create a website for my church?
Thanks to the user-friendly builders listed above, creating a website for your church is a quick and hassle-free process that doesn't require technical experience. All of these platforms have easy-to-use editors that enable you to choose a design and customize it to your liking, and if you're really short on time, web builders like
Wix
and
Jimdo
can generate a website for you in a matter of minutes. Most importantly, these builders include a robust set of features that can help you interact with the churchgoers, accept donations, grow your congregation, and much more.
Is Wix good for church websites?
Wix is an excellent option for creating a church website because it offers a variety of religion-themed templates in its
Religion and Non-profit
section of the template gallery. It also offers plenty of features that can be extremely beneficial for church websites, such as donation pages, event management, the ability to embed social links and videos to grow your online presence, and the option to host live streams of your weekly sermons.
How do I create a free church website?
The website builders we singled out here have either free plans or free trials available, so they provide relatively affordable ways to create a church website. Wix, for example, offers
a free plan
with some useful perks such as video embedding and SEO Wiz, but it also comes with ads and it doesn't allow you to accept online payments. Weebly's
free plan
includes the ability to add contact forms and SEO features, but if you want to connect a custom domain and accept online payments, you'll have to subscribe to Pro plan or above. If you decide to get a paid subscription, you can still cut down on your expenses by checking out
our coupon page
.
What makes a good church website?
It all depends on your needs and intentions, but generally, a good church website should have a clean and professional look and it should be easy to navigate. Also, it's important to offer different ways of interaction with your community via features such as forums, event promos, call-to-action buttons or newsletters. It's always helpful if your site uses SEO best practices so that existing and potential church members can easily find you online.
If you're still unsure and want more web building options, take a look at our list of the bestwebsite builders for 2021.