you need to be careful because they could have the exact same problems you're trying to get away from.
You don't want to sign up for a plan with a new web host only to discover your site doesn't load fast enough or that you have to deal with extended periods of downtime.
You definitely don't want to find out that support is unavailable when you need it most
, or find yourself stuck with a "support agent" who has no idea what you're talking about. That's why I decided to test as many of Vultr's competitors as I could to see which ones could give you a better experience. I eventually cut it down to the top six.
Short on Time? These Are the Best Vultr Alternatives for 2023:
Kamatera – Fully customizable and scalable Cloud VPS with incredible uptime.
Liquid Web – Reliable managed hosting with fast loading speeds and near-perfect uptime.
Cloudways – Fully managed cloud hosting with 24/7 support.
What We Look For in the Best Alternatives to Vultr
Reliable uptime. Even though Vultr guarantees 100% uptime, they sometimes experience issues with server availability. I have chosen hosts that provide much better performance.
Better support. Issues with Vultr's support include slow response times, unhelpful replies, and even unwarranted account deletion. Many of the hosts below have much stronger support structures.
Flexible backups. Vultr claims to have a premium backup service, but you're unable to backup or restore individual files and only your two most recent backups can be restored. I've picked hosts with better backup features.
Managed hosting. You might prefer to do your own server maintenance, but since managed hosting can be a huge time (and headache) saver, I've included some of these options on my list.
Kamatera provides powerful Cloud VPS hosting
that's completely customizable and scalable. Whereas Vultr offers rigid plans with set resources for its Cloud VPS,
with Kamatera you can simply set the amount of RAM and storage you need when creating your server
. You can scale this up or down at any time, and changes take place instantly.
There are also two different managed cloud plans available
. The Managed Cloud Basic plan covers the core management of your server, while the Managed Cloud Extended plan provides further support for your OS, control panel, and more. However, Kamatera's managed hosting is quite expensive, especially in comparison with the other managed services on this list.
Kamatera also offers a daily backup service at a low monthly cost
. This backs up your server's data to an external storage array. You can then restore either the full backup or individual files, making it much more flexible than Vultr's service.
Features
Fantastic performance. During my tests, Kamatera recorded a perfect 100% uptime over several months, and had great loading speeds around the globe.
Low-cost cloud firewall. While it'd be nice if Kamatera included more security features for free, its optional firewall add-on is cheap and features fully customizable rulesets.
24/7 technical support. Kamatera's support team can be contacted via phone, tickets, and email. However, they will only provide limited assistance unless you pay extra for managed service.
30-day free trial. Kamatera offers a generous free trial that gives you access to one fully customizable Cloud VPS. You can scale it up or down as much as you please, as long as you stay within a $100 value for the month. You even get a designated account manager for the duration of the trial.
For more information, read our expert Kamatera review
.
Hosting types

Cloud, VPS

Data center locations

US, Canada, the Netherlands, Germany, UK, Israel, Hong Kong

Uptime guarantee

99.95%

Starting price

$

4.00

If you're looking for a more user-friendly hosting solution than Vultr, this host may be the one for you.
Liquid Web offers powerful Cloud VPS plans
 that are all core managed by default
, so you won't need to worry about maintaining your server. Your OS will be routinely patched and updated, and you'll benefit from a nice
24/7 proactive monitoring service, where Liquid Web will immediately take measures to rectify any issues that arise
. You can also opt to pay a small monthly fee for full server management, which provides extra malware and spam protection and also keeps your control panel up to date with any necessary patches. Liquid Web is an extremely reliable host.
My tests revealed near-perfect uptime over 4 months
. You'll probably never need it, but there's also a 100% uptime guarantee – better than the industry-standard 99.9%. Loading speeds were also impressively fast. It isn't cheap, but if you're ready to pay a premium, Liquid Web offers a fantastic service.
Features
Managed WordPress plans. Liquid Web offers managed WordPress hosting through its subsidiary company, Nexcess. If you're looking for a host that will handle all the technical aspects of managing your WordPress website, this could be a good option for you.
Automatic daily backups. On most plans, Liquid Web offers both automatic daily full server backups and on-demand backups, which are saved in physically isolated storage.
Server security. All of Liquid Web's servers include the Server Secure security solution for free. This automatically hardens your server and optimizes your security settings for maximum protection.
Professional support with guaranteed response times. If you don't receive a response within 59 seconds of initiating a live chat message or phone call, or within 59 minutes of submitting a support ticket, you may be entitled to service credits.
For more on speeds, read our full Liquid Web review
.
Hosting types

VPS, dedicated server, cloud, managed WordPress, managed WooCommerce

Data center locations

US, the Netherlands

Uptime guarantee

100%

Starting price

$

15.83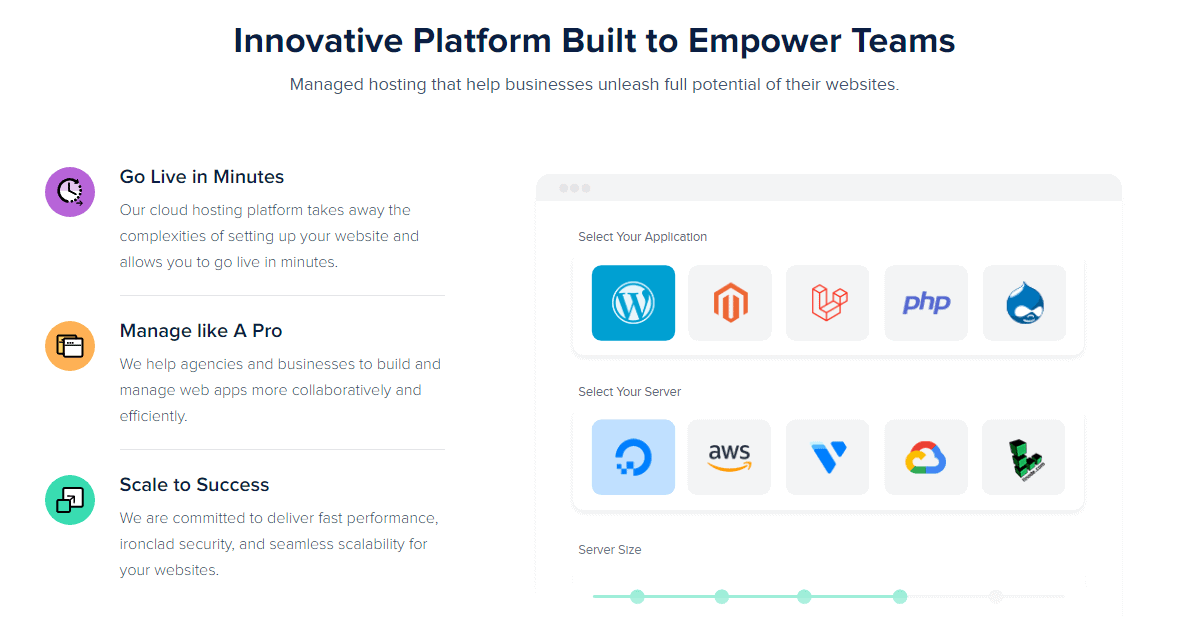 If you're looking for all the benefits of powerful cloud hosting without the need for any technical know-how, Cloudways is likely your best bet.
Rather than providing hosting services, it provides server management for five different cloud hosting providers, including Vultr.
When you're with Cloudways, your hosting will be managed for you.
This means your server will be kept secure and you'll benefit from automatic updates and patches, along with 24/7 server monitoring and automated backups. This is ideal if you'd prefer to concentrate on building your web presence and not on troubleshooting your server settings.
Cloudways also features 24/7 support via live chat and tickets, with a guaranteed response time of 12 hours.
My experiences with support have been good, but hands-on technical support for issues that fall outside of the Cloudways platform are limited to premium support. As Cloudways supports Vultr, you can choose it to be your host.
This means you can enjoy Vultr's powerful cloud infrastructure with all the perks of Cloudways' fantastic management and support.
If your main issue with Vultr is its lack of support or management, Cloudways could be right for you.
Features
Backup features. Included with every plan is the ability to create offsite backups. You have full control over the scheduling of automatic backups and you can make as many on-demand backups as you need, but keep in mind that you're charged for each GB of backup data stored.
Staging environments. You're able to create a dedicated staging environment with a single click, allowing you to test changes without affecting your live site.
Unlimited website migrations. Whereas Vultr doesn't offer any kind of website migration service, Cloudways will migrate your first site for free. You also have access to the Cloudways WordPress migrator plugin, which allows you to migrate an unlimited number of WordPress sites without charge.
3-day free trial. If you want to see whether Cloudways' managed service improves your experience with Vultr, you can try it for free. No credit card is required.
See our comprehensive Cloudways review to learn more
.
Hosting types

Cloud, managed WordPress

Data center locations

US, Canada, the UK, Ireland, Germany, Italy, Sweden, Australia, Japan, South Korea, India, China, Singapore, Bahrain, South Africa, Brazil, the Netherlands, Belgium, Finland

Uptime guarantee

99.999%

Starting price

$

11.00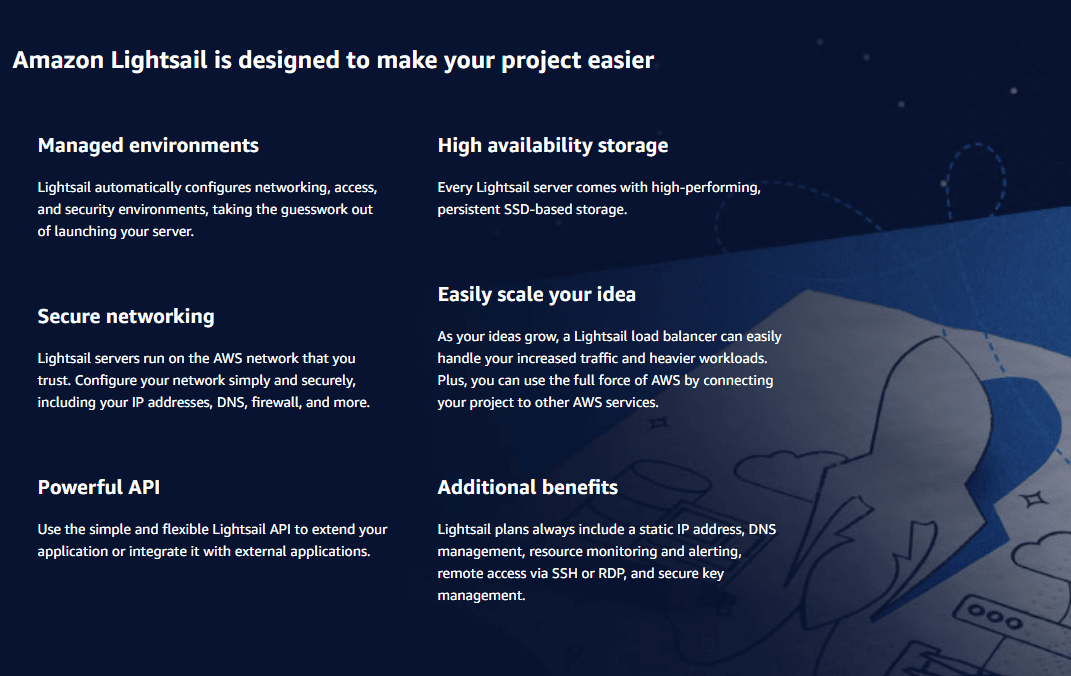 Amazon Web Services (AWS) is currently one of the market leaders for cloud computing services. It provides cloud solutions for everything from simple web hosting all the way up to niche technologies such as robotics and VR.
As you'd expect from a market leader, AWS offers seriously impressive performance and reliability.
While many AWS services can become very expensive,
you can get flexible and affordable cloud VPS through Amazon Lightsail
. Each Lightsail server comes with preconfigured networking and security, and you can easily install preconfigured CMSs (content management systems) and SDKs (software development kits).
The drawback with AWS is that it's really not suitable for beginners.
It doesn't offer tools like automatic backups, a website builder, or free migrations. And if you get stuck, little support is provided for free.
Features
Managed databases. AWS has multiple managed database plans available. Management includes server provisioning, patching, configuration, and backups.
Flexible snapshots. You can take full snapshots of your Amazon Lightsail instances, databases, and block storage. These can be performed on demand or scheduled to take place automatically. You are charged by the amount of storage your backups use.
AWS Trusted Advisor. All AWS customers receive basic support for free, which includes the Trusted Advisor tool. This checks your server for performance and security issues and provides guidance on how to fix them.
3-month free trial. Amazon Lightsail is free to try for three months, for up to 750 hours' runtime per month. AWS also offers other products on a trial basis or for free.
Is AWS for you? Read our expert review to find out
.
Hosting types

Cloud

Data center locations

US, Canada, Brazil, UK, Ireland, Norway, France, Germany, Italy, South Africa, Bahrain, India, Singapore, Indonesia, China, South Korea, Japan, Australia

Uptime guarantee

99.99%

Starting price

$

3.50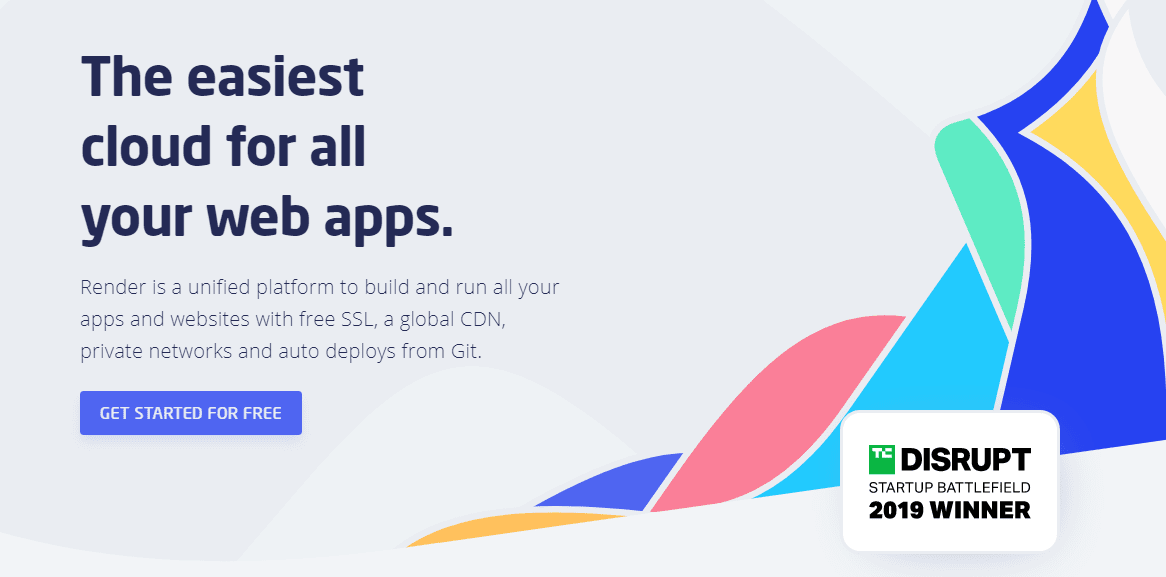 While it certainly isn't beginner friendly,
if you're a developer you'll appreciate Render's full support for hosting websites, apps, APIs, Dockerfiles, Cron jobs, and more.
Render is fully Git integrated, so you'll be able to deploy your work directly from GitHub or GitLab
, keeping your workflow seamless. There's also a free TLS certificate (an improved version of SSL) and free Global CDN included, which isn't bad at all. Render doesn't offer full server management, but
there are fully managed postgreSQL databases available
. These come with automatic daily backups that are retained for seven days, which is a nice amount of flexibility compared to Vultr. While its support runs into many of the same issues as Vultr, Render is a much stronger hosting environment for developers.
Features
Persistent block storage. Render disks can store data that persist across deploys and restarts – essentially, your data is retained when the physical device is shut off and on. This is very useful for content management systems (CMS), databases, and more. You are charged a small fee per GB stored.
Private services. If you have databases and other services that you don't want to be accessible by the public, you can easily make them private. They will only be accessible by other services on your Render account.
Free static sites. Render provides users with free hosting for static sites, as long as they do not exceed 100GB bandwidth per month. The service includes several appealing features, such as unlimited collaborators and fully managed TLS certificates.
Extensive knowledge base. I struggled to get a timely response to my emails to support, but at least there's a lot of documentation available to help newcomers to the platform.
See what our experts say about Render in our review
.
Hosting types

Cloud

Data center locations

US, Germany

Uptime guarantee

No legal uptime guarantee.

Starting price

$

7.00

Like AWS,
Microsoft Azure is a large cloud computing service that provides powerful cloud hosting for various uses
, including web hosting. While it has a noticeably slower performance than Vultr, it still has several standout features which make it worth considering. If you're looking to
host a website
or application with Microsoft Azure, its virtual machines (VMs) are likely the best option for you.
VM plans start cheap and they come with a lot of free security features
, including server monitoring, a web application firewall. You'll also have the Azure Security Center, which helps you prevent and handle threats. It's a much more secure solution overall than what Vultr can offer.
The backup feature allows you to take full snapshots of your server.
You can restore your full backups or just individual files, and backup data is encrypted for maximum security.
Microsoft Azure Cloud Hosting
Features
Reliable uptime. After conducting tests over several months, I discovered that Microsoft Azure consistently maintains a commendable uptime. Furthermore, Microsoft Azure offers a 99.99% uptime guarantee for virtual machines, ensuring that you are eligible for service credits in the event of any downtime.
Managed databases and storage. Microsoft Azure offers managed SSD storage and managed databases, although they do cost extra. The managed database service includes automatic backups, patches, and more.
Responsive support. When I tested Microsoft Azure's ticketing support, I received helpful responses within minutes. The free support tier is very limited, but I still felt like I was being taken seriously.
Extensive free trial. Microsoft Azure offers a 30-day free trial, including a $200 credit, to test its cloud services. Similar to AWS, after the trial period ends, you can continue to access a free service level for 12 months. This lets you experiment with its Virtual Machines for 750 hours of operation.
For more on plans, see our Microsoft Azure review
.
Hosting types

Cloud

Data center locations

US, Canada, Brazil, Ireland, the Netherlands, Sweden, Switzerland, Germany, UK, France, Norway, China, Singapore, Australia, India, Japan, South Korea, South Africa, UAE

Uptime guarantee

99.99%

Starting price

$

0
Find the Right Vultr Alternative for You
The best Vultr alternative depends on what you're looking for.
If you need a fully customizable Cloud VPS with instant scalability and great reliability, Kamatera is the right choice for you.
From the number of vCPUs to the type of operating system and data center location, you'll be able to create your server from the ground up. On the other hand,
Liquid Web provides powerful managed hosting and some of the best support on this list. Liquid Web also comes with a 100% uptime guarantee
 and customer service SLA, which is pretty rare in this industry.
Does your site or app need the best in performance and reliability? If so,
I'd recommend Cloudways' managed hosting
. It's a great solution if you're looking for powerful infrastructure and global reach but don't want to spend time managing your server. Still unsure? See the table below for a side-by-side comparison.
Standout Feature
Free trial?
Managed
Starting Price
Kamatera

Fully scalable and customizable VPS hosting

30 days

Available

$

4.00

Liquid Web

Reliable managed hosting with support response time guarantee

14 days (for Managed WordPress only)

Core managed, fully managed available

$

15.83

Cloudways

Server management with a choice of cloud hosting providers

3 days

Fully managed

$

11.00

Render

Developer-oriented hosting with Git integration

Free plans available

Fully managed postgreSQL databases available

$

7.00

Amazon Web Services

Market-leading performance and reliability

3-month and 12-month free trials, plus always free plans for selected services

Available

$

3.50

Microsoft Azure

Secure cloud hosting with responsive support

3-month and 12-month free trials, plus always free plans for selected services

Available

$

0
FAQ
Which is the best Vultr alternative?
It depends on your particular needs. Kamatera is a highly customizable solution with great performance and reliability. If you need a flexible developer environment, it's likely your best option. However, it isn't very beginner friendly and its managed services are expensive. If you're looking for simple and easy hosting, Cloudways and Liquid Web may be a better fit.
Are there free alternatives to Vultr?
Both Microsoft Azure and AWS have extensive free trials that allow you access to many of their services without charge. This includes their Cloud VPS services, although you'll be limited to 750 hours of server runtime per month. Though not exactly free, you can get some great discounts for some of the hosts on this by visiting our deals and coupons page.
How do I cancel my Vultr account?
To cancel your Vultr account, you first need to destroy any active instances. To do this, navigate to the Instances tab in the Vultr dashboard. Select your instance and then click the trash can icon in the top right corner to destroy it. Once you've destroyed every instance, you need to open a ticket with support requesting cancellation.
Which is the cheapest and most reliable Vultr alternative?
The AWS Lightsail service starts cheap and offers near-perfect uptime. However, keep in mind that it isn't the easiest host to use. On the other hand, Liquid Web features great managed services and customer support, plus it has comparable uptime to AWS – but it may cost you a bit extra. If you're still undecided, take a look at more affordable and reliable options in our list of best web hosting services in 2023.