Once you've outgrown shared hosting, a VPS might seem like a logical next step – but some hosts see the word 'VPS' as a reason to attach a large price tag to a mediocre setup. In theory, a VPS should give you better loading speeds, more reliability, and greater control, at a lower price than a dedicated server. In practice, whether or not you get any of these things depends on the provider you choose.
Most web hosts offer some kind of VPS solution, and their plans might even look similar. Unfortunately, not all hosts publish information about their server infrastructure, meaning you could end up with a server that's not much better than a high-end shared hosting plan (but at a much higher cost!)
To bring you this list of the best (and most reliable) VPS hosting services, the Website Planet team put dozens of VPS hosting providers through some rigorous testing. We tested everything from server infrastructure and performance to customer support. Let's have a look at the results.
What We Look For in the Best VPS Hosting Services
As a VPS is more expensive than simple shared hosting, our expectations were accordingly higher. Only providers that met all (or most) of the following criteria made our list:
Powerful servers. It doesn't matter how many vCPU cores you buy – if the processors are ten years old, your server won't perform at its best. We looked for providers that update their infrastructures regularly to offer exceptional speeds and uptime.
Decent resources. A weak VPS delivers performance that is no better than ordinary shared hosting. You need at least one vCPU core and 2GB of RAM for a noticeable boost in performance. Only hosts that offer this made it onto my list.
Full control. A VPS hosting service should allow you to access and configure your server to meet specific requirements. We only included providers that give you SSH access and full control over your VM (virtual machine).
Easy scalability. Need more power? These hosts will let you add CPU cores, RAM, storage space, and bandwidth with a couple of clicks. Also it'll be just as easy to scale back down when you no longer need the extra resources.
Managed support. VPS hosting is easy-ish to use once you configure your server, but setup can be challenging if Linux isn't your mother tongue. Some of the providers on our list will help you get started as part of their managed services.
Value. Low prices can be attractive, but what good is a cheap VPS if it comes crumbling down during a traffic surge? The providers on our list are not only affordable (some of them are insanely cheap), but they also offer reliability, generous resources, and lots of features for your money.
The case for Kamatera is simple: this is a provider that offers cutting-edge cloud VPS solutions, and it does so while keeping prices low. Now, as you know, the cloud is a magical thing. It's stable, it's easy to scale, and it makes money vanish from your wallet (faster than usual). The mere mention of "the cloud" gives most hosts an excuse to up their prices – but Kamatera is different.
Kamatera keeps its infrastructure up to date without massively increasing the cost of hosting. It also lets you fully customize your server with exactly as much CPU, RAM, storage, and bandwidth as you need. You're not locked into predefined configurations, and you can pay by the hour, rather than monthly or yearly.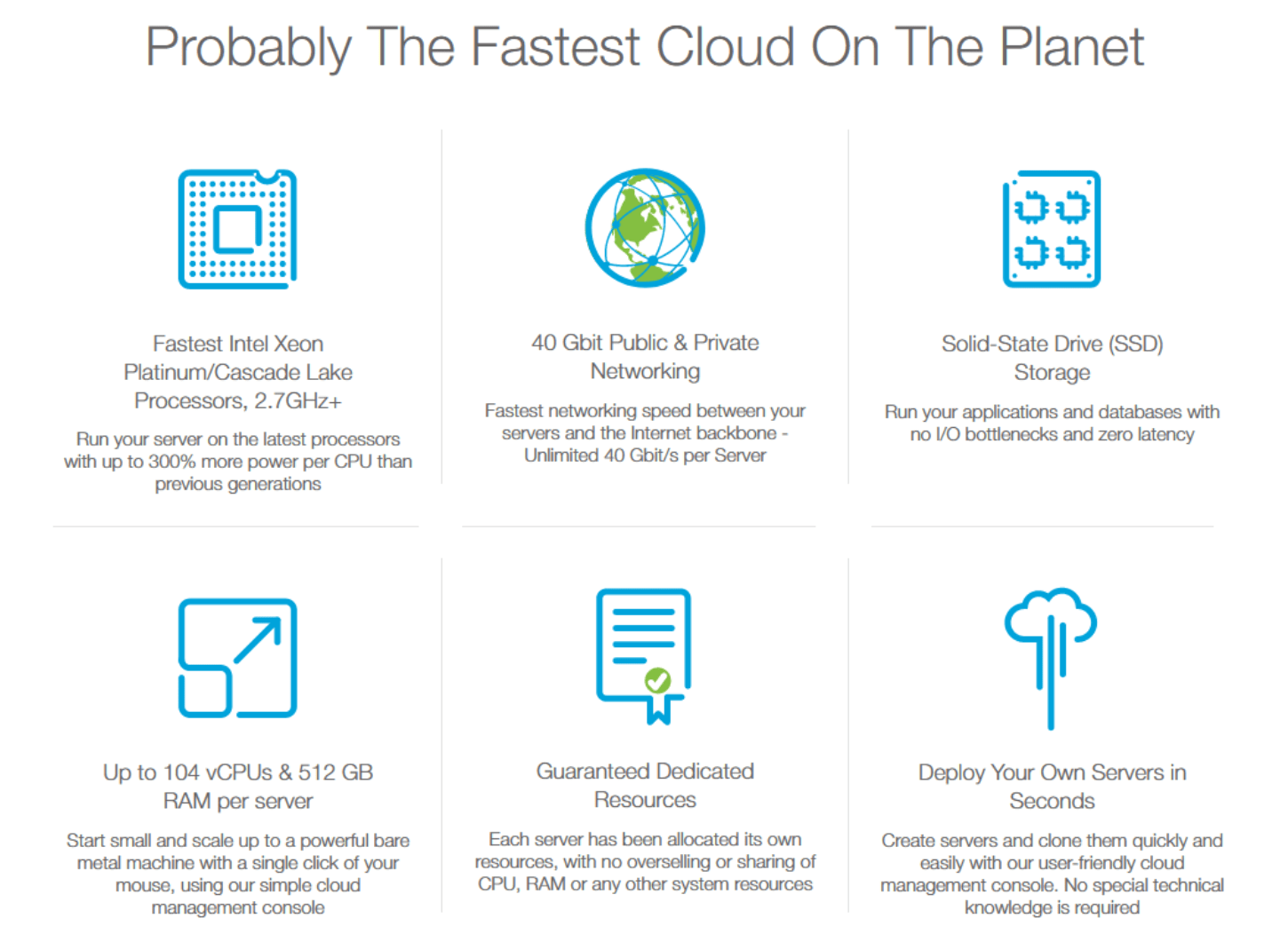 That said, Kamatera is not the most beginner-friendly provider. It's easy enough to use for experienced admins, but while it gives you dozens of server images to help you get started, you'll need to use the command line to get your VPS working. If you know Linux, or are willing to learn, you'll be fine.
If not, you'll have to buy the managed services add-on to make the most of this provider's infrastructure. And that'll cost you extra.
Features:
Free trial. You can have 30 days and a $100 credit to get a taste of what Kamatera has to offer. If you decide the service is worth your money, you can pay to use the same setup after the trial is over.
Load balancers. The Cloud Load Balancer distributes all incoming traffic across multiple backend servers, which means your VPS can handle more heat without slowing (or breaking) down.
Built-in firewall. Kamatera offers its proprietary Cloud Firewall with every VPS configuration, so you don't have to set one up yourself. But beware – you're still responsible for your server's security.
Managed services. If you don't want to get your hands dirty with any of the back-end stuff, Kamatera will provide a regular or high level of support depending on whether you purchase the Basic or Extended service. This incurs a fixed monthly price per server, so it's particularly advantageous with massive 32+ vCPU configurations. Not so much for tiny VPSs.
My colleague got some really impressive performance results when he tested Kamatera – you can read more in our in-depth, expert review.
Say you're not an expert sysadmin, but your website is getting lots of traffic and you need to upgrade to a VPS. You could go with a cheap, self-managed solution, but if you don't get the server configuration right, you might end up with worse performance than before. Not with FastComet. It offers fully-managed cloud VPS hosting that lets you focus on your business while a tech team takes care of server administration for you.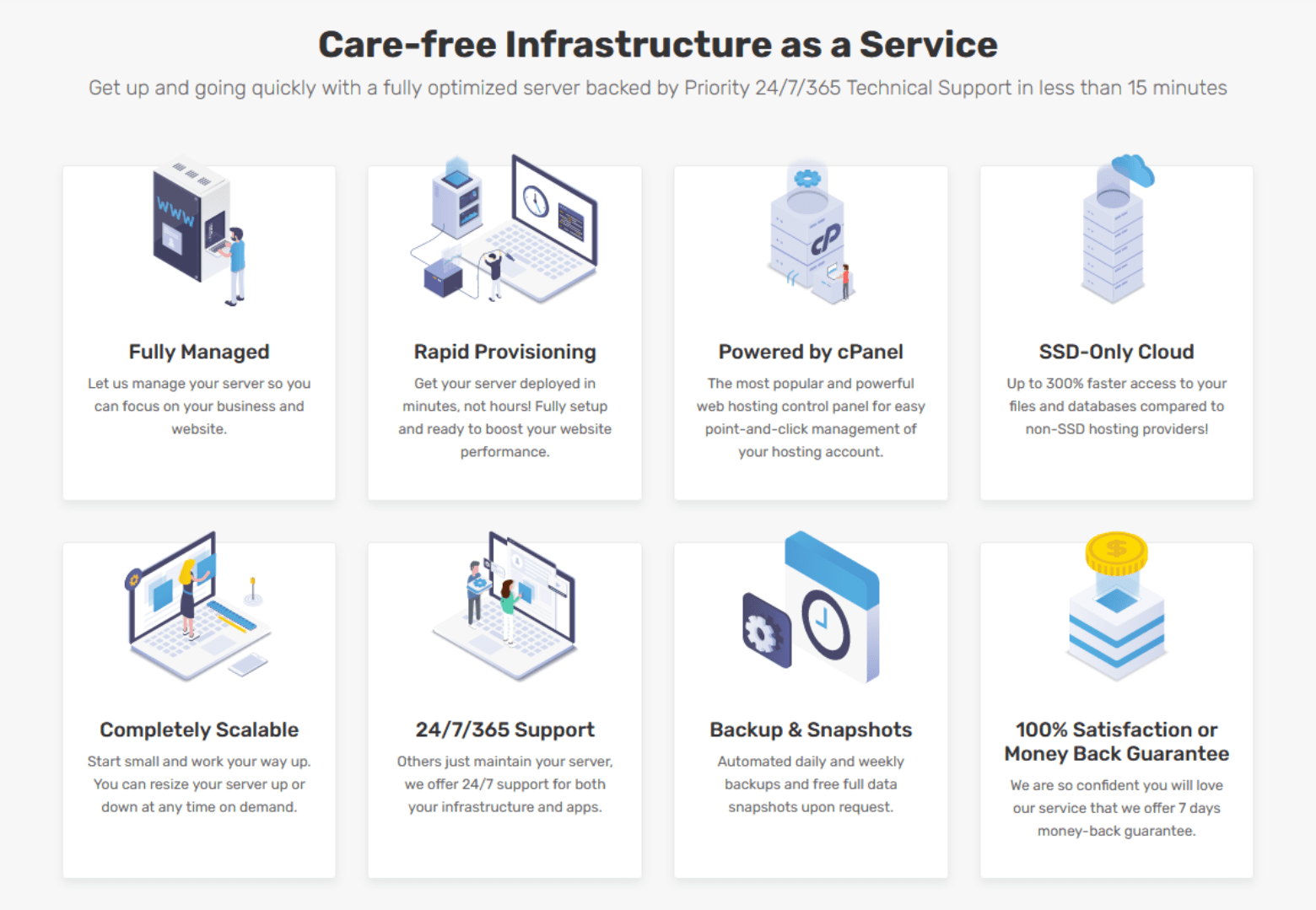 FastComet is pricier than Kamatera, but you're paying for a level of support few other providers will offer. Aside from the initial server setup, you can ask the tech team to install anything for you, at any time. Plus, if something breaks down (and trust me, something will break eventually), there's no need to panic. Just throw the issue over to support because…you can.
A cPanel license is also included in the price, so it's not a bad deal overall. Like Kamatera, FastComet has an impressive number of data centers around the world, including locations in the US, Canada, Europe, Asia, and Australia. Wherever your audience is, FastComet has you covered. It performed well in our performance tests, too – you can read more about that in our expert review.
Features:
cPanel & Softaculous. Most VPS hosts make you buy your own control panel license, but FastComet includes cPanel for free. You can also ask support to include Softaculous, which makes it easier to install WordPress and other scripts.
Cloudflare CDN integration. Cloudflare can speed up your website for visitors from across the globe, but it's notoriously difficult to install on a server. With FastComet, the CDN is already built into the cPanel dashboard. You just have to turn it on.
ModSecurity. This web application firewall (WAF) module is another thing that makes managing your VPS so much easier. FastComet will take care of most security measures for you, although you can also customize these settings to your liking.
Automatic backups. FastComet takes snapshots of your server on a daily basis, but these are not stored off site unless you pay extra. Still, it's a good thing to have if you accidentally mess something up and need to restore a previous version of your server.
Hostinger built its fame on dirt-cheap hosting with uncompromising performance, and its VPS hosting plans are no different. You can easily upgrade from shared hosting without spending too much money to start with, but keep in mind that this is a self-managed service, so you'll be in charge of pretty much everything.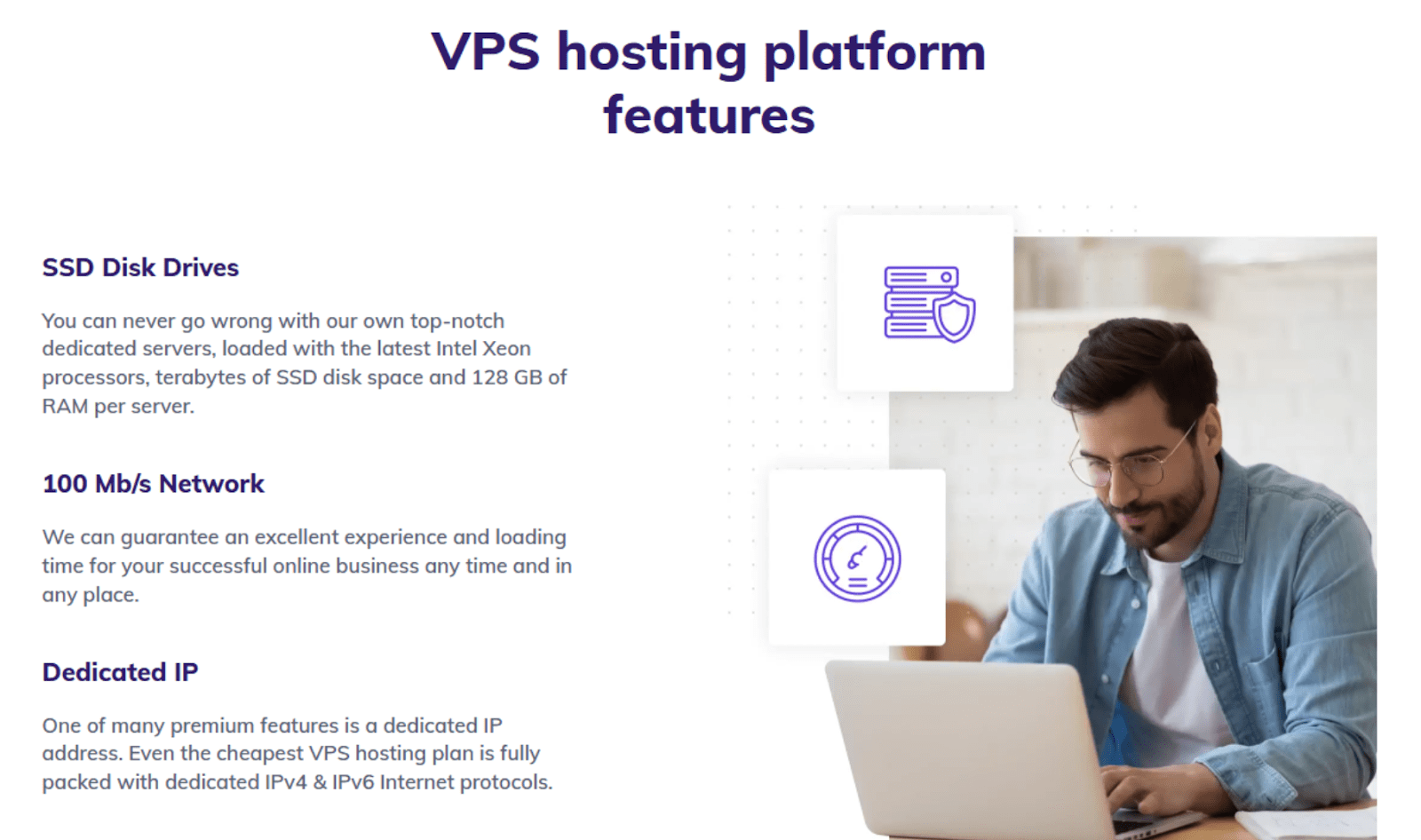 If you have some experience with server operating systems and you want to keep costs low, Hostinger could be the right fit. Tech support is available 24/7, and the agents will answer most questions, no matter how technical. They won't configure your VPS or update your software, but they will tell you how to do these things yourself.
Plus, if your server ever goes down (as you ask yourself the age-old question "what does this button do?"), Hostinger will help you get it back up and running. Not bad, considering the cost.
Features:
Choose your OS. Your options include CentOS, Ubuntu, Debian, Fedora, Suse, and Windows, all easily installed from templates. But if you want to use Windows, the license will cost you.
Control panels galore. Most hosts give you a few different choices, but Hostinger takes it to a whole new level. You can opt for the classic cPanel and WHM combo, or if you'd rather go with a free alternative, there's Plesk, Webmin, Webuzo, CyberPanel, and others.
Dedicated IP. Having your own IP can boost your SEO, and can lower the risk of getting your email accounts blacklisted. This is especially useful if you run lots of email marketing campaigns.
Huge knowledge base. Hostinger has loads of tutorials that'll help you configure your VPS, but you should have some experience with the command line before you delve into the knowledge base.
You can read more about Hostinger in our expert review.
Liquid Web strikes a  perfect balance between flexible and fully-managed hosting. It's a bit pricey compared to other providers on my list, but it's also the easiest way to get into VPS hosting while still having the freedom to do anything you want with your server.
Well…almost anything. You probably shouldn't use it to stream the adventures of your pet blobfish. Because nobody wants to watch the world's ugliest creature.
Now, when I say "fully-managed," I mean that Liquid Web can take care of everything for you, from server setup to ongoing maintenance. You can do things yourself if you prefer, but if you ever need help, all you have to do is ask. I contacted support many times while testing the platform, and the agents were always glad to answer my questions.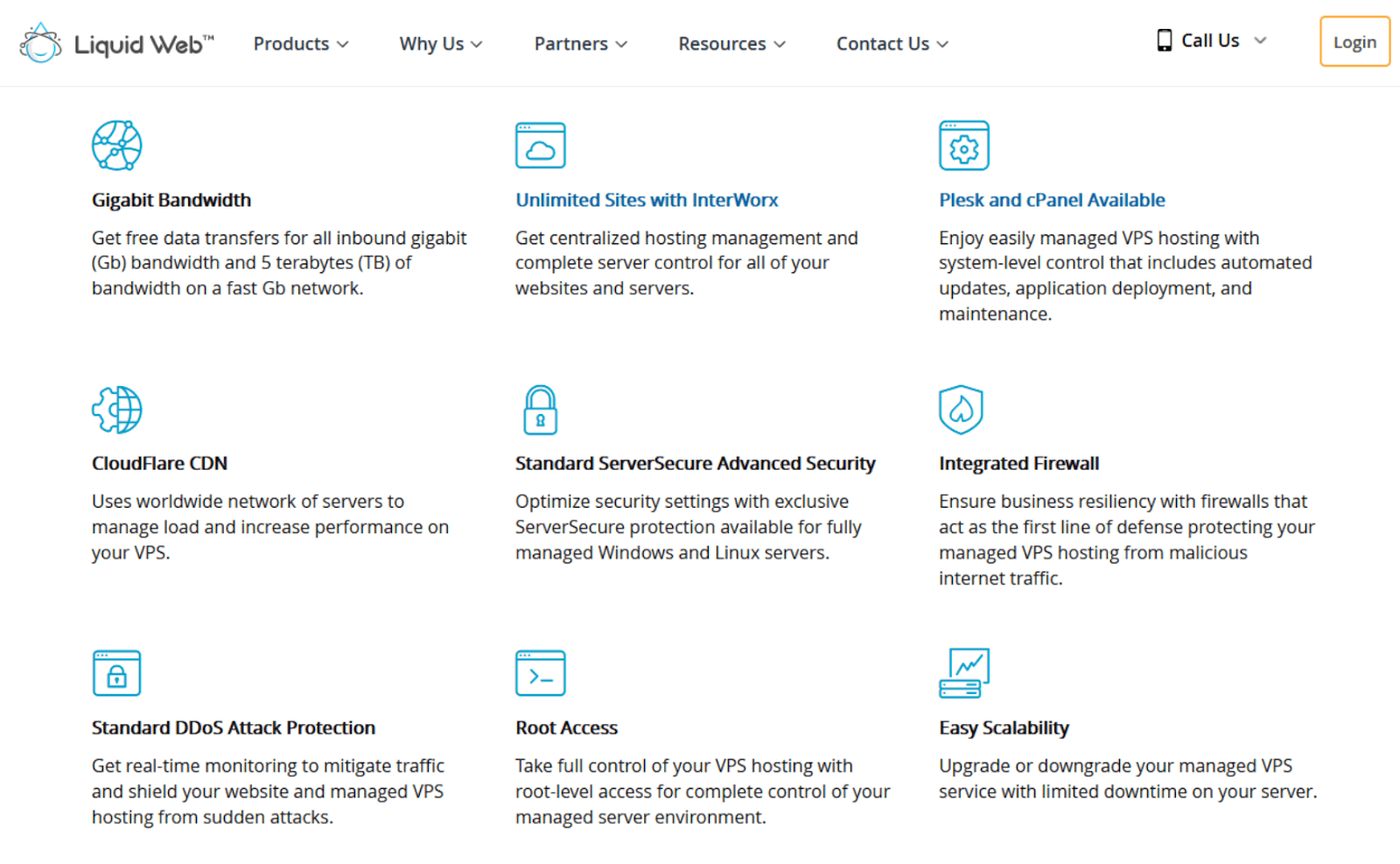 As for performance, Liquid Web has a track record of reliable uptime and loading speed. It's one of the fastest VPS providers I tested (just slightly slower than Kamatera), and it gives you plenty of room to grow before you have to switch to a dedicated server.
You can read more about Liquid Web in our expert review.
Features:
Premium control panels. cPanel, Plesk, and InterWorx are all supported, but a license isn't included with any VPS plan. Still, InterWorx is offered at a very low price, and it lets you create an unlimited number of websites.
Free site migration. Even if you're moving from a different control panel, Liquid Web will help you migrate your website with minimal downtime. The tech team will also make sure that everything works properly after the transfer.
Managed security. A built-in firewall and DDoS protection are included in every plan. You can also ask Liquid Web to help out with PCI compliance if you want to process payments directly on your website.
Server monitoring. Most providers expect you to notify them of a problem before they start working on a solution. Liquid Web proactively monitors your server at all times. If anything comes up, the tech team jumps right in.
InMotion Hosting has a little something for everyone. If you're a developer looking to keep costs low, InMotion's self-managed cloud servers could work for you. However, no dashboard is included with these VPS plans, so you have to manage and configure everything via the command line. Or, you can opt for a managed VPS.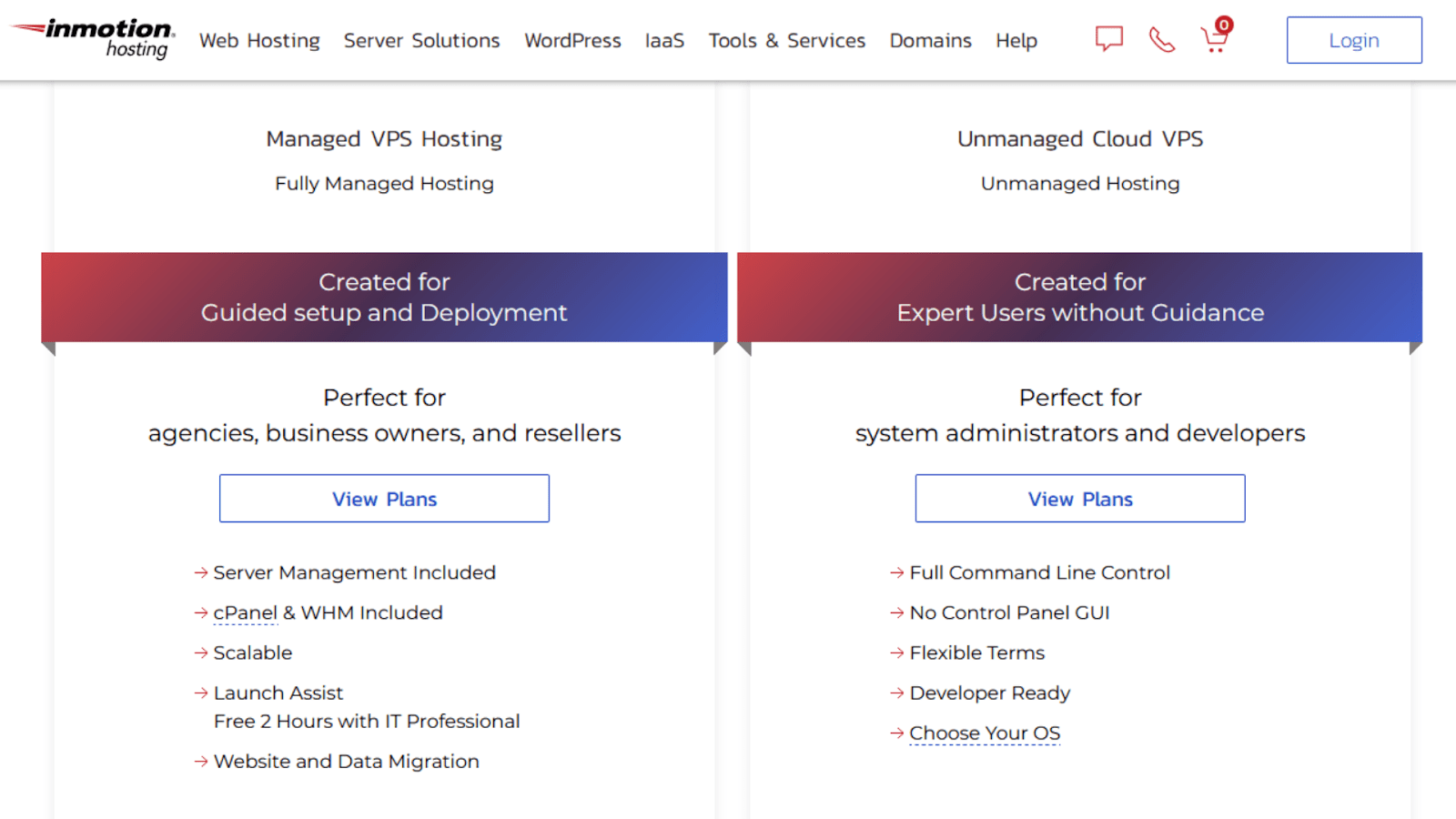 InMotion Hosting's managed servers are far easier to start with if you're not particularly tech-savvy. cPanel and WHM are included in the baseline price, as are Softaculous and InMotion's BoldGrid website builder for WordPress. Once your server is set up, it's just as easy to use as simple shared hosting.
But before you get too excited, you have to know that InMotion Hosting's managed VPS configurations are definitely on the expensive side. The service is worth the extra cost if you can afford it, but if not, there are cheaper options.
Features:
Launch Assist. You get two hours with an InMotion Hosting  sysadmin who will help you set up and optimize your server. If you already have a website, you can also use this time to have it transferred by a professional.
UltraStack infrastructure. Managed servers are preconfigured with Nginx, Brotli compression, and several layers of caching for faster loading speeds. The best part? You don't have to configure caching yourself.
Burstable RAM. If there's a surge in traffic, you can use more RAM than is normally allocated to your VPS. Your website continues to run smoothly and your costs stay the same. For a while, at least.
90-day money-back guarantee. It's not technically a free trial, but it is the most generous guarantee on this list. Basically, you can use InMotion Hosting's VPS hosting for just under three months, then cancel your plan for a full refund.
To find out more about InMotion Hosting's features and performance, you can read our in-depth expert review.
Like InMotion, A2 Hosting has a broad range of VPS plans, including managed and self-managed servers. That said, the marketing can be a bit confusing. Lift, Mach, Runway, Supersonic – what does it all mean? Let me simplify to save you some time.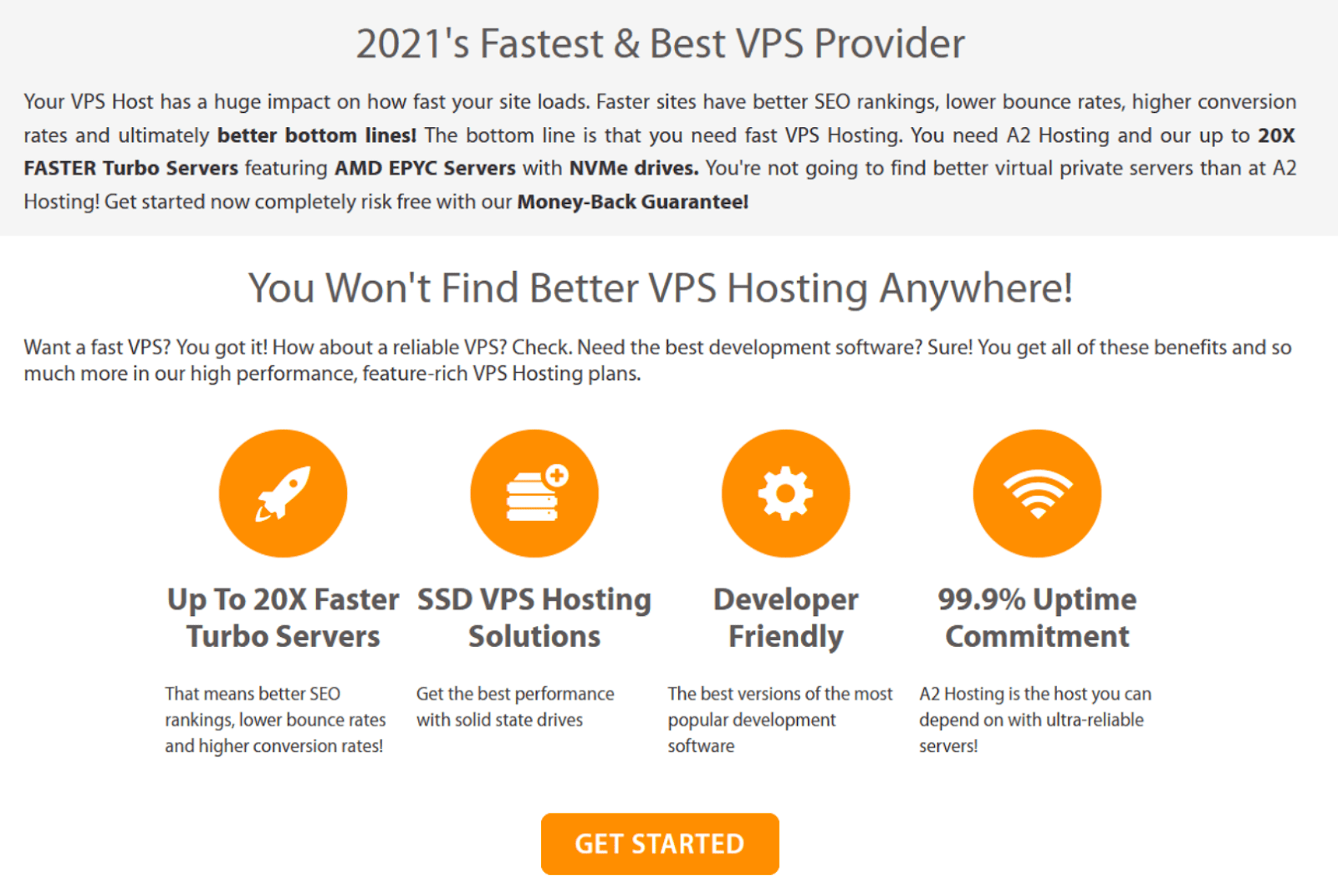 Lift and Mach are A2 Hosting's managed VPS plans. They're more expensive because they include a cPanel license and support for setting up your server. If you have a relatively small website, one of the Lift configurations should do the trick. But if you need more power, Mach gives you more RAM per vCPU core, as well as A2's more powerful "Turbo Servers."
Runway and Supersonic are A2's self-managed VPS plans. They're much cheaper, but they don't include cPanel licenses, and you have to configure the server yourself. As with the managed plans, the difference between these is that the Supersonic plans come with more vCPU cores, extra RAM per core, and Turbo Servers.
Despite the bombastic names, this diverse portfolio is actually a good thing. Whether you have a small online store or a massive, high-traffic blog, and whether you can manage your own server or you need help getting set up, there's an option here for you.
Find out more about A2 Hosting's feature in our expert review.
Features:
Turbo Server upgrade. Aside from extra RAM, A2's Turbo Servers have faster NVMe drives, easy WebSocket configuration, and compatibility with ESI (Edge Side Includes). Managed Turbo Servers also benefit from LiteSpeed and LiteSpeed caching.
Integrated caching. APC, OPcache, and Memcached are all set up for you on the Lift and Mach servers. These optimizations are especially useful for PHP-based websites.
Built-in security. Reinforced DDoS protection is available on both managed and self-managed servers, but the managed plans also come with a dual firewall, a malware scanner, and automatic software updates.
"Anytime" money-back guarantee. Even after the first 30 days, you can apply for a refund if you change your mind about A2's service. This isn't a full refund, but you will get your money back for any unused hosting.
InterServer is one of the fastest VPS providers on this list, and it's also one of the cheapest. Hostinger and A2 Hosting have slightly lower prices, but only during the first term. Of all the hosts I've tested, InterServer is the most affordable host after plan renewal. Plus, if you buy at least four VPS slices (four vCPU cores and 8GB of RAM), you get managed support for free.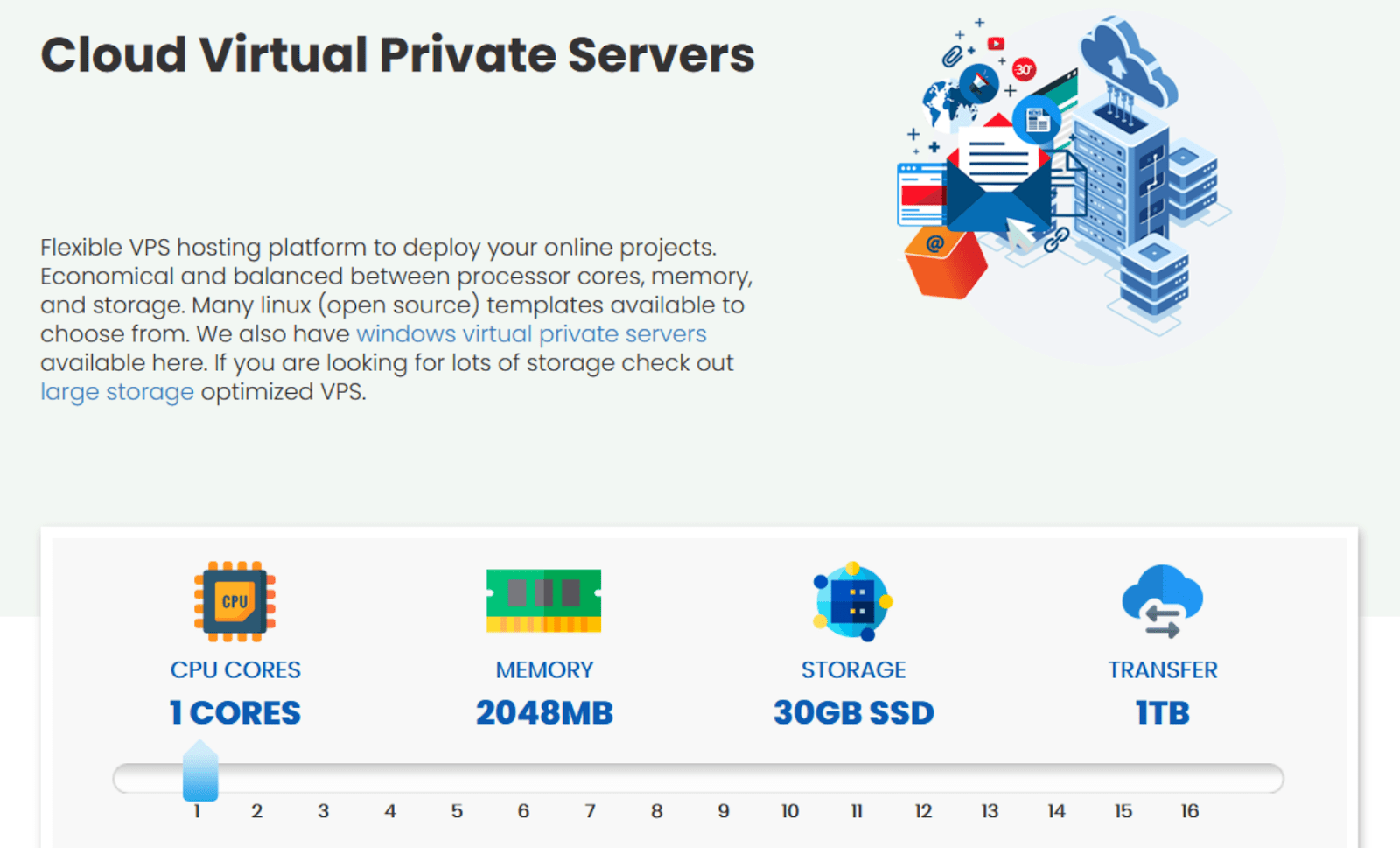 Still, I wouldn't recommend InterServer for beginners. InterServer's UI is dated, confusing, and to be perfectly frank, an ugly thing to look at. If you know what you're doing, it's fairly easy to use. But if you're new to VPS hosting, there's a good chance you'll need help.
Which brings me to my next point: InterServer's customer support is available 24/7, but it can take hours for them to fix a simple issue, especially if you don't get managed support with your VPS. All in all, I'd say that InterServer lets you get away with paying very little for outstanding performance, but only if you already know your way around a server.
Features:
Webuzo control panel. Webuzo is included for free in all VPS plans. It can help you set up your server and any CMS or framework dependencies quickly. Just keep in mind that it's strictly a single-user control panel.
High availability. If your server goes down, users get redirected to a copy of your VM that's hosted elsewhere. Your website or app continues to run, while InterServer buys time to fix the issue.
Cheap remote backups. Automatic backups stored off site are more affordable from InterServer than from other providers. You can also create backups manually and download them to your PC.
No steep renewals. Most hosts have attractive headline prices, but hit you with outrageous renewal rates when the first term runs out. InterServer doesn't do this. What you see is what you pay, so to speak – both when you sign up and when you renew.
You can find out more about InterServer's features in our expert review.
Based on Scala Hosting's prices you'd think it sells self-managed VPS hosting, but that's not entirely the case. Scala Hosting does offer self-managed servers, but its cheapest VPS plans are actually managed. They're also significantly more affordable than those from other providers on my list. So what's the catch?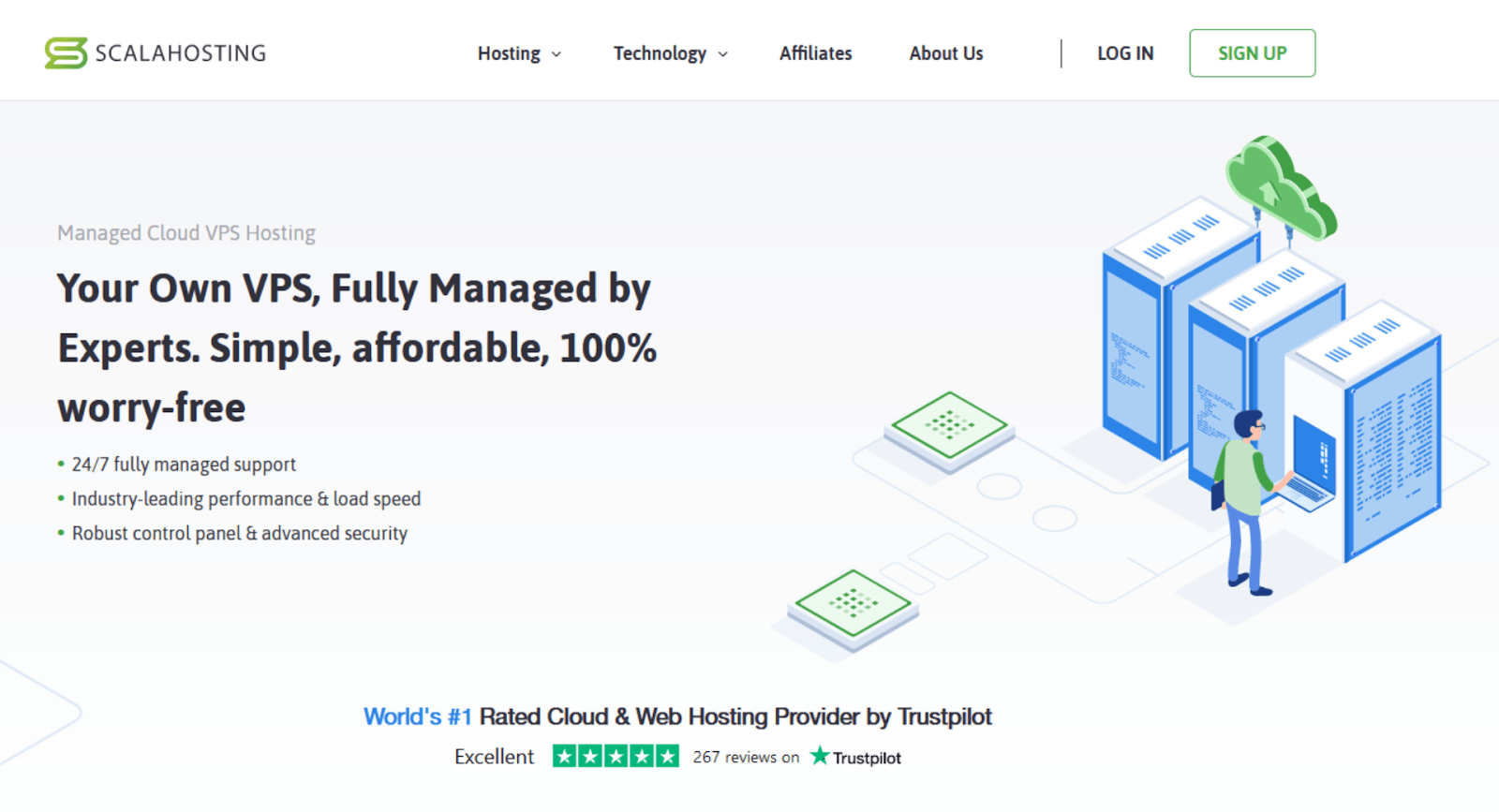 Well, the managed servers are not quite as flexible as you might expect. You can customize your VPS with exactly as much CPU, RAM, and storage as you need, but cPanel is not included. If you want to keep costs low, you have to use Scala's proprietary SPanel.
This is not necessarily a bad thing. SPanel doesn't have all the functionality cPanel does, but it has everything a beginner will need, and is simpler to navigate. A premium Softaculous license is included, and though you can only install LiteSpeed if you pay extra, you do get OpenLiteSpeed.  If you just want to host a WordPress website with medium traffic that will increase over time, this is a great place to start.
Features:
WordPress-ready. Scala's SWordPress Manager might win an award for the world's silliest name. But it's actually super useful. Website staging and backup/restore are enabled so you can safely test changes on your site without breaking it.
Free domain and dedicated IP. These are included with Scala's managed VPS hosting. Plus, if you register your domain with Scala, your server is set up automatically.
Node.js support. If you're a developer, you probably know that most hosts only let you use Node.js on self-managed servers. Not Scala, though. Scala Hosting fully supports this runtime environment on its managed VPS. You can even ask customer support for help setting it up.
SShield Security. This is an automated, AI-driven security service that runs in the background in order to prevent malicious attacks on your server. It's included for free in all managed VPS plans.
Find out more about Scala Hosting's features in our in-depth, expert review.
Which Is the Best VPS Hosting Service for Your Project?
As I said before, only the best, most reliable VPS providers made our list, so you can't go terribly wrong with any one of them. That said, some are best suited for beginners, while others give you more freedom to customize your server. Some are super-cheap and basic, while others are more expensive with extra features.
If you're not yet sure about your pick, these are my recommendations:
Kamatera has the best all-round VPS hosting if you know how to configure a server. It's not the cheapest provider on my list, but it is still affordable, and it offers an unmatched level of performance and stability.
If you're new to VPS hosting, I recommend one of FastComet's fully-managed virtual servers. Performance is excellent around the world, and you can trust the support team to help you out whenever you feel like you're out of your depth.
Or, if you want to pay as little as possible for reliable speed and uptime, take your pick between Hostinger and InterServer. Both are budget options for tech-savvy users, and they give you complete freedom to set up your VPS as you see fit.
FAQ
Which is the best VPS hosting provider?This depends on your specific needs, but you do have a couple of excellent options. Kamatera is widely regarded as one of the most reliable VPS providers in the industry, and rightfully so. It's fairly priced, it has outstanding customer support, and it relies on cutting-edge hardware to deliver unmatched performance. That said, Kamatera is not very beginner-friendly, and you have to pay extra to get managed support. FastComet is more expensive, but the tech team takes care of server configuration and maintenance for you. These are not your only options. Take a look at our list of the best web hosting providers in 2022 to find other services that offer VPS hosting.How much does VPS hosting cost?VPS hosting is generally more expensive than shared hosting, but that doesn't mean you have to spend a small fortune to get your own virtual server. There are several VPS providers with generous entry-level plans that are designed for small to medium websites. Hostinger and InterServer are two good examples, although you need some experience with server administration to make the most of their services. Alternatively, Scala Hosting has very affordable managed VPS plans that are more suitable for beginners. Before you make any decisions, be sure to check out the great deals on our coupon page.Are there any free VPS server hosting providers?Sadly, no. Our team at Website Planet has spent months looking for a free, yet reliable VPS host. We've come across a lot of scams, but that's about it. However, we did find several excellent VPS providers that offer free trials.How much RAM do I need for VPS hosting?That depends. For a small website with low traffic, 2GB of RAM is likely enough to get you started. But if you have a massive site with over a million pageviews per month, you'll need anywhere between 8GB and 16GB of RAM, possibly more. And with this volume of traffic, CPU power and caching technology are just as important as RAM. The best way to decide is to monitor your current CPU and RAM usage, and make an educated guess based on your expected growth. It doesn't have to be a perfect decision. Most VPS providers let you scale up or down almost instantly, so you can always add or remove RAM as necessary.