Video ads are essential for promoting your brand on social media, paid search, and e-commerce sites.
But online video advertising can be daunting when you don't know where to start. How do you find a skilled professional who knows how to make a video ad without breaking your budget? Hiring an experienced pro doesn't have to be as expensive as you think. In fact
, I discovered how to get video advertising for small businesses, even on a limited budget.
Learn how to find the best ad creators and get online video marketing services for a great price – without an agency or complex software.
5 Best Video Ad Designers
Whether you want to start small or you're ready to spend a bigger budget, you can
find the right video advertising expert for your needs on Fiverr
. The top creators in this space specialize in video commercials for small businesses and have crucial skills like video editing, graphic design, and e-commerce marketing. The sheer volume and variety of freelancers really impress me, but don't just take my word for it, it impressed my colleague in our
Fiverr review
too.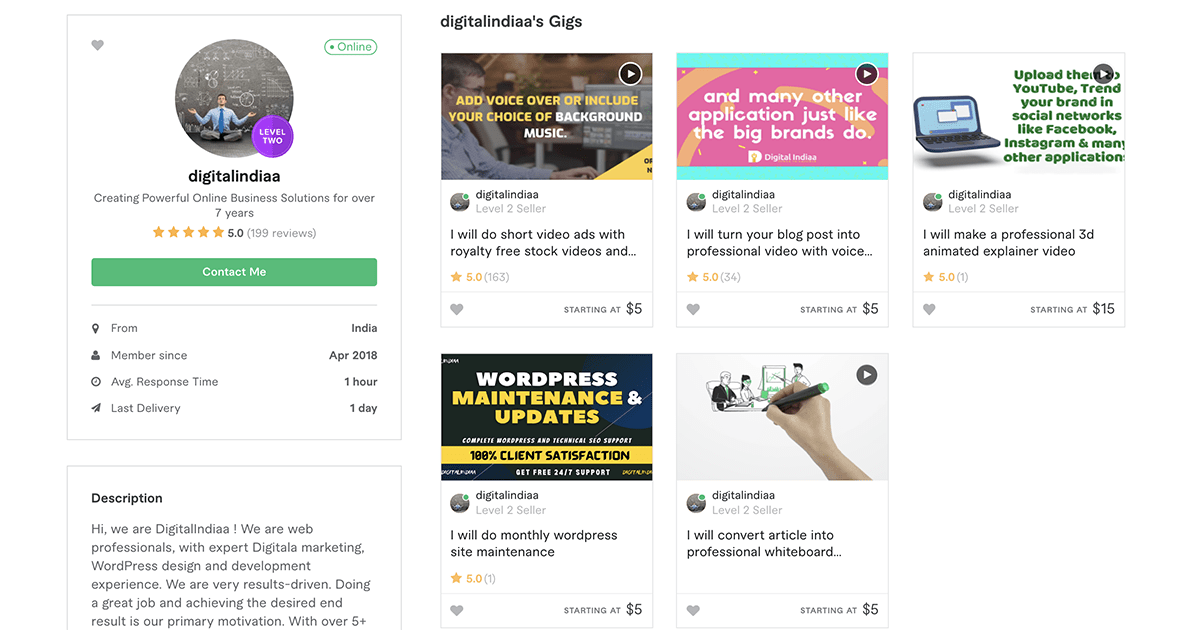 Thanks to their super-affordable prices and numerous five-star reviews, DigitalIndiaa easily stands out from the competition. A team of video designers and web developers, DigitalIndiaa has over seven years of experience. They also have Fiverr's Level 2 Seller status, which means they've delivered at least 50 orders and maintained at least a 4.7-star rating.
DigitalIndiaa's pricing starts at $5, and their Basic gig offers pretty impressive value.
For only $5, you can get a 100-second video ad with background music and a voiceover. If you have the budget for their $25 Premium package, you can get a 240-second video ad in multiple orientations – which would be helpful if you needed an ad for YouTube and Instagram Stories, for example.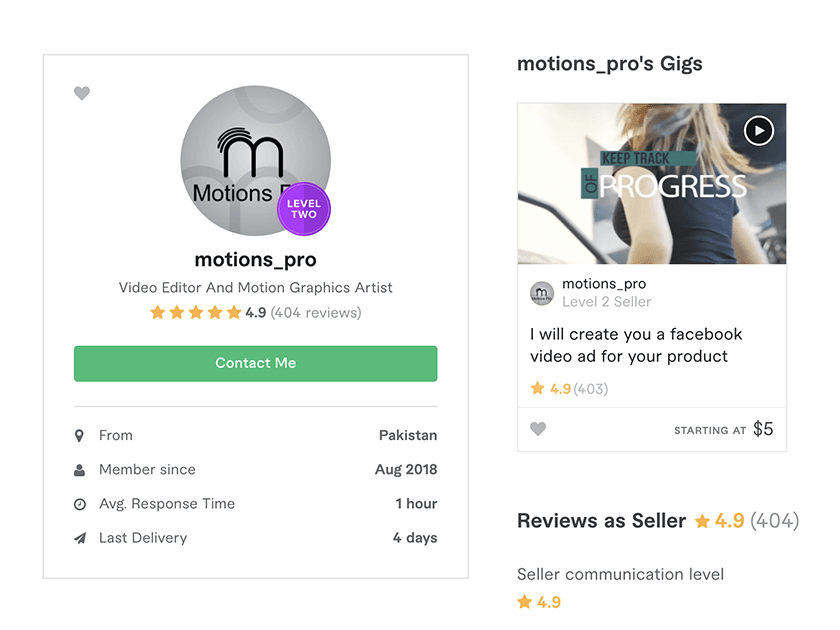 Another Level 2 Seller, Motions_Pro has more than 400 reviews and a 4.9-star rating. This freelancer specializes in video editing and motion graphics, and
it's clear they know how to make video ads on a tight budget. After all, their prices start at just $5.
Motions_Pro's $5 Basic gig includes a 15-second video ad designed for Facebook and Instagram. If you can afford to spend a bit more, I'd recommend considering their $40 Premium gig instead. It includes 60 seconds of run time and scriptwriting, which would save you time and hassle.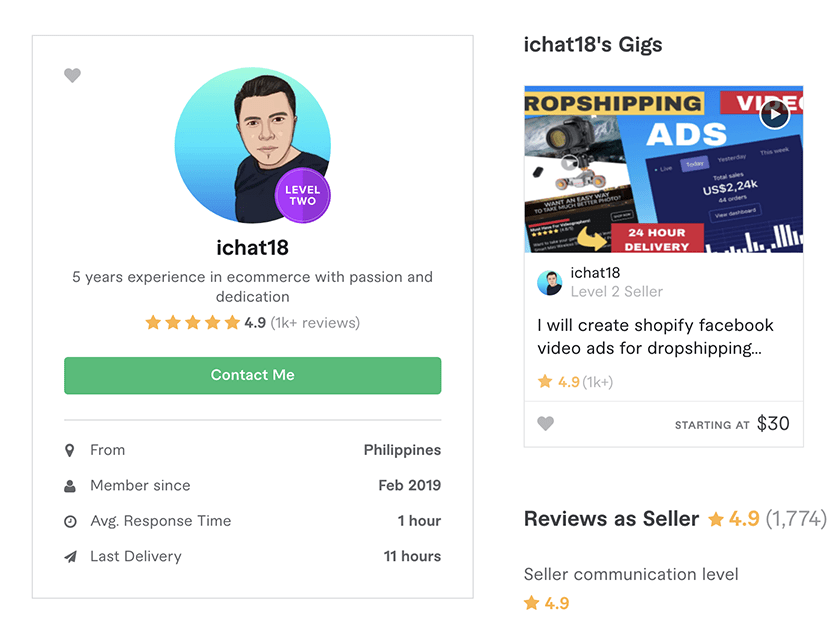 With nearly 1,800 reviews and a 4.9-star rating, Ian, from iChat18, is clearly one of the most popular and experienced video ad editors out there. Their years of running e-commerce stores and developing viral videos mean that
if you need video ads for dropshipping or e-commerce products, this freelancer would be a particularly good fit.
iChat18's $30 Basic gig offers tons of value, including scriptwriting, up to 45 seconds of run time, and a rapid two-day delivery time. Their $50 Premium gig offers more options, as it comes with three intro variations that you can test on your audience.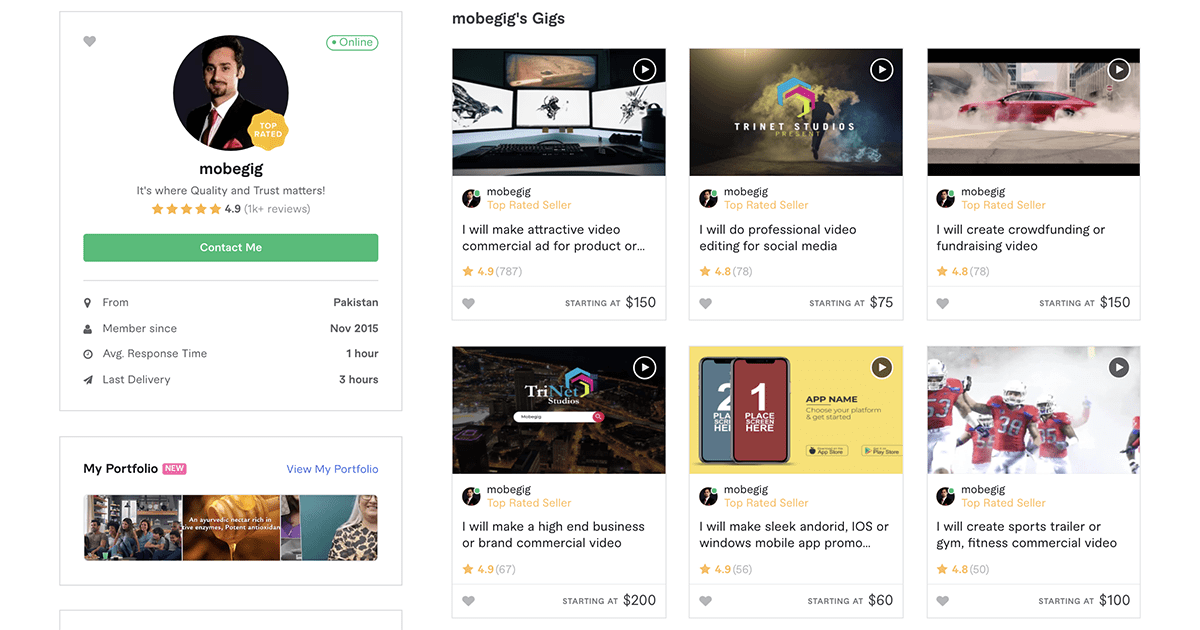 Mobegig has achieved Fiverr's most exclusive Top Rated status after delivering at least 100 orders and maintaining at least a 4.7-star rating over 60 days. As a studio, this seller has over six years of experience creating the best video ads.
They also have more than 1,000 excellent reviews, so people clearly like their work.
If you want professional footage in your video, Mobegig would be a smart pick. Their $150 Basic gig includes a 30-second ad created using their own stock video, special effects, and scriptwriting. If you need a TV commercial, ask about their custom packages.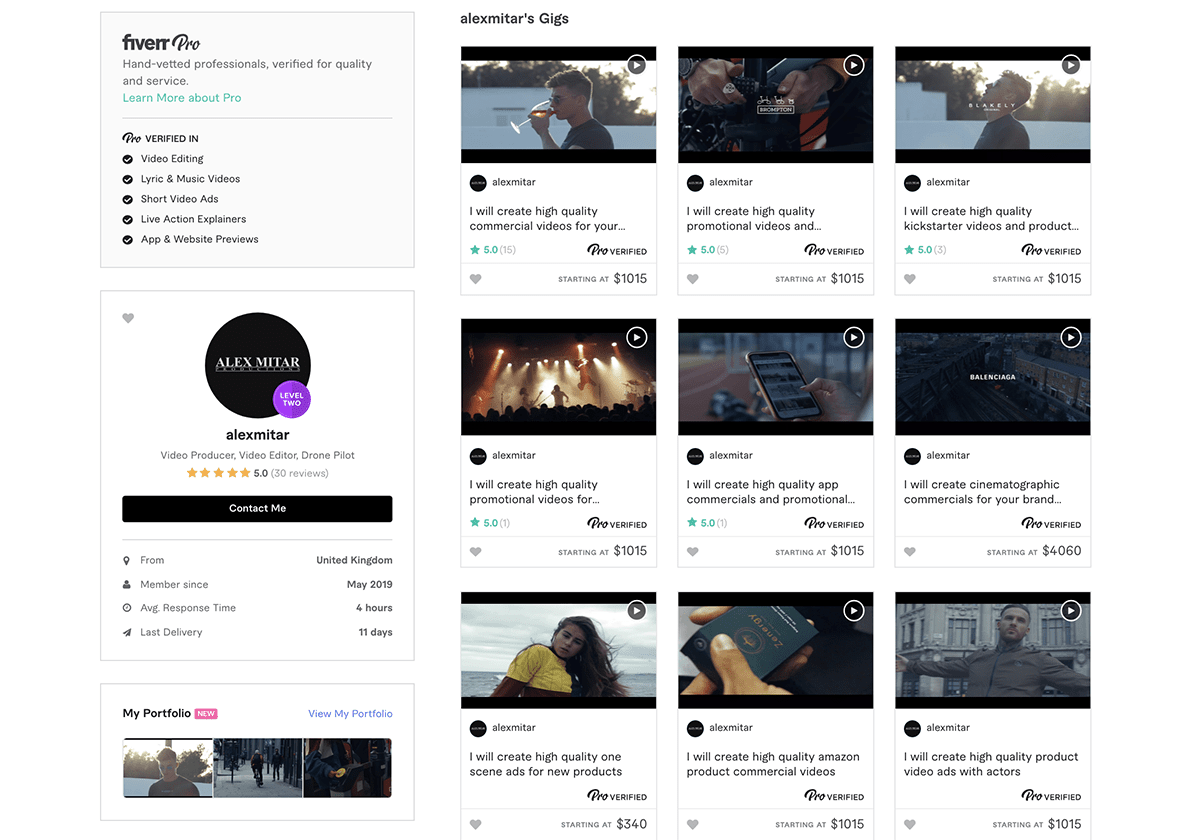 As a Verified Pro, AlexMitar has been hand-vetted as one of Fiverr's top 1% of sellers.
It's, therefore, no surprise that this seller has a five-star rating and extensive experience with video production and editing. Unlike many other sellers, AlexMitar uses original footage and professional actors, making each video ad completely unique. For a 15-second video ad with product imagery, color grading, and sound design, book their $1,015 Basic package. If you need a longer 60-second ad, consider their $4,060 Premium gig – or subscribe for three months to save 5% after your second order.
How to Hire a Great Video Ad Designer for a Great Price
Getting the best advertising videos doesn't have to mean spending your entire marketing budget.
The Fiverr marketplace has more than 10,000 highly professional video ad gigs available for purchase, with over 2,000 starting at just $5.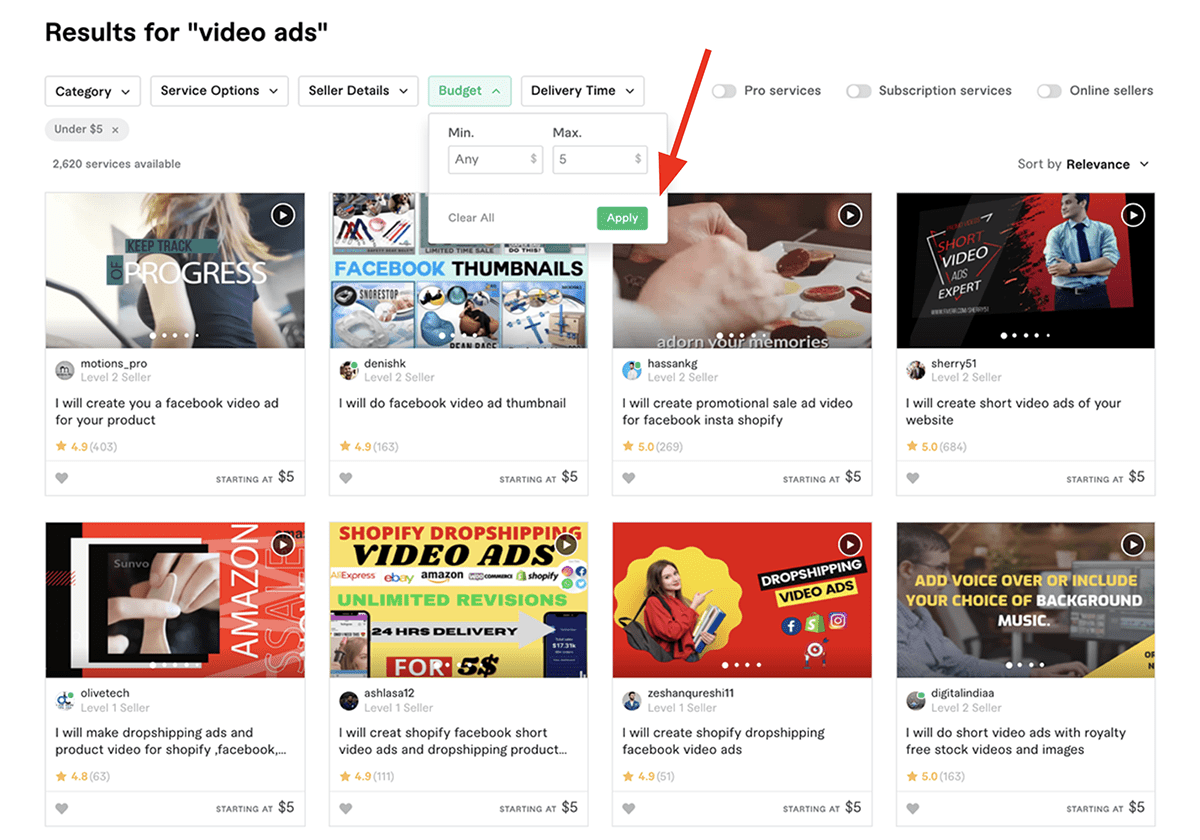 To find the right freelancer for your needs,
start by searching the Fiverr marketplace
 and filtering the results. You can set a budget as low as $5 and a delivery time as soon as 24 hours. You can also narrow your search to focus on sellers who specialize in video ads for Facebook, YouTube, and other platforms.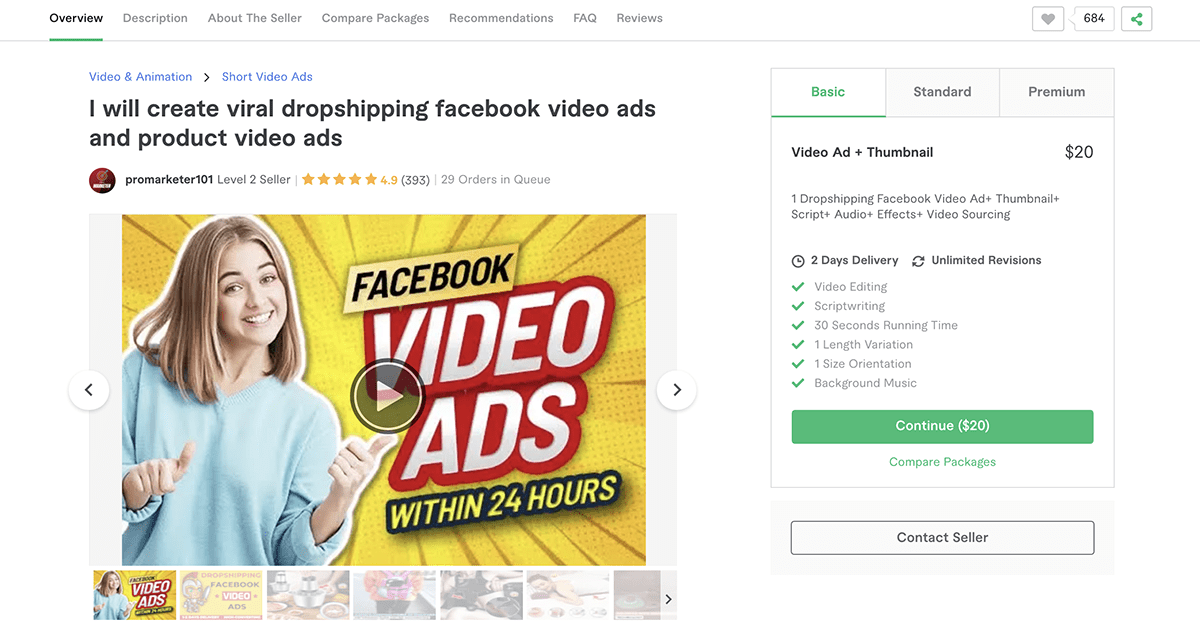 Click on any gigs that look like a good fit so you can read more about what the deliverables include.
You can scroll through the seller's portfolio to see examples of their work or read customer reviews
to get more insight. You can also compare the packages they offer to find the one that offers the best value.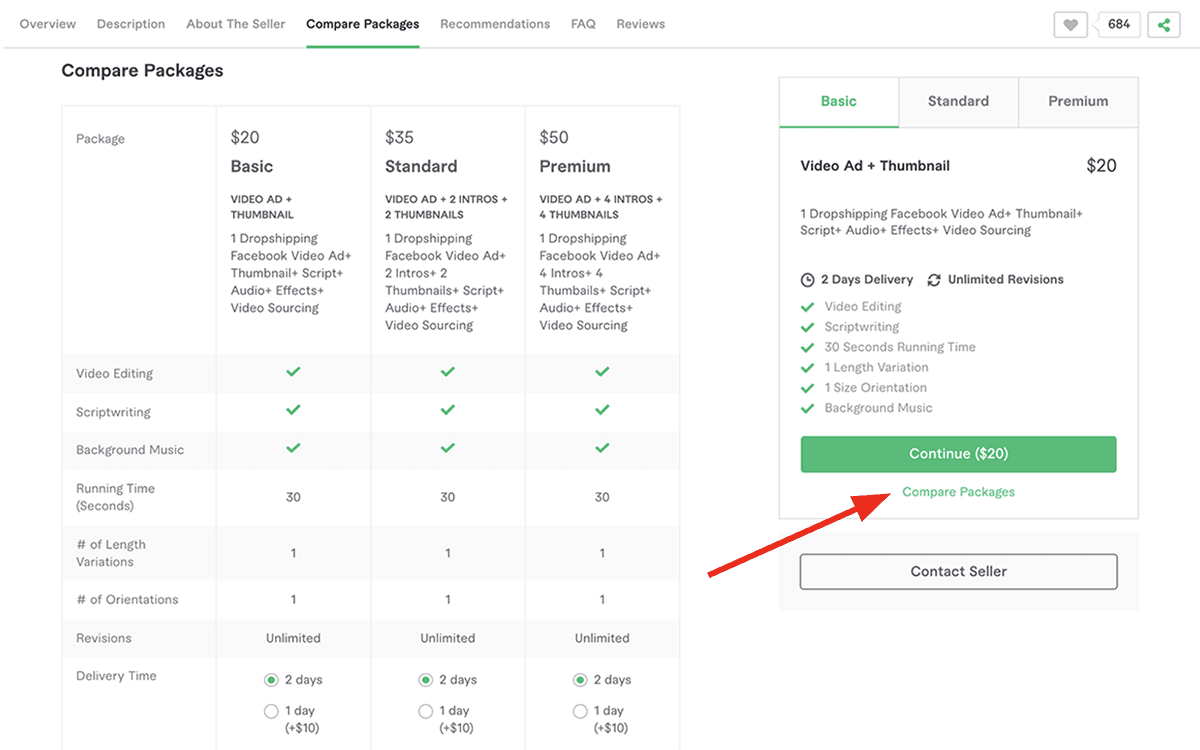 When you find the right gig, click the gray button to contact the seller or the green button to purchase the gig. Fiverr will then place your order, collect your payment, and start the timer. You can communicate with the seller and request edits or approve delivery through the Fiverr interface. Hiring a video ad freelancer through Fiverr gives you access to these benefits:
Gigs for every budget: From $5 to $5,000, the Fiverr marketplace has gigs that span the pricing spectrum. Many also include optional add-ons so you can get more out of your budget by purchasing additional run time, faster delivery, or more orientation options.
Experienced professionals: No matter how much you spend, you can hire a professional who has experience with video advertising online. Seller profiles detail each freelancer's qualifications, and Fiverr status levels can help you identify more experienced creators quickly. I'd recommend checking out our Fiverr review to see how this works.
Social proof: If dozens, hundreds, or even thousands of other customers have hired a freelancer, that's a pretty good sign you should consider doing the same. Fiverr shows ratings and reviews for every seller so you can easily see which freelancers are most popular or celebrated.
Personalized offers: Just because you can't find the perfect gig in the Fiverr marketplace, that doesn't mean it's not possible. Most sellers are open to creating custom offers that meet your needs perfectly while accommodating your price range.
3 Tips For Creating Your Video Ad
To get the best video advertisements for your brand or products, be sure to follow best practices for the platform you plan to use. Use the tips below to maximize impressions, views, clicks, and conversions from your ad.
1. Write a Compelling Script
Eye-catching visuals are the most important part of a video ad, but the most successful commercials have a great script too.
Always aim to keep yours short and to the point, as a typical 15-second video ad includes fewer than 50 words.
Cut any non-essential chat and keep your script action-oriented.
2. End With a Call to Action
Plan every second of your video ad carefully, including the ending.
Conclude with a call to action (CTA) that inspires viewers to take the next step.
For example, you might prompt them to visit your website, place an order, or sign up for a free trial.
Place your business's website, address, or phone number in a text overlay
to make it easy for viewers to act.
3. Use the Right Ratio and Orientation
Video ads come in a range of sizes, and some work on select platforms only. For example, what works best on Instagram may not meet YouTube's requirements.
Before hiring a video ad creator, double-check the specs for the platform where you plan to place the ad
. Then you'll know exactly what to ask for when you hire a video ad designer.
Hiring a Video Ad Designer Saves Time, Money, and Hassle
If you're new to hiring creative freelancers, then the task of finding a video ad designer to collaborate with may seem as challenging as learning how to create a video advertisement yourself. However, the Fiverr marketplace significantly streamlines the process, handling everything from discovery and recruitment to communication and delivery.
By hiring a video ad freelancer on Fiverr, you can save the money you'd otherwise spend on pricey editing software and the time you'd devote to mastering a new program.
Because the Fiverr marketplace features sellers with the price points and expertise you need, you can hire and complete projects quickly – so you can focus on higher-level strategy instead.
FAQ
Is it worth hiring a video ad designer?
You could invest hundreds of dollars in video editing software and spend countless hours learning how to make an advertisement video yourself. But if you want to save time and money, it's worth hiring a professional video ad designer to do it for you on Fiverr. Alternatively, you can hire a designer from any of the top freelance websites in 2023.
How do I hire a video ad designer?
Hiring a video ad designer is faster and easier than you might think. Start by typing Video Ads into the Fiverr search bar and sort the results by the specific service you need or the budget you have. When you find a freelancer who fits your needs, message them to discuss your video advertisement project or book their gig directly through Fiverr.
How much does it cost to hire a video ad designer?
You can hire a professional video ad service for as little as $5 on Fiverr. For $5 you can get an e-commerce advertisement video with stock footage, background music, and special effects. With a bigger budget, you can get ads that include original footage or actors.
What should I look for when hiring a video ad designer?
Before hiring a video ad creator, consider how long they've worked in the industry and how many customer ratings they have. It's also helpful to read past reviews and look at work samples to make sure they have the skills and style you want.