Content Marketing in 2021
First things first, let's take a look at the general state-of-play in content marketing. How popular is content? What's the potential reach of content marketing efforts? And what're marketers saying about the industry in 2021?
1. Content Marketing is Worth Over $400 Billion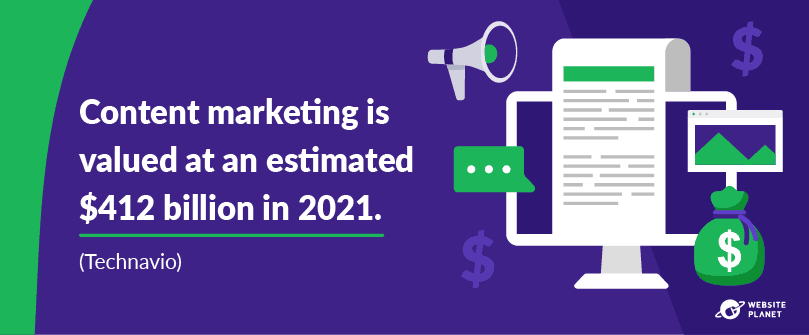 Make no mistake about it: content marketing is big business. The industry commands a seismic valuation of around $400 billion in 2021. Content marketing will only get bigger as more people join the internet, and marketers create more content to feed the demands of this growing audience. Speaking of which, how many internet users are there?
2. 59% of The Global Population is Online in 2021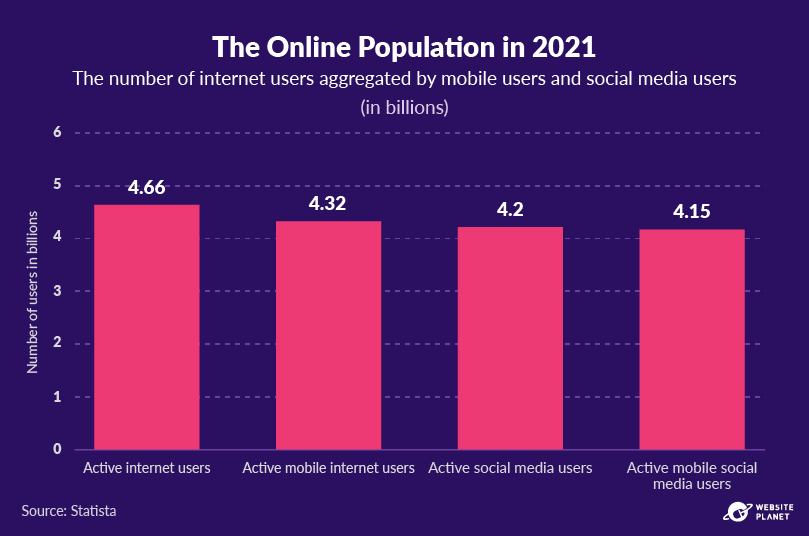 There are well over 4.6 billion internet users in 2021. That means 59% of the world's population are on the internet! That's pretty staggering and just goes to show that online content can potentially reach a massive audience. 4.33 billion users access the internet through a mobile device, and 4.2 billion internet users have a presence on social media sites. These statistics should stay fresh in the mind of any content marketer who wants to maximize the effectiveness and reach of their content.
3. Customers Value Great Content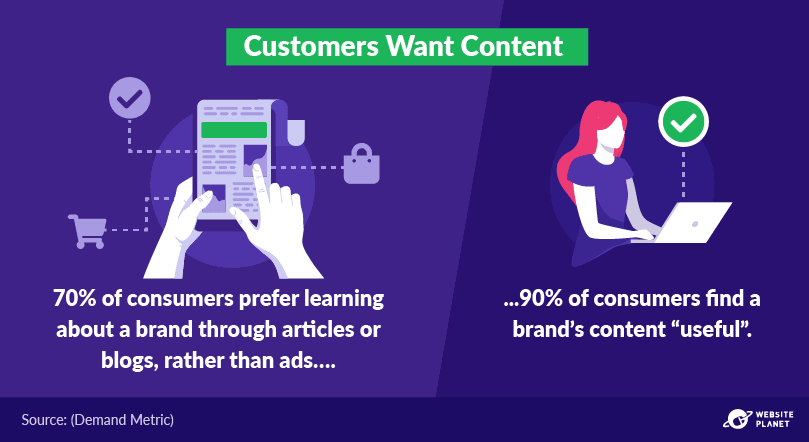 Customers find a lot of "value" in branded content, and this word should be at the core of a business' content strategy Content can serve customers with information and knowledge without making them feel like they're being pitched a sale, and this can see positive impacts on revenue further down the line. Having a strong content strategy can make the difference between a customer choosing your brand or a competitor. According to one study, 61% of customers say they prefer a brand that has a "content presence." The theme is the same in the B2B sector. DemandGen found that 95% of B2B clients believe content helps them trust a business.
4. Marketers Invest Significant Resources into Content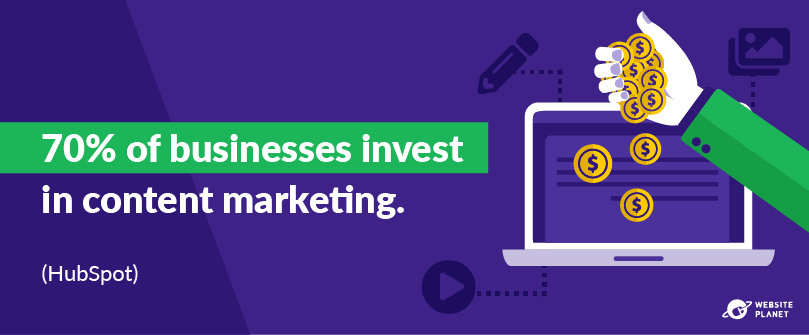 The majority of businesses now invest in a content marketing strategy. That's hardly surprising given the benefits of serving such a thriving (and willing) online audience. Businesses are investing in content marketing more than ever at the moment. In fact, 25-30% of the average business' marketing budget is spent on content marketing in 2021, and 24% of marketers plan to increase their content spend in the future. A recent surge in online usage, and the increasingly obvious value of content marketing tactics, are two factors that are driving major growth in the industry.
5. Most Internet Users Are Young Adults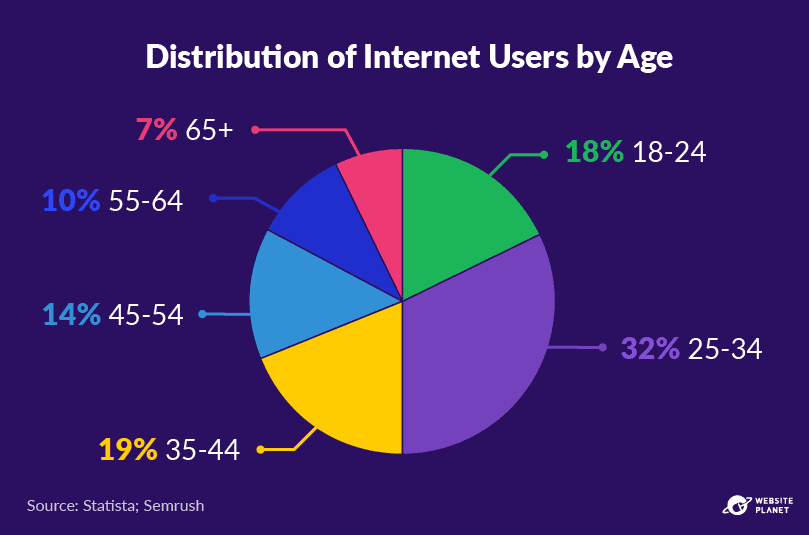 So let's break it down… What kind of people can you target with your online content? The majority of online users are young adults. 50% to be exact, and 32% of these young adults are aged from 25 to 34. Content that's aimed at older audiences tends to be more niche online. Middle-aged and old-aged users are not as common online, but that doesn't mean you can't see huge results when targeting these people! Whichever demographics you target with content, it's worth catering to an American audience every once in a while. 26% of adults in the United States are "almost always online."
6. Narrative Content is The Most Successful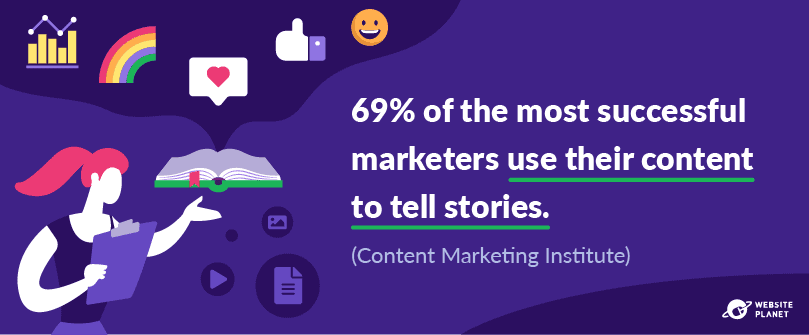 Whoever marketers and businesses choose to target with content, they must use their voice to tell stories. This is a defining characteristic within most of the top performing content marketers. Stories are all around us, and building one for your brand through content is extremely important. People love hearing stories, too, whether that's the story of a business' beginnings, or the narratives placed within a specific piece of content. In a survey of UK citizens, 80% of people said they prefer brands that tell stories with their marketing materials. This is a crucial element to great content.
7. Content Builds Brand Credibility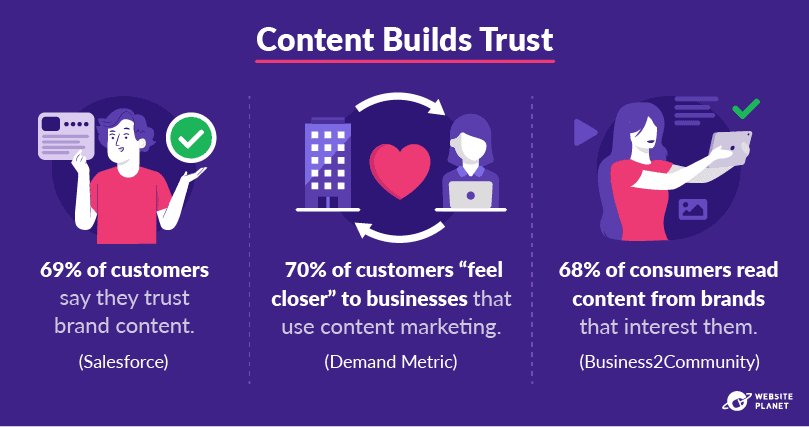 Customers trust content. This is important to remember, because the same can't always be said about traditional adverts and marketing methods. People trust content because it provides a reliable source of information, and it doesn't push products or services onto potential customers. The trust people place in your content translates into trust for your business. Building this credibility is really important if you want a loyal customer base. The best content marketers note this effect more than others — their content provides more value to people, it is trusted, and this lifts the reputation of a brand. That's why 96% of the best performing content marketers believe their content builds credibility with viewers (CMI).
8. Content Marketing is Key to an Overall Marketing Strategy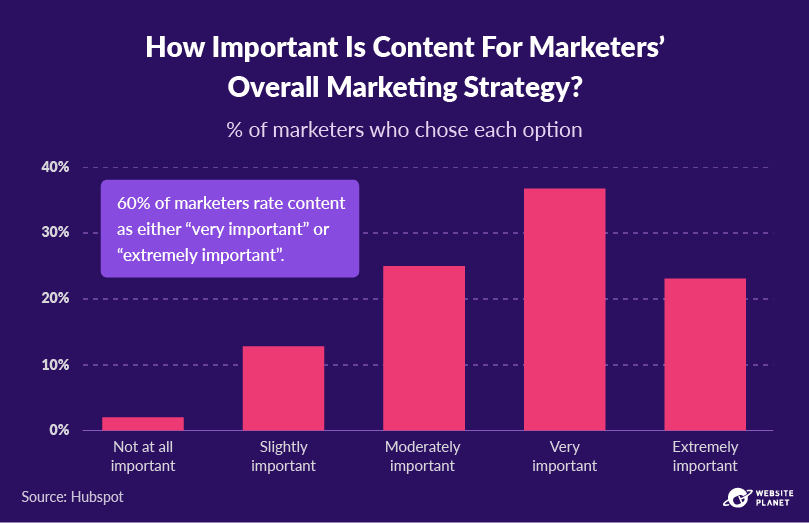 Content is important. Don't you ever forget it! Content marketing is effective, and can provide a multitude of solutions to businesses and customers alike. The benefits of content marketing are tangible, which explains why 60% of marketers rate content as either "very important" or "extremely important" to their marketing strategy.
9. What Skills Do Content Marketers Need?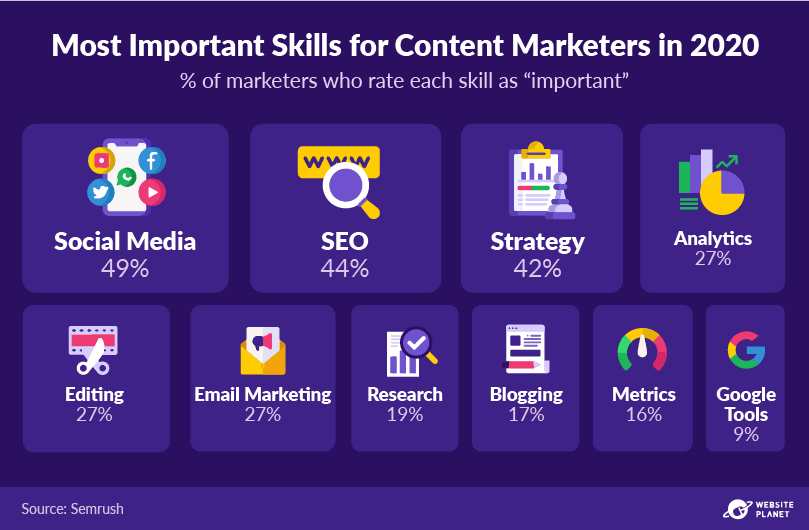 Content marketing requires a varied mix of skills in order to achieve success. Marketers rate knowledge of social media marketing as the most important area of expertise, while search engine optimization, and the ability to implement a working strategy, are also important for content marketing success.
10. What Defines Success in Content Marketing?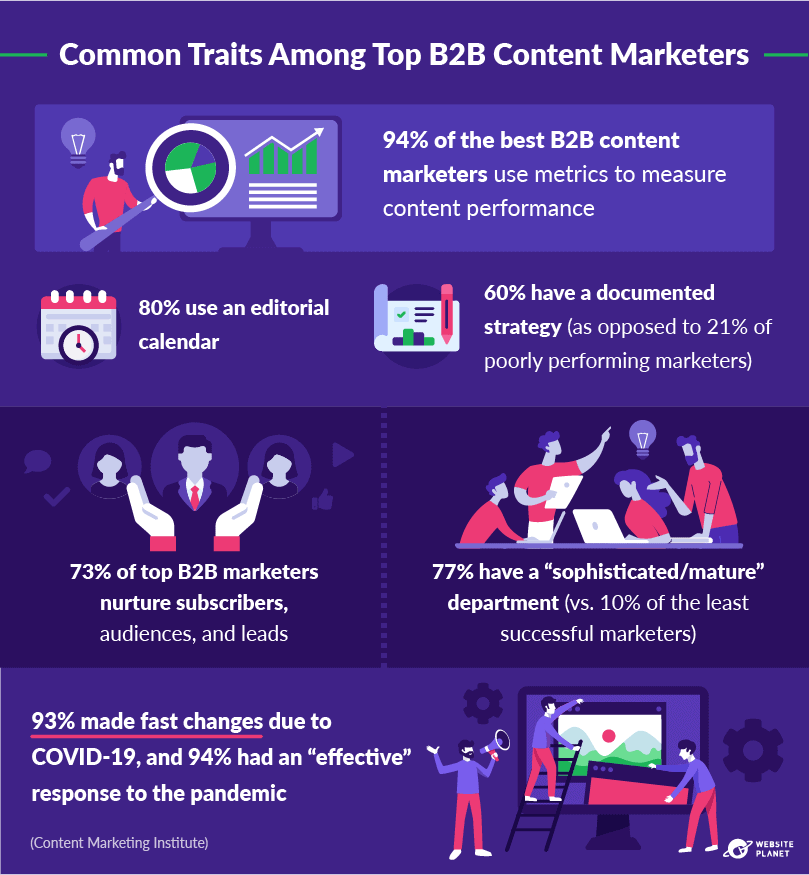 What traits are common amongst those who are succeeding in content marketing? The use of metrics to measure success, and a decisive response to the COVID-19 pandemic, are two factors that have defined content marketing success over the last year or so. Editorial calendars were also employed by the majority of successful content marketers. These practices were less common amongst unsuccessful marketers. In fact, just 21% of unsuccessful marketers use a content marketing strategy, which is part of the reason so few of these marketers have a sophisticated content marketing campaign.
11. Content Marketing Needs Clear Goals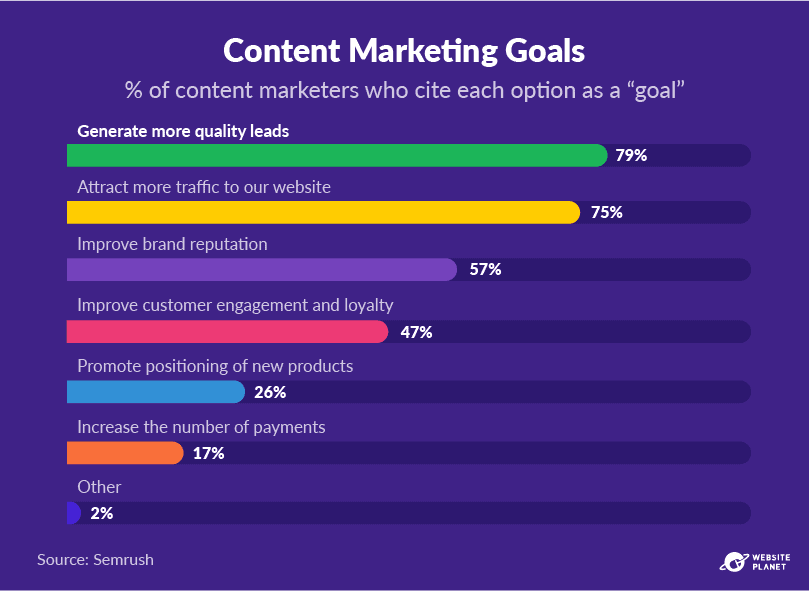 In Semrush's research, "generating quality leads" was the number one goal for content marketers. This is more important now than it ever has been, while driving traffic and increasing brand reputation are two more major benefits that marketers are targeting with their content. In a separate study by the Content Marketing Institute, B2C marketers cited "brand awareness" and "build credibility/trust" as their two greatest content goals, with 81% and 76% of marketers citing these aims respectively. These goals have risen to prominence amongst B2C marketers, while just 52% of B2C content marketers aimed to "generate leads." The presence of B2B marketers in Semrush's study suggests that lead generation is more important for B2B marketers, while reputation is the biggest draw of content in the B2C sector.
12. How Common is a B2C Content Marketing Strategy?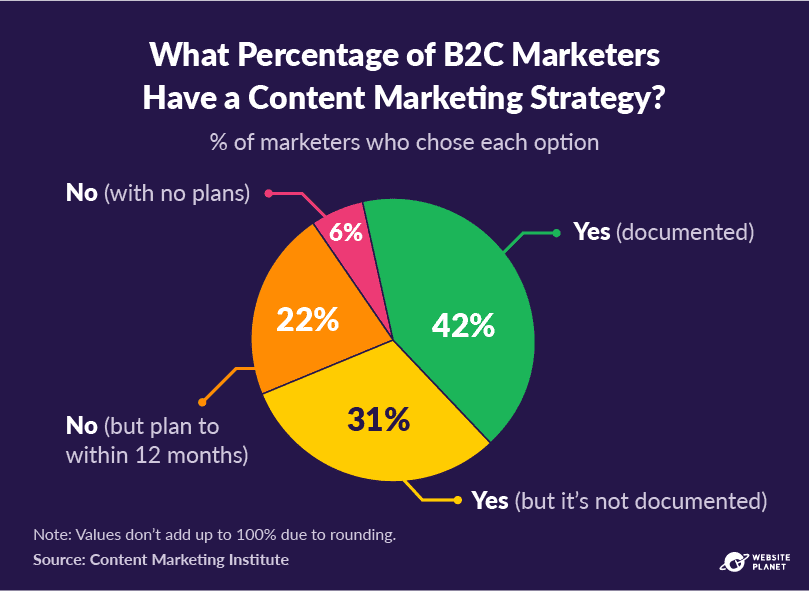 73% of B2C marketers employ a content marketing strategy. These marketers could be part of an agency or a marketing team within a business. This strategy is not documented for 31% of marketers, while another 28% of respondents don't have a strategy at all. That's risky, given what we know about the importance of a sophisticated strategy to content marketing success. Speaking of which, how sophisticated are marketers' content strategies?
13. Complex Strategies Are Popular With Successful Marketers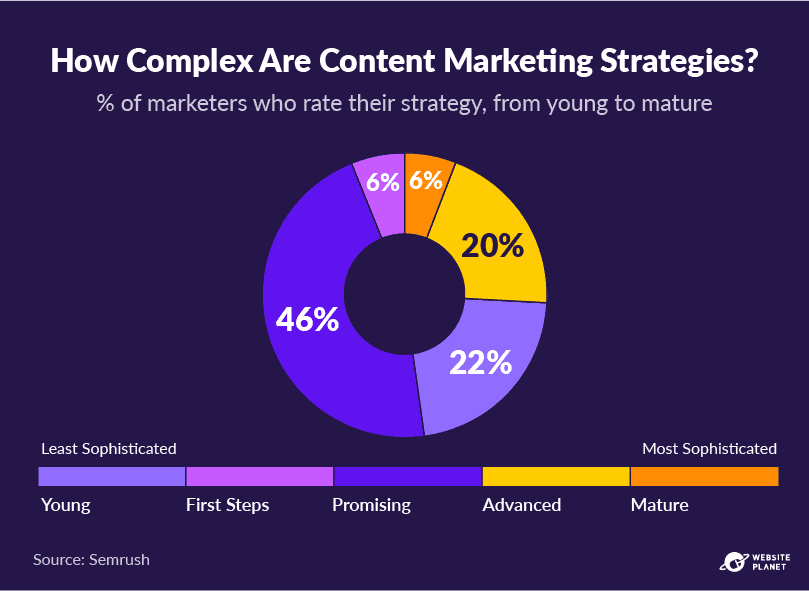 Semrush found that most marketers are still learning the ropes of content marketing. Just 20% of content marketers have an "advanced" strategy, though, you can guarantee these marketers will see the best results.
14. Content Marketing Faces Certain Challenges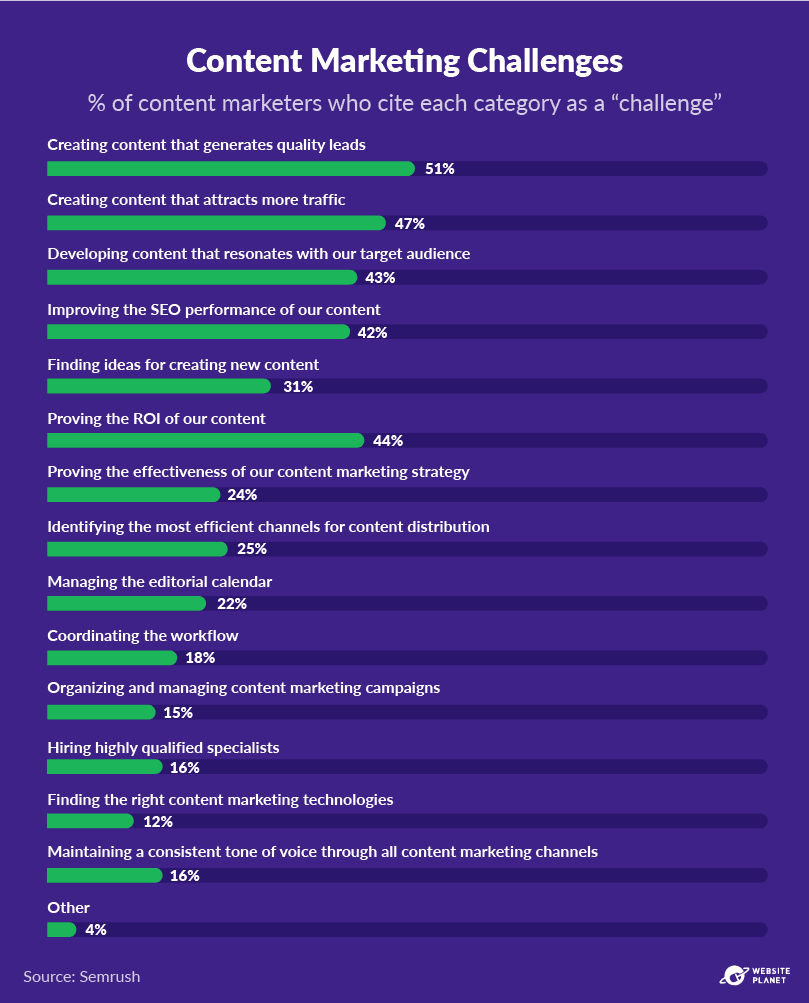 Generating enough leads is the primary struggle for 51% of marketers, while garnering the desired amount of traffic is a struggle for 47% of marketers. Hitting the desired target audience is another major challenge, as is SEO and finding relevant ideas for new pieces of content. In another study, 60% of content marketers found it challenging to produce adequate content consistently, which is supported by some of the challenges listed in Semrush's survey.
15. COVID-19 Has Inspired Some Adjustments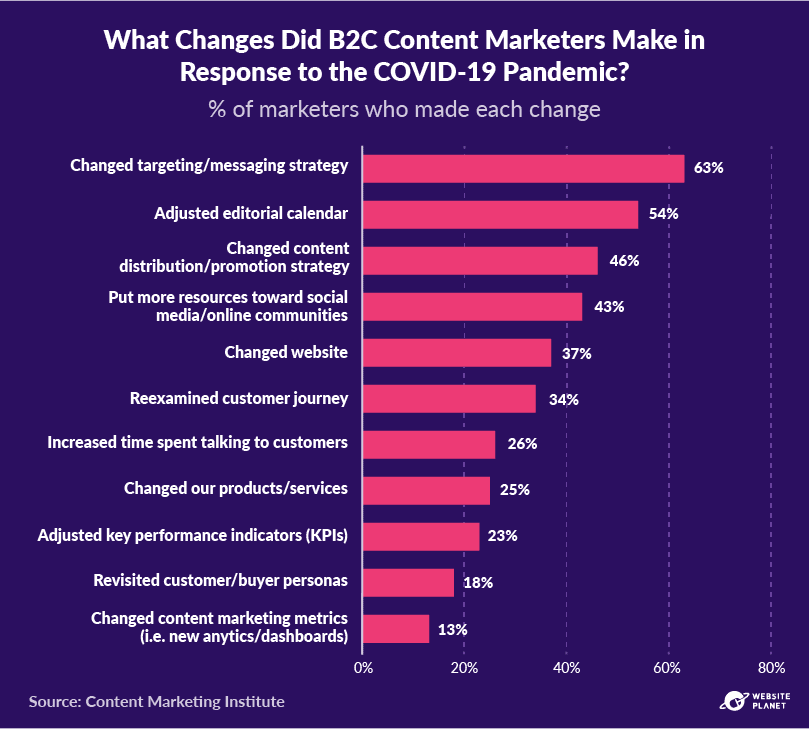 Content marketers had to respond to the COVID-19 pandemic, both in terms of the way they run their organizations, and the type of content they produce. The top reported change amongst B2C marketing organizations was an alteration to messaging and targeting. The sensitivity of the COVID-19 pandemic has required a more comforting and empathetic voice from businesses. Organizations also placed a greater emphasis on building online communities, while promotion strategies were altered by 46% of B2C marketers.
16. COVID-19 Will Have Long & Short-Term Changes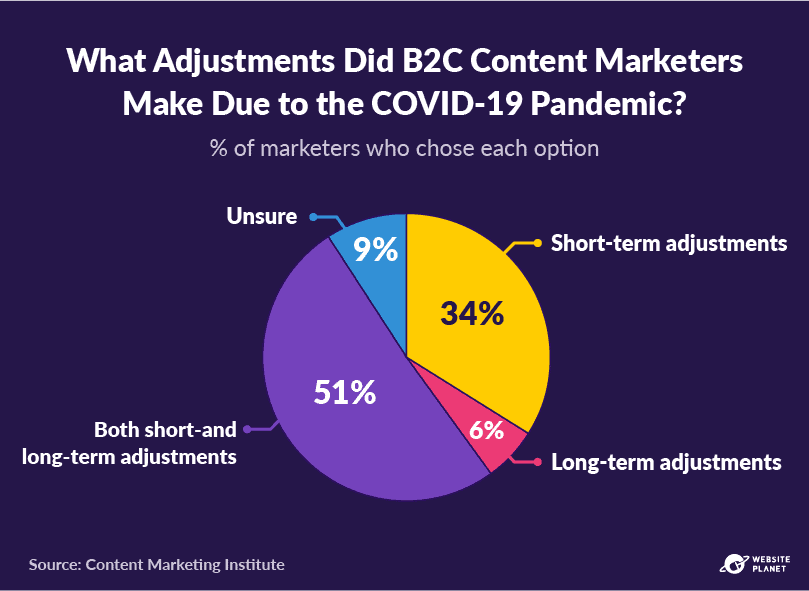 85% of organizations have made short-term adjustments in response to the COVID-19 pandemic. Many businesses are preparing to live with COVID-19 for the foreseeable future, too. 57% of B2C marketers have made long-term changes to the way they operate. 9% of marketers were unsure about the changes their organization has made. These marketers may simply not know what changes have been made, or their organization may lack a response to the pandemic altogether.
Measurable Impacts of Success Content Marketing
Next, we'll take a look at the measurable impacts marketers can expect when they employ content marketing tactics. Traffic, engagement, ROI. How does content marketing influence these key success metrics?
17. Content Boosts Traffic and Backlinks…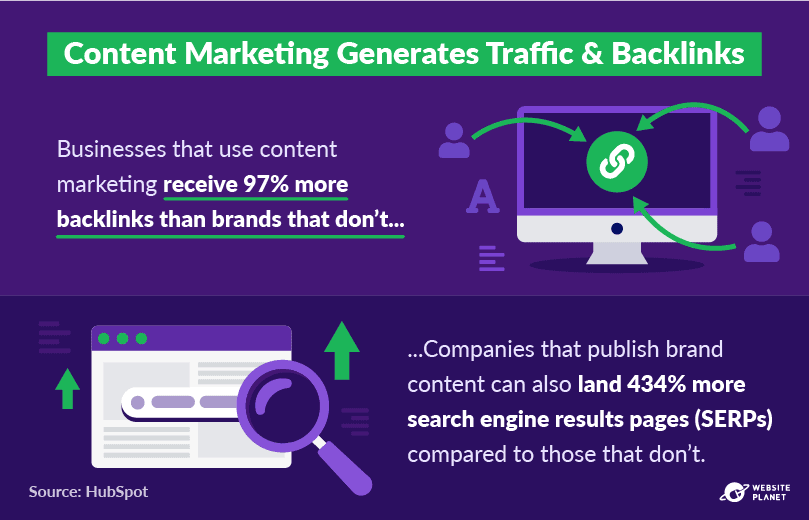 Content boosts any website's ability to receive search engine traffic. It achieves this, in large part, through backlinks. A page receives backlinks when other pieces of online content reference that page through a link. This could be a blog post that links itself to your content because of a point you have made, or a piece of research you have presented. Gathering backlinks posits your content, website, and business as a "trustworthy" source of information. All of which will index your website on search engines. The more backlinks on your site, the better chance a site has of ranking higher on search engines. Higher-ranked websites receive more internet traffic. This ultimately increases the number of leads a business can generate.
18. …And Increases Engagement and Leads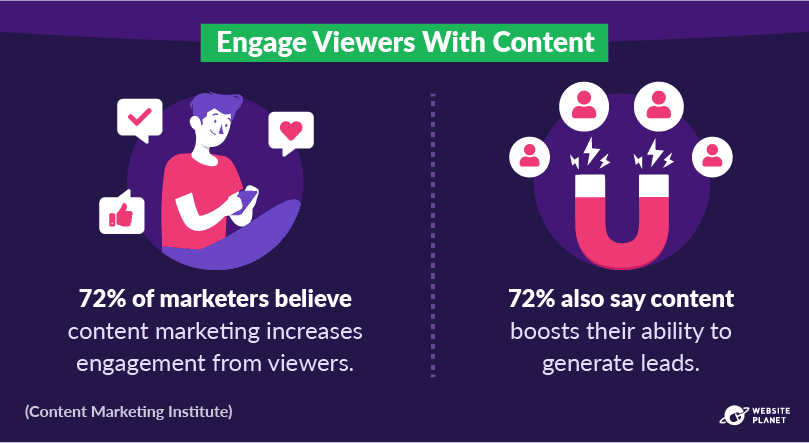 Marketers agree that content marketing improves people's engagement with a business, and its marketing materials. This means people are more interested in your brand and content — they're more likely to read, watch, or interact with whatever materials your business is producing. Increased engagement leads to an increase in the number of leads…
19. Content is a Great Return on Investment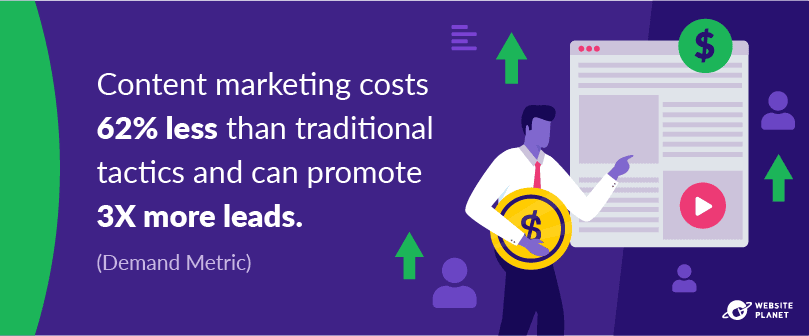 The "return-on-investment" that businesses can see from content marketing is staggering. That's because it costs less than other methods, and can return far more leads. According to First Page Sage, a well-executed content marketing strategy returns, on average, $984,000 in profits for businesses and marketers. This healthy return explains why 98% of B2B marketers believe that the performance of marketing content justifies its cost (Walker Sands).
20. Great Content Creates Return Customers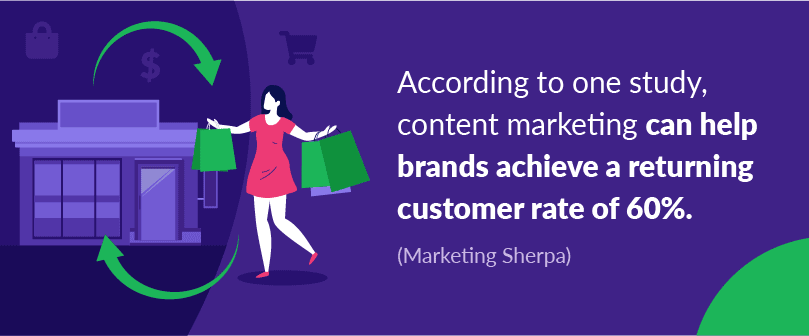 Remember we mentioned how content can build trust, credibility, and awareness amongst people? Those benefits do not only materialize in the form of new leads. Content marketing generates loyalty amongst existing customers too. Tiger Fitness found that most of its customers returned as a result of its content marketing strategy. That's a recipe for success, providing consistency and longevity for a business' revenue.
21. *Site Traffic Is Unique Too
Content marketing not only promotes returning customers, but it also gathers unique viewers. This is why content can generate so many fresh leads. The very best marketers can obtain new visitors to their site with regularity. This can only have a positive impact on the success of a business/brand.
22. Content Converts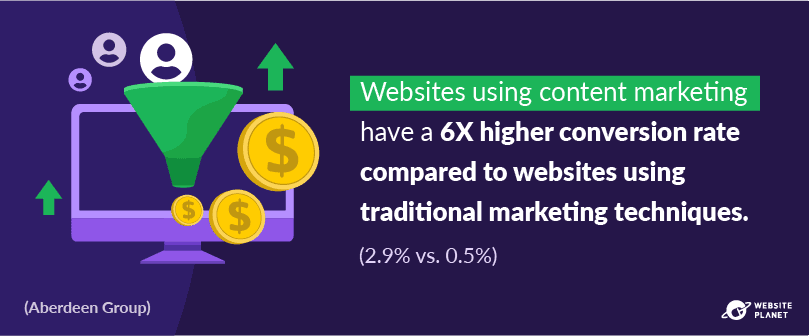 When it comes to the end-stages of the buyer's journey, content marketing increases a customer's likelihood of making a purchase (of converting). The credibility of a brand's content can inspire customers to trust brands with their purchase. Customers are confident they will receive a great product, because of the expertise and value your business has already demonstrated. An increase in traffic, leads, and conversions with a fantastic return-on-investment drives an overall increase in revenue and profits. In other words, content marketing can have a massive impact on the success of your business!
The Best Types of Content
In section 3, we'll take a look at specific types of content. What types of content are there? What impacts can they have? And what are the best practices when using them?
23. What Are The Most Popular Types of B2C Content?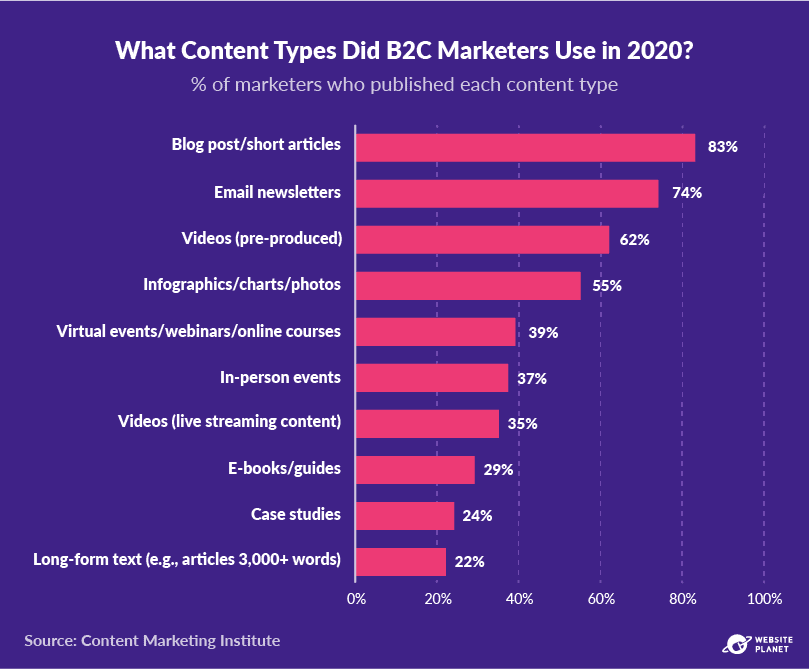 B2C marketers prioritize blog posts and short articles over every other form of content. 83% of B2C marketers use blogs and articles, while 74% of B2C marketers send email newsletters. Pre-produced videos were also very popular, owing to the level of engagement and impact they can generate. Live-streamed video content saw the highest year-on-year increase of any category. 35% of B2C marketers live-streamed in 2020, a significant rise from 13% of marketers the year before. Live streaming wasn't the only form of content providing an element of real-time social contact between brands and customers. More B2C marketers are using virtual events, webinars, and online courses now, increasing from 27% to 39% in 2020. Predictably, in-person events decreased for B2C agencies, falling from 50% use in 2019. Just 37% of marketers hosted in-person events in 2020.
24. What Are The Most Popular Types of B2B Content?
It's a similar story for B2B marketers, though there are a few notable differences. Blog content is even more common amongst B2B marketers, as is the use of case studies (68%) and webinars/virtual events/online courses (67%). These saw a jump in usage amongst B2B marketers, rising from 57% in 2019. B2B agencies rely more heavily upon in-person corporate events, and, as such, have seen a greater drop-off here. 73% of B2B marketers used in-person events in 2019, which fell to 42% in 2020. Live streaming rose from an insignificant 10% in 2019 to be used by 29% of B2B marketers in 2020. Elsewhere, e-books, guides, white papers, and long-form content are more commonly used by B2B marketers compared to B2C. That signifies the sector's need to provide comprehensive amounts of information to potential clients and partners.
25. Which Content Types Are Shared The Most?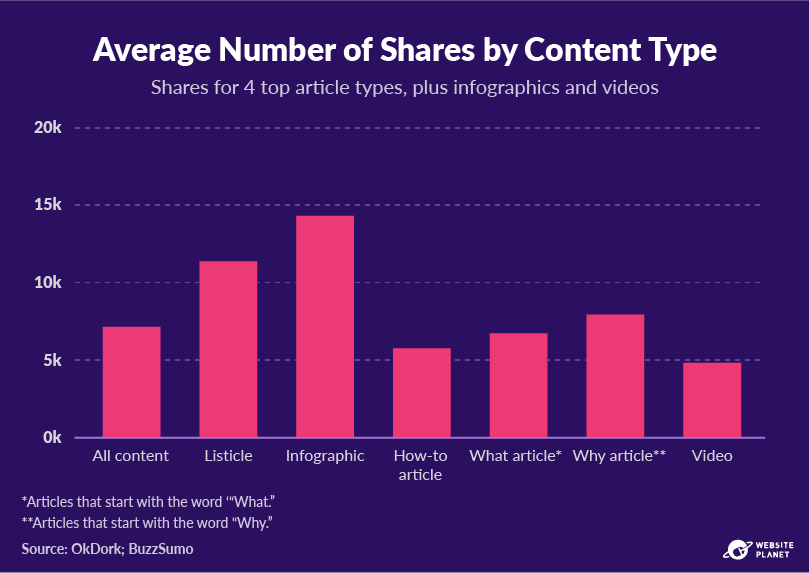 If spreading the word of your business as far and wide as possible is the goal of your content strategy, then infographics represent the best possible return. Infographics are shared more often on social media than any other type of content. Listicles also receive a lot of shares, as do various other types of informative blog-style content.
26. What Are The Most Engaging Content Types?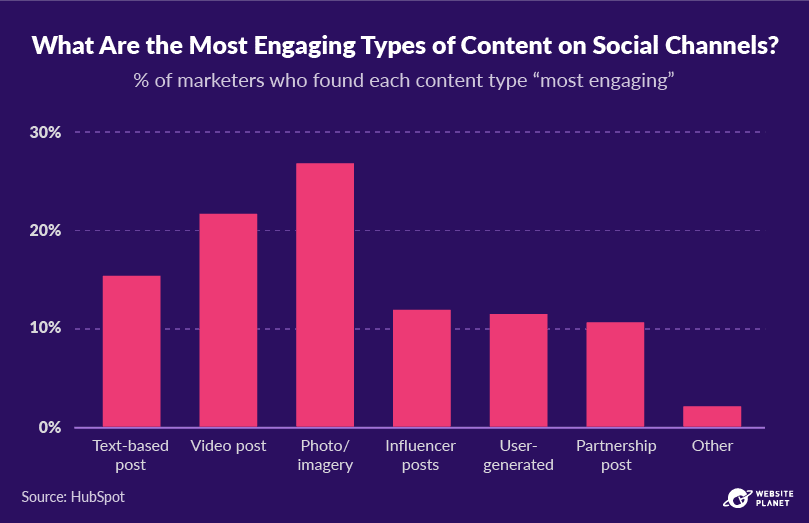 So, infographics get shared the most, but what types of content receive the best overall social engagement? That means views, interactions, likes, shares, and comments. HubSpot found that images, such as infographics, graphics, and photography, get fantastic levels of engagement. Videos also perform well on the whole, and text-based social media posts are the third-most engaging form of social media content.
27. Publishing Original Research is Key For Growth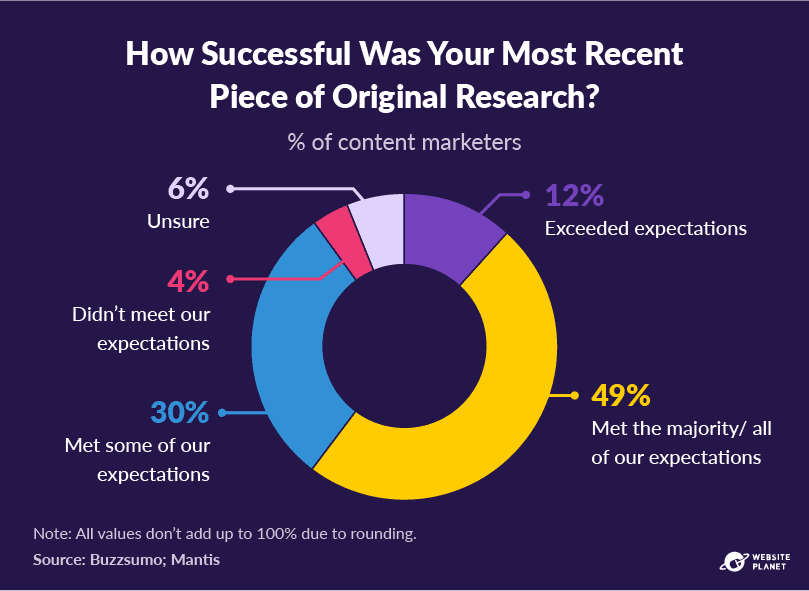 Another thing that's becoming more and more important by the year is original research. According to content marketers, using original research in content almost always returns results. Original research is new research collected by a content creator or organization that is used to craft the content, as opposed to borrowing pieces of information from various other sources. This could be a study or survey. Survey-based publishing is the most common form of original research, conducted by 65% of marketers (BuzzSumo). Going that extra mile to gather data posits a brand as an innovator, solidifying its position as a credible, expert source of information. This generates a ton of backlinks — a reason why original content returns such great results. In fact, 94% of marketers believe that original research boosts the authority of a brand.
28. The State of Blogging in 2021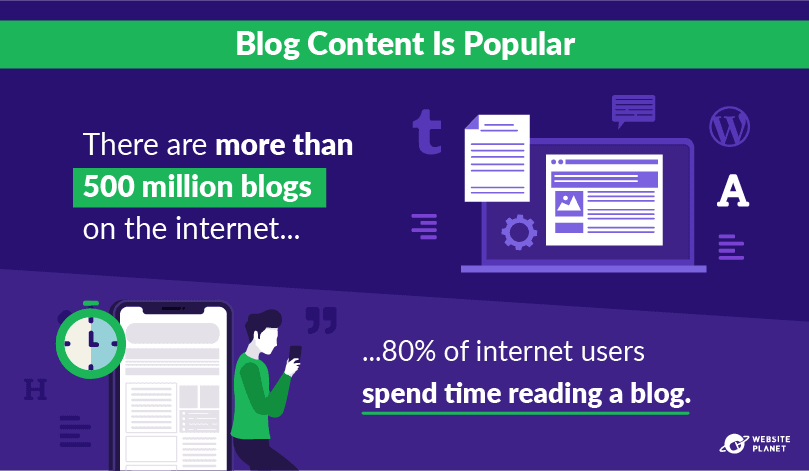 Blogs are everywhere. If you hadn't guessed already, they're quite important to customers and marketers. Blogs are really popular amongst internet users. 80% of online users read them, and there are over 500 million blog posts in total.
29. Blogs Still Drive Traffic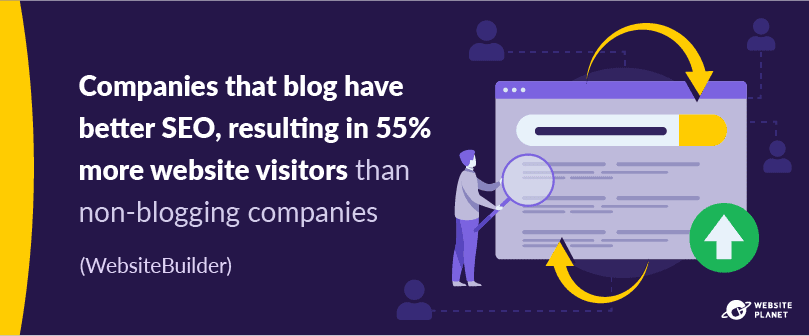 Blogs drive organic traffic to a website more than any other form of content. They generally receive more backlinks than other content types, and this results in heightened brand awareness. All of these benefits work to generate leads for your business. Blogging, specifically, can boost lead generation by 67% every month.
30. What's the Perfect Blog Length?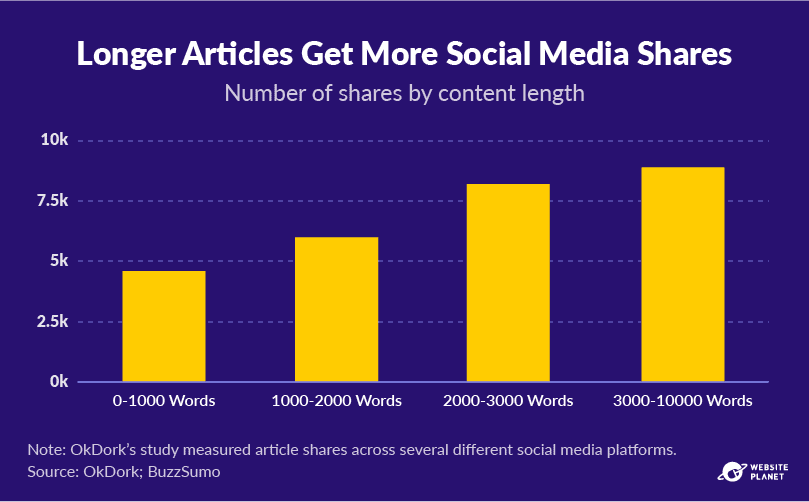 What length of blog content should businesses create? The average blog post is just 1,269 words long, so there's certainly a market for shorter blogs. Yet research suggests longer content is often the best way to inform an audience and drive engagement. According to one study, shares and long-form content go hand-in-hand, with blog posts between 3000 and 10000 words receiving the most of them. Long-form articles are comprehensive resources that cover topics in-depth. That's why they are shared between parties. It's also the reason long-form content can generate 9X more leads than shorter forms.
31. How Often Should You Post on a Blog?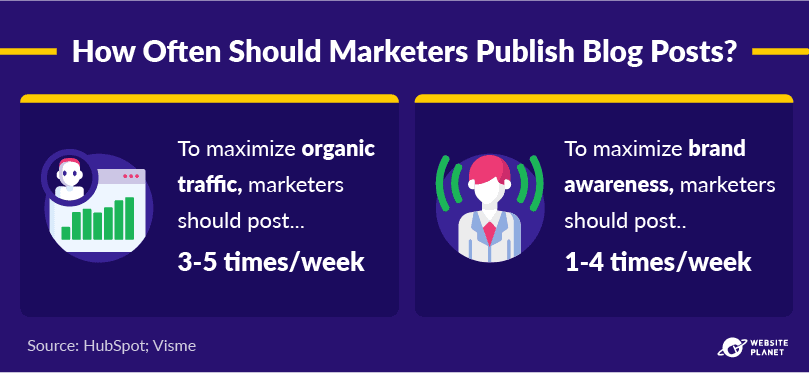 This is a pretty common question in 2021: how often should you post? The answer can be different for each social media platform, but when it comes to maximizing search engine traffic, the results are pretty consistent across websites. Somewhere between 3 and 5 posts a week is the sweet spot. Bloggers can receive a great boost to organic traffic and brand awareness within this range.
32. Add Visual Content to Your Blog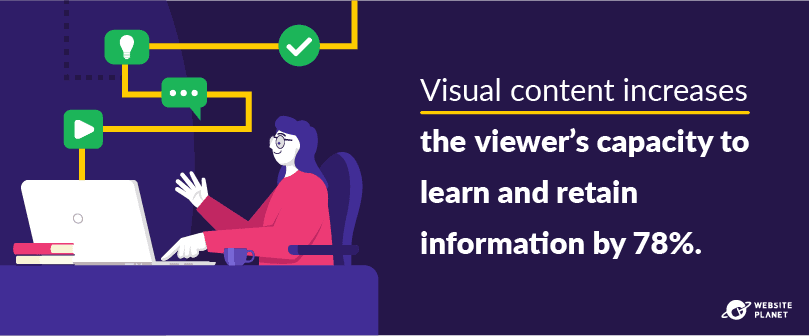 Adding visuals to your blog, whether that's videos, interactive content, or infographics, will enhance the effectiveness of informative blog content. 65% of people respond best to visual information, so it stands to good reason that visuals will help people learn and retain what you have to say. Visual content is still underused on blogs. Venngage revealed that just 49% of marketers use visual content on their blog or website. That's surprising, as it's a tried-and-tested tactic to improve content quality.
33. Infographics Are Key to Creating Instructional Content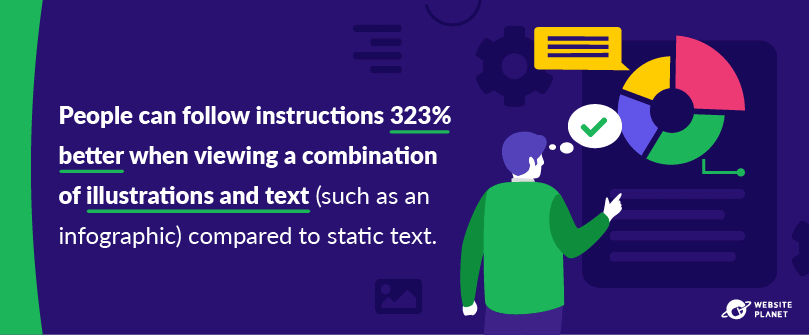 Talking of visual content and blogs, infographics are the perfect visual medium for informative content. Infographics increase readability by 80%, presenting information clearly and concisely. Ultimately, people follow instructions far better with the help of infographics. Marketers who use them see results. 84% of marketers say they find infographics "effective" (Infographic World).
34. Use Color in Infographics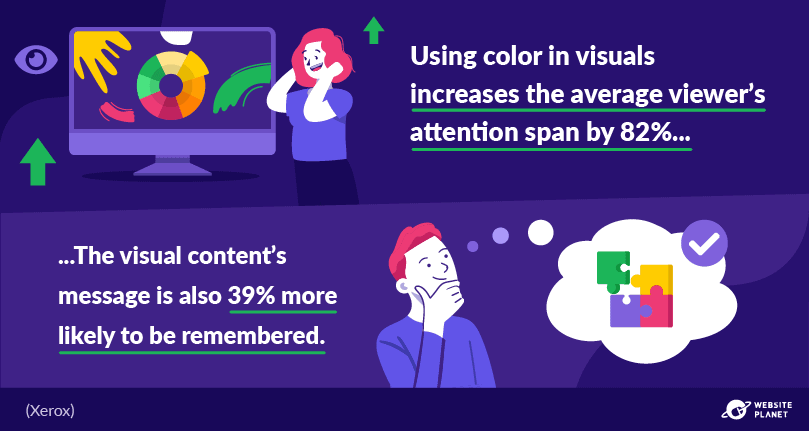 Adding a splash of color to your infographics isn't a bad idea either. This is going to take your infographics to the next level. Colorful infographics draw in the viewer's attention, and color boosts the retention of information once the viewer reads the infographic's content. It works the same as a colorful poster that commands your gaze. Eye-catching, colorful designs stay in the mind — in which case, avoid black and white infographics!
35. Everyone Loves Video Content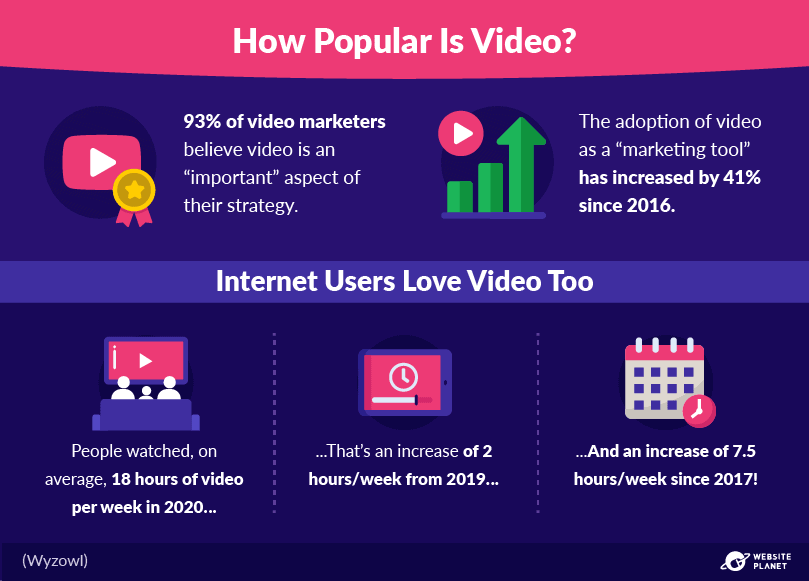 Research from Wyzowl demonstrates the value of another form of visual content, video, which has undoubtedly seen the biggest growth over the last few years. We've seen the rise of online streaming platforms like Netflix and Amazon Prime Video, while YouTube has strengthened its position as the biggest video streaming platform. This upward trend means video is already the dominant form of internet traffic. By 2022, video will make up 82% of all internet traffic. Internet users and marketers can't get enough of video because it's super engaging. It's certainly one of the most engaging forms of content, and new technologies (such as VR and interactive video) suggest this theme will not change anytime soon.
36. Video Provides Excellent ROI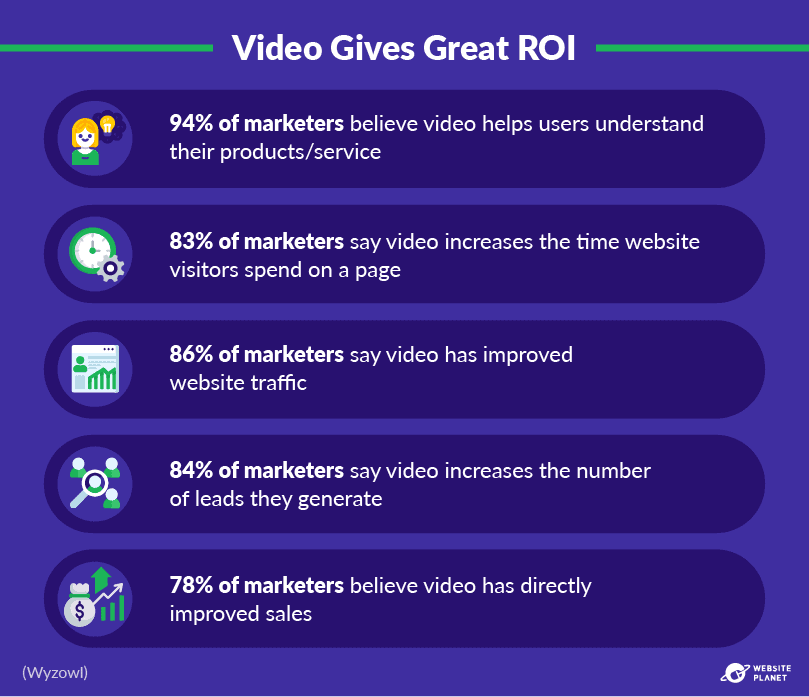 Marketers unanimously agree that video boosts performance across a range of metrics, from time on-site to lead generation and sales. Video can increase organic traffic by 157% and user time-on-site by 105%, while video can double conversion rates compared to non-video marketing methods. Tangible increases in traffic encourage a higher number of leads, and this creates an up-turn in revenue. In other words, the ROI of video is pretty amazing, and you're missing out on plenty of potential benefits if it's not part of your content strategy.
37. What Video Types Are Marketers Using?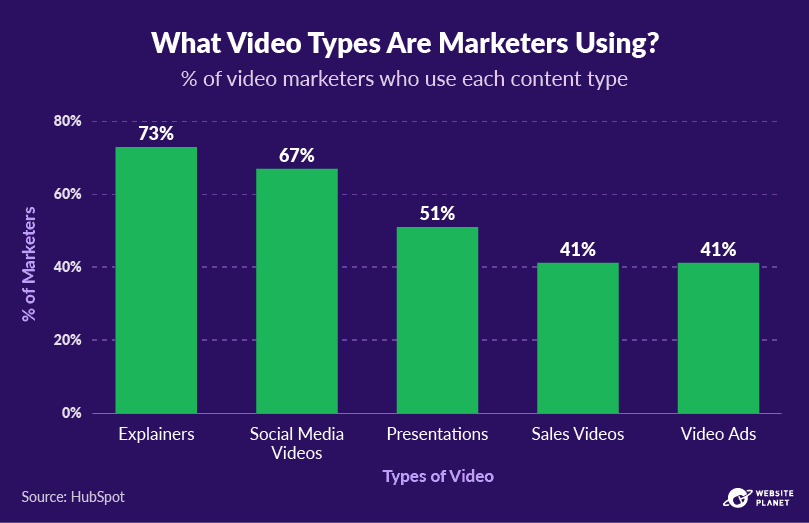 Explainer videos are used by marketers more than any other type of video content. This is consistent with almost every other form of content — informative materials are prioritized by marketers and users. People love watching explainer videos. Explainers can transmit a lot of information to the viewer in a short amount of time. Brand videos that explain products or services are the perfect form of explainer video to use. Wyzowl's study found that 96% of users watch explainers when they want to learn about a product/service. Social media videos are another popular form of video for marketers, while presentations are a great way for B2B businesses to generate leads.
38. Short-Form Video is Best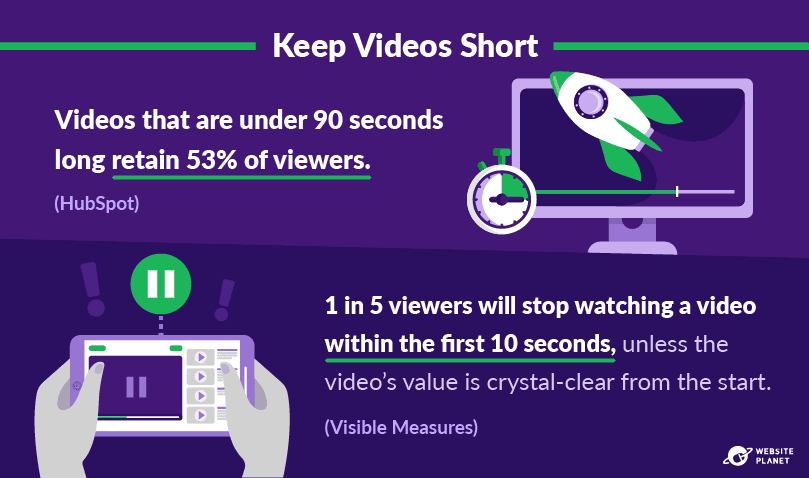 Short-form video is favorable in 2021. Evidence of this trend can be seen in the growth of short-video platforms like TikTok, YouTube Shorts, and Instagram Reels. People are demanding quicker, more digestible forms of video content. That means businesses should get their message across as quickly and efficiently as possible. Doing so will engage and retain viewers far better than longer videos. Two-thirds of consumers state that they prefer short videos when learning about products. It's so important that businesses get the message across in less than 90 seconds. Achieve this, and you should see big results!
39. Video Boosts Click Through Rates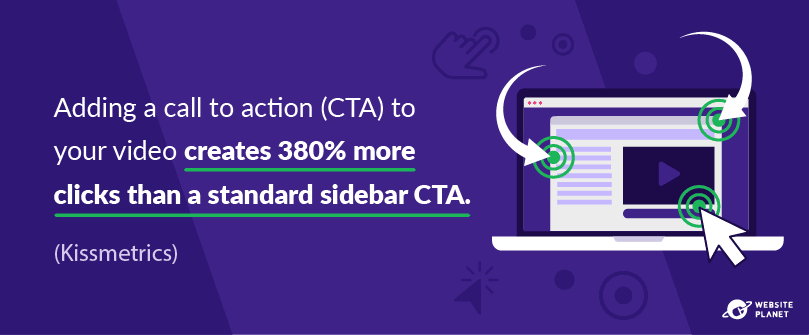 Calls to action (CTAs) are more impactful when used in videos. The engagement that video content creates means viewers will often engage with a CTA. That makes for great reading if you're a social media marketer. Stories platforms and short-video platforms, such as those mentioned above, make for the perfect locations to insert CTAs. Instagram Stories, for example, has a ton of functionality that allows you to place interactive "swipe-up" prompts into your videos. When videos are shorter, more viewers are retained, which means more potential customers see your call-to-action.
40. Live Streaming Continues to Grow in Popularity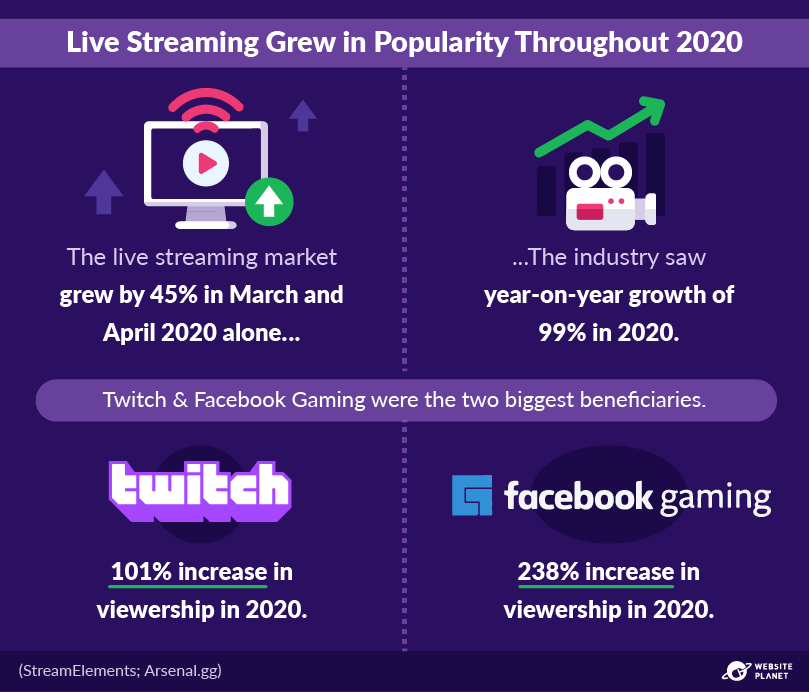 We mentioned the rise of live streaming during the COVID-19 pandemic. Well, here it is in numbers. The industry saw unbelievable growth in 2020! It's this growth that has led the live streaming market to a mammoth valuation, expected to reach $247 billion by 2027. Throughout a global pandemic, live streaming has allowed brands and viewers to digitally interact with one another, somewhat filling the void of social interaction felt by those in lockdown. The social aspects of live streaming are a key benefit for marketers. 79% of marketers say that the form creates an "authentic interaction" between the streamer and the audience (GO-Globe). The industry has also benefited from increases in user downtime and social media use. Though, live streaming was expected to see a significant rise, even before the COVID-19 pandemic. That's because live video is more engaging than static video. Live-streamed video can hold a viewer's attention 10 to 20X longer than standard, pre-recorded videos.
41. Live Stream Video Quality Matters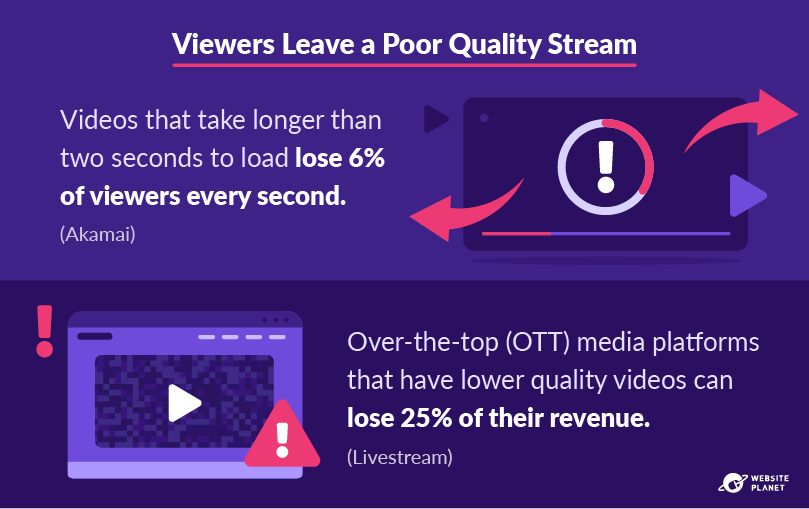 The quality of your live stream is really important, and I'm not just talking about the
content
. Viewers will abandon your stream if the image quality or frame rate of the live video is poor. I understand this may, at times, be out of your control: The live streaming platform could be poorly optimized for loading/streaming efficiency, or the user's connection could prevent them from getting a good quality stream. But there are things you can do to reduce the chances of hosting a bad-quality stream. Make sure your internet connection is fast and reliable. Choose a high-profile platform (like those mentioned above), and invest in quality equipment. That means buying a high-definition camera for your business or agency!
42. Podcasts Are Booming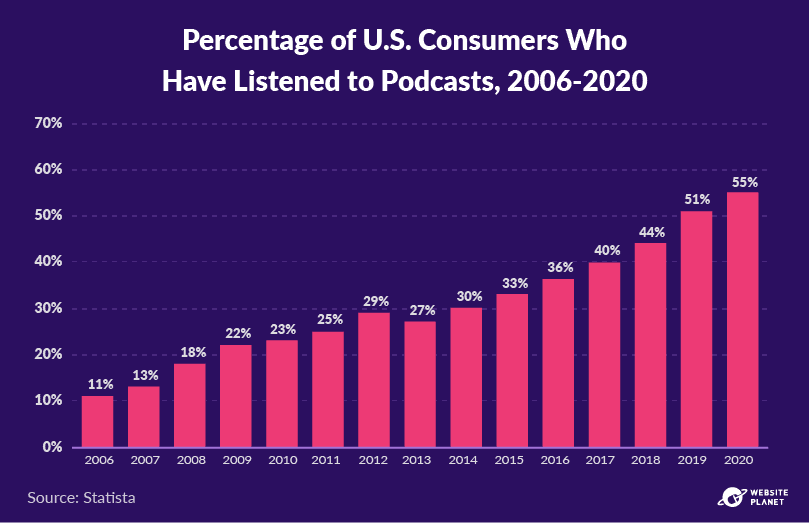 Podcasts have seen a huge growth in viewership over the last decade or so, largely down to the accessibility of video/audio streaming platforms and the rise of popular creators. 55% of U.S. consumers say they listen to (or have listened to) a podcast. Podcast listeners are generally younger, too, making this popular form a great way to target teens and young adults. In 2021, 56% of podcast listeners are aged 12-34 (Edison). Viewership share amongst this age group is growing, too, up from 49% in 2020. Around 39% of viewers are aged 34-54, meaning there is still a market for podcasts targeted at middle-aged listeners.
43. Podcast Listeners Act Differently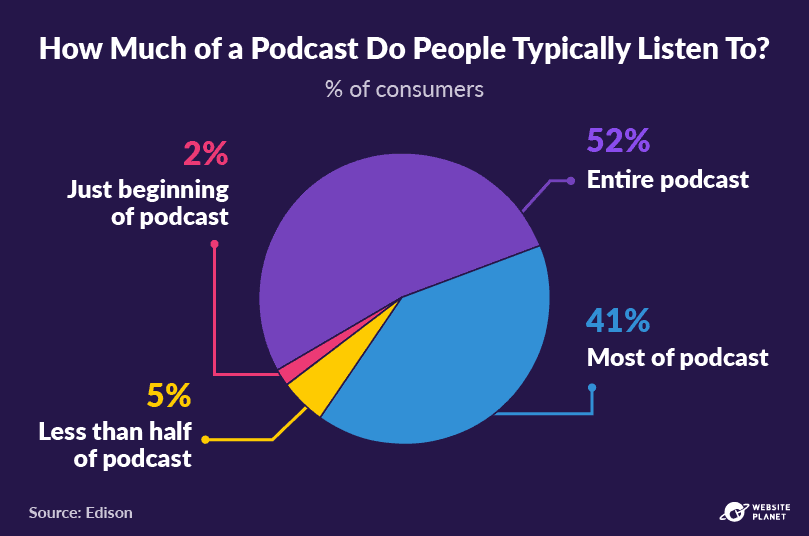 People listen to a podcast differently to how they would normally read an article, or watch a video. Podcast listeners will sit through the entire podcast just 52% of the time. That's not necessarily because they don't like the content. Podcasts are often over an hour long, and users may just want to listen to a portion of the podcast at one time. The answer to this trend may also lie within the setting in which users listen to podcasts. Audio content allows users to listen on the move. According to one study, 22% of people listen to podcasts while driving (Podcast Insights). That means key topics and messages should be covered with clarity in the podcast, preferably during the first half. The start of your podcast should be extra engaging as well.
44. Podcasts Need to Start Strong And Grab Attention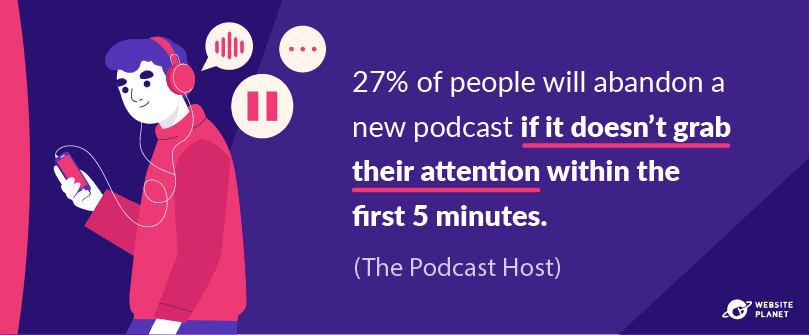 Kick your podcast off with a bang. Mention a really interesting topic, or something hyper-relevant to the audience. People generally jump between podcasts before they commit to the best option. That means you need to really "sell" your podcast for that all-important first 5 minutes. You could also give the audience a quick rundown of everything you'll cover on the podcast — that should help convince a lot of users to stay.
45. Most Webinar Registrations Happen Just Before The Event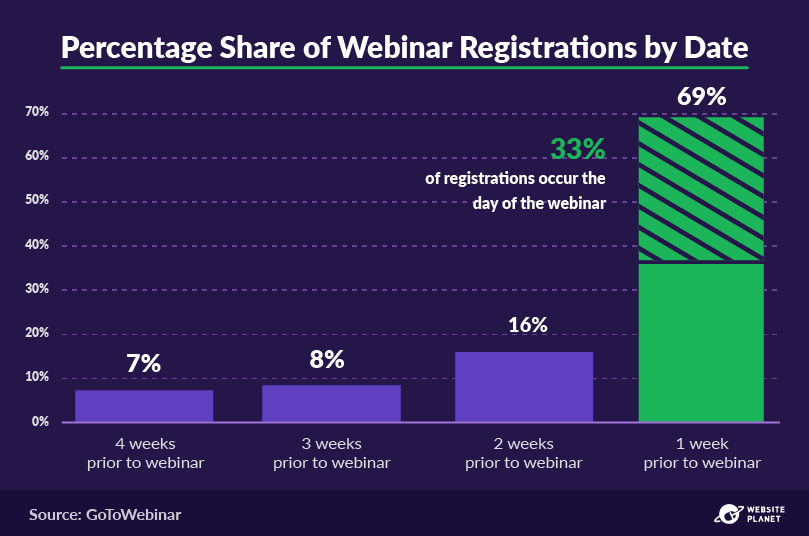 Webinars typically receive a boost in sign-ups in the days leading up to the event. According to Wyzowl, 62% of marketers use webinars, and 91% of these find webinars to be successful. Webinars work perfectly, driving 20-40% of attendees to become leads and around 2-5% of viewers to make a purchase. In which case, harnessing the sign-up process to maximize the audience of your webinar is important to get the best results. Marketers using webinars should extend their promotion cycle beyond 2 weeks before the webinar. GoToWebinar's data suggests promoting early sign-ups could benefit businesses, while sending event reminders on the day could prompt registrants to tune in. One-third of users watch the webinar replay, so make sure the content of your webinar is rewatchable at a later date. Don't overly-reference the date or time, for example.
46. White Papers Are Great At The Start of The Buyer's Journey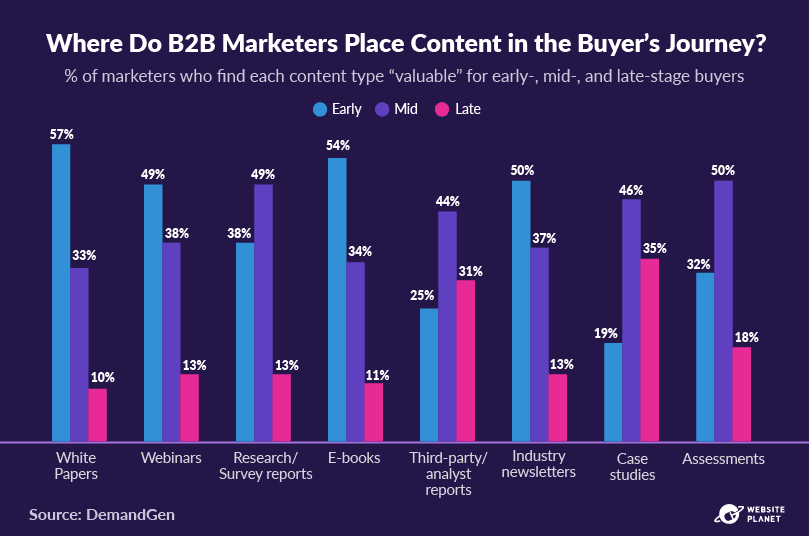 White papers are a widely used form in B2B marketing and are a great way to explain a product or service in-depth. According to one study, 76% of readers use white papers to learn new information. On a side note, 78% say that a good white paper should not feel like a marketing resource, so keep the "salesy" language to a minimum. White papers are perfect for the early stages of the buyer's journey, as are e-books. Assessments are perfect for the middle of the sales funnel, while case studies represent the best value for late-stage buyers.
47. Interactive Content Has a Huge Impact on Marketing Efforts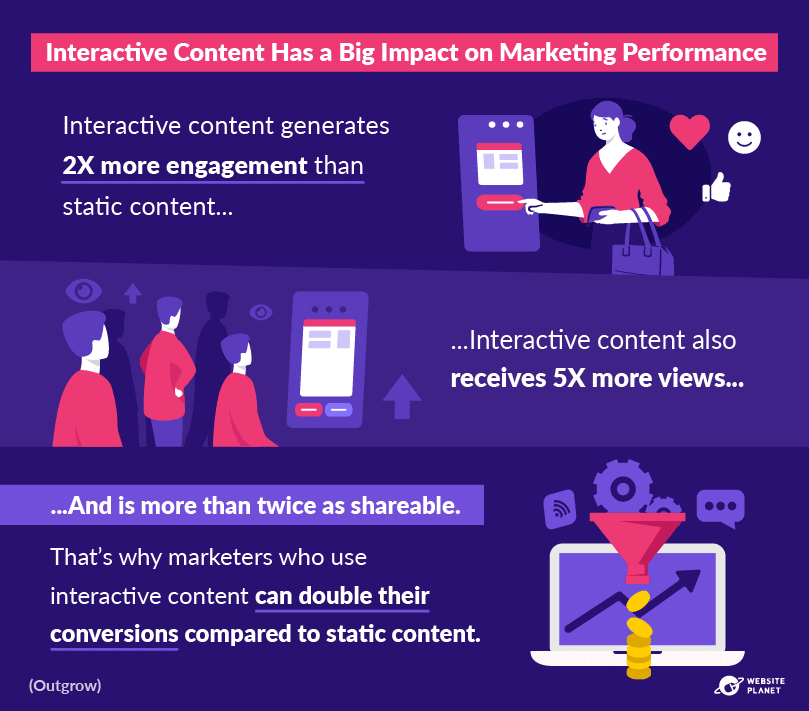 Interactive content is any piece of content that promotes user action, rather than passive consumption. Interactive content could be a quiz, an interactive social media story, a 360-degree video, or an interactive infographic. Interactive content is impactful because of the level of engagement that it promotes. That's why it gets twice the conversions of static content.
48. What Types of Interactive Content Are Most Popular?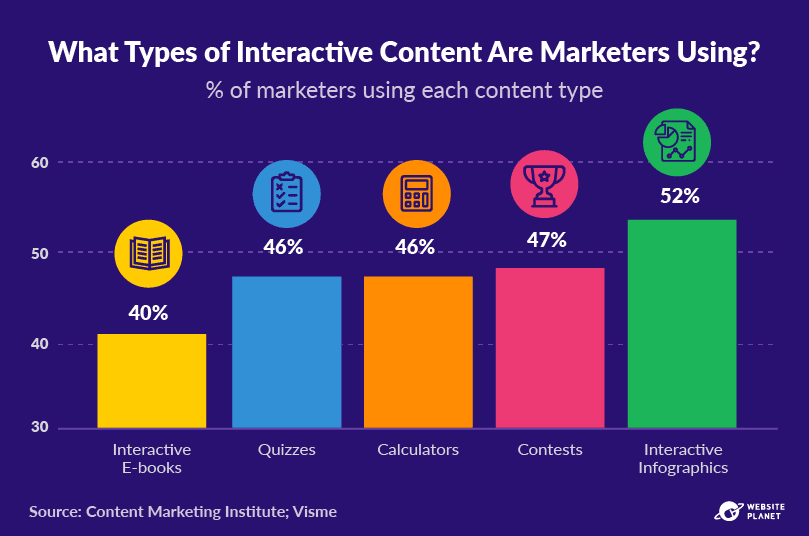 What types of interactive content are prioritized by marketers? 52% of them are using interactive infographics. These boost the value of your content by making visual learning more engaging, which increases the amount of information readers are likely to remember. Marketers also use interactive brand contests, to maximize reach and engagement, while quizzes are another popular form of interactive content. Quizzes are easy to create and can be hosted through platforms like Instagram Stories. They're super-engaging, with an average conversion rate of 50%!
49. Interactive Content Works Across the Buyer's Journey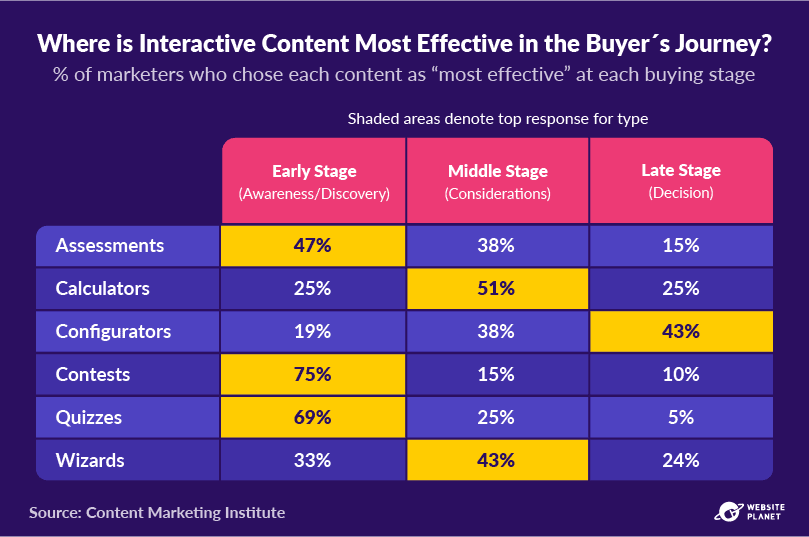 According to a study, 93% of marketers rate interactive content as "effective." Its impact is driving greater adoption amongst marketers. In a separate survey, 88% of marketers said they plan to make at least 10% of their content interactive within 2 years (DemandGen). As more marketers begin to use interactive content, it helps to know how (and when) to use it. CMI's research shows that contents and quizzes are great for early-stage buyers, while calculators are a good middle-stage form, and configurators work well in the late-stages of the buyer's journey.
The Best Content Marketing Channels & Strategies
You've had a look at some of the most important forms of content. Now, where should you publish your marketing materials? In this section, we'll be looking at the best places to post, along with all of the best tactics and strategies to boost the effect on each channel.
50. What Channels Do B2C Marketers Use Most?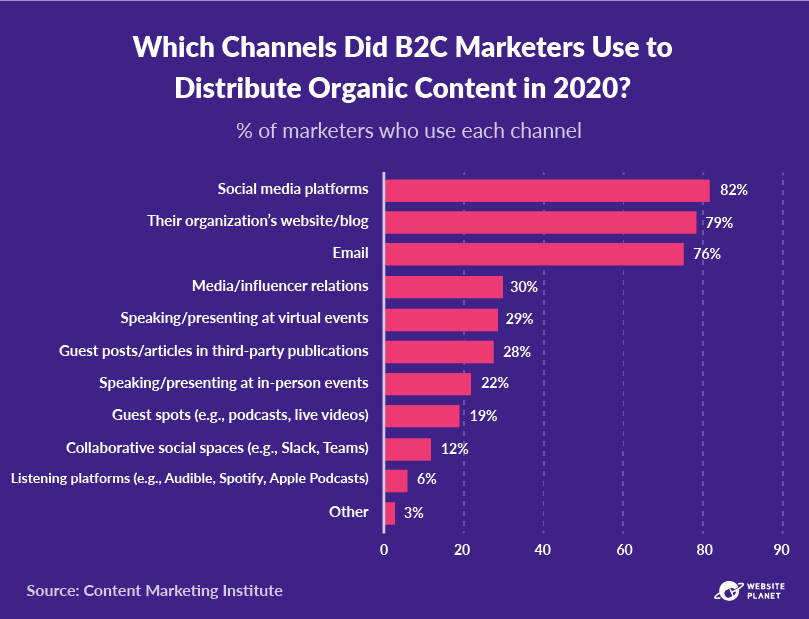 Valuable research from the Content Marketing Institute shows the places where marketers love to place their organic content. In the B2C sector, social media and search engines are the 2 most effective platforms for marketers. Email marketing was used by 76% of respondents, while third-party publications are used by just 28% of marketers to distribute content.
51. What Channels Do B2B Marketers Use Most?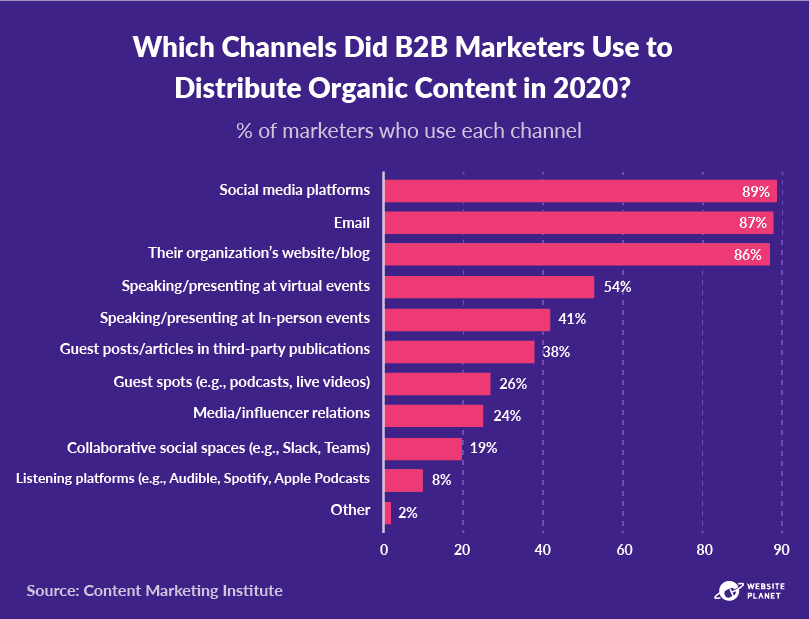 Social media is the most common organic platform amongst B2B content marketers as well, used by 89% of respondents. Email marketing is the second-best channel in the B2B sector, and websites/blogs are the third best place to publish content. These 3 platforms are all employed by the vast majority of respondents. Notable decreases include the use of third-party publications, which has fallen from 48% to be used by 38% of B2B marketers throughout 2020. Media/influencer relations were previously used by 34% of marketers, but today that figure stands at just 24%.
52. Paid vs Unpaid Channels For Content Marketing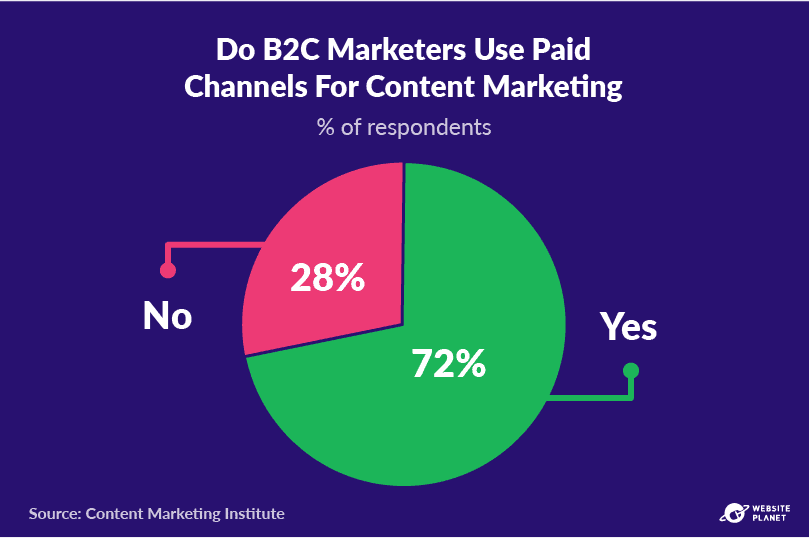 Are marketers generally distributing paid content or organic content? In other words, are marketers paying to display ads or are they releasing free community-led materials? 72% of B2B and B2C marketers used paid channels in 2020. This has fallen compared to previous years. 85% of B2C marketers used paid channels in 2019. The data shows that organic content is becoming more important — valued by both consumers and marketers alike. Amongst those marketers that have used paid channels throughout 2020, social media platforms and search engines remained the 2 biggest places to publish paid content. Sponsorships are the third most common paid channel in B2B, while banner ads are employed by 50% of B2C marketers.
53. Which Organic Socials Do B2C Marketers Use?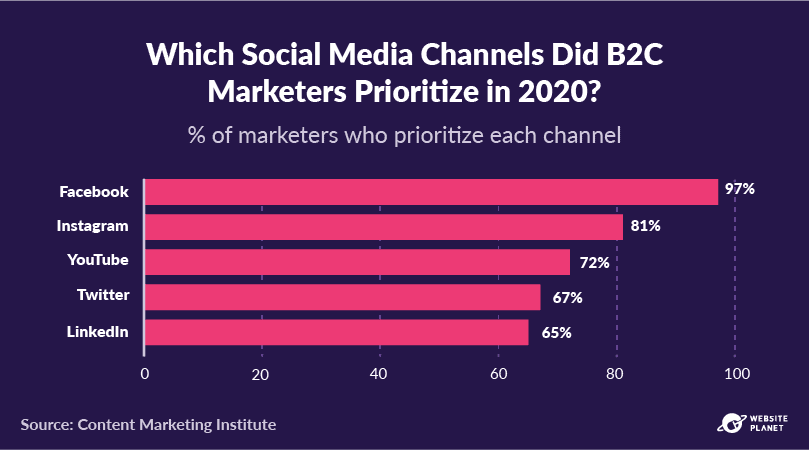 Social media is the most important channel for marketers, though B2B and B2C marketers find value in different social platforms. B2C marketers prioritize Facebook over any other social media site. Facebook's monumental reach and varied media forms provide the perfect vehicle for marketing content. Instagram is incorporating modern video elements to build on its impressive influencer culture. B2C marketers are using Instagram more than ever, with 81% of marketers using it in 2020, compared to 74% in 2019. YouTube has strengthened its position as the biggest video streaming platform for marketers. 72% of B2C marketers used it in 2020, compared to 62% in 2019.
54. Which Organic Socials Do B2B Marketers Use?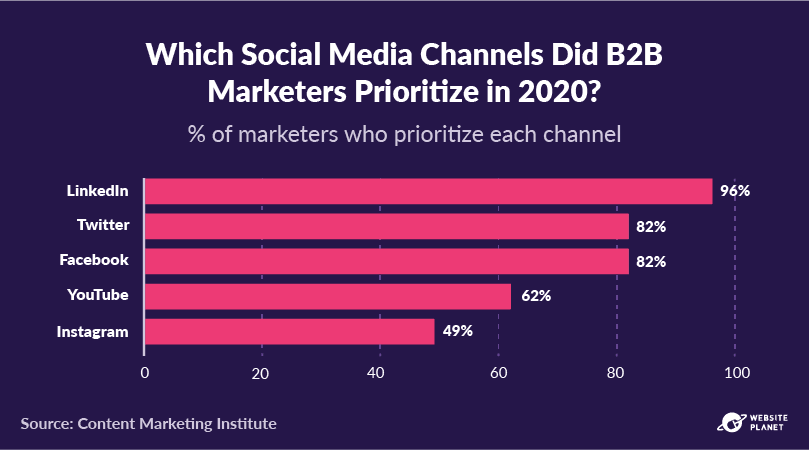 The favored social media channels are completely different for B2B marketers. Facebook is used by 82% of B2B marketers, but the dominant social platform is LinkedIn. 96% of B2B content marketers used LinkedIn in 2020. Twitter is more popular among B2B marketers, too, while YouTube has seen the biggest rise in the sector. YouTube was used by 53% of B2B respondents in 2019, yet this figure rose to 62% in 2020. Another signal of video's continual growth.
55. Online Communities Are Great for Content Marketing Strategy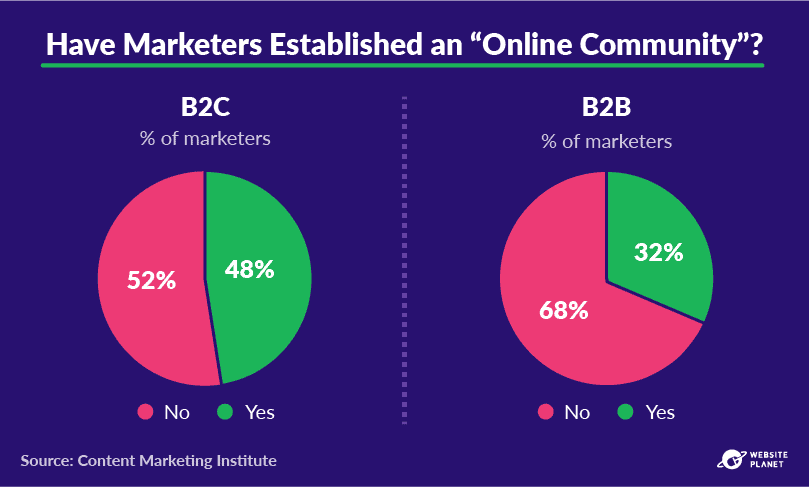 Building "online communities" on platforms can be a really important factor in content marketing success. With a larger following on a blog, social media site, or mailing list, marketers can instantly reach a large (and very engaged) audience. Fostering an online community should be a focus of any business in 2021. 85% of marketers and community builders think branded online communities improve the customer's journey while building trust (CMX). CMI's survey shows that more B2C marketers have established a community than B2B marketers. This owes to community building's greater importance in business-to-customer relations, while establishing a B2B community is more challenging. 31% of B2B marketers hope to build an online community in the future.
56. SEO is Still a Top Tactic in Content Marketing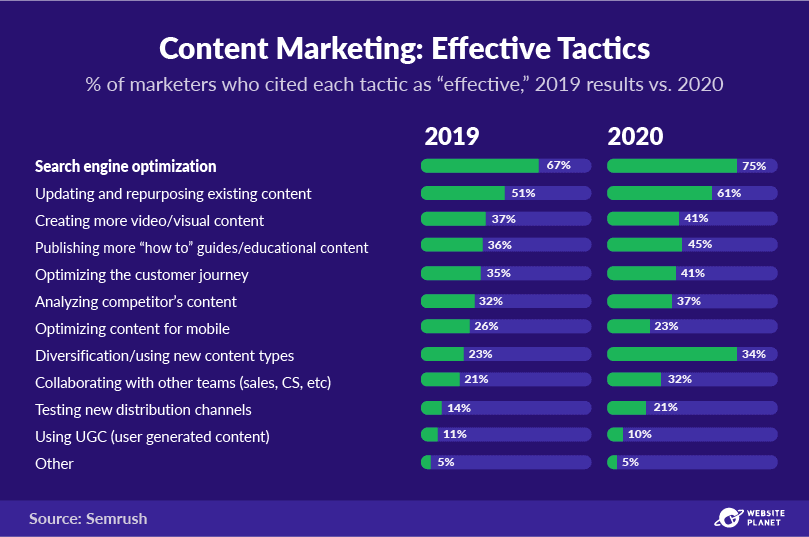 What tactics are marketers using to deliver results? Semrush found that marketers rate SEO as the most effective tactic when it comes to marketing with content. Search engine optimization has seen an increase in importance since 2019. SEO is so crucial for content marketers because it allows a piece of content or a webpage to rank higher on search engines. 95% of users only visit the first page of search results, while 50% of all clicks go on the top 3 results. Getting closer to the top is critical, then. Get this right and content can achieve amazing results. SEO can boost traffic over 1000% higher than organic social media.
57. Google Ranking Factors in 2021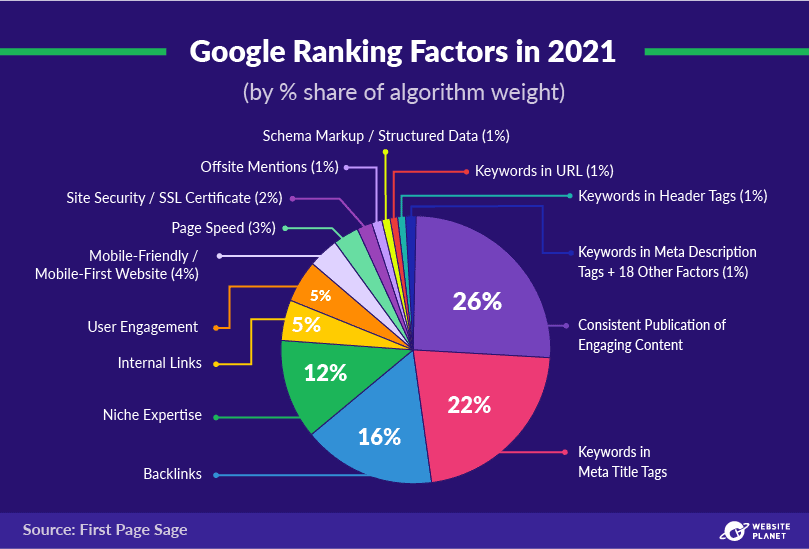 Google is by far the largest search engine, with 90% of internet users choosing it in favor of alternatives. A look at Google's algorithm should show us how to create high-ranking content. When you're optimizing for the Google search engine, keyword research is really important. Title keywords carry 22% of the algorithm weight, while placing the right keywords throughout the body and headers of your content will add to this effect. Posting consistently engaging content has the single largest impact on your Google ranking. Gathering backlinks to your website/webpage is important, too, as is demonstrating expertise in your niche. Hit these parameters when you create content for Google, and you'll be ranking high in no time!
58. You Need Optimize for Voice Search
You shouldn't just be optimizing your content for typed searches, either. Optimizing for voice search will future-proof your content on search engines. 55% of households will have a smart speaker, such as an Amazon Alexa, by 2022. Many people already search using the AI assistant on their smartphone. Knowing which keywords to include in your title and written content will help you reach this growing audience. Google says that 70% of voice-searches with its AI assistant use "natural language." That's concurrent with the above graph, which shows that voice searches are often longer. Voice searches use more question phrases as well, so consider these in your keywords and tags. Moz noticed a 135% increase in "who" searches, a 79% increase in "when," and a 75% increase in "where" — all because of AI assistants.
59. Optimize Your Website for Speed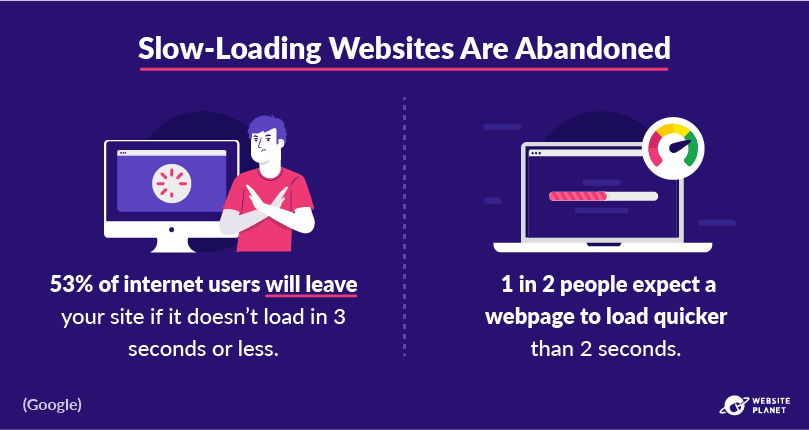 Your website should be optimized for searches, but it should also be optimized for speed. Making sure your website loads quickly will prevent your page from losing engagements, leads, and sales. A slow-loading site is a major issue for internet users. Most users will leave if your site doesn't load in less than 3 seconds.
60. Where in the Sales Funnel Should Content Go?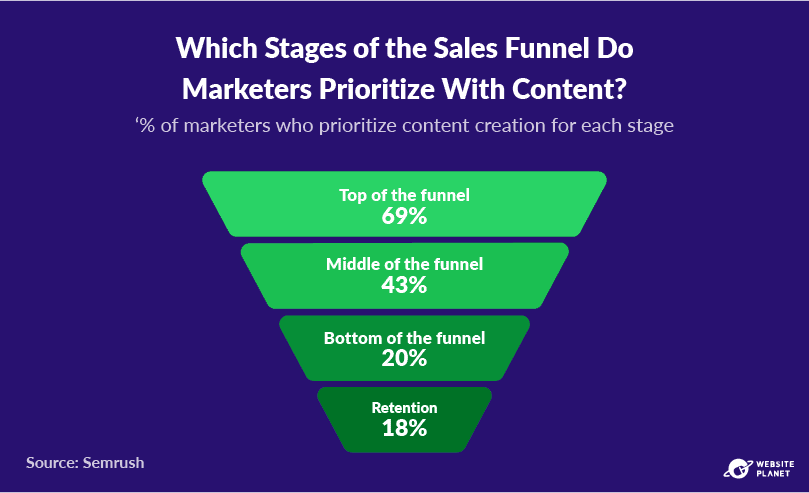 Marketers are creating/distributing most of their content to early-stage buyers. This is purely informative content that hopes to coerce readers deeper into the funnel with its value. This content can get a ton of engagements and views, prioritizing brand awareness for further gains expected in the future.
61. The Best Days for Sharing Content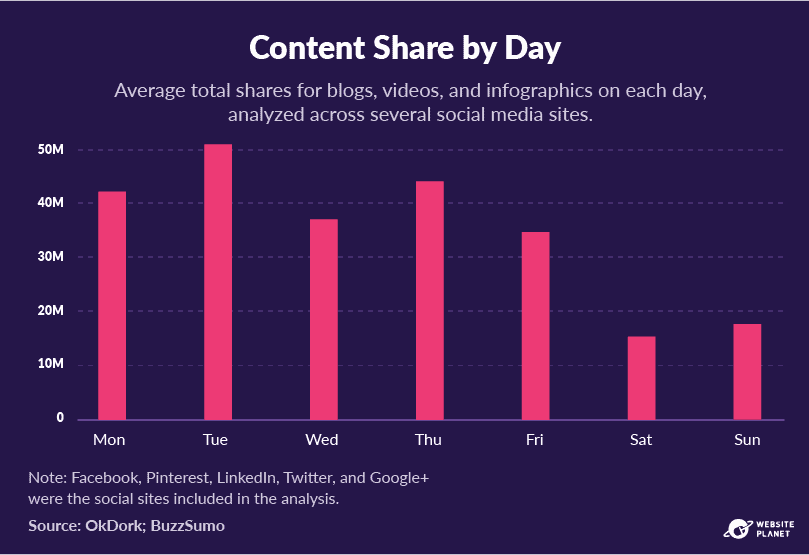 Tuesday is the best day to post content on social media, which is concurrent with other studies. Publishing content on a Wednesday sees the next best return, with a high number of shares, while users often interact with posts on a Monday, too. The weekend is not normally a great time of the week to target with your posts. People are busy on weekends and are not engaging with content nearly as much as they are throughout the week.
62. The Best Content Management Platforms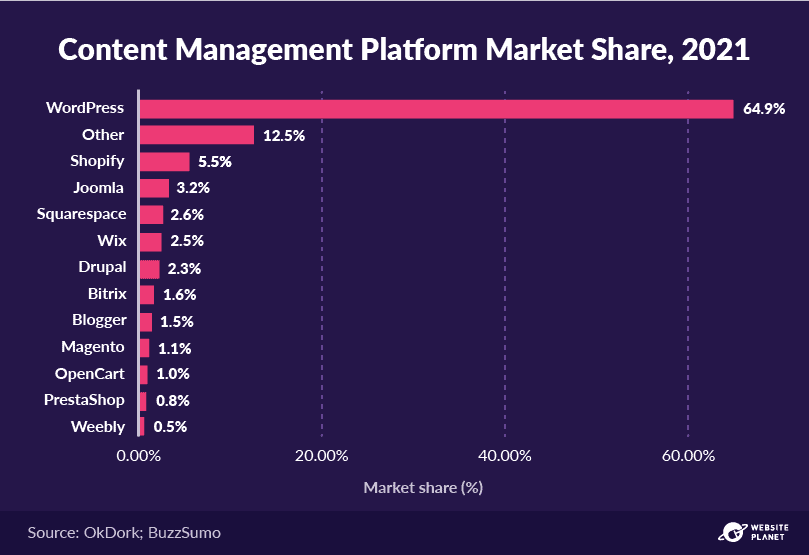 What content management platform should businesses use when setting up a website or blog? WordPress is the largest content management platform, with a market share of 65%. 40% of all websites use WordPress, which is the favorite among 18% of marketers (HubSpot). WordPress' popularity means it is a good place to start, although it's not necessarily the platform of choice for bloggers. Tumblr is the biggest blogging platform. It's home to nearly 500 million blogs.
63. Mobile Optimization is Key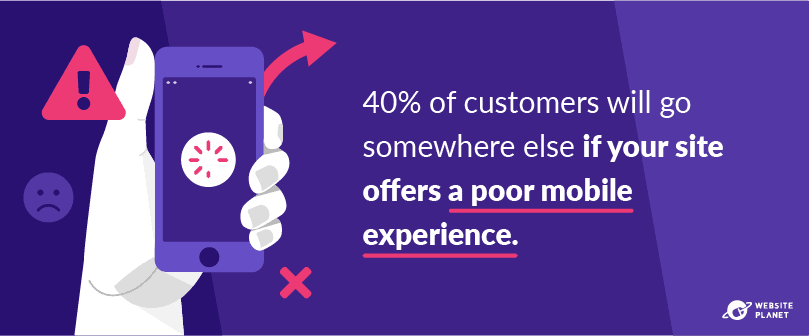 A functional and responsive mobile site goes a long way in this day and age. Billions of internet users access websites on their mobile phones. Making this experience as easy as possible makes content more accessible for mobile visitors, and reduces site abandonment. Responsive loading times and a clear, simplistic design will improve a user's mobile experience of your business and content. This will only boost the effectiveness of content marketing strategies on mobile. Optimizing a website for the mobile viewer can triple a brand's chances of achieving mobile conversion rates of 5% or above, yet just 35% of brands have a mobile-optimized site (Invesp).
64. Keep Content Posts Short on Facebook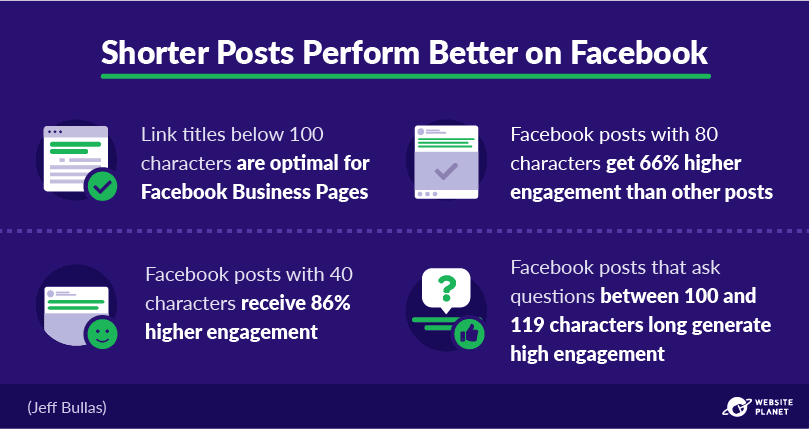 Short posts perform best on Facebook. Businesses that keep descriptions, captions, and external links shorter have the best chance of succeeding on the platform. If you're posting an image or video, avoid vague language and needless sentences. Let your content do the talking and you could see major boosts in engagement.
65. Add a Thumbnail for Facebook Sharing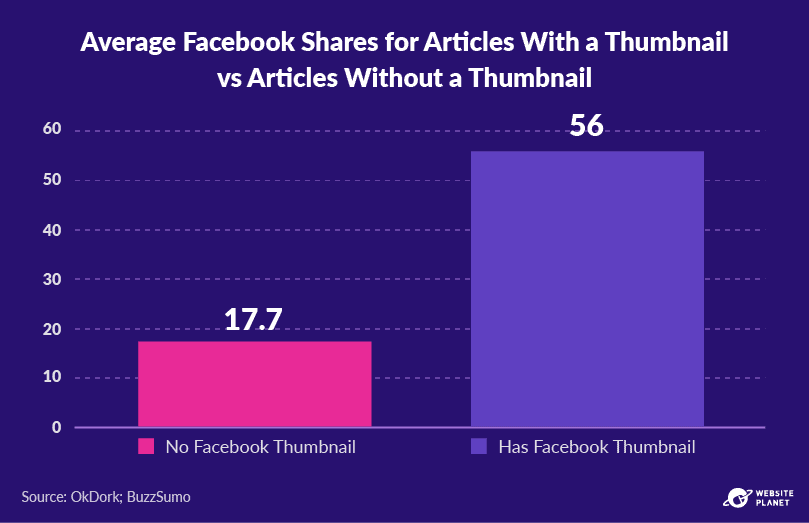 Adding a thumbnail to your post will improve engagement as well. Article posts that show a thumbnail receive over 3X more shares than Facebook posts without one. Visual content catches users' attention and draws them into engaging with your article. Posts can merge into a sea of timeline updates if you're not careful. Adding a thumbnail prevents this from happening. Facebook can even choose a thumbnail for you when you post video content, making the process super-easy. There's really no excuse to not be using one!
66. Video (and Live Video) Wins on Facebook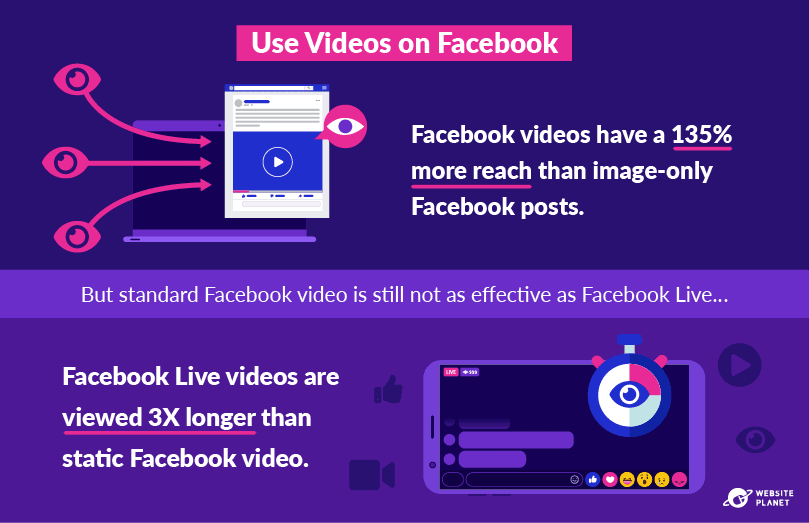 Talking of Facebook video, it's the best type of content you can publish on the platform. Video is one of the most engaging types of media, and, on Facebook, video receives a greater reach because of this superior level of engagement. You can one-up static video marketers by using the Facebook Live feature. Facebook Live is an important live video platform for marketers — it allows businesses to connect with a huge audience through a captivating medium. Whatever type of video you decide to use, make sure you add subtitles. According to Digiday, 85% of Facebook users watch videos without the sound turned on.
67. The Most Popular Influencer Marketing Platforms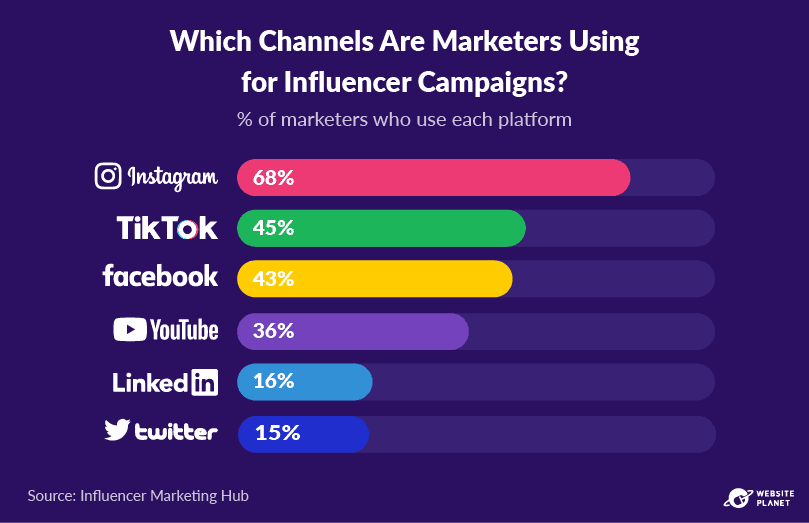 A lot of marketers use social media influencers to distribute their content and advertising materials. This is called
influencer marketing.
It's becoming increasingly prominent with content marketers. As social platforms grow larger, more influencers gather bigger followings, which means marketing through these people is becoming more impactful. Granted, most influencer campaigns involve an ad or product placement. Some marketers, however, do get results when distributing content here or collaborating with influencers. It can be a great way to reach your target audience. Instagram is currently the best place to find influencers, used by 68% of marketers. Though, the platform's usage has fallen from 80% last year. The biggest riser in the field has been TikTok. TikTok's record-breaking rise has seen it climb from insignificance to be used by 45% of influencer marketers — backed by an army of popular creators.
68. Twitch and TikTok Are Emerging and Worth Watching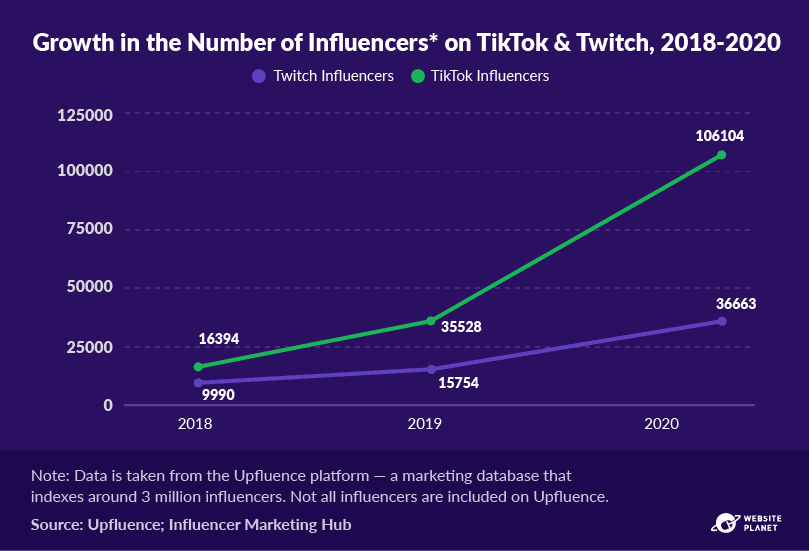 Data from the Upfluence influencer platform shows a significant rise in the number of Upfluence influencers on Twitch and TikTok throughout 2020. After fairly consistent increases year-on-year, Twitch and TikTok became flooded with new influencers in 2020. Creators flocked to Twitch and TikTok after the COVID-19 lockdown led to a huge growth in user-base and viewership across both platforms. TikTok saw the biggest growth of the 2. The number of influencers on TikTok almost tripled in 2020.
69. The Traits of a Great TikTok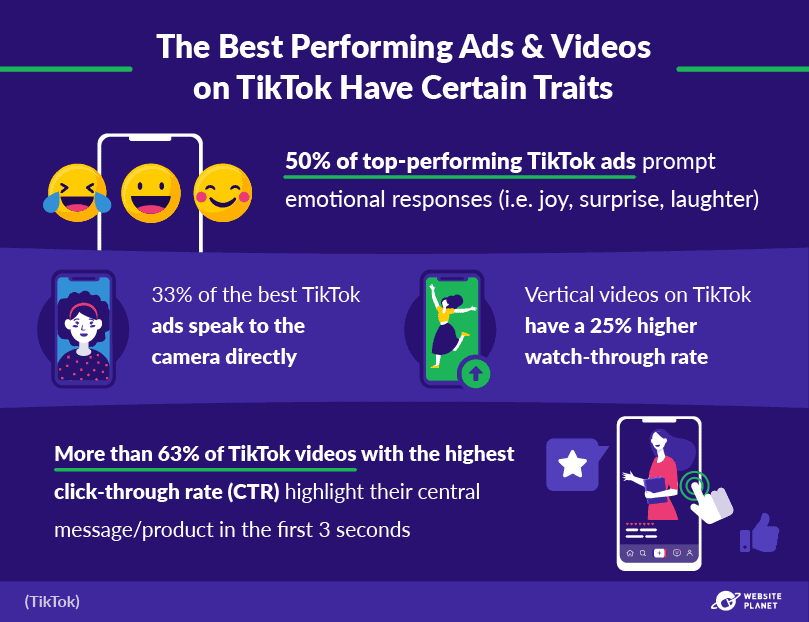 The majority of content marketers are still somewhat unsure about TikTok. The platform has a huge potential reach with a large number of influencers, yet TikTok was still not featured as a top platform in the CMI's yearly study. This should certainly change in the future, however, as TikTok can have a huge impact on marketing performance. American drinks brand Ocean Spray gained 15 billion media impressions when content creator Nathan Apodaca (@420doggface208) posted a TikTok video while holding a bottle of the popular cranberry juice drink. Ocean Spray didn't even have to pay for advertising! To maximize the impact of TikTok content, businesses can implement a few different rules to boost content performance and engagement. TikTok's stats primarily apply to ads, but the same rules ultimately apply to all content on the platform.
70. Promote Your Products on Instagram Stories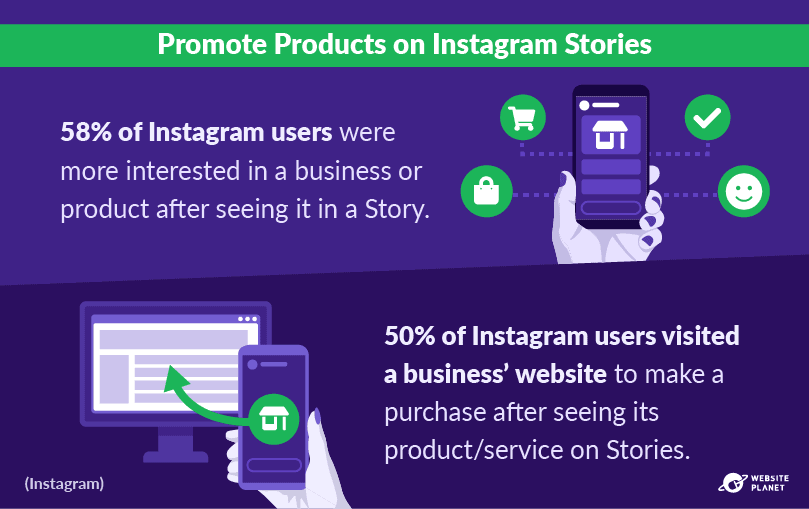 It's in every content marketer's best interests to post content on Instagram Stories. The platform is hugely popular in 2021, with more than 500 million active users every day. The data suggests flashing sneak peeks of products or services through Stories is a good idea. Whether through seeing an ad or a piece of content, more than 58% of users have been interested in products on Stories. Half of Instagram users have eventually visited a brand's website to make a purchase. You should couple this type of Stories content with a regular posting pattern. According to one study, accounts that post up to 5 Stories every day boost their engagement rates and viewer retention (SocialInsider).
71. Colorful Content for the Instagram Feed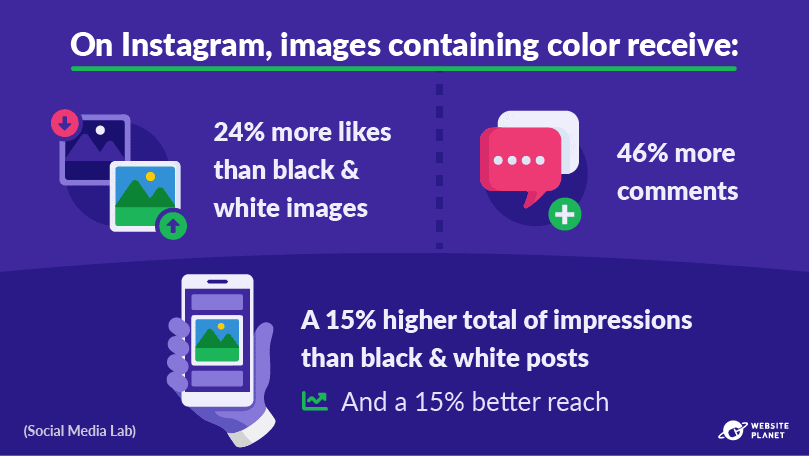 90% of Instagrammers follow a business account through the platform, so catering to this audience with good content is an important factor in a successful campaign. In general, posting colorful content that grabs users' attention is the best plan of action. A study from Social Media Labs found that colorful images receive all-around better engagement than black-and-white content. This makes sense: colorful images stand out on the Instagram feed and explore page. The more color you add the better the effect; using vibrant colors can actually boost likes by another 18%.
72. LinkedIn Live is Underrated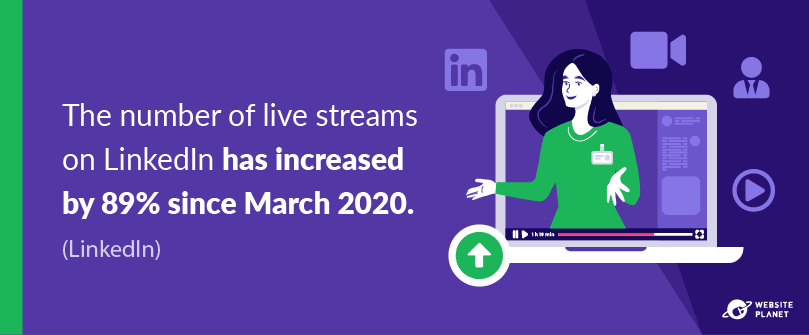 There are more than 700 million LinkedIn members spread across 200+ countries, 90 million of which are senior-level members, with over 55 million businesses on the platform, too. It's easy to see why LinkedIn is the most impactful social platform for B2B marketers. And what better way to reach this massive audience than through LinkedIn Live? LinkedIn's live video features are relatively new, and because of this have seen little use amongst marketers. All of the signs suggest the tide is changing, however, so expect to see LinkedIn Live become a key part of B2B marketers' strategies over the next few years.
73. Link to Informational Content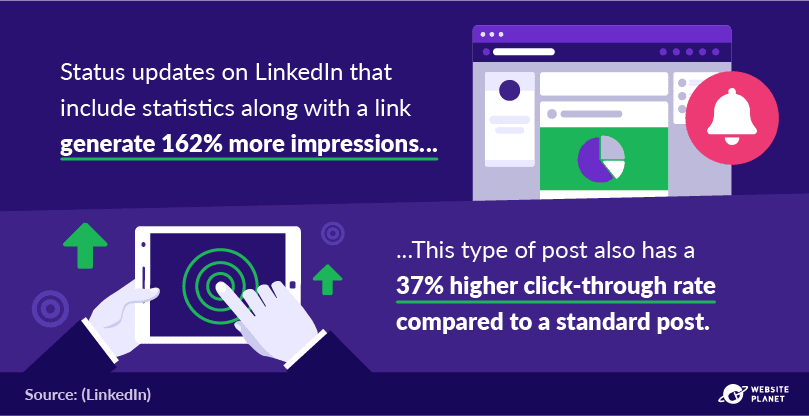 LinkedIn is the number one trusted social platform, so it's no surprise to see that informative content performs best on the site. Okay, that's pretty much the theme across most content types, but on LinkedIn, informative content is doubly important. 55% of corporate decision-makers consume LinkedIn content before working with that organization, while 1 in 5 investors rate the platform as the best place to learn about something (LinkedIn). That means (if you want to succeed on LinkedIn) you need to create comprehensive content that covers your topic with expertise. Slightly longer content should be perfect for this purpose. Posts between 1900 and 2000 words perform best on LinkedIn, receiving the highest level of engagement.
74. YouTube Is Critical for Businesses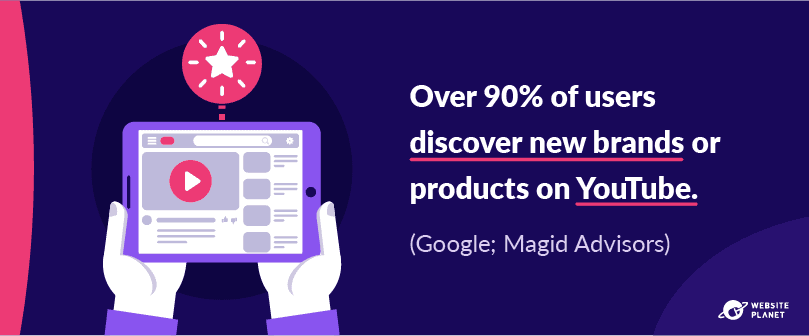 YouTube is a great place to post your brand's video content. It's the most popular platform amongst video marketers: 87% of them post brand videos on YouTube (Wyzowl). YouTube is the world's biggest video streaming platform, and its huge user base watches more than 1 billion hours of YouTube content every day. These users love to discover new products, services, and companies while on YouTube. Businesses can expect huge rewards if they can grow a following and tap into the platform's reach.
75. Publish Mobile Friendly Videos on Youtube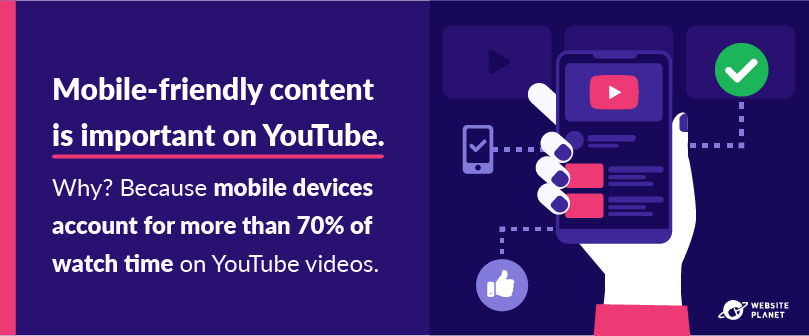 Video content on YouTube needs to be mobile-friendly because the vast majority of users will be watching your videos on their smartphone, tablet, or other mobile device. Mobile usage is a prevailing theme in every corner of the internet, and the same applies to your YouTube content. Add plenty of graphics and on-screen text to your videos, and make sure camera shots are always clear and easy to see. Doing so will cater to a mass of mobile viewers, which will see great results!
76. Thumbnails and Hashtags Boost Views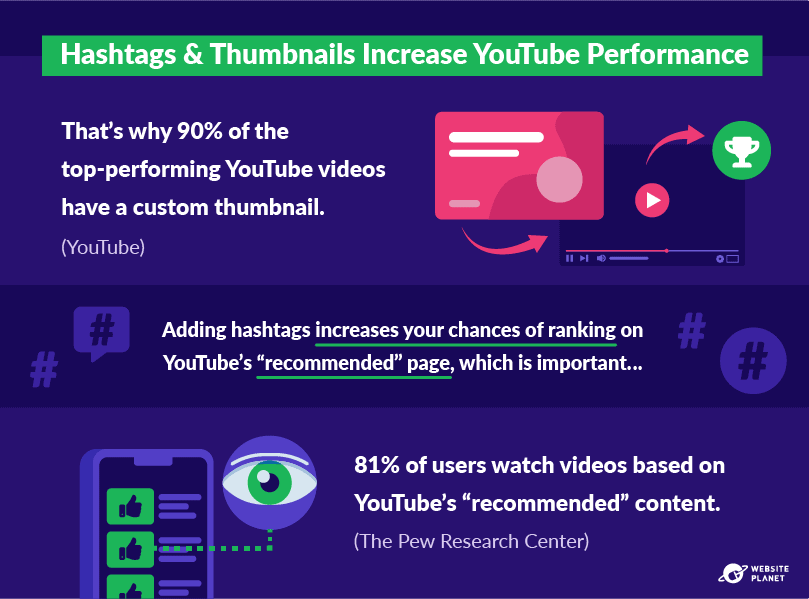 Thumbnails and hashtags are 2 simple elements you can add to your YouTube posts, both of which will drive better results. The first of these elements is practically a no-brainer on YouTube. Almost everyone adds thumbnails to their YouTube posts. Thumbnails create intrigue, drawing people in to view your post, and this boosts your content's ranking. YouTube's algorithm also loves hashtags, which means users can boost SEO performance by adding hashtags in the description of their post. Adding related keywords here will increase a YouTube video's chance of reaching the "recommended" section. That's important because most views on YouTube happen in this area of the platform.
77. Email Still Has a Great ROI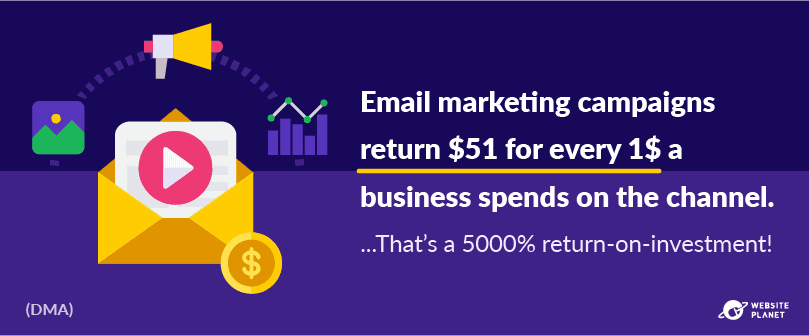 Email content marketing is an extremely effective tactic. Guides, blogs, and newsletters can be great forms of content to send to your audience and boost brand awareness. When customers are interested, adding promotional materials can result in a high return-on-investment. There will be over 4.3 billion email users by 2023. The returns that can be had from this massive audience have driven usage by content marketers for years. That's why over 80% of marketers use email to distribute content.
78. Effective Email Marketing Tactics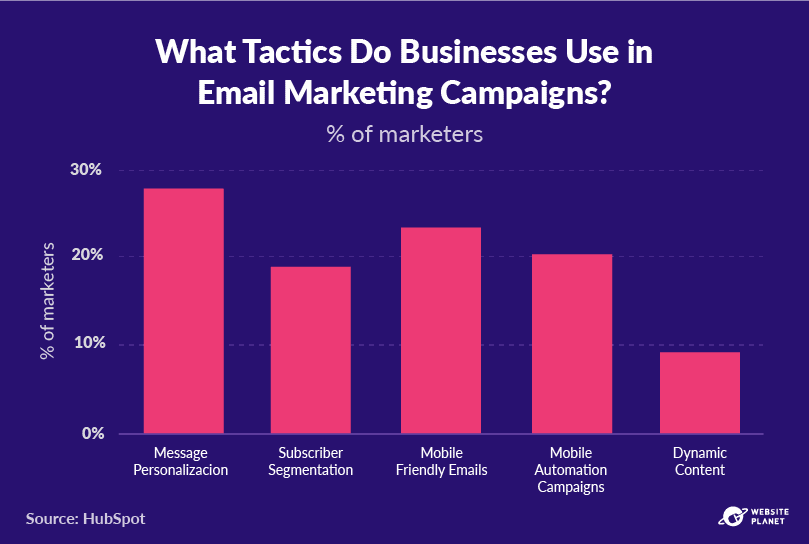 With email's ROI in mind, what are the best tactics to generate engagement through email? The most content-specific tactic on the list is "dynamic content." Dynamic content is content that offers a highly personalized experience for viewers as they engage. This could mean changing aspects of the content to suit the viewer's preferences. Though only fifth on this list, make no mistake, dynamic content works wonders! Personalizing emails can also lead to fantastic results when distributing content. Personalized subject lines increase email open rates by 50%, while optimizing for mobile will see returns too. On a side note, sending videos through email should yield positive outcomes too. Adding video content to your emails can triple-click rates.
5 Key Takeaways
To finish things off, we'll recap 5 key content marketing trends to keep in mind for 2021.
1. TikTok is One to Watch
Though TikTok didn't feature as one of the most popular channels for marketers, expect this to change in the near future. TikTok did make an appearance on the Influencer Marketing Hub's top influencer platforms, which demonstrates the platform's rising usage and close-knit community. Influencers aren't the only reason TikTok could be a major channel in the future. The platform prioritizes short-form video, which is popular amongst internet users right now. It's also highly engaging. TikTok will continue to add AR/interactive elements, and, crucially, the platform will continue to grow. Expect more marketers to use this channel once industry leaders start seeing results.
2. Build Communities
Marketers must prioritize online community building moving forward. Surprisingly, this is not a focus for some marketers, but it certainly should be. The rise of social media demonstrates a prevailing theme – people are now using the internet to join online communities, not real-life ones. In which case, building your own online community should see huge results. Of course, this is achieved through consistent, high-quality content. Blog posts and podcasts, another emerging form, are a great way to foster a community following.
3. Live Streaming for the Future
Live streaming is a big deal, and it's only getting bigger. Expect more marketers to realize live video's plethora of potential benefits. We know live streaming will grow because so many marketers who've adopted the strategy have seen results. Live streaming platforms like Twitch, Facebook Live, and Instagram Live are expanding at a rapid pace, too, meaning there are more viewers to target with live video content.
4. Interactive Forms Are Emerging
Live streaming isn't the only emerging form of content marketers should try. There are others, too. Namely: interactive content. Marketers are already in the process of adopting interactive content on a large scale, converting existing blog posts, infographics, and videos into interactive content. Interactive content is highly engaging, and this could be the content type of choice for future marketers. There are other types of interactive videos, such as AR, VR, or 360-degree videos, that are expected to make a big impact on the world of content marketing. So watch this space.
5. Mobile Content Consumption
We've mentioned mobile use at various points throughout this article. Make no mistake: mobile will be the dominant force in years to come. Actually, it already is. As of Q1 2021, mobile accounts for nearly 55% of internet traffic. Gone are the "old days" of desktop surfing. In light of these changes, marketers need to reimagine the prototypical internet user. That person is no longer sitting behind a monitor and a keyboard, they're viewing your content through a smartphone! Always think about the mobile user as you plan, craft, and create your content, website, or wider content strategy. It's the medium through which most users see your stuff!
The Bottom Line
We've covered statistics on a wide range of areas within content marketing, from the best channels to the top-performing pieces of content, and all of the best practices you should employ when creating or distributing content. Content marketing is a hugely varied topic, with so many niche channels and content types that are suitable to different sectors/businesses. Certainly, use the tactics outlined in this article. They can see major results! But also immerse yourself within the area of content marketing you want to learn more about. In a topic so broad, focusing on one specific niche can make a huge difference! That's all from us today, good luck!