I found a great way to hire a freelance video editor without breaking the bank
. One of the best freelance websites for video editors, whether you're hiring or offering the service, is Fiverr. You can find a range of video editors with prices to suit any budget,
some starting as low as $5
. Fiverr offers you thousands of editors to choose from, and while the variety is one of the things I love about the platform, I know that searching through them can be a little overwhelming. That's why I've done the legwork for you.
I put together a list of nine quality professionals who provide excellent video editing services and value for money.
And as a bonus, I included some guidelines on how to start offering your own video editing services online.
9 Best Video Editors for Hire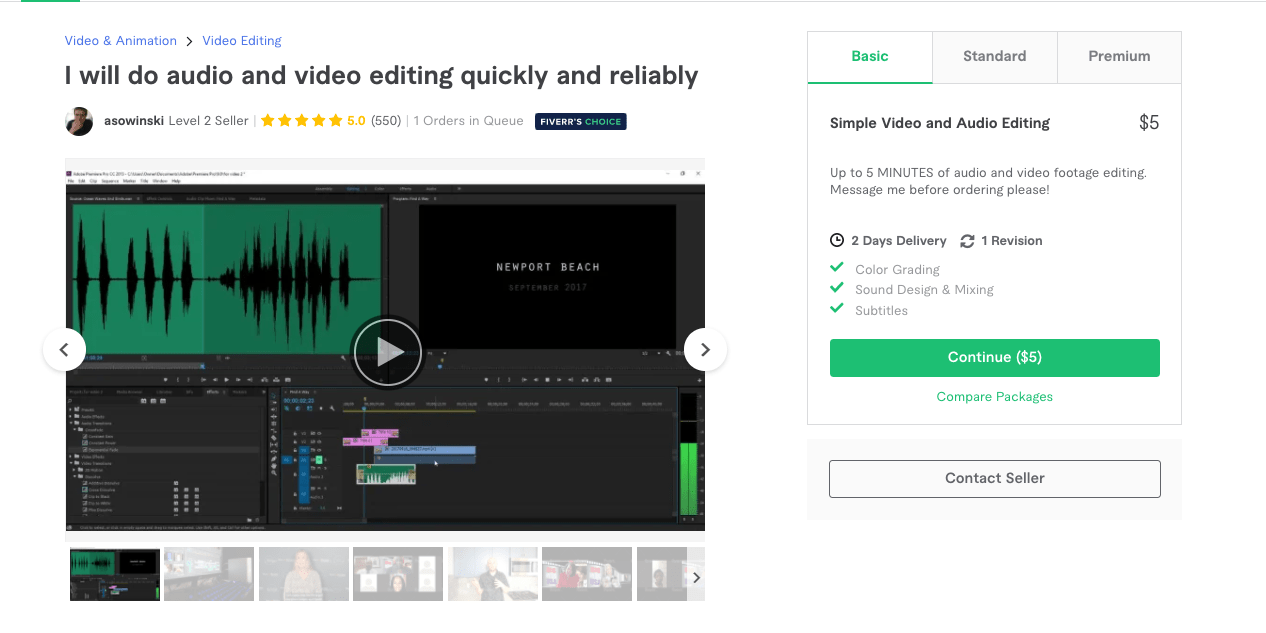 At the time of writing, Asowinski had a
Fiverr's Choice badge
on their profile. This badge is awarded for high-quality work, which is backed up by an excellent 5-star rating. Asowinski has a reputation for producing quality work at quite impressively low prices –
his Basic gig starts at only $5. 
I liked that Asowinski clearly explained his services, such as audio balancing, color correction, syncing, and transitions. One notable standard inclusion is subtitles – very handy in making your video more accessible. I also like freelancers who offer express packages, so that I can get my results faster if I'm in a hurry.
Asowinski includes rush jobs from just $5 extra.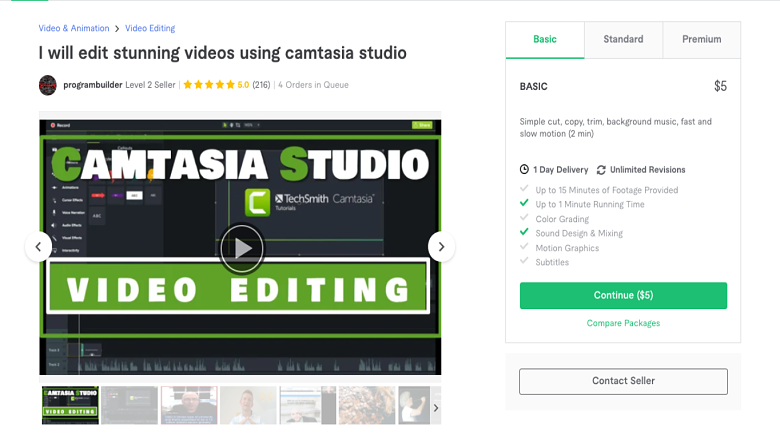 Programbuilder impressed me with a collection of video editing and coding skills. These include green screen recording, text animation, sound mixing, noise reduction, chroma key, and fast- and slow-motion clips.
He also includes unlimited revisions for all packages.
While other freelancers offer general 'freelance video editor' type gigs, Musa includes some specialty gigs. These include fitness and workout videos, and a choice of using Camtasia Studio or Adobe Premiere Pro. I liked the inclusion of sound design and mixing in Standard and Premium packages – many editors will add background music, but they won't all mix the audio for you.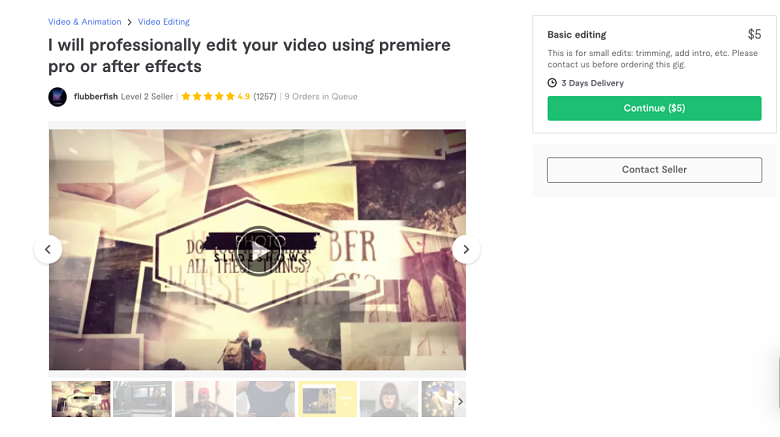 I like working with freelancers who have spent a lot of time working in their field. It usually provides a smoother and simpler experience all round. With a decade of working as a professional video production company, Flubberfish caught my eye.
It's been on Fiverr since 2014, served over 2000 customers, and has a 4.9-star rating. 
I particularly liked the eye-catching, high-quality video on Flubberfish's profile. The company's gig packages focus on small, cheap video editing tasks like trimming or producing introduction sequences. However, it will also quote for other, larger jobs – just message to explain what you need and get a custom quote.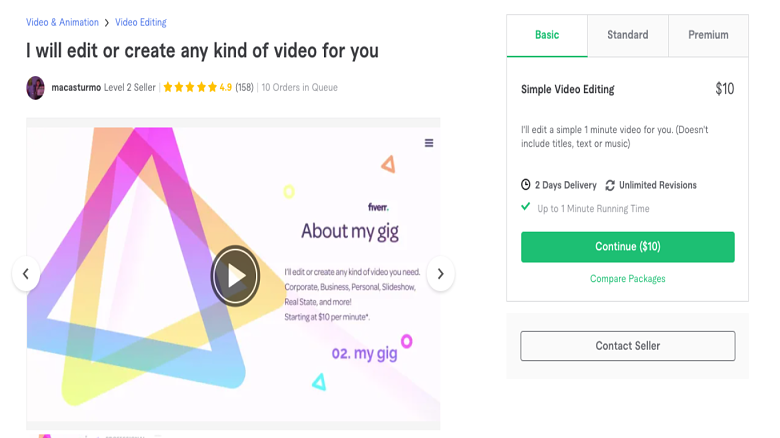 Paula is a Level Two Seller on Fiverr.
That's an attraction in itself, because to get this badge a seller needs to consistently respond and deliver to a high standard. Specialising in ads and social media videos, Paula offers both simple and more complex video editing services.
Her Basic gig includes tasks like adding a corporate logo and cutting, while her Standard and Premium gigs offer extras like titles and music.
Her turnaround times are quite reasonable, especially as she offers unlimited revisions for each project.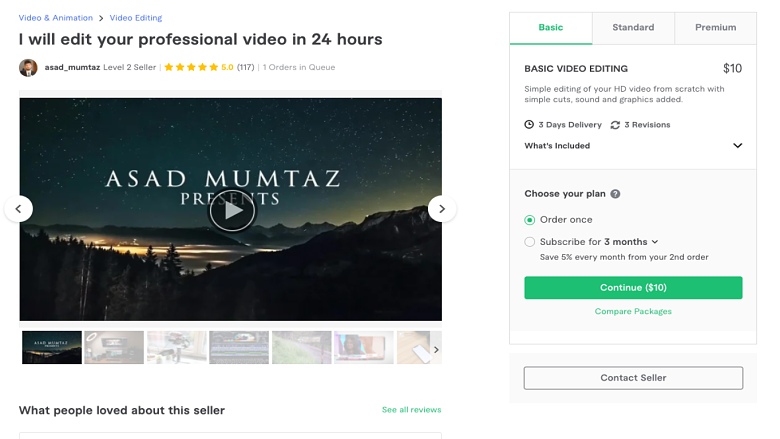 Asad is a long-time YouTuber as well as a video editor, giving him a wider perspective. I found his text-to-video conversion gig particularly interesting. He'll take a blog post or article and convert its main points into a video format – a great idea for businesses that are trying to reach new audiences. He has a 5-star rating, which is pretty impressive, and another interesting feature is his subscription package –
you can save up to 10% after the first month by committing to a video editing project every month.
This is handy for people with a regular need for an editor.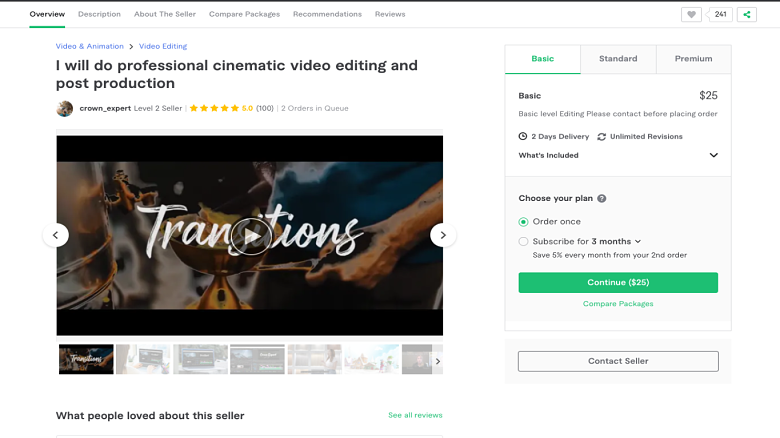 I find a 5-star review average pretty impressive, because most sellers find that there's at least one client who's never quite happy.
Muhammad has a great reputation with remote video editing jobs.
Once I saw his introductory video, I understood why. It was attention-grabbing and showcased some serious skills. One difference between sellers that isn't always obvious is the number of minutes of footage that you can provide as a starting point. This varies widely between video editing freelancers, and it can cause issues for newer buyers. Muhammad's packages don't offer much leeway here – even the Premium package has a maximum of 30 minutes.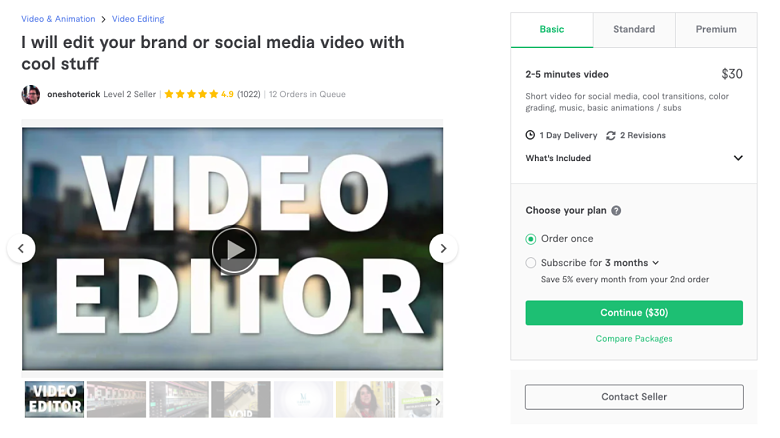 Erick has a good reputation on Fiverr, but more importantly, lots of return customers. His style is more geared towards ads and social media than many other sellers. If you're looking for short video editing for YouTube or TikTok, he's a good solid choice. I particularly appreciated the quick turnarounds that he offers. Another standout feature – although it isn't very obvious in the gig description – is that
Erick can also offer Spanish-English translation with subtitles.
I'd assume that costs extra, or is perhaps included in the Premium package.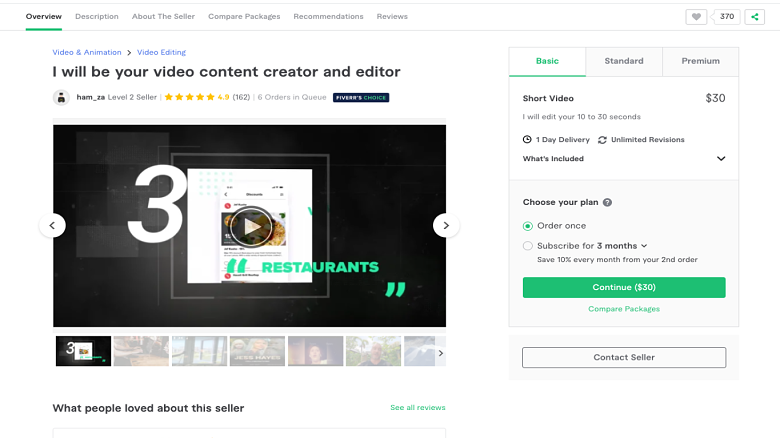 I was interested in Hamza's profile as soon as I saw that he offers animations as well as freelance video editing gigs.
If you need some animation to fill out your video, he's a good choice.
One point to note on Hamza's profile is that his packages are relatively short. While most sellers' Premium packages cover up to 20-30 minutes of run time, Hamza's Premium package offers 3 one-minute videos instead. Great value if that's what you need; if you're after something longer, though, message him first to get a custom quote.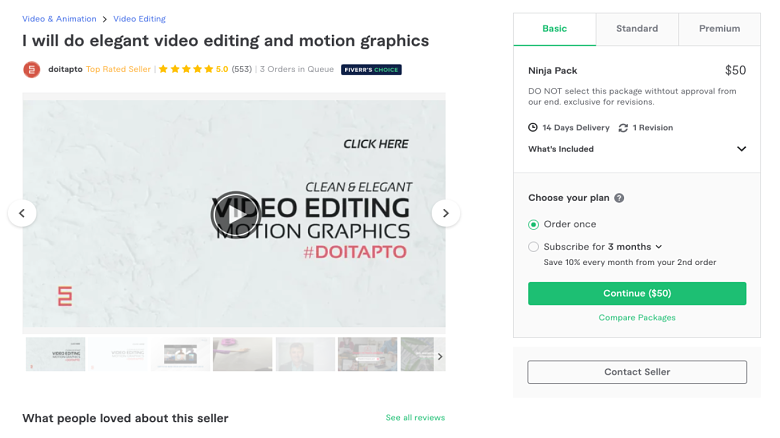 Do It Apto is one of the more expensive sellers that I looked at, compared to the services included in gigs. However, I really liked the team's introduction video – it's clean and showcases some great skills.
Nazareth and the team are classed as a Top Rated seller – an exclusive level that requires some seriously good skills and customer service to attain. 
This team of graphic designers and video editors offer some interesting gigs, including ones focused on music videos. But it can handle all sorts of video editing services, as well as creating special effects. Keep an eye on the inclusions, as this seller's gigs are more restricted in its offerings than most. If in doubt, message the team first to explain what you need.
How to Hire a Freelance Video Editor on Fiverr
Fiverr hosts thousands of freelancers offering services in every genre you can think of
, which is one of the many reasons I love using it. It's extremely user friendly, which is why it scored so highly in
our Fiverr review
, and it's so easy to get started.
Head to the Fiverr homepage
, type the service you need into the search bar – using keywords like 'video editor' to direct you to a job listings page with thousands of freelancers who offer this service.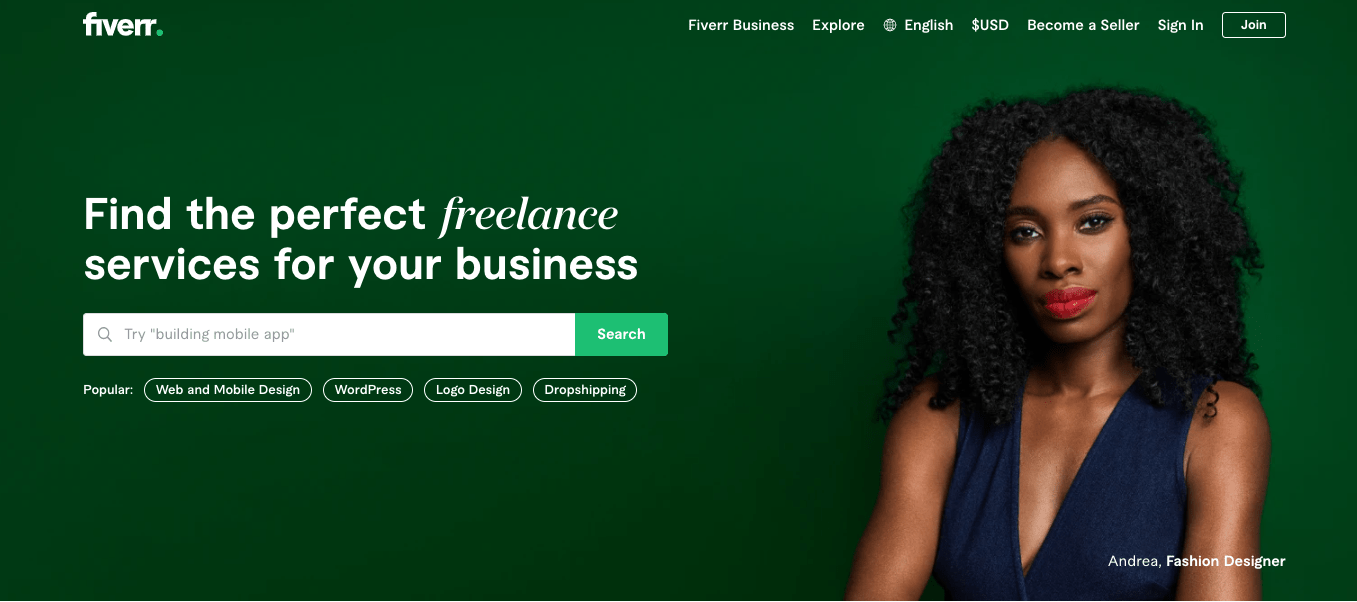 On the listings page, use the dropdown bar and toggles to customize your search results to fit your budget and project needs.
You can filter by budget, category, and service-specific options like type of video and whether you want sound design and mixing too.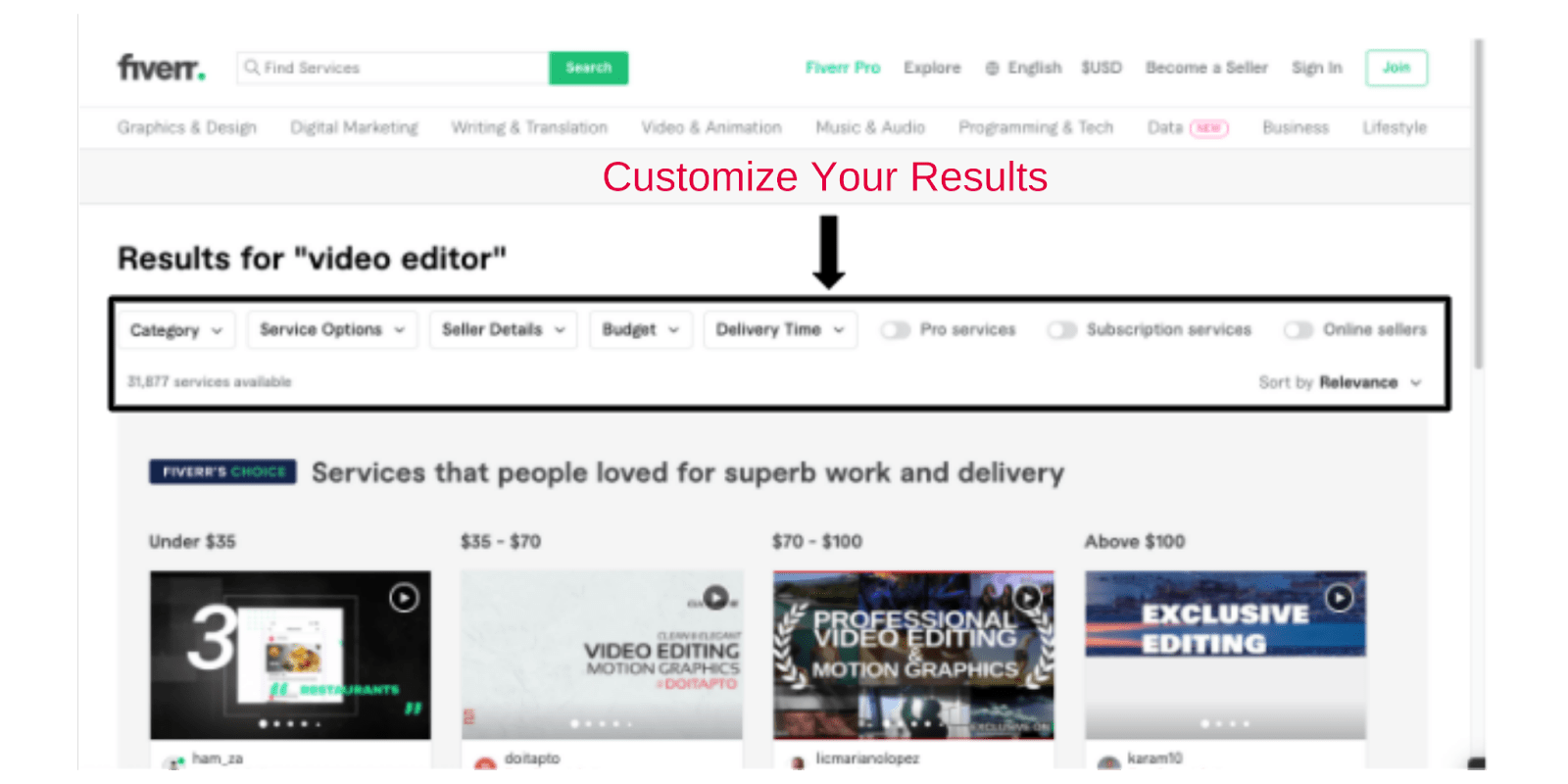 Click on one of the results to bring up the main 'gig' page.
Look through their portfolio to see if their editing style is similar to what you need. Always read through their skill list and reviews, paying special attention to what past clients say about their experiences. You want to get a feel of what it's like working with this video editor, from their communication skills to quality of work.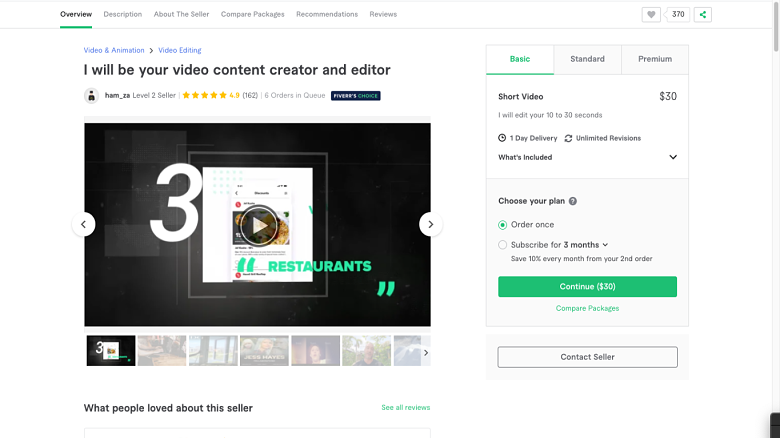 Most Fiverr freelancers offer three packages, so you can choose from different services and price points depending on your project requirements. Click the 'Compare packages' button underneath the green 'Continue' button to see them side by side.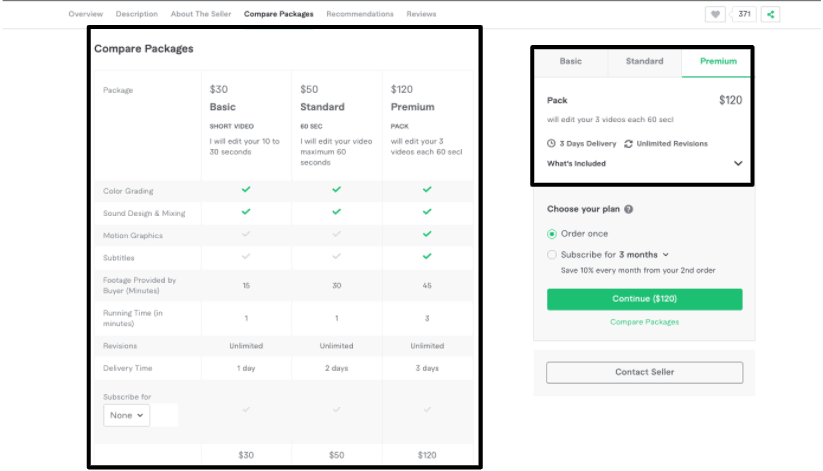 Most freelancers will offer custom services as well as the preset gig packages listed. If you like a seller's work but none of the packages meet your needs, message them to explain exactly what you're after and get a custom quote.
Most sellers encourage you to message them before you book them even if you don't want a custom order,
so get in touch and introduce yourself to make sure you're on the same page. Once you're done exploring different profiles and have discussed your project with your desired freelancer, you can proceed to the payment stage. On this page you can finalize the details of your package and enter your payment details to confirm your order.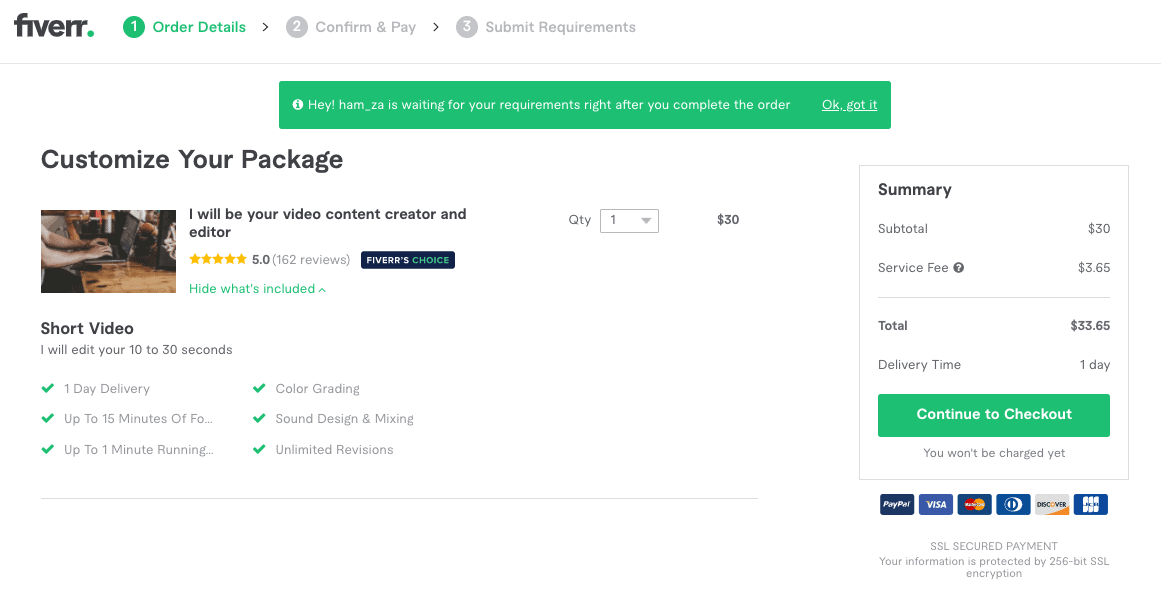 What to Look For in Freelance Video Editors
Looking through so many portfolios can get overwhelming, especially when you're unsure what you're looking for. So here is my personal checklist when hiring a freelance video editor:
A strong portfolio: Watch the videos that are featured on their profile and gig pages and get a feeling for how they handle key video editing elements: sound, image, transition and overall style.
Type of specialization: There are plenty of freelancers who are skilled in video editing, but different genres require different skills. For example, music videos, special event videos, and advertisements are all different areas of expertise. Be specific about the type of video editing you want from the freelancer and look at similar videos in their profiles before reaching out.
Awareness of trends and industry knowledge: The industry knowledge needed and popular trends vary widely between, say, corporate videos on LinkedIn and influencers on TikTok. From capitalizing on trending sounds to using eye-catching effects, the right video editor will know how to appeal to your target audience.
Efficient communication: Every freelancer should be able to communicate effectively in order to understand your project and deliver the best results. On Fiverr, there's a specific rating for a seller's communication skill.
Adaptability and attention to detail: Looking through hours of footage requires a lot of patience and focus. One area that many newer video editors tend to struggle is in applying customer requirements and feedback effectively. Get a feel for a seller's quality of work and ability to apply feedback by reading through the comments section on their profile and specific gigs.
Are You a Video Editor Looking to Sell Your Services on Fiverr?
Looking for remote video editing jobs or entry-level video editing jobs? Fiverr is one of the best platforms to get freelance video editing jobs from your first day as a freelancer. And it only takes 10 minutes to get started – part of the reasons it scored
4.9
out of 5 in
our Fiverr review
. New freelancers often want to know which freelancing site is best for beginners. I usually point them towards Fiverr, because it's a great way to find entry-level video editing jobs. It removes one of the biggest problems that new freelancers face: finding clients.
On Fiverr, you don't need to search for clients – they come to you.
Go to Fiverr's homepage and click on Become a Seller
on the top right to be redirected to the signup page. After you create your seller account, Fiverr will take you to an overview page that will lead you through the next steps.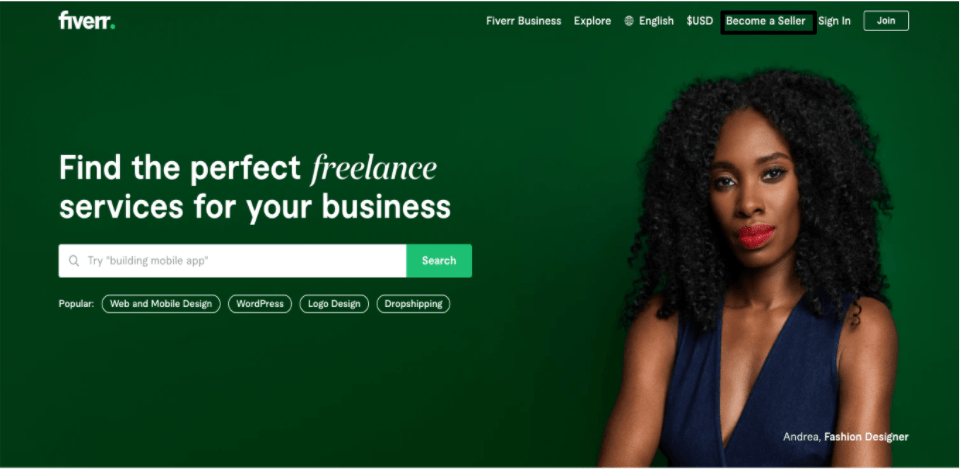 Fill in your personal info, professional history, social media, and any other important information. This helps Fiverr better understand you and the skills you offer so it can promote you to
relevant
potential clients on the platform.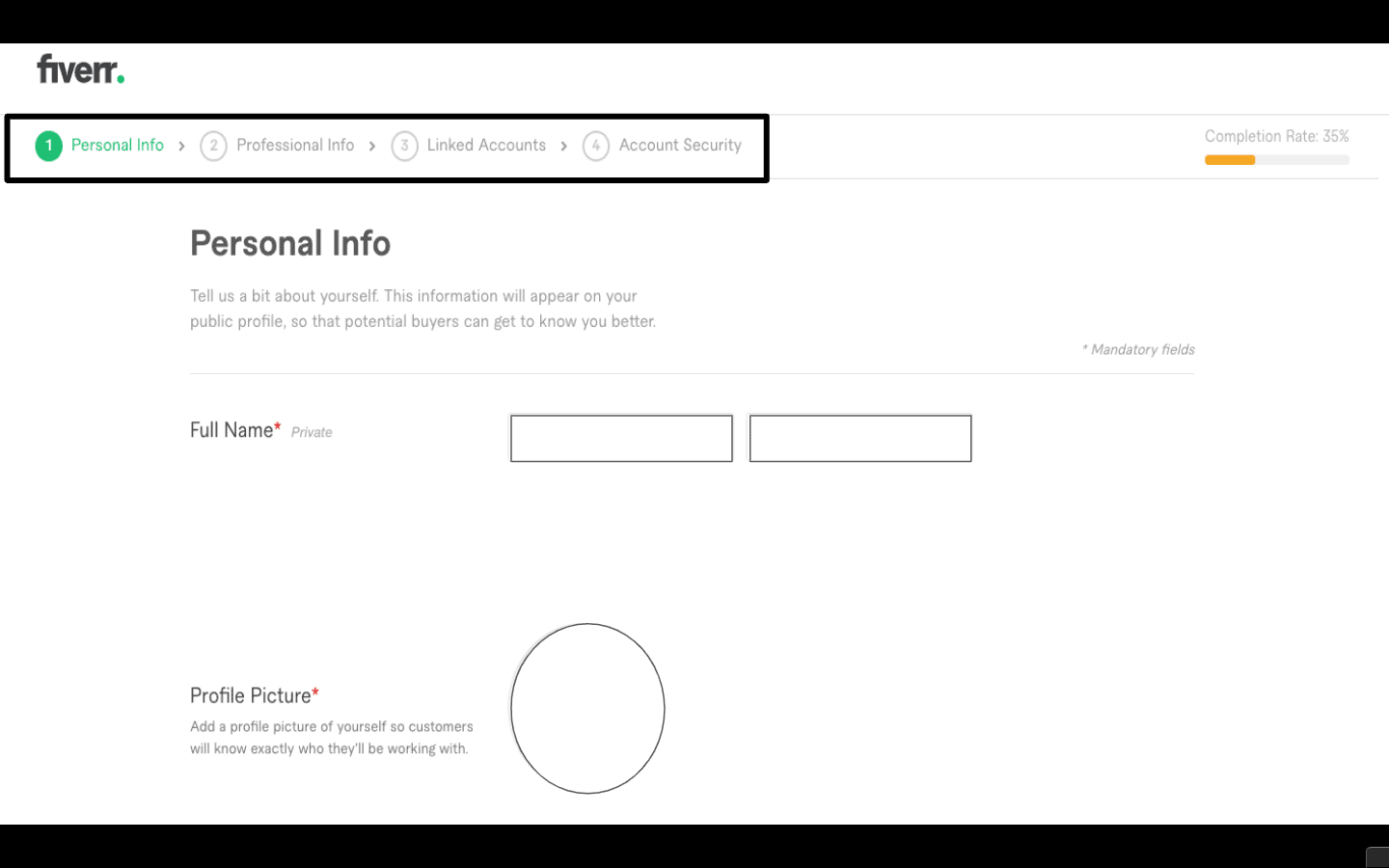 Once you have created your seller profile, you can proceed to create your first gig and commence your journey of gaining video editing experience while earning. At this stage, you will be required to provide a description of your gig, determine various packages, outline the offerings and corresponding charges for each package, and upload images and videos for your portfolio. Additionally, incorporating an FAQ section for potential buyers will prove beneficial. Once you have completed these steps, you are ready to go
To help you on your way,
we've put together a step by step guide on
how to make a successful gig on Fiverr
, so I recommend reading that before you go any further. Anyone can put together a gig on Fiverr, but you need to know how to stand out from the crowd.
My pro tip for new sellers is to switch to a buyer profile and purchase a gig yourself.
This helps you understand what makes a good profile and how your competition works. You can experience the buyer process and tweak your offerings to suit what buyers are looking for.
And since Fiverr gigs start at just $5, just think of it as a tuition fee and have fun with it
.
Conclusion – Time to Get Your Fiverr On
Whether you want to
hire a video editor
 or become one yourself, I hope you can see how easy it is to do. And remember, that although I've shortlisted my top picks for you, there are literally thousands of amazing creatives for hire on Fiverr. Whatever you want done, you're likely to find a seller to suit your needs and budget. I'm not exaggerating either! Here's just a snapshot of what I've found on Fiverr:
FAQ
Where can I find a freelance video editor? 
There are many ways to hire a freelancer, but using a top freelance website like Fiverr makes it easy and safe. Especially if you're on a budget – a lot of gigs start at just $5. If you need more involved or intricate services, numerous sellers offer higher-priced packages.
How much does it cost to hire a video editor?
The price for video editing gigs on Fiverr varies depending on the seller's location, required services, and experience level. However, you can find a professional to complete a project for as little as $5 and up to thousands of dollars. You can filter based on your budget, though, so you don't need to worry about overspending.
What skills does a video editor need?
A video editor needs to have patience, especially since they'll need to look through hours of footage or rewatch videos to tweak transitions and voiceovers. They should also have proficiency in video editing software such as Adobe Premiere or After Effects. Other skills that could be useful include knowledge of industry trends such as popular music, animations, keen eye for details and good communication skills.