as low as $5
. The online marketplace even lets you compare freelancers by price, ratings, credentials, and location. But even with advanced search capabilities and hundreds of options to choose from, the relationship between price and quality isn't always clear.
Can you get a great stop motion ad on a small budget, or do you have to spend a lot for a high-quality video?
I put a selection of stop motion ad creators to the test. I hired three freelancers at a range of price points and asked them all to complete the same project. I've also given you my top tips for hiring the right freelancer and rounded up my 10 favorite creators too.
Hiring 3 Stop Motion Ad Creators to Test
Like many Fiverr freelancers, the stop motion ad creators I hired all offered multi-tiered packages. The cheapest gigs usually offered shorter videos, while the most expensive artists tended to include a longer running time and additional revisions. Most creators also offered to include models or specific products for an extra fee. I opted to keep the comparison straightforward and asked three creators to complete the same project using paper, digital drawings, and other standard stop motion props.
I hired an inexpensive ($25), midrange ($50), and high-priced ($175) creator) to make a stop motion ad
 promoting a farmers market.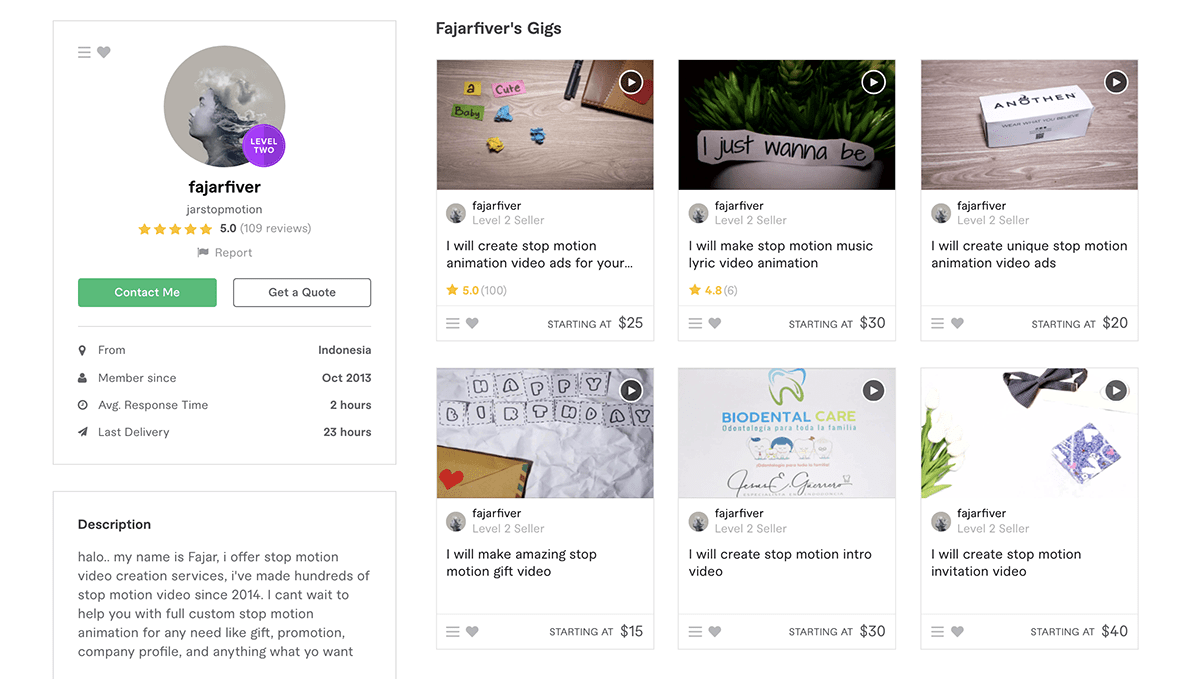 When comparing freelancers, one of the first things I look for is Fiverr credentials indicating that the seller has extensive experience and good customer service.
I was glad to see that FajarFiver (also known simply as Fajar) had Level Two Seller status, a credential that indicates the freelancer has delivered at least 50 orders and maintained a great rating.
 Fajar also had a five-star rating, which made my choice easy.
I purchased his
basic ($25) gig
,
with a deliverable of a 10-second stop motion video with background music
. It included unlimited revisions and a three-day deadline, which added even more value to an already great deal. I never expect a seller who's so affordable to offer unlimited revisions – that's generous.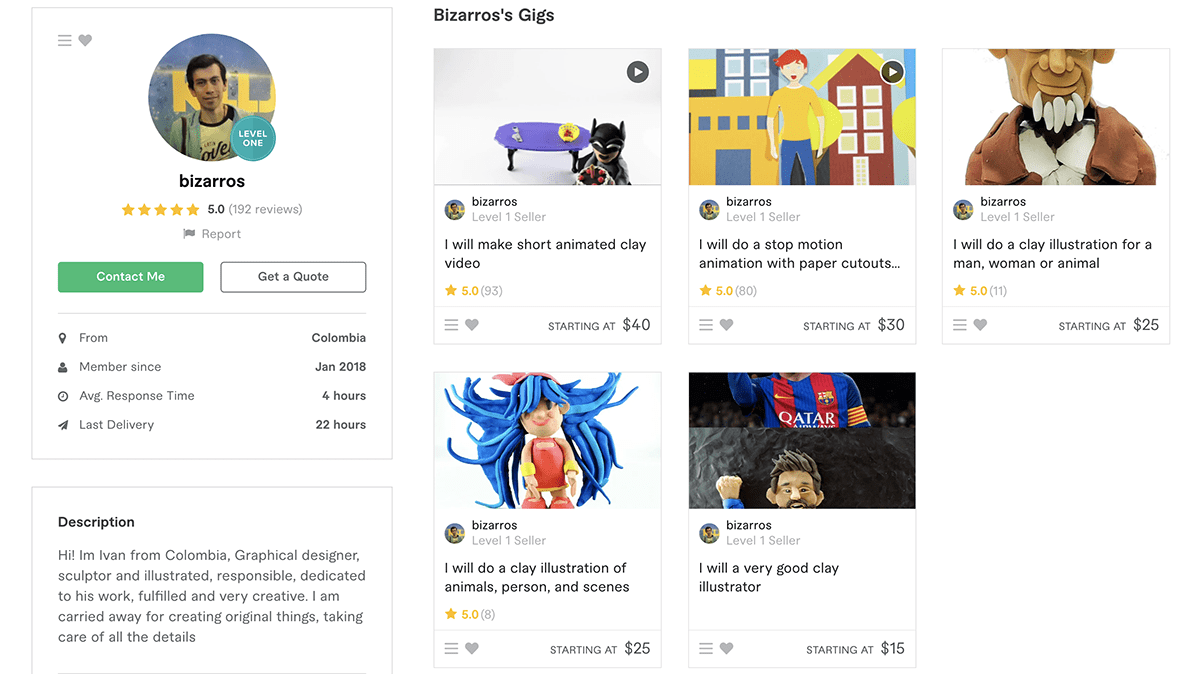 Next, Bizarros's (also know as Ivan) Level One Seller credential caught my eye. This status is a step below Fiverr's Level Two Seller credential, but it still reflects solid work and happy customers over at least a 60-day period.
Ivan also had nearly 200 customer reviews, a five-star rating, and tons of work samples that showed his skill and creativity.
I bought his mid-level ($50) gig
for a 30-second stop motion ad
. It included one revision and a six-day turnaround, which I thought was a fair output for the cost – notice the single revision though.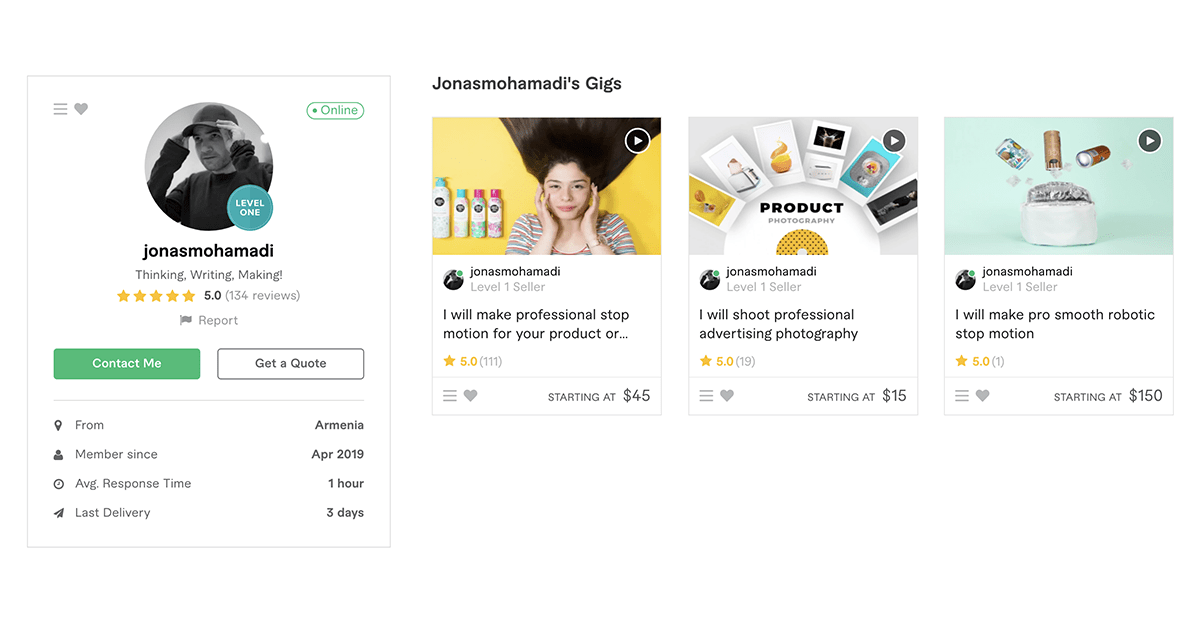 Like the mid-level creator, JonasMohamadi boasted Fiverr's Level One Seller status and a five-star rating.
His profile detailed 20 years of filmmaking experience, professional awards, and the high-profile brands he'd worked with so I had high expectations.
 Jonas's portfolio showcased several examples of his original style, which incorporated handmade and digital stop motion.
I booked his premium ($175) gig
,
which included up to 30 seconds of running time and one revision
. Since the cost was significantly higher than the other two, I was curious whether the self-described "full professional HD studio stop motion" would be worth the price. One revision is also pretty unusual for such an investment, especially when our cheapest seller offered me unlimited revision for just $25.
My Experience Working With These Fiverr Freelancers
To this digital marketer, creating stop motion videos looks incredibly challenging and labor-intensive. I anticipated quite a bit of back-and-forth and maybe even some requests for draft approvals partway through the process. However, I was surprised to find that all three freelancers were remarkably self-sufficient and handled the creative process flawlessly. Here's what happened with each one:
The Cheapest Freelancer – FajarFiver: Fajar's requirements included providing text and pictures for the video and outlining any props or color schemes I wanted to feature so there was a little more required of me than Ivan/Bizarros needed. He also asked me to confirm the aspect ratio, and I requested a 1:1 video.
The Midrange Seller – Bizarros: Ivan asked for my video concept and a description of the characters. I sent him the same simple script I wrote for the cheaper gig. The next day, he followed up to ask for more details about the setting. Should it look like an outdoor market or an enclosed indoor shop? Then he asked if I'd like him to add music. I requested something "happy" and left it up to his creative interpretation.
The Expensive Creator – JonasMohamadi: Jonas had a longer list of up-front requirements that went beyond the standard video concept questions. He also asked me to describe the audience and choose a style for the video which was fine, however for a larger investment, I would have expected some more direction and guidance from him. For reference, I added screenshots of a few of my favorite examples from his portfolio.
Comparing the Final Results
Because of the wide range of prices, I couldn't wait to see how these projects turned out.
While all of the creators did a decent job and delivered their work on time, one of the videos easily stood out as the best value.
The $25 Stop Motion Ad
The $25 stop motion ad is simple yet effective
My first impression of Fajar's stop motion ad was that it checks all the boxes nicely. It includes the photo and script I provided, along with some digital props that add some visual appeal. Although it's a pretty simple concept, the creator made my message crystal clear in just 10 seconds and it's exactly what I was expecting from a stop motion ad.
This project had the shortest deadline, at just three days which impressed me already, but I received the stop motion video about 12 hours before the deadline, so it was finished in just two and a half days. Fajar also sent a version without music, which was a nice, unexpected bonus. Excellent value for money.
The $50 Stop Motion Ad
The $50 stop motion ad showcases Bizarros's creativity and skill
Compared to the cheaper stop motion ad, Ivan's stop motion ad is substantially more complex. It features an entire handcrafted scene and more than a half-dozen handmade characters. The whole thing beautifully conveys what the market is all about. In addition to spelling out the message, this video tells a story that draws you in and makes you want to visit.
The turnaround time for this project was six days, and I received the video a few hours before the deadline. The speed was especially impressive given the numerous characters and more involved storyline in this stop motion video. I found the whole process with Ivan super easy and really appreciated the talent that he devoted to the project.
 I almost can't believe this stop motion video cost just $50, as it clearly required serious time and artistic skill.
The $175 Stop Motion Ad
The $175 stop motion ad combines handmade and digital approaches
Jonas's video neatly ties together the classic handmade stop motion look and the digital style I'd seen in his portfolio. While I liked the narrative during the first half of the video, I thought the second half was less exciting – especially since it features text only.
The time frame for this video was the longest, at seven days and I received it right at the deadline, making this the most time-consuming project to complete. I would have expected a video with such a high price tag to be much quicker to complete or offer more of a 'wow' factor. A faster turnaround would make the cost a bit easier to justify.
The Verdict
It's easy to see that you can get great stop motion video work, even on a small budget.
The cheapest creator I hired did a nice job of presenting my message in just 10 seconds and I would happily use this if I needed a succinct video in a quick turnaround.
If you can afford to spend a little more, however, you can get a lot more for your money. Bizarros'/Ivan's $50 stop motion ad was by far my favorite
, and it provided the best value – let's be honest, $50 for a polished video is still very cheap. And for twice the price of the cheapest option, I received a video that was three times as long and incorporated much more creativity and skill.
Hiring a Freelancer for Stop Motion Ads on Fiverr
Hiring a skilled stop motion ad creator on Fiverr is a great idea for many reasons, not least because it's a super easy platform to use. In fact, when we tested it out for our
Fiverr review
it scored
4.9
out of 5 for its range of features, ease of use, support, and pricing. To cut a long story short, this is why I always choose to hire freelancers on Fiverr:
Pricing for any budget: Whether you plan to spend $25 or $175 – or any amount in between – you can find a Fiverr gig that fits your budget. Some even start as low as $5 or exceed $1,000, so there's truly something for everyone's price range.
Customized packages: Most Fiverr freelancers offer at least a few different gigs so you can find one that has the deliverables and price you want. If you need something more specific, however, you can always ask the seller you want to hire. Most have optional add-ons or can send customized offers.
Experienced freelancers: Verified Pros, sellers whom Fiverr individually vets, list many of the priciest stop-motion gigs. While Level One or Level Two Sellers on Fiverr may not undergo the platform's vetting process, their track records and professional expertise stand as their testament. To ascertain their status and review their customer feedback, simply visit the freelancer's profile
The 10 Best Stop Motion Ad Creators in 2023
I considered a wide variety of stop motion ad creators for this test project.
My top choice is
Ivan (Bizarros)
 because of the amazing value and creativity he delivered. Take a look at the rest of the top 10 stop motion ad creators I chose and hire your favorite for your next project:
FAQ
How do you make your own stop motion?
You can make your own stop motion video by placing drawings or models in the frame, and then moving them slightly in each subsequent shot. When you sequence the shots together, it looks like the subjects are moving. However, creating stop motion ads can be incredibly expensive and time-consuming, even if you know what you're doing. I'd recommend hiring a freelance creator on Fiverr, like I did above, especially since you can hire experienced professionals for affordable prices from as little as $25.
Can I get a cheap stop motion ad on Fiverr?
Yes, you can hire a stop motion ad creator on Fiverr for as little as $5. I found over 100 stop motion gigs for $25 or less, so you can easily find a freelancer with a style and price you like. And as I showed with my test above, the $25 seller produced excellent quality work.
Do more expensive Fiverr sellers produce better quality work?
Hiring the most expensive Fiverr seller doesn't always mean you'll get better work. I liked the midrange stop motion video creator I hired best out of the three, and my colleague preferred the $5 seller highlighted in our Fiverr logo design review.
When do you pay for a Fiverr gig?
Fiverr charges you as soon as you place and confirm your order. The freelancer you hire gets paid about two weeks later, as Fiverr holds your funds for 14 days before paying the seller their share – check out our Fiverr review for the full pricing breakdown and our thoughts on it.
Is Fiverr easy to use?
Fiverr is a breeze to use, whether you want to search for a specific service or browse for inspiration. You can search for anything from unusual gigs like pattern making to popular categories like digital marketing and video production. You can also filter your search results by budget, seller details, deadline, and other factors. When you're ready, you can message the seller of your choice or proceed with purchasing the gig. If you find a freelancer you like, you can add them to a list of favorites so you can hire them again for your next gig.
Which is better – Fiverr or Upwork?
Fiverr and Upwork have a few things in common as you can see when we put them head to head in our comparison. They're two of the most popular freelance marketplaces, and both make it easy to hire technical or creative freelancers. In my experience, however, Fiverr is better because it's ideal for hiring experienced freelancers for one-off projects. Although Fiverr doesn't vet all freelancers in the marketplace, the platform makes it easy to check ratings, reviews, and portfolios so you can find the right creator for your project.