Over the past decade, Fiverr has made it infinitely easier to hire freelance creators of all varieties.
You can filter searches to find professionals at all price points and levels of experience. Unsurprisingly, that's made it highly popular as a freelancing platform. But all this flexibility made me wonder about how well these search options can affect the end result.
Can you get high-quality work for a low price, or do you have to pay more?
To find out for myself, I searched Fiverr for three short video ad creators with similar gigs at three distinct price points. I asked each one to complete the same project: a short video promoting
Website Planet's QR Code Generator tool
. Find out which creator offered the best value and purchase one of the gigs I tested – or choose from any of the top 10 short video ad creators listed below.
Hiring 3 Short Video Ad Creators to Test
The Fiverr marketplace offers thousands of short video ad gigs, with options ranging from explainers with animated characters to original live-action productions. For this project, I chose three sellers who offered something in the middle – a simple video ad with a mix of animation and stock footage.
 I hired sellers at three price points: low ($30), mid ($50), and high ($135)
.
The $30 Short Video Ad Creator: A Highly Rated Level Two Seller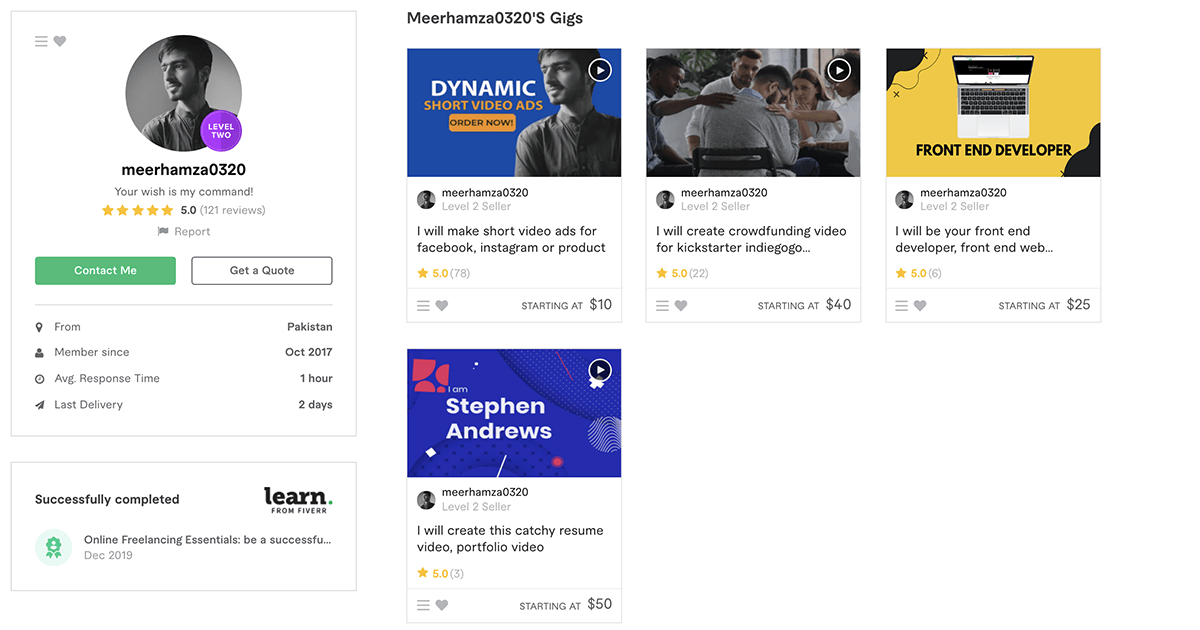 With over 120 reviews and a five-star rating, meerhamza0320 easily stood out from the other budget-friendly sellers. His Level Two Seller rating also caught my eye, as this Fiverr designation indicates consistent, high-quality work.
I booked Hamza's Basic short video ad gig
, which included stock footage and background music. The deliverable was a 15 to 35-second video with a two-day turnaround time. It came with unlimited revisions, which gave me confidence that he would work with me to get the final product just right.
The $50 Short Video Ad Creator: A Five-Star Freelancer With Years of Experience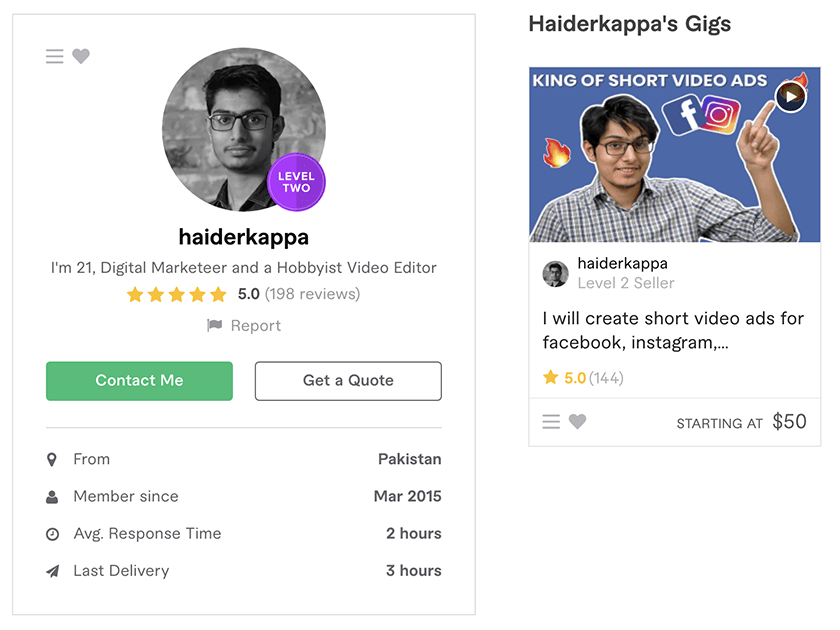 Also a Level Two Seller, haiderkappa had a five-star rating and nearly 200 excellent reviews from past customers. His profile featured a university degree, a professional certification, and several skills relevant to the gig. His video production and marketing experience was extensive for someone relatively young and this impressed me.
I booked his Basic short video ad gig
, which came with background music and footage of the digital product. This gig also included scriptwriting, something the cheaper option didn't offer. With up to 35 seconds of run time, this deliverable would have a similar runtime to the $30 option. The turnaround time was a little longer – three days instead of two – but I hoped it would be worth the extra wait.
The $135 Short Video Ad Creator: A Seasoned Pro With Thousands of Reviews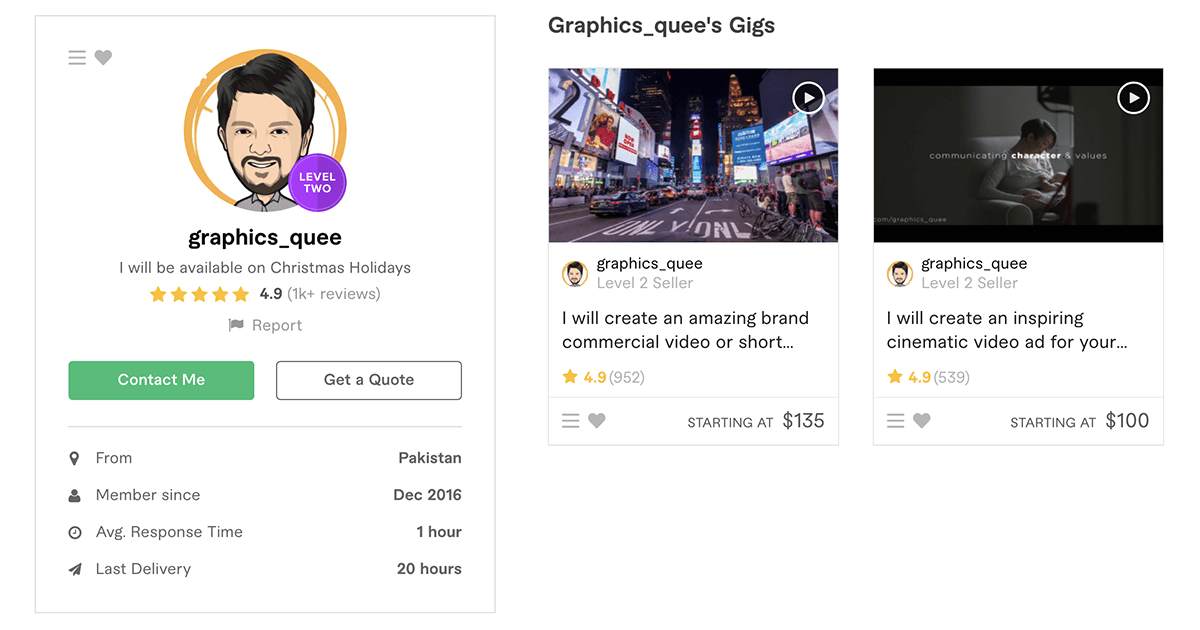 With over 1,000 reviews and a 4.9-star rating, graphics_quee stood out as one of the more popular Fiverr creators. His Level Two seller status, professional certification, and a long list of marketing and production skills made him an easy choice for my highest price-point project.
I booked graphics_quee's Basic short video ad gig
, which featured up to 15 seconds of run time. The biggest difference between this offering and the others was that it included a voiceover, which I thought could make the ad more compelling.
My Experience Working With These Fiverr Freelancers
Before booking the gig, I messaged each seller to explain the project and link to the digital product I wanted to advertise.
Each responded within about 15 minutes, which meant the projects could move along quickly.
 No difference in price point there. Right away, the $30 freelancer (
meerhamza0320
) provided a list of what he needed to complete the gig: a script with short phrases and the brand's logo. He also checked whether I wanted a square video (for Instagram) or a wide video (for YouTube). When I booked the gig a few minutes later, the Fiverr interface asked me to also provide a call to action for the video. The $50 creator (
haiderkappa
) responded to confirm the length of the video (I requested 20 to 30 seconds) and the format (I asked for wide). After booking the gig, his onboarding sequence was similarly simple. He asked for the URL, the logo, and – optionally – examples of previous ads that had been made for the brand. Like the $30 freelancer, the $135 seller (
graphics_quee
) asked for a script and a logo. I sent the same 30-word script to both creators. During the automated onboarding process for this gig, the freelancer also asked about the voiceover style to include, giving me options for various tones and male or female voices. I requested a male or female voice with an instructional and motivational tone.
Comparing the Final Results
All of the short video ads were well worth their price tags. Although I would readily use any of these video ads for a promotional campaign, I thought one delivered superior value.
The $30 Short Video Ad
The $30 short video ad features helpful screen captures
The $30 short video ad far exceeded my expectations. Meerhamza0320 followed the script perfectly, and the screen captures from our website were a great idea for showcasing the tool. Even though Hamza hadn't asked for the brand color, he identified it and used it throughout the video, which was a nice touch.
The most surprising aspect of this video is that it's much longer than what I paid for.
 On the one hand, that fact makes me feel like I received more for the money. On the other hand, a longer video might not work for some ad placements, which could be a big problem. Although the turnaround time was two days, this video ad was by far the fastest to complete.
Meerhamza0320 delivered the video in just six hours, making for a very efficient gig at amazing value.
Since it included unlimited revisions, I asked about making a couple of edits. For example, I wanted to show the tool's entire URL rather than the website's homepage. He said it would be too small to read, so we left the video as it was. He may not have made the revision, but he gave me an explantion as to why he would advise not changing it and
I appreciated that unlimited revisions were included –  I wouldn't normally expect that for such a cheap gig
.
The $50 Short Video Ad
The $50 short video ad ties in the brand colors nicely
The $50 short video ad required the least work on my end, and it turned out remarkably well. The mix of animation and live footage is ideal for showing off the tool, and the brand color ties the video together nicely. I also appreciate that the video ad is as long as I expected (24 seconds).
Even though I didn't provide the script for this one, it ended up being similar to the other two ads. I like that haiderkappa placed the text against Website Planet's brand color, as it makes the captions easier to read while reinforcing the branding. While this ad included up to two revisions, I didn't have a need to make use of them. Altogether, the video took about three days to complete, which is exactly what the gig offered – on time, hassle free, and still great value.
The $135 Short Video Ad
The $135 short video ad includes high-quality footage throughout
Due to the price tag, I had the highest expectations for the $135 short video ad – and it didn't disappoint. A few things set this ad apart from the others. First, it includes all stock footage, with no animations or screen captures. It also has a voiceover to enhance the on-screen captions. Thanks to the voiceover, this video is more versatile and would work for a wider variety of ad placements.
Like the $50 gig, this video ad is exactly as long as I expected (15 seconds). That means it would work well just how and where I'd planned to use it. This short video ad gig came with up to two revisions, and I took advantage of one. I spotted a minor typo in the text and asked graphics_quee to fix it. He completed the revision in less than an hour, and the video ad was finished in about two days. The gig specified a four-day turnaround time, so I was pleasantly surprised that it was done in half the proposed time. As this test shows, you can get a short video ad no matter how much you can afford to spend.
You can spend as little as $30 and get a high-quality ad to promote your brand.
If you can afford a little more, you can book a more expensive gig that includes time-saving extras like scriptwriting or voiceovers.
In fact,
m
y number one choice is
haiderkappa
 because of the excellent quality and value they delivered and the polished end product they created. Even though I was impressed with the $135 seller, paying more doesn't necessarily get you a better result.
Hiring a Freelancer for Short Video Ads on Fiverr
Using Fiverr makes hiring a freelance short video ad creator super easy. It's quick, it's efficient, it's cost-effective, and it held up very well when our expert put it through its paces in our
Fiverr review
. Hiring a short video ad creator on Fiverr is a smart move for many small business owners because:
You can find the right freelancer for your budget. With thousands of short video ad gigs available, Fiverr has options for small, medium, or large budgets. You can spend less than $30 for a video ad or splurge on a short commercial that costs $1,000 or more.
You can find vetted professional creators. Although Fiverr doesn't vet all creators, the marketplace does have specific requirements for sellers with Pro credentials. If you want to book a gig with an experienced, vetted seller, look for a creator with the Fiverr Pro badge. If you're wondering if Fiverr Pro is worth the money, check out our comparison of Fiverr vs Fiverr Pro. You can also seek out creators with Top Seller and other badges that highlight freelancers who produce high volumes of top-ranked work.
You can communicate with sellers efficiently. Sometimes you might want to introduce yourself and your project before booking a gig. Other times you might have a question or want a custom offer. Fiverr shows you when sellers are online and tells you how long it usually takes for them to respond. If you're in a rush, you can reach out to a seller who's already online and likely to respond quickly.
The 10 Best Short Video Ad Creators in 2023
I enthusiastically hunted for the ideal short video ad maker, carefully examining different sellers to discover the perfect mix of quality and cost. Even with the daunting array of more than 13,000 short video ad gigs on Fiverr, from single sellers to production firms, I succeeded in whittling down my options to the top 10 creators. In addition to
my top choice
– haiderkappa 
– I also recommend these nine short video ad creators:
| | | |
| --- | --- | --- |
| | | |
| | | |
| | | |
FAQ
Can you really get a short video ad for $30 on Fiverr?
Yes, as the test above shows, you can get a high-quality short video ad for just $30 from a freelancer on Fiverr. If your budget is lower, you can find gigs for as little as $5. In fact, I was so pleased with the quality of my $30 short video ad that I want to check out budget-friendly gigs in weird categories like this.
Is the most expensive option always going to provide the best results?
A bigger budget can give you access to more experienced and vetted creators. Yet the most expensive gig won't always provide the best results. And, as you can see from our Fiverr logo design review, my colleague preferred the cheaper option.
When does Fiverr charge you?
Fiverr charges you as soon as you book the gig. When you're ready to book, click the Continue button, decide whether you want to include add-ons, and then click Confirm. If you aren't sure whether the gig is right for you, it's always best to message the seller before booking and paying. Fiverr does give you the option to cancel a gig and get your money back, but the process can take a few days.
Is Fiverr easy to use?
Yes, Fiverr is really easy to use, no matter what type of gig you need to book. Its ease of use is a huge part of why it scored 4.9 out of five in our review of Fiverr. You can use the dropdown menus to browse common gig categories, or you can type exactly what you want in the search bar. Then you can filter results by budget, seller location and rating, delivery time, and a host of service-specific options such as – for video ads – format and platform.
Which is better – Fiverr or Upwork?
When you need to hire a freelancer for a creative or technical project, Fiverr and Upwork are two of the most popular marketplaces. Both platforms let you hire freelancers for a wide range of gigs, but Fiverr is better than Upwork for a couple of reasons. Fiverr is ideal for finding freelancers for one-time gigs, but you always have the option to rehire any freelancer. In addition, Fiverr's visual interface makes it easy to find the right person for the job without having to read through countless resumes.