hire sellers on Fiverr for as little as $5
 – but you also don't want to end up with a cheap-looking video.
So does a higher price mean higher-quality work?
To find out, I hired three cartoon video ad creators in different price tiers
. I asked each of them to complete the same animation project, then compared the results to see whether paying more would get me a better product. Read on to see what happened, and if you need a professional for your next project, check out my list of the top 10 cartoon video ad creators below.
Hiring 3 Cartoon Video Ad Creators to Test
Whether you're in need of a two-dimensional explainer ad or a three-dimensional video in an eye-catching style, you'll likely find what you need on Fiverr – after all, there are over 17,000 animated video ad gigs on the site.
For this test, I asked three cartoon video ad creators to produce a 2D ad at distinct price points: low ($35), mid ($55), and high ($130).
The $35 Cartoon Video Ad Creator: A Highly Rated, Budget-Friendly Freelancer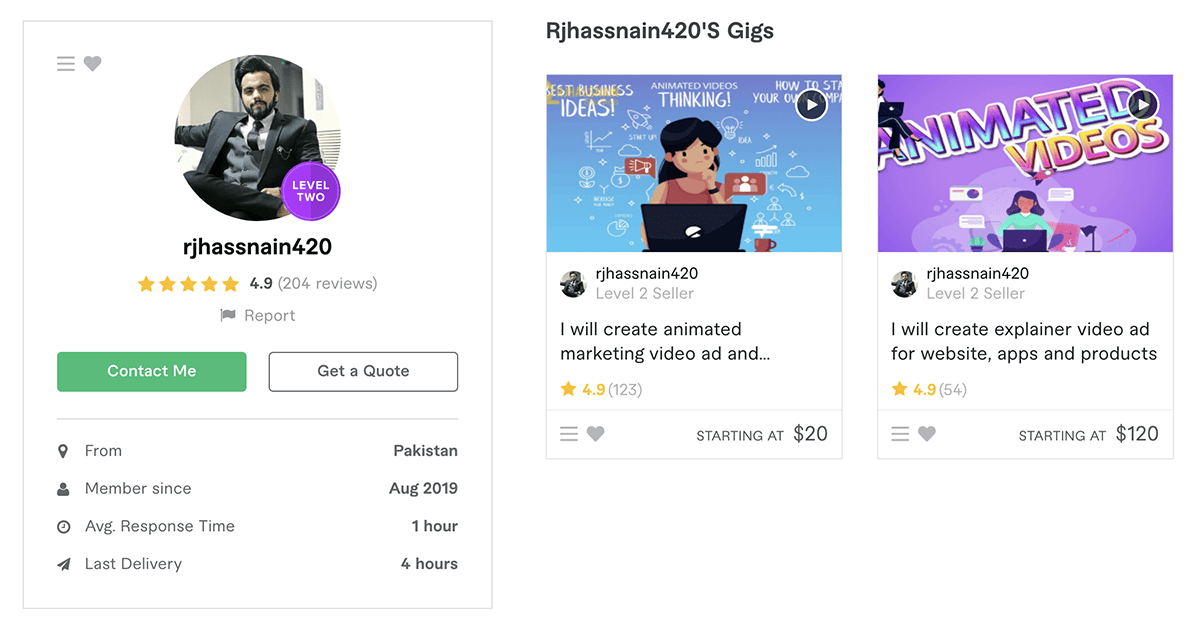 As a 4.9-star creator with over 200 reviews and budget-friendly pricing, rjhassnain420 immediately caught my eye. The fact that they're a Level Two Seller confirmed that they had maintained a high rating and workload over an extended period of time so I felt that I could trust them and their work.
I purchased their Standard animated video ad gig
, which featured up to 30 seconds of run time (and up to 75 words), a voiceover, and background music. It had a four-day turnaround and came with unlimited revisions, which is often hard to come by in lower-priced animation gigs, so this impressed me.
The $55 Cartoon Video Ad Creator: A Seasoned, Top Rated Seller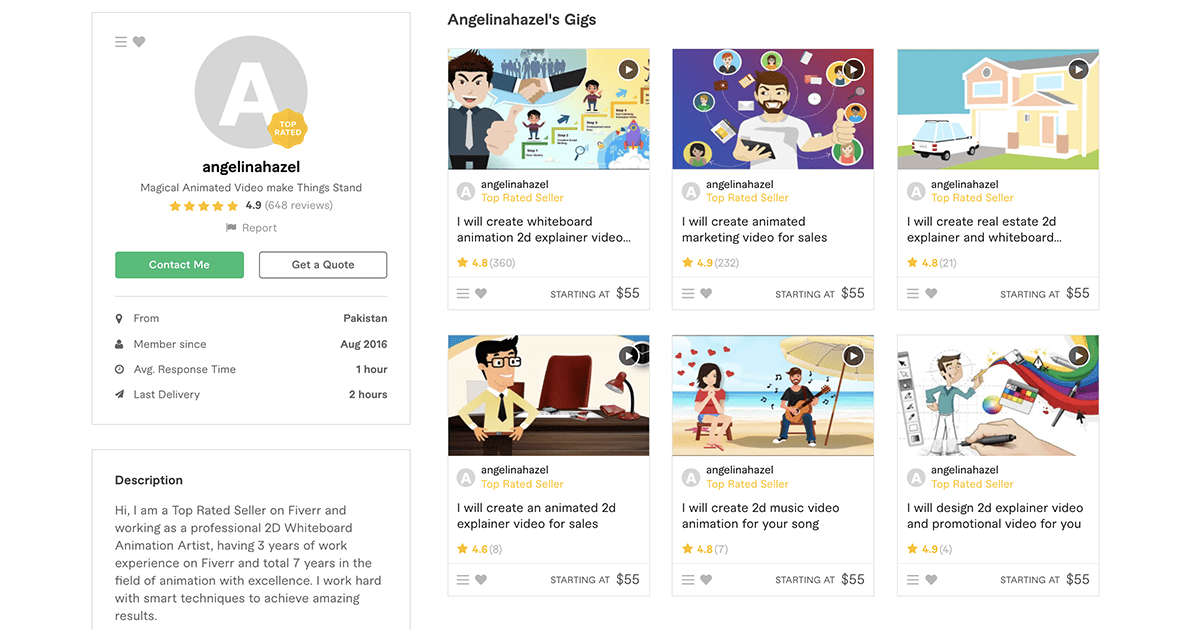 Fiverr's Top Rated Seller status isn't easy to achieve. Freelancers have to deliver at least 100 orders and earn $20,000 or more, all while maintaining a rating of at least 4.7 stars. I was eager to work with angelinahazel to see if a Top Rated Seller would guarantee higher-quality work.
I booked their Basic cartoon video ad package
, which included up to 30 seconds of run time (and up to 75 words), a voiceover, and background music. The package only came with one revision, but the producer did offer additional or unlimited revisions in their higher-priced gigs. Note that the turnaround time for this package was seven days, which is a bit longer than the other freelancers.
The $130 Cartoon Video Ad Creator: An Experienced Expert With Premium Pricing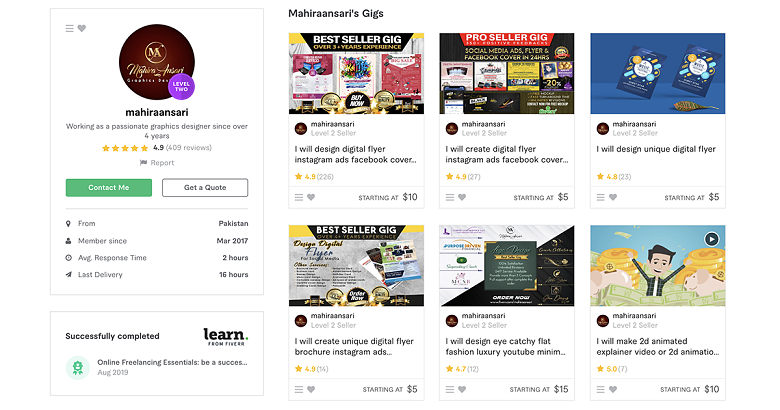 With over 400 customer reviews and an excellent 4.9-star rating, mahiraansari looked promising. Although their pricing was considerably higher than the other two freelancers, I liked their Level Two Seller status and was eager to see what kind of work they would produce.
I booked their Premium animated video ad package
, which was about twice as long as the other two options. It included up to 60 seconds of run time (and up to 150 words) as well as a voiceover and background music, with a four-day turnaround. It also featured unlimited revisions, which enhanced the overall value.
My Experience Working With These Fiverr Freelancers
I sent the same inquiry to all three freelancers, which requested an animated video ad and directed them to
Website Planet's 'About us' page
 for more information. Each seller responded to my inquiry within 10 minutes, so we moved forward quickly.
The $35 Cartoon Video Ad Creator's Process
The $35 seller (
Rjhassnain420
) asked for my script and sent a sample of the voice they intended to use. Then they provided a link to their portfolio with about a dozen examples of animation styles to choose from.
The $55 Cartoon Video Ad Creator's Process
The $55 freelancer (
angelinahazel
) looked at the link I provided and recommended a longer video: a 60-second animation (as opposed to 30 seconds) and scriptwriting for $100. Although it was a tempting offer, I stuck with the $55 gig and confirmed that I could provide a 75-word script.
They sent me three YouTube links to their previous work and asked me to select a style
. After booking the gig, they sent me two voice samples to choose from: one male and one female, both with American accents.
The $130 Cartoon Video Ad Creator's Process
The $130 professional (
mahiraansari
) started by asking what type of English accent I wanted for the voiceover. I requested a female voice with an American accent, and they sent two options to choose from. They didn't ask about animation style, but the samples featured on their gig page were similar to what I wanted, so I wasn't too concerned.
Comparing the Final Results
When I received the video ads, it was clear that all three freelancers used similar source materials to produce their animations. Yet the price of each gig reflected the complexity and overall quality of the final product.
The $35 Cartoon Video Ad
The $35 cartoon video ad is simple yet effective.
The budget-priced ad combines animation with text overlays from the script. Although the animations are relatively simple and the backgrounds are minimal, the video gets the point across nicely and makes good use of the Website Planet brand color (purple) throughout. The $35 freelancer delivered the video right on time – within four days of booking – making this one of the most efficient projects.
The $55 Cartoon Video Ad Creator
The $55 cartoon video ad uses more advanced visuals to deliver the message.
Although the style of the mid-range video is similar to the low-priced option, this ad reflects the higher cost. The animations are more advanced and the backgrounds are more detailed. It also uses less text and more imagery to convey the same message for a more engaging video. Like the $35 seller, the $55 producer delivered the video right on time, in just under seven days.
The $130 Cartoon Video Ad Creator
The $130 cartoon video ad features a higher level of detail and complexity.
At nearly 60 seconds, the $130 ad is about twice as long as the other two. Along with the extra run time, the higher-priced ad uses a lot more characters, more advanced storytelling, and virtually no text. The seller also added some nice creative touches – I especially liked that the Website Planet team members were depicted as superheroes with animated capes. Overall, this ad was my favorite. In terms of process, efficiency, and the finished product, the higher-priced freelancer outshone the others.
While all of the animated video ad gigs required some input from me, I preferred the $130 professional's approach.
 In addition to having me choose the accent and tone for the video, this freelancer recorded the entire voiceover within about an hour of when I booked the gig. That way I could approve the voiceover right away and feel more confident that the project would turn out well.
And although the most expensive gig included a four-day turnaround, I received a draft within three days.
 I asked the professional to add the Website Planet logo, and they delivered the video about an hour later. Taking advantage of the unlimited revisions, I asked them to remove a few words of text in two different parts of the video. They completed the revision the next day, which meant that the project took about four days total.
As this test shows, you can get great work on Fiverr, even with a small budget.
 The $35 video would work well in any advertising campaign. With unlimited revisions, you could also ask for as many modifications as you want.
However, paying more for an animated video ad on Fiverr definitely delivers more value, at least in my experience.
 If you have a bigger budget, purchasing a higher-priced gig can get you a longer, better-quality video. Even at $130, it's still a relatively low cost option compared to hiring a cartoon designer outside of Fiverr. Plus, there's a huge amount of flexibility in working with a Fiverr creator. For example, you could even hire a freelancer to create custom characters which could help set your video apart from the competition.
Hiring a Freelancer for Cartoon Video Ads on Fiverr
Finding a freelance animator is easy. But hiring a professional on Fiverr is even simpler (just take a look at our
expert Fiverr review
where we thoroughly tested it out) and it comes with certain benefits like:
Finding freelancers on any budget: Fiverr hosts animation gigs across the pricing spectrum. You can hire a freelance video creator for $5 or $5,000, with hundreds of options in between.
Customizing your offer: If you can't find a gig that specifically meets your needs, you can ask sellers to design a custom offer. Many are willing to deliver projects more quickly, add more run time, or make other modifications for a fee.
Receiving a clear project timeline: Every Fiverr gig comes with a stated turnaround time, which ranges from several hours to a few days. You can see the turnaround time prior to booking a gig, but once you book one, you'll also get confirmation of the exact time you can expect to receive the completed project.
Reading customer reviews: Whether you plan to spend a little or a lot, you want to make sure your purchase is worthwhile. Before hiring a creator on Fiverr, you can scour tons of customer reviews. Not only that, but Fiverr's Seller Levels are a way to guarantee that a freelancer has on-time delivery and high-quality service.
The 10 Best Cartoon Video Ad Creators in 2023
I searched across Fiverr for the best animators for hire. Of the thousands available,
my number one choice is
mahiraansari
 because of their high-quality work, fast turnaround, and speedy revisions. I also suggest taking a look at these other cartoon video ad creators I've picked out for you:
FAQ
Can I get a cheap cartoon video ad on Fiverr?
Yes. You can get a quality cartoon video ad for just $35 on Fiverr. In fact, you could spend even less than that (one of my top recommendations starts at just $10). I was very impressed with the ad I received from a lower-priced animator.
Do more expensive Fiverr sellers produce better quality work?
Sometimes. For this cartoon video ad project, I liked the most expensive option best. However, the highest-priced gig doesn't always deliver the best results. For example, in our Fiverr logo design review my colleague preferred the $5 option.
When do you pay for a Fiverr gig?
You pay for a Fiverr gig when you book it. There's no membership fee for buyers and you can browse gigs, sort through sellers, and message back and forth with freelancers as much as you want.
Is Fiverr easy to use?
Yes. Fiverr is easy to use, even if you're new to this kind of online marketplace. In fact, it scored 4.9 out of 5 in our Fiverr review based on its ease of use. You can look for gigs using the search bar or the dropdown categories. Scroll through the listings until one catches your eye or sort the results by budget, credentials, or other factors. Click on a gig to read more about what's included. From there, you can message the seller or book the gig. Then, you can check the timeline and status on your order page.
Which is better: Fiverr or Upwork?
Fiverr and Upwork are two of the best known online marketplaces for freelancers. Yet Fiverr is better than Upwork for several reasons. Fiverr has a visual interface for browsing gigs, which is great for creative projects – not to mention tons of interesting categories ranging from visual effects to jewelry design. Although Fiverr is designed for one-off assignments, it works just as well for ongoing or recurring projects. Simply search for what you need or ask your preferred professional to create a custom gig for you. Finally, Fiverr's designations – like Top Seller and Level Two Seller – make it easy to find an experienced, top-rated freelancer for your gig.