Several free website builders will let you design a decent site – but the one thing none of these builders will give you is a custom domain. If you want your site to look professional (and keep in tone with your brand), you need a paid plan. As far as I'm concerned, Squarespace is my absolute favorite. It has the best-looking templates around, and even its cheapest plan includes a free custom domain plus unlimited storage.
Squarespace has a 14-day free trial
, so you can test all of its features before you buy.
With hundreds of website builders out there, choosing the right one can be more exhausting than actually hosting your event.
The right website builder will allow you to set up your site in a matter of minutes
, customize it to match your unique event and add all the features you need – from volunteer sign-up forms to e-commerce capabilities for selling tickets – without having to learn one line of code.
Choosing the wrong builder could mean wasting time and money on a site you're not happy with
.
That's where we come in. We tested all the top website builders on the market to bring you this list of the best ones for your needs:
Best Website Builders for Community Events – Our Top Picks
Wix – Choose from 80+ event templates to find the best one for your event
Site123 – Set up a site for your event in 3 simple steps to go live as fast as possible
WordPress.com – Build a blog to share experiences from your event
SimpleSite – Get e-commerce capabilities even on the free plan to sell tickets to your event through the site
Weebly – Import your Instagram feed into your site to show your event in its best light
Jimdo – Add social media integrations to better engage with your audience
1. Wix
Wix is one of the first places that many go to when they want to create an events website because of its robust selection of over 900 templates.
They have an entire category of templates dedicated to events
, including:
Weddings & Celebrations
Conference & Meetups
Event Production
Venues
One of my favorite templates is the Comic Conventions template. While targeted for Comic-con style conventions, this can work great for other forms of conferences or other community events.
Under the Venues section, the Theater Company and Theater Plays themes are also great for regular events such as plays, meetings, and other regularly scheduled performances.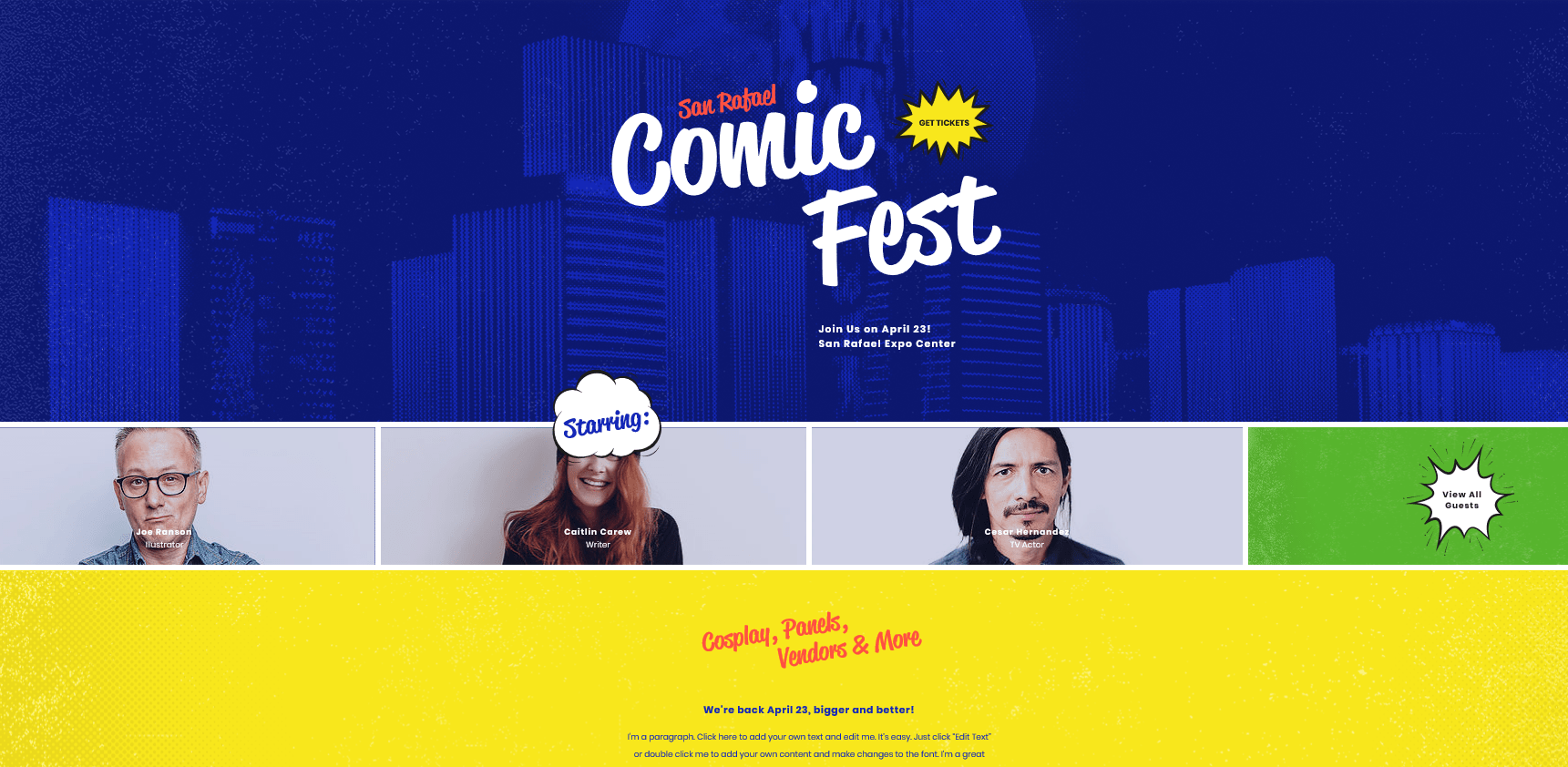 Comic Convention – Click to try this template
These Wix templates and others give you everything you need to promote your event, including photo galleries, integration for Google Maps to provide directions to your event, contact webpages for guests to get more information on events, and more.
If you need additional functionality,
you can also add features to your website via the App Store.
This will allow you to add other forms, video, live chat, or even a scheduling app to allow your guest to register for events via your website. Note that while you can
set up a website for free with Wix
, you're going to be limited to just 500MB in storage and you're forced to use a subdomain. The paid Combo plan is the best option, as it offers a free domain name for one year, 2GB of storage, and also the ability to host up to 30 minutes of video about your event directly on the website.
Click here to learn more about Wix pricing.
The main downside to Wix is that once you create your website, you're stuck with the template. If you want to switch to a different one, you'll have to rebuild your site from scratch. Not sure if Wix is the right builder for you? Read our
in-depth review
 to learn more.
2. Site123
Site123 is another website builder that has a reasonable selection of templates, including event templates.
While its collection is not as robust as Wix's, it does cover many popular event categories.
Two templates I really like here are the Beer Festival template, and the We Are Getting Married template.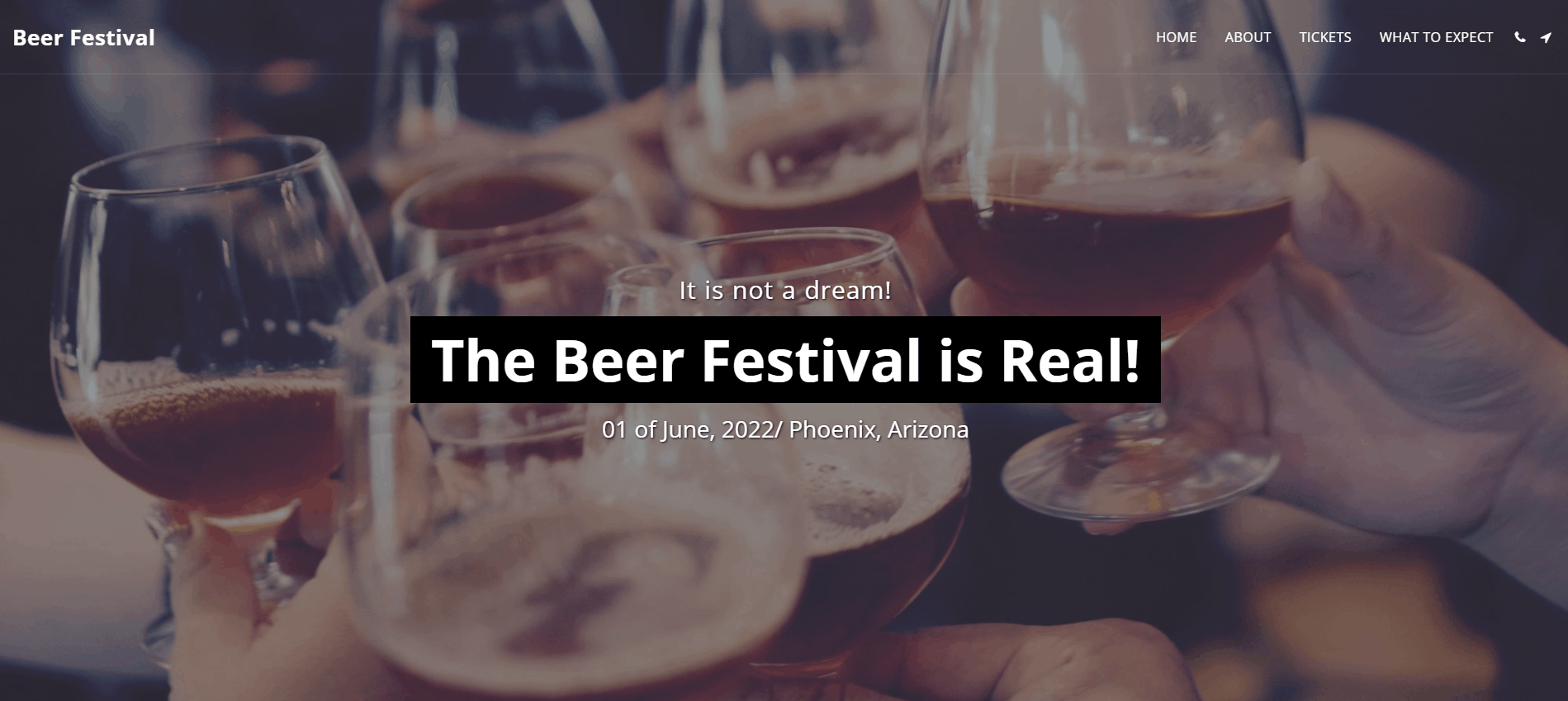 Beer Festival – Try this template now
Both templates have sections telling more about the events, a breakdown of what's happening at each event, and a section where you can get in contact with the organizers. For the Wedding template, you can RSVP for the event. In the Beer Festival template, you can sign up and pay for tickets directly from the website.
One of the biggest advantages of using Site123 for your event's website is that e-commerce features are available in all paid plans.
You can sell tickets directly from your website without having to sign up for expensive e-commerce plans.
Like Wix,
you can use the Site123 App Market to customize your event's website
with any feature you need to promote your event. You can add additional galleries, booking apps, Google Maps, live chat, and more. The main downside to using Site123 for your event's website is that its templates are very similar in design. Granted, y
ou can still customize the template with your own photos, backgrounds, videos, and content
, but the layout isn't going to differ much from website to website.
Site123's free plan
is very limited, and you're stuck using a subdomain. Luckily, the Premium plan is very affordable, and it gives you a free domain for a year along with the e-commerce features mentioned earlier. Want to learn more about Site123?
Read our full expert review
.
3. WordPress.com
WordPress has a larger selection of templates than any other provider on this list, but unless you're willing to pay to unlock premium templates, your choices will be limited. Most free templates are glorified blogs and not designed specifically for events. An exception, and one of my favorites from WordPress is the Singl template.
It's an excellent choice for events, especially concerts, sporting events, and plays.
Designed for music artists, it allows you to showcase an upcoming event, display video clips of the event, and provide details about it.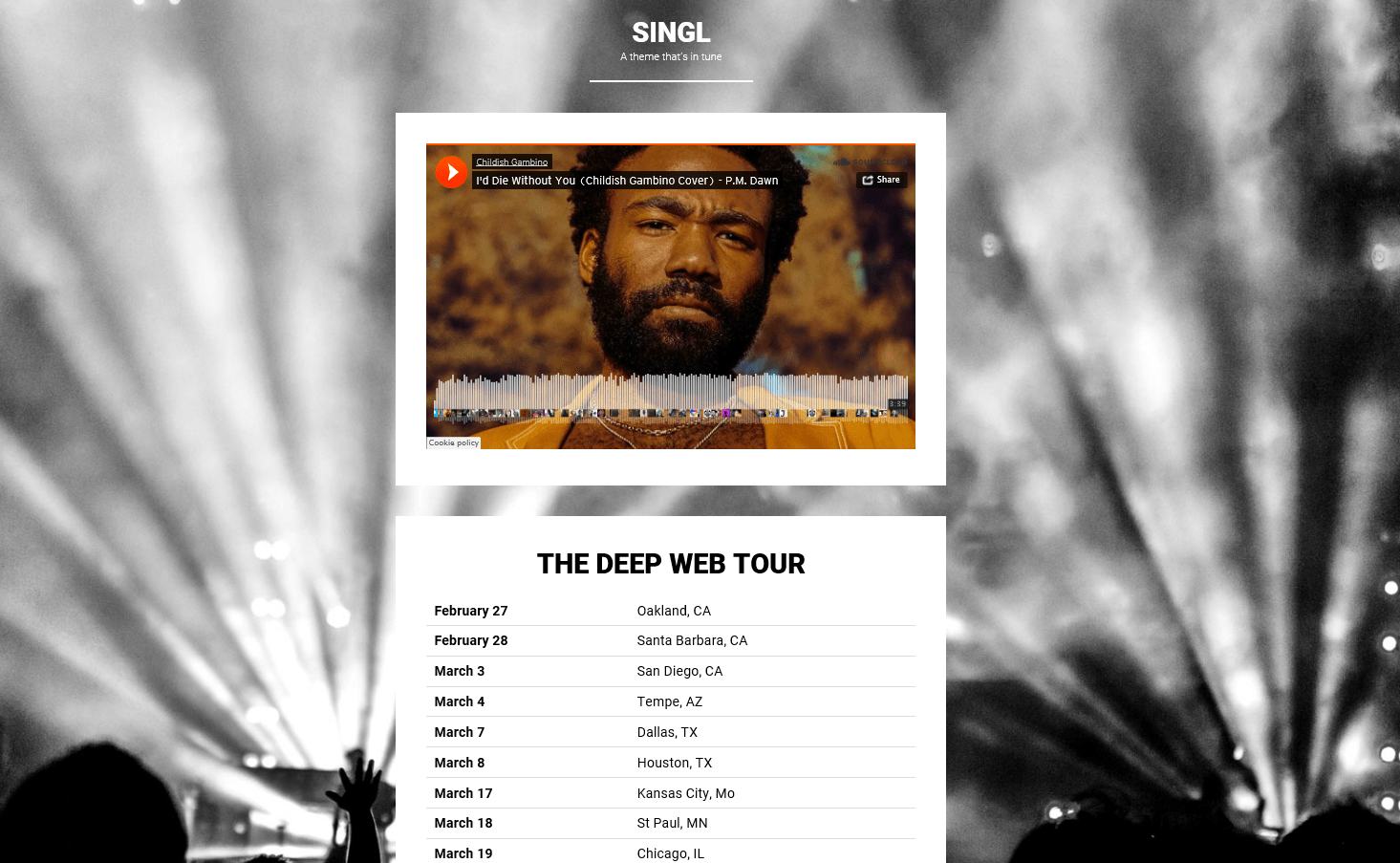 Singl – Click to try this template
If you're using the Free or the paid Personal plan, you will be limited on your design options. You'll be locked into the options available only in the templates. If you upgrade to Premium or Business, you can customize HTML and CSS, and you'll be able to add additional WordPress plug-ins and apps. You will also have access to premium themes.
Or read
our in-depth review
 to learn more about WordPress.com's features.
4. SimpleSite
SimpleSite is another company you can use to create your event's website, but be forewarned that your options will be limited. For starters, SimpleSite offers only a limited number of themes to choose from. For
events, the Blank Company and Senior Home Care Services templates are the ones I find most appropriate.
Most of the templates available on SimpleSite are set up in a blog format. By default, you can post about the event, post a schedule of events, and allow customers to contact you. From there, y
ou can add whatever features you need to promote your event or keep visitors updated on future events
. Two things I like about SimpleSite are the ability to make your website multilingual, and that
 all plans offer e-commerce features — even the free plan.
SimpleSite allows you to code your website in up to 80 languages to expand its accessibility to a wider audience. This is perfect if you're hosting an event in a multilingual community. You can also list up to five online store products, which gives you options for ticket sales to your customers.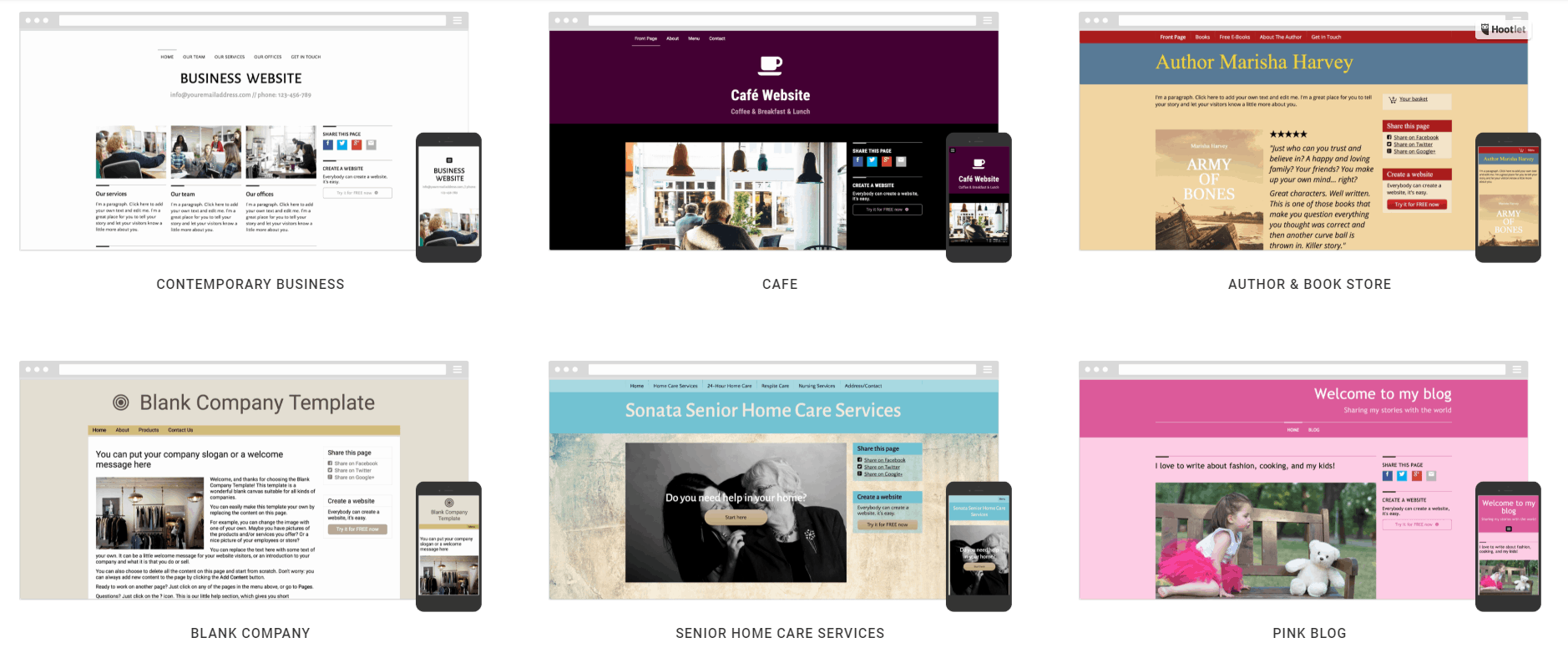 View more SimpleSite Themes
The main downside to SimpleSite is that templates are very basic.
All templates are set up in a blog-style format, and there's little variety. Your website may look a bit dated unless you're really creative. However, they are an excellent starting point for those needing to get a website online quickly.
The free plan
may work for your website, but you'll have to use a subdomain, and SimpleSite ads will be displayed. Furthermore, you'll be limited to 15 webpages. To unlock more features, including unlimited multimedia and video minutes, you'll need to subscribe to a paid plan.
5. Weebly
While Weebly doesn't offer the largest selection of event themes, the ones available are some of the most stunning.
The first theme that sticks out to me is the Run-Birdseye 2 theme for a Run Against Cancer Marathon. It's an excellent example of what an events website should look like, with great graphics, sections that describe the event and its mission, and a way to sign up and either volunteer or run in the event.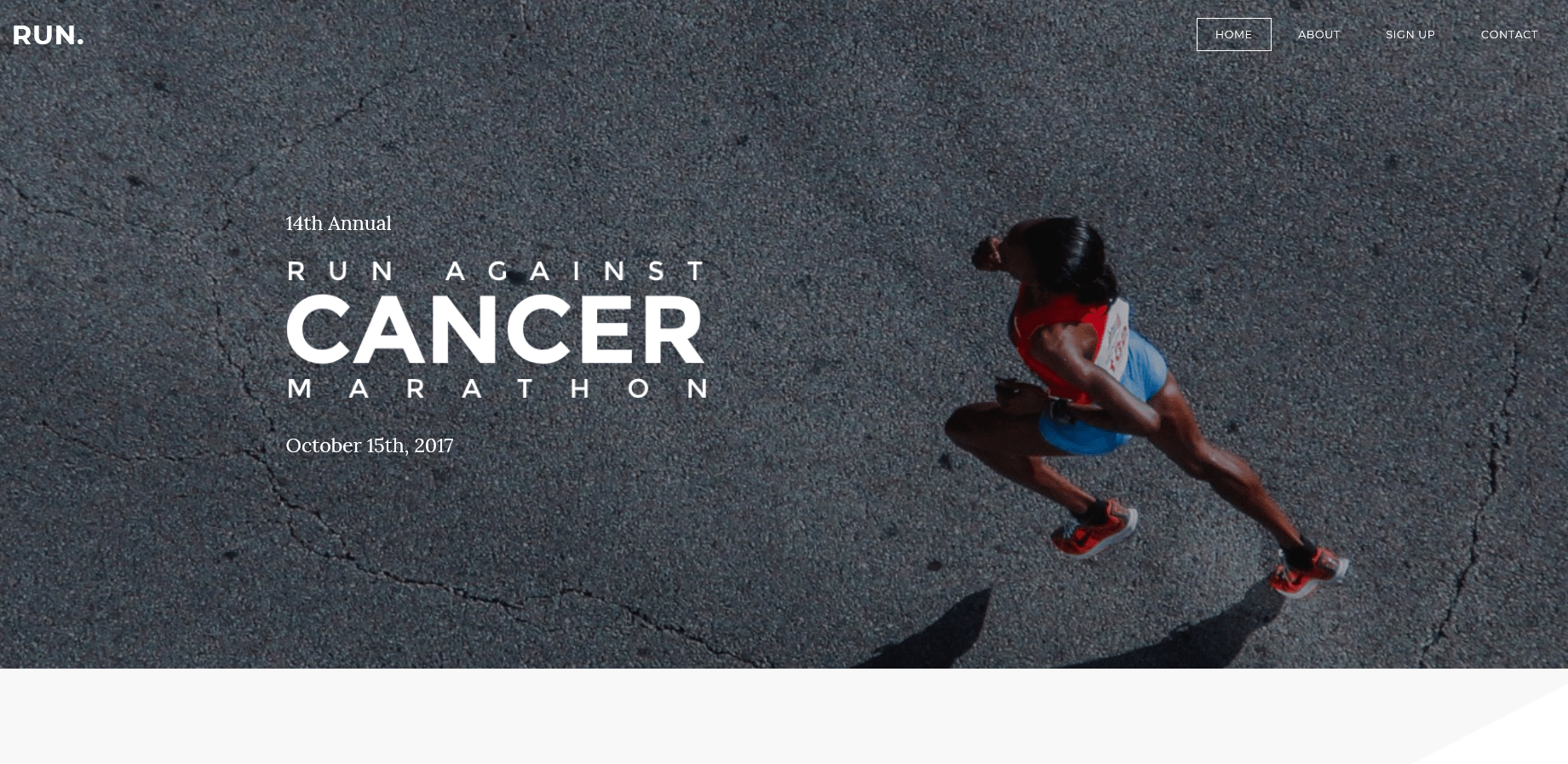 Run-Birdseye 2 – Click to view all weebly's themes
The Vue template is another excellent example of an events template. It provides a breakdown of speakers, a description of the event, and a section to sign up.
Weebly templates are fully customizable, down to the HTML and CSS code, allowing you to tweak the design as you see fit.
You can also use the App Market to add additional features such as photo galleries, videos, backgrounds, forms, and more.
If you want to sell tickets to your event, Weebly gives you one of the most affordable solutions to do so.
The Starter plan lets you list up to ten products using Weebly's checkout system for a low 3% transaction fee. There's also a
free plan
, but it's a bit limited. A more extensive selection of templates would be ideal, but what Weebly has can be configured to meet your needs.
This website builder makes it easy to create a stunning website.
Want to know more?
Read our in-depth Weebly review
.
6. Jimdo
Jimdo is another basic website builder that can help you get your events website created quickly.
You can choose to use Jimdo's Dolphin AI program to create your template automatically, or you can set up a website using a template.
Jimdo has a limited selection of templates, but I find its Shanghai Francesca and Sunny Meadow Band templates very suitable for events.
I particularly like the Sunny Meadow Band template, as you have your basic homepage, along with webpages that talk about Discography and a contact webpage.
The discography can be modified to give more details about upcoming events, complete with videos and music, a blog, and even galleries of past events.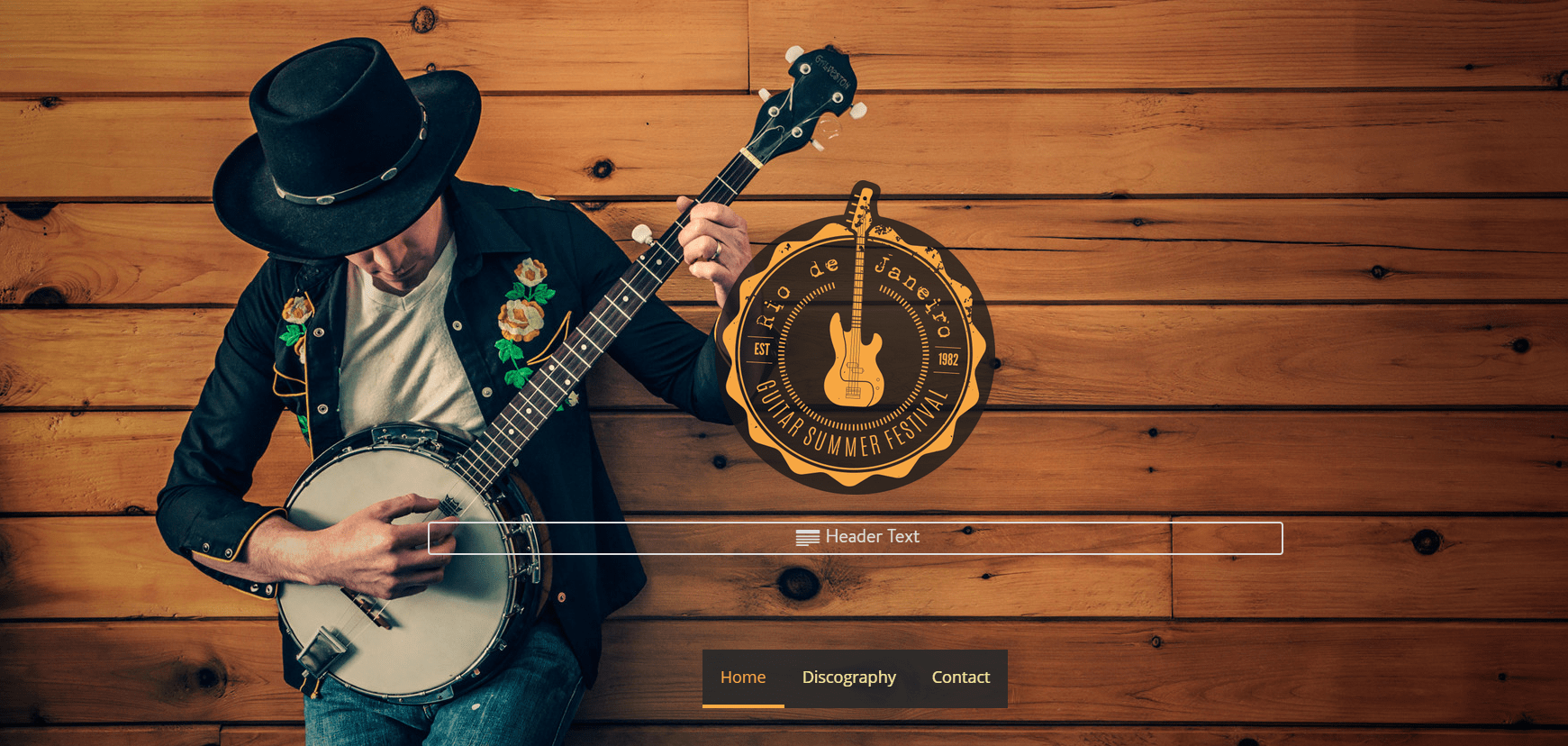 Sunny Meadow Band – Click to try it now
One thing I like is that if you don't want any of Jimdo's templates, you have the option to choose a completely blank template and use it as your own canvas. Also, Jimdo allows you to add your own HTML and CSS code to your templates. You can add third-party apps and widgets, giving you much more design freedom over other sites.
The two downsides to Jimdo are the lack of useful templates and the fact you have to upgrade to Business to offer ticket sales through your site. For most sites that don't require online ticket sales, the Pro plan should work fine. To learn more about Jimdo,
read our expert review
.
Promote Your Event and Save Money at the Same Time
Advertising budgets for different events aren't always very high.
Fortunately, one way you can save lots of money on advertising is by creating a website.
By using one of the website builders above, you can create a fantastic site that keeps your audience informed on upcoming programs. This will increase outreach and attendance, allowing you to continue planning awesome events for your community.