hire a video producer on Fiverr for as little as $20
.
But can you get a decent video for that cheap or do you need to pay more for high-quality work?
To answer this question,
I selected three video professionals on Fiverr at different rates
. I sent the same creative brief to each, asking them to make a video ad for a test fitness product. Curious which creator's work was my favorite? See the finished products from the three freelancers I worked with below. For more potential hires, check out my list of recommended product video ad creators later in the article.
Hiring 3 Product Video Ad Freelancers to Test
To find the best video ad professional, I searched Fiverr for sellers across the pricing spectrum. The first was a low-priced gig because I was curious to see if I could get a high-quality video for only $20. The second was a mid-range seller and the third was a professional filmmaker with much higher rates.
The $20 Product Video Ad Creator: Great Value on a Budget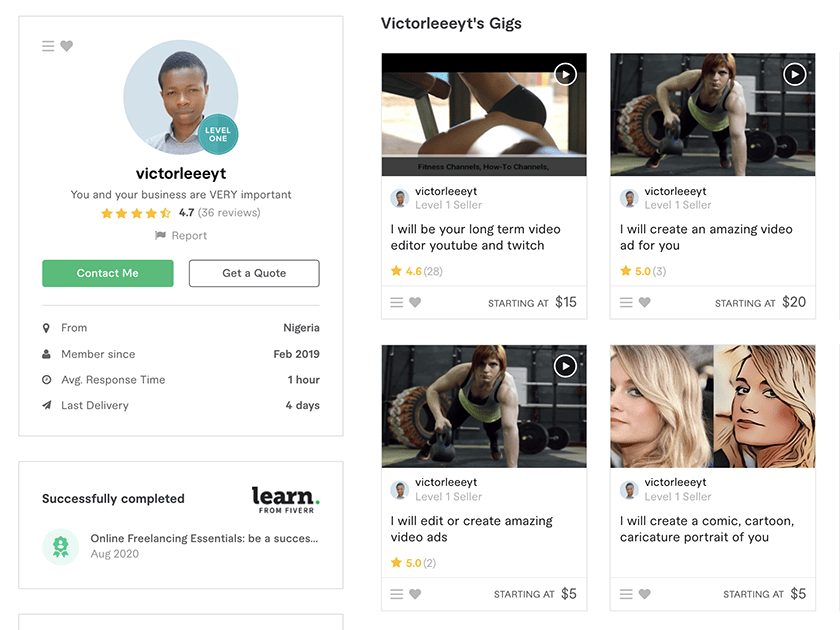 With a 4.7-star rating, dozens of glowing reviews, and rates starting at just $5, victorleeeyt seemed like a great candidate for a project with a limited budget.
I booked the basic $20 package
, which included scriptwriting, video editing, and background music, with a total run time of up to 120 seconds.
They responded within the hour, saying that they could start right away.
The $55 Product Video Ad Creator: Professional Work at a Reasonable Rate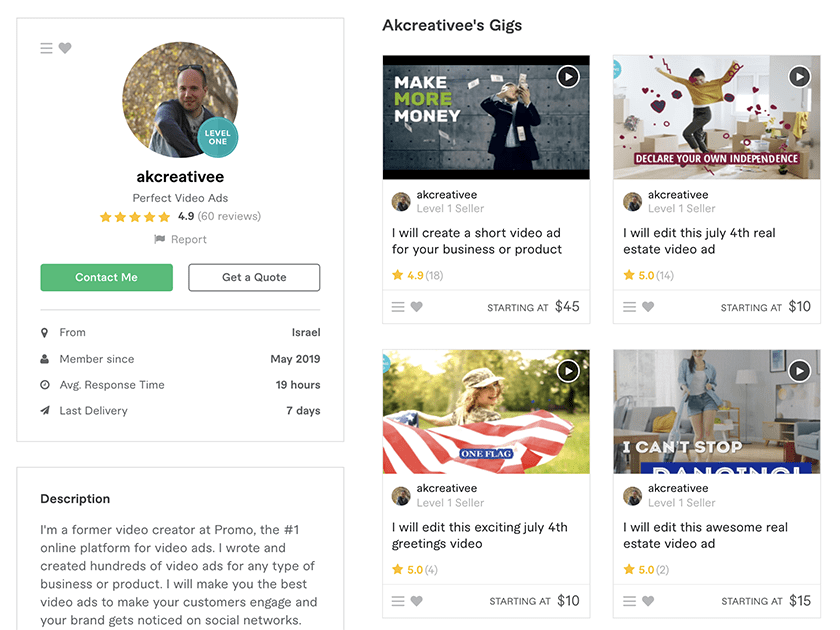 When looking for a mid-tier video producer, akcreativee easily stood out. A video creator with almost 10 years of experience,
this freelancer was also a Level 1 Seller with a 4.9-star rating
.
I booked the basic video ad package
, which came with scriptwriting, stock footage, background music, and up to 15 seconds of run time. I opted for one-day delivery for a total of $55.
The $145 Product Video Ad Creator: Superior Work That Justifies the Price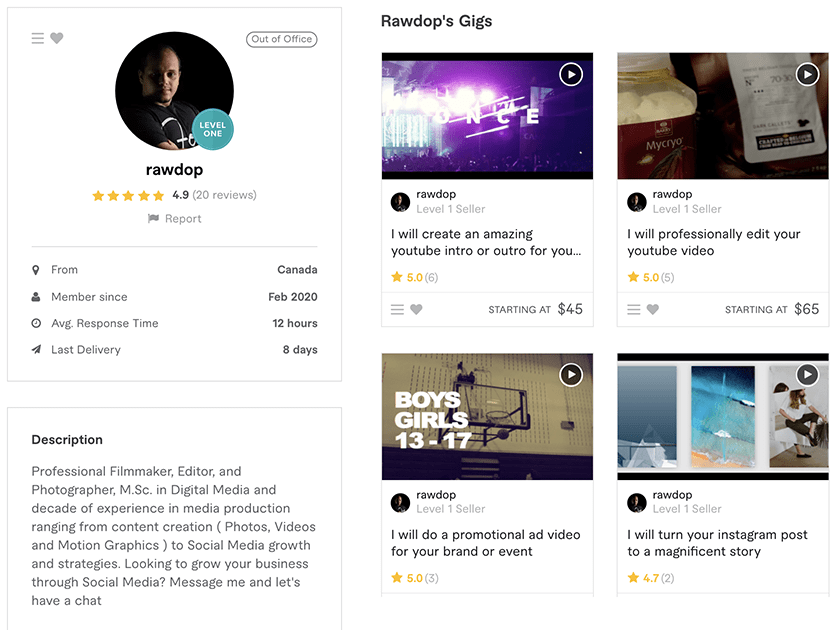 Although rawdop had fewer reviews than other sellers, their 4.9-star rating and Level 1 Seller status made them an easy choice. The fact that they were a professional filmmaker with a graduate degree didn't hurt either. Once again,
I booked the basic package
,
which included video editing, product imagery, script writing, and up to 15 seconds of run time
. I chose two-day delivery for $145 total.
My Experience Working with These Fiverr Freelancers
Like most Fiverr freelancers I've worked with, these sellers request that interested buyers send them a message before booking a gig.
 So I sent them a succinct creative brief asking for a video promoting a new fitness product. Because I didn't have a product link or a website with more information, I shared some talking points they could use in the script. All three video experts asked if I had photos or video footage to work with. Although I didn't have any video, I sent them the same four stock photos and brand logo. Each seller had a few other questions before inviting me to book the gig:
The $20 freelancer (victorleeeyt) asked if the video was for sales or awareness. No one else asked this question, but I thought it was smart to ask, so they could get the tone right.
The $55 seller (akcreativee) asked if it would be okay to cut some of the talking points, as they added up to more than 15 seconds. I was glad they asked so I wouldn't be surprised when I received the final product.
The $145 professional (rawdop) asked which platform I planned to use the video on, which was helpful for getting the correct aspect ratio.
Even though the three video experts had different price points, they were on the same level regarding communication and approach.
Comparing the Final Results
As I chatted with each of the freelancers, I sensed that they wouldn't be able to create the most professional-looking ad since I only provided a handful of images instead of raw video. However, all three located stock footage and produced high-quality videos that I would be happy to publish.
The $20 Product Video Ad Creator
This $20 video ad checks all the boxes for an affordable rate.
I would easily pay double for the $20 video, especially since – at over a minute long – it's by far the longest ad. The freelancer included all of my talking points and images, and sourced their own high-quality video footage and soundtrack. It's a great brand awareness video that would work well on Facebook or other social media platforms.
The first version of the video had a minor typo, which I asked the creator to correct.
They sent a revised version of the video in about an hour.
Since this video was the longest, it took the most time to complete. Although I received the video a little past the deadline stated in the Fiverr order, it still arrived before the date I requested in our initial messages. In order to avoid any miscommunication, make sure the order accurately reflects when you need the job done. Every Fiverr gig has a standard turnaround time, such as 12 hours or four days. Often, you can speed up the process by paying an extra fee. If you need the gig by a hard deadline, be sure to double check the deadline before confirming the order.
The $55 Product Video Ad Creator
This $55 video ad features a more professional look and great style.
While the $20 option was perfectly acceptable, I prefer the $55 video overall. The more expensive option offers higher-quality footage and is more relevant to the free weights I wanted to advertise. It also stands out more with a distinct visual style and more dynamic music.
Although the package I booked included a 15-second video, the final product was more than 30 seconds long.
The extra footage exceeded my expectations and I felt like I got great value for my money.
Before booking this gig, the freelancer warned me that the talking points I provided were a little too long. When they sent me the first version of the video, I could see there was too much text for the video. I recommended some specific changes to a few text panels that looked too long or cluttered. Within a few hours, they sent me the final version, which met my specifications perfectly.
The $145 Product Video Ad Creator
 This $145 video ad is on-brand and the highest quality.
If I had to pick a favorite, the $145 ad would be the winner. The video footage is clearly the highest quality and it has a distinct narrative. The text animation is easy to read and the background music is upbeat to match the fitness product.
This creator was also the only one who made additions and modifications to the talking points I provided.
 Because I wasn't necessarily committed to the specific wording,
 I thought their edits significantly improved the video.
 For example, they started the video with the tagline, "Meet your new dumbbells." They also transformed my talking point, "free weights are ideal for increasing strength and improving balance" into compelling calls to action: Increase your strength" and "Improve your balance." The video length was 15 seconds – exactly what the package specified. While I appreciated the extra footage from the $55 professional (
Akcreativee
), others might be put off by a freelancer that doesn't stick to a project's specifications. If you need a video with a specific length for ad optimization, then this more expensive seller delivered. Like the $20 ad, this one had a minor typo in the text overlay. However, I didn't notice the mistake until I had already accepted the video and completed the order. A day later, I messaged the freelancer in a panic and asked if it would be possible to fix the typo.
They sent me a new version in about an hour at no extra charge.
I wouldn't expect this level of service every time, but it was a nice perk of working with a higher-priced professional.
Ultimately, you can
get a professional product video on any budget on Fiverr
.
If I had limited funds, I would go with the $55 creator because they produced a professional-quality video with a unique look that was ready in less than 48 hours.
However, if you have a bigger budget, you'll get more value out of a more expensive producer.
 The $145 video met the specs perfectly and was finished in about 36 hours. Plus, the freelancer was willing to go out of their way to make sure I had a good experience even after the order was closed.
Hiring a Freelance Product Video Ad Creator on Fiverr
If you need a video to promote your product, finding a freelancer on Fiverr is easy. If you want to know more about how Fiverr works, I recommend checking out
our expert Fiverr review
for all the details. For now, here are a few of the perks:
You can find video ad experts at every price point. Whether you want to spend $5 or $500, you can find someone who works with your budget. Many sellers also offer a variety of packages so you can pay a little more to get exactly what you want.
You can search for video specialists in a specific niche or style. Most freelancers focus on a certain type of video, such as fitness product ads. That makes it easy to hire a creator who understands your industry and knows how to help you succeed.
You can browse past client reviews. On Fiverr, clients rate and review all freelancers, making it easy for you to find a seller who others have enjoyed working with and who seems like a good fit for your project.
The 10 Best Product Video Ad Creators in 2023
I conducted a comprehensive search on Fiverr to locate the finest video ad experts. While there are thousands of freelancers available for selection, I would like to spotlight the top 10 for your consideration.
My number one choice is
rawdop
because they produced a professional video quickly and went above and beyond to accommodate my request. I also recommend these nine product video professionals:
FAQ
Can I get a cheap video ad on Fiverr?
Yes. I got a great product video for $20 as you can see above. Even though this seems like a low rate, you can expect high-quality results on a limited budget. You can also get other types of services for $20.
Do more expensive Fiverr sellers produce better quality work?
No, not necessarily. In this case, the most expensive video was my top choice. However, in our Fiverr logo design review, my colleague preferred one of the lower-priced options. If you choose a highly rated seller with reasonable experience, you can get professional work for as little as $20.
When do you pay for a Fiverr gig?
You pay for an order as soon as you place it. Fiverr holds your money until you confirm that you are happy with the freelancer's work. Once you've accepted the final product, the seller is paid. If you'd like to learn more about the process, we go into this in detail in our Fiverr review.
Is Fiverr easy to use?
Yes. Fiverr is easy to use, regardless of what you're looking for. You can type a specific query into the search bar or you can browse common categories like personal stylists or short video creators. You can then sort the results by price, Fiverr status, service options, and other factors. When you find a gig that meets your needs, you can message the seller or book the gig right away.
Which is better: Fiverr or Upwork?
In my experience, Fiverr is better than Upwork. On both platforms, you can search for a wide variety of freelancers, but Fiverr has more budget-friendly options. With its well-reviewed roster of sellers Fiverr offers better value for any budget.