hire a web designer through Fiverr Pro
, a freelance service that hosts the best of the best.
I'd always recommend hiring a nonprofit organization web design expert instead of doing it yourself. Web designers are well-versed in designing for user experience (UX),
making it easy for potential donors to reach your conversion points
and actually make a donation. I've been researching freelancers for a while, and
my absolute favorite place to find experts is on Fiverr Pro.
7 Best Web Designers for Nonprofits
Fiverr Pro web designers are at the top of their field
. These experts have to be vetted and verified by Fiverr, and only 1% of all applicants earn the Pro status. Not only that, but Fiverr is fantastic for nonprofit organizations.
All payments are held in escrow by Fiverr until you approve the work.
So, if you're not happy with the work you've received, you'll get your money back. Plus, Fiverr's service charge is only a small percentage of the gig cost, so it won't break the bank. After hunting through dozens of Fiverr Pro professionals,
I've handpicked 7 freelance non profit website designers
that can help your nonprofit website go from a drain on your budget to a valuable part of your organization's income stream. Let's take a look!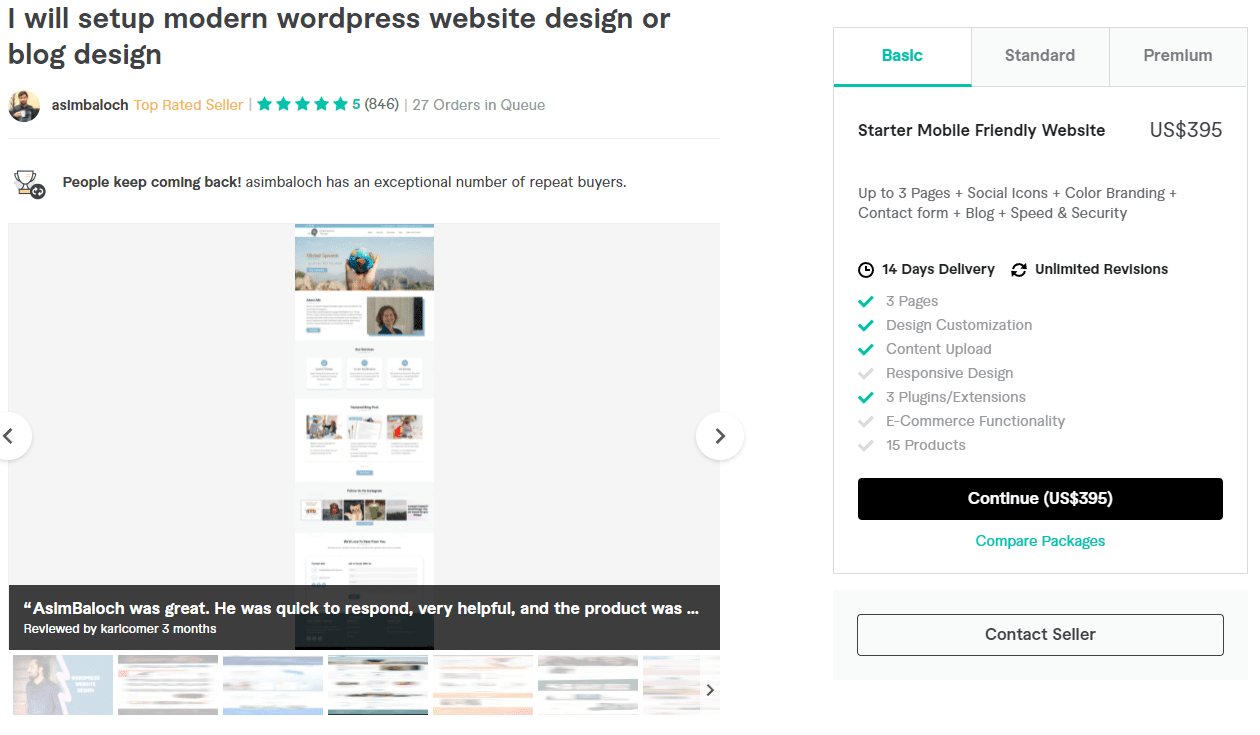 Asimbaloch caught my attention immediately.
This seller will design a full website for you for a fantastic price.
Even the Premium gig will cost less than $1,000, which makes it far affordable to fund your web project. Each gig level also comes with unlimited revisions, blogging functionality, social media icons, and optimization for speed and security. Previous clients have said that on top of design work, Asimbaloch has also helped with data migration, product and industry research, and post-deployment support.
He has a lot of repeat clients, so you know he's worth every cent.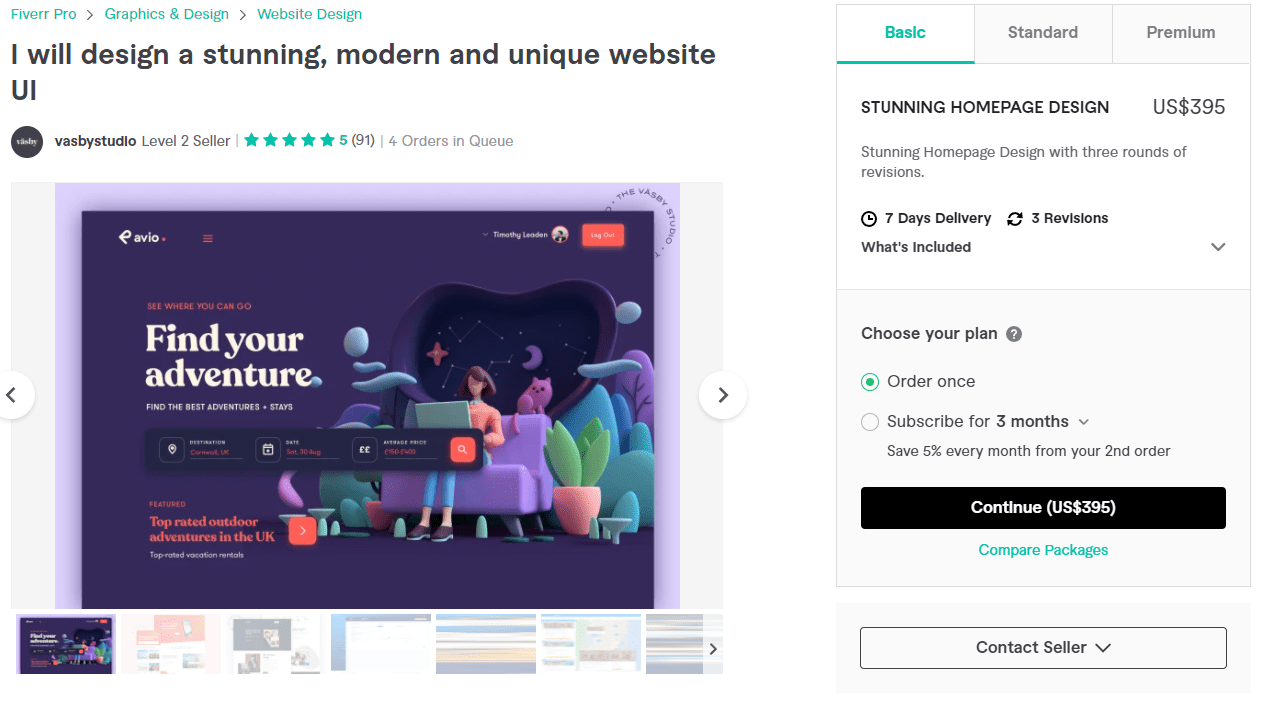 With over 12 years of web design experience,
Vasbystudio specializes in conversion-focused design that converts visitors into donors.
This makes them a fantastic choice if you need to improve your website's cash flow or if you want to set up an e-commerce store to support your organization's mission. The basic gig covers homepage design with three rounds of revisions, and you'll get the source files in Sketch and the design exported as a PNG/JPEG.
You can also ask the seller to have the design delivered as HTML/CSS files or coded directly onto a WordPress website.
If you don't have a coder in your organization, this is a great one-stop solution.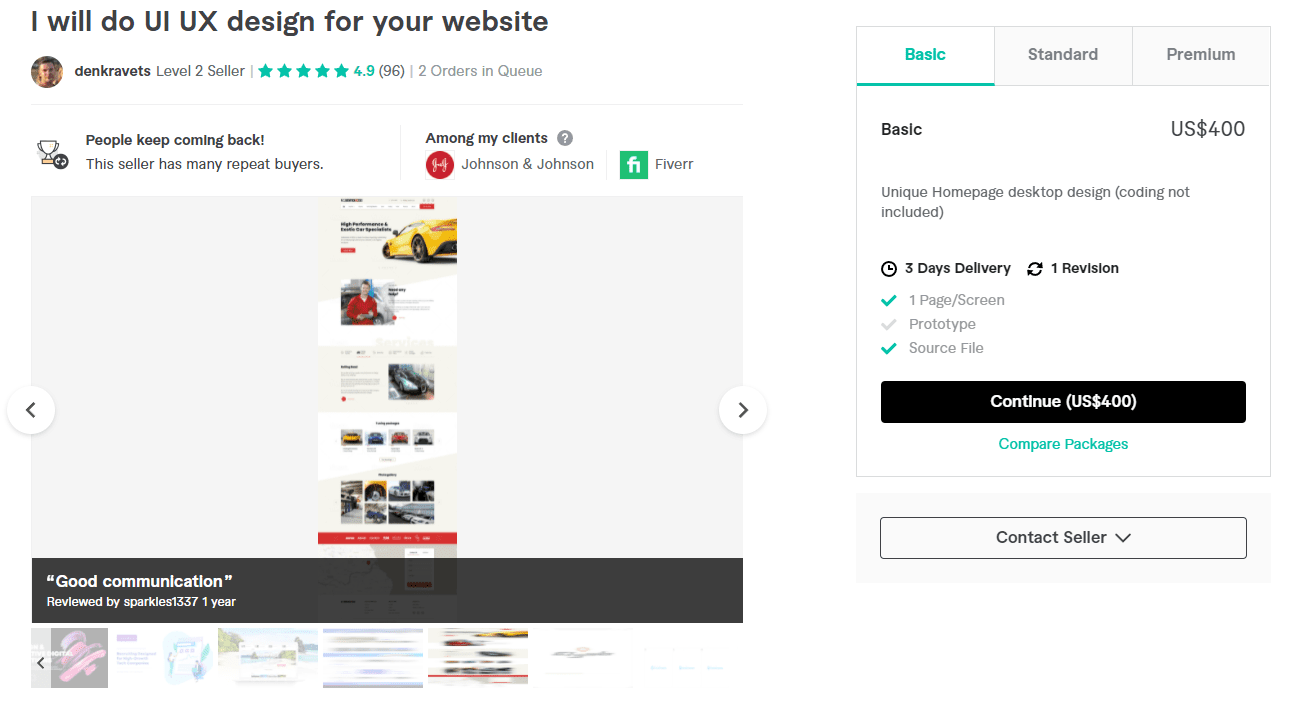 Denkravets is a professional UX designer with over 9 years of experience.
As a Level 2 Seller, he's completed over 50 orders and maintained a consistently high star rating. Previous clients say he's responsive, communicative, and professional, so you definitely won't be wasting your donors' money here.
His basic gig covers homepage design
, and you'll get your choice of source file included so the design can be converted into usable code. You'll also get the design exported as a PNG/JPEG file for reference purposes and a free font that you can use across the rest of your website.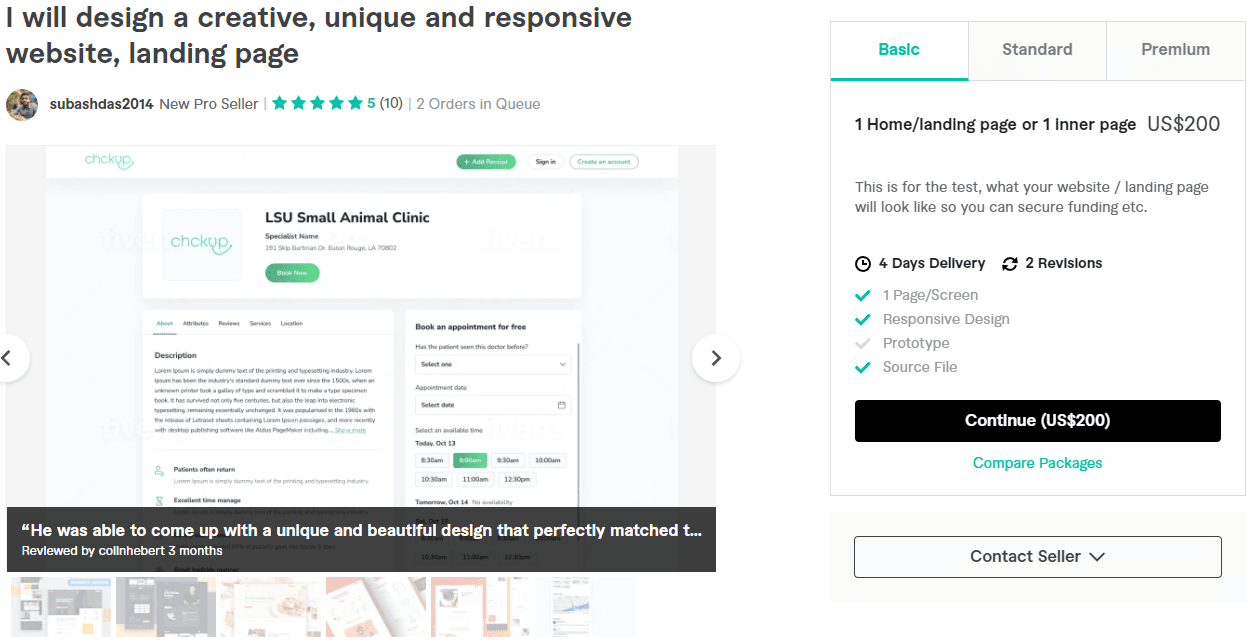 If your organization has a very small web budget, take a look at Subashdas2014 –
they'll deliver a one-page responsive design for half the price of the other sellers I've covered so far.
Not only that, but you'll get three source files with development assets like stock images and icons.
Previous clients love how easy it is to communicate with this seller and how responsive they are.
Plus, because they've got over four years of experience working in product management, they'll be able to offer suggestions for your website project to help you build lasting relationships with visitors and donors.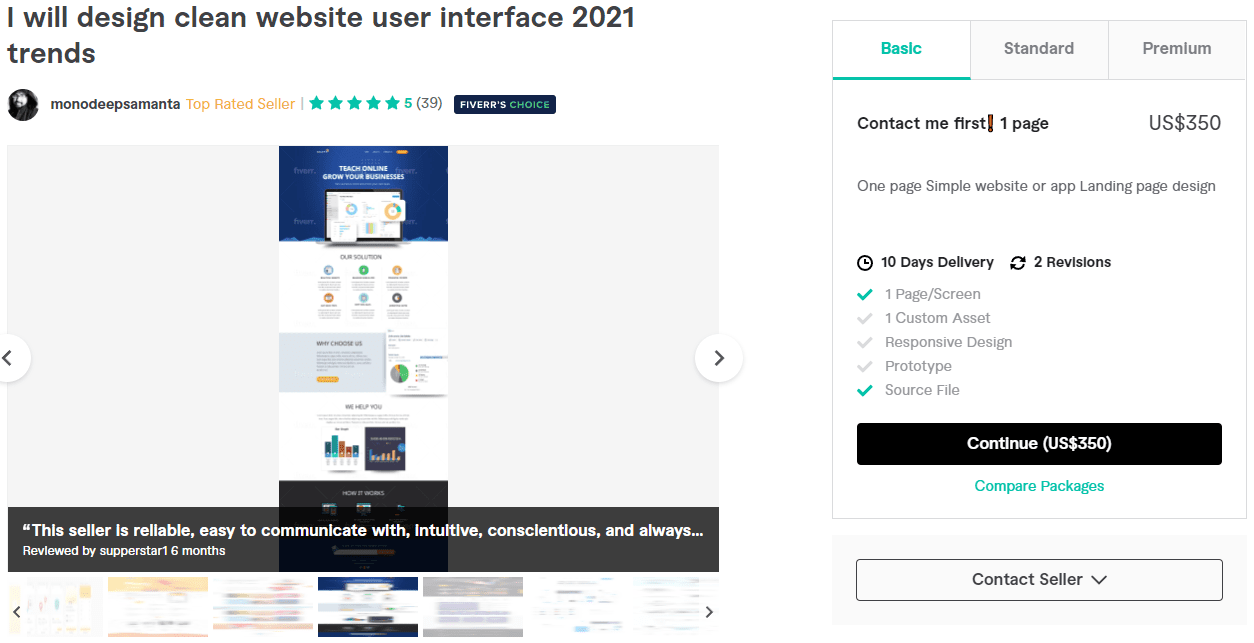 Monodeepsamanta has over 14 years' experience in UX design, which isn't surprising given they're a Top Rated Seller.
This means that Monodeepsamanta has completed over 100 orders and maintained a consistently high star rating.
Previous buyers say that he works hard to understand your mission and is easy to communicate with.
The basic gig covers one page of a website or an app landing page
, and you'll get a source file, a JPEG file, and two revisions. He can also convert the design into HTML/CSS files for your coder as a paid extra. If you've got some extra budget to work with, his Standard and Premium gigs offer more pages, unlimited revisions, and additional custom design assets.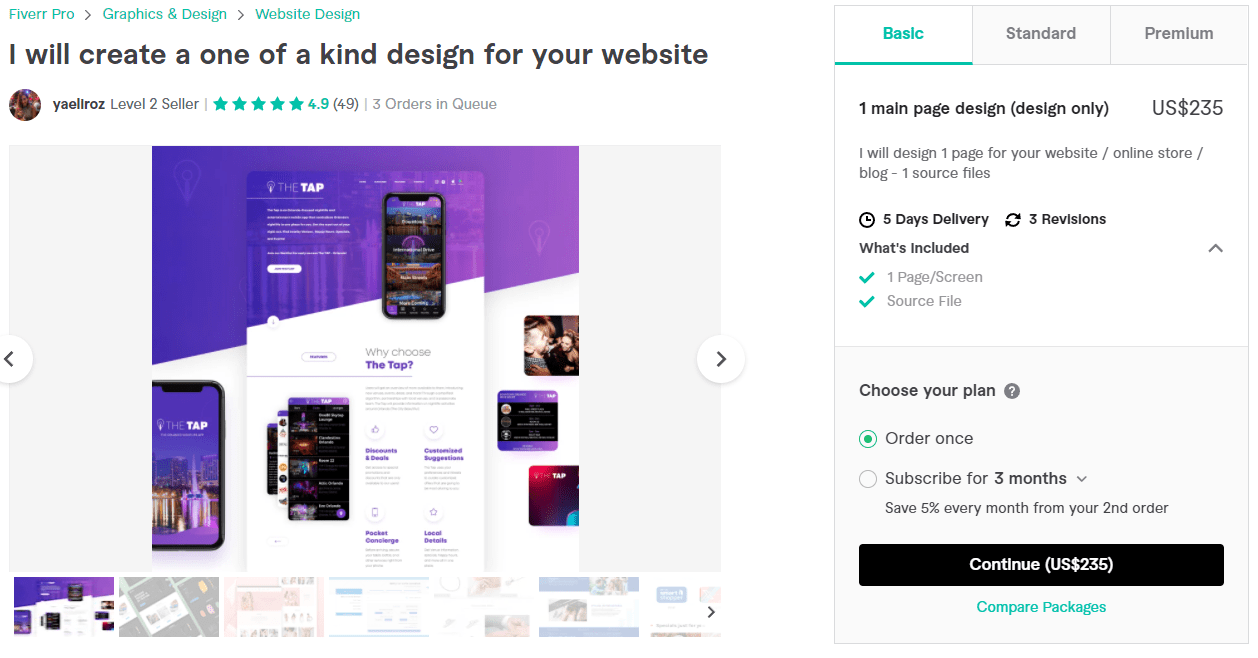 Not only is Yaeliroz a Level 2 Seller, but her services offer tons of value.
For less than most web designers offer, she'll design a single page for your website with a source file. Reviewers love how much research she does into your industry before she starts your design, how easy she is to work with, and even how she handles emergency requests. She's also Pro verified in social media design, social media marketing, and e-commerce development, making her a jack of all trades.
Her other gigs include newsletter design, Shopify and WordPress web development, and social media template design.
If you've got the funding for a wider branding project, she's the Pro for you.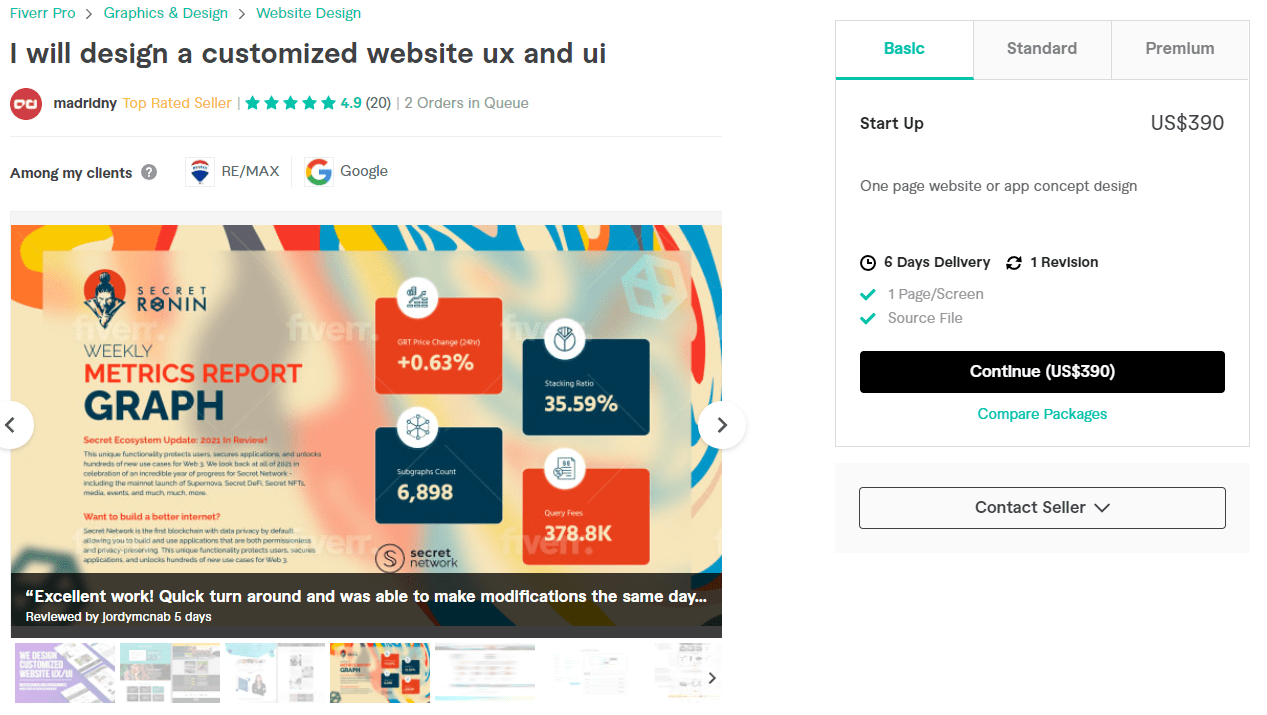 Madridny is verified in 8 different design practices and web programming,
so they've got you covered for almost all of your website needs. They're communicative, professional, and even offer a free short consultation to make sure they can help your organization before you hire them. Because they're also experienced in web development,
you can also pay for designs to be converted into HTML or CSS, or deployed directly into WordPress if needed.
Their profile says that they have a high number of repeat buyers, too, which is a fantastic sign that Madridny offers a great service that doesn't break your budget.
How to Hire a Nonprofit Web Designer on Fiverr
Ease of use is one of the many reasons I choose to hire experts from Fiverr
. That, and that even when you want to hire a verified Pro, you can still get a modern and professional design for a few hundred dollars. Given that web design agency prices can easily run into four (or five!) digits, it's far easier to secure the budget for a Fiverr Pro freelancer. First of all,
head to the Fiverr homepage
and type "nonprofit website design" into the search bar. You can also go into the Graphics and Design menu and click on Website Design, but that will offer more general web design gigs. Once you've run the search, go to the bar underneath the Results header. You can customize the search filters here to narrow down your search.
Make sure the Pro Services
toggle is on
, otherwise you'll have to spend a ton of time fishing through hundreds of thousands of web designers.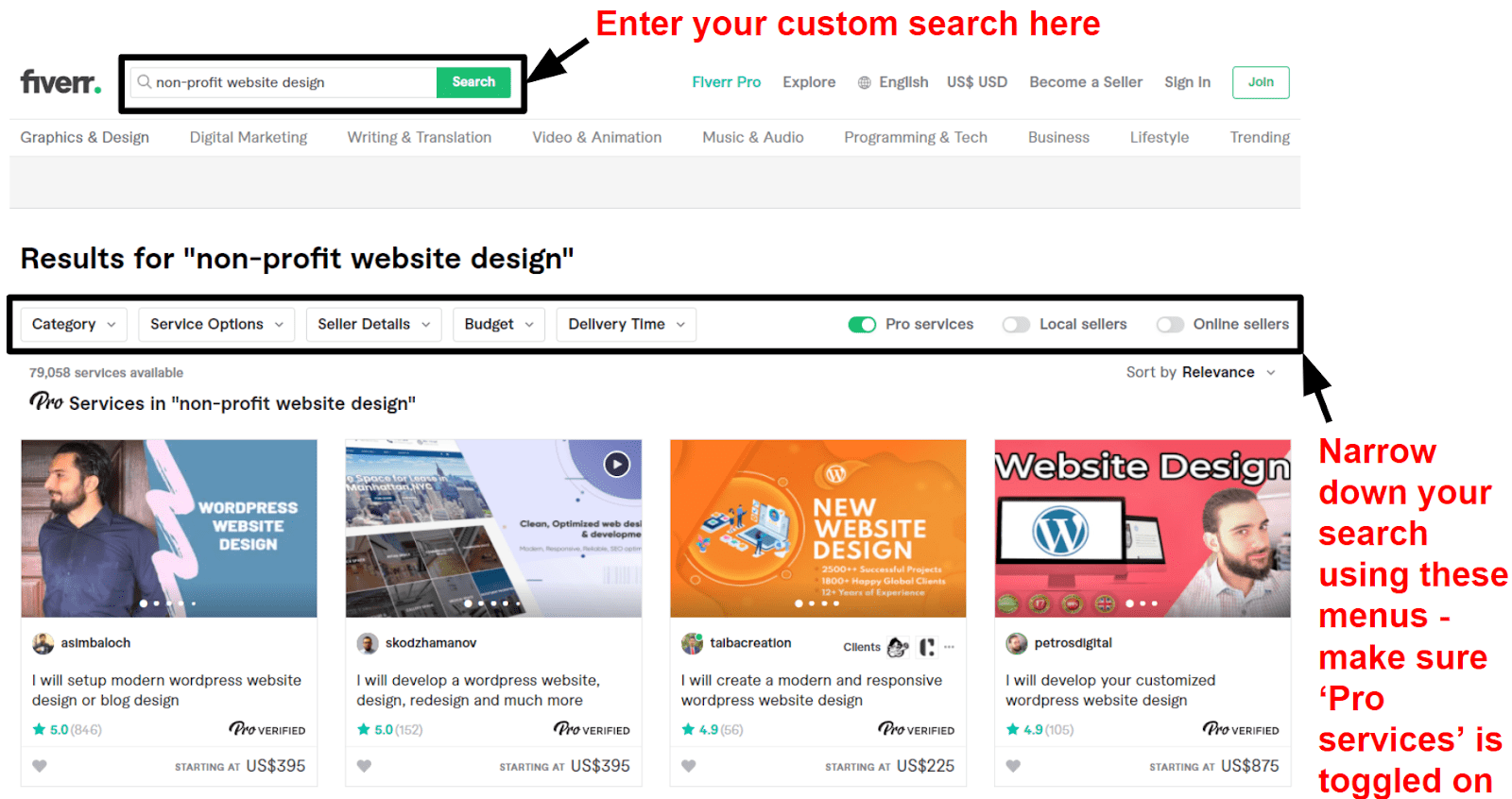 From here,
click on a gig you like the look of.
The gig page will show you a brief snapshot about the Seller, their standing on Fiverr, their reviews, and how many orders are in their queue. This is important to note, as if they already have a high number of orders, it might take them longer to deliver your project.
Each gig typically has a Basic, Standard, and Premium service option at different price points.
These also have different numbers of revisions, deliverables, and estimated delivery timeframes. The layout of the gig page makes it easy to scan through these and compare them to gigs from other sellers, so you can make sure you're getting the most out of your funding. It's actually all very straightforward as we found out in our
Fiverr review
.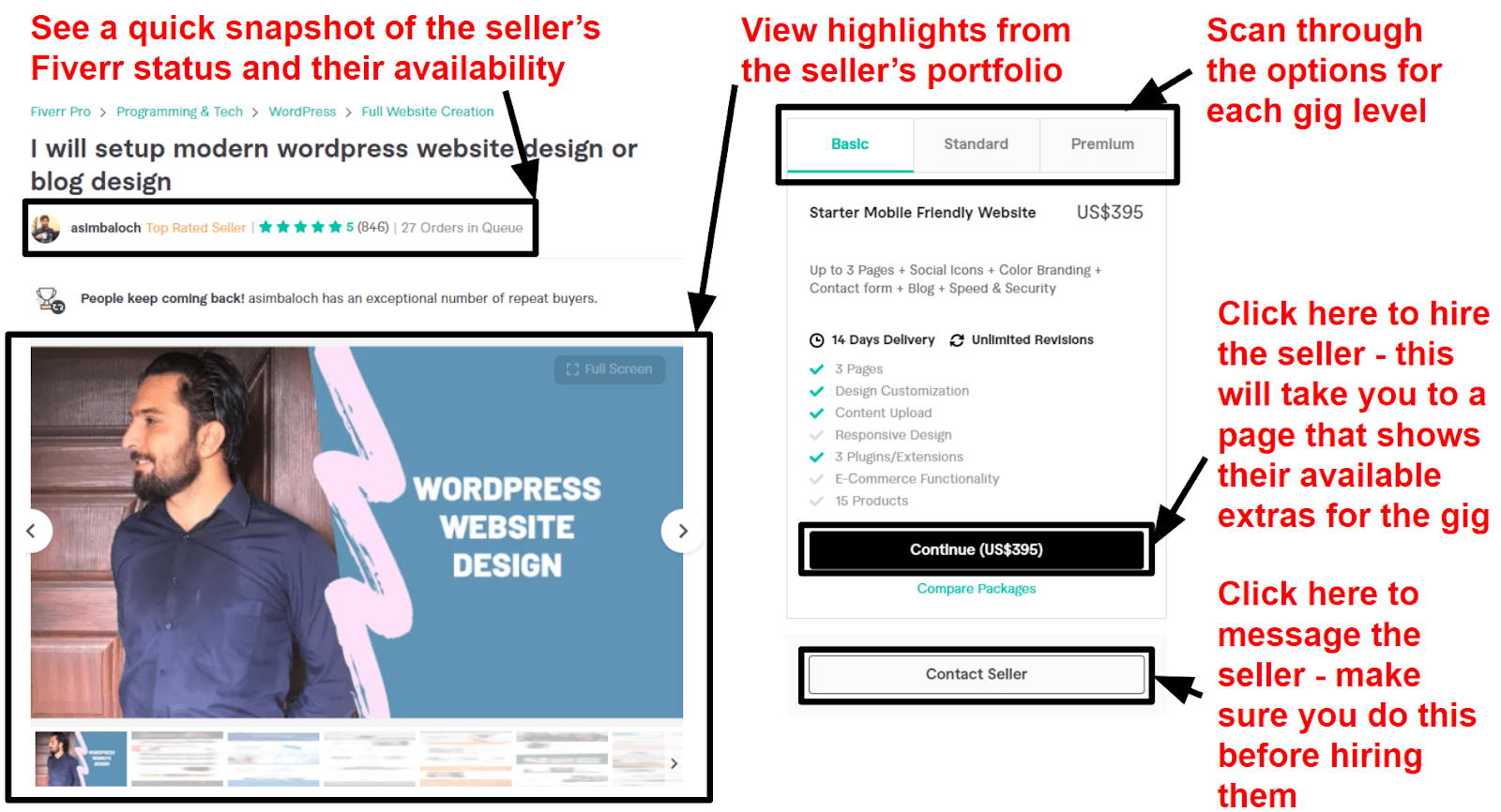 We recommend contacting every Fiverr Pro you're interested in working with before you decide to hire someone.
You can do this easily by clicking
Contact Seller
on the gig page or the seller's profile. By talking to the seller first, you can gauge how responsive they are to your questions and how knowledgeable they are. This can help you feel more confident that your funding allocation is being put to good use.
Once you're ready to hire, click the
Continue
button.
On the next page, you'll be able to see any paid extras the seller offers, such as rush delivery, extra source files, or a guide to uploading the design to your website. Click
Continue to Checkout,
sign in to Fiverr or create an account, enter your payment information, and you're ready to go.
What to Look For in a Nonprofit Web Designer
Not every web designer is going to be a good choice for your nonprofit.
Fiverr Pro offers thousands of web design gigs
,
so here's what you need to bear in mind when you're searching for the best non profit website designers to handle your web project:
Experience working with nonprofit organizations. UX and web design for nonprofit websites differs a fair amount from business websites. It's important that your chosen web designer understands these differences and what you're trying to achieve with your website.
Extensive knowledge of UX principles. By hiring a UX professional, you're not just investing in a modern website, but also ensure your visitors get a positive impression of your organization and mission.
Modern, responsive design. The vast majority of visitors to your website will be visiting on mobile devices, and responsive design ensures your website will look just as good on a smartphone as it does on a desktop.
The provision of source files. Having the source files makes it a lot easier to upload your design to your website as they can easily be converted into usable code.
Easy to communicate with. As you'll likely need a paper trail to show where your funding is going, a freelancer that can promptly answer your questions and show where they are in the design process is worth their weight in gold for nonprofit organizations.
Are You a Web Designer Looking to Sell Your Services on Fiverr?
According to Fiverr, a gig is purchased every four seconds.
This platform offers an excellent opportunity for web designers like you to promote your services effectively. Fiverr, in particular, manages the payment process on your behalf. This means you'll no longer need to chase clients to ensure your invoices are paid! First,
go to the Fiverr homepage
 and click
Join.
You can sign up with Facebook, Google, Apple, or your email.

Once you've entered your details, you'll need to verify your email address. Clicking the link in the email will open a new Fiverr page.
Click the circle icon in the top-right corner, and select
Profile.
From this page, you can start customizing your profile. Add a profile picture and short bio, and scroll down to add the languages you speak and your skills.
You can also access Learn, which is Fiverr's online learning platform.
To start selling your services, click
Create a New Gig.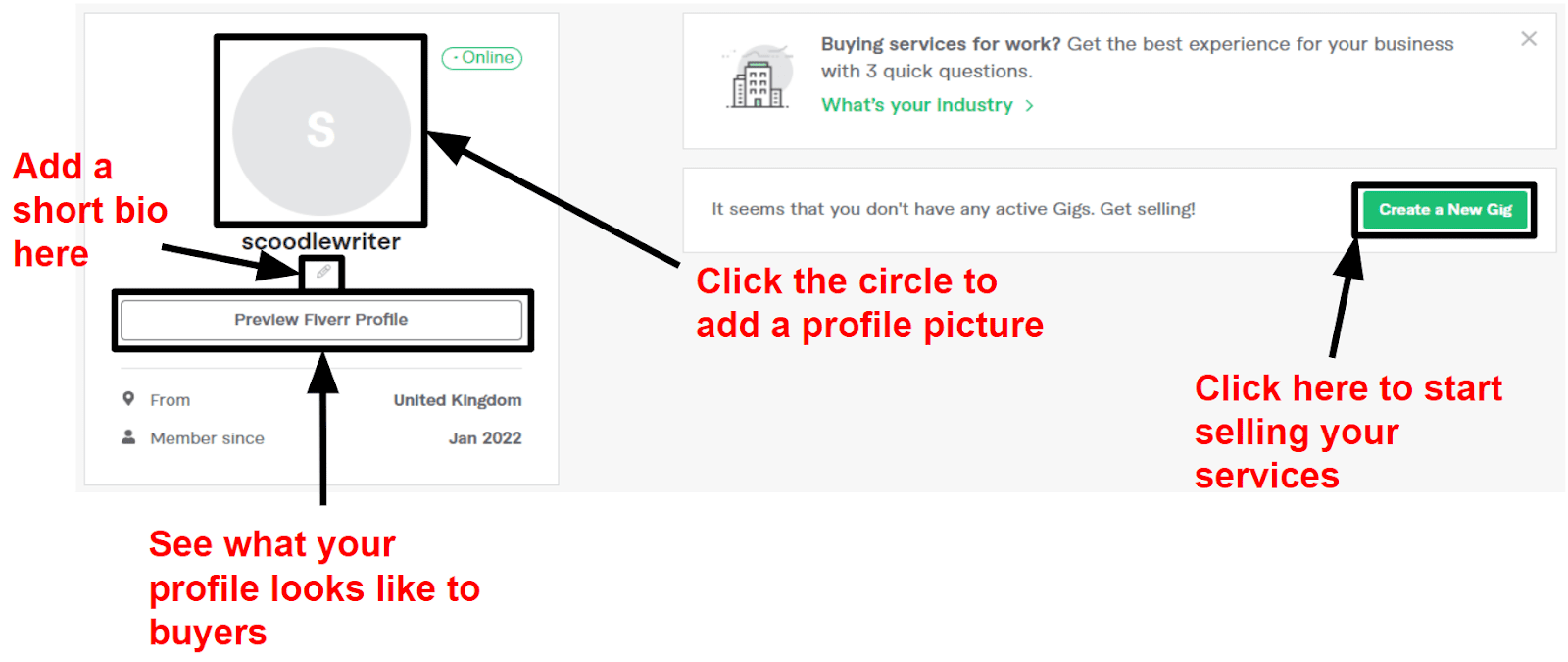 We've got a full guide to creating a Fiverr gig which goes into a ton more detail than I've got room for here.
The process is super simple, though. If you haven't already, you'll have to tell Fiverr what industry you work in, your skills, and fill out some information about yourself. Then, you'll need to title your gig and select a category and subcategory. Fiverr will recommend some for you based on your details, but
as a web designer, you'll want to go with Graphics and Design > Web Design.
You can also add up to five tags to further describe your gig. After that, you'll need to create your gig packages. These are typically labeled Basic, Standard, and Premium, but you can customize this.
Depending on your gig subcategory, you'll be given gig options
– for web designers, this will be things like source files, prototypes, responsive design, and how many pages you'll design. Finally,
fill out the gig description with more information about who you are and what you'll provide
, and add some portfolio pieces or a short video for the image carousel on the gig page.
You can also apply to be a Fiverr Pro even before you set up your first gig.
To do this, click
Fiverr Pro
on the menu, then click
Learn More
on the next page.

This will open a new page that tells you more about the Fiverr Pro program.
Scroll down and click
Apply to Pro.

Click
Apply
on the next page, and it'll open up a dashboard with an application form and area for supporting documents.
From there, you'll be walked through the application form step-by-step.
You'll need to provide some personal information, a quick video describing why you think you'd be a good fit for Fiverr Pro, links to your professional website and other profiles, and information about your education and any courses you've taken. After that,
you'll be asked to upload documents to support your application.
These can be videos, work examples, presentation files, or anything else that demonstrates your skills and experience. You'll get the chance to review everything before you apply.
When you're ready, click
Submit
.
From there, there's nothing left to do apart from keeping your Fiverr customers happy!
Hiring a Web Designer for your Non-Profit from Fiverr Pro
Fiverr Pro has thousands of web designers to choose from,
and you can easily find someone who can design a full website for your nonprofit organization for a few hundred dollars. Given that agencies often charge thousands for similar services, it's far more affordable using Fiverr Pro.
Hiring from Fiverr Pro also saves you a ton of time.
Instead of hunting through Google to find a nonprofit website design freelancer, Fiverr Pro collects them – and your discussions with them – in a single place, helping you keep an organized paper trail.
FAQ
How much does it cost to build a website for a nonprofit?
You can pay for a freelancer on Fiverr Pro to build a website for you for a few hundred dollars, which is significantly less than a nonprofit website design agency will charge.
How do you create a website for a nonprofit?
We recommend paying a freelance website expert to create your website for you if you have the funding. It saves you time, particularly if you don't know how to code yourself. Instead of hunting through Google to find a freelancer, though, check out our top freelancer websites in 2023.
Which website builder is best for nonprofits?
Even if you've only got a small budget, we recommend checking out Fiverr Pro. You'll be able to find nonprofit design firms and nonprofit website development experts in one place.
What should a nonprofit website include?
Your nonprofit website needs to build relationships with potential and recurring donors, so you need to have a clear mission statement, news about your organization, and testimonials from people your organization has helped. You should also have a donation button on your homepage and a clear path to a 'How to Help' page.