But not every website builder allows you to create a great website.
If you're going to put the time and effort into building a website for your nonprofit,
you want to know you have the option to add any feature you might need
, from a donation button to a newsletter to online community pages where you can communicate with your volunteers. I tested all the major website builders on the market to see which ones can give you all that, in addition to attractive templates for you to choose from.
My top picks all provide good value for your money
, and I made sure they are also easy to use – even if you've never built a website before. My favorite is
Wix, which lets you get started with a fully featured free plan
. Read on for some other great options.
Short on Time? These are the best nonprofit website builders in 2023:
Wix – Lets you accept donations, send newsletters, and even create a members-only area on your nonprofit website.
Squarespace – Offers beautifully designed templates you can easily customize to suit your nonprofit's needs.
SITE123 – An easy way to get a simple nonprofit site online and drive community engagement through social media, mailing lists, and more.
What I Looked For in the Best Website Builders for Nonprofits
Below, I've highlighted the best five website builders nonprofits. I checked out their templates, tried their editors, and examined their features. I also looked at their subscription plans so I can help you choose the right plan for your needs. Here are some of the features I was looking for:
Templates for nonprofit websites: Using a ready-made template will allow you to build a great looking website quickly and easily, whatever your experience level. I chose website builders that offer templates that not only look good, but also come with built-in features for nonprofits.
Donations: Not every website builder will allow you to accept online donations. The builders on my list all offer easy solutions.
Community features: These features are particularly important for a successful nonprofit website. The best site builders let you set up forums, members-only areas, event pages, and mailing lists. They also come with easy social media integrations.
Accessible design: Being inclusive is particularly important for nonprofits, so I've highlighted website builders which follow best practices for accessibility.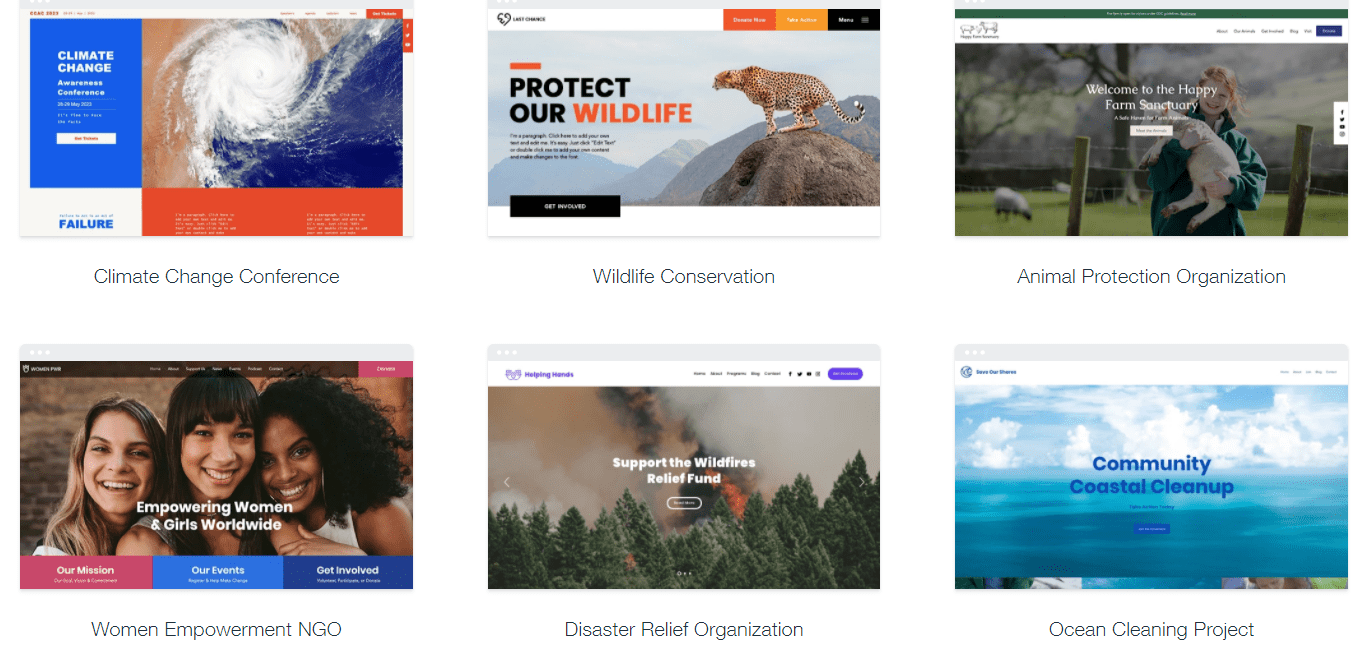 Wix is flexible and easy to use, and it has lots of useful features which can help promote your work and activities. There's everything from event calendars to social media buttons, not to mention a wide range of marketing tools. Another thing that makes Wix stand out is
its collection of 900+ templates
, with
around 20 templates in the "Nonprofit" category
. Each template comes with a mobile-friendly version. With niche titles like
Kids Charity
,
Animal Shelter
, and
LGBTQ Community Center
, you might find a template that doesn't require much customization.
If you do want to customize your template, it couldn't be easier
 – the Wix drag-and-drop editor lets you change colors and fonts, upload your own images, add pages, and adjust your page layout however you like.
Wix's free plan is a great way to test it out
before committing to a paid plan. You can use your free site for as long as you like, but keep in mind that your storage and bandwidth will be quite limited, and you won't be able to connect a custom domain name. You also can't accept payments on the free plan, and the
Business & eCommerce
 plans aren't cheap. But you can actually sign up to a cheaper plan and use a workaround.
you can add Get Funding or the PayPal Donate Button to your site through the Wix App Market
 – whatever plan you're on. Both apps are free, but I prefer Get Funding because it drives conversions by showcasing past donations and counting down to your appeal's deadline. Keep in mind that you'll also need a PayPal Business or Premier account to use the donate button. If you decide to upgrade, the cheapest option is the Combo plan (
$
16.00
), which gives you more storage and bandwidth and lets you connect a custom domain. If you sign up for a year, you even get a free domain name with your plan. One step up is the Unlimited plan (
$
27.00
), which offers access to some basic marketing and analytics tools.
If you want your site to have an online shop where you can raise funds by selling merchandise, the Business Basic plan comes with e-commerce features.
Here are some other great Wix features for nonprofit websites:
Accessibility tools: Assistive settings, such as keyboard navigation and screen reader compatibility, are automatically enabled on your website. This is great for nonprofits, ensuring your content will be available to visitors with disabilities.
Blogging platform: You can easily add a blog to your site. This can be a great way to keep your followers up-to-date on all your achievements, events, and day-to-day activity.
Members area: You can manage volunteers, interact with supporters, or provide exclusive content to donors by adding a members-only area to your website. Your users can create groups, share files, chat, or check out your upcoming events.
Testimonials: If someone you've helped is happy to share kind words about your work, Wix has a range of testimonial apps for sharing them on your site. This is a great way to build trust with potential donors, as well as the people you want to help.
Want more info? Check out our expert Wix review
.
Starting price of paid plan

$

16.00

Specialized templates for nonprofits?
Yes – 20+
Donations?
Yes, with all plans
Accessible design?
Yes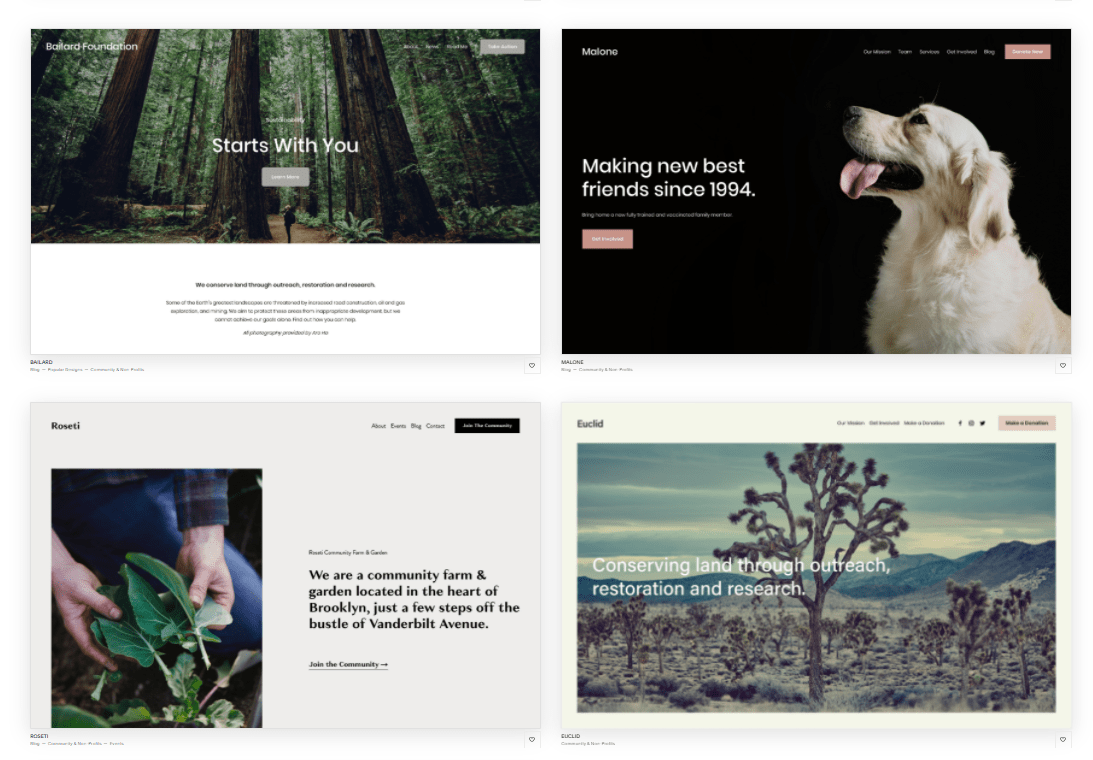 Squarespace is known for its high-quality design and its websites always look professional,
which is great for building trust and credibility with your audience.
Squarespace's templates
are quite minimalistic in style, but they always demand attention. Not only that,
but you can customize the one you choose to make your site look exactly the way you want.
 The editor gives you total control over fonts, colors, background images, spacing, image opacity, and pretty much everything else. All templates are mobile-responsive too. However, when it comes to accessibility, Squarespace hands over the responsibility to you, while providing a helpful guide full of dos and don'ts. Squarespace doesn't offer a free plan, but it does provide a
14-day free trial
 if you want to test it out. The paid plans offer pretty good value, and unlike Wix's plans, they all come with unlimited storage and bandwidth. The Personal plan (
$
16.00
) doesn't let you accept payments or donations,
but it is a good choice if you want to create a website to raise awareness for a cause, issue, or community group.
On the Business plan (

$

23.00

), you can accept donations using a built-in donation block.
 But Squarespace charges a 3% commission on this plan, so if you take in over $200 a month, it makes sense to upgrade to the Commerce plan to avoid this fee. If you want to set up recurring donations, you'll need to add a third-party integration like Donorbox.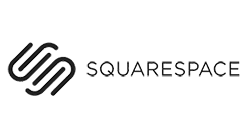 Save up to 30 % on your Squarespace plan today!
Plus get a free domain for one year!
1031 users used this coupon!
Another thing I like about Squarespace is its blogging platform. It's easy to use and, from within the editor, you can schedule posts and promote them on social media. You can also change your blog's design to suit your needs. Here are some other great features Squarespace has to offer:
Social media: Add social links and share buttons to your website, or use Squarespace's Outfy extension for social media marketing.
Print-on-demand service: The Business plan gives you access to the Printful extension, which lets you sell printed merchandise through your site. There's a huge variety of products, including apparel for kids and adults, accessories, and home decor. Orders are printed on demand and shipped directly to your customer, so there's no upfront investment or logistics involved.
Event features: You can add event pages or calendars to your website to promote upcoming fundraisers or other events. You can even use the Eventbrite integration to sell tickets online.
Bookings: If your nonprofit runs counseling services, advice centers, or one-on-one appointments, you may find this feature useful.
Head over to our expert Squarespace review for more info
.
Starting price of paid plan

$

16.00

Nonprofit templates?
Yes – 7
Donations?
Yes, but a Business plan or higher is required
Accessible design?
Not by default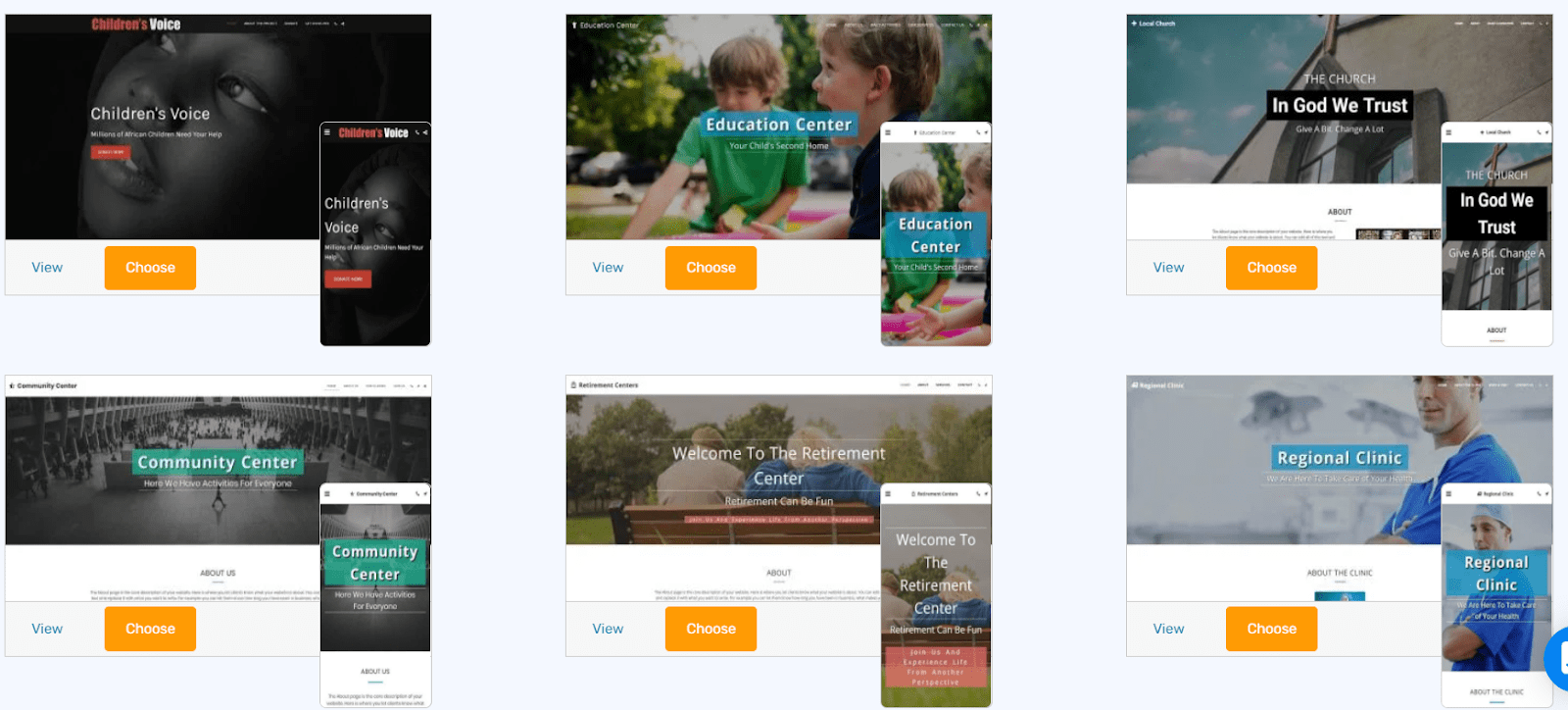 SITE123 is an easy way to create a simple site. Using its editor is kind of like filling out a form. You click on what you want to edit and then you can fill in the text or choose different options – like layouts, colors, and fonts – from a menu.
It's extremely easy to use, but keep in mind that compared to other builders, your customization options are limited.
All
SITE123's templates
 are mobile-responsive. While you're building your site, you can switch between desktop, tablet, and mobile views with just one click.
SITE123's free plan
lets you set up a donation page, but you can't accept online payments unless you upgrade to a paid plan. You'll need to ask
site visitors to call you instead, which can be a bit awkward. But if you upgrade to the Basic plan (

$

12.80

), you can accept online donations through the Donately app, which charges a 4% commission, or Donorbox, which charges just 1.5%.
The Basic plan also, which includes a free domain name, gives you access to lots of marketing plugins, such as Google Analytics, Twitter Conversion Tracking, Google Remarketing, and Facebook Retargeting. If you plan to run any ad campaigns, those last two could really boost your conversion rates. It's easy to set up an online store on SITE123, but you can only do this on the more expensive plans. The e-commerce features are also quite limited compared to other builders, so if you're thinking of selling merchandise or books through your site, I'd recommend using
Wix
or
Squarespace
instead. SITE123's paid plans also feature:
Mailing list tools: You can send custom emails to your contact list – a great way to keep your followers up to date. The higher your plan, the more messages you can send.
Testimonials: To drive donations, you can add a testimonial page to your site where you can share comments from donors, board members, or the people your nonprofit helps.
Accessibility plugin: On all paid plans, you can install the Free Accessibility Plugin which will make your site easier to use for visitors with visual impairments or other disabilities.
Forum features: It's easy to add a forum to your site and monitor it closely to foster discussions. You can organize threads using labels, set up topic notifications, or analyze engagement in the forum dashboard. You can also recommend threads to visitors based on their interests.
Read about all of SITE123's features in our in-depth review
.
Starting price of paid plan

$

12.80

Nonprofit templates?
Yes, 7
Donations?
Yes, with all plans
Accessible design?
Yes, if you add a free plugin to your site

WordPress.com offers plenty of themes for schools, charities, community groups, and nonprofits, and it has some really useful features as well, including
 essential SEO tools, social media share buttons, and email subscription buttons.
Widgets like Eventbrite and Google Calendar are also available.
WordPress.com offers a free plan
which will allow you to create a basic website with a blog, an image gallery, and contact forms. This can be a good way to build awareness of your nonprofit and allow volunteers to get in touch. If you want to accept donations through your site you'll have to subscribe to the Personal plan (
$
45.00
) or higher.
The Personal plan also allows you to create and promote subscriber-only pages, which could be useful if you want to thank donors with some exclusive content.
While the Business plan costs more than most of the other options on this list, it is good value thanks to all the added functionality it provides. It gives you access to thousands of plugins you can use to enhance your website.
You could add a payment plugin like Give, PayPal Donation, or WooCommerce to accept recurring donations.
On the Business plan
$
25.00
, you can also install third-party themes from sites like
ThemeForest
or
TemplateMonster
, which offer loads of options for nonprofits. So it can be well worth the investment. WordPress.com also offers:
Flexible design: WordPress.com isn't as easy to use as Wix or SITE123, but it offers very flexible customization options, especially if you know how to code.
Accessibility-ready themes: WordPress.com provides a wide selection of themes that incorporate keyboard navigation and other accessible features. You can effortlessly filter your theme store searches using this criterion.
Community forums: On the Business plan, you can use free plugins like Peepso and BuddyPress to create forums for discussion around your nonprofit.
Check out our expert WordPress.com review for more in-depth info
.
Starting price of paid plan

$

45.00

Nonprofit templates?
Yes – 10+
Donations?
Yes, with all paid plans
Accessible design?
Yes – on some themes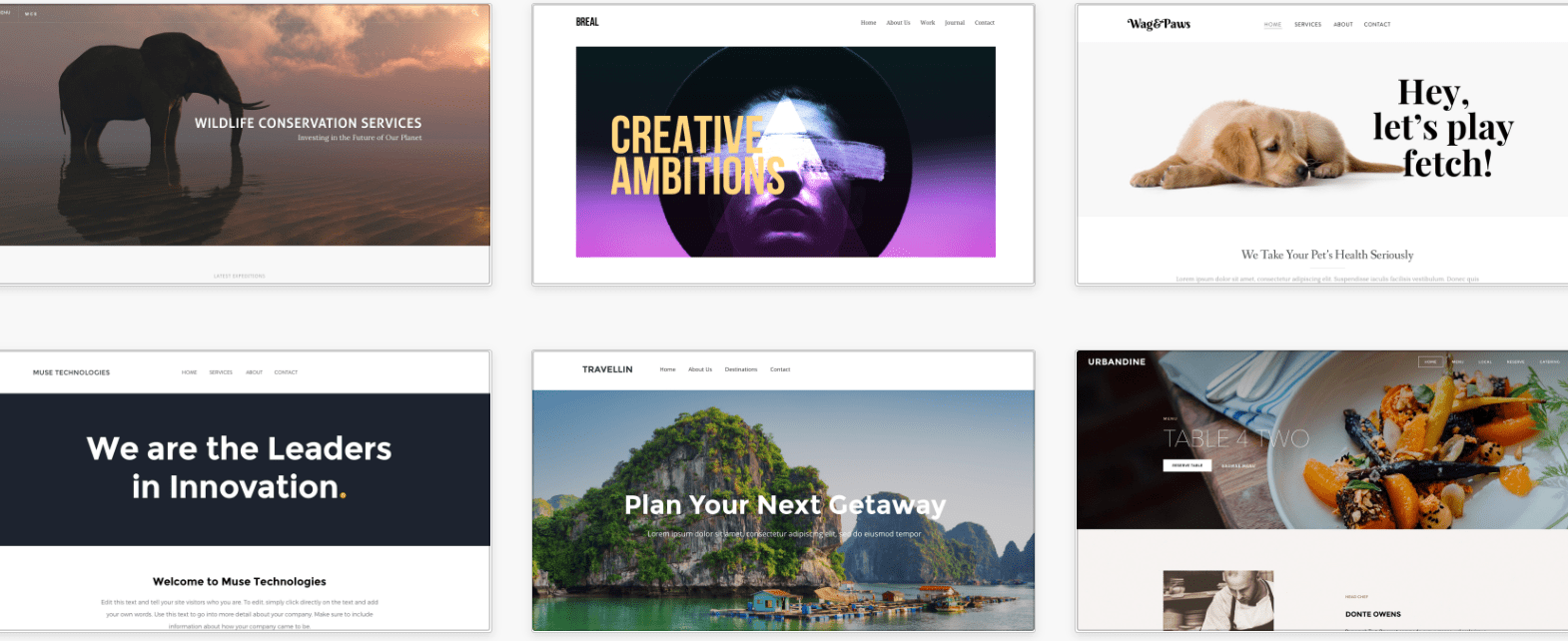 Weebly is often noted for its e-commerce features, but it has a lot to offer your nonprofit website as well. Its intuitive drag-and-drop editor is ideal if you're a beginner and
it's easy to create a visually appealing site.
Weebly's free plan
allows you to accept donations using the Donorbox app. You can install the app and sign up for free. The Donorbox app comes with custom form fields and the option to charge recurring payments – on a weekly, monthly, quarterly, or annual basis. You can embed a donation form on your website.
Because there is no monthly fee, this is a great way for small nonprofits to accept online donations.
Just keep in mind that Donorbox will take a 1.5% cut of any donations you receive. On the free plan, you'll have to use a Weebly subdomain (http://yoursite.weebly.com) – which may not look professional.
It's a good idea to upgrade to a paid plan, so you can use your own custom domain.
You can also create an online store to process donations – in some countries, this option is even available on the free plan. One downside to Weebly is that it doesn't offer themes specifically designed for nonprofits.
But you could easily edit one of its business themes to suit your needs.
It also offers event themes, which are ideal if you want to create a standalone website for a fundraiser. Weebly also offers:
An intuitive drag-and-drop-editor: You simply choose the element you want to add to your page and drag it into place. It's also really easy to add a blog or store to your site.
Members-only areas: With Weebly's Pro plan, you have the opportunity to craft exclusive content for volunteers or supporters. This serves as an excellent means to maintain contact with donors, oversee volunteers, and promote upcoming campaigns.
Email marketing: You can use Weebly's nifty drag-and-drop editor to create on-brand emails (you'll need a paid Weebly Promote plan to access the best features).
Lead capture and contact forms: Available with all plans, these forms are a great way for volunteers, community members, and other stakeholders to get in touch through your website.
Dashboard stats: You can view key site metrics, including traffic and page views, to help you optimize your marketing and fundraising efforts.
For more info on Weebly, check out our expert review
.
Starting price of paid plan

$

6.00

Nonprofit templates?
No
Donations?
Yes, with all plans
Accessible design?
No
Which Builder Is Best for Your Nonprofit?
Because of its ease of use, broad selection of nonprofit website templates, and excellent features,
Wix is a great choice
 for a nonprofit organization of any size.
However, if you just need a simple website and you want to get online fast,
it's worth checking out what SITE123 has to offer
. But don't make any final decisions before you check out the
Squarespace template gallery
.
Builder
Standout features for nonprofit websites
Wix

Plenty of nonprofit website templates to choose from
You can accept donations – even on the free plan

Squarespace

A fantastic blogging platform that can help raise awareness for your cause
Professionally designed templates

SITE123

Email and social media tools to help drive engagement
An impressive forum feature

WordPress.com

Thousands of plugins allow you to add all sorts of features to your site, including recurring donations (on the Business plan and up)
Tons of themes for nonprofit websites

Weebly

A low-cost option for small nonprofits who want to accept donations and create mailing lists
Good for creating standalone event websites for fundraisers
FAQ
How do I create a nonprofit website for free?
You can build a nonprofit website for free using Wix, Weebly, or SITE123. Wix is my top recommendation, because it lets you build and publish a fully functional site. But free plans come with limitations. If you want to accept donations through your site or connect a custom domain name, you'll need to upgrade to a paid plan.
Is Wix free for nonprofits?
Wix has a free plan that is available to everyone. But if you're looking for more comprehensive features, such as a custom domain name, you'll need a paid subscription – even if you run a nonprofit. However, if you're a member of TechSoup's nonprofit network, you can get a 70% discount off a two-year subscription to Wix's Unlimited Premium plan. This plan comes with visitor analytics, unlimited bandwidth, and a free domain for one year. But if you're not a member or don't want to commit to such a long-term plan, you can check out Wix's latest deals on our website builder coupons page.
What should a nonprofit website include?
What your non-profit website should include will completely depend on the needs of your organization. A community center might require a blog and an events calendar to keep locals up-to-date on what's going on, while a health-focused nonprofit or a charity marathon might need a donation page to raise funds online. Other features that your nonprofit website could include are:
A newsletter signup form to grow your email list
A members-only area to keep volunteers or supporters informed
Social media links so supporters can follow your accounts
Responsive design so your site will look good on any device
An online store to generate revenue
A forum to generate conversation among supporters
Is WordPress better than Wix?
In our most recent ranking of the best website builders, Wix actually beats WordPress. It topped the list because it offers over 900 built-in website templates, an intuitive drag-and-drop editor, and complete creative freedom. These days, Wix can do just about anything WordPress can do, but WordPress.com has its advantages too. It isn't as easy to use as Wix, and you may need some coding knowledge if you want to be able to fully customize your site. But if you do have the technical experience, you'll find it to be a very flexible platform. Ready our Wix expert review and our WordPress.com expert review for more info.