There are tons of MailerLite alternatives designed for email marketers and business owners. But some of them have similar downsides to MailerLite, and others just aren't worth your time.
With MailerLite, you get a fraction of the responsive templates and software integrations that other services provide. This platform also lacks many standard tools, such as marketing automation templates, SMS marketing, and social ads. If you go with MailerLite, you'll struggle to automate your marketing efforts and streamline your sales process, which can lead to wasted time and unnecessary expenses.
Many marketers compare MailerLite vs. Mailchimp, but I've found several better options. Email marketing services with advanced automations, transactional emails, and built-in tools or app integrations let me work more efficiently and increase the return on investment (ROI) that I can generate for my agency clients. I tested all the major MailerLite competitors so you can identify the email marketing service with the right features and best value for your business.
Short on Time? These Are the Best MailerLite Alternatives in June 2022:
What We Look For in the Best Alternatives to MailerLite
When testing other options, I looked for features that MailerLite lacks, such as:
Responsive email templates: MailerLite has several categories of responsive templates, including e-commerce, events, and blog updates. Yet the platform's template gallery has only 62 designs in total. Because premade designs can save you time, I looked for options with even more responsive templates.
Stock image gallery: High-quality stock images can look great in emails and provide a cost-effective alternative to original photos. MailerLite doesn't include stock photos, so you'd have to provide your own. I sought out an email platform with a large image library available at no extra cost.
Automated workflows: Designing marketing automations can be tough for advanced marketers and impossible for beginners. Unlike most platforms, MailerLite doesn't have any premade automations, which could make it unusable for some people. I searched for an alternative option with easy-to-use pre-built automations.
Complementary marketing channels: For many companies, email is just one part of a more complex marketing stack. However, MailerLite focuses primarily on email and doesn't have other built-in tools. I looked for a platform that would add more value with e-commerce, SMS marketing, and chatbot tools.
App integrations: If you want to use complex automations or connect all your client records in a customer relationship management (CRM) tool, you need an easy way to integrate programs. MailerLite supports just over 100 app integrations, which is relatively low. I searched for a platform with hundreds of direct integrations that would significantly enhance functionality.
With its premade marketing automations, dynamic content options, and CRM tool, ActiveCampaign is designed to help marketers work more efficiently. This platform also includes one of the most user-friendly editors available (as I found out in my in-depth ActiveCampaign review), which means you can easily customize email templates to meet your company's needs.
In addition to email marketing tools, ActiveCampaign has built-in SMS marketing and chatbots to help you nurture leads outside of email. Because this platform has some of the most advanced machine learning technology, I think ActiveCampaign would be a smart pick for tech-savvy teams that need to improve automation throughout their marketing stack.
ActiveCampaign may have plenty of powerful features, but you'll have to pay for all that functionality. This platform is one of the highest-priced options on this list and may not fit into every company's budget – but there is a 14-day free trial on offer where you can see if you think it's worth the money. If you're looking for a more affordable platform, consider an email marketing service like AWeber or GetResponse instead.
ActiveCampaign Features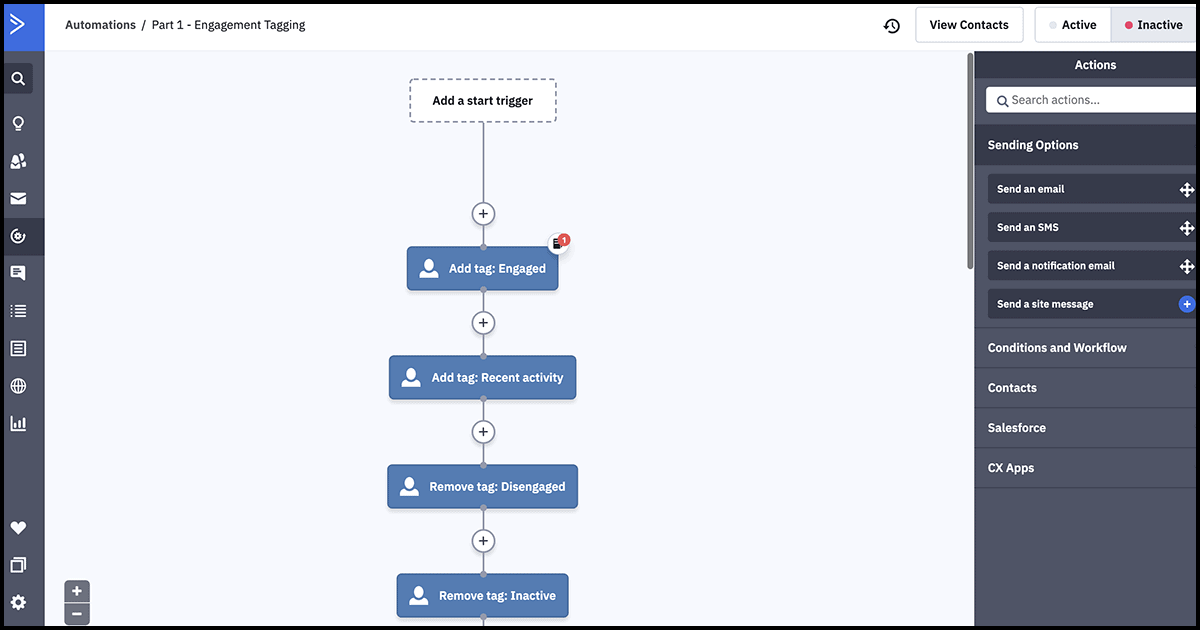 With ActiveCampaign, you get:
Premade automation templates: ActiveCampaign has around 500 pre-built marketing automations, which means you don't have to take the time to make them from scratch. They cover a wide range of marketing needs, from subscriber engagement and customer loyalty to e-commerce and online training. ActiveCampaign also has an Automation Marketplace which includes third-party automations created by companies which you can import.
Powerful CRM tool: Not only does ActiveCampaign have a native CRM, but it also comes with helpful sales automation features. When contacts fill out your form, you can automatically send welcome emails and lead nurturing sequences. You can also automate sales team notifications to keep everyone updated.
Automated lead scoring: Some leads are more valuable than others, and ActiveCampaign can help you track ratings with automated lead scoring. This feature can identify changes in subscriber engagement and automatically notify your sales team so they can quickly follow up hot leads.
Machine learning technology: Analyzing email marketing data takes time and expertise, but ActiveCampaign's machine learning technology can help. This platform offers predictive sending and predictive content so you can send subscribers the right information at the optimal time.
| | |
| --- | --- |
| Free plan | No, but they offer a 14-day free trial |
| Email templates | 12+ |
| Marketing integrations | 320+ |
| Built-in marketing tools | Landing pages, CRM, SMS marketing, Facebook Ads |
| Customer support channels | Chat & email |
From its user-friendly email editor and huge template library to its pre-built marketing automations and landing pages, Benchmark is designed to help small businesses build their lists and connect with customers efficiently. Unlike MailerLite, Benchmark also has tools to help you improve your email marketing results, like a built-in spam checker.
Although Benchmark's strengths lie in its focus on email, this platform easily connects to other marketing apps. Thanks to its hundreds of software integrations, I think Benchmark would be a great choice for businesses that want to streamline all of their marketing efforts.
While Benchmark's many integrations add a lot of value, this platform doesn't have many native tools beyond email marketing. If you want an email marketing service with a built-in e-commerce solution, SMS marketing tool, or chatbot builder, I recommend an option like Constant Contact.
Benchmark Features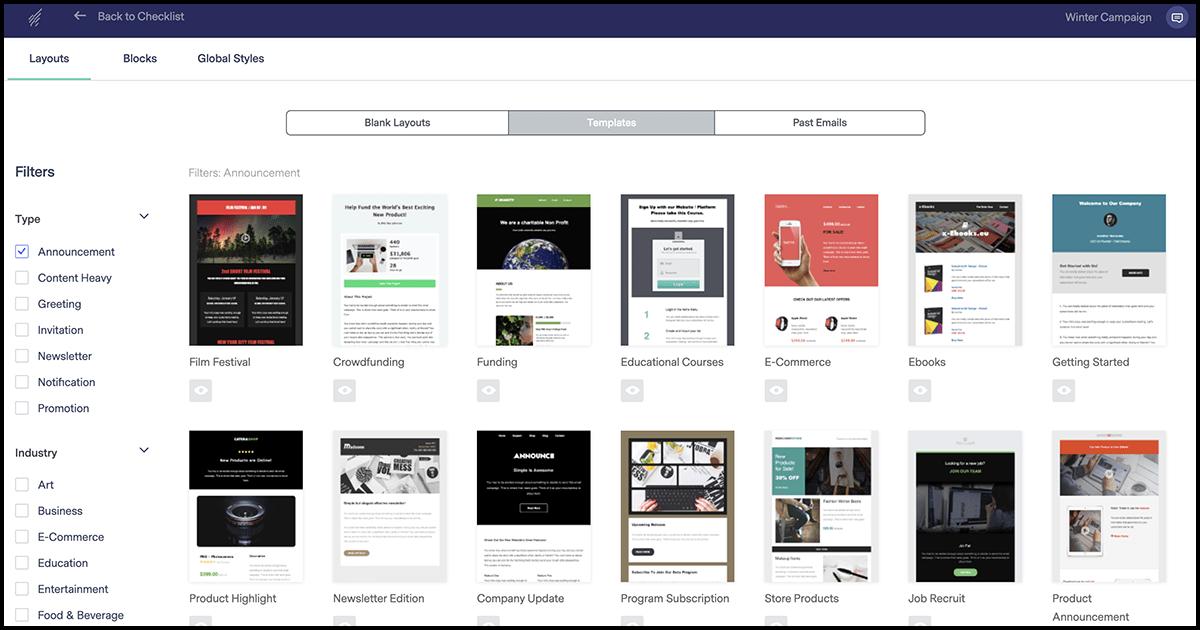 With Benchmark, you get:
Hundreds of responsive templates: Benchmark has 500 email templates, available on all plans, or over eight times the number MailerLite offers. With Benchmark, you can narrow down your template search by type – like newsletters or announcements – or by industry – like health and fitness or food and beverage – to find the ideal design. There's also a huge offering of holiday-specific templates.
User-friendly drag-and-drop editor: I found Benchmark's template editor much more intuitive than MailerLite's. If you want to add more elements to your email campaign, Benchmark's drag-and-drop editor makes the process simple – it's why it scored so highly for ease of use in our Benchmark review. You can easily insert, remove, or customize buttons, videos, and social media links.
Over 1,500 marketing integrations: Benchmark connects to over 10 times the number of apps that MailerLite does. Benchmark's integrations range from social media and CRM tools to e-commerce and chat apps, which add much more functionality to this email marketing service.
Valuable add-ons: Benchmark has several features that you can add on to any plan for an extra fee. You can pay to host more images, have your list verified, preview your email campaigns on any device, or get a dedicated IP. MailerLite also has a few add-ons available, but many seem overly expensive, like $100 per month for priority support.
| | |
| --- | --- |
| Free plan | Yes – you can send 250 emails per month on the free plan |
| Email templates | 500 |
| Marketing integrations | 1,500+ |
| Built-in marketing tools | Landing pages |
| Customer support channels | Chat, email, phone |
With over 200 responsive email templates, a split-testing tool, and one of the largest stock image galleries, GetResponse has everything most companies need for email marketing. Yet as an automation platform, GetResponse offers much more than email. This platform also includes unlimited landing pages, an e-commerce solution, and even webinars.
In addition, GetResponse provides lead scoring to help you identify the most valuable prospects and funnels to automate your marketing and sales efforts. Because of its advanced automation features, lead scoring, and funnels, I think GetResponse would be optimal for companies that need to prioritize lead generation.
While this platform has many more native tools than MailerLite does, GetResponse doesn't have a free plan. If you want a free email marketing service, I'd suggest taking advantage of GetResponse's 30-day free trial or looking at AWeber's free plan instead.
GetResponse Features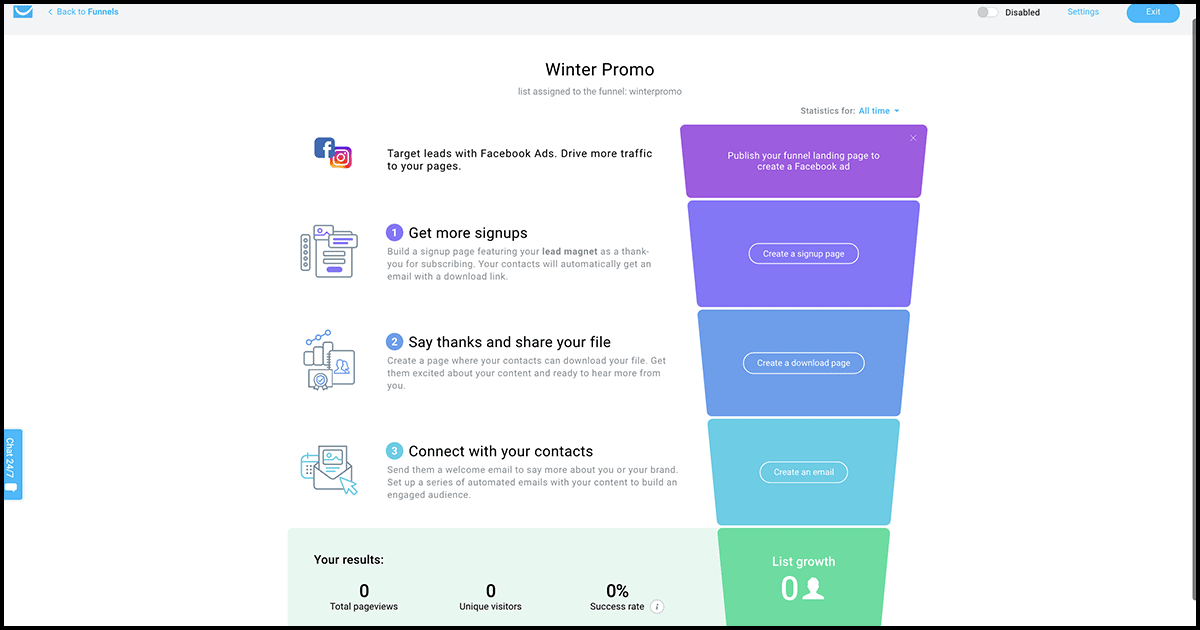 With GetResponse, you get:
Built-in spam check: The GetResponse spam test tool identifies potential spam triggers, including text and design elements. This feature gives you a chance to fix issues before sending and get your messages into inboxes. MailerLite doesn't have a spam check, which could cause deliverability issues.
Extensive stock photo collection: GetResponse has 5,000 stock images in its library, and they're available on all plans. You can also use the built-in Giphy library to search and add GIFs to your email campaigns. MailerLite doesn't have stock images, so you would have to source photos from elsewhere.
Webinars: GetResponse is one of only a handful of email marketing services with a native webinar tool. Depending on the plan you choose, you can host live, on-demand, or paid webinars to connect with your audience and sell to prospects. This would be a great tool for lead generation, and it's an option that MailerLite doesn't have.
Conversion funnels: MailerLite also lacks funnels, but GetResponse includes unlimited lead funnels with every plan, plus sales and webinar funnels with higher-priced plans. These automated workflows can help you guide subscribers from the awareness stage to the conversion stage, increasing the ROI of your campaigns.
| | |
| --- | --- |
| Free plan | No – but there is a 30-day free trial available |
| Email templates | 220 |
| Marketing integrations | 150 |
| Built-in marketing tools | Landing pages, e-commerce, conversion funnels, webinars, Facebook Ads |
| Customer support channels | Chat & email |
From its email templates and A/B testing options to its marketing automations and advanced segmentation, Sendinblue has a solid list of email marketing features. This platform also has several native tools that other platforms like MailerLite don't have, such as chatbots, SMS marketing, and social ads.
Sendinblue has one of the best free email marketing plans available (more on that below), and its paid plans come with greater capacity and advanced analytics. Because this platform offers so much value at every level, I think Sendinblue would be great for companies that want to start building an email list for free and graduate to a paid plan when the ROI is right.
Although Sendinblue allows up to three users for higher-priced plans, free and lower-priced plans include only one user. If you have a big team or if you're managing email marketing for clients, I'd suggest a service that's better designed for multiple users, such as ActiveCampaign or AWeber.
Sendinblue Features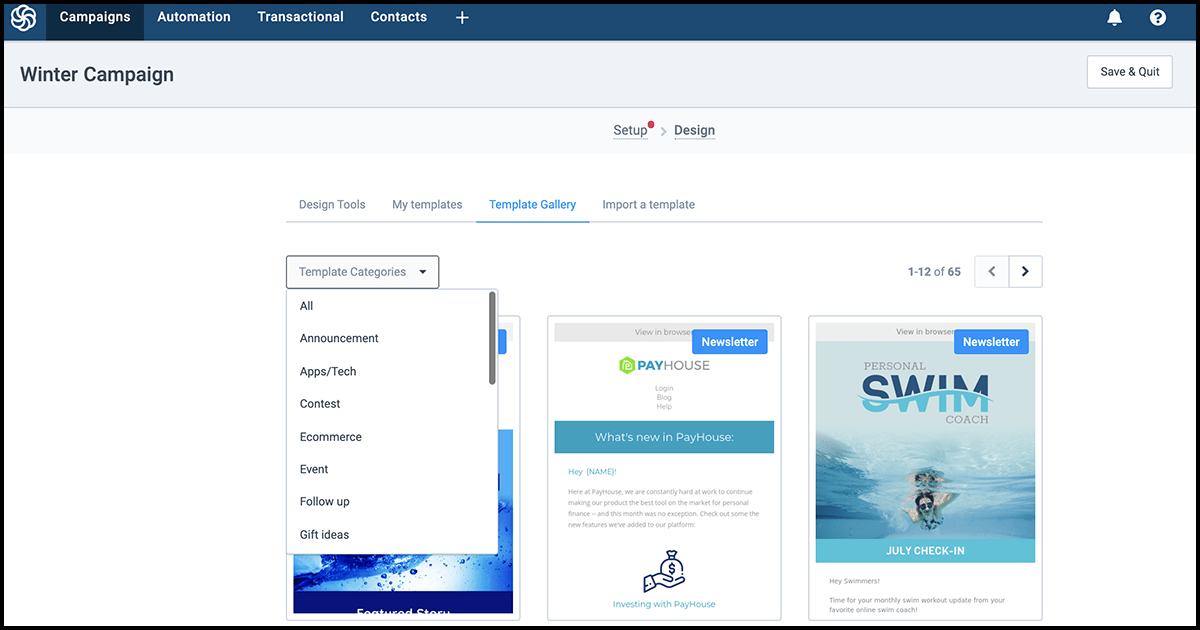 With Sendinblue, you get:
Transactional emails: MailerLite has standard promotional emails and automated workflows, but it lacks transactional emails. Sendinblue provides transactional emails and SMS messages with every plan, even the free account. You can use transactional sending to trigger messages like password resets, purchase confirmations, or account notifications.
SMS marketing: Along with email marketing, every Sendinblue plan also includes SMS marketing – a feature that MailerLite doesn't have. With SMS, you can send personalized text messages to subscribers to increase brand awareness and sale, although this does come at an extra cost per SMS message.
Chatbots: MailerLite doesn't have chatbots, but Sendinblue includes chatbots in every plan. With chatbots, you can set up a messaging window on your website, where you can communicate directly with visitors and nurture leads.
Superior free plan: MailerLite has a decent free plan, but Sendinblue's free option is better. In addition to email marketing, transactional emails, and marketing automations, the free plan also includes SMS marketing and chatbots. That means you can get started with multiple marketing channels for free.
| | |
| --- | --- |
| Free plan | Yes – the free plan allows you unlimited subscribers and 300 emails per day |
| Email templates | 60 |
| Marketing integrations | 50+ |
| Built-in marketing tools | Landing pages, CRM, SMS marketing, chatbots, Facebook Ads |
| Customer support channels | Chat, email, phone |
Constant Contact is a beginner-friendly email marketing tool with over 100 responsive templates, a stock image gallery, and basic marketing automations. This platform also offers built-in marketing features like an e-commerce tool, a website builder, social ads, and more, which we discovered in our Constant Contact review. All plans allow multiple users, making this service a good pick for teams.
Constant Contact supports over 500 marketing integrations, and you can connect it to everything from social media and event apps to business management and CRM software. Because it has such a great balance between built-in tools and external integrations, I think Constant Contact would work well for teams that need an all-in-one marketing platform.
Like MailerLite, Constant Contact prices its plans based on list size. However, Constant Contact doesn't have a free plan, and its lowest-priced plan is one of the more expensive options of its kind on the market (although it does have a generous 60-day free trial if you're based in the US – 30 days for everyone else). If you're on a budget, I would recommend a platform with a free plan, such as AWeber free plan.
Constant Contact Features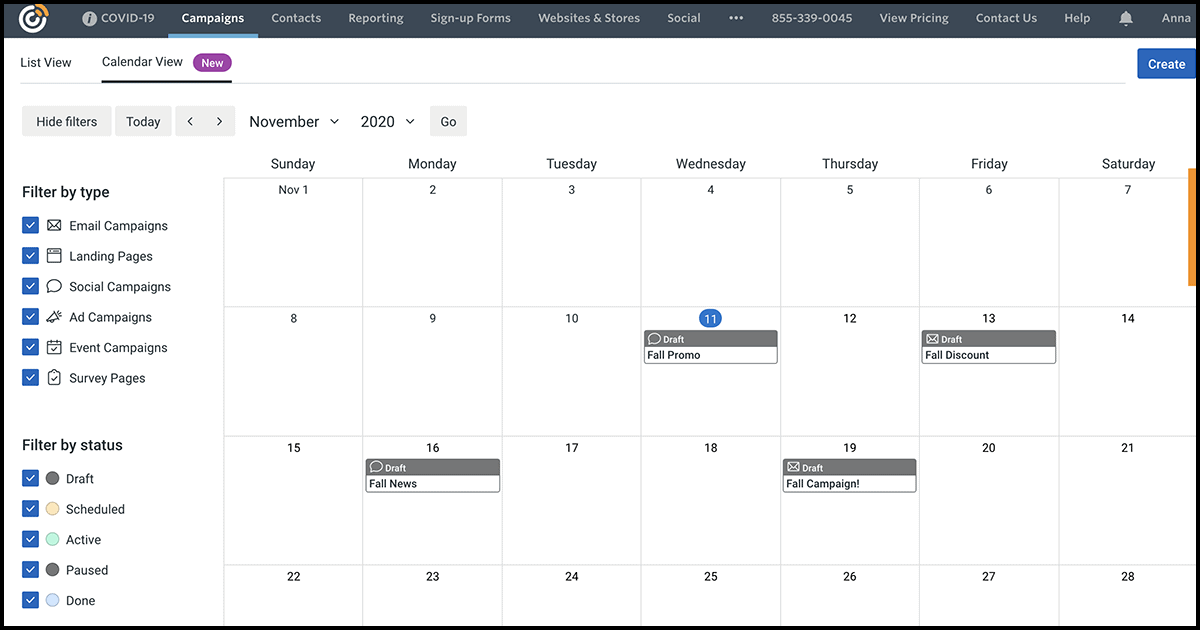 With Constant Contact, you get:
E-commerce tools: Most email marketing platforms have e-commerce integrations, but few have built-in solutions. Constant Contact has an e-commerce tool that lets you sell unlimited items, including digital products and downloads. With a payment processor, a shipping manager, and an inventory tool, this platform has everything you need to sell online.
Social media ads and scheduling: Although MailerLite has basic Facebook integrations, it doesn't offer ads or organic posting. Constant Contact supports paid Facebook and Instagram ads and lets you schedule organic social media posts. This feature is ideal for marketers who manage both email and social media.
Better website builder: MailerLite has a website builder, but you have to pay extra for a website with more than five landing pages. In contrast, Constant Contact lets you build a mobile-responsive site with a blog, analytics, and free hosting. With this platform, you can create as many landing pages as you need, including shoppable pages and lead generation forms.
Marketing calendar: To help you keep your email and social media campaigns straight, Constant Contact has a convenient marketing calendar. This visualization lets you create drafts or complete campaigns, and it can help you feel confident that you've timed every element perfectly.
| | |
| --- | --- |
| Free plan | No, but there is a 60-day free trial for anyone in the US, 30 days for everywhere else |
| Email templates | 100+ |
| Marketing integrations | 500+ |
| Built-in marketing tools | Landing pages, website builder, e-commerce, social media scheduling, Facebook & Google Ads |
| Customer support channels | Chat, email, phone |
With its large email template library and extensive app integration options, AWeber has much more functionality than MailerLite. AWeber also has a built-in e-commerce tool and offers more landing pages with every pricing tier. If you want to connect your marketing apps to your email service or if you need e-commerce tools, AWeber is a great option.
Although both MailerLite and AWeber have free plans, I find the latter superior. AWeber's free plan supports up to 500 subscribers and includes hundreds of email templates, an e-commerce solution, and as many landing pages as you need to create. By going with AWeber, you could sell products and grow your list at no cost.
All AWeber plans allow unlimited users and offer some of the most accessible customer support available anywhere, making this plan a great choice for beginners. But if you're an experienced marketer or if your team has more complex marketing needs, I would recommend a platform like GetResponse or ActiveCampaign instead.
AWeber Features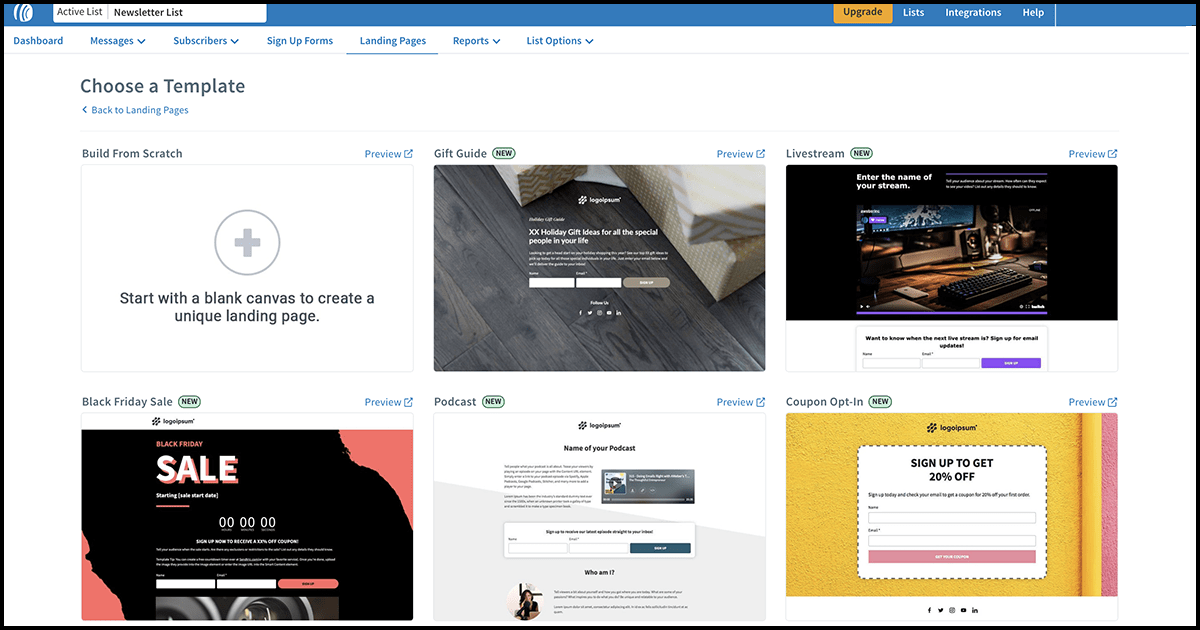 With AWeber, you get:
Massive selection of email templates: With over 700 responsive templates, AWeber has one of the largest selections; more than 10 times what MailerLite offers. The AWeber template library has categories for industries like home, real estate, retail, and travel so you can quickly find the right design for your business.
Thousands of stock images: MailerLite may not offer stock photos, but AWeber has over 6,000 options. You can browse categories like arts and entertainment or business and finance to find eye-catching images, and you can add them to your emails with a single click.
Unlimited landing pages: AWeber includes unlimited landing pages with each plan, even the free version. With about two dozen templates to choose from and endless customization options with the drag-and-drop editor, AWeber makes it easy to design professional landing pages. In contrast, MailerLite offers five landing pages with every plan and requires an additional fee for unlimited landing pages.
Comprehensive support: AWeber provides live chat, email, and phone support with every plan – one of many reasons it scored highly in our AWeber review. Since support is available 24/7, you can get help resolving issues no matter when you work. MailerLite offers email support only with its free plan and includes both chat and email with its premium plans. Phone support isn't available for MailerLite.
| | |
| --- | --- |
| Free plan | Yes – you can have 500 subscribers and send 3,000 emails per month on the free plan. |
| Email templates | 700+ |
| Marketing integrations | 500+ |
| Built-in marketing tools | Landing pages, e-commerce |
| Customer support channels | Chat, email, phone |
When MailerLite Isn't for You
MailerLite offers email marketing essentials like responsive templates, a drag-and-drop editor, A/B testing, and audience segmentation. It also has a free plan that lets you send up to 12,000 emails per month. But with its limited automations, lack of built-in tools, and a short list of app integrations, MailerLite isn't the best option for every marketer.
If you're looking for a MailerLite alternative with more email templates and app integrations, go with Benchmark or AWeber, which both have hundreds of options. To automate your marketing efforts, consider GetResponse or ActiveCampaign, which have the most powerful marketing automations.
For native tools, go with Constant Contact, which serves as a complete marketing suite. If you want an email marketing service for less, consider Sendinblue's generous free plan, which provides the widest range of marketing tools at no cost. To browse other MailerLite competitors, look at our review of the best marketing automation tools or our list of the top email marketing services in 2022.
| | | | | | | |
| --- | --- | --- | --- | --- | --- | --- |
| | Free Plan | Email Templates | Marketing Integrations | Built-In Tools | Customer Support Channels | |
| ActiveCampaign | No | 12+ | 320+ | Landing pages, CRM, SMS marketing, Facebook Ads | Chat & email | |
| Benchmark | Yes (250 emails per month) | 500 | 1,500+ | Landing pages | Chat, email, phone | |
| GetResponse | No | 220 | 150 | Landing pages, e-commerce, conversion funnels, webinars, Facebook Ads | Chat & email | |
| Sendinblue | Yes (unlimited subscribers & 300 emails per day) | 60 | 50+ | Landing pages, CRM, SMS marketing, chatbots, Facebook Ads | Chat, email, phone | |
| Constant Contact | No | 100+ | 500+ | Landing pages, website builder, e-commerce, social media scheduling, Facebook & Google Ads | Chat, email, phone | |
| AWeber | Yes (500 subscribers & 3,000 emails per month) | 700+ | 500+ | Landing pages, e-commerce | Chat, email, phone | |
FAQ
What are the best alternatives to Mailchimp?Whether you're a business owner who needs an automation platform for rapid growth or a blogger or freelancer who needs a simple tool for email marketing, there are far better alternatives to Mailchimp. I would personally recommend ActiveCampaign or GetResponse. Check out our review of the best email marketing services in 2022 to find the right option for your needs.Is MailerLite better than Mailchimp?MailerLite is better than Mailchimp, whether you choose a free plan or a paid account. With a free MailerLite plan, you'll be offered dozens more responsive email templates and marketing integrations. With a paid plan, MailerLite offers advanced features that Mailchimp doesn't have, including a dedicated IP that offers more control over deliverability.How much does MailerLite cost?MailerLite has a free plan, so you can use this service at no cost. If you want to send unlimited emails or advanced features, choose a paid plan instead. MailerLite's premium plans start at $10.00 per month for up to 1,000 subscribers. Pricing increases based on the size of your subscriber list.How do I delete my MailerLite account?You can delete your MailerLite account from the login screen. First, enter your username and password. Then locate the account you want to delete and click the gear icon to access settings. Select "Delete account" to complete the process. If other users still need access to the account, click "Remove me from this account" instead. Once you've removed your account, try out one of the MailerLite alternatives on this list.