In a hurry?
I tested dozens of freelance websites to find the best photo editors in 2023, and my favourite freelancers came from Fiverr.
I was impressed to find that there's a gig on the platform for every budget.
Whether you need a selfie retouched or your wedding photos revamped, there's a freelance photo editor out there to suit your needs. But don't worry, I've done the hard work for you and put together a list of some of the best freelancers available, all with a variety of specializations. You may be concerned that an experienced pro is way out of your budget, but it doesn't have to be. What if I told you that you can
hire a talented photo editor for as little as $5
? That's right – you can hire a pro for even less than a cup of fancy coffee. Keep reading to find out where you can book a photo editor at such an affordable rate.
Short on Time? These Are the Best Freelance Photo Editors to Hire in 2023
Photoshop_crush

– High-end fashion recoloring and beauty retouches for portraits and headshots. 

Bonnyz – Multi-talented editor and illustrator for products and architectural designs in CAD.
Joygun

– Skilled image edits in Photoshop ranging from background changes, to resolution sharpening, to interior design.
9 Best Freelance Photo Editors for Hire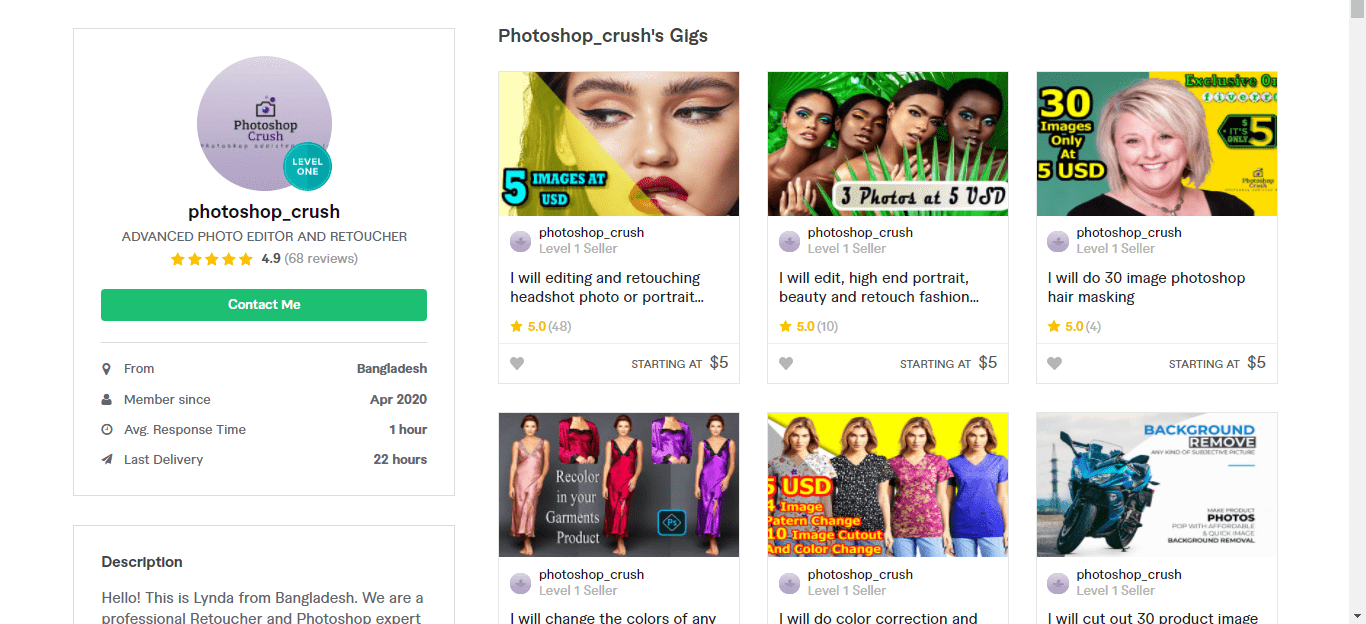 Photoshop_crush, also known as Lynda, is a professional retoucher and a Photoshop expert. She offers editing services like teeth whitening and facial hair removal for headshots and portraits but what really sets her apart is her natural-looking retouching – the results won't look edited at all.
You can also get your project edited and delivered in less than five hours per photo
 for a standard request. The seller takes bulk requests, too.

Bonny can bring even the dullest product photos to life with services like background changes and color correction. You can also request additional text and graphics to be added to your images.
Bonny offers unlimited reviews and revisions which is a rare find on Fiverr for this price
, so you can be sure to receive work you're 100% satisfied with. You can contact them in English, Italian, and Spanish.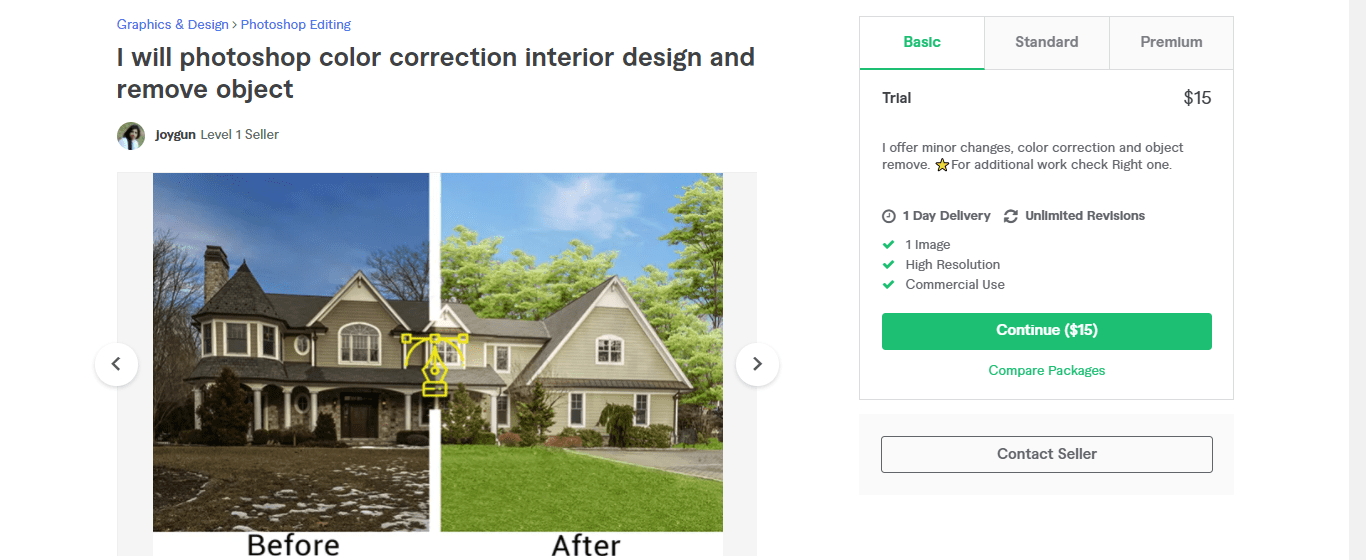 Joygun specializes in transforming basic house and interior design shots into visual gems. You can request effects like greener grass and bright-blue skies to make your real estate photos pop.
For interior shots, Joygun can add or remove furniture and decorations, and correct colors for better contrast.
Turnaround time is quick, with 24-hour express delivery on offer.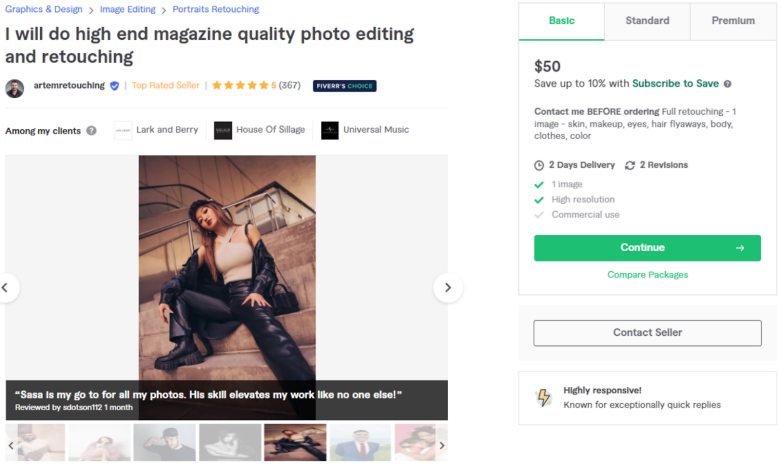 Sasa has experience editing photos for brand campaigns in the beauty and entertainment industry, so you're getting a real pro. He excels at retouching fashion images and transforming them into trendy glam shots. Sasa is an ideal photo editor for aspiring models building their portfolio. Keep in mind you have to buy his Standard or Premium packages for commercial rights.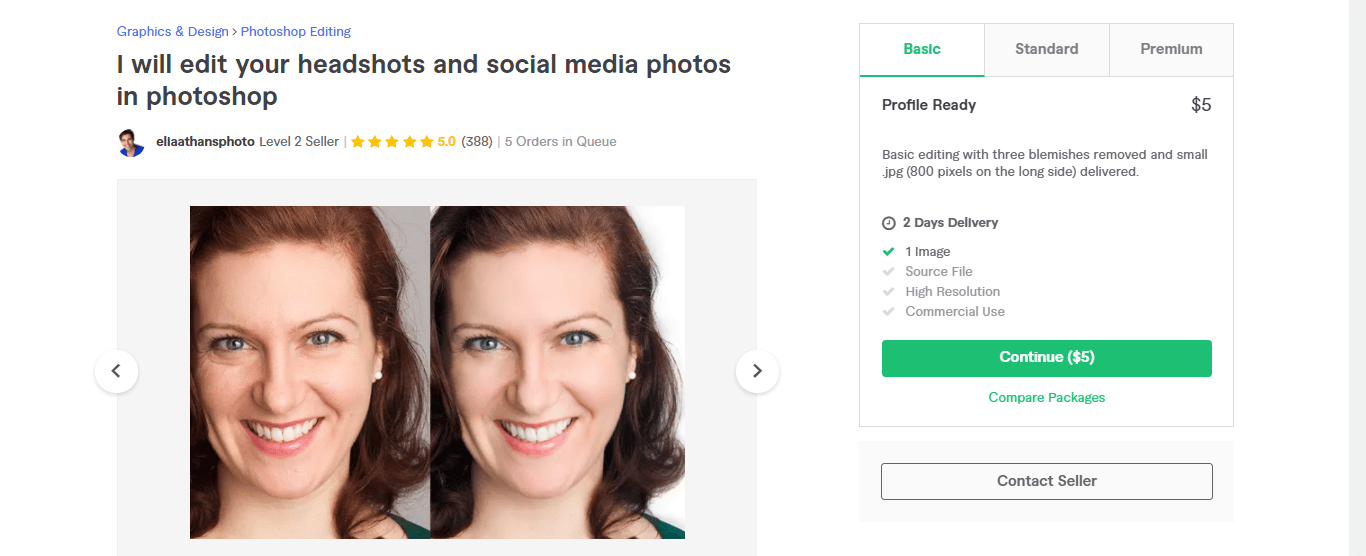 Elia edits close-up photos, like portraits and headshots, for professional use in magazines and publications and
can correct dark circles, clean up flyaway hairs, and even shape your eyebrows
. Their services are ideal if you'd like fine-tuning without being overly retouched. They even offer express, one-day delivery for a very affordable $5 when you need a quick turnaround.

You can hire Antonio to retouch all sorts of portraits, whether that's smoothing wrinkled clothing in a graduation photo or covering over a bald patch.
He can also restore precious printed photos that have been affected by water or sun damage
or images that are simply deteriorating from age. Antonio works in multiple languages, offering services in both Spanish and English.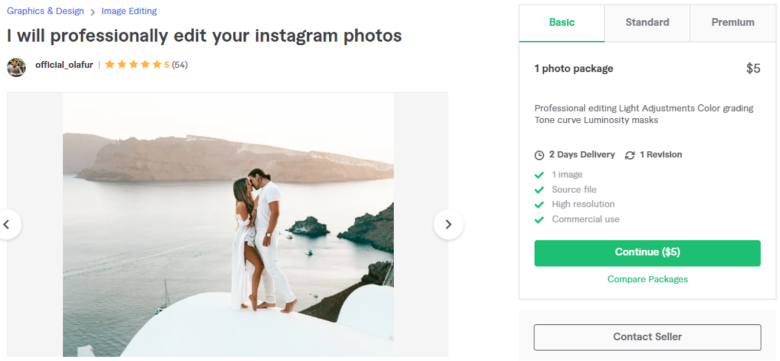 Official_olafur is skilled in creating artistic photo edits for Instagram or blog posts, amping up bland shots with a fantasy-style transformation that looks straight out of a magazine. F
or larger modifications, like adding background effects, you can message the freelancer directly
(in English, Norwegian, or Icelandic) to receive a personalized quote.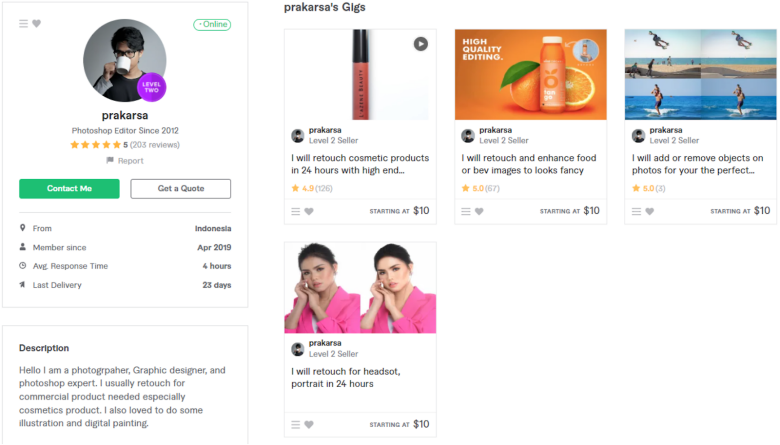 Prakarsa has mastered the art of still-life retouching, editing uninspiring food, drink, and cosmetic photos to create commercial-quality images.
Prakarsa uses color correction, image sharpening, and detailed editing to add vibrancy and brightness to products
. Prakarsa offers services in English and Indonesian and has scored 4.9 stars for communication from previous customers so you know you're in safe hands.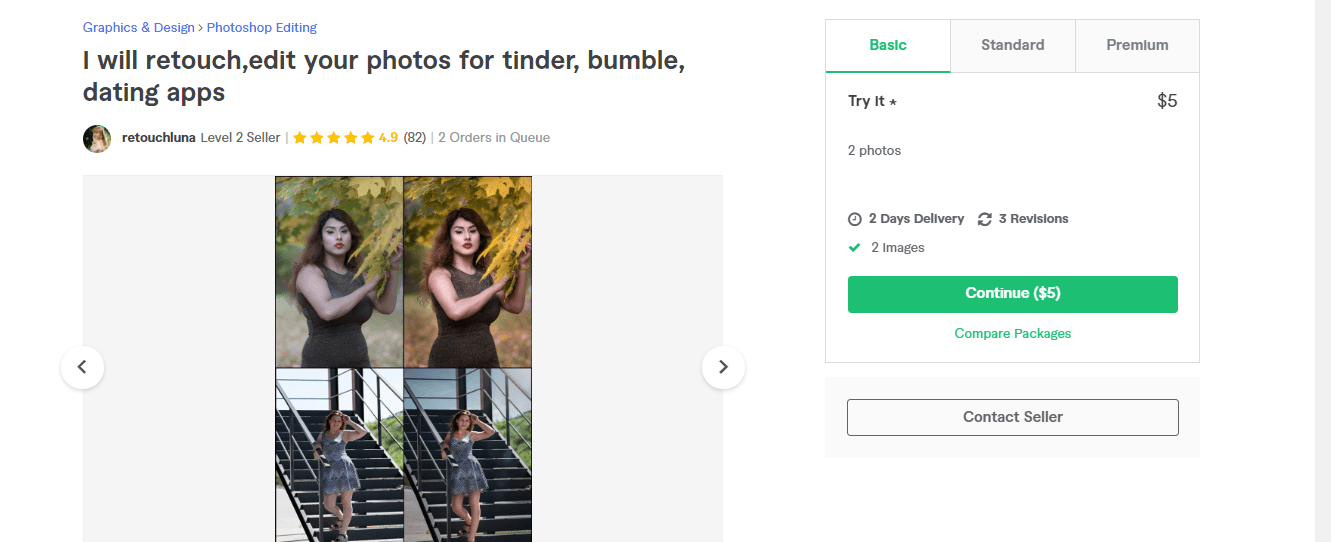 Luna focuses on editing and retouching photos for dating apps and websites. Luna's strong suit is natural edits, like smoothing out minor blemishes and fixing the color balance of an image.
If you aren't sure you're ready to hire right away, you can request a free sample edit to determine whether you like their editing style
– an interesting feature you don't see with many Fiverr sellers.
How to Hire a Freelance Photo Editor on Fiverr
Fiverr makes finding a talented photo editor incredibly simple. The freelance website is home to experienced and professional creatives who offer their services starting from only $5 per package.
There are thousands of graphic artists with different specialisms from all over the world on Fiverr
– so you're guaranteed to find the freelancer that's perfect for you. Getting started couldn't be simpler.
Head to the Fiverr homepage
and type "photo editor" in the search bar
. Scroll through the results until you find a gig you'd like to explore.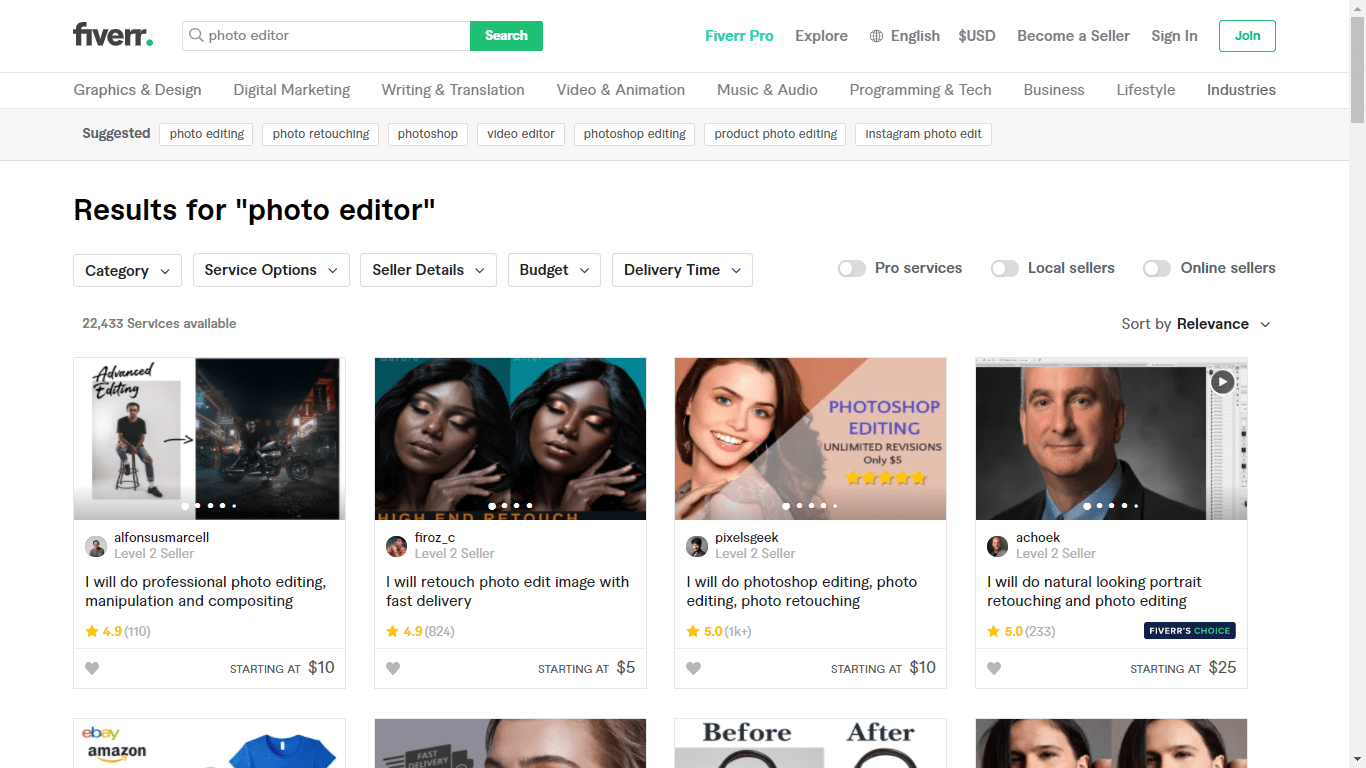 Click on the snapshot of a freelancer's profile to see the full listing.
Here, you'll find their portfolio, an "About This Gig" section, package offerings, pricing, and customer reviews.
On the right-hand side of the screen, you'll see tabs for Basic, Standard, and Premium packages.
Clicking on a tab will display the price and services offered under that specific tier. Select
Compare Packages
 to view a breakdown table and weigh up the differences between them.
If you want to ask the seller a question, hit the Contact Seller button.
You'll need a Fiverr account to speak to a freelancer directly, but setting up an account is quick via Facebook, Google, Apple, or your email address.
When you're ready to hire your freelancer, click Continue to move on.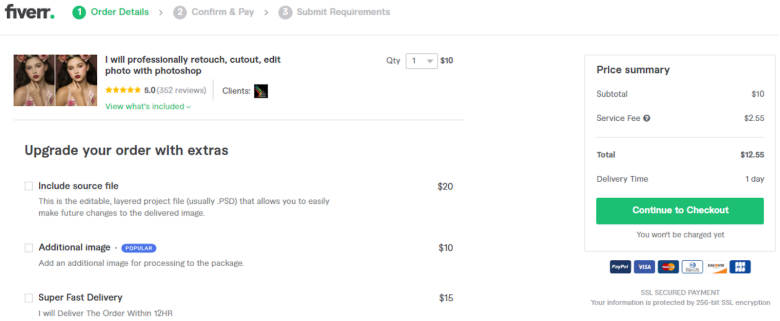 On the next screen, you'll find the summary for your chosen package, including the services and total cost. Make sure it includes everything you need, then, when you're ready to hire,
click Continue to Checkout to enter your payment details and finish the commissioning process.
What to Look For in a Freelance Photo Editor
If this is the first time you've searched for a freelance photo editor, you might find it hard to pinpoint what exactly makes a "good" expert. A talented photo editor doesn't just blur out imperfections, they'll often have a range of talents from correcting poor lighting, adjusting colors, and adding and removing elements. They should know exactly what your image needs to take it from 0 to 100. Here are a few characteristics to look out for:
Knowledge of standard photo editing software programs: Examine their profile for experience with software like Photoshop, Adobe Lightroom, or Skylum Luminar.
Understanding of photography principles and skills: You can search for any past photography experience in their description.
Relevant experience in your desired editing type: Check the Editing Type section at the end of the "About This Gig" section for offered options.
Quick, efficient, and thorough in editing and delivering work: I would recommend quickly scanning customer reviews (after clicking Compare Packages) for comments on fast and error-free delivery.
Ability to work with any type of file, like .png, .jpeg, and .tiff: You can find this information in the File Format section after "About This Gig".
Keen eye and attention to detail: What do former customers say about the detail and accuracy of their work? Make sure you take a look at previous customer reviews.
Excellent communication skills in the language of operation: You can find their seller communication level score above the customer rating and reviews.
Are You a Photo Editor Looking to Sell Your Services on Fiverr?
Maybe you're reading through this article as a photo editing professional wanting to expand your clientele. Not only is Fiverr an excellent platform for buyers, but it's also one of the best places for creatives to sell their services. Here's how it works.
Head to the Fiverr homepage
 and click the
Join
button in the top right corner. Choose a username and password. Since you want to appeal to clients, be sure to choose your username wisely.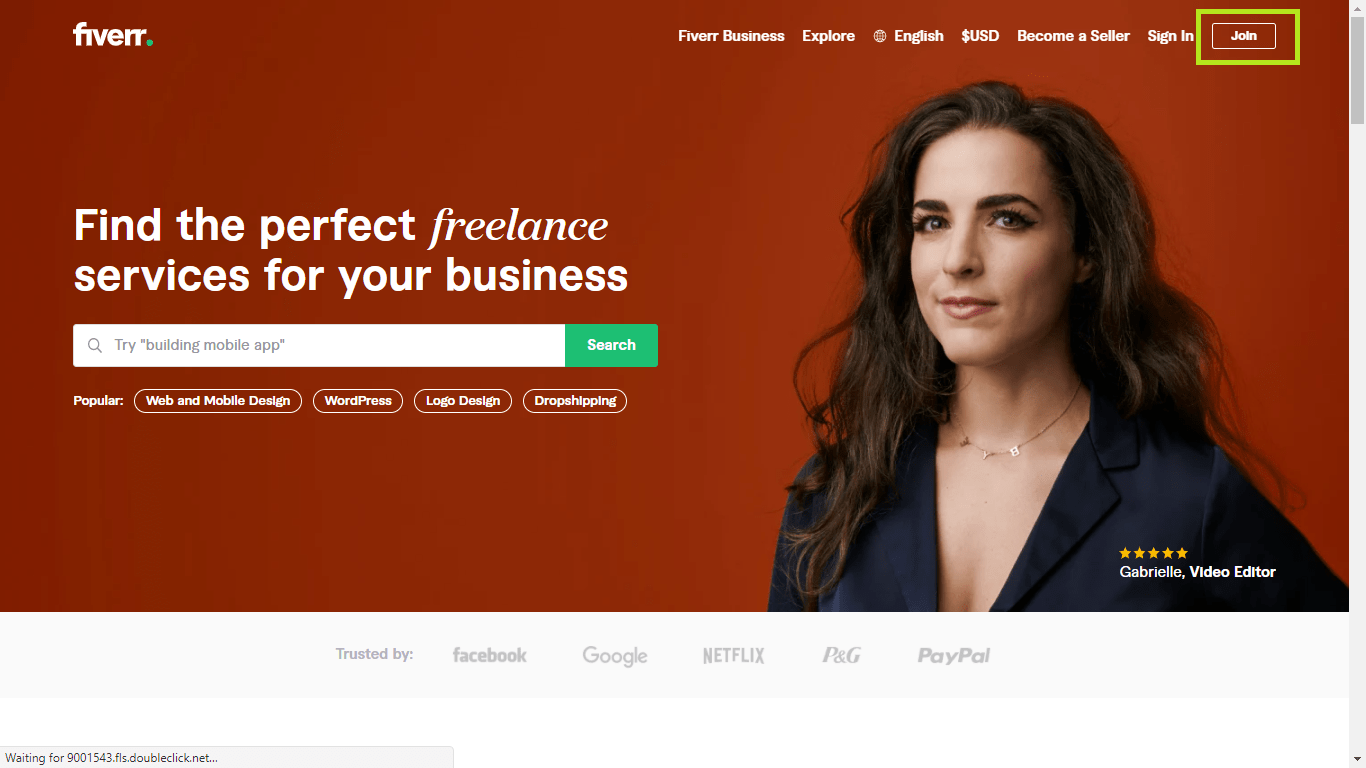 Verify your account to begin building and editing your profile. On your profile page, you can upload a photo, link social media accounts, and add any skills, education, and qualifications.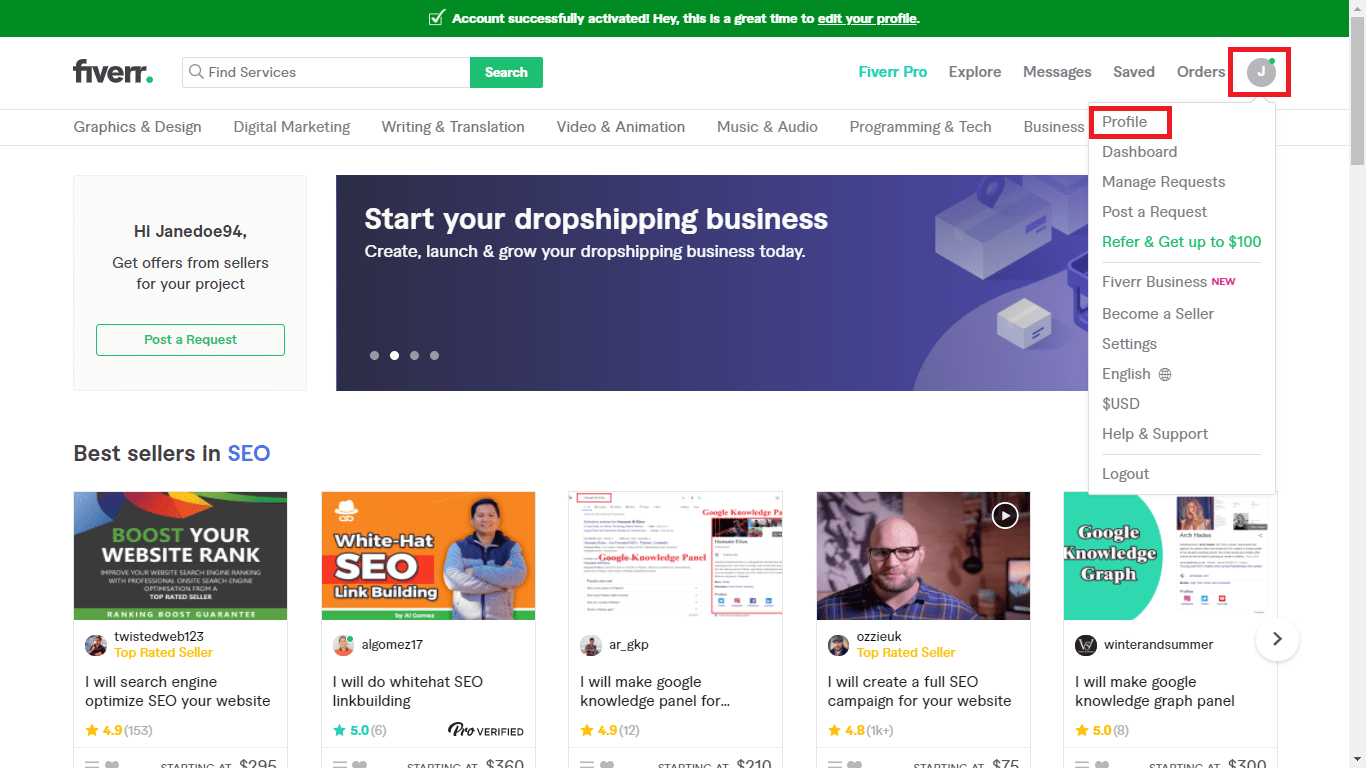 Please complete your description here, emphasizing your area of expertise. Include your relevant skills, educational background, certifications, and the languages you are proficient in. Clearly state the services you offer and detail your experience.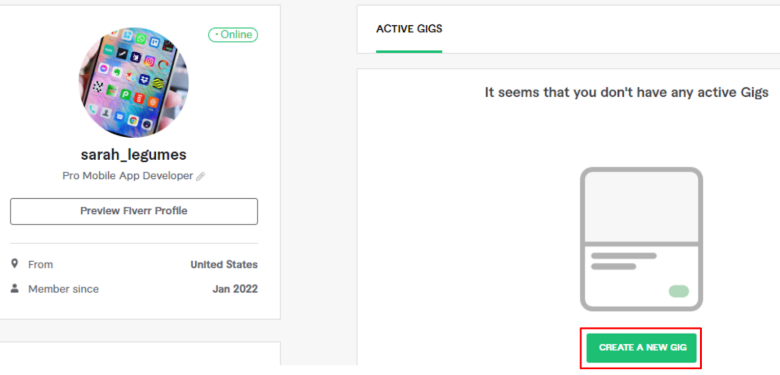 Once you complete filling out your profile, the next step involves packaging your services. Click the Create a New Gig button, and then select a gig title, category, and search tags to make it easier for clients to discover your gig. Take some time to define the services offered in each package tier, and decide if you want to include optional add-ons such as expedited delivery or multiple revisions. Publish your first gig to begin appearing in searches and attracting clients.
You can only publish up to seven gigs as a new seller, but this limit increases over time.
Selling on Fiverr is an easy, straightforward, and stress-free process
. As long as you maintain a steady presence and create quality work, you can build a successful freelancing career freelancing. One of my top tips is to
try out Fiverr as a buyer
 to get a feel for the process. You'll be able to experience the steps buyers must go through before hiring a freelancer, which can help you better structure your profile, gig information, and portfolio to maximize appeal. As gigs on Fiverr are so affordable, you can get all this insight for just $5!
Get High-Quality & Affordable Photo Editing
The era of wasting money on graphic design is far behind us. With Fiverr, you now have numerous budget-friendly choices, instead of draining your funds on a high-priced creative agency that bills thousands for editing tasks. Instead, Fiverr gives you
access to thousands of talented photo editors
from all over the world. You won't find a bespoke professional service for $5 anywhere else. Head over to Fiverr and see for yourself. You don't even need to sign up to browse photo editors and discover if one of them has the solution to all your photo-editing needs.
FAQ
Where can I find freelance photo editors?
The key to finding a great freelance professional is Fiverr, a platform for creatives from across the globe. Fiverr is one of the top freelance websites for prospective buyers thanks to the affordability of seller packages and the site's user-friendly interface.
What do freelance photo editors charge?
The cost of a freelance photo editor varies depending on their skill level, experience, and location. Although package costs can range widely, many talented photo editors offer their services on Fiverr from just $5.
What skills do photo editors need?
Skilled photo editors will have an eye for detail, experience with editing software, and great communication skills to understand the editing style you want. They'll also need to understand basic photography principles to ensure the best results.
What does an image editor do?
Image editors like the pros on this list use photo editing software like Adobe Photoshop to alter images, which can be digital or traditional photos and illustrations. These alterations could be rotouching, layering filters, or adding cool effects to subtly improve image quality or transform it into a whole new creation.
Why should I hire a photo editor?
A photo editor can improve the quality of your pictures and give you professional looking images for headshots, product listing, album covers, and special events like weddings. Hiring an image editor is a great way to fix mistakes, 'photo bombs', and flaws in beauty and fashion shots.