You want someone who has plenty of experience as a writer, great testimonials from past customers, and reasonable prices
. Ideally, you'd also find a writer who specializes in creating content for your niche industry. But how do you find a freelance writer who checks all these boxes – and doesn't cost your entire marketing budget?
Hiring a book or ebook writer doesn't have to cost as much as you might assume. I've found experienced freelancers who charge as little as $5 for simple ebooks and lead magnets.
After doing tons of research, I put together a list of the best book and ebook writers I found on Fiverr, along with some expert tips for streamlining the hiring process. Check out my top choices and hire the right freelance writer for your book or ebook project.
9 Best Book & Ebook Writers for Hire
From outlines and research to content and design, these freelance writers can do it all. With starting prices as low as $5, there's an option for every budget on this list.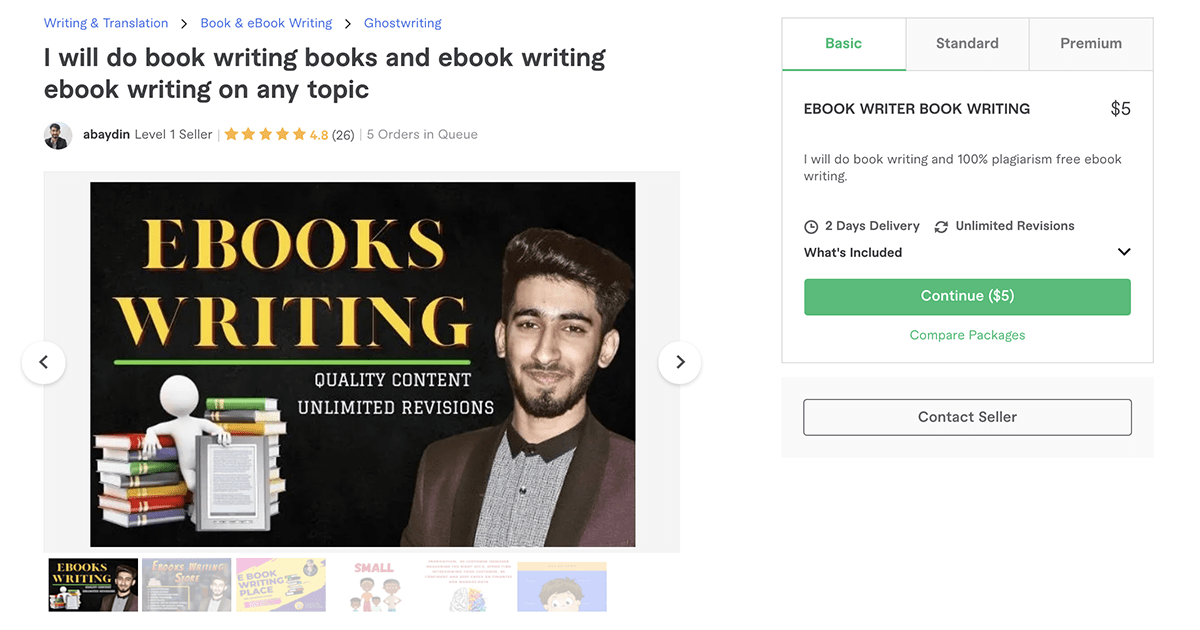 Abaydin is a Level 1 Seller, which means they've maintained at least a 4.7-star rating and delivered 90% or more of their orders on time.
Their customer reviews rave about their great communication and high-quality work – and pricing starts at just $5
. Abaydin's Basic package includes research, 500 words, and unlimited revisions, while their $180 Premium package comes with 30,000 words of content for your ebook.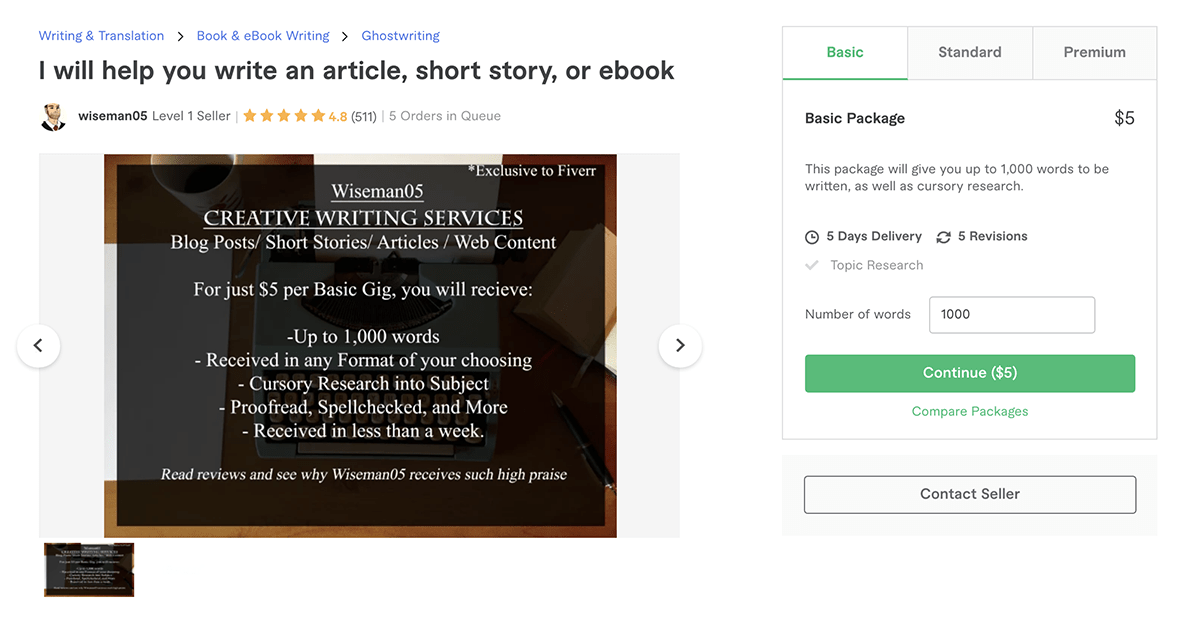 With more than 500 excellent reviews, Wiseman05 has worked with tons of happy customers.
 Another Level 1 Seller, this freelancer has a history of great work, yet
their affordable pricing makes their packages highly accessible.
Their Basic package offers impressive value – cursory research and up to 1,000 words for $5. For just $15, Wiseman05 offers 3,000 words and ebook formatting.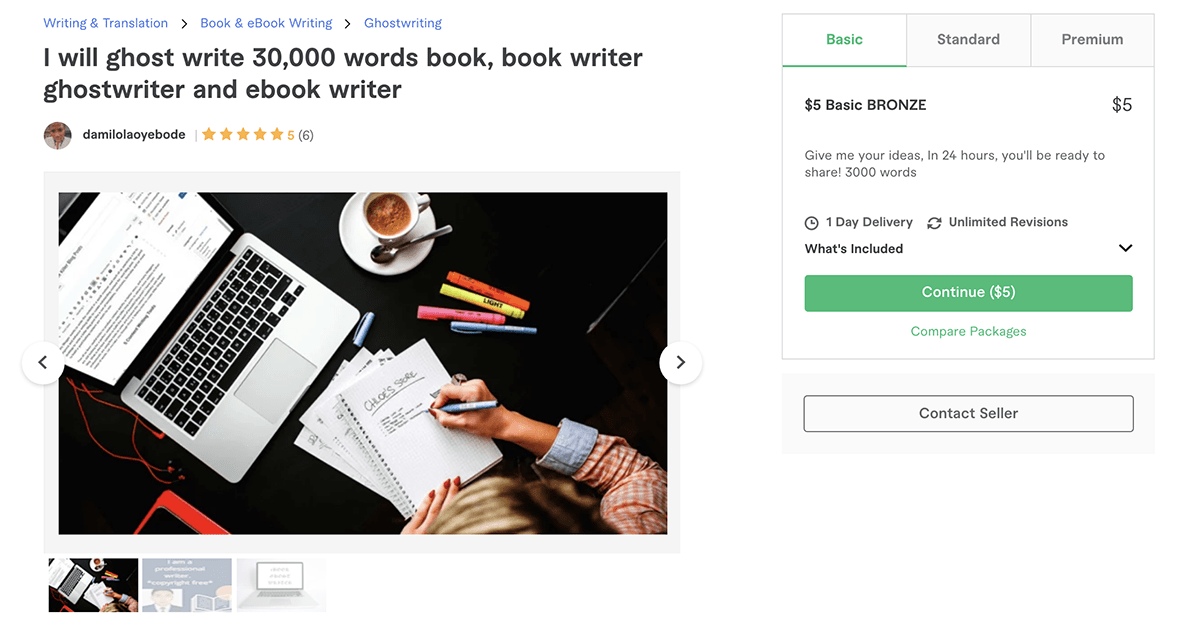 If you need a lot of content but don't have a huge budget to invest, Damilolaoyebode can help.
This freelance writer has a five-star rating and some of the lowest prices on the Fiverr marketplace.
Their Basic gig starts at $10 and includes 3,000 words for your book or ebook. For $120, this freelancer can write up to 30,000 words in just one week, and will even supply an ebook cover.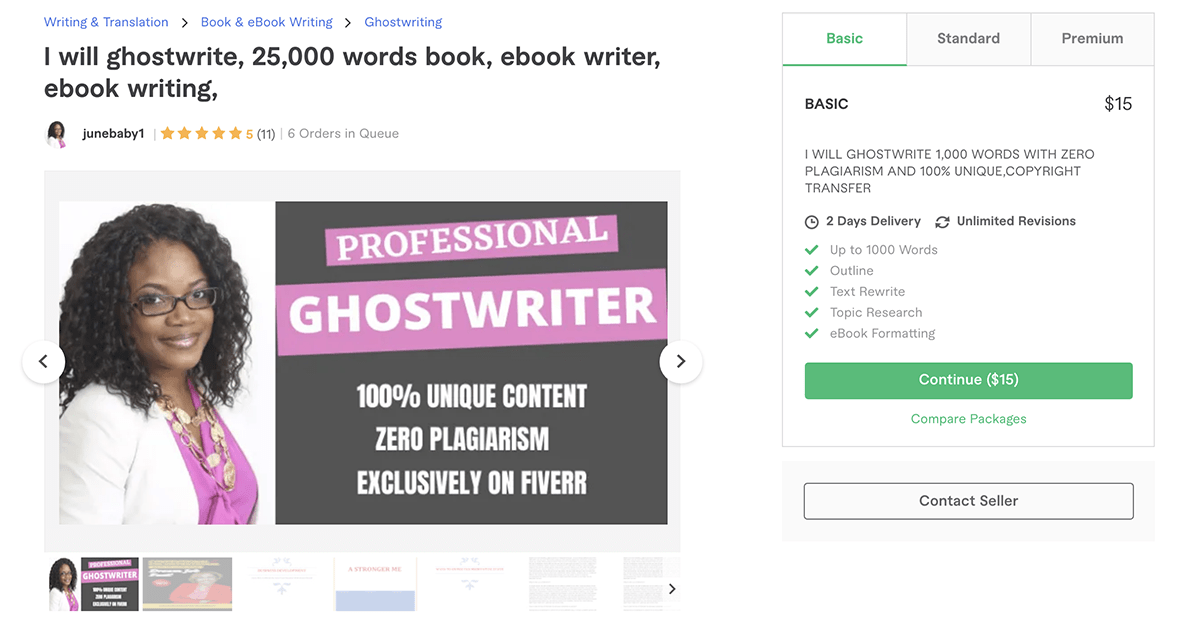 If you want research, content, and formatting in one affordable package, Junebaby1 can help.
This five-star freelancer has more than eight years of experience as a copywriter and can write about topics ranging from health and fitness to business and marketing.
Their $15 Basic package includes 1,000 words with ebook formatting, while their $300 Premium package delivers 25,000 words in just 14 days.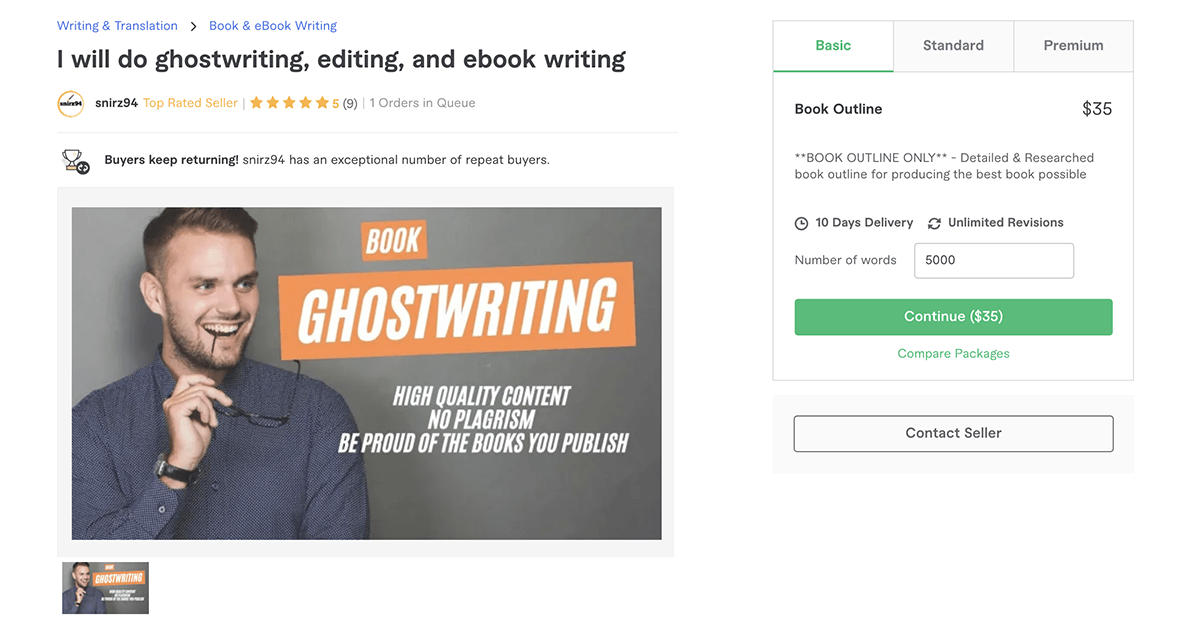 As a Top Rated Seller, Snir boasts Fiverr's highest status
– meaning they have delivered at least 100 orders and completed Fiverr's manual vetting process.
This freelancer has also earned a lot of repeat buyers along the way, which speaks volumes about how satisfied their customers are.
You can start with their $35 Basic package if you only need a 5,000-word book outline. For an outline, book writing, formatting, cover, description, and title, consider their $800 Premium package. Note pricing scales for pieces longer than 5,000 words.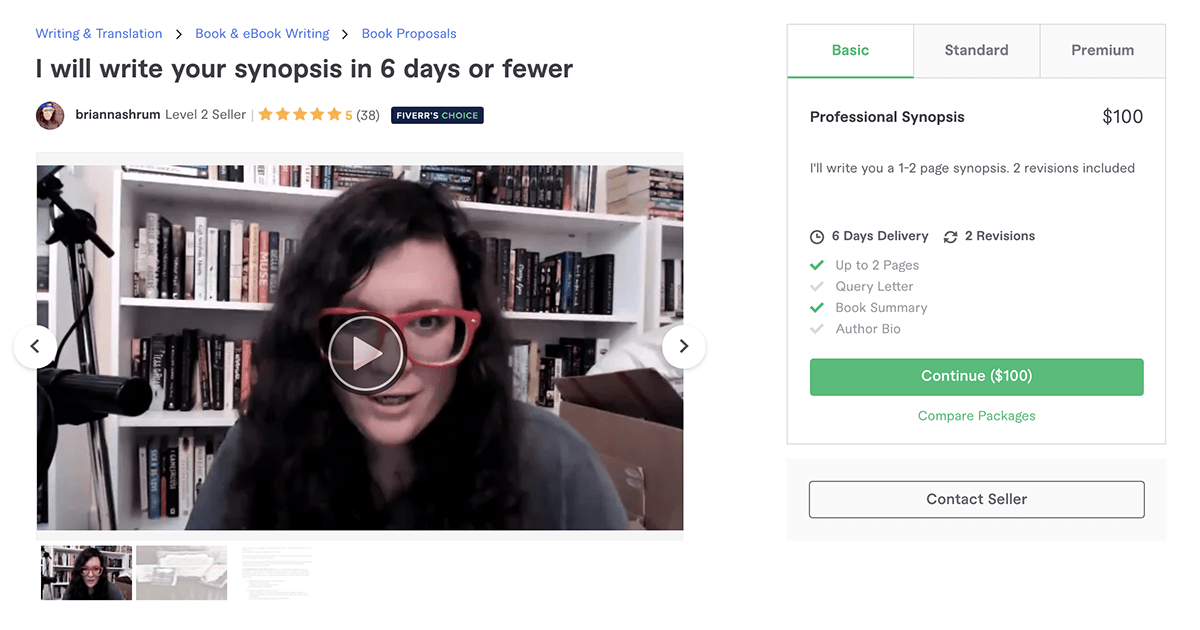 If you want to get your book published, you need a synopsis. Brianna can help you perfect yours
. This freelance writer is a Level 2 Seller, which means they've delivered a minimum of 50 orders while maintaining at least a 4.7-star customer rating – although Briannashrum has exceeded that with their five-star rating. Their $100 Basic package includes a two-page synopsis, while their $175 Premium package also includes a query letter, three Twitter pitches, and revisions on the first ten pages of your manuscript.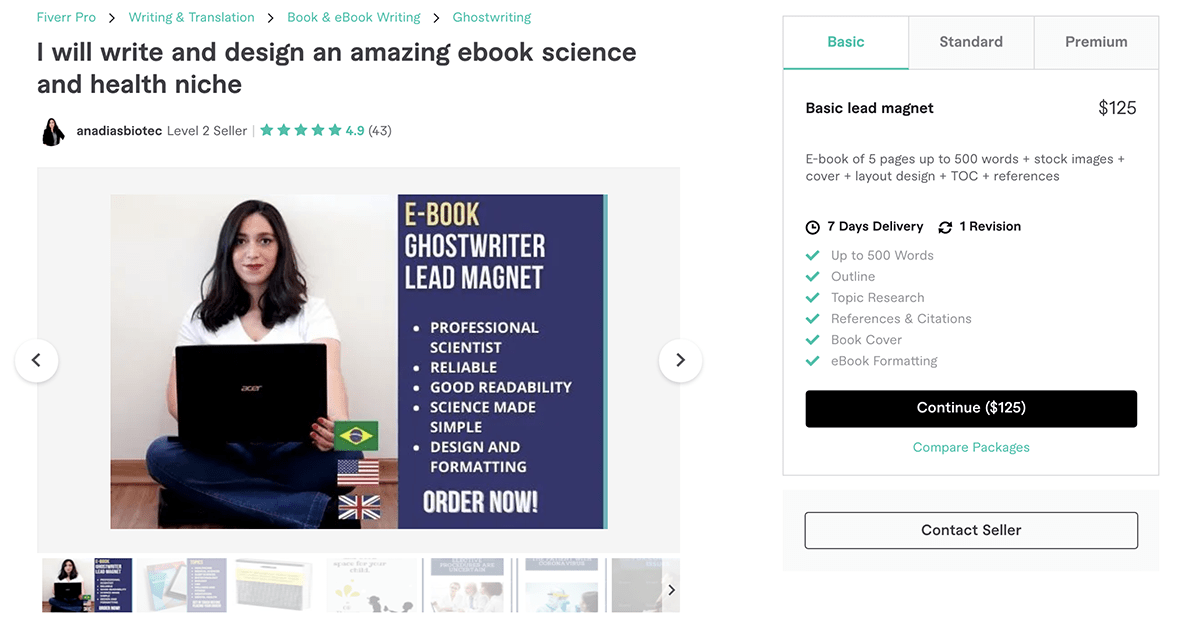 When you need expert-level content, hiring an experienced professional is critical. Anadiasbiotec is a verified Pro, which means Fiverr has vetted their work for quality and service.
As a scientist, this freelance writer specializes in topics related to life sciences for the biotechnology and healthcare industries.
Book their $125 Basic package for a 500-word ebook or order their $515 Premium gig for a 2,000-word ebook plus images, cover, layout design, a table of contents, and a list of references.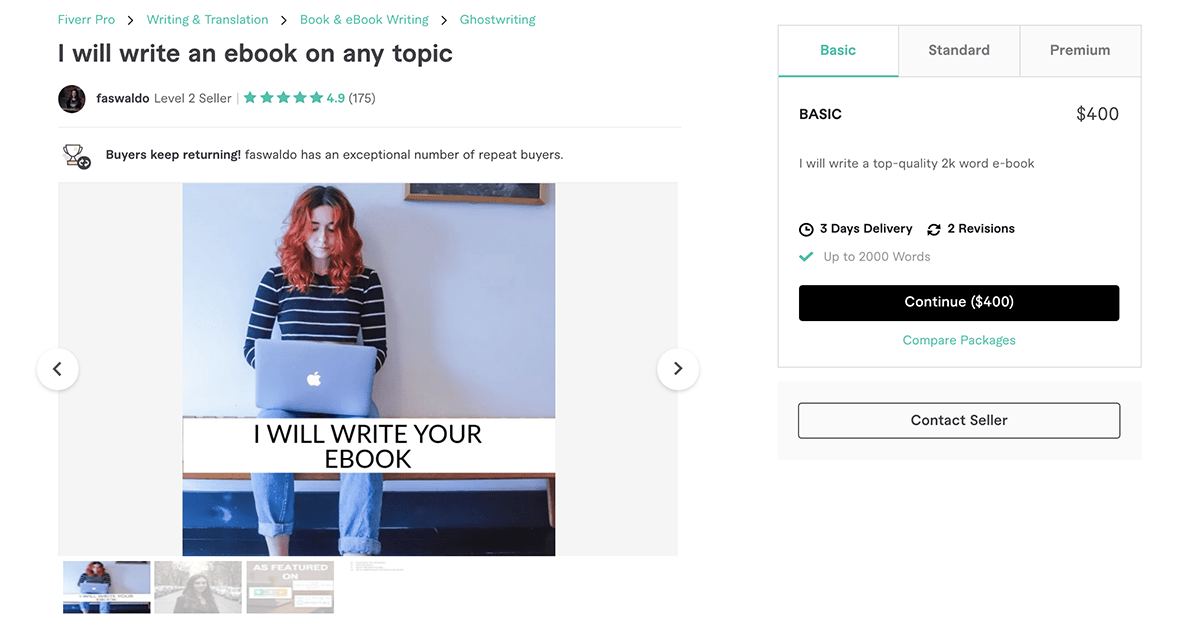 Another verified Pro, Faswaldo has 175 excellent customer reviews and a 4.9-star rating. They also have a ton of repeat buyers thanks to their original research and high-quality writing.
Although their pricing is higher than other writers on this list, they clearly deliver exceptional written work.
Purchase Faswaldo's $400 Basic package for a 2,000-word ebook or upgrade to their $1,200 Premium package for a 10,000-word ebook.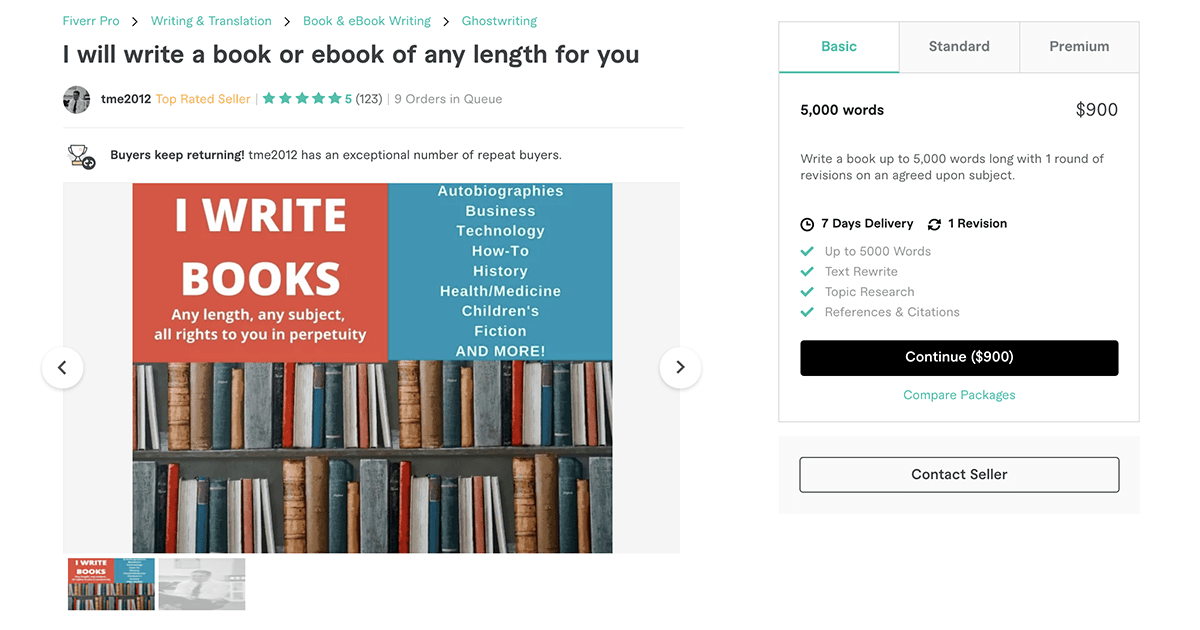 As a verified Pro and a Top Rated Seller, Tme2012, who goes by the name Nick, boasts all of Fiverr's most exclusive credentials.
This seller also has nearly 25 years of experience with writing and editing, and they've ghostwritten more than 200 books.
While you'll have to pay a bit more for this level of quality and experience,
 it's worth the cost if you want outstanding content – and their five-star rating suggests their previous clients agree.
 Nick's $900 Basic gig includes a 5,000-word book, and their $3,000 Premium gig offers up to 20,000 words.
How to Hire a Freelance Book Writer on Fiverr
Hiring a freelance book or ebook writer on Fiverr is super simple. You can find the ideal freelancer in just a few minutes. 1.
Go to Fiverr.com
 and find
Writing & Translation
 in the top menu. Then click on
Book & eBook Writing
 in the dropdown menu. Alternatively, you can type
ebook writer
 (or any other service you're looking for) into the search bar or
go straight to the search results here
.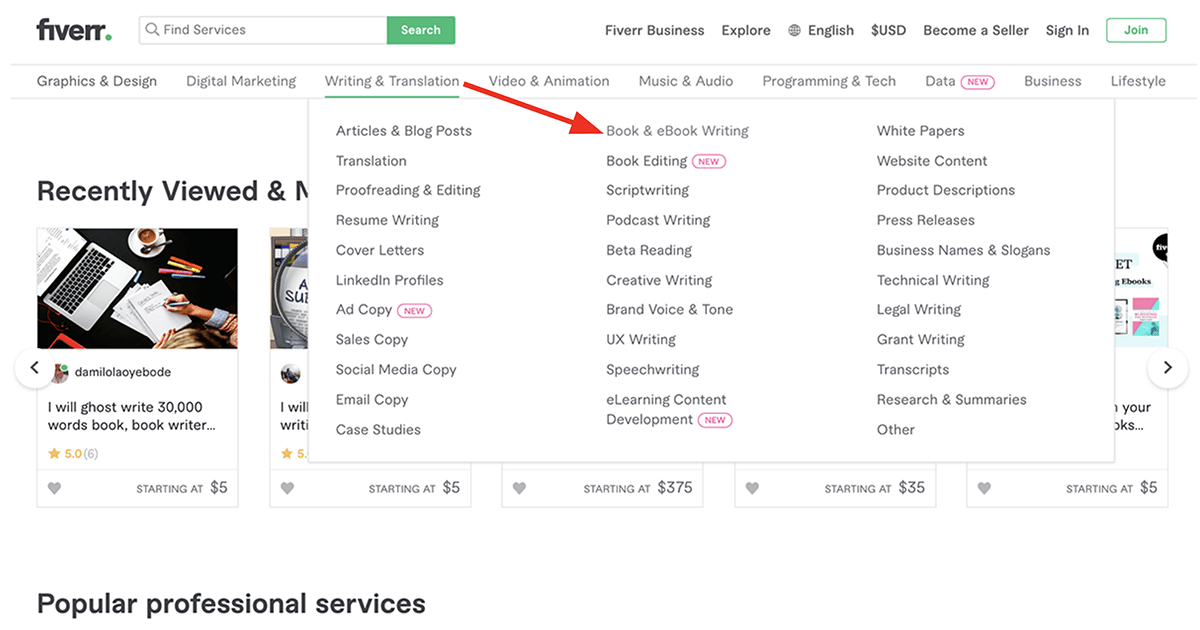 2. Start browsing the freelance writers in the book and ebook category – the results page will display their Fiverr username, the name of the gig, and the starting price. You can also see how many customer reviews the gig has plus the writer's rating.
 If they have a Fiverr credential, such as Level Two Seller, you can see it just below their username.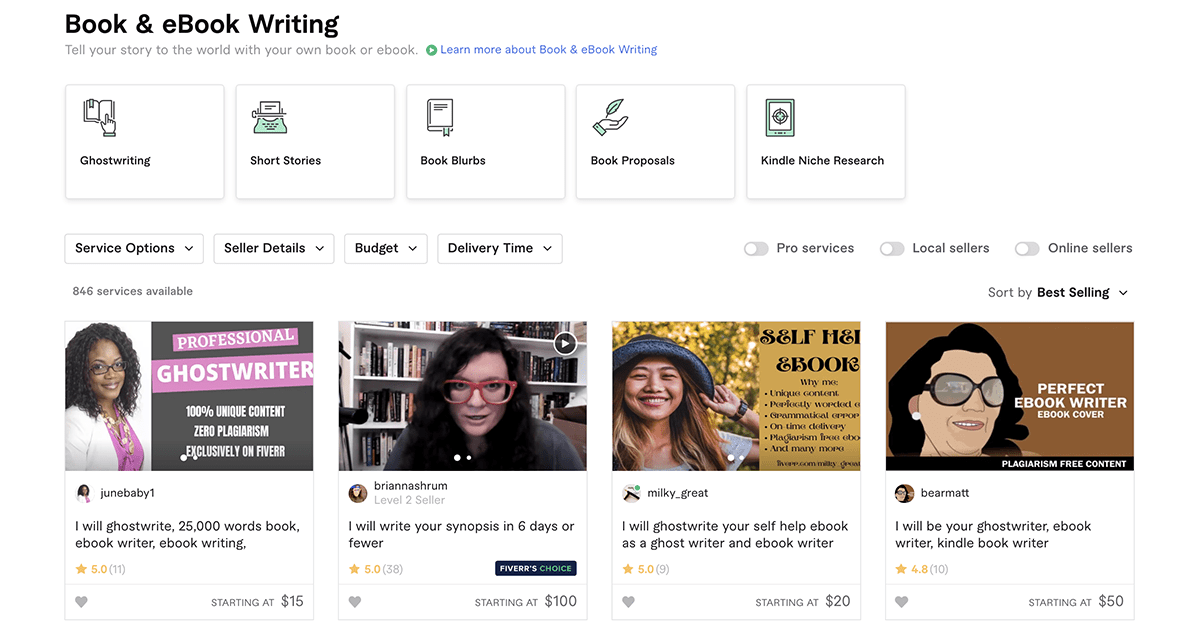 3.
 Filter your results to make it easier to find the right freelancer for your project.
 Select one of the sub-categories along the top of the page, such as
Ghostwriting
 or
Book Blurbs
. If none of those subcategories meet your needs, toggle the dropdown menus to filter writers by genre, budget, or delivery time. You can also narrow your search to show exclusively Pro services or local sellers.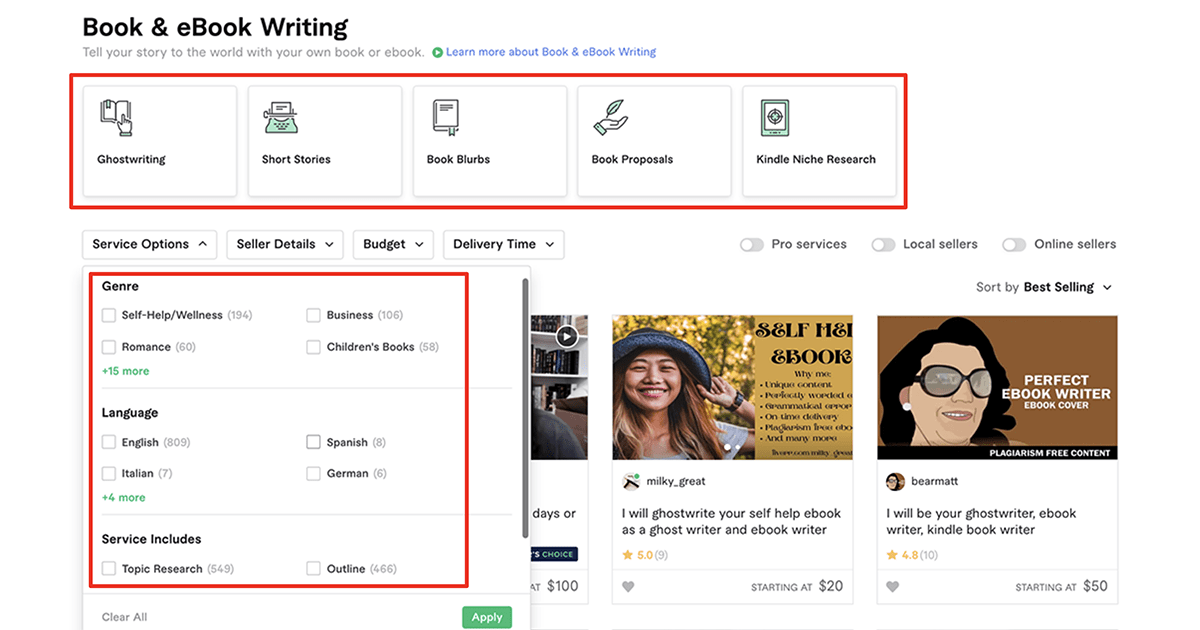 4. Click on any book or ebook gig to learn more about it. On the gig page, you can read a full description of the deliverables along with the delivery time and price. You can also
scroll through the freelancer's portfolio to learn more about their writing experience
 and what they offer.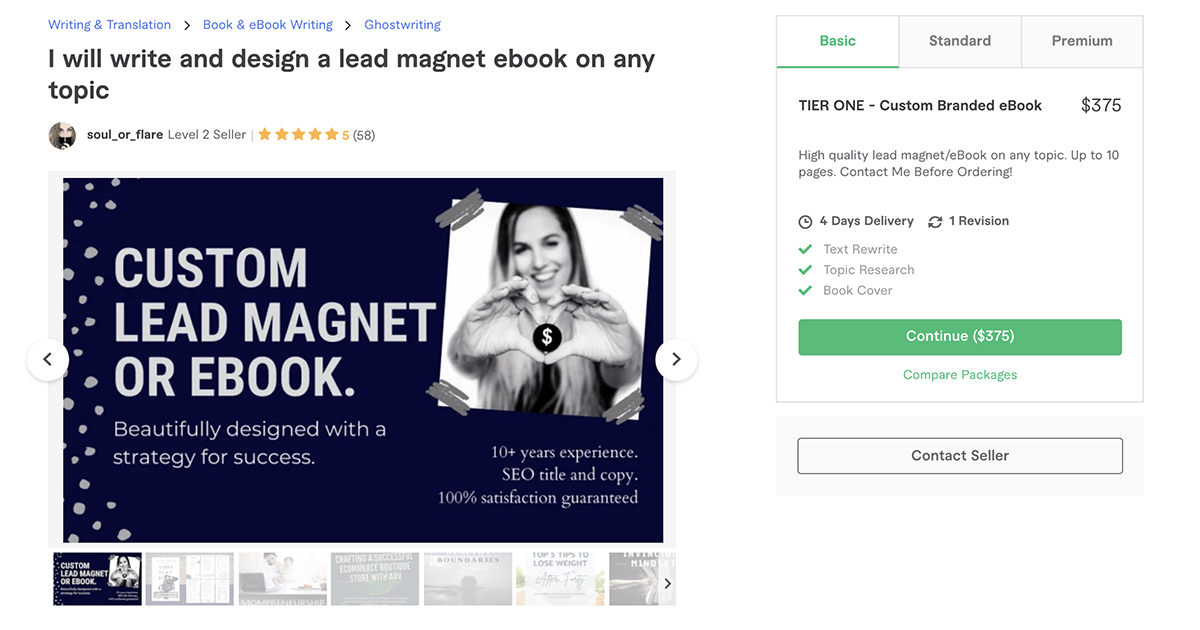 5.
To see the freelancer's past customer reviews, scroll to the bottom of the page
. You can go straight to the writer's best or worst reviews, or you can start by reading the most recent ones. Take care to skim at least a few so you can find out what other customers liked or disliked about working with the writer.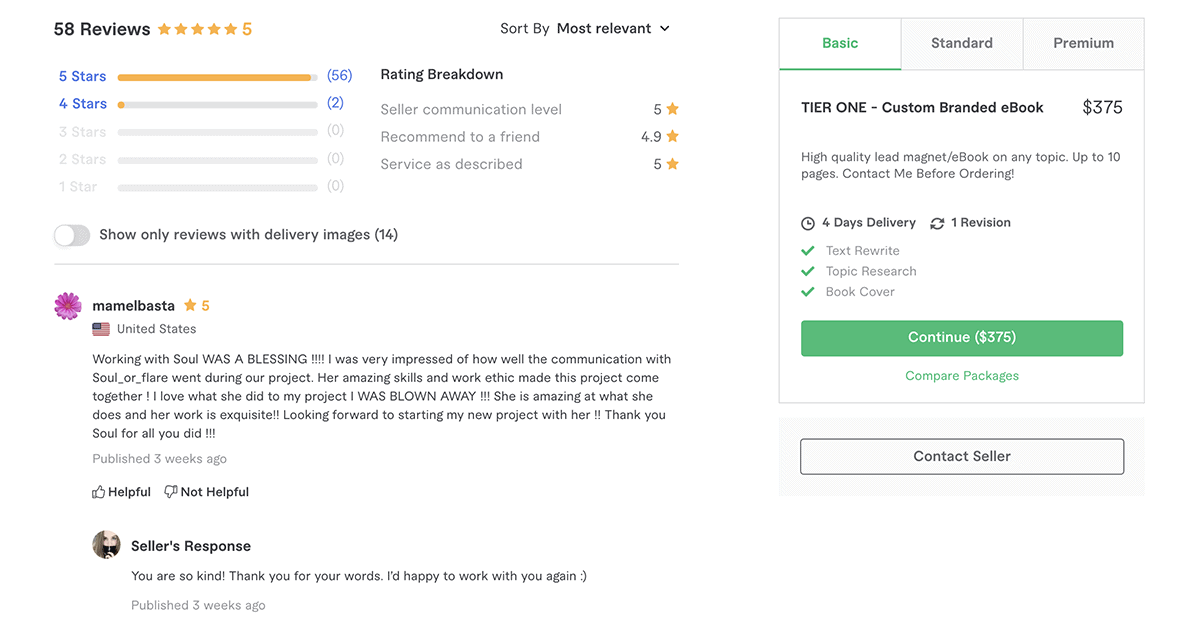 6. To make sure you choose the right package for you, click the green
Compare Packages
 link. See how the deliverables and prices compare so you can maximize the value you get from hiring a freelance writer.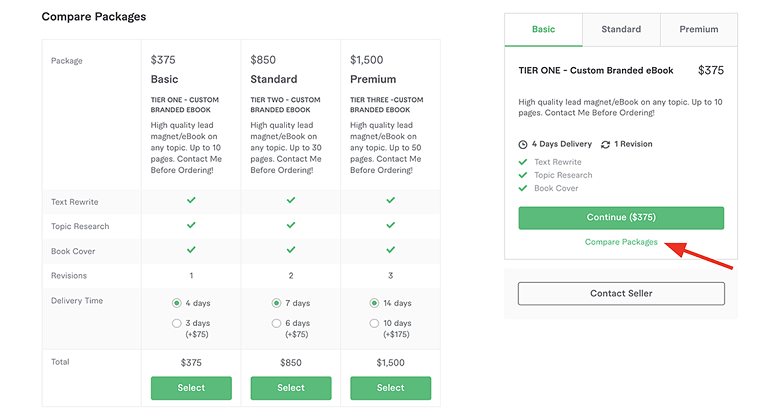 7. Click the gray
Contact Seller
 button to message the freelancer before placing an order. Many sellers prefer that you message them about your book project so they can make sure their services are a good match for your needs.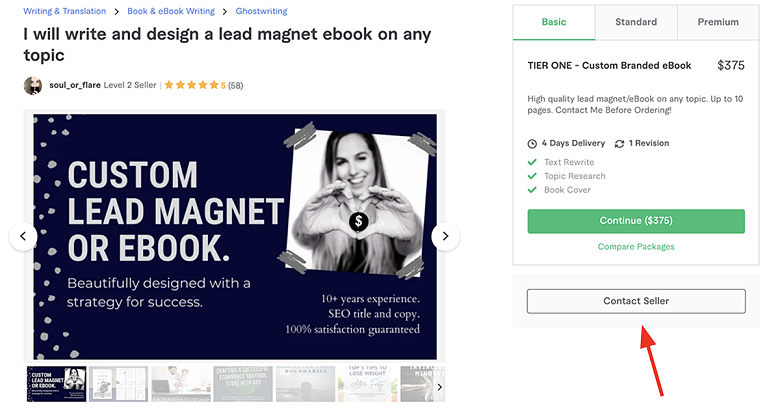 8. Click the green
Continue
 button to place your order.
Review the extras carefully and add on another revision, more pages, or faster delivery if necessary
. Then click the green
Continue to Checkout
button when you're ready to purchase. Fiverr will then notify the freelancer about your order and collect all the information they need to start writing your book or ebook.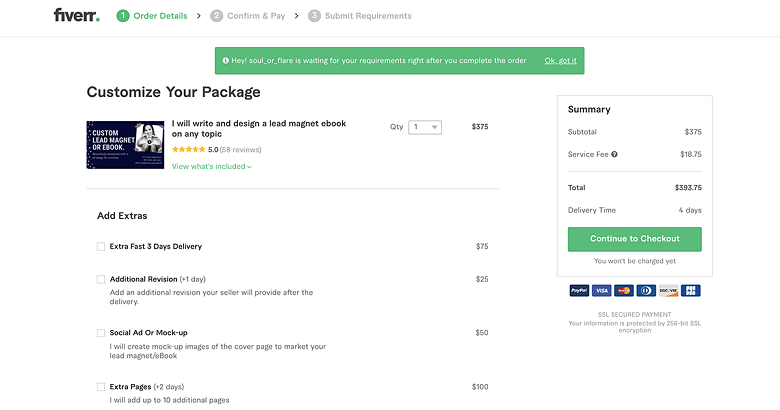 What to Look for in a Book or Ebook Freelance Writer
The Fiverr marketplace is home to more than 800 freelance book writing gigs, so it can be challenging to find the perfect one. To make sure you hire the right freelance ebook writer for your needs, look for these qualities:
Relevant experience: Most ebook writers specialize in certain genres, so you can easily find a freelancer whose experience matches your needs. If you need a lead magnet for your marketing agency, for example, look for a writer who has experience working on books about marketing.
Excellent reviews: Customer reviews can tell you a lot about what it's like to work with a freelancer. Read both good and bad reviews to understand more about the writer's strengths and weaknesses. If the reviews mention qualities that are deal breakers for you, don't hesitate to keep looking.
Fiverr level: Typically, freelancers who consistently deliver great work and provide superior service earn Fiverr credentials such as "Verified Pro" and "Top Seller." To make your freelancer search easier, you can filter the results based on these seller details.
Delivery time: Do you need an ebook urgently, or is your timeline flexible? Double-check freelance writers' delivery times before hiring to avoid unnecessary delays and keep your project on time. If you need a fast turnaround, use Fiverr's Express 24H filter to streamline your search.
Available add-ons: Just because a freelancer's gig doesn't include exactly what you want, that doesn't mean you can't customize it. When comparing packages, check the available options and add on exactly what you need, from faster delivery to extra pages. And if you're still unsure, you can contact a freelancer before you book them to discuss your project in more detail.
Thankfully Fiverr helps you out with handy filtering options and a clear user interface that's easy to navigate. For those reasons and a fair few more, it scored highly in
our Fiverr review
.
Are You a Book or Ebook Freelance Writer Looking to Sell Your Services on Fiverr?
If you're a freelance writer looking for new clients, consider creating a gig on the Fiverr marketplace. Even if you're new to the platform,
you can set up your profile and start selling in less than an hour.
First,
go to the Fiverr homepage
 and click the
Join
 button in the upper-right corner. Decide on a unique username and enter your contact information.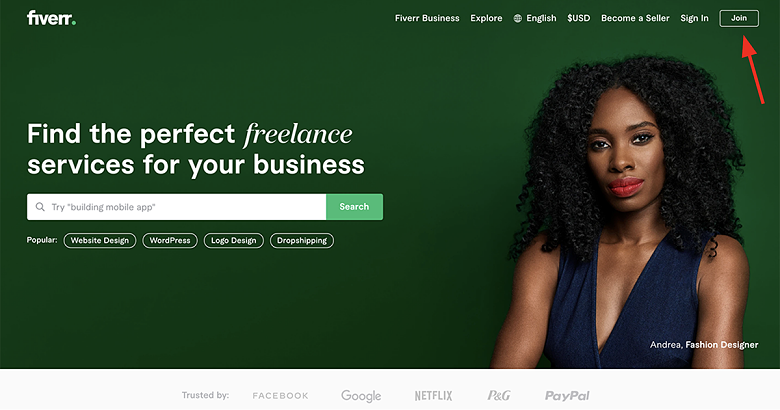 Then use the dropdown menu in the upper-right corner to fill out your profile. Upload a profile picture, write a brief introduction, and add relevant skills and certifications.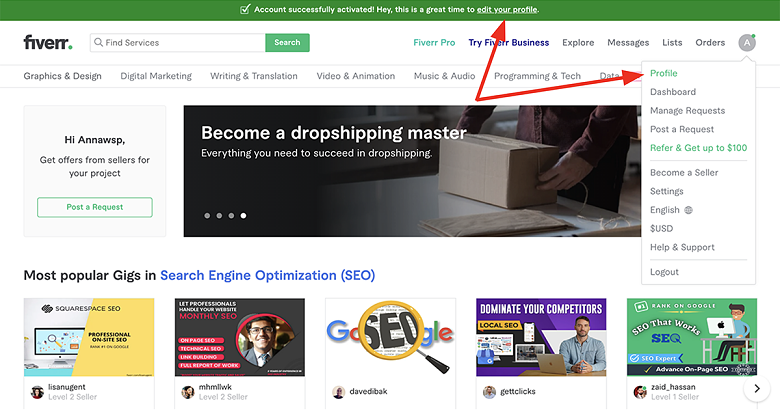 After completing your profile, click the green
Create a New Gig
 button to set up your first package. Choose a gig title, pick the most relevant category, and add a few search tags. Do some research to find and use keywords that potential clients would enter when searching for ebook writers. Then describe your gig and tell prospective clients what your offer includes. Consider adding a work sample to set expectations and give the gig a price. You can create up to three packages per gig, offering various deliverables at different price points.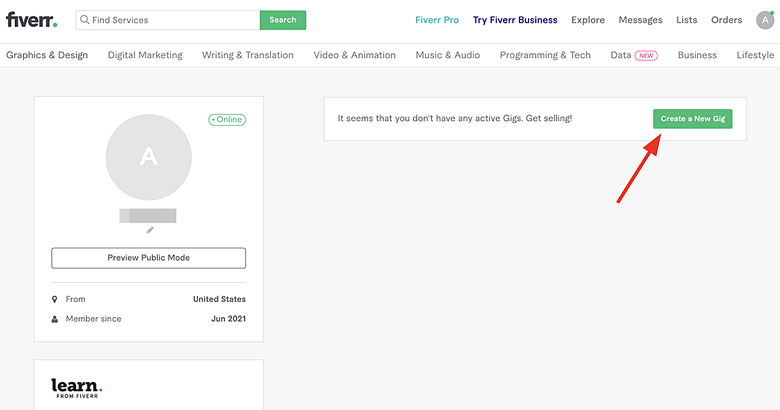 As soon as you publish your gig, buyers can promptly book it. Therefore, it's important to begin monitoring order notifications without delay. Additionally, be ready to respond to inquiries through Fiverr's messaging service, as buyers may seek clarification about your package or timeline.
Before you press
Create Gig
, I'd recommend doing two things. First, read this step-by-step guide on how to create a successful gig on Fiverr. Second, I'd think about buying an inexpensive freelance writing gig from an established seller for as little as $5.
That way you can experience the entire process – from chatting with the seller and submitting your requirements to receiving the deliverable and requesting edits – from a buyer's perspective. You'll get a better sense of what could go wrong and figure out how to create the best possible writing gig so you can succeed as a freelancer on Fiverr.
Find Budget-Friendly Freelance Book & Ebook Writers on Fiverr
Whether you want an ebook to offer as a lead magnet, a book to sell on your site, or a book proposal to pitch your new novel, you need an experienced writer on your team
. Fortunately, you can find freelance writers for all these projects and countless more when you search the Fiverr marketplace.
I'd personally recommend Wiseman05 from of my list above
. You can't argue with more than 500 excellent reviews and considering his prices start from $5, it's worth trying this gig out just to see what all the fuss is about. When you hire book and ebook writers through Fiverr, you can work with freelancers who offer the exact deliverables you need – from research to content to design.
 Since you can choose from more than 800 freelance writing services starting as low as $5, the Fiverr marketplace has the right package for every budget.
FAQ
How much do ebook writers make?
Freelance ebook writers charge anywhere from $5 to over $1,000 on Fiverr. The amount you should charge depends on the scope and timeframe of your gig. Most freelance writers charge less for short ebooks and much more for longer ones. Many also charge premium prices for fast delivery.
Can I hire someone to write an ebook?
Whether you need to hire a freelance writer or you'd prefer to use a ghostwriter, you can find hundreds of book and ebook writers on Fiverr. Prices start as low as $5, so you can hire a freelancer to do anything from prepare a proposal to write and design a complete ebook.
Can you make money writing ebooks?
If you market your writing services via a top freelance website like Fiverr, you can make money writing ebooks. Start by setting up a profile and creating a gig. Each new review helps your gig stand out even more and makes it easier to attract new clients and earn more money. It's as easy to set yourself up as a seller as it is to buy from a seller. It's what gave the platform such a high score in our Fiverr review.