gigs starting as low as $5
. With its rating system and filtering options, Fiverr lets you sort sellers by services, quality, and price.
But can you get a professional dropshipping video ad for such a low price, or do you have to increase your budget?
To get an answer,
I searched Fiverr for three dropshipping video ad creators at a range of price points.
 I provided each one with the same brief and asked them to create a video ad for a fitness product that's a top pick for dropshippers. Can you guess whether the low-, mid-, or high-priced gig produced the best video ad? You might be surprised. You can also purchase any of these gigs or hire any of the
top 10 dropshipping video ad creators from the list below
.
Hiring 3 Dropshipping Video Ad Creators to Test
To find the right freelancers to hire, I searched Fiverr for video ad creators at both ends of the price range. At the lower end, the $20 seller demonstrates what you can get with a limited budget. The mid-range freelancer is a great example of what you can get by spending a little more, and the $100 gig shows what you can expect from a high-priced creator.
The $20 Dropshipping Video Ad Creator: Impressive Work for a Low Price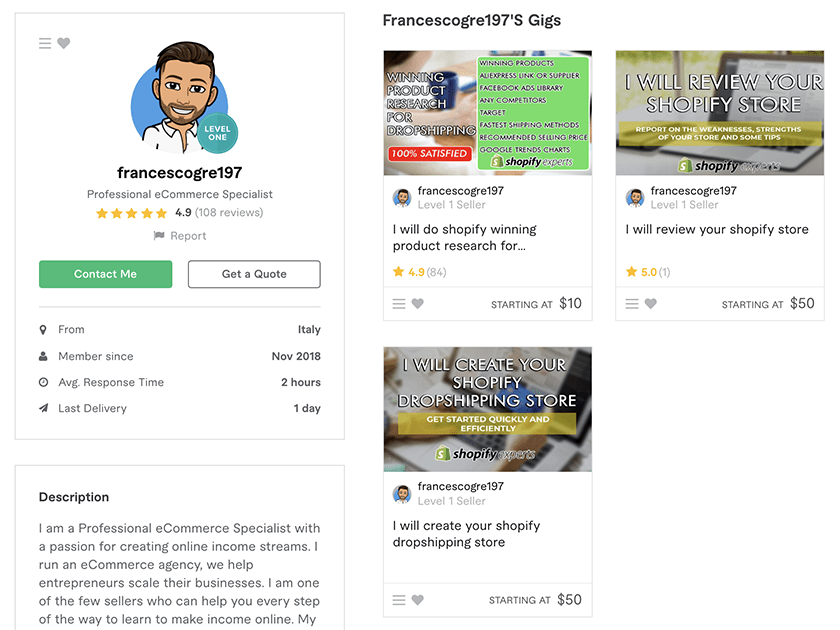 With more than 100 excellent reviews and a 4.9-star rating, francescogre197 was an easy choice for a budget-friendly freelancer. Although they offer services for as little as $10,
I booked their basic $20 offer
, which included a 30-45 second video ad with scriptwriting, text animation, and background music. It also came with one-day delivery, which made the overall value impressive.
The $50 Dropshipping Video Ad Creator: Fast, Professional Work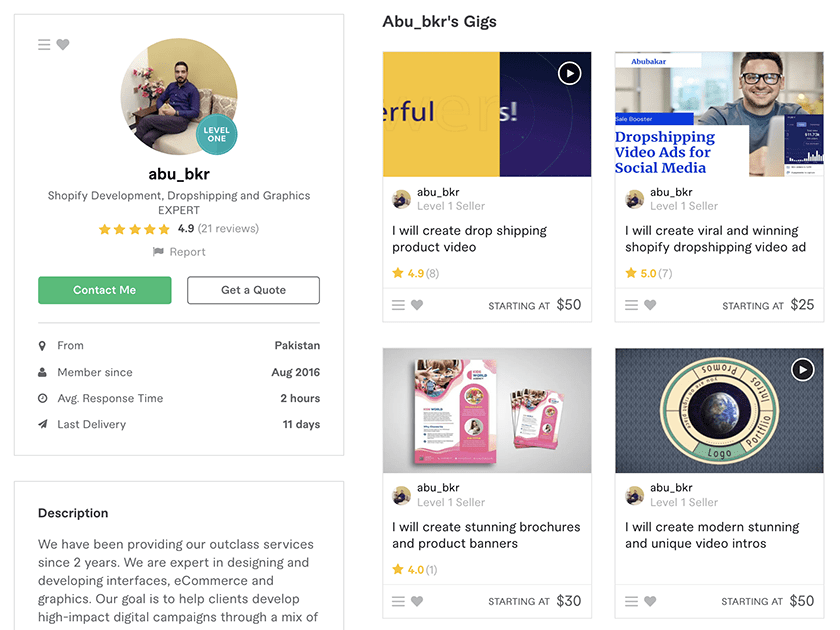 A Level 1 Seller with a 4.9-star rating, abu_bkr was my pick for a mid-level freelancer.
I signed on for their basic $50 video ad gig
, which came with up to 50 seconds of footage, scriptwriting, and a soundtrack.
Unlike many video packages, this one didn't include revisions
, so I was curious to see if we could get it right the first time.
The $100 Dropshipping Video Ad Creator: High-Quality Work for a Premium Price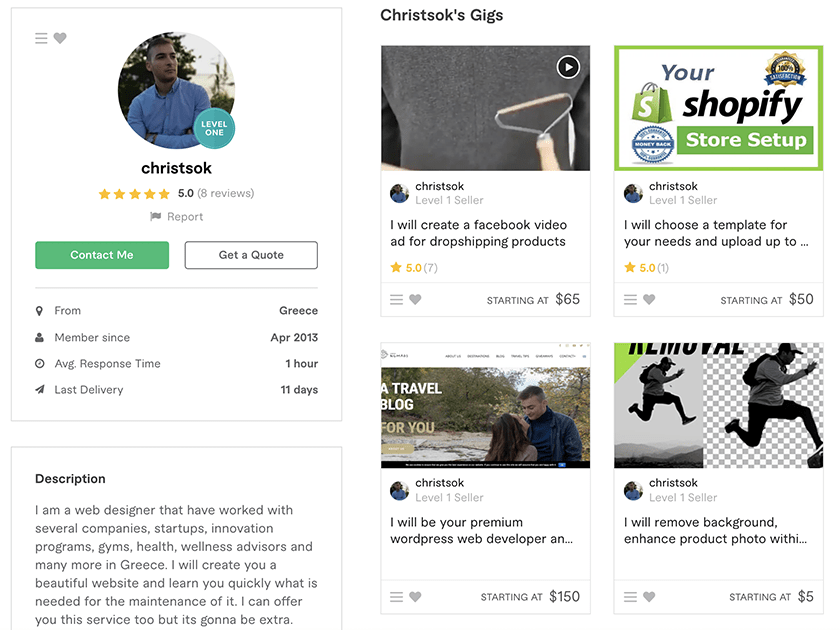 With a 5-star rating, Level 1 Seller christsok was an obvious choice on the higher end of the pricing spectrum. To keep things consistent and make the comparison as fair as possible,
I booked their basic $100 dropshipping video ad gig
, which included 30 seconds of running time with scriptwriting and background music. With a one-day turnaround, this gig would be a good pick if you need a high-quality video ad relatively quickly.
My Experience Working With These Fiverr Freelancers
Because my creative brief included photos only with no video footage, my request was bound to be a little challenging for any freelancer, given the nature of the project.
However, all three video ad creators took a professional approach that would set anyone at ease.
While the $20 freelancer
(francescogre197)
accepted orders without having to contact them first, the two higher-priced sellers required a message to confirm project details before booking. That meant the cheapest gig was also the most efficient since the project timeline started immediately. If you need your ad right away, I recommend this approach of finding a freelancer who can accept gigs with no upfront messaging.
Of the three, I was most impressed by the $50 freelancer's (abu_brk) process.
 They responded to my first message within a minute, and they laid out the workflow immediately. First, they researched my dropshipping product and confirmed specs. Then
they created a short video sample for me to review to set appropriate expectations
. After doing all that preliminary work for free, they invited me to book the gig.
The $100 freelancer (christsok) also asked about product specs and creative assets, but they took more of a consultant approach.
 For example, when they learned that my dropshipping website wasn't live yet, they had some recommendations for improving my URL. Even though that was outside the scope of the gig, this approach would be helpful if you needed more of a full-stack marketer.
Comparing the Final Results – One Surprising, Clear Winner
All three freelancers produced high-quality work, and
I would happily hire any of them again. But one stood out from the competition.
The $20 Dropshipping Video Ad Creator
This $20 dropshipping video ad would fit any digital advertising platform
I would readily pay a premium price for the $20 dropshipping video ad. The ad nicely incorporates footage that perfectly fits my product and brand – yoga mats that you can use for home exercise routines. The background music is calming, which fits the yoga vibe, and the video uses all the major talking points I provided.
As a busy marketer, I appreciated that completing this project required virtually none of my time. I simply booked the gig, got a total of one message from the seller confirming the order, and then received the final product.
All in all, the video ad was done in about 18 hours, making it the most efficient project. 10 out of 10, would book again.
The $50 Dropshipping Video Ad Creator
This $50 dropshipping video ad has tons of details to showcase the product
Although the $50 creator sent me a sample so I knew what to expect, I was still impressed by the final video. At 40 seconds, this video is a bit longer than the others and incorporates more material. The creator included specs for the yoga mats and added a tagline to make the ad more appealing.
Like the cheaper ad, this video was finished in record time. Since we messaged back and forth to confirm details, the total project time was just over 24 hours. But
once I approved the sample and booked the gig, the video ad was finished in a head-spinning two hours
. If you're short on time, this creator would make a great partner.
The $100 Dropshipping Video Ad Creator
This $100 dropshipping video ad features stunning footage
The $100 dropshipping video was definitely worth a premium price. This 30-second video is packed with high-quality footage ranging from yoga in beautiful settings to product closeups. Like the $50 ad, this $100 video also calls out some extra product benefits. For example, "easy to care for" wasn't in the creative brief, but it's a smart selling point for these yoga mats.
Even though this project required the most time among the three, we managed to complete the video within two days of receiving the first message. Additionally, you'll be glad to know that the final product was delivered to you approximately 12 hours after booking the gig. As these three examples show, you can
get a professional dropshipping video ad for any budget on Fiverr
.
If you're on a smaller budget, you can't go wrong with the $20 freelancer, who produced high-quality work at lightning speed, making them my top pick
If you have the money to spend, you may be able to get more from a highly experienced creator with premium pricing.
 The $100 freelancer offered excellent value, thanks to the nicely done video ad and the extra marketing consultation they provided.
Hiring a Freelancer for Dropshipping Video Ads on Fiverr
If you need a video ad for your dropshipping product, you can choose from thousands of experienced creators on Fiverr. Hiring a freelancer through Fiverr comes with some serious perks and it's super easy to use. If you want to know more about the process, I'd recommend looking at
our expert Fiverr review
. For now, these are my top perks:
You can find a gig that includes exactly what you need. Some video ad creators offer footage and scriptwriting, while others don't. If you require a complete video ad package like I did, you can easily find a gig that fulfills your needs.
You can work with any budget. On Fiverr, freelancers offer gigs for as little as $5. Others cost over $1,000. No matter how much you can afford, you'll find a Fiverr seller to do the job well.
You can learn from previous buyers. Numerous customer feedback on Fiverr contain information about tasks and the abilities of freelancers. You can go through these before scheduling a gig to make sure the freelancer is the perfect match for your project.
The 10 Best Dropshipping Video Ad Creators in 2023
I diligently scoured the market to find the best dropshipping video ad creators for hiring. Although there is an abundance of options available, I managed to narrow my selection down to the top 10 freelancers.
My top choice is
francescogre197
because they produced a high-quality video ad quickly with minimal oversight. I also recommend these nine dropshipping video ad creators:
FAQ
Can you really get a dropshipping video ad for $20 on Fiverr?
Even though that price point might sound too low for the work involved, you can definitely find dropshipping video ad gigs for $20 on Fiverr. In fact, I liked the $20 ad I received more than the higher-priced options. And what I love about Fiverr, is if you've got a really niche request, you'll still find endless options – I'd actually like to check out low-priced gigs in unusual categories like this.
Is the most expensive option always going to provide the best results?
Not always. In the test above, I liked the cheapest option best. My colleague also liked the lower-priced options in our recent Fiverr logo design review.
When does Fiverr charge you?
When you use Fiverr, you can start by messaging freelancers to discuss your project. However, you pay the moment you book a gig. This money is held in escrow and the seller only receives payment when you accept the delivery and complete the project.
Is Fiverr easy to use?
Fiverr is easy to use, even if you're new to this kind of freelancer marketplace. You can select dozens of set categories and browse relevant freelancers. You can also use the search bar to find almost any kind of gig. Then you can sort by rating, status, price, location, and other factors to find the right freelancer for your project. If you're interested, we go into all of the above in much more detail in our Fiverr review.
Which is better – Fiverr or Upwork?
Both Fiverr and Upwork let you connect with freelancers and independent creators. But Fiverr is better than Upwork, especially if you want to hire high-quality sellers and have the opportunity to work with them on one-off projects or long-term campaigns.