I found several skilled creators with prices as low as $5
. After extensive research, I compiled a list of the best freelance book cover designers on Fiverr and tips for making the hiring process as smooth as possible. Take a look at my top picks and find the right book cover illustrator for your next bestseller.
9 Best Book Cover Designers for Hire
From individual artists with unique styles to design studios with years of experience, these book cover illustrators have the skills you need to give your book a much-needed finishing touch. You'll notice that each designer has an assigned level of experience from Fiverr based on their monthly performance, buyer satisfaction, and on-time delivery. These levels include New Seller, Level 1 Seller, Level 2 Seller, and Top Rated Seller. Since you can
hire some of these creators for as little as $5
, there's one for every budget.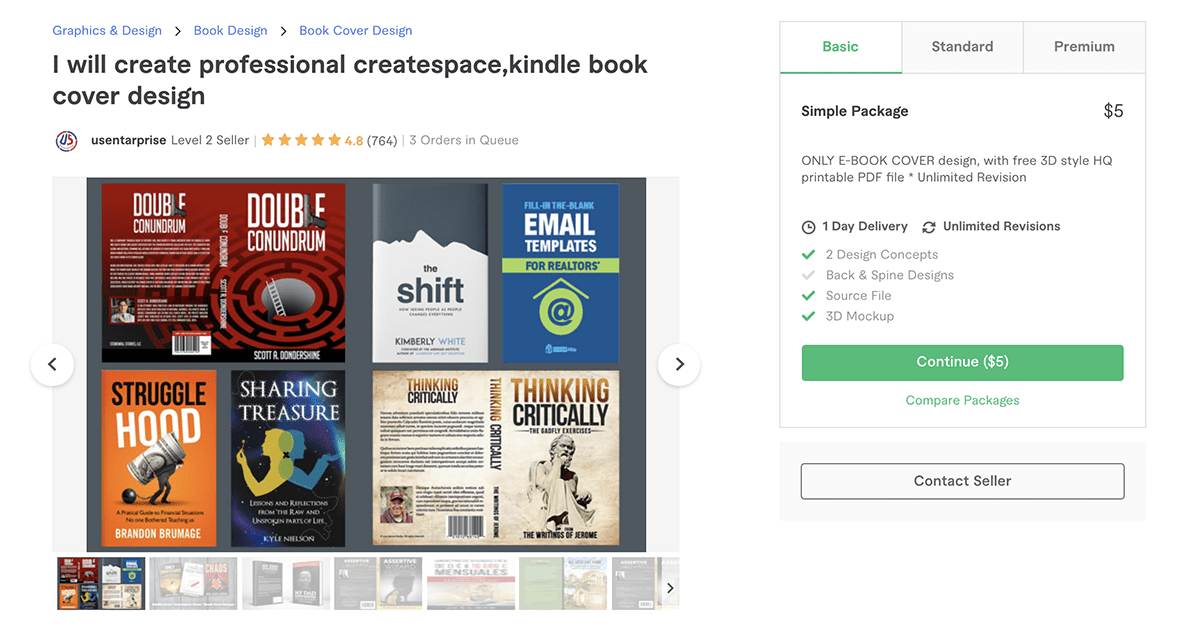 As a Level 2 Seller, USEntarprise has proven experience, earning a minimum 4.7-star rating on more than 50 orders. They also have more than 750 reviews from a long list of happy customers. While their basic $5 package is limited to a 3D mockup of an e-book cover, you can get a complete book cover with back and spine designs for only $40.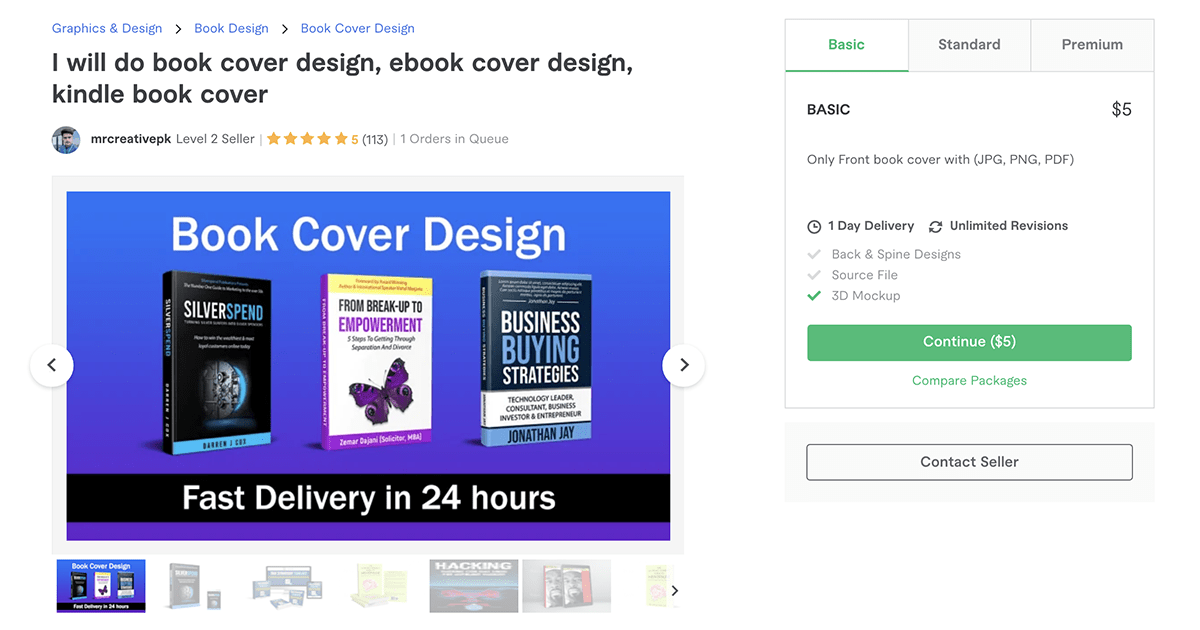 This Level 2 Seller's starting price is just $5, making them one of the most affordable designers you'll find anywhere. Like the other $5 freelancers on this list, MrCreativePK'sbasic package only includes a 3D mockup of the front cover. For $20, however, you can get a full cover design in just two days, which is a great deal.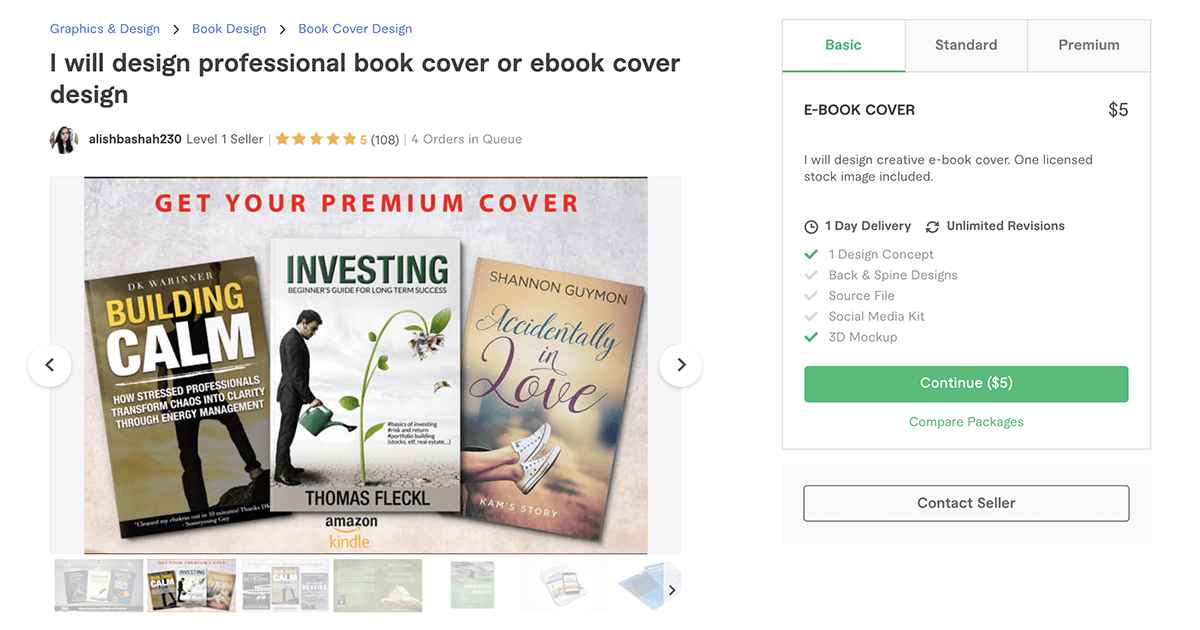 A five-star seller, Alishbashah230 has more than 100 excellent customer reviews. She's designed book covers for everything from poetry collections to self-help books, and her packages all include fast one-day delivery. While her packages start at $5, you can get a cover design and social media kit for $30.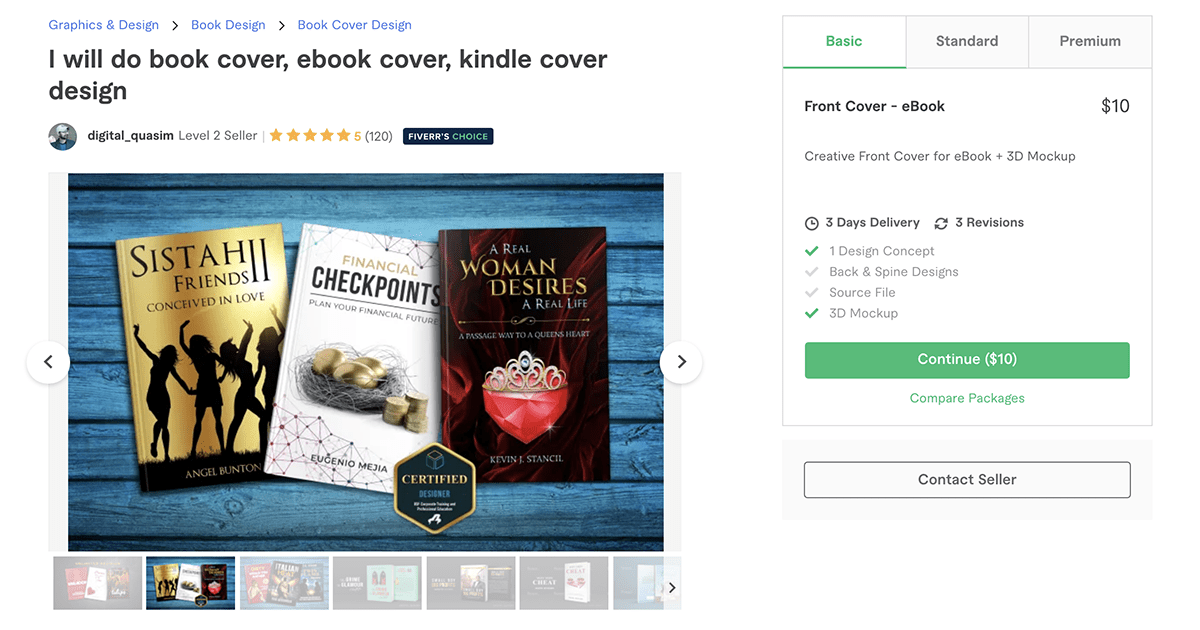 With more than a decade of design and marketing experience, Digital_Quasim has produced book covers for hundreds of authors. This designer also has a five-star rating, Level 2 Seller status, and an extensive portfolio. His packages start at $10, and the prices are incredibly affordable whether you want a basic 3D mockup or a premium book cover ($40).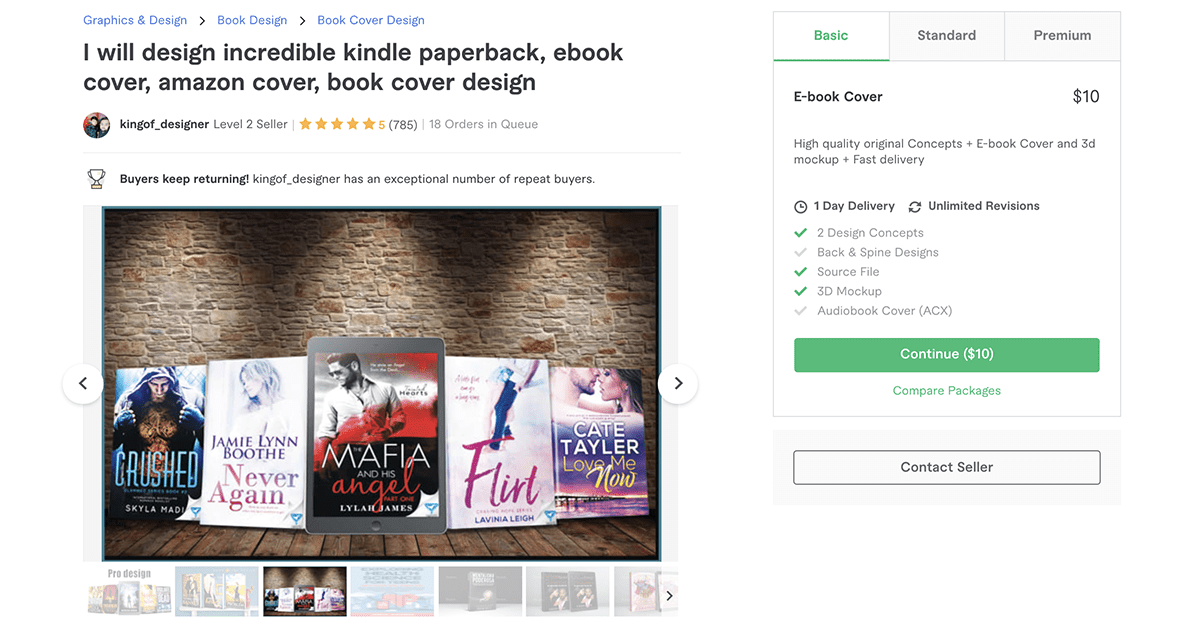 With more than 800 reviews and a five-star rating, it's no wonder Kingof_Designer attracts repeat buyers. To sweeten the deal, this freelancer also offers one-day delivery and unlimited revisions with every package. If you're looking for an audiobook cover to accompany your e-book, Kingof_Designer offers one of the least expensive packages.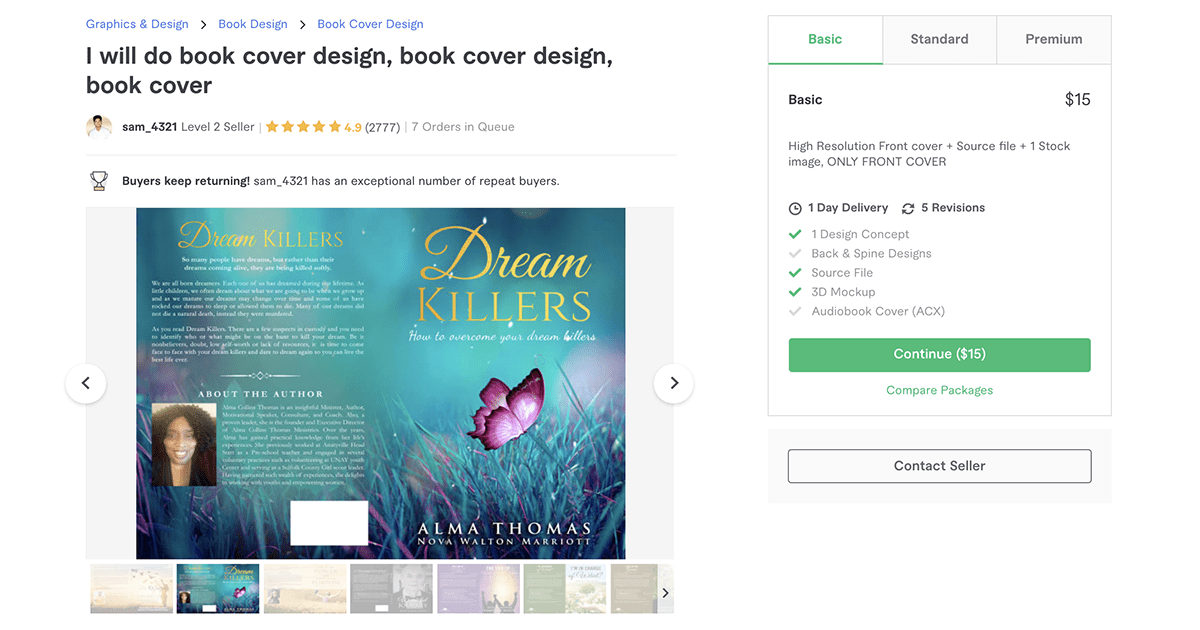 Sam_4321 easily stands out from the competition, thanks to more than 2,700 (!) customer reviews and a nearly perfect rating. Some reviews mention rehiring the designer as many as ten times, so it's clear that he delivers an excellent service. While his basic 3D mockup package starts at $15, the premium package has VIP support and e-book and audiobook cover design for $45.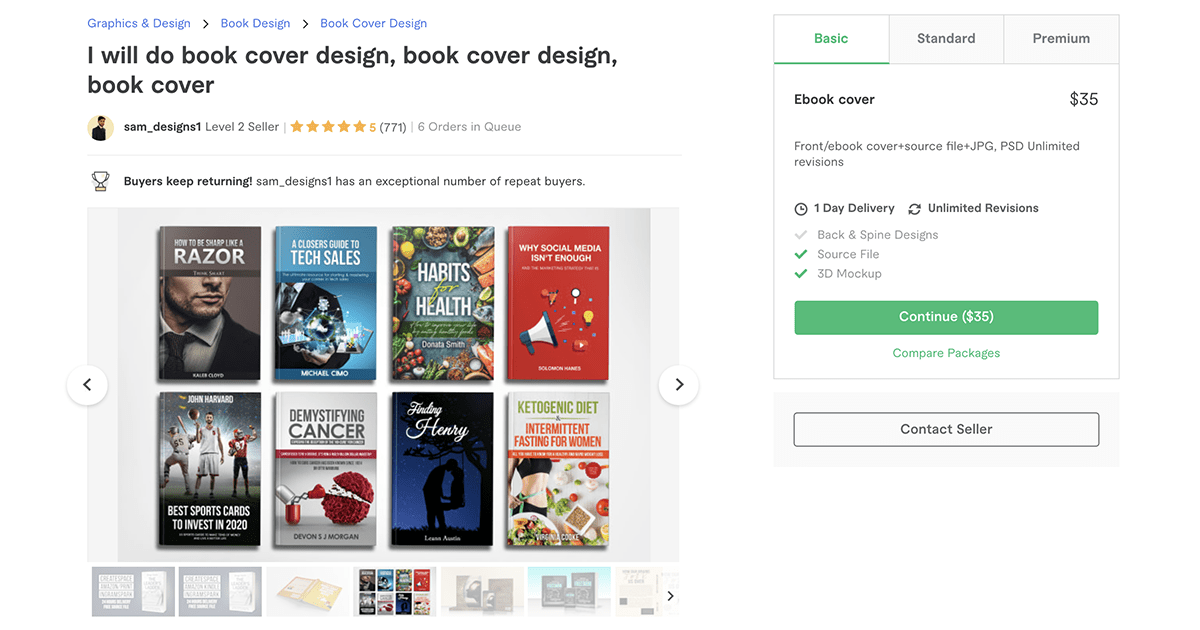 A Level 2 Seller with a five-star rating and more than 750 reviews, Sam_Designs1 is one of the most popular book cover designers on Fiverr. Pricing for this freelancer's basic package starts at $35, so you can expect a bit more from your order, including an artistic book cover and quick response times. Like most designers on this list, Sam_Designs1 also has a premium package ($65) with a full cover design.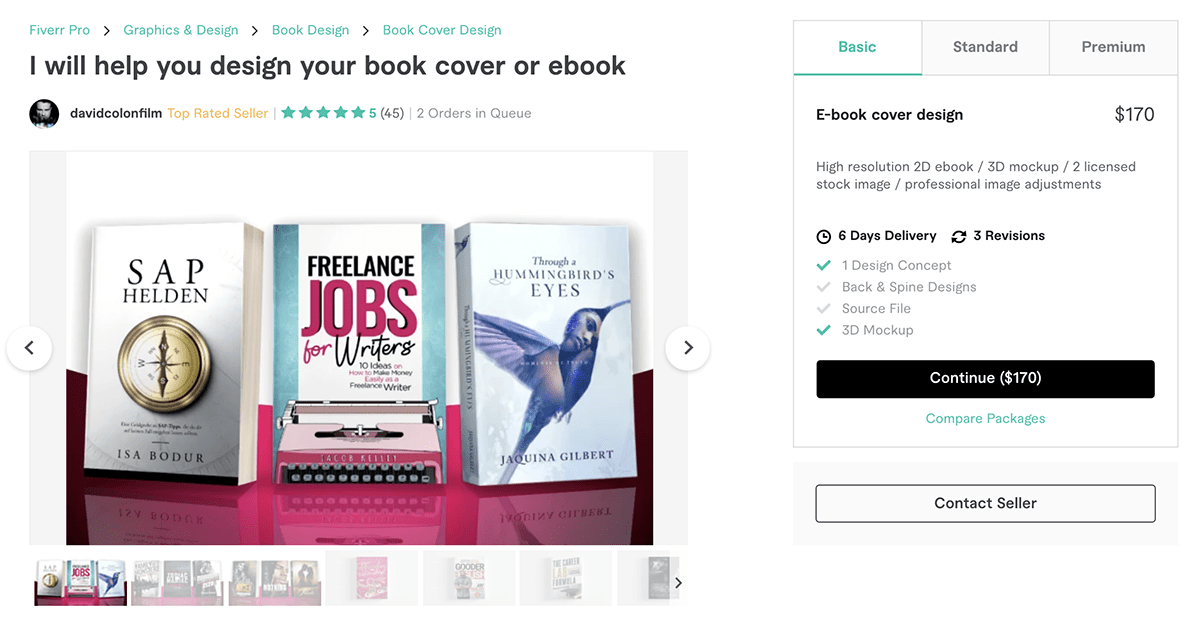 A Top Rated Seller, DavidColonFilm has earned Fiverr's highest status by delivering at least 100 orders and maintaining a minimum 4.7-star rating. As a professional graphic designer with more than seven years of experience, this creator produces high-quality book covers that combine his love for movies and reading. His packages start at $170 for a basic 3D mockup and go up to $420 for a complete cover design.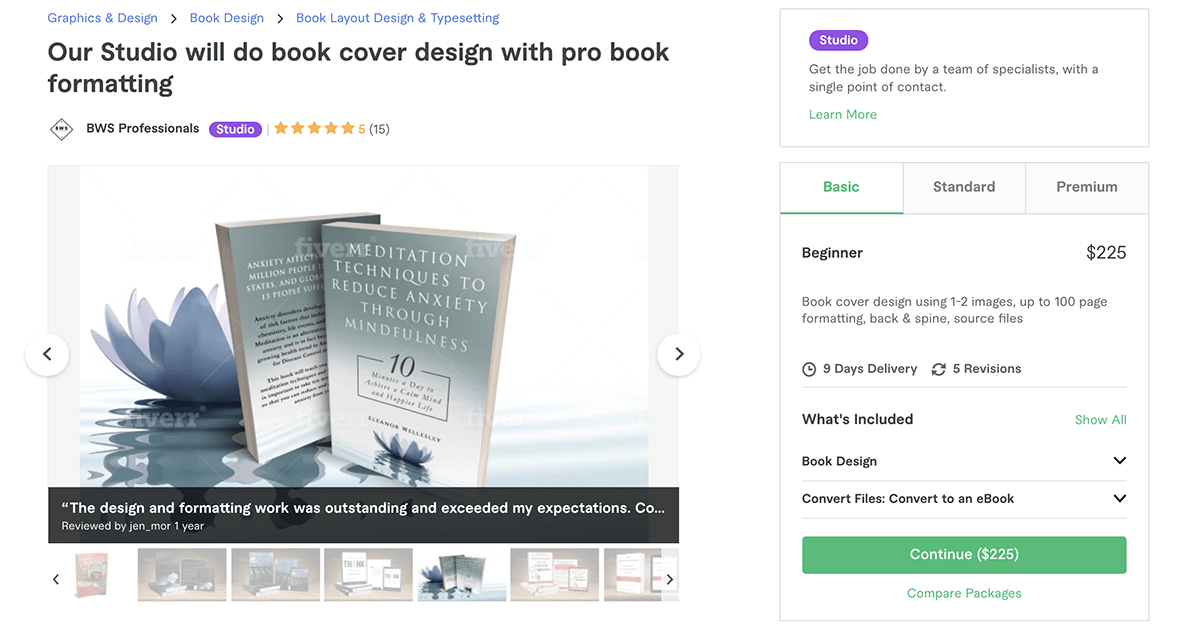 If you'd prefer to have a team of specialists tackle your book cover design, BWS Professionals is a smart pick. This studio's packages include book cover design as well as page formatting, making the base price of $225 seem like a steal. If your budget can accommodate the $435 premium package, you can get almost everything you need to produce your book – including a full cover, chapter art, and formatting for up to 250 pages.
How to Hire a Freelance Book Cover Designer on Fiverr
Hiring book cover artists on Fiverr is super simple. It's interface is well laid out and navigating Fiverr is super straightforward, which it's one of
our top freelance websites
. Just follow these steps: 1.
Go to fiverr.com
 and type "book cover design" into the search bar.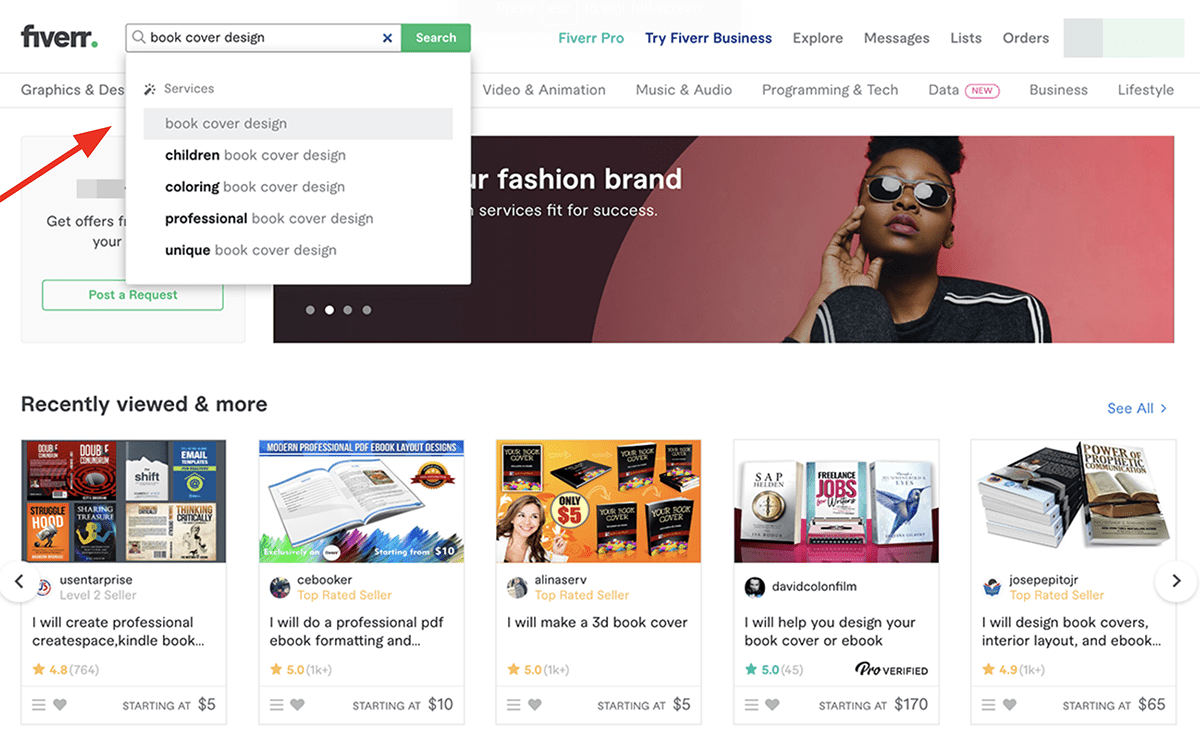 2. Scroll through the results until one of the designers catches your eye.
Use the filter options to set a budget or a delivery time if necessary. You can also filter by genre and style
. For example, you can view children's book or cookbook cover designers or filter by illustrative or photographic styles. Alternatively, you can view Pro sellers, who belong to Fiverr's premium, hand-vetted group of freelancers.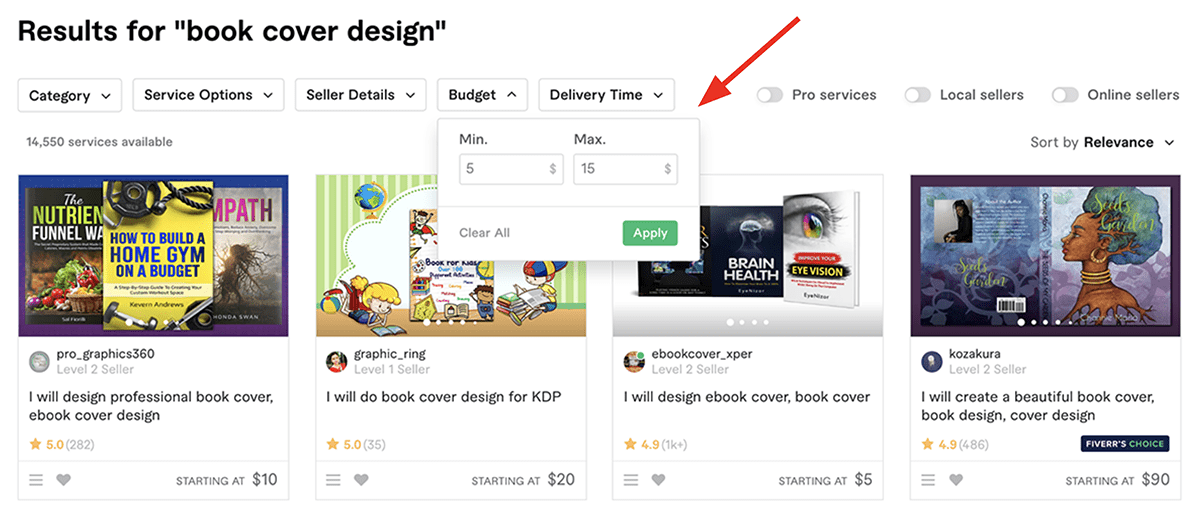 3. Select any gig to take a closer look at the designer's portfolio, see a list of deliverables, and check pricing for the different packages. Click the green
Compare Packages
 link to see how a freelancer's gigs differ in terms of deliverables and pricing so you can make the right choice.
You can also read through a freelancer's customer reviews or click on a seller's name to see skills and qualifications on their profile.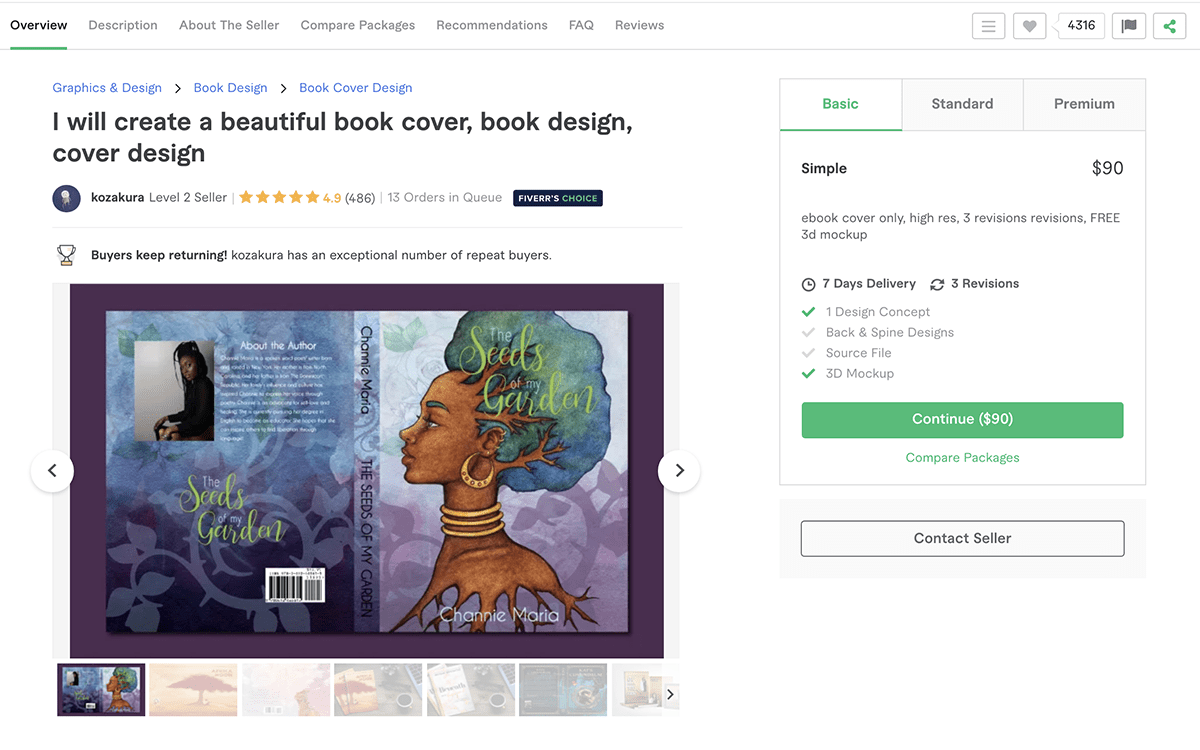 4. Get in touch with a freelancer by clicking the
Contact Seller
 button to ask questions about timing or add-ons. For book cover designers, common add-ons include fast delivery, additional revisions, and editable source files. Even if you're ready to get started,
 sellers usually prefer you to contact them before placing an order
. That way, you can discuss the project before you spend any money.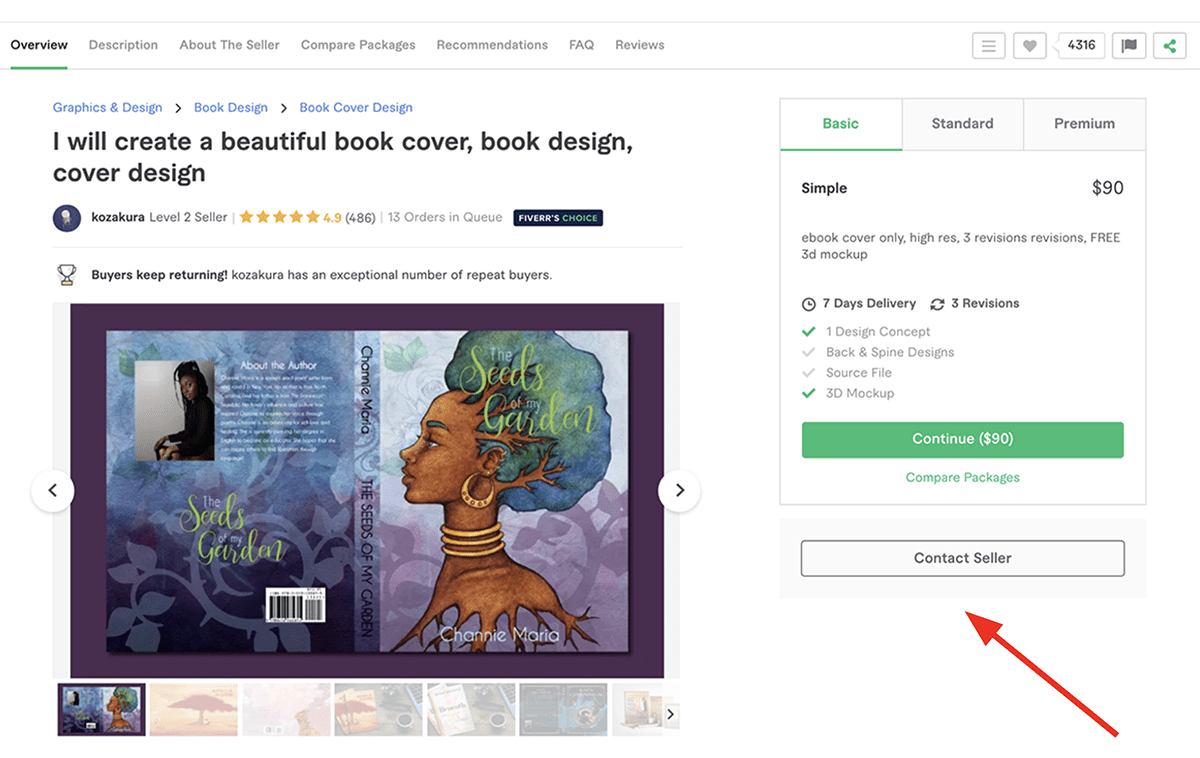 5. Click the
Continue
 button to place an order, make your payment, and submit your requirements. Before completing the order,
you can also purchase add-ons like faster delivery or extra deliverables.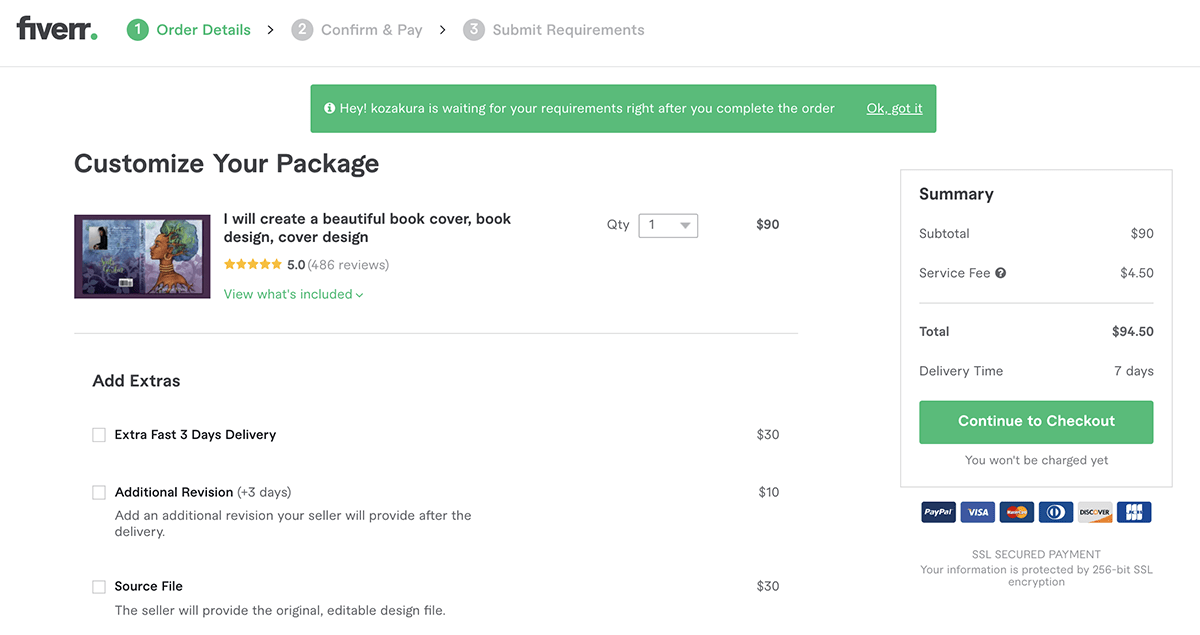 What to Look For in a Freelance Book Cover Designer
Hiring a freelance artist is simple enough. But with so many book cover designers to choose from, finding the right one can be challenging. To streamline your search, look for the following:
Eye-catching portfolio: You want your book to stand out on the shelf, so it's important to choose a creator with a portfolio that grabs your attention instantly. Be sure to scroll through several work samples so you get a good sense of their style.
Deliverables and add-ons you want: Skill and style are plusses, but it's just as important to ensure the creator you hire provides precisely what you need. Browse their packages to confirm the file type, project scope, and turnaround time reflect what you need for a price that fits your budget.
Ample experience: Many newer creators have tons of talent. But when the success of your book is on the line, it's best to focus on experienced book cover artists for hire. You can see work samples and a description of past work experience on any Fiverr freelancer's profile.
Exclusive Fiverr credentials: If you want to guarantee a freelancer has relevant experience, look for Top Sellers or Level 2 Sellers. You can also search for Fiverr's Choice freelancers or Verified Pro creators, who are typically the best book cover illustrators available.
Excellent customer reviews: Before you hire a designer, it's helpful to know whether their previous customers had a good experience. You can click on any Fiverr freelancer's profile to see their star rating and read customer reviews to make sure they're the right fit.
Are You a Book Cover Designer Looking to Sell Your Services on Fiverr?
If you'd like to sell your design services instead, it's surprisingly easy to get started. First,
join Fiverr by creating an account
 and setting up your profile.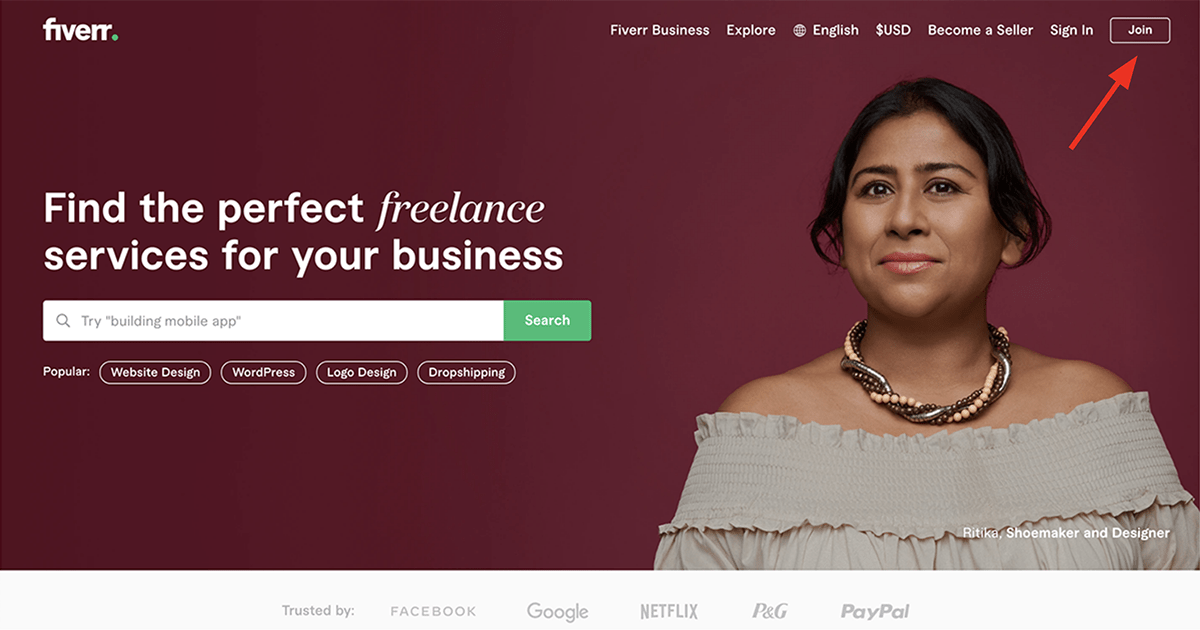 You'll need to select a username, add a profile picture, and write a short introduction. You can also add skills, education, and certifications to showcase your experience.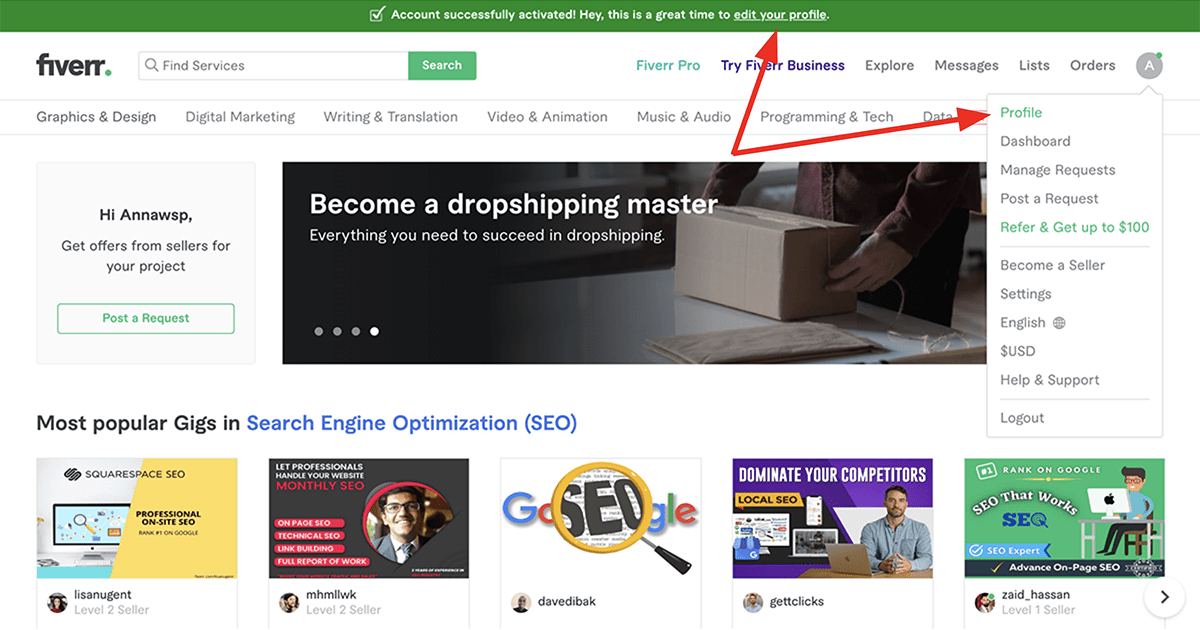 Next, create the offer – or gig – you want to sell. Decide on a title, choose a category, and add search tags. Then write a description and add some work samples or portfolio images to give buyers a sense of what you can do. Finally, state your price or break it up into two or three packages at different price points. To help you out and give you the best start to selling on Fiverr, we've ever so kindly written a guide on
 how to create a successful gig on Fiverr
. I'd highly recommend giving it a read before you start selling so you're in the best position possible to accept your first orders!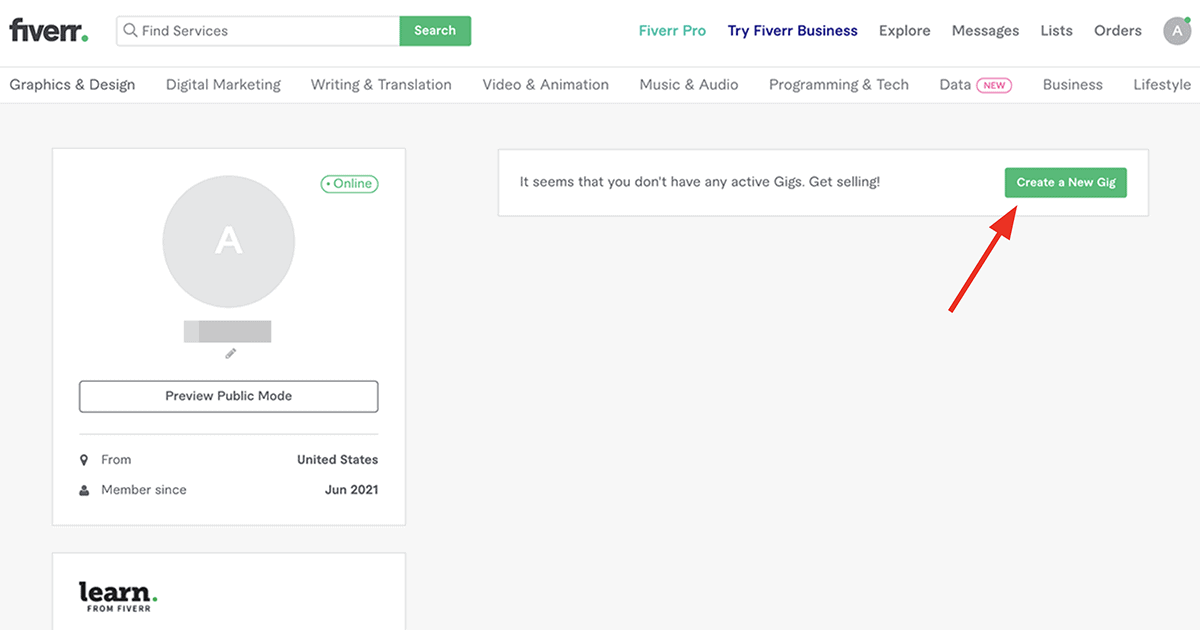 Once you publish your gig, buyers can find and purchase it or message you with questions. You'll receive a notification any time you get a new order or message. When you receive an order, Fiverr collects the requirements and processes the payment so you can focus on delivering the final product – if you want more details, we've laid it all out in
our Fiverr review
.
Here's a pro tip to help you get started as a seller: use your Fiverr account to purchase an inexpensive gig first
. That way, you can experience the entire process of searching for a freelancer, submitting your requirements, and messaging a designer. You'll get a better idea of how to make your profile stand out and create a good experience. Besides, you can hire a creator and test the process for just $5.
Get a Great Book Cover Design for any Budget
If you've authored a thrilling novel, a how-to guide, a children's book, or anything in between, a well-designed cover can be the decisive factor between achieving only a few sales and becoming a bestseller. If you lean more towards writing and less towards design, investing in the services of a freelancer is a prudent choice. When you use Fiverr to find a designer, you can strike the ideal balance between style, experience, and price. Since the Fiverr marketplace has over 14,000 book cover design gigs priced as low as $5, you're sure to find exactly what you need. And once you've got your book cover sorted, you might want to take a look at the other services Fiverr has on offer. It's one of the things I love most about Fiverr – the range of freelancers is astounding. For example:
FAQ
Why should I hire a book cover designer?
You might be an amazing writer, but producing a book cover can be time-consuming and ineffective if you aren't a designer.  After all, you'd have to buy software, learn design principles and research examples. In contrast, the best book cover designers, like the ones I've chosen above already have what it takes to create a successful design.
How do I find a professional book cover designer?
Fiverr is one of our top freelance websites for hiring professional creators for a reason, and it scored an impressive 4.9 out of 5 in our Fiverr review. Search the marketplace for the top book cover designers, choose the one with the style, deliverables, and price that best matches your needs, and complete the hiring process in just a few clicks.
How much does it cost to hire a book cover designer?
When you use Fiverr to hire cover artists for books, you can spend as little as $5. If you want faster delivery or a designer with specialized skills, you may have to pay a little more but when the prices start this low, it's still an affordable option. On Fiverr, design studios and Verified Pros often charge over $100, which, if you ask me, is still great value for money.
How do you become a book cover designer?
You can set yourself up as a seller on Fiverr in just a few minutes. All you have to do is create a Fiverr account, upload some examples of your work, and describe your offer. Depending on your skills and experience, you can charge anywhere from $5 to hundreds of dollars for your work.