Finding an artist to design your Dungeons & Dragons character should be like rolling a natural 20 – a successful attack with awesome results.
 Yet choosing the best illustrator for the job can be tougher than you might think. There are countless artists to choose from, and it isn't always easy to tell which is worth all your gold pieces. With Fiverr, you can browse artists' portfolios, read reviews, and compare prices,
some starting from as little as $5
. But even with all these data points, it can still be difficult to tell which creator offers the most value. I was curious whether I could expect great work from a cheaper artist or if this campaign would require spending more.
So I hired three DnD character designers at various price points to find out for myself.
Find out which artist delivered the best value – and
hire any of the top 10 creators I recommend below
.
Hiring 3 Dungeons and Dragons Character Designers
The Fiverr marketplace features D&D design gigs that span a wide price spectrum. You can spend as little as $5 or over $100, depending on the style and content you want.
I found that cheaper DnD gigs usually include a single character bust, while more expensive gigs often feature entire Dungeons & Dragons parties.
Of course I wanted to test out a little of everything, so
I chose an inexpensive ($15), midrange ($45), and expensive ($70) creator. I asked all three to design the same character
– a friendly satyr paladin. As you'll see, I also asked the priciest freelancer to add a second character – a wood elf monk – to the party.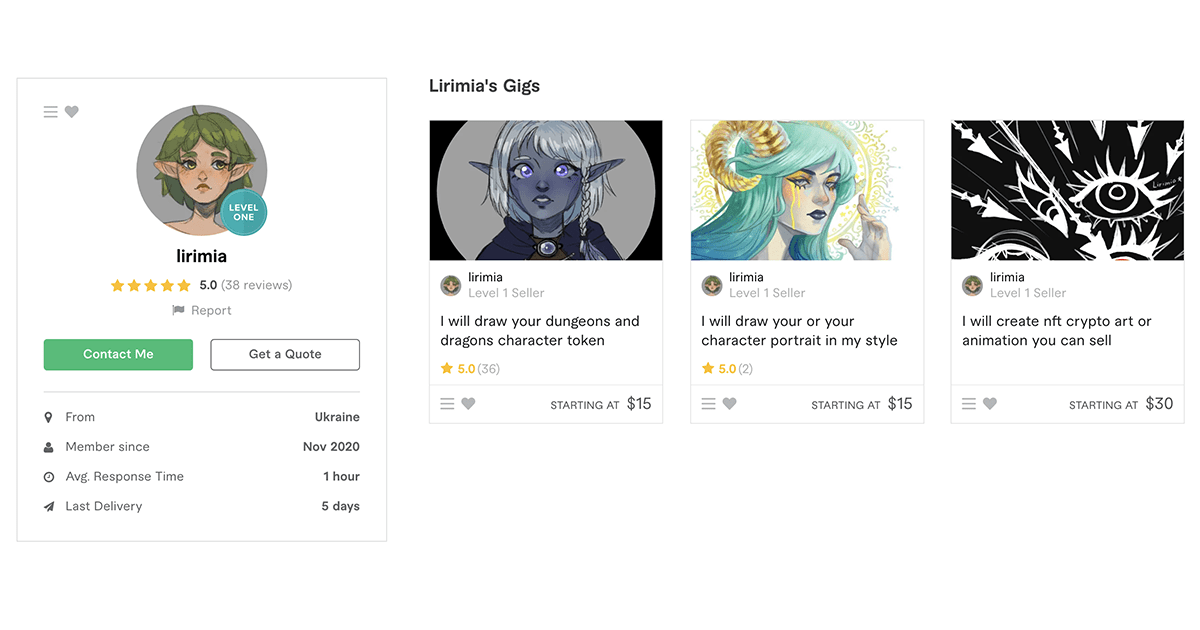 When searching for freelancers to hire, I usually look for those who have Fiverr credentials, such as Level One Seller status. I was glad to see that Lirimia had this status because it indicates that
they've delivered consistently good work over the past 60 days
. I also liked Lirimia's cute illustration style, which looked like a great fit for this project.
I booked their basic package ($15)
, which included a DnD character bust from the shoulders up. The package also came with permission for commercial use and a source file in case I wanted to make changes which is particularly generous with such a cheap gig. The turnaround time was just three days, which also seemed really fast given the price.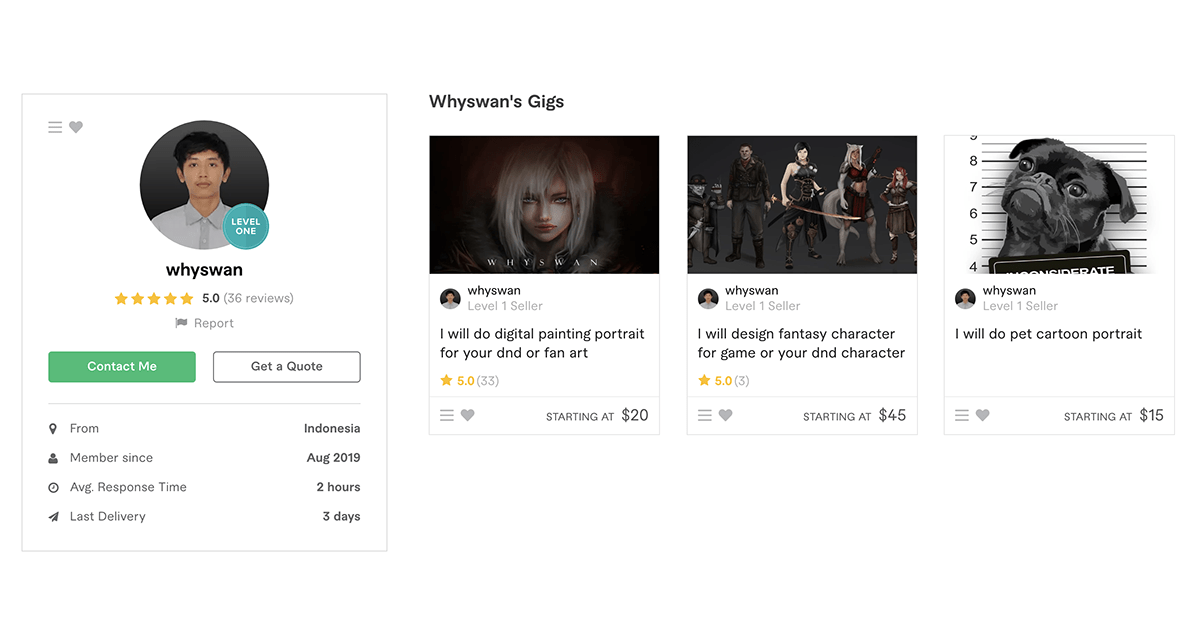 Another Level One Seller, Whyswan caught my eye with his five-star rating and great reviews. Unlike most of the other DnD character designers on Fiverr, Whyswan offered a realistic style with tons of detail.
I purchased Whyswan's basic gig for $45
. In some ways, it offered more than the cheaper gig, as it came with a full-body figure rather than just a bust. Yet in other ways, this gig offered less. For example, it didn't include color or a source file, and the turnaround time was five days rather than three, so I was interested to see what I'd get for the extra investment.
Choosing an artist for the most expensive slot was easy, as Piccyonee's fun, cartoonish style grabbed my attention right away. Like the other freelancers I selected, piccyonee was also a Level One Seller and had a five-star rating with lots of rave reviews.
I bought Piccyonee's basic package for $70
. It included an entire DnD party – two or three characters – and had a five-day turnaround. Like the cheapest gig, this one also came with a source file and permission for commercial use.
While the other gigs included two revisions, this one only came with one – but as I quickly learned, I would have plenty of opportunities to provide input.
My Experience Working With These Fiverr Freelancers
Getting started with these freelancers couldn't have been easier. Each one allowed me to book instantly rather than messaging back and forth about the project first.
They all had pretty simple requirements and were easy to communicate with
, too. Here what happened after I purchased each gig:
The $15 Freelancer: Right away, Lirimia asked for a detailed description of my character and whether I would prefer a semi-realistic or a cartoonish style (I chose the latter). Although I didn't have any reference images at first, I ended up searching for one when they asked for a visual reference.
The $45 Freelancer: I provided the same description to Whyswan, and he confirmed that he'd be drawing my character in black and white rather than in color. I already knew what to expect, but appreciated that he made this clear up front. With so many gigs to consider, it's easy to miss some of the details.
The $70 Freelancer: I sent descriptions of both characters in my DnD party to Piccyonee, and he had a lot of questions right away. For example, he requested reference images for the weapons and armor to make sure he could draw exactly what I was envisioning.
Comparing the Final Results
Like just about every Fiverr freelancer I've worked with, these artists delivered their projects well in advance of the deadline and communicated with me regularly as they worked
– one of the many reasons
Fiverr gets so many great reviews
.
Although I would rehire any of these three artists again, one of the D&D character designs easily stood out as my favorite.
The $15 DnD Character Design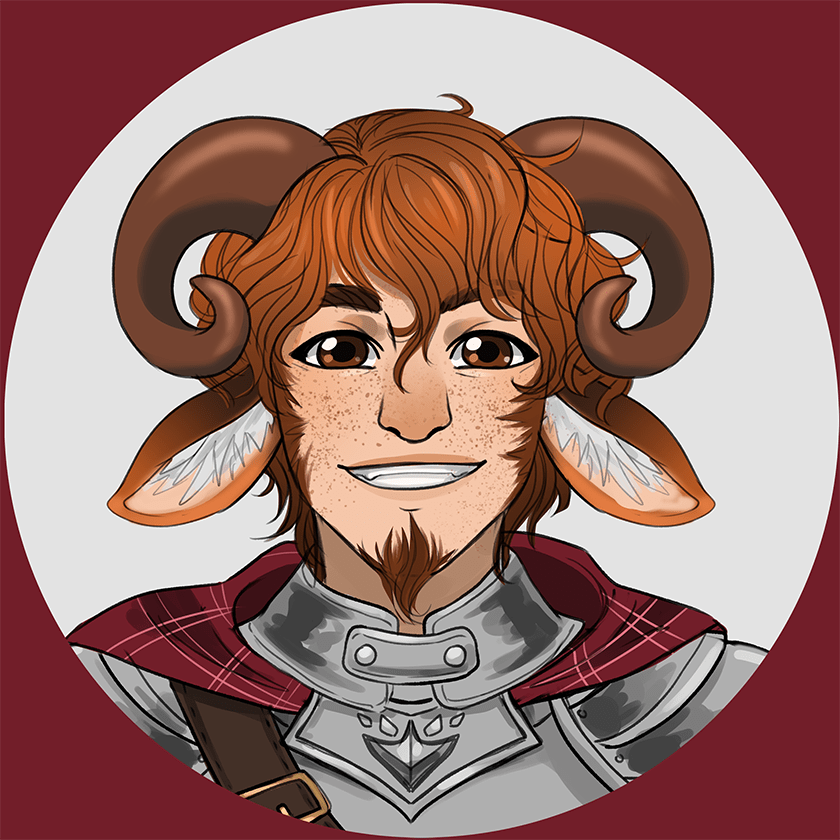 About two days after I placed my order, Lirimia messaged me with a couple of nearly final versions of my DnD character. They asked if I wanted to make any edits and how I'd like the background to look. I appreciated that they reached out because it gave me a chance to ask for small changes without wasting one of my revisions. The character looked just like I'd described, so no edits were necessary. However, I did ask for a vignette that matched the character's clothing. A few hours later, Lirimia delivered the final project.
In addition to the source file, I received a total of four versions of the character, all with subtly different background color schemes.
 Receiving the extra versions was a nice surprise and really ensured that I wouldn't need to ask for any revisions. What else could I need? In the end, Lirimia completed the project about 18 hours ahead of schedule which was an excellent bonus.
 It took just over two days total, making this project inexpensive and efficient – I'd happily re-hire them.
The $45 DnD Character Design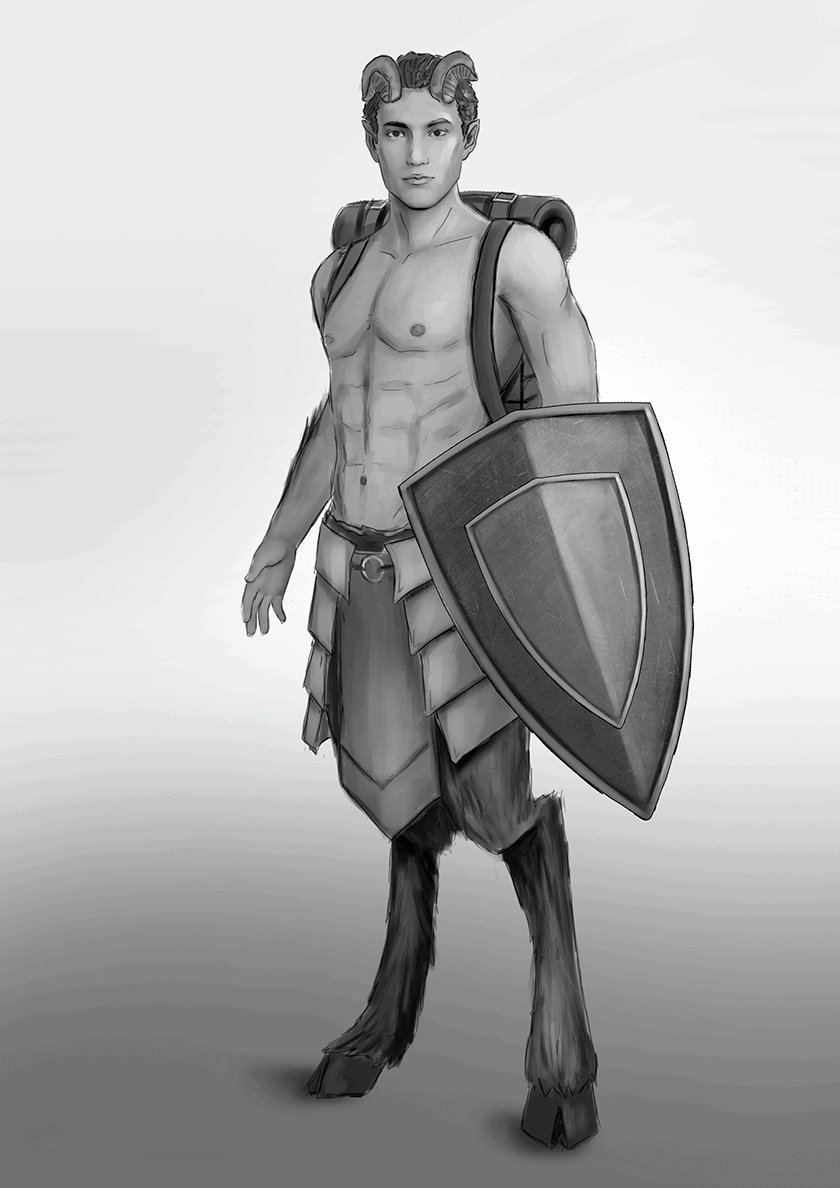 A couple of days after I booked Whyswan's gig, he sent me two hand-drawn sketches of the character. The basic idea was the same, but the poses showed the character from different perspectives – I appreciated the level of detail and the flexibility he gave me by doing so. Right on time, Whyswan delivered the final version of the pose I preferred.
After seeing the sketch, I was fascinated to see just how much detail he added to the complete drawing. This illustration took a lot of skill and really brought my character to life.
The downside? This package didn't include color, and I'd have to pay nearly twice the price ($85) to purchase Whyswan's cheapest full-color character design package – something to bear in mind if you want a full-color design from Whyswan. Altogether, this project took just under five days to complete, but it's worth noting that the project timeline spanned a weekend. If I'd checked my Fiverr messages then, I think the drawing would have been done much faster. Note to self: don't leave Fiverr freelancers waiting for a response!
The $70 DnD Character Design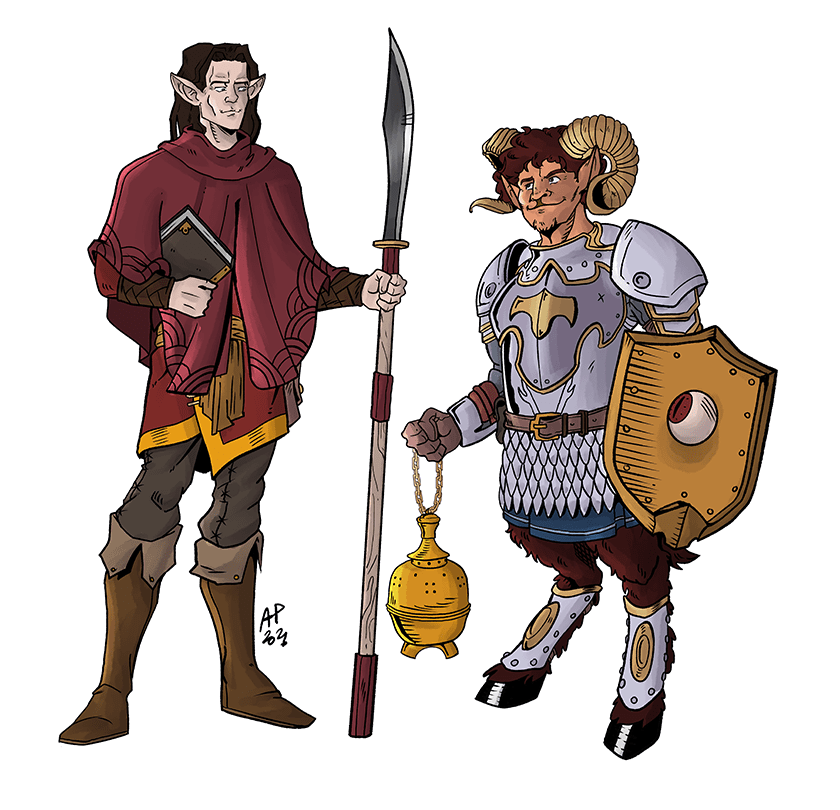 Just a day after purchasing the most expensive gig, I received a preliminary sketch.
Piccyonee had taken all of my notes and references images to heart – and as a result, the drawing was nearly perfect.
 I only requested one small change to see how Piccyonee handled it: I wanted the satyr's horns to be more obvious. After that, Piccyonee sent three additional drawings, showing his progress as he made my edit and completed the line art. Each time, I had an opportunity to ask for changes – but there was no need. I am delighted with the final drawing, presented in full color, as it precisely captures everything I was seeking. Not only does it showcase all the physical and costume details of the characters, but it also brings out their personalities. The interaction between them adds a wonderful sense of dynamism to the scene, which I particularly appreciate. Even though the deadline for this project was five days, Piccyonee finished the final version in about two and a half days.
That makes this character design both the most detailed and the fastest – a definite win in my book!
When you hire a Fiverr freelancer, it's easy to get the deliverable you want even on a small budget.
 As you can see,
Lirimia produced excellent work in just a few days for only $15
.
However, if you want DnD artwork that goes above and beyond the standard gig, and need more characters, then it's definitely a good idea to spend more.
Spending more will often get you more inclusions or faster delivery. It was worth spending almost five times as much on hiring Piccyonee to draw my entire DnD party.
Hiring a Freelancer for D&D Character Design on Fiverr
If you want original art featuring your D&D character or party, hiring a Fiverr freelancer is a great idea. I find it a very easy platform to navigate, as did my colleague in
our Fiverr review
, it's also easy to communicate with freelancers and the variety and volume of sellers is astounding. Here's why:
Prices for any budget: Whether you plan to spend a little or a lot, you can find the right gig for your budget on Fiverr. Most DnD character design gigs are between $5 and $100, so there are plenty of options for every price range.
Customer reviews: On Fiverr, customers publicly review freelancers, allowing you to learn firsthand about the experience of working with them before hiring. You can also verify whether a freelancer can meet your specific expectations, such as being responsive to messages or providing creative direction.
Personalized gigs: Although nearly all Fiverr freelancers have jobs with pre-set outcomes, many give you the opportunity to add optional extras to your order. Some even provide an option to buy fully customized jobs to cater to various requirements.
The 10 Best DnD Character Designers in 2023
I spent a ton of time searching for the best Dungeons & Dragons character designers and found countless skilled artists.
My number one choice is
piccyonee
 because of his skilled work, unique style, and attention to detail. I'd also recommend taking a look at the rest of the top 10 D&D artists I found:
FAQ
Can I hire a cheap DnD character designer on Fiverr?
You can definitely hire inexpensive D&D artists on Fiverr. Some DnD gigs start as low as $5, so you can commission a portrait of your character for just a few dollars. If you can afford to spend a little more, you'll also find dozens of gigs for $10 or $15.
Do more expensive Fiverr sellers produce better quality work?
In some cases, buying a more expensive gig does mean you get higher quality work. But that isn't always the case. The cheapest D&D character designer I hired did a great job, and my colleague loved the results of the $5 gig in our Fiverr logo design review.
When do you pay for a Fiverr gig?
Fiverr charges you as soon as you confirm your gig purchase. The platform doesn't pay sellers right away, though. After the freelancer delivers your project, Fiverr holds the funds for up to 14 days, which provides recourse in case the gig doesn't go as expected.
Is Fiverr easy to use?
Fiverr is easy to navigate, as we found when we tested it out in our Fiverr review, even if you're new to this type of online marketplace. You can start by typing what you want into the search bar or browsing popular gigs or unusual categories in the dropdown menus. When a gig catches your eye, you can message the seller directly or hire them right away. The Fiverr dashboard automatically prompts you to provide all the essential requirements and makes it easy to stay in contact with the seller throughout the project.
Which is better – Fiverr or Upwork?
Although they're two of the most popular freelancer marketplaces, Fiverr is better than Upwork (don't just take my word for it, we tried, tested and compared them in this review). Fiverr's visual interface makes it much easier to check out work samples and find creators you like. In addition, Fiverr is great for one-time gigs. If you want to hire a freelancer for a single project rather than an ongoing gig, Fiverr is your best bet.