The Fiverr marketplace makes it easy to browse sellers by service, price, and reviews.
Some tattoo designers even offer
packages for as little as $5
. But after browsing the marketplace, I had a couple of questions. Do you have to pay more to hire a better designer? Or can you find experienced artists with budget-friendly pricing?
I decided the best way to find out was to hire some freelancers for a test project.
 I found three tattoo designers at low, medium, and high price points and asked them to complete the same project. Find out which creator offered the best value and check out my full list of the top 10 tattoo designers that I found.
Hiring 3 Tattoo Designers to Test
Surprisingly, there are over 2,000 tattoo design gigs on Fiverr, with options ranging from basic lettering to complex scenes with several figures. Many artists offer gigs with multiple tiers to allow for a range of complexity in the design. The cheapest package often offers basic linework, while the more expensive options typically include shading, color, or complete tattoo sleeves.
To compare the value of the various packages, I hired three creators at very different price points: $20, $50, and $120
.
 I asked all three to create the same thing: an orchid flower design for a shoulder blade tattoo.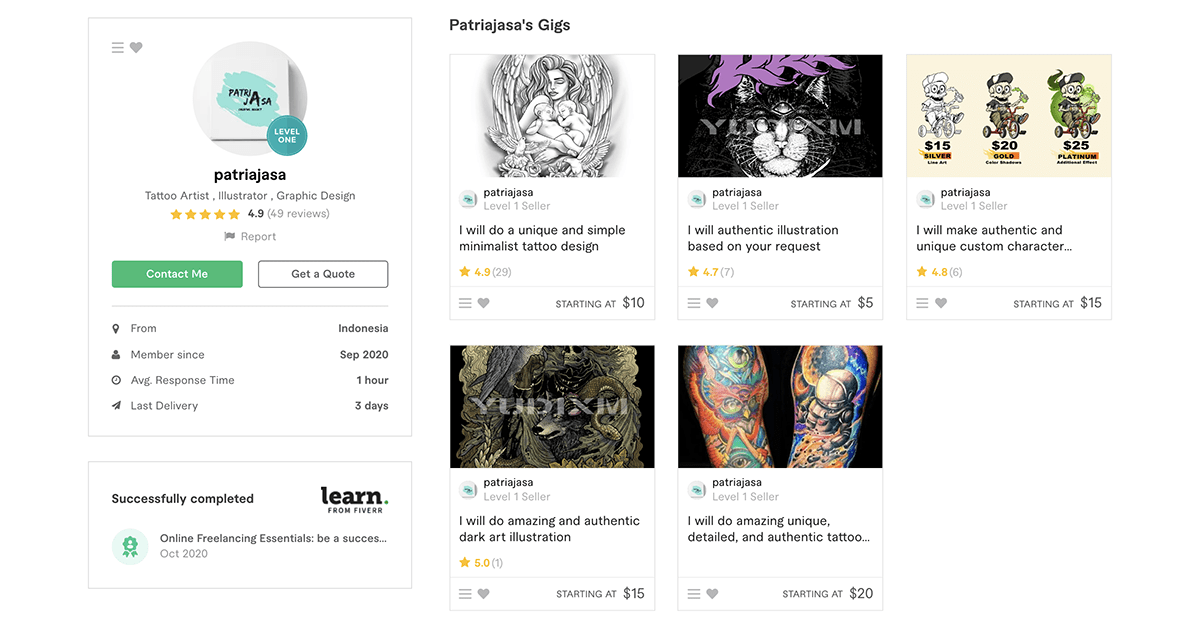 I chose patriajasa due to their affordable pricing, 4.9-star rating, and Level One Seller status.
 Although Level One Seller isn't Fiverr's top-tier credential, it indicates that the freelancer has produced solid work over time. Their profile indicated that, between them, the pair of brothers (Patria Jasa and Yudi) had 10 years of graphic design and illustration experience, and their work samples included a number of floral designs.
I booked Patria Jasa and Yudi's
minimalist tattoo design package for $10
. It included one design with shading on one or two elements, measuring up to 5 square inches. This package also featured up to three revisions in case I wanted to request changes. I opted to pay an extra $10 to reduce the turnaround time from seven days to one day, for a total of $20.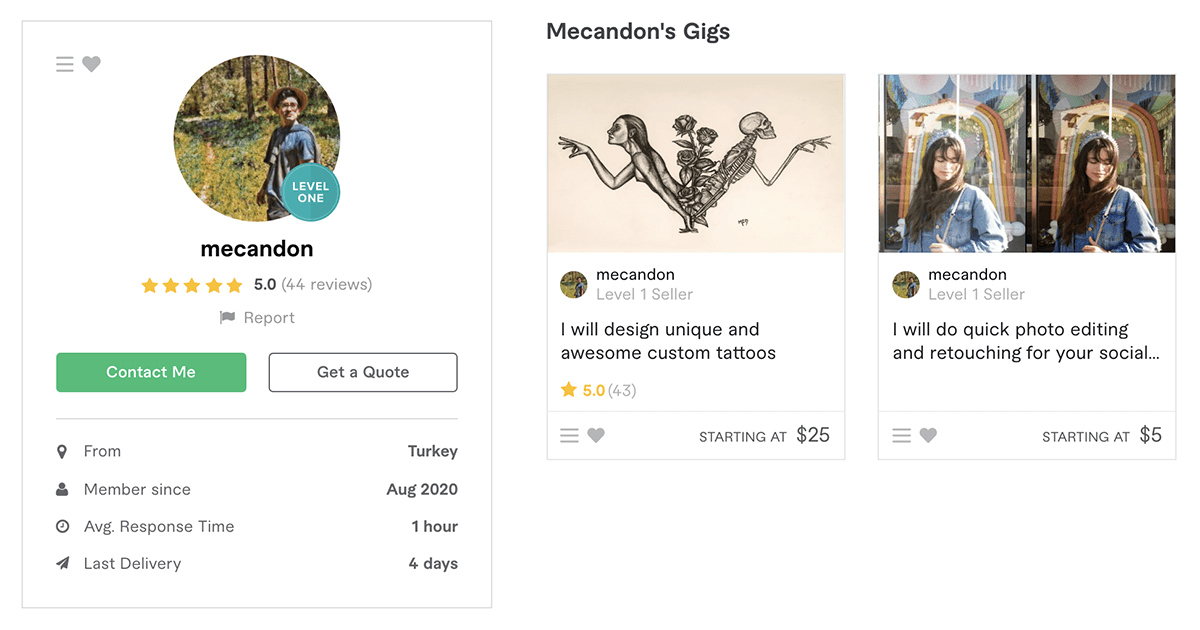 Another Level One Seller, mecandon, or Can as he's known, had a five-star rating and more than 40 excellent reviews.
Compared to the $10 creator, mecandon's work samples appeared more detailed, so I was eager to see how he would approach my project.
I purchased the
standard $50 package
, which included a black and white design with shading and detail. It came with one revision and a five-day turnaround. Can offered to add color for an additional fee ($15), but I chose to stick with the cheaper black and white option. Still, I appreciated his upselling attempts.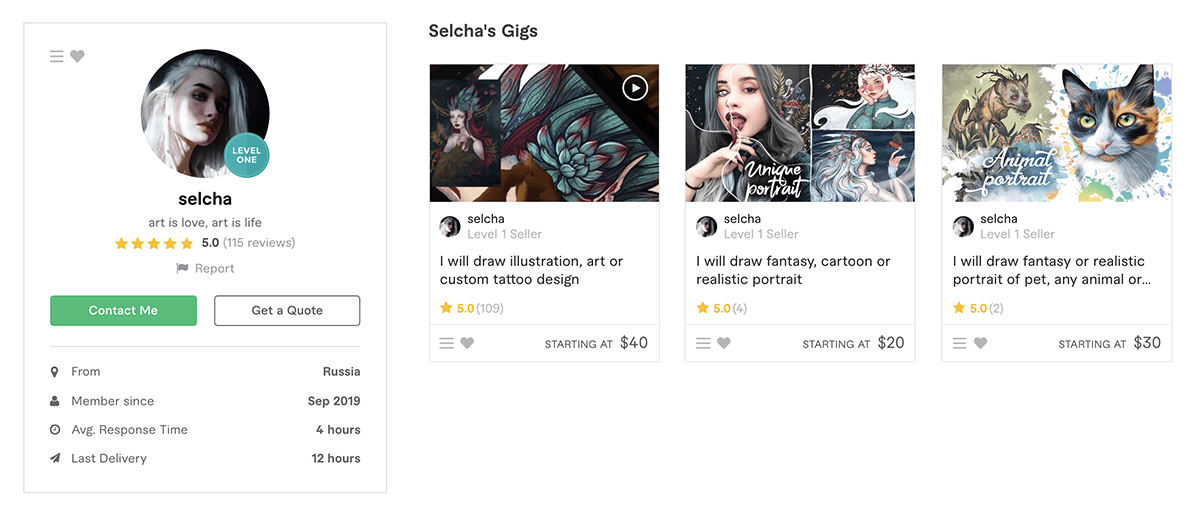 At the time of writing, selcha caught my eye due to her Fiverr's Choice label.
 This label appears on gigs that have a history of great quality and happy customers, so I hoped purchasing it would be a smart choice.
I ordered selcha's
premium gig
, which included a detailed design with color and realistic shading. It came with two revisions and a seven-day turnaround – not the quickest so I was interested to see whether the hefty price tag would deliver a different result to the other two sellers.
My Experience Working With These Fiverr Freelancers
Before purchasing any of the gigs, I messaged the sellers to talk about the project. I told each one that I wanted an orchid tattoo design and sent two reference photos of flowers. Here's how the communication process went:
The $20 artist – Patriajasa: Within a minute, Patriajasa had responded asking where the tattoo would go and if I could provide a more detailed brief. After I explained that I wasn't very artistic and I was open to their design ideas, they encouraged me to book the gig. I really appreciated their efficiency, as I was able to discuss and purchase the gig within about five minutes.
The $50 freelancer – Mecandon: Within five minutes of my message, Mecandon had responded too, asking about the location for the tattoo. They also confirmed that I didn't need a color design – which cost $15 extra – and invited me to book.
The $120 designer – Selcha: Within about 15 minutes, Selcha wrote back asking me what style and colors I wanted as well as where I planned to place the tattoo. I asked for a style similar to a floral tattoo design in their Fiverr portfolio and requested purple and white orchids. She also asked if I wanted additional details. I clarified that stems and leaves would be nice, but I didn't want the design to include other flowers or extra details.
Comparing the Final Results
All three freelance artists created beautiful designs and were easy to work and communicate with. Although one designer stood out as a personal favorite, I'd happily hire any of them again.
The $20 Tattoo Design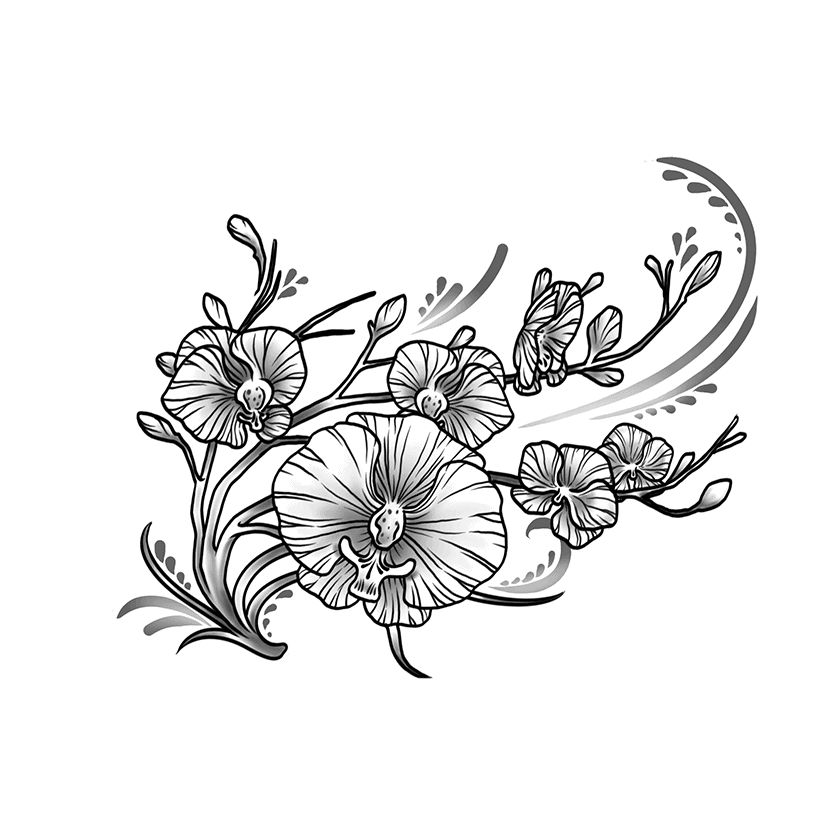 I'd paid extra to speed up this project, so I already anticipated a quick turnaround.
Yet patriajasa worked even faster than I expected, delivering the tattoo design in about 16 hours.
Because I'd purchased a minimal design package, I really just expected a basic line drawing. However, the design includes much more detail and shading than I thought it would. I also appreciated that this designer sent me a mockup of the tattoo on a model's shoulder blade, which helped me visualize exactly how it would look. That showed me that they'd taken extra care and thought to make sure the tattoo would work on the body and not just as a standalone sketch.
Overall, patriajasa went above and beyond, providing much more value than what I would anticipate from an inexpensive gig.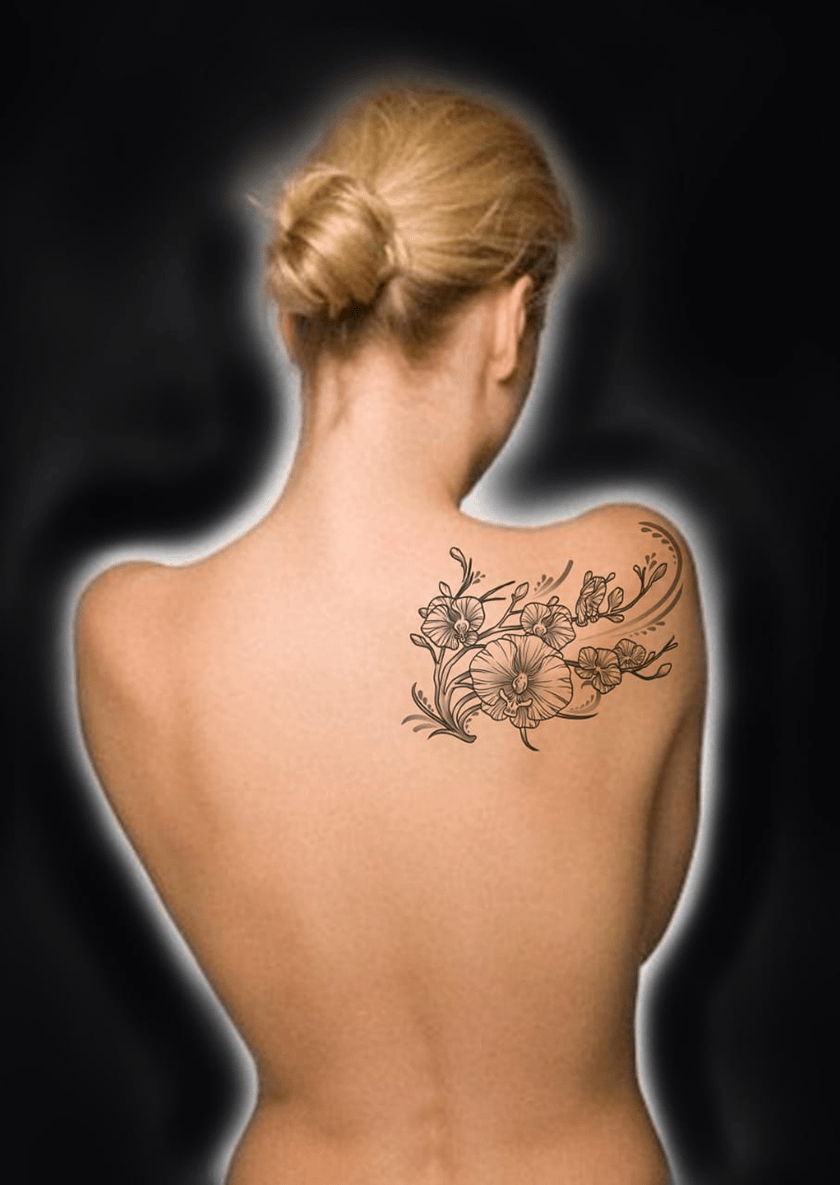 The $50 Tattoo Design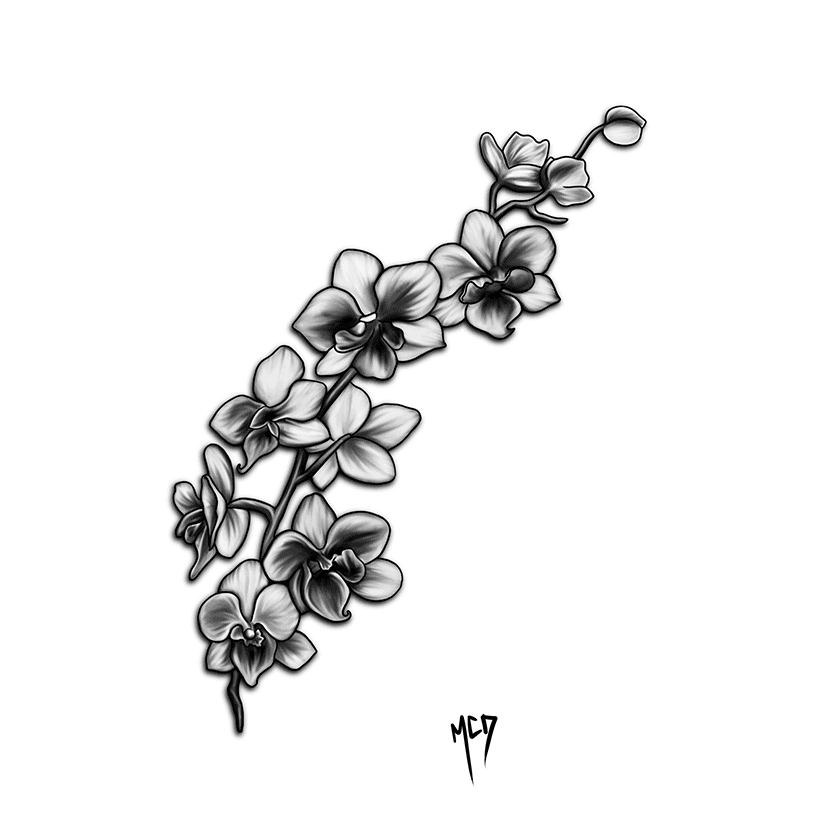 Mecandon also delivered my design way ahead of schedule.
 The gig included a five-day turnaround, but I received the final design in just three days.
Although I think the cheaper and midrange pieces reflect similar levels of skill, it's nice to see that you do get more when you pay extra for a tattoo design.
 As promised, this piece features more shading and detail, making the flowers appear more lifelike.
The $120 Tattoo Design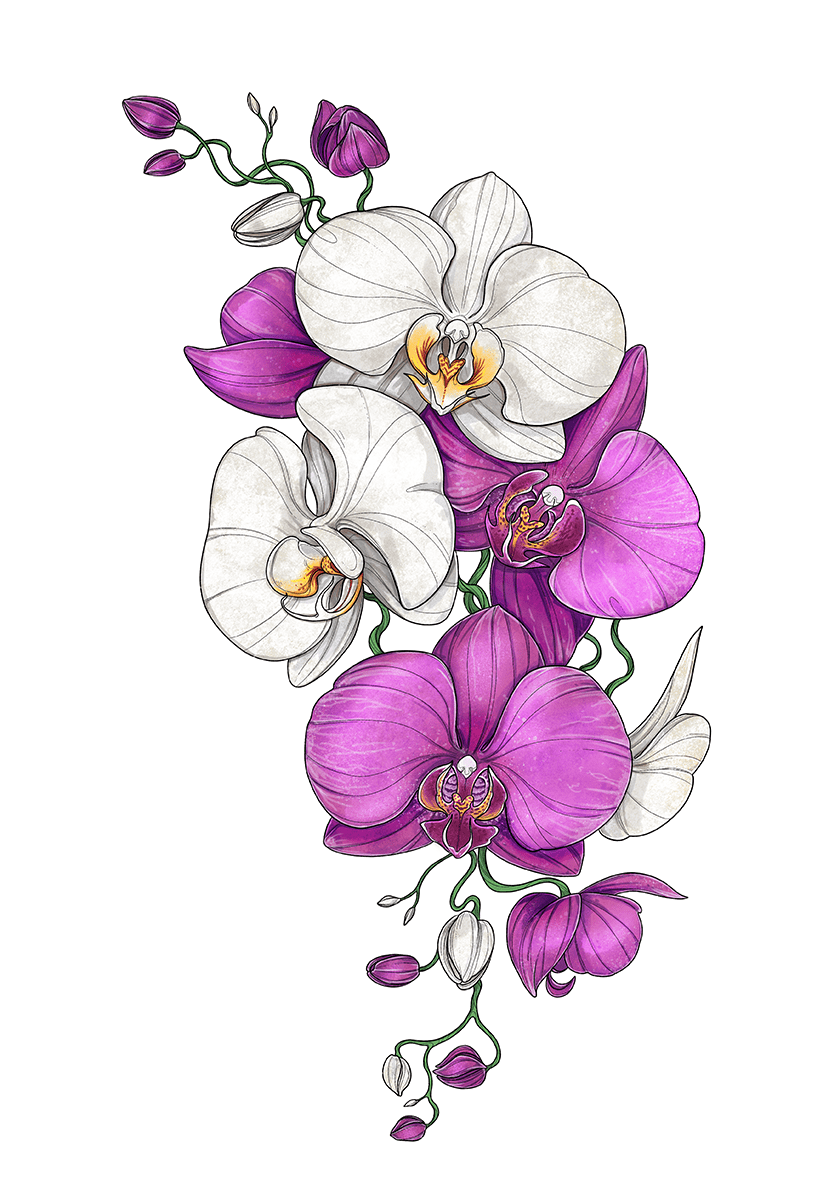 Unlike the two other freelance artists, selcha sent me a preliminary sketch halfway through the process so I could review the composition and shape.
Since this gig was significantly more expensive, I liked that I had a chance to request changes and make sure I was getting what I wanted.
She ended up delivering the final product within six days, so one day ahead of schedule.
Once again, I was pleased to see that purchasing a more expensive gig offered more value. The composition and linework are a level above the others, and the stunning colors really bring the tattoo design to life.
 Since this was my favorite piece, I didn't mind waiting longer to receive it.
It's easy to see that you can get great work on Fiverr, even if you can't afford to spend much.
 The cheapest tattoo designer produced lovely work, and they added value with a helpful mockup and a quick turnaround time. But if you want a design in color or a specific style, I'd recommend paying more. If you liked the work of Patriajasa and Mecandon, they both offer different, more premium packages too which would allow for more detail and color and you can always contact a seller directly to discuss your specific needs and get a custom order.
After all, tattoos are relatively permanent decisions, so you want to make sure you have a unique piece that you'll love for years to come. The most expensive tattoo designer delivered gorgeous work that was well worth the higher price.
Hiring a Freelancer for Tattoo Design on Fiverr
Hiring a freelance tattoo designer on Fiverr is even easier than you might think. When reviewing the platform,
our expert gave it a 4.9 out of 5 for its ease of use, features, support, and pricing
. There's a reason it's made our list of the 
top freelance websites in 2023
. When you hire a tattoo designer on Fiverr, you get:
Work with vetted creators. To find experienced freelancers, you can search for creators with Fiverr designations like Level Two Seller or Top Rated Seller. You can also look for sellers with five-star ratings or rave reviews from past clients to make sure you're hiring the ideal person for the project.
Stick to your budget. Tattoo design gigs on Fiverr range from $5 to hundreds of dollars. You can search for artists in any budget range and find freelancers who charge exactly what you want to spend.
Customize your order. Each Fiverr gig includes a base price, and many gigs offer optional add-ons. For instance, you have the option to pay an additional amount for expedited project delivery. If the desired add-ons are not listed, you can always communicate with sellers and request a custom quote.
The 10 Best Tattoo Designers in 2023
I searched for the best tattoo designers and created a list of top choices based on their portfolios, experience, and reviews.
My number one pick is selcha
 because of her elegant style and beautiful design – an excellent Fiverr's Choice recommendation.
 I'd also suggest taking a look at the rest of these top 10 tattoo designers:
FAQ
Can I get a cheap tattoo design on Fiverr?
Yes, it's easy to get a cheap tattoo design on Fiverr. You can choose from over 2,000 design gigs, with many starting at just $5 or $10.
Do more expensive Fiverr sellers produce better quality work?
No, it's not necessarily true that higher-priced sellers deliver higher-quality work. The cheapest tattoo designer I tested produced excellent work, and my colleague preferred the $5 seller in our Fiverr logo design review.
When do you pay for a Fiverr gig?
You pay for Fiverr gigs as soon as you book them. However, Fiverr sellers don't receive payment until funds are released – which can take up to 14 days after they deliver your project.
Is Fiverr easy to use?
Fiverr is easy to use (that's why we rated it so highly in our Fiverr review) even if you don't know exactly what you want. You can type a general idea – such as online music lessons – into the search bar. Then you can narrow down the gigs by budget, deadline, and Fiverr credentials. If you have questions about how the seller would approach your project, you can send a message and start a conversation. When you're ready, you can book any gig in just a few clicks.
Which is better: Fiverr or Upwork?
When it comes to ease of use and finding great freelancers, Fiverr beats Upwork. Fiverr's visual interface makes it much easier to find a creator whose style you like, while Upwork's resume-based format makes it harder to browse. In addition, Fiverr's prominent client ratings and credentials help you find sellers with the right level of experience for your project.