poor customer support with long wait times
. The support agents were friendly, but they weren't exactly helpful. By the time I resolved my issues, I was very familiar with A2 Hosting's Knowledge Base. And here's something else that bothers me: While A2 Hosting's introductory rates are affordable, especially for shared hosting plans, renewal rates are costly. By the time I realized I wanted to switch to a different web host,
I had missed my cancellation window (15 days before the renewal date – always read the fine print!)
and was charged the full price. I'm still determined to find
another web host that delivers when it comes to customer support, pricing, and useful features for low-tier plans
. After a few weeks of evaluation, I've rounded up a collection of reliable alternatives to A2 Hosting that won't disappoint.
Short on Time? Here are the Best A2 Hosting Alternatives in 2023
Hostinger – Affordable hosting provider with an abundance of resources for low-tier plans and high marks for performance
InterServer– US-based host with performance-boosting extras, unlimited resources, and fair renewal rates
GreenGeeks – Extraordinary customer support, significantly better than what you'd get with A2 Hosting
What We Look For in the Best Alternatives to A2 Hosting
While A2 Hosting has many perks, these
A2 Hosting Alternatives
provide even better customer satisfaction in the following areas:
Knowledgeable customer support. One of A2 Hosting's biggest issues is its slow and inadequate customer support, especially when it comes to the live chat team.
Affordability. While A2 Hosting offers low introductory rates, its prices aren't the lowest out there, and renewal rates can be two to three times more than what you initially paid.
Free domain and extra features. A2 Hosting doesn't offer a free domain with any of its hosting plans, and buying a domain from here isn't cheap. When it comes time to renew your domain and hosting plan, it'll cost you.
Better resource allocations. A2 Hosting's medium- to high-tier plans offer unlimited resources and LiteSpeed-based optimized servers, but in comparison, its entry plans are quite limited.
Performance. Whether it's data centers in more locations, better uptime, or affordable plans that include optimized servers, these hosting alternatives should perform just as well – or better – than A2 Hosting.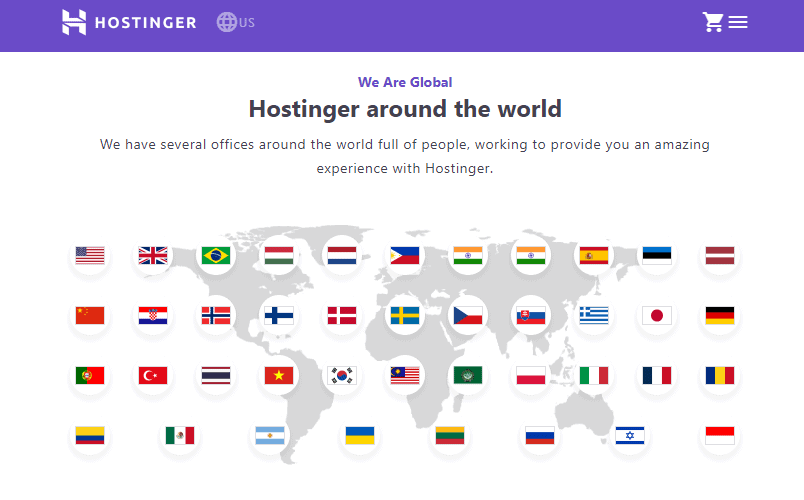 Hostinger is probably my top choice for an alternative to A2 Hosting, and it's because it checks all of my boxes:
ridiculously cheap prices (specifically with long-term plans)
, customer support that goes beyond a link to a Knowledge Base article, and lots of extras, including a free domain name, with most plans. Hostinger is not without its drawbacks: like A2 Hosting, I found that it does take some time to get through to its 24/7 live chat team. But
unlike A2 Hosting, Hostinger's live chat support was able to guide me through resolving my problem in a single quick session
. If you're not afraid of commitment,
Hostinger has some great deals in 2023
, especially when you sign up for a 4-year plan.
Some long-term plans end up costing less than a cup of coffee per month
, and you can also score a free domain name.
A free domain name is included with some hosting plans from Hostinger
Features
Customer support you'll want to talk to. I deal with a lot of hosting customer support, and Hostinger's support team is one that I'm happy to contact. The agents are well-informed and helpful, especially when compared to A2 Hosting's unreliable support.
Free domain. Included with Premium and Business packages, Hostinger will pay for your domain's first year. When it comes time to renew, Hostinger's domain renewal is still cheaper than A2 Hosting.
Prices. I don't think anyone can beat Hostinger when it comes to value: its long-term plans, from basic to VPS hosting, are well worth the money.
A variety of hosting plans. Compared to A2 Hosting, Hostinger covers a wider range of hosting solutions, including Cloud Hosting, MineCraft Server Hosting, and Ecommerce Hosting.
Read our Hostinger review for more on plans and performance.
SSD storage

30GB – 200GB

Free domain

✔

Customer support

24/7 live chat, email, support ticket

Starting Price

$

1.99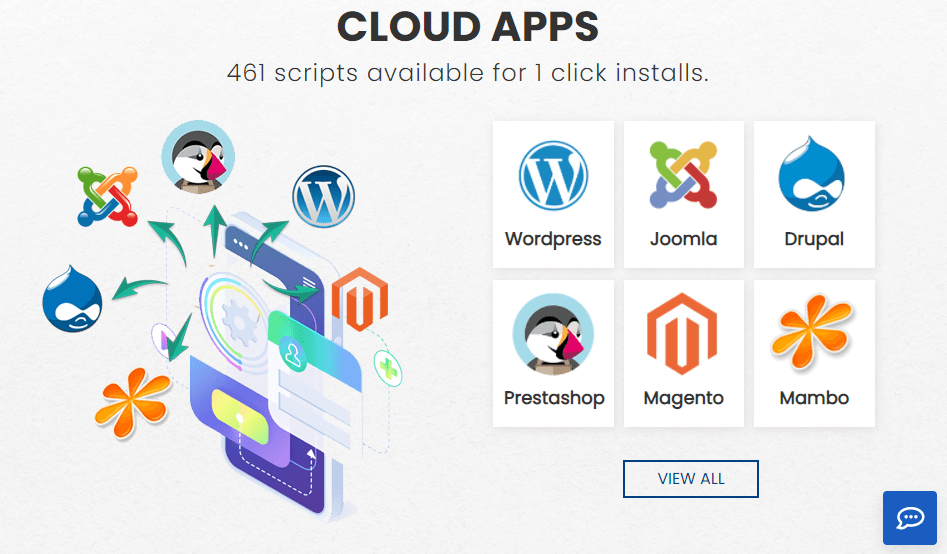 InterServer is one of the few hosts that offers a 1-click installation for over 400 scripts, which include Ecommerce and forum cloud appsIf cost-efficiency is your top priority and your target audience is in North America, InterServer is a great option for you. While A2 Hosting only offers web hosting for Linux,
InterServer supports both Linux and Windows
.
Even though InterServer offers only one plan for Linux, it comes with unlimited resources
(ultra SSD storage, email accounts, FTP accounts, and hosted websites). Another thing that InterServer does well is extra features. While things like unlimited resources (or as unlimited as they can be on a shared plan) and free SSL should be standard for a good host, I'm interested in perks like
an impressive amount of 1-click install cloud apps and free security features
, which InterServer offers for its most basic plans.
Features
Scalable plans. If you find yourself outgrowing your plan, you can scale your existing hosting plan for a small additional fee each month. With this structure, you don't have to go through the hassle of upgrading to a brand new plan.
All-in-one package. Take full advantage of premium features (hello Linux cPanel and Inter-Proxy Caching!) at a much cheaper renewal rate than A2 Hosting.
Robust security. InterServer's basic package is loaded with free security features including InterShield, weekly backups, and Cloudflare CDN.
Great performance at cheaper prices. Although A2 Hosting delivers great loading speeds in most locations, InterServer also performs well in North America.
For more information, take a look at our in-depth InterServer review
.
SSD storage

Unlimited

Free domain

✘

Customer support

24/7 live chat, email, support ticket

Starting Price

$

2.50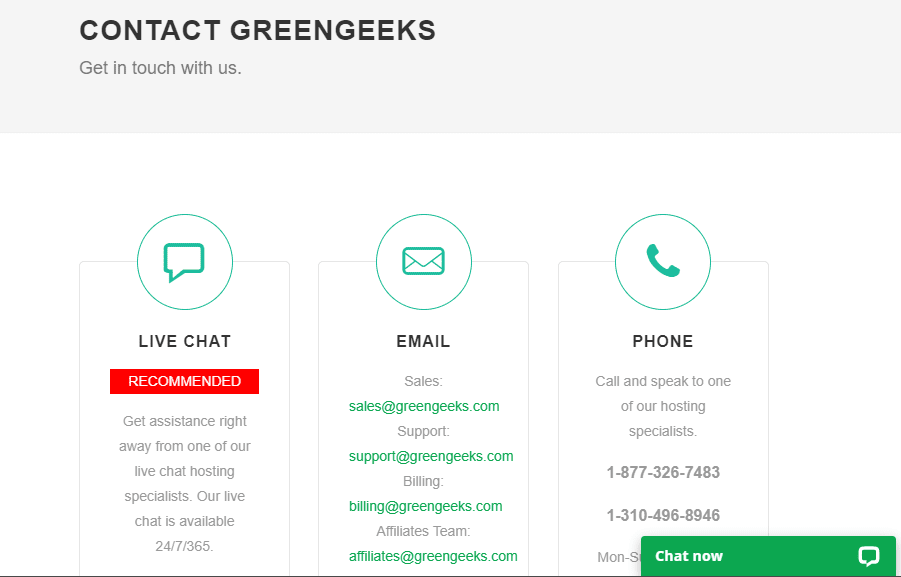 Like A2 Hosting, GreenGeeks is an eco-friendly web host that strives to minimize its carbon footprint. Although its web hosting plans are slightly more expensive than A2 Hosting's plans (especially upon renewal), they come with some great features, including a domain name (free for the first year), nightly backups, and unlimited databases.
If you're looking for speed optimization on a basic plan, GreenGeeks offers LiteSpeed servers, CDN integration, built-in caching, and the latest versions of HTTP and PHP
. A2 Hosting also has optimized servers to enhance your site's speed, but you'll have to hop onto the more expensive Turbo Boost or Turbo Max plans to get great results. For me,
GreenGeeks' most distinctive feature is its outstanding customer support
. Available 24/7 through live chat and email (and from 9:00 AM to 12:00 AM EST by phone), I never have to wait long for a response. When I contacted support via live chat to learn more about the AlphaSSL Wildcard Certificate, the agent never once tried to upsell me or send me links to online articles.
A free domain name is included with some hosting plans from GreenGeeks
Features
Free domain name. Unlike A2 Hosting, you'll get a free domain name (for the first year) when you sign up for any of GreenGeeks' hosting plans.
Expert customer support. GreenGeeks' support team is one of the best in the market, and you'll never experience long wait times or unresponsive email support.
Valuable resource allocations. GreenGeeks' affordable mid-tier Pro plan is packed with unlimited resources, and its renewal rate is still less than A2 Hosting's Turbo Boost plan.
Powerful website builder. All hosting plans include Weebly Website Builder, which is more user-friendly than A2 Hosting's SiteBuilder. With Weebly, you can choose from 100+ professional templates for landing pages and small business sites.
Read our expert GreenGeeks review for more details
.
SSD storage

50GB – Unlimited

Free domain

✔

Customer support

24/7 live chat and email, phone (9:00 a.m. – 12:00 a.m. EST)

Starting Price

$

2.95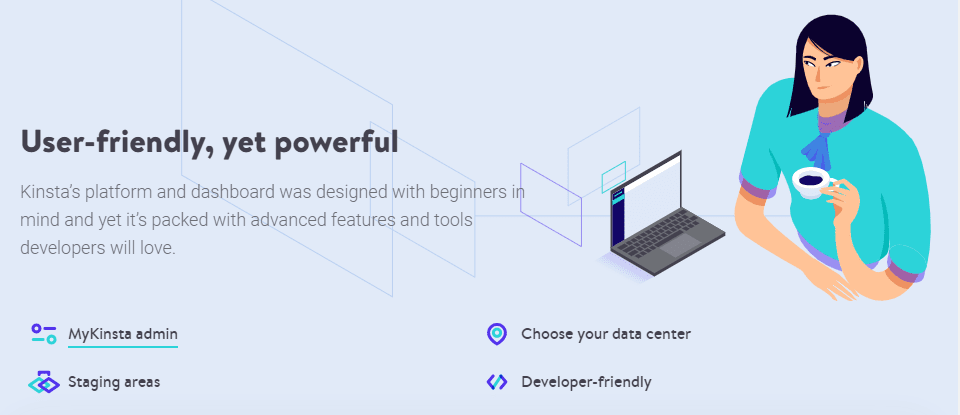 You're probably wondering why Kinsta is on this list, right? It's much more expensive than A2 Hosting and doesn't offer a free domain or email hosting. But Kinsta is still a good A2 Hosting alternative – especially if you manage large projects or have a growing business – and here's why: Kinsta is
a great cloud-based host with fully managed WordPress plans
.
With Kinsta's multi-user environment,
it's easy to create and assign levels of access to multiple users.
I can't stress enough how important this feature is for your website's security. Kinsta is also known for its
polished, multi-functional, and extremely user-friendly control panel
. Through MyKinsta, you can manage your settings and billing information, and access powerful site analytics like unique number of visitors and their geographic breakdown, as well as response codes (which is great for monitoring request errors and downtime).
Features
Top-tier performance. Kinsta's platform is powered by Google Cloud, so it's as fast as we expect Google to be: really fast.
Exclusive live chat support for quick resolution. Kinsta doesn't offer phone support, but its live chat support is accessible 24/7 and saves all your interactions. Say goodbye to spending at least 15 minutes trying to explain your issue to a new support agent (I'm looking at you, GoDaddy).
Fully managed WordPress plans. Kinsta's plans aren't cheap, but they are fully managed. This is a great solution if you don't want to deal with the nitty-gritty technical details of site optimization or server error messages.
Offsite backups. Unlike A2 Hosting, Kinsta offers automatic backups for all its plans, plus it has an external backup feature (for a small fee). If you've heard about A2 Hosting's outage a few years ago, you'll appreciate Kinsta's easy-to-use WordPress external backup to Amazon S3 or Google Cloud Storage.
For performance results, read our full Kinsta review
.
SSD storage

10GB – 250GB

Free domain

✘

Customer support

24/7 live chat, email, support ticket, and phone

Starting Price

$

24.00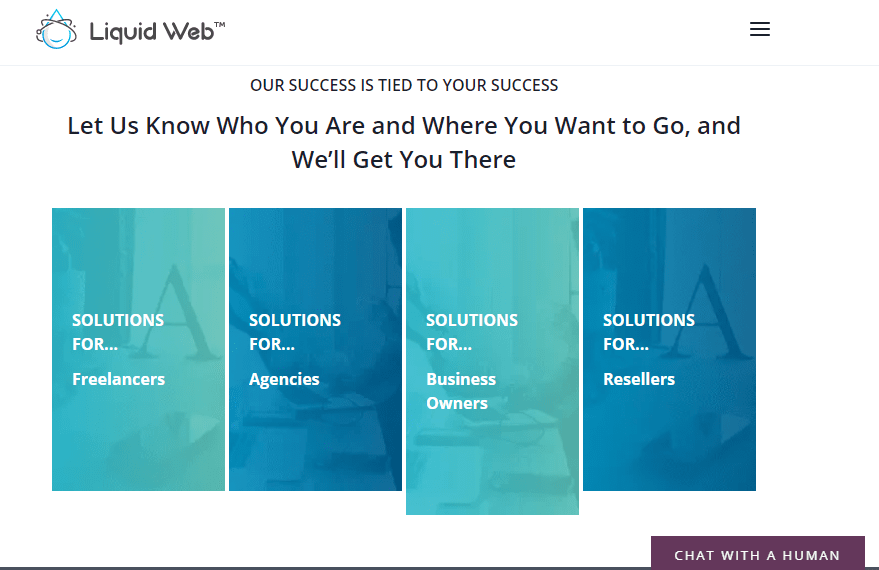 Like Kinsta,
Liquid Web is a great alternative to A2 Hosting for managed WordPress hosting
. It also offers managed hosting for WooCommerce, Magento, and Drupal. Each plan includes automatic site monitoring and enhanced performance features like integrated CDN and compatibility with the latest PHP. Liquid Web's most basic managed VPS hosting plan isn't exactly cheap, but you are paying for 2GB of RAM, 2 CPU cores, 40 GB of SSD space, and 10 TB of bandwidth.
If you need more storage, CPUs, or bandwidth, you can upgrade these resources individually.
Most web hosts (including A2 Hosting) have a 99.9% uptime guarantee, and many fall short of expectations. Liquid Web does one better with a 100% uptime promise.
When we tracked Liquid Web's performance over several months, the site was never down.
You honestly can't argue with those stats.
Features
Plenty of room for backups. All of Liquid Web's managed VPS plans include 100GB of free backups. As far as space goes, that's enough to store several backups for a small to mid-sized website.
More choice and more space. While A2 Hosting has three managed WordPress plans, Liquid Web offers seven. You'll also get more space with its top-tier plan, which offers 800GB of storage compared to A2 Hosting's 40GB on the Unlimited plan.
Phone, chat, and helpdesk support. Liquid Web has a 59/59/59 guarantee: a maximum 59 second initial response time for phone and chat support, and 59 minutes for helpdesk. Unsurprisingly, wait times are rarely that long, and support is always professional and knowledgeable.
Custom control panel for developers and advanced users. Liquid Web isn't the most user-friendly host on my list, but if you have experience with website development and are looking for a powerful control panel geared towards web designers and developers, then the InterWorx control panel might be for you.
Read our expert review to learn more about Liquid Web's hosting plans
.
SSD storage

15GB – 100GB

Free domain

✘

Customer support

24/7 live chat, support ticket, and phone

Starting Price

$

15.83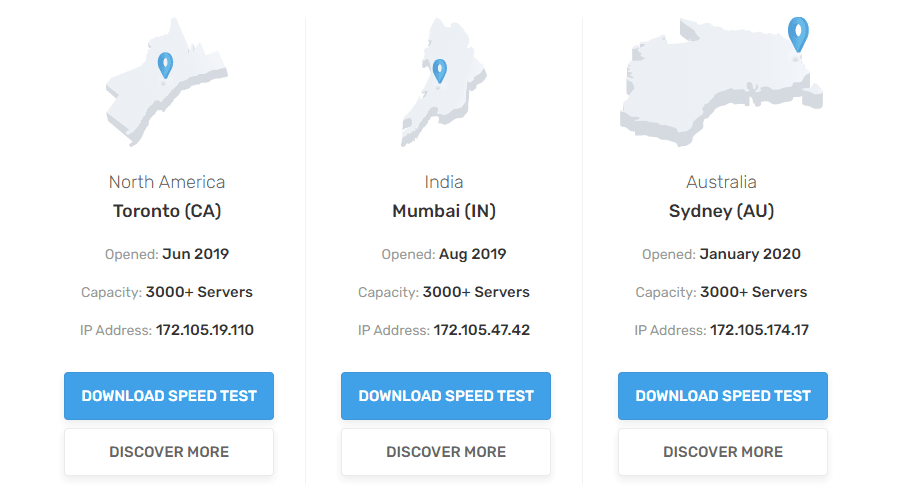 FastComet has 11 data center locations, including Tokyo, Singapore, Mumbai, and Sydney. When it comes to loading speeds, A2 Hosting edges out FastComet in the US, but it's the extra server locations that make FastComet a good alternative to A2 Hosting.
If your audience is in Asia, India, or Oceania, FastComet will deliver good loading speeds
. While I'm on the subject of performance,
FastComet has a 99.9% uptime guarantee and, for the most part, it meets expectations
. This host performs status checks every 60 seconds from multiple locations around the world, and provides credit for any network downtime.
FastComet's control panel, which is available for all plans
, integrates a user-friendly client area with cPanel. SmartControl is where you can manage your domains, organize web files, and create email accounts. In addition to these common tasks, you can also contact customer support, manage your account and renewals, and receive notifications from here.
SmartControl is completely mobile-friendly, which means you can check up on your website even when you're on the go.
Features
Aggressive GZIP. FastComet's servers automatically enable GZIP compression to further boost website loading speeds.
Transfer incentives. If you transfer your hosting services, FastComet will compensate you for any unused time, with up to 6 months of free hosting when you sign up to one of its 3-year plans.
Robust security. While any decent web host should offer a suite of security solutions for all its plans, FastComet's enhanced security features include SpamExperts, daily backups with 1-click restore, secure account isolation, and DNS and DDoS protection.
Support. FastComet offers 24/7 support through multiple channels, and you can often get help with site optimization, virus scans and malware cleanup, and third party apps support.
Read our FastComet review to see our full performance results
.
SSD storage

15GB – 25GB

Free domain

✘

Customer support

24/7 live chat, email, support ticket, and email

Starting Price

$

2.19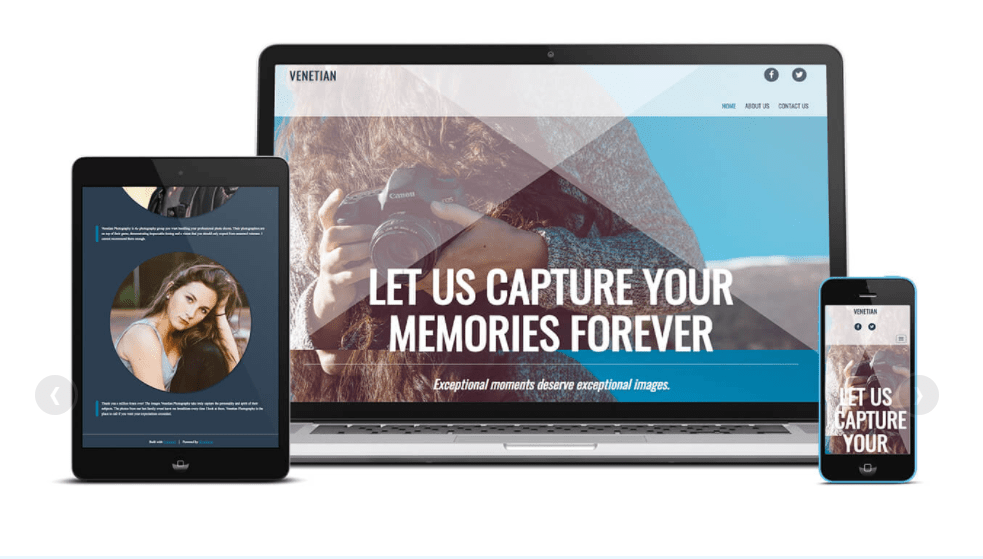 InMotion is one of the very few companies that is still run by its founding team, and
it hasn't outsourced its support agents.
Their customer support team is entirely US-based, with round-the-clock live chat, phone, and ticket support. On the other hand, the actual quality of human support can be a mixed bag, but if you don't mind doing some reading,
InMotion Hosting boasts a comprehensive Knowledge Base and active community forum
. When it comes to renewal fees, InMotion's hosting plans renew at a lower cost compared to A2 Hosting. If you're not sure about making a commitment, you can
take advantage of InMotion Hosting's 90-day money-back guarantee
. When it comes to its shared hosting plans, InMotion doesn't offer automatic backups for free, but it does include
a free domain for the first year, SSH access, 1-click installer, and unlimited bandwidth
.
InMotion Hosting Web Hosting
Features
Free website builder. InMotion includes a premium website builder, BoldGrid, with all its plans.
Cheap renewal fees. Even though A2 Hosting's 3-year plans can be downright cheap, InMotion's plans renew at a much lower price.
Free marketing tools. Every Business shared hosting plan comes with free advertising credits, professional email addresses, and detailed website traffic reports.
Optimized servers. InMotion's scalable hosting servers, named UltraStack, are optimized for PHP-based CMS and applications. By using NGINX as a cache server, UltraStack minimizes redundant page loads.
For a comprehensive list of InMotion Hosting's features, read our full review
.
SSD storage

30GB – 200GB

Free domain

✔

Customer support

24/7 live chat, email, and support ticket

Starting Price

$

3.29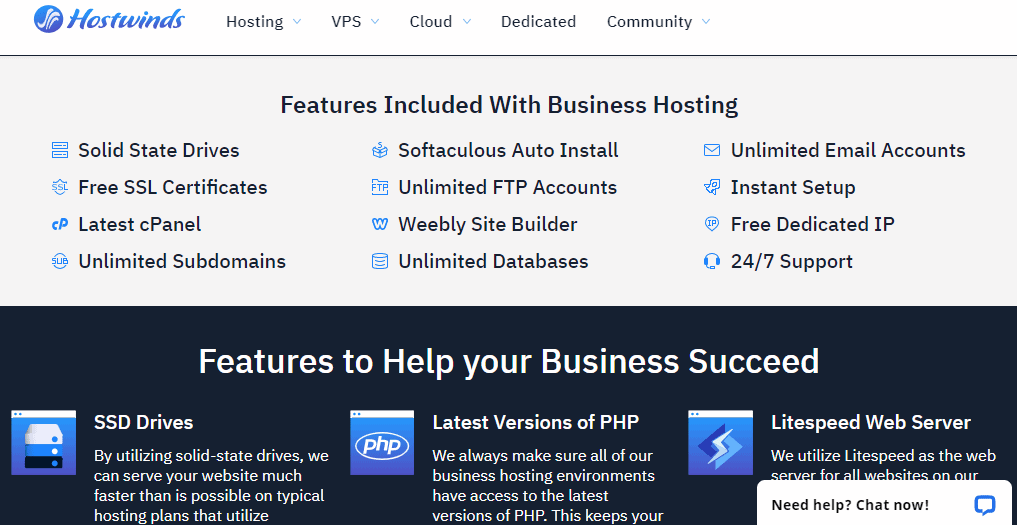 HostWinds offers a wide range of cheap hosting plans that come packed with free features such as SSD storage, SSL certificates, and dedicated IP.
Shared hosting plans also include unlimited disk space
, bandwidth, email and FTP accounts, and subdomains
. In addition to shared, VPS, and dedicated hosting, HostWinds has
a wide range of cloud hosting plans
 with almost every combination of RAM, storage, and bandwidth imaginable. However, that's not the most interesting part.
It offers these cloud plans on an hourly basis, which means you don't have to be bound by a long contract period and can pay for the service by the hour
. The majority of Hostwinds' packages include the well-known Weebly website builder, a user-friendly tool that lets you build a website by simply dragging and dropping. Whether you're a beginner in website creation, a skilled website designer, or a busy entrepreneur, Weebly saves you time in constructing your website.
A free domain name is included with some hosting plans from Hostwinds
Features
Instant scalability. HostWinds' cloud hosting plans can be further customized and resources can be increased on demand.
Free domain. With the annual shared hosting plans, you get a free domain name registration for the first year.
Shared hosting plans packed with extras. Even on its most basic plan, HostWinds offers unlimited resources like bandwidth and disk space. Although A2 Hosting still has cheaper introductory rates, you'll have to upgrade to the Drive plan to receive the same perks.
Business plans with useful features. Like its shared hosting plans, HostWinds' Business plans (Basic, Advanced, and Ultimate) have unlimited resources. You'll also get the nightly backup feature, website monitoring, LiteSpeed servers, and Cloudflare CDN integration.
Read our expert HostWinds review for more details
.
SSD storage

Unlimited

Free domain

✔

Customer support

24/7 live chat, email, and support ticket

Starting Price

$

6.47
A2 Hosting Is Good, but You Can Get Better Hosting
A2 Hosting delivers decent loading speeds, especially in North America and Europe, and its "Turbo" plans make it stand out from the crowd. However, a great web host encompasses more than just these factors. You should also take into account customer support and resource allocations. Regrettably, A2 Hosting falls short in these areas. Given its steep renewal fees, I would not recommend choosing A2 Hosting. There are other hosts that can provide feature-loaded plans and freebies at super cheap prices without compromising speed and uptime.
Hostinger gives you all this – and a bit more
. Or, if customer support is a key element for you, then
GreenGeeks will exceed your expectations
. Its agents are way more customer-oriented and knowledgeable than A2 Hosting's support.
Standout features
Highlights for basic plans
Money-back guarantee
Starting price
Hostinger

Cheap plans packed with free features and generous resources

30GB storage, 100GB bandwidth, and free SSL

30 days

$

1.99

InterServer

Reliable performance and robust InterShield security with all plans

Unlimited storage, unlimited data transfer, and weekly backups

30 days

$

2.50

GreenGeeks

Green web host with above average customer service

50GB storage, unlimited data transfer, 

50 email accounts, free SSL, and nightly backup

30 days

$

2.95

Kinsta

Fully managed WordPress plans with user-friendly custom control panel

10GB storage, 25,000 visits, and free CDN

30 days

$

24.00

LiquidWeb

A variety of hosting options with tons of free features

15GB  storage, 

2TB bandwidth, and unlimited email accounts

14-day free trial

$

15.83

FastComet

11 data centers, including locations in Asia, India, and Oceania, plus prorated transfer incentives

15GB storage, 25,000 unique visitors, free domain transfer, and unlimited parked domains and subdomains

45 days

$

2.19

InMotion Hosting

Affordable plans with cheap renewal fees and optimized UltraStack NGINX-based servers

Unlimited storage, unlimited bandwidth, unlimited databases, unlimited FTP accounts, unlimited email accounts, free SSL, and free dedicated IP

45 days

$

3.29

HostWinds

Affordable plans with an abundance of unlimited resources

Unlimited storage, unlimited bandwidth, unlimited databases, unlimited FTP accounts, unlimited email accounts, free SSL, and free dedicated IP

None

$

6.47
FAQ
Which host is better – A2 Hosting or GreenGeeks?
Even though A2 Hosting and GreenGeeks are among the best web hosting services in 2023 for personal sites and small to mid-sized businesses, GreenGeeks is better than A2 Hosting when it comes to customer support and hosting plan resources.
Which host has better performance – Hostinger or A2 Hosting?
Hostinger, easily. You don't often come across a budget-friendly host that manages to top the performance charts for uptime and speed, even with its shared hosting plans. In fact, Hostinger managed to outperform even the more expensive hosts on this list.
Why shouldn't I go with A2 Hosting's services?
A2 Hosting's biggest flaw is its sluggish and unhelpful customer support. Its anytime prorated refund is great, but its overall prices aren't dirt cheap – especially when it comes time to renew. Plus, its basic plans are pretty limited in resources. If you're looking for a new host, take a look at our coupons page for some great deals.