"cheap" hosting can get pretty pricey in the end
.
That's why I tested and reviewed dozens of inexpensively priced web hosting providers
. I wanted to find the best hosts available, since not all of us have huge budgets for online projects. My hard work paid off, with 10 hosts making the cut.
Hostinger, while not the cheapest, took the top spot because of all the value you get for your money.
And the price isn't so high that most small business and personal site owners couldn't afford it, either. Read on to find out why Hostinger took first place, as well as for details on the other nine cheap web hosting providers.
Short on Time? These Are the Best Cheap Web Hosts in 2023
Hostinger – Best value for your money with feature-packed plans and excellent support
IONOS – Offers steep discounts to new subscribers with reasonable renewal rates
GreenGeeks – Best support coupled with environmental sustainability
What We Look For in the Best Cheap Web Hosting Services
Finding a provider that is both affordable and reliable can be tricky. I looked for hosts with a proven track record of high loading speeds and uptime levels, as well as these essential features:
Transparent pricing. You don't want any unpleasant surprises when it's time to renew your hosting plan. I chose hosts that tell you exactly what features are included with your plan and how much you can expect to pay for it.
Generous resources. The hosts on this list provide sufficient storage space and bandwidth with their basic plans, so you won't need to upgrade the minute your site starts to get a lot of traffic. Some hosts even allow you to host multiple websites and domains on their basic plans.
Plenty of freebies. Free SSL, email hosting, and domain names are just the beginning. These hosts offer a ton of free features, including one-click installers, decent security, and performance-boosting features.
Reliable performance. Cheap hosting shouldn't mean that your website loads slowly or goes offline often. The providers on my list are affordable, but they don't compromise on speed or uptime.
Ease of use. If this is your first time building a website, don't worry. Most of the web hosting services below include an easy-to-use control panel and a website builder on all plans.

Let's be honest. Hostinger is not the least expensive hosting provider on this list. And while we're at it, let's admit that the only way to get the lowest prices Hostinger offers is to contract for a three year term. And yes, those renewal fees can more than double your fee. With all that said, though…
You get more for your money, more valuable features for you and your site, with Hostinger than with every other host.
And those initial fees are so low that even at twice the price, Hostinger is still an affordable hosting option. Its value for the money simply can't be beat. That's why it's firmly at the top of the list.
Hostinger's basic plan
includes a single domain, email account, and website, 50 GB of SSD storage,  unlimited bandwidth, and unlimited free SSL certificates. That's more than enough for a small business or personal site.
A free domain name is included with some hosting plans from Hostinger
Features
A choice of data centers on four continents. Hostinger has eight data center locations scattered across the globe. Choose from the US, the UK, Brazil, France, Singapore, the Netherlands, India, or Lithuania.
Built-in caching. The LiteSpeed cache manager is built straight into your dashboard, so you can improve your website's performance with a few simple clicks.
Integrated CDN (content delivery network). Cloudflare CDN is just as easy to find. Once you activate it, you can expect faster loading speeds even for visitors who are far away from your main server.
Automatic Data Backups. Hostinger offers weekly backups on its two lower-priced plans, while customers of its upper two tiers can count on daily data backups.
You can read all about Hostinger's valuable features and service in our expert review
.
Resources
50 GB SSD to 200 GB NVMe storage
Reliability (based on our tests)
100%
Beginner-friendly feature
Proprietary hPanel control panel
Starting price

$

1.99

Who doesn't love a good bargain? That feeling of getting something really good for a really low price is, well, priceless. IONOS gives its customers that feeling all the time.
No other hosting provider can beat IONOS's discounts on its hosting plans
. You can typically get a hosting package for 1/10th or less of its full price for at least six months. And it really
is
a good bargain. The entry-level Essential plan includes 10 GB of storage, a free domain for a year, a free SSL certificate, and unlimited bandwidth.
Surprisingly, most of what you get with the higher-tier plans is included in the entry-level one
, as well. Sure, you get more storage and a few more perks, but the Essential plan is packed with much of the same features as the top-level Ultimate plan, making it a very good deal, indeed.
A free domain name is included with some hosting plans from IONOS
Features
Free Cloudflare CDN. Increase your website's performance with the free Cloudflare CDN integration. Its 60 data centers around the world ensure fast loading speeds from anywhere.
Mobile Admin app. Control your website from anywhere with the IONOS mobile dashboard app. It makes managing your websites and your account easy and stress-free.
Developer and beginner friendly. Absolute newcomers will enjoy IONOS's beginner-friendly interface. Experienced developers can revel in SSH, FTP, and SFTP access, as well as cron jobs and Git version control.
Dual platform hosting. Your site is mirrored on two servers in two completely different locations. This means that if one server goes down, your site will still be up and running.
Read our expert IONOS review to learn more about its plans and features
.
Resources
10 GB to unlimited storage
Reliability (based on our tests)
99.97%
Beginner-friendly feature
Mobile dashboard app
Starting price

$

1.00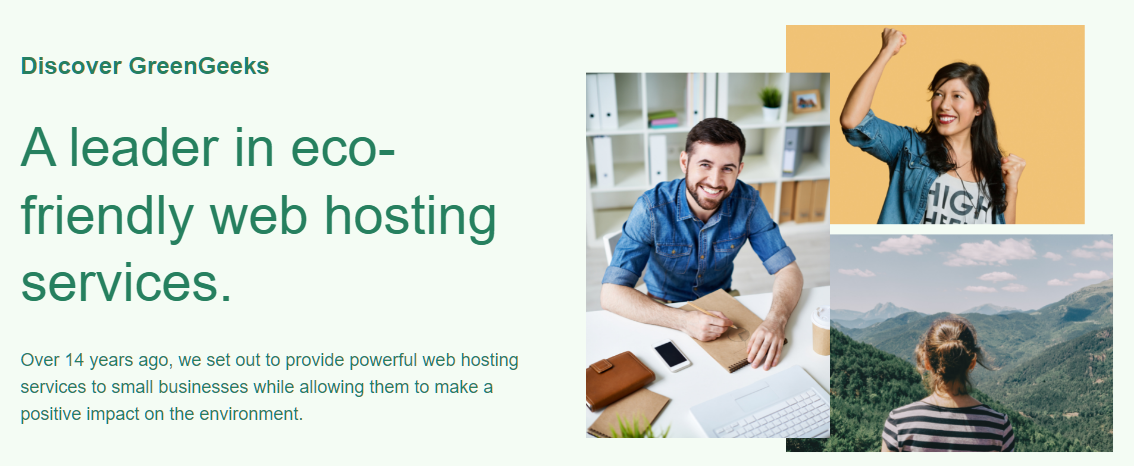 GreenGeeks uses renewable energy to run its servers.
It also believes in investing in renewable energy, giving back 300% of what it uses each year. So whether your business is involved in climate sustainability or you just prefer to do your best for the planet whenever you can, if eco-friendliness is important to you, GreenGeeks may be the hosting provider you need. Along with all that sustainable hosting comes some of the best support around. During our expert review tests here at Website Planet, GreenGeeks consistently earns the highest score for support we can give.
The support team at GreenGeeks is top of the class for its fast response times and the willingness to go the extra mile for their customers
. Best yet, all this great eco-friendly hosting and superb support comes at a budget-friendly price. You can receive unlimited bandwidth, 50 GB of storage, loads of freebies (more on those in a minute) along with 50 email accounts and still not cover the cost of a fancy coffee.
A free domain name is included with some hosting plans from GreenGeeks
Features
Lots of free features. Every plan includes a free SSL, free domain for the first year, free CDN integration, and managed WordPress at no extra charge. You also get access to Weebly website builder with every account.
Nightly backups. GreenGeeks offers every customer free nightly backups, so you never have to worry about losing your site's data.
24/7 security protection. Your site should stay safe and secure with the Advanced WAF using AI and DDoS protection.
Build a website, plant a tree. GreenGeeks has partnered with OneTreePlanted to plant a tree for each web hosting plan it sells.
To learn more about GreenGeeks and see that support score for yourself, read our expert review
.
Resources
50 GB to unlimited storage
Reliability (based on our tests)
99.99%
Beginner-friendly feature
GreenGeeks' support team
Starting price

$

2.95

InterServer stands out from the other hosts on this list of cheap web hosting for three big reasons. For starters,
InterServer only offers one web hosting plan.
There are no tiers of plans with varying degrees of valuable features. Then, InterServer offers a monthly payment option as opposed to longer contract commitments. Lastly, that one cheap plan comes packed with valuable, unlimited features. In fact, all those features are what puts InterServer in its place on this list. In our expert review, InterServer's features received the highest score we give. As long as you stick to its fair use policy, InterServer will supply you with unlimited ULTRA SSD storage and email accounts, as well as bandwidth. InterServer's one big drawback is that it only has data centers in the US. With data centers on both east and west coasts, most US and some North American site owners won't have issues with website reach. Everyone else, however, may want to look elsewhere despite InterServer's great features.
Features
InterShield Security. InterServer's in-house developed security platform stops web attacks, identifies malware, scans for viruses, and incorporates a machine-learning firewall to keep your site and its data safe.
Inter-Insurance. Should your site be compromised, exploited, or hacked, InterServer will clean it up and get it back online for free. Steps will be taken to prevent future issues from occurring.
Inter-Proxy Caching + Cloudflare. Not satisfied with its proprietary security platform, InterServer also developed its own caching tools. Website pages with heavy request loads are cached at the raid level, hardware level, packet level, and software level, too, using LSCache, QUIC, and other tools.
Easy to Use. InterServer makes it easy for beginners and experienced pros alike to manage your sites. It uses DirectAdmin with Softaculous, giving you access to install  over 450 apps with a single click.
Get all the information on InterServer's top-notch features in our expert review
.
Resources
Unlimited
Reliability (based on our tests)
99.95%
Beginner-friendly feature
DirectAdmin control panel + Softaculous
Starting price

$

2.50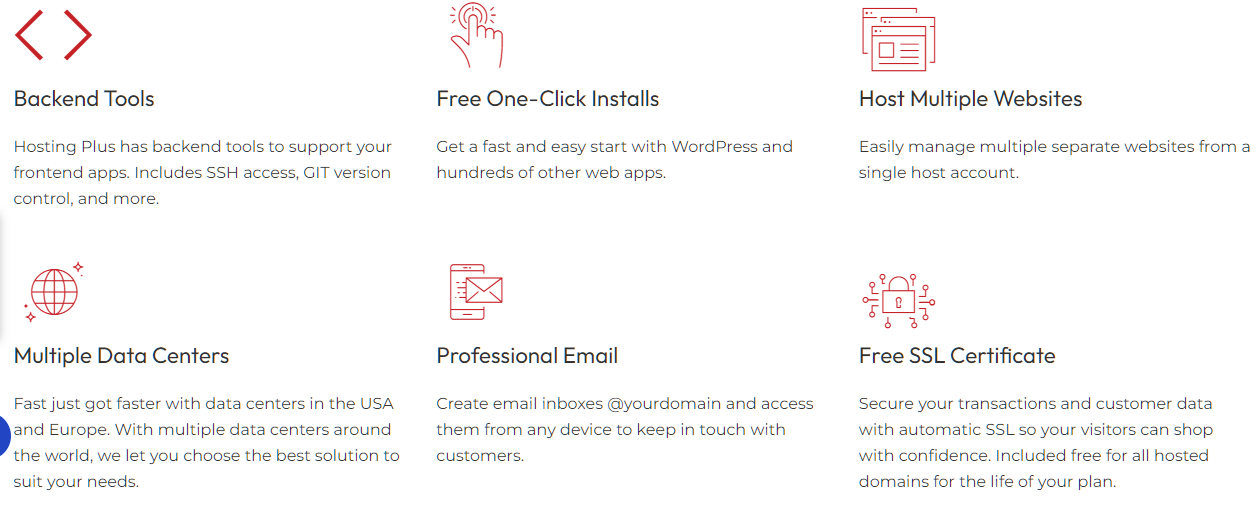 Not every small business needs an ecommerce capable hosting provider. And not every cheap web hosting provider can meet the needs of ecommerce sites. Many offer separate plans for online store owners.
InMotion Hosting's shared hosting plans, however, can support an online store
without the need for a separate plan (although it does offer one.) So what makes InMotion Hosting right for the ecommerce site owner? For starters,
InMotion's entry-level plan
includes the ability to create 2 websites and 10 email accounts, not just the one offered by many hosts. And then there's the $150 in advertising credits you get with every plan. Let's not forget the free Let's Encrypt SSL certificate, unlimited bandwidth, and 100 GB of SSD storage, too. If you want specialized optimization for your ecommerce site, such as for WooCommerce or Magento, you can upgrade to one of the higher-tier plans. With those, you'll receive unlimited NVMe storage, emails, websites, domains, and databases.  And all for seriously budget-friendly prices.
InMotion Hosting Web Hosting
Features
Hosting Plus. InMotion offers a free developer's platform that allows you to work on your site using Python, Node.JS, Ruby, and GIT version control so you can start small and scale up as you need to in the way most comfortable and practical.
Free Drag-and-drop Website Builder. Design your site quickly and easily with little to no experience using customizable templates. Every site is mobile-responsive, as well.
90 Day Money Back Guarantee. Unlike most web hosting providers, InMotion gives you three times longer to decide if the service is right for you.
Google Workspace Option. During the checkout process, you have the option to add Google Workspace, with all its goodies including Gmail and Drive, to your account.
Read our expert InMotion review for all the details
.
Resources
100 GB SSD to unlimited NVMe
Reliability (based on our tests)
99.96%
Beginner-friendly feature
Drag-and-drop website builder
Starting price

$

3.29

A2 Hosting has been around awhile. In all that time,
A2 has gained a reputation for consistently good loading speeds and reliable uptime.
Even its bargain-basement priced plan customers receive high quality performance for their sites. WordPress site owners really win out, though, with A2 Hosting. The company has developed its own WordPress plugin, A2 Optimized, with performance-enhancing and security hardening features. You don't need to purchase a more expensive WordPress hosting plan, either, as
A2 Optimized is available on all shared hosting plans
. All A2 Hosting shared hosting plans also include unlimited bandwidth.
The entry-level plan offers 100 GB of SSD storage and 1 GB of RAM.
Higher-tier plans increase that to unlimited NVMe storage and up to 4 GB of RAM. That's plenty of resources for a small business or personal blog site.
Features
WordPress and cPanel Tutorials. Knowing that not everyone is familiar with cPanel or WordPress dashboards, A2 Hosting offers you "Getting Started" tutorials when you first log in to your account to help you get acquainted with what's what and where. It's a very beginner-friendly feature that many will find helpful.
Turbo Servers. Higher-tier plan customers can take advantage of A2 Hosting's "turbo" servers. These are LiteSpeed-powered servers with several enhancements meant to increase performance and speed. And while not included in the entry-level plan, A2 offers them at reasonable, easily affordable prices.
Patch and Update Testing. If you've ever suffered an "update casualty" with a WordPress site, you know the misery an update can cause when it "breaks" your site. A2 Hosting has removed that misery from your site management by testing all patches and updates before allowing them to install.
Perpetual Security. A2 Hosting has collected a suite of site and server security tools into its Perpetual Security package. It includes a firewall, brute force defense, DDoS protection, and 24/7/365 monitoring.
To find out more about A2 Hosting's features, read our full expert review
.
Resources
100 GB SSD to unlimited NVMe
Reliability (based on our tests)
100%
Beginner-friendly feature
"Getting Started" tutorials
Starting price

$

2.99
Other Notable Cheap Web Hosting Providers

No one would accuse FastComet of cramming its shared cloud hosting plans with features. What it includes is good, sure. And for the price, many may consider FastComet a good deal.
Compared to other shared hosting providers on our list, however, FastComet just doesn't offer enough.
So what does it offer?
Its entry-level plan includes 15 GB of SSD storage and 30 GB of bandwidth.
You also get good old cPanel and Softaculous, Cloudflare CDN integration, a free SSL, and one website and email account. Our tests also showed FastComet slips up in the reliability area, returning only 99.88% uptime. Other than the fact that it's cloud-server based, what you've got is a decent host offering decent features at decent prices.

SiteGround is another hosting provider who has been around forever. And while it does have some lovely proprietary features such as Site Tools, its own account dashboard, and its SiteGround Security suite,
Siteground doesn't leave a lot of room to grow.
Its entry-level plan provides 1 email account, 1 website, 10 GB of SSD storage, a free SSL, and free CDN integration. Unlike most of the hosts here, however, you can never pay enough to receive unlimited storage or get away from limiting site visitors.
While SiteGround offers some reasonable fees, its shared hosting packages could be more reasonable in what they offer.
Is it still a good host? Sure. Good, but not great on a tight budget.

It may surprise you to find Nexcess on a list of "cheap" hosting providers. We've placed it here for one reason:
Nexcess offers the best inexpensive premium hosting we've found.
Nexcess offers managed WordPress, Magento, and WooCommerce plans. While InMotion offers some great prices for ecommerce site owners, a lot of the site admin and management is left up to you unless you  upgrade to one of its higher-priced, ecommerce-specialized plans. And that's where Nexcess shines. You start on a plan with very generous resources, including 30 GB of SSD storage, 3 TB of bandwidth, a free SSL, 24/7/365 support, free Cloudflare CDN, free templates and page builders, and all of it monitored and updated for you.
Will you pay more for Nexcess managed hosting? Sure. Is it worth it? Definitely
.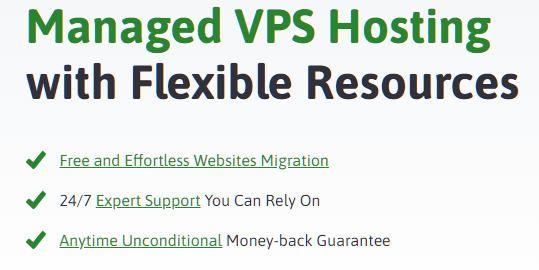 There will come a time when many website owners using shared hosting plans need more resources than their shared servers can provide. It can be a stressful time, realizing you now need a VPS server and have no idea how to go about managing one. For the new VPS customer, ScalaHosting's inexpensive prices and managed services take the hassle out of keeping your site online. ScalaHosting offers some of the least expensive managed VPS hosting around. Your first build includes 2 CPU cores, 4 GB of RAM, 50 GB of NVMe storage, unlimited bandwidth, and ScalaHosting's proprietary, beginner-friendly dashboard, SPanel.
The best part, though, is that ScalaHosting's team does all the heavy tech work for you.
You can step up to VPS hosting without stepping too far out of your comfort zone.
Which "Cheap" Web Hosting Provider is the Right One for You?
As we've seen, not all inexpensive hosts are created equal. Every hosting provider on this list has its own features to tout other than just low priced plans. Which one is right for you will depend on your needs, your experience level, and of course, just how small or large your budget turns out to be.
I recommend Hostinger for its best value overall
. While not the least expensive, you get a great deal more for your money than with other budget-friendly hosts.
If you're just starting out and need a discounted price to get your website off the ground, give IONOS a try
. You'll pay significantly less for your first 6 months.
When eco-consciousness is a priority for you, as well as price, look no further than GreenGeeks
. It combines wallet-friendly hosting with climate sustainability.
If you need more info, I've summed up each host's most important features for you in the table below.
Standout Feature
Uptime Reliability
Free Email Accounts/Free Domain?
Starting Price
Hostinger
Best value for the money
100%
1 email
free domain

$

1.99

IONOS
Best discounts
99.97%
1 email
Free domain

$

1.00

GreenGeeks
Eco-friendly
99.99%
50 email
Free domain

$

2.95

InterServer
Unlimited resources
99.95%
Unlimited email
No domain

$

2.50

InMotion
eCommerce features
99.96%
10 email
No domain

$

3.29

A2 Hosting
WordPress features
100%
Unlimited email
No domain

$

2.99

FastComet
Cloud servers
99.88%
Unlimited email
No domain

$

2.19

SiteGround
SPanel and Site Security
100%
Unlimited email
No domain

$

2.99

Nexcess
Best premium hosting
100%
Unlimited email
No Free domain

$

21.00

ScalaHosting
Cheapest VPS hosting
100%
Unlimited email
Free domain

$

20.00
FAQs
What features should I look for when selecting a cheap web hosting provider?
When choosing a cheap web hosting provider, consider factors such as storage space, bandwidth, uptime reliability, customer support, and scalability. You'll want to make sure the provider offers enough resources to accommodate your website's needs while providing a stable hosting environment. Also, check for additional features like website builders such as the one provided by GreenGeeks.
Why can't I use free web hosting?
Most free web hosts, like WordPress.com or Google's Firebase, don't offer much in the way of resources or support. A budget-friendly host such as Hostinger can provide you with unlimited resources and a quality support system.
Is it cheaper to host your own website?
No, hosting your website from home is more expensive and significantly less reliable. It's something you can try if you want to learn more about web hosting, but it requires a lot of tech knowledge and time, so it's definitely not going to be right for everyone. Consider InterServer, a more beginner-friendly, extremely reliable hosting provider.
Why is hosting so expensive?
Hosting providers have to invest a great deal into hardware, software, and the personnel to keep both operating smoothly. They are responsible for keeping the servers up and running, as well as developing and upgrading proprietary features and apps. And then there are licensing fees for third-party features like cPanel control panels. That's why budget-friendly discounts like those offered by IONOS are so important to website owners.