There are dozens of cheap web hosting services out there, but the truth is that many of them will cost you far more than you expect.
Some providers draw you in with very cheap prices only to sneak up on you with steep renewal fees later on. Others advertise a decent baseline price but make you pay extra for essential features like website security. Then there's cheap hosting that is so slow and unreliable that it can end up costing you a fortune in lost visitors. At the end of the day, "cheap" web hosting can turn out to be pretty expensive after all. But not always.
I've tested dozens of affordable web hosting services, and I'm glad to report that there are a few outstanding options.
 These providers not only offer reliable web hosting, but also feature-packed plans that give you great value for your money.
Short on time? These are the best cheap web hosts in February 2023:
Hostinger – High-performance shared hosting for an incredibly low price
A2 Hosting – Generous entry-level plans with complete website security
What We Look For in the Best Cheap Web Hosting Services
Finding a provider that is both affordable and reliable can be tricky. I looked for hosts with a proven track record of high loading speeds and uptime levels, as well as these essential features:
Transparent pricing. You don't want any unpleasant surprises when it's time to renew your hosting plan. I chose hosts that tell you exactly what features are included with your plan and how much you can expect to pay for it.
Generous resources. The hosts on this list provide sufficient storage space and bandwidth with their basic plans, so you won't need to upgrade the minute your site starts to get a lot of traffic. Some hosts even allow you to host multiple websites and domains on their basic plans.
Plenty of freebies. Free SSL, email hosting, and domain names are just the beginning. These hosts offer a ton of free features, including one-click installers, decent security, and performance-boosting features.
Reliable performance. Cheap hosting shouldn't mean that your website loads slowly or goes offline often. The providers on my list are affordable, but they don't compromise on speed or uptime.
Ease of use. If this is your first time building a website, don't worry. Most of the web hosting services below include an easy-to-use control panel and a website builder on all plans.
InterServer has a simple, no-nonsense approach to shared hosting.
There is a single, Standard plan
 with unlimited storage space and bandwidth, as well as an impressive set of features.

The best part?
You don't have to pay for several years up front to secure a good deal.
 Although the price is slightly lower if you opt for a three-year contract, you can get a cheap price even if you pay on a monthly basis.
While InterServer does have renewal fees, the increase in cost isn't nearly as high as it is with many other hosts
. Even after renewal, the price of your hosting remains affordable.
What You Get with the Standard Shared Hosting Plan:
Unlimited domains. You can host multiple websites on a single plan with most providers on this list, but InterServer is the only one that lets you have a separate domain for each site. If you intend to host several low-traffic websites in one place, InterServer is your best bet.
Unlimited email. You don't have to pay extra for email accounts with your domain. You can create as many accounts as you need, and you get advanced spam protection too.
A comprehensive one-click installer. Using Softaculous, you can easily install over 400 scripts – including WordPress and other CMS.
SitePad website builder. With dozens of beautiful themes and a simple drag-and-drop interface, this tool lets you quickly create and launch your website even if you've never built a site before.
What Do You Get If You Pay More?
InterServer has just one shared hosting plan, so you don't need to pay more to get the best service. All features are included in the Standard package.
When Should You Upgrade?
Unless you're regularly getting hundreds of visitors per day, there's no need to upgrade to a more expensive type of hosting. When you're ready, InterServer has some of the cheapest managed VPS solutions in the industry. For a full list of features, read
our in-depth InterServer review
.
Storage Space
Unlimited
Bandwidth
Unmetered
Free Domain
No
Free Email
Unlimited
Starting Price

$

2.50
Hostinger has the cheapest long-term shared hosting plans, by far. But what my colleagues discovered
while testing Hostinger for several months
is that it's also the best host for speedy websites. Surprising, right?
As it turns out, Hostinger is proof that you can get outstanding results even with super-cheap hosting.

Just keep in mind that Hostinger's headline prices are only available for three- and four-year plans. In addition, renewal fees can double the cost, but here's the thing:
The initial price is so low that even after renewal, Hostinger is still significantly more affordable than most other services.
A free domain name is included with some hosting plans from Hostinger
What You Get with the Single Shared Plan:
Built-in caching. The LiteSpeed cache manager is built straight into your dashboard, so you can improve your website's performance with a few simple clicks.
A choice of seven data centers. To get the best possible performance for your main audience, you can host your website on a server in the US, Brazil, the UK, the Netherlands, Lithuania, Indonesia, or Singapore.
Integrated CDN (content delivery network). Cloudflare CDN is just as easy to find. Once you activate it, you can expect faster loading speeds even for visitors who are far away from your main server. 
Free SSL certificate. The SSL encrypts all data on your website to keep your visitors' information safe. It also helps you rank higher in search engines.
The Single Shared plan
is restricted to one domain, one website, 30GB of storage, and one email address. Your bandwidth is also limited to 100GB per month, and you don't get a free domain with your hosting.
What Do You Get If You Pay More?
If you expect your website to grow quickly, I recommend the
Premium shared hosting plan
. It's just slightly more expensive than the Single and still very cheap compared to the industry average. With it, you get these extra features:
Unlimited websites, bandwidth, and email
100GB of storage space
A free domain for one year
SSH access for developers
When Should You Upgrade?
The Single shared hosting plan is more than suitable for a low-traffic personal or business website. Unless you're a developer, you'll only need to upgrade to Premium if you get over 100 visitors on a daily basis.
Storage Space
30GB to 200GB
Bandwidth
100GB to unmetered
Free Domain
On Premium plan and up
Free Email
One account for Single, unlimited for other plans
Starting Price

$

1.99
With most web hosts, the advertised prices are only available if you're willing to pay for several years of hosting up front.
A2 Hosting is no different in this respect, but I find that it's easier to commit to it for two reasons.

To start with, A2 Hosting has been around for many years, and it has consistently demonstrated good speeds and reliable uptime.
But more importantly,
A2 offers an anytime money-back guarantee on all plans
, which means that even after the first 30 days of service, you can still get a prorated refund for the remainder of my term. It's basically risk-free hosting.
What You Get with the Startup Shared Hosting Plan:
A2 Optimized applications. Whether you prefer to work with WordPress, Joomla, Drupal, or any other popular CMS, you can use the A2 Optimized plugin to automatically configure your website for performance and security.
Easy website staging. You don't have to make any risky changes directly on your website. With this tool, you can clone your site, safely test the new features, and only afterwards push them live.
Free security suite. A2 Hosting manages your website's security for you. The suite includes reinforced DDoS protection, a dual firewall, a malware scanner, and a free SSL certificate.
Patchman security. Outdated software poses the highest risk in terms of website security. The Patchman tool automatically detects out-of-date versions and immediately quarantines any files that appear to be infected.
A2 Hosting's Startup plan
 includes a single website, unmetered bandwidth, unlimited email, and 100GB of storage. That's more than enough for most sites, but if you need even faster loading speeds, either of the two Turbo plans might be more suitable.
What Do You Get If You Pay More?
If you can afford it, the Turbo Boost plan comes with:
Unlimited websites, bandwidth, and storage space
Better-optimized servers with additional resources and fewer neighbors
The A2 Optimized Site Accelerator plugin, which includes several preconfigured caching tools
Automated daily backups
When Should You Upgrade?
You can upgrade to the
Turbo Boost plan
 if you want faster loading speeds for your website. If you outgrow the resource limitations on the Startup plan, A2 will send you an email to suggest a better package. For a full list of features, read
our in-depth A2 Hosting review
.
Storage Space
100GB to unlimited
Bandwidth
Unmetered
Free Domain
No
Free Email
Unlimited
Starting Price

$

2.99
If you want a WordPress website, SiteGround should be at the top of your list. All of its shared hosting plans
 come with managed WordPress hosting, which costs a premium fee with most other providers.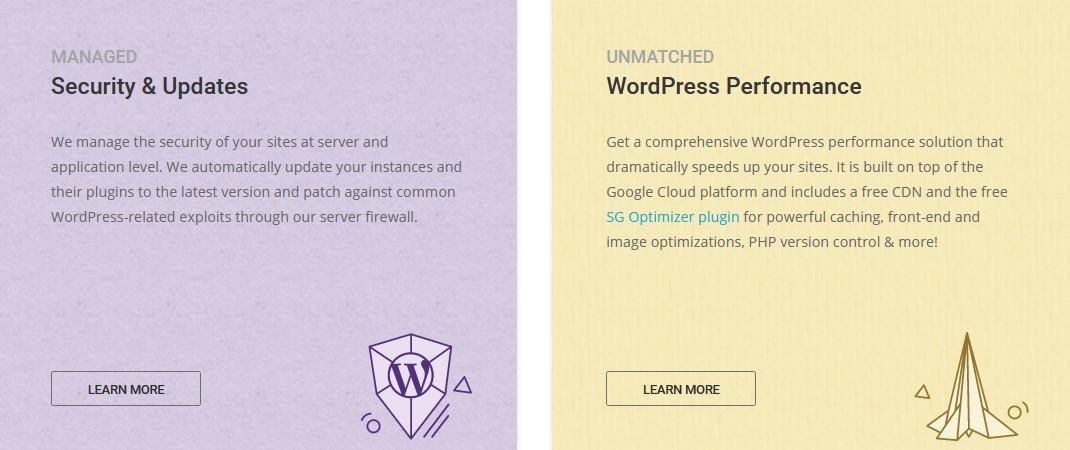 Granted, SiteGround may not be the cheapest host on my list, but in terms of managed WordPress hosting, its prices are well under the industry average.
SiteGround WordPress Hosting
A free domain name is included with some hosting plans from SiteGround
If you're trying to keep costs as low as possible, SiteGround might not be the best option for you.
But the lowest-tier StartUp plan provides good value for your money
– the additional support and user-friendly features will make it super easy to build your first site.
What You Get with the StartUp Shared Hosting Plan:
Managed WordPress services. WordPress is automatically installed and optimized on your account. You also get automated WordPress updates and backups, as well as WP-CLI access for developers.
Extensive support for WordPress. Most hosts don't help with WordPress-specific issues, but SiteGround's agents are professional and knowledgeable and can provide assistance when you need it.
Site Tools. This is SiteGround's proprietary control panel. Unlike cPanel, it was specifically designed for WordPress websites and comes with a far simpler interface.
The WordPress Starter wizard. Once you log in to your account, the WordPress Starter helps you build your first website. Several premium themes are included, and you can easily add extra functionalities like a portfolio or online store.
SiteGround's StartUp plan is limited to one website and 10GB of storage space, but this shouldn't be a problem if you want to host a personal or small-business site. That said, advanced caching and most developer tools are locked behind the GrowBig and GoGeek plans.
What Do You Get If You Pay More?
If you upgrade to the GrowBig plan, you get three essential extra features:
SiteGround's proprietary SG Optimizer, a caching plugin designed for improved performance
One-click site staging to safely test new features
Collaborator tools that make it easier to work in a team
If you're a developer, you might prefer the GoGeek package, which comes with additional resources, Git integration, priority support, and white-label dashboards for your clients.
When Should You Upgrade?
Unless you're a developer, you only need to upgrade to the GrowBig plan if your website gets more than 10,000 monthly visitors. For a full list of features, read
our in-depth SiteGround review
.
Storage Space
10GB to 40GB
Bandwidth
Unmetered
Free Domain
No
Free Email
Unlimited
Starting Price

$

2.99
Hosting a website with a low carbon footprint doesn't have to be expensive, nor do you have to compromise on performance or reliability.
If you want your site to be eco-friendly, GreenGeeks is the cheapest way to make it happen.

GreenGeeks uses renewable energy sources to donate three times the amount of energy it uses back to the grid.
Meanwhile, its hosting plans are both affordable and packed with useful features.
A free domain name is included with some hosting plans from GreenGeeks
What You Get with the Lite Shared Hosting Plan:
Unlimited resources. Even on the entry-level plan, you get unlimited storage space, bandwidth, databases, and email.
Easy scalability. You can add or remove additional CPU power and RAM without having to upgrade to a more expensive plan. This is especially useful if traffic on your website tends to fluctuate based on popular content, promotions, or sales.
Automated WordPress updates and backups. You get a one-click installer for WordPress, and you don't have to worry about software updates or backups. GreenGeeks takes care of everything for you.
Above and beyond tech support. We've tested GreenGeeks' support team several times, and they've always delivered. The agents are quick to respond, and they don't mind going the extra mile to lend a hand.
You can only host one website on GreenGeeks' Lite plan, but the vast majority of features are all included.
What Do You Get If You Pay More?
If you opt for
the Pro plan
, you can host an unlimited number of websites, each with its own domain. You also get additional computing resources, which means that your website can handle more traffic.
When Should You Upgrade?
There are two good reasons to upgrade to Pro or Premium with GreenGeeks. First, if you need to host more than one website, or if your website is growing quickly, and you need more resources to handle the traffic.
Storage Space
Unlimited
Bandwidth
Unmetered
Free Domain
Yes
Free Email
Unlimited
Starting Price

$

2.95
Which Cheap Hosting Service Is the Best for You?
There's a good reason to pick any one of the providers I've included on my list, but at the end of the day, it all depends on your needs, your level of experience, and, of course, your budget.
I recommend InterServer as the best cheap web host overall, because its Standard shared hosting plan has everything you need
to build a low-cost but effective website.
If you're looking for an affordable yet high-performance platform, Hostinger is an excellent option.
 Its shared hosting plans are still super cheap, and you get to choose between seven data centers on four continents to host your site.
A2 Hosting is another good solution, and its shared hosting plan comes with managed security features to boot.
 Since there's an anytime money-back guarantee, you won't end up paying for services you don't use. Alternatively, if outstanding customer support is your priority,
you could go with GreenGeeks for eco-friendly hosting.
Still not sure? You can quickly compare the web hosts on my list using the table below:
Host
Standout Features
Free Email
Free Domain
Starting Price
InterServer

Unlimited resources, multiple websites, cheap monthly billing

Unlimited
No

$

2.50

Hostinger
Incredible discounts for long-term plans, superior performance
One account
On most plans

$

1.99

A2 Hosting
Managed website security, anytime money-back guarantee
Unlimited
No

$

2.99

SiteGround
Managed WordPress hosting, specialized WordPress support
Unlimited
No

$

2.99

GreenGeeks
Green hosting, outstanding tech support
Unlimited
Yes

$

2.95
FAQ
1. What is the best and cheapest web hosting service?
After months of testing, we've confirmed that Hostinger is not only the cheapest shared hosting provider in the industry, but also the fastest and most reliable – see the full test results in our expert review. This came as a surprise initially, but it makes sense considering that Hostinger has a well-optimized hosting platform, as well as an impressive fleet of seven data centers on four continents. To see how Hostinger did against other big players in the industry, check out our list of the best web hosting services in 2023.
2. Is there any free hosting service?
Yes, there are several providers that will host your website for free. Even Hostinger has a free hosting platform called 000webhost. However, free hosting comes with some significant limitations. For example, you might not be able to connect your own professional domain. You'll also have very little storage space and bandwidth at your disposal, and in most cases your site will be used for ads. If you don't want your website to look cheap, you're better off with a paid, but affordable, service. If you're not yet ready to invest in a paid service, you might want to take a look at these free but reliable web hosting services.
3. Is Wix hosting free?
Wix is a website builder, rather than a web hosting service. You can use it to quickly design and launch a website without having to write any code. Wix has a free plan that includes web hosting. It allows you to build a fully functional website, but there are a few limitations. To find out more, read our in-depth Wix review.
4. Is it cheaper to host your own website?
No, hosting your website from home is more expensive and significantly less reliable. It's something you can try if you want to learn more about web hosting, but it requires a lot of tech knowledge and time, so it's definitely not going to be right for everyone. The web hosting industry is extremely competitive, so you can actually get hosting for less than $1 per month. Don't miss our web hosting coupon page to see who is offering the best deal right now.