Not only does AWS have a steep learning curve, but it's also one of the most expensive cloud-based service providers.
Moving to Amazon's platform will require a lot of training for your IT department, so much so that many companies pay outside consultants for this purpose.
As such, combined with the higher baseline price, AWS can actually exceed the cost of on-premise infrastructures.
Sometimes, building your own marketplace can be cheaper. During my research for the best alternatives to AWS, I was surprised to find out that many were equally costly, confusing, or difficult to work with. But you can rely on the hosts I've selected for my list to make up for Amazon's biggest flaws.
In a hurry? These are the best AWS alternatives:
Kamatera – Affordable cloud and great server coverage worldwide
Liquid Web – Completely managed cloud with tons of add-on services
Cloudways – Easy-to-use multi-cloud for affordable distributed hosting
What We Look For in the Best AWS Alternatives
Despite its drawbacks, AWS offers a lot of power and flexibility. To ensure each of these alternative hosts can replace Amazon's cloud service, I've prioritized the following features:
Cost-effectiveness. The smaller your company or service, the more you stand to gain from a cost-effective cloud solution. The hosts on my list are more affordable than AWS and none will compromise on quality just to offer a better price.
Ease of use. AWS offers an enormous range of services, which can make implementation difficult and management quite complicated. The hosting providers I selected won't put your IT department through extensive training just to be able to set up a virtual environment.
Infrastructure offer. From server clusters to high-performance hosting, high-availability database servers, and more, my range of AWS alternatives offers something for every need. No use-case scenario was left behind.
Scaling. One of the many perks of moving into the cloud is the ability to constantly reshape your infrastructure to suit your needs. As is the case with Amazon, these providers let you scale your hosting plan easily whenever your business demands it.
Cloud services. Few other companies can match Amazon's impressive product list. That said, each and every one of the alternatives I've selected offer equivalents to Amazon's most important services, like EC2, S3, and CloudFront.
Support. Tech support is another area where your AWS costs can get out of hand, fast. The bigger your infrastructure, the greater your needs, and the more you'll pay. This is why most web hosts on my list have much better support prices, and some even include managed services.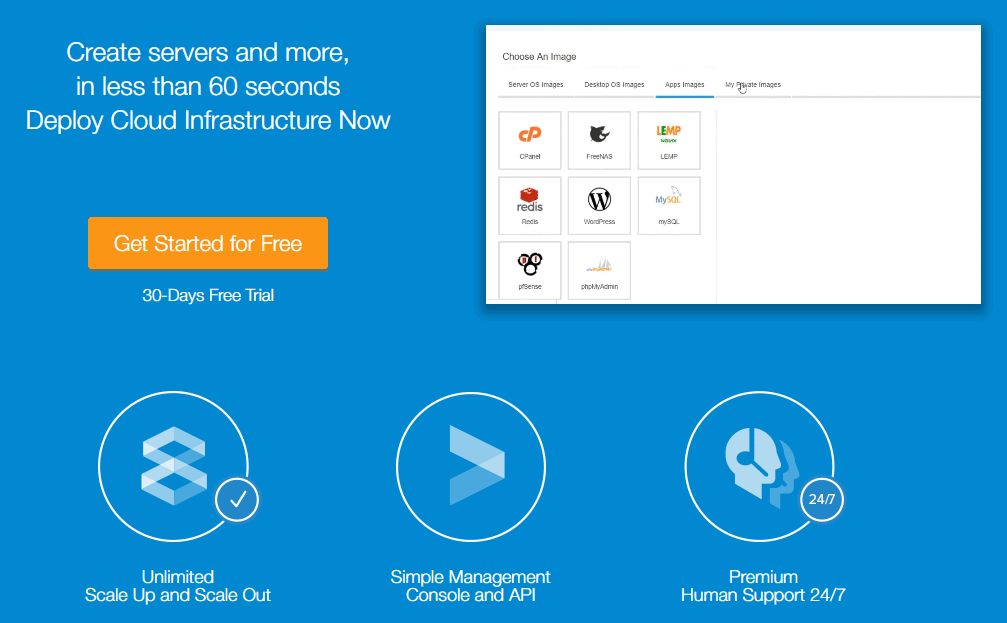 Although Kamatera has over 13 data centers around the world, its presence in the Middle East is what really sets it apart.
In fact, Kamatera currently has more servers in the region than AWS does, and that's saying something.
If this is where most of your clients or customers are, this host is an excellent choice.
For everyone else, Kamatera stands out as one of the most affordable alternatives to AWS.
You can spin up an Availability VPS using Kamatera Express for the price of a regular coffee. Then, add whatever upgrades you need when you need them, and scale or create new servers with just a couple of clicks. One of the most convenient aspects of working with Kamatera is the straightforward licensing process.
If you need Microsoft, cPanel, or Plesk licenses for your servers, you can purchase them straight from the host itself, usually at better prices than from the vendors.
Be sure to contact the sales team to discuss your needs.
Diagonal scaling. Get the most out of vertical and horizontal scaling by doing both at the same time. With Kamatera, you can add components to a server until it fits your needs perfectly, then replicate it as many times as you want.
Free trial. This is one of the very few cloud providers that offers a complete 30-day free trial. You don't have to make a commitment, and you're free to cancel any time you want.
Expert tech support. The host offers 24/7/365 customer support through phone and email. You get it by default, and there's no extra charge. Whenever there's a problem with your hosting environment, ring them up and have it fixed.
Managed services. If you don't have a sysadmin on your team, you can use Kamatera's managed cloud, which incurs a flat fee per server. The team will design and launch your infrastructure, then monitor it 24/7.
Server types

Availability, General Purpose, Burstable, Dedicated

Data center regions

North America, Europe, the Middle East, Asia

Cloud services

Cloud servers, block storage, private networks, load balancers, firewalls

Managed cloud

Available

Price

$

4.00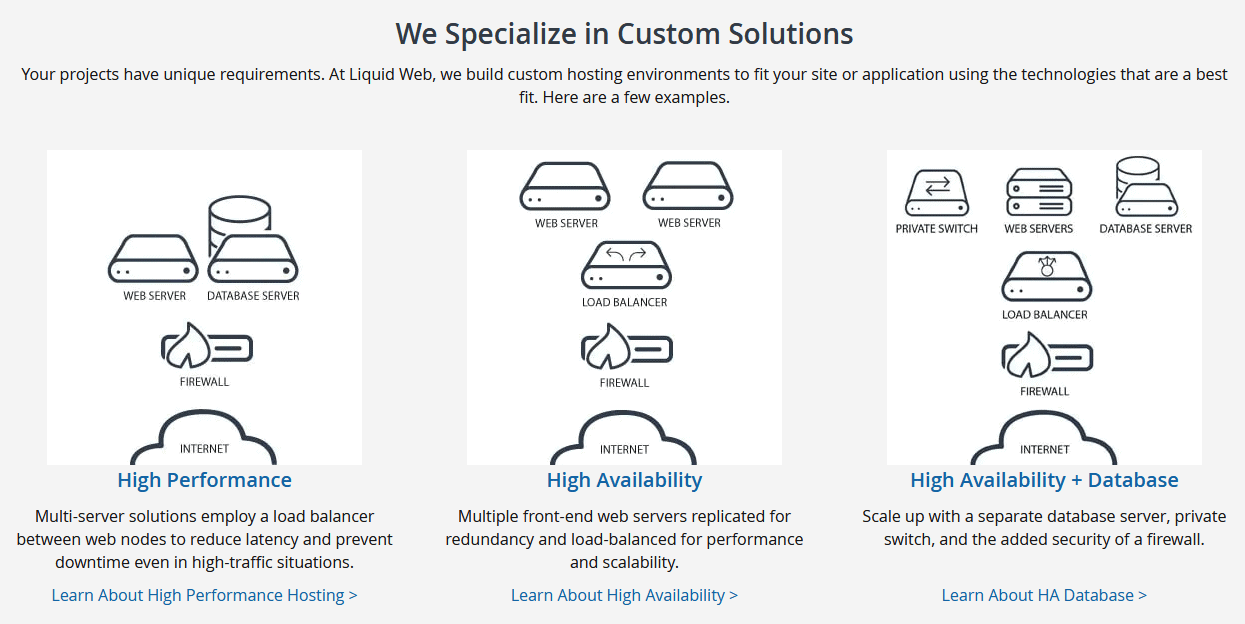 Liquid Web stands out from the crowd with its fully-managed cloud hosting service.
Unlike other competitors, which are mostly DIY, Liquid Web will help you migrate your app or site, proactively monitor your infrastructure, and keep all software updated. The host's support is a great perk on its own. Whether you want to reduce latency, focus on scalability and performance, or set up a highly secure environment,
Liquid Web will help you build a custom enterprise hosting solution for your specific needs.
Although slightly more expensive than Kamatera,
Liquid Web's bundled VPS packages are excellent value deals.
New customers can get a VPS with the added benefit of an InterWorx control panel license, premium email, and the host's Protection and Remediation service, for a ridiculously affordable price. When Liquid Web says it's half-off, it actually is.
Fully-managed infrastructure. The host goes beyond just managing your hosting environment. All backups are done off-server by default, and there are several protection layers against DDoS attacks. Cloud Sites is a great way to resell managed hosting or launch many websites with just a couple of clicks.
100% uptime SLA. Liquid Web is one of the few companies to guarantee 100% uptime. While this is theoretically impossible (the infrastructure does undergo maintenance, for example), our tests showed an impressive 99.998% availability.
Compliance assistance. Whether you just want to process payments through a site or application, or you're looking to achieve HIPAA standards, Liquid Web will help you meet your compliance requirements.
"Site Protection and Remediation." One of the best free add-ons you can get with the host's VPS bundles, this feature includes a vulnerability assessment, enhanced web application (and server) protection, as well as post-attack "clean-up" services.
Server types

Cloud VPS, dedicated cloud, server clusters, high-availability/high-performance, VMware, database

Data center regions

North America, Europe

Cloud services

Cloud servers, block & object storage, private networks, load balancers, CDN, firewalls, security & compliance

Managed cloud

Available

Price

$

15.00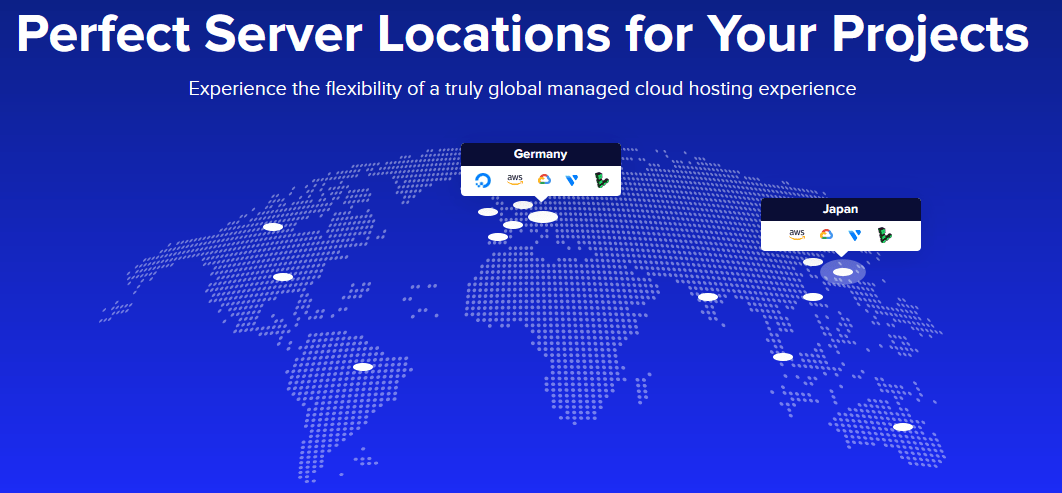 For cross-region high-performance sites or apps, Cloudways is your best bet.
Instead of provisioning one large server, you can spin several smaller ones closer to your audience. For example, you can use AWS for its Brazil data center, Google Cloud for Taiwan, and Vultr for France. You lower hosting costs and increase the quality of your service all in one go.
Like Liquid Web, Cloudways is a fully-managed service, which means you don't have to worry about the security of your hosting environment.
Aside from OS-level firewalls and regular security updates, you also get tools like two-factor authentication, bot protection, and IP whitelists.
If you regularly work with collaborators, Cloudways has several tools to help manage those workloads.
You can create limited-access accounts for your team members, but also group people into teams and/or projects. When you're done, you can one-click-ship entire servers to your clients.
ThunderStack. Cloudways has one of the best software stacks for PHP-based websites. Nginx is set up as a reverse proxy in combination with Apache, Varnish takes up the accelerator role, while PHP-FPM and Memcached ensure everything is nice and speedy.
Auto-healing enabled. Auto-healing technology allows the server to restart automatically if your website goes down. This will resolve most server-related website crashes without additional intervention.
Free proprietary WordPress plugin. All Cloudways customers benefit from the host's premium WordPress plugin, Breeze. You get gzip compression, file minification, database optimization, and easier CDN integration. It's an all-you-can-eat performance buffet.
Premium DNS service. The managed DNS add-on may be paid-for, but it offers an added boost to performance and security. Aside from domain configuration, the tool comes with no less than four layers of redundancy. If your site ever goes down, visitors can be redirected to a different IP address.
Server types

Dedicated cloud

Data center regions

North and South America, Europe, Australia, East Asia, Southeast Asia

Cloud services

Block storage, private networks, load balancers (through DNS settings), CDN, firewalls, security & collaboration

Managed cloud

Available 

Price

$

11.00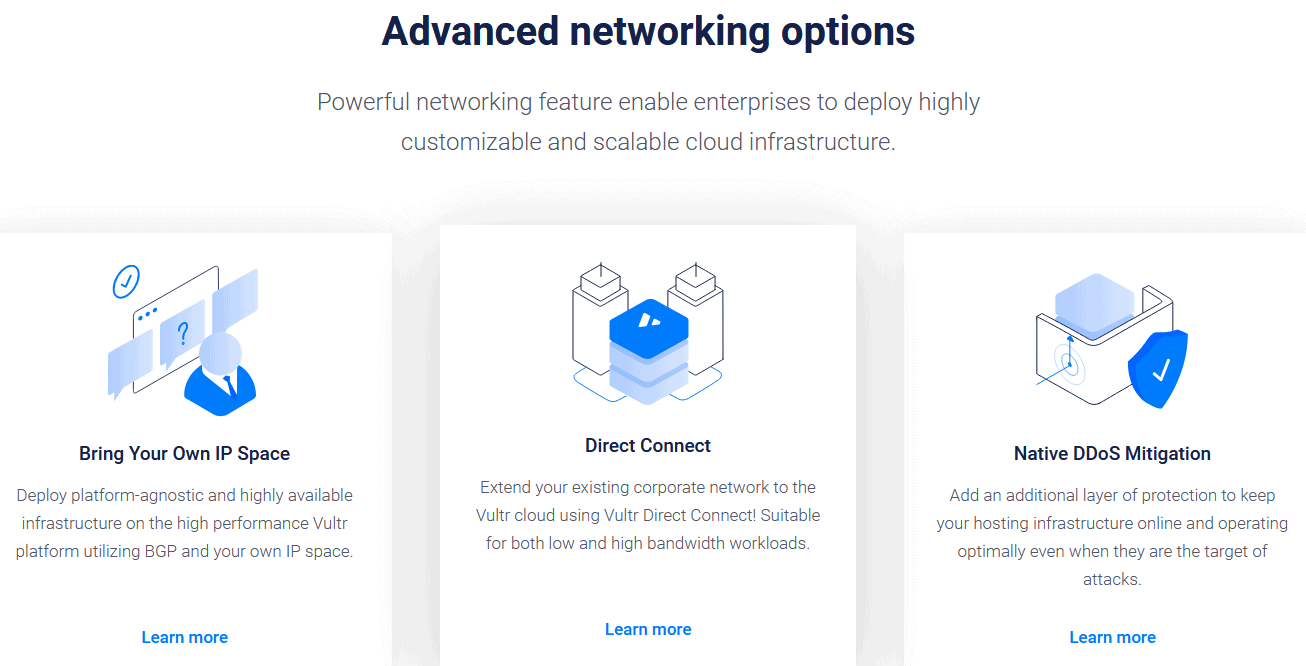 Vultr is one of the best AWS replacements for dedicated private connections.
Even if you're not a Vultr client, you can use its global network of servers for private connections. However, purchasing a 10Gbps (minimum) instance with Vultr is more advantageous, because you'll also be able to establish a high-performance physical connection between your private network and Vultr's cloud.
The host's up-to-date infrastructure delivers excellent performance thanks to its optimized Intel Skylake processors and 100% NVMe storage.
If you want a single-tenant environment with absolutely no virtualization layer, you can always rely on Vultr's affordable bare metal options. Although Vultr's prices are much lower than Amazon's and you get similar levels of performance, there are some drawbacks. Customer support is not as readily available, and it offers a narrower range of cloud services.
Announce your IP space. Expanding your current infrastructure is made easy by the Vultr team. Provide the host with your ASN, submit your IP prefix, and then establish a border gateway protocol.
Powerful control panel. Easily manage your teams, environment, and API access with Vultr's proprietary control panel. Browse through activity graphs, server settings, and talk with support through the same interface.
Burstable 10GbE connection. Vultr's dedicated servers can handle anything you throw at them, unless you're engaged in cryptocurrency mining, which is not permitted. However, it's worth noting that the bandwidth is limited to 5TB.
High-performance NVMe storage. No regular SSD drives here. Everything is connected through PCIe, which means you can get read and write speeds of up to 2GB per second.
Server types

Cloud, high-performance cloud, dedicated cloud, and bare metal

Data center regions

North America, Europe, Southeast Asia

Cloud services

Block & object storage, private networks, load balancers, direct connections, firewalls, security & collaboration

Managed cloud

Available through Cloudways

Price

$

60.00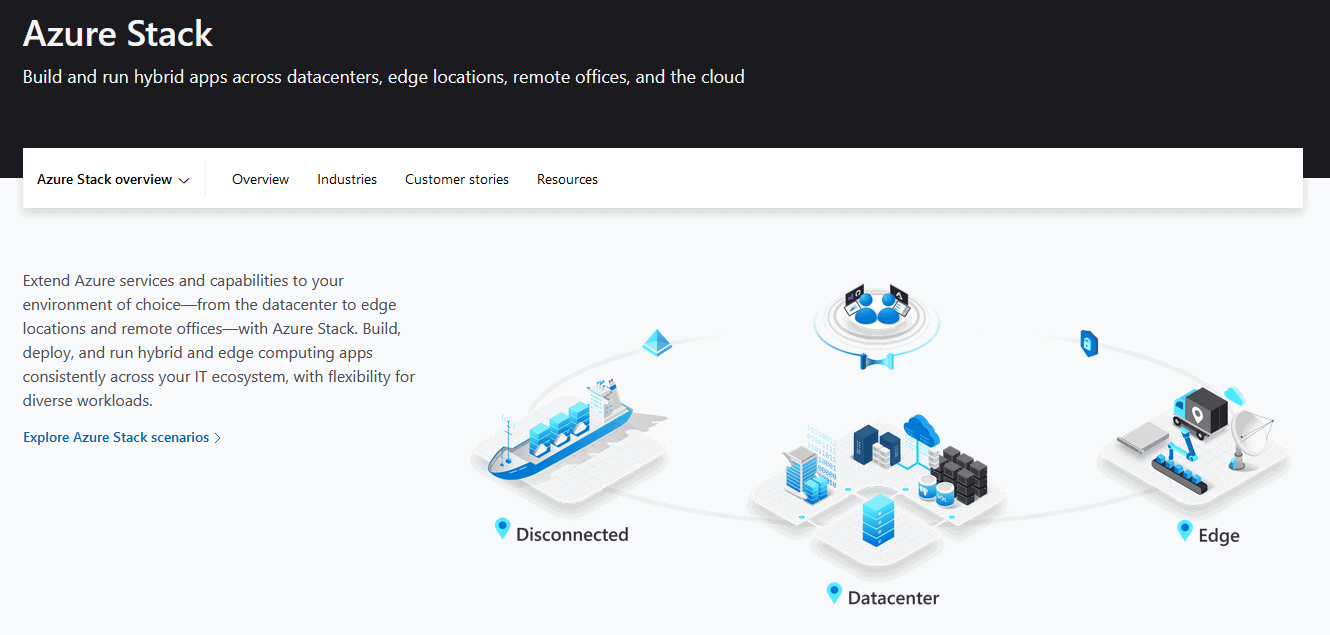 Although it takes the last spot on my list,
Microsoft's Azure Stack is the closest competitor to AWS in terms of cloud services.
Azure quickly caught up to its competitors with its complete end-to-end solutions, including serverless computing, various container services, hybrid cloud environments, and edge data processing.
Edge computing with Azure is particularly easy to establish, whether you use it for supply chain management, surveillance, automation, or safety purposes.
The best part about it is that you don't need a dedicated team to set up the hardware – you can get rack-mountable or mobile computing appliances via paid monthly subscription. Neat.
Like Amazon,
Azure gives you free access to its proprietary control panel (Azure Portal), and free trial access to most of its services.
Although it is difficult to single out one product, the public load balancer is just awesome. It's completely free to use and it includes a health check system.
Microsoft Azure Cloud Hosting
Free container service. Azure comes with a fully managed, serverless Kubernetes. If you regularly build and scale applications, elastic provisioning and event-driven autoscaling will spare you a lot of hassle while you focus on development.
Notification hubs. Broadcast to anyone through Azure's notification hub. You can reach iOS, Windows, Android, Baidu, and even Kindle devices. Your first million notifications come at no charge.
Free trial. New customers get one year of free access to most Azure services, while many more services are always free. You also get $200 worth of free credit to spend on the platform as you see fit.
Free virtual desktop/apps. With just one Office 365 license, Azure lets you access Windows virtual desktops without any additional license fees.
Server types

Cloud VMs, bare metal, CPU/memory/storage-optimized, high-performance, GPU

Data center regions

North and South America, Europe, the Middle East, Southern Africa, Southeast Asia, East Asia, Australia

Cloud services

Over 600 services including block & object storage, blockchain, text analytics, mixed reality, hybrid cloud

Managed cloud

Available through marketplace

Price

$

0
Which AWS Alternative Is Best for You?
While Amazon maintains a significant lead in the cloud market, this does not necessarily make it the best choice for everyone and every situation. AWS faces increasingly tough competition on a daily basis.
If you want quick access to an affordable, high-performance cloud VPS, Kamatera is your best bet.
Unlike other hosts, its free trial has no credit card requirement, and can be cancelled at any time.
For custom hosting solutions and security compliance, Liquid Web is the best AWS alternative.
All of its infrastructure is fully managed by actual professionals, even the low-cost CMS plans.
Lastly, if you want a less-costly, drop-in replacement for AWS that's also suitable for edge computing, Azure makes a strong case.
It's also much easier to work with than AWS' platform. Still undecided? Take a look at this summary of the most important features for each AWS alternative:
Standout feature
Managed services
Datacenter locations
Starting Price
Kamatera

Excellent data center coverage in the Middle East

Yes

North America, Europe, the Middle East, Asia

$

4.00

Liquid Web

Premium managed services, custom hosting solutions

Yes

North America, Europe

$

149.00

Cloudways

1-click app and server cloning, straightforward distributed hosting

Yes

North and South America, Europe, Australia, East Asia, Southeast Asia

$

11.00

Vultr

Burstable 10GbE connection for low-latency apps

Available through Cloudways

North America, Europe, Southeast Asia

$

60.00

Azure

Amazon-equivalent services and complete edge computing solutions

Available through marketplace

North and South America, Europe, the Middle East, Southern Africa, Southeast Asia, East Asia, Australia

$

0
FAQ
Which is the best AWS alternative?
All things considered, Kamatera is the best AWS alternative. Deploying instances with the host is straightforward, not to mention affordable, in contrast to the baroque garden maze of expensive services on Amazon's platform. The drawback of Kamatera is that it doesn't offer the hundreds of intricate cloud services you can find on AWS, GCP, or Azure. However, most companies don't require such a complicated system to operate an app or website.
Are there free alternatives to AWS?
No, not really. You can try either of Amazon's main competitors, since 12-month trials seem to be all the rage now, but neither will be completely free. Running a worldwide cloud network isn't easy or cheap. Kamatera does have a month-long free trial promotion, with no strings attached. In addition, most hosting companies run promotions on a regular basis, and it's worth checking out the deals for 2023 on our coupons page before signing up.
How do I cancel AWS?
Cancelling your AWS account is easier said than done. First, you have to make sure you're logged in to AWS as the root user, otherwise you won't be able to close the account. If you created member accounts, these will have to be deleted beforehand. There have been complaints about AWS billing clients even after they had closed their accounts. To prevent this, you should terminate any resources you're using before closing your account. You'll get a better idea of what needs to be shut down by looking into your billing details (select bill details by service). Finally, you'll be charged for any subscriptions with ongoing payment commitments (like Reserved Instances or EC2) until the plan ends. Closing your account won't end them, so you might as well put them to good use.
Which is the cheapest and most reliable AWS alternative?
If you're looking to host a simple website or app, Liquid Web or Hostinger are likely to offer a decent solution for a more reasonable price than AWS could ever pull off. Furthermore, take a look at our list of the best web hosting services for 2023. It has the cheapest, most reliable hosts that can replace AWS for certain use case scenarios.