jump down to find out how you can get your own professionally-designed logo from just $5
.
9 Best Art Deco Logos
While looking for a new logo for Website Planet, my colleague carried out a comprehensive test of the various logo design platforms out there. Want to know which platforms were his favorite, and which logo became the new Website Planet logo? Check out his
full review of the top logo design services
 to find out!
Getting a Stunning Art Deco Logo From as Low as $5
You're right in thinking that hiring a professional logo designer is the best way to create an eye-catching art deco logo for your brand. The good news is, hiring a pro won't set you back thousands of dollars – if you know where to look. On Fiverr, it's possible to have a stunning art deco logo designed for you for as little as $5. Fiverr is a global marketplace for freelance services, including a specific category for logo design. And as its name suggests, prices start from a wallet-friendly $5! To look for a designer on Fiverr,
go to the Fiverr homepage
and search for "art deco logo" in the search bar. This will bring up a range of freelance art deco logo designers and examples of their work.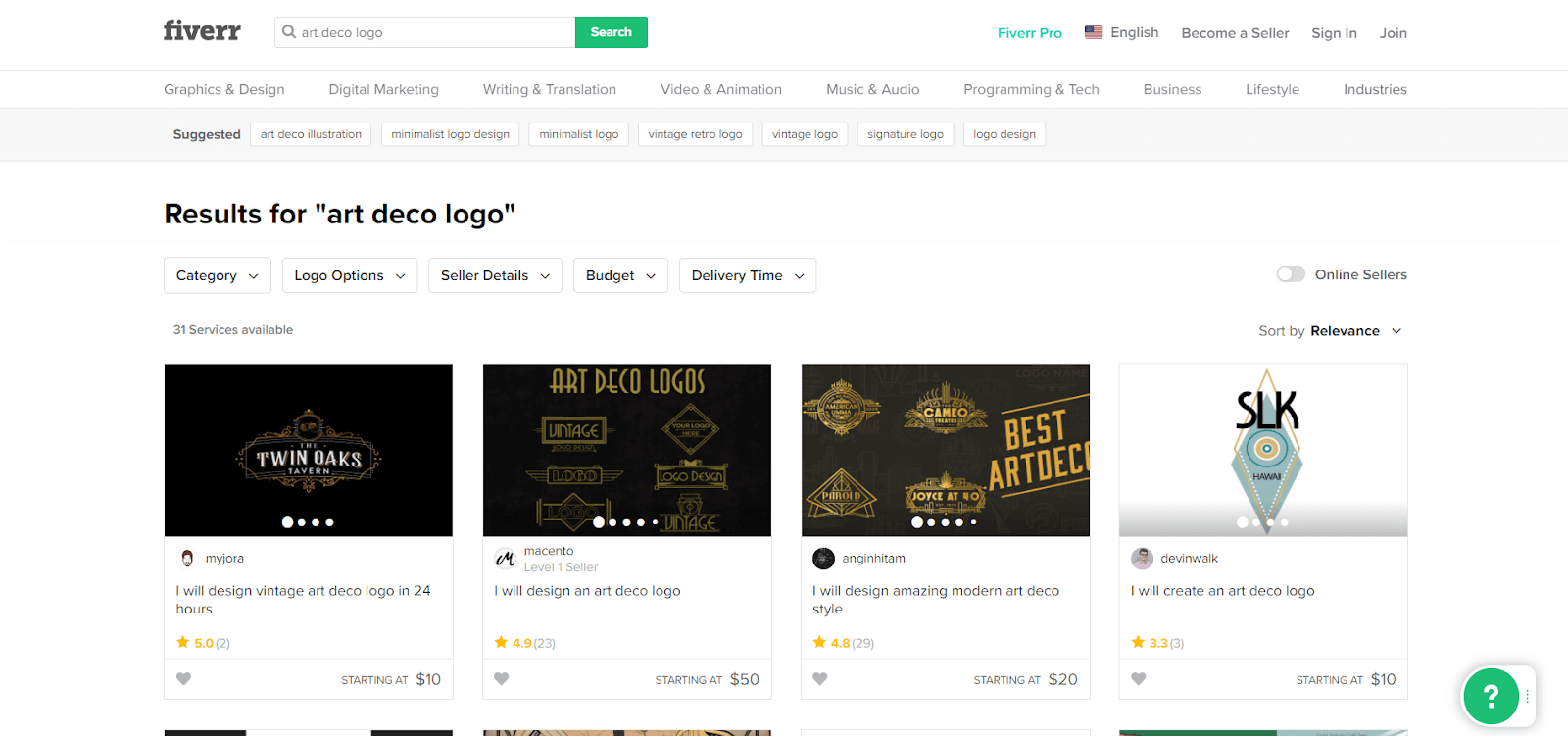 When you find a logo designer whose style you like, click on the search result to go to their profile where you can see more details about their services and offered packages. Most package details outline:
what's included (and not included) in each package
the estimated turnaround time
whether there's a money-back guarantee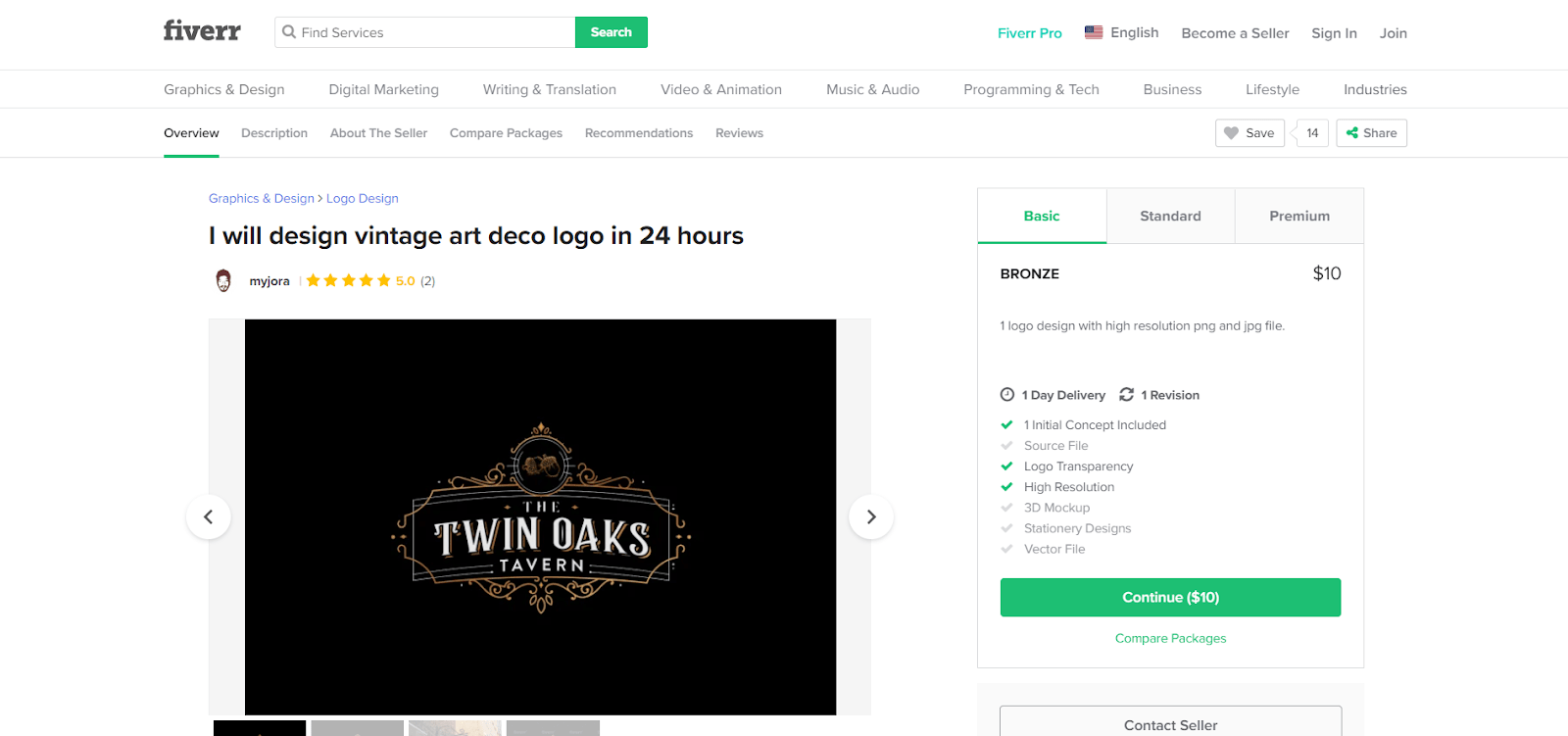 You can also get a feel for the designer by browsing through their portfolio of work and reading authentic reviews written by past clients. If you have any questions for the logo designer, simply send them a message before hiring them. If you're keen to go ahead, click
Continue
. Here you can check the contents of your chosen package and add any extras before going on to pay.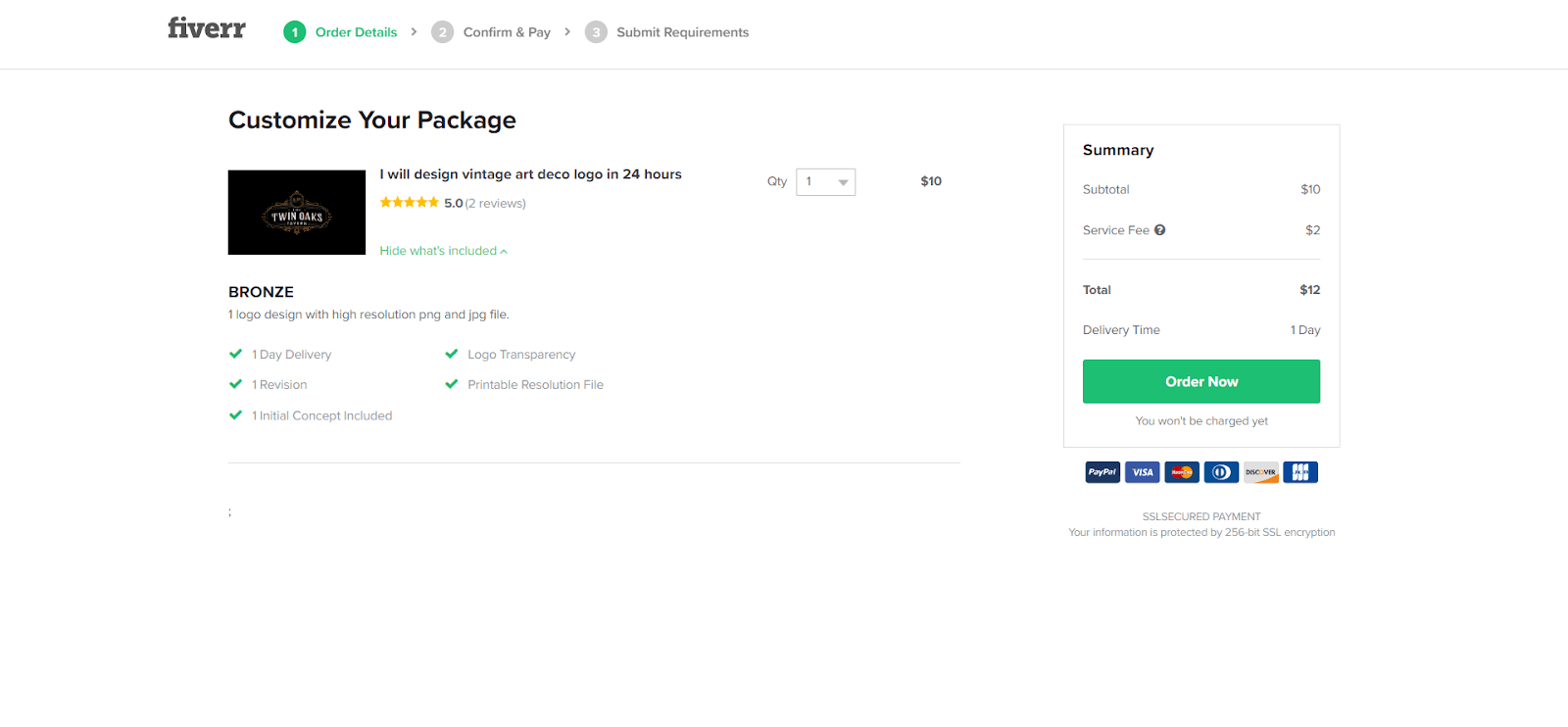 Once you've placed your order, you'll be asked to provide certain information to help the logo designer create the perfect art deco logo for you. After that, just sit back and relax until your logo is ready. Here are a few other great reasons to use Fiverr:
Affordable access to professionals – The freelance logo designers on Fiverr are professionals skilled at making beautiful logos. Let them do the hard work while you focus on running your business!
Never overpay – Fiverr's freelancers charge flat fees and never add extra costs once they've been hired. You'll only ever pay for what you need.
Protected payments – Fiverr holds your upfront payment in escrow until you have received your logo. There's no risk. If the freelancer doesn't deliver, you can get your money back.
Customize a package – Many designers offer added extras so you can customize a set package to suit your exact requirements.
Interested in Fiverr? Check out
our in-depth review
 for more tips and example logos.
How to Make Your Own Art Deco Logo
If you want to try your hand at making your own art deco logo, using an online logo maker can make the process as straightforward as possible. Wix Logo Maker is a DIY tool that uses artificial intelligence (AI). You don't need to have a technical background to design a logo using Wix Logo Maker—just answer a few simple questions and it'll generate logo templates based on your industry and preferences. Then, you can choose your favorite to customize. To get started,
go to the Wix Logo Maker homepage
and set up an account (if you don't already have one). Then, provide your business name and an optional tagline.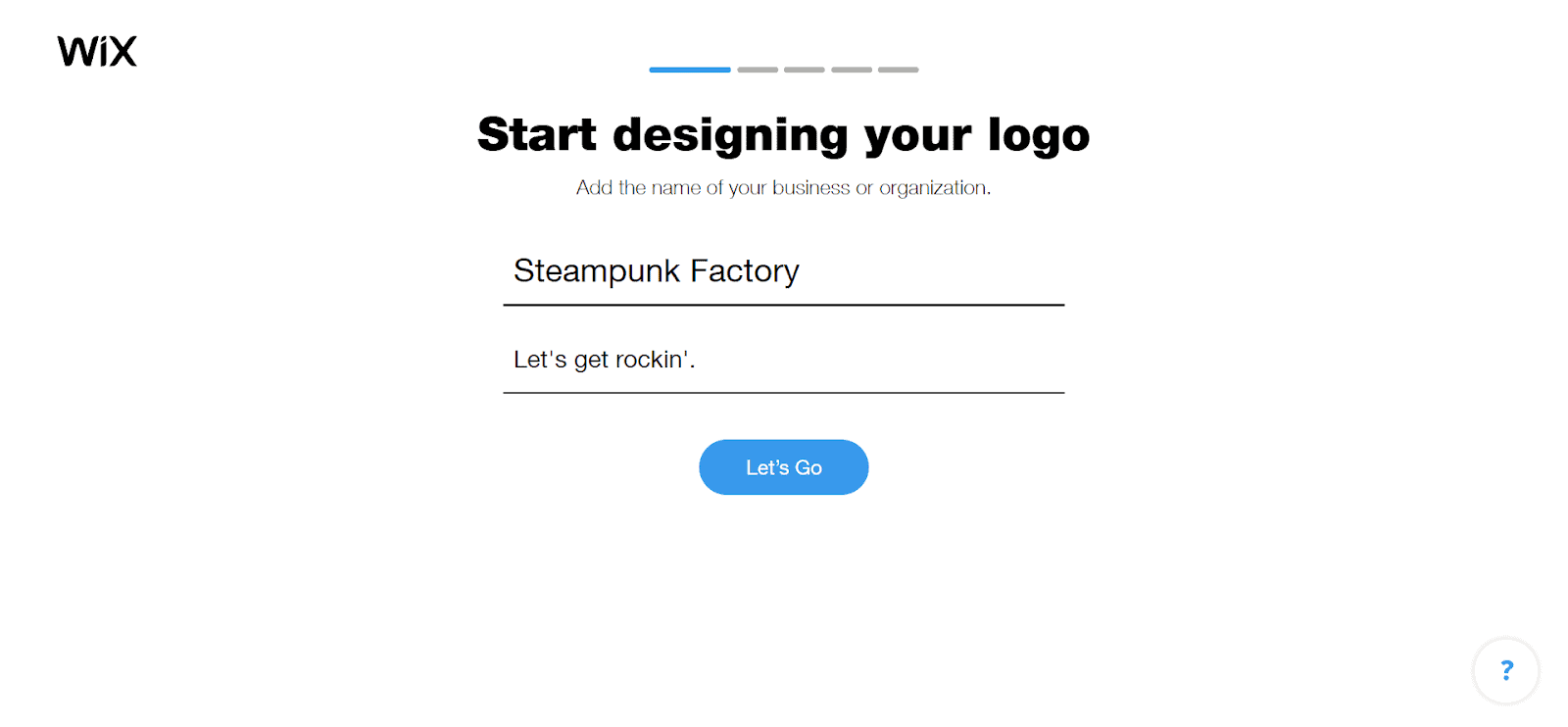 Next, you'll be asked a series of questions to help Wix Logo Maker generate some suitable logo options for you. There are several stages. In the first, you'll simply be asked to fill in your industry, in the next, you'll choose words to describe your preferred style. When it comes to narrowing down your style preferences, you'll be shown five different logo pairs and asked to pick your preferred logo. (Don't overthink this part—just go with your gut!)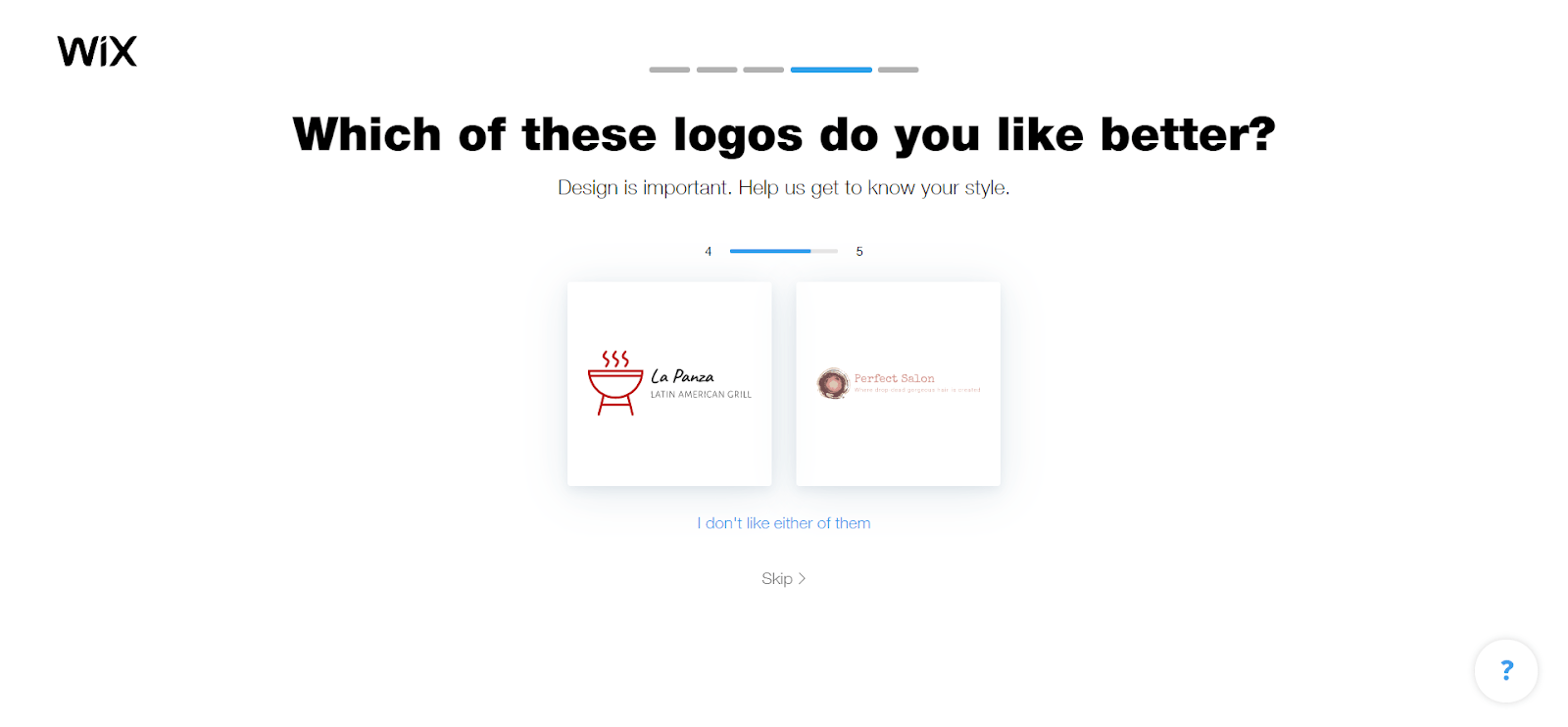 Once it has all of this information, the AI will work out a selection of logo suggestions tailored to you.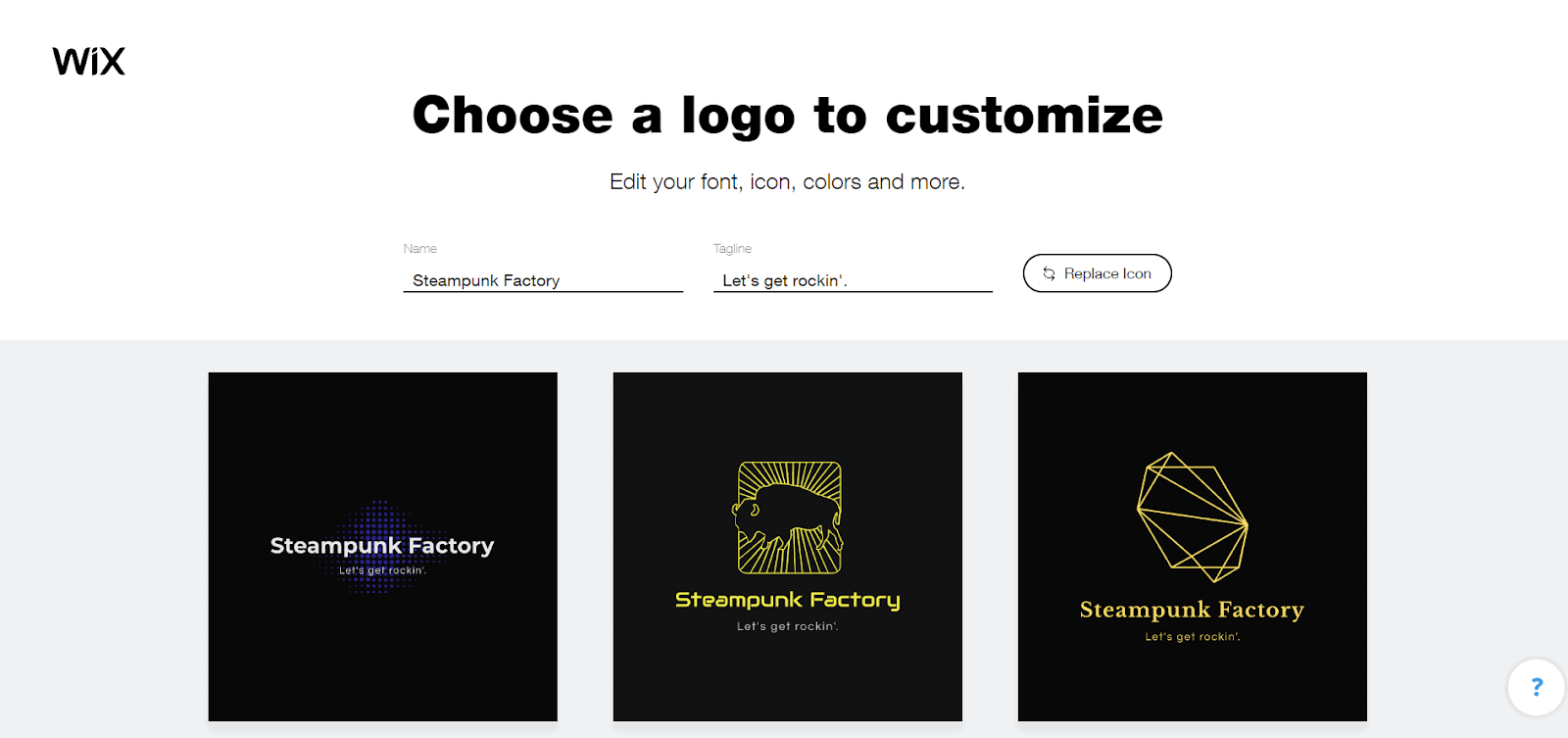 Pick your favorite option, and you'll then be able to customize it further until you're completely happy with it. This is the stage where you can really make it your own and align it with your brand. In the logo editor, you can add shapes and icons to create an art deco design, as well as change the font, colors, and positioning.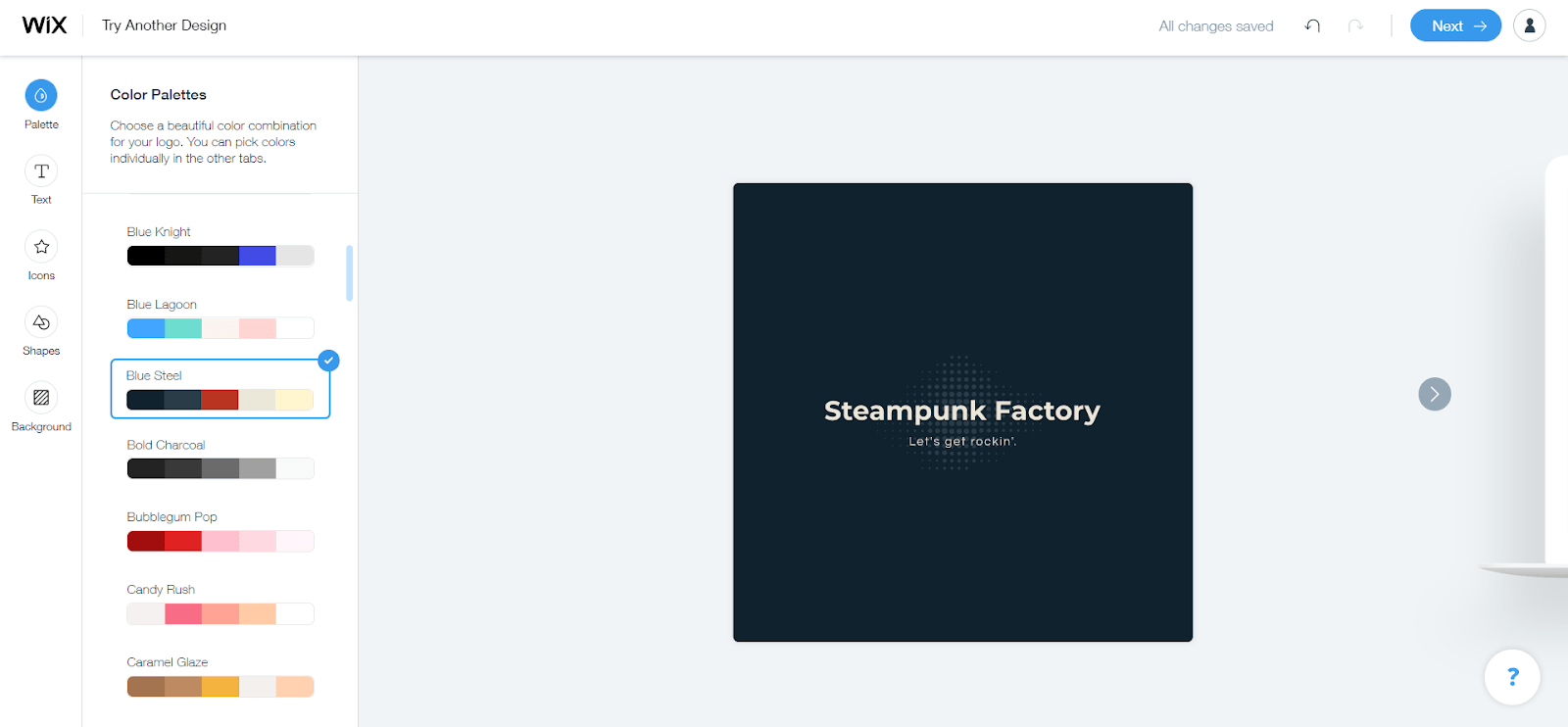 In the last phase, you will have the opportunity to download files for your new logo. You can access the standard logo files for your logo at a basic fee, or opt for an upgraded package that includes the standard logos, resizable logo files, and social media logo files for a slightly higher fee. As a sneak peek, a small, low-resolution image of your logo is available for free download.
Wix Logo Maker Alternatives
Tailor Brands – Tailor Brands allows for extensive customization, whether you want a logo that's based around a name, an icon, or an initial. Learn more in our full Tailor Brands review.
DesignEvo – Instead of answering questions on your preferences, DesignEvo offers a whopping 10,000+ logo templates, in more than 18 industry categories. We have an in-depth DesignEvo review covering the platform's pros and cons in greater detail.
To learn more about Wix Logo Maker,
check out our expert review of it here
.
Get a Logo That's a Work of Art
Knowing that you want an art deco logo for your business means you're already halfway there. Art deco logos can involve intricate designs, so my top recommendation to turn your vision into a reality is to hire a freelance logo designer on
Fiverr
. It's the best place to get a professionally designed, bespoke logo that won't cost a bomb. On the other hand, if you trust in your own abilities and want total creative control over the whole process, use
Wix Logo Maker
to design your own logo from scratch. Don't worry if you think you can't draw—the platform does all the heavy lifting for you! Still looking for your ideal logo design service? Check out
my colleague's detailed logo design services review
 to see how Fiverr and Wix Logo Maker compare with other options.