DIY logo makers claim you can design your own logo in a matter of minutes with the help of AI (artificial intelligence). The question is how intelligent these tools
really
are. Are you going to end up with a logo that looks professional and unique, or are these apps are just fun AI-based toys to play around with? Good news!
I actually went and tested a whole lot of DIY logo design apps. Then, I tested quite a few platforms that let you hire a real-life designer.
 I wanted to see if an online app could really compete with the expertise you get from an experienced logo designer (these days, you can hire one on Fiverr for on. Today,
I'll be going over the specific benefits and drawbacks of both kinds of services
, to help you decide which option is better for you.
Designing Your Own Logo Is Usually Faster, Sometimes Cheaper
DIY logo makers are exactly what the name implies:
apps that let you design a logo all by yourself. You might build a logo design by starting from a template or do it from scratch. These tools are usually free to try. For example,
Wix Logo Maker lets you design your logo for free
, but you have to hand over some money to download the actual image files. Well, not all logo design apps charge money, but most of them do. But what do you actually get in a logo design app? They're all a bit different, but here's the basic concept:
The Essential DIY Logo App Features
The fancier apps in this industry will start you off with a simple wizard to generate some preliminary logos for you.
This usually means answering some questions about the kind of logo you want, after which a simple AI bot will try to guess what you need. This isn't always how it works, and some apps will even let you start with a completely blank canvas. Either way, you'll usually end up at some sort of screen where you can choose from any number of logo templates.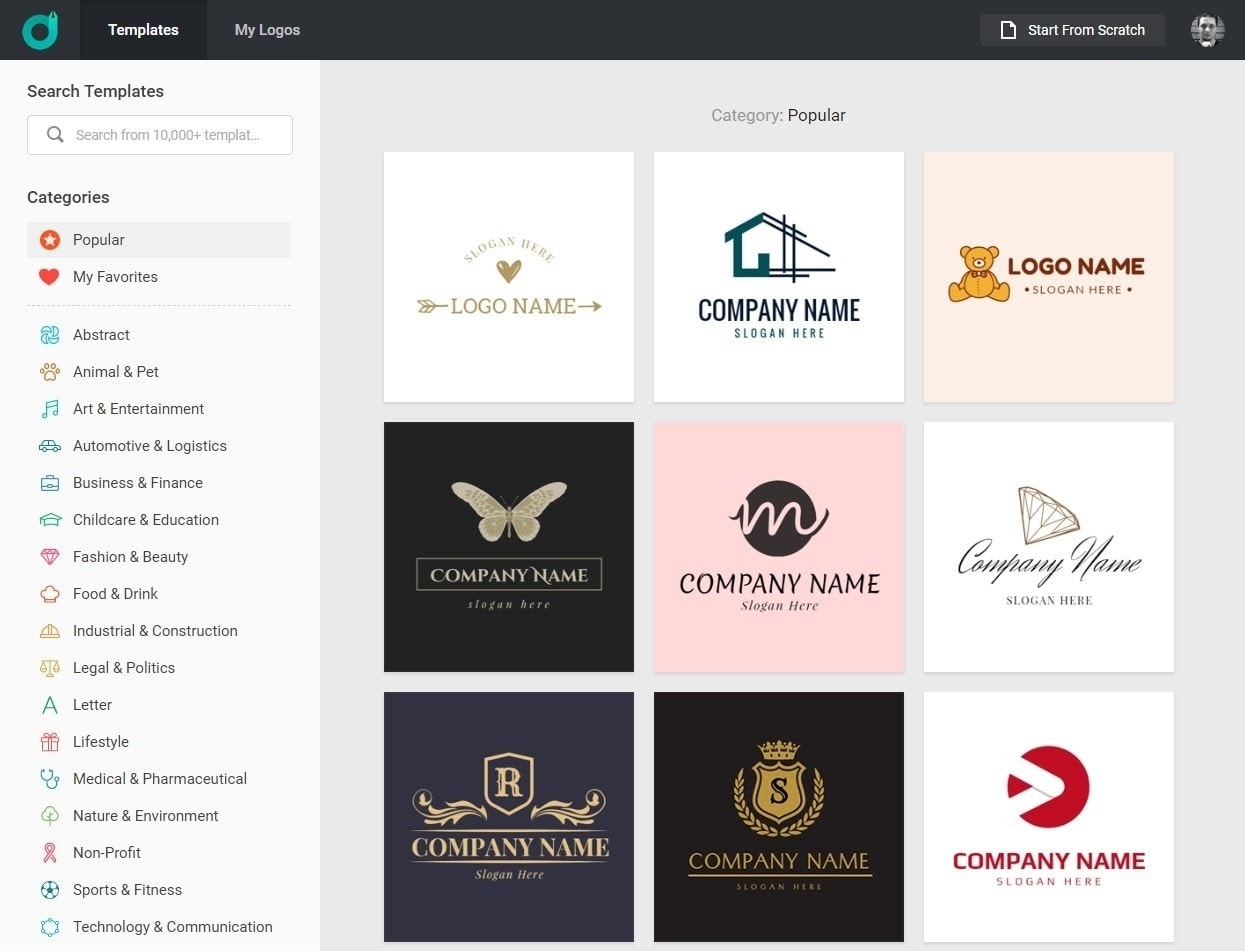 This is where you have to just dive in and choose something you like. Once you have a template you want to work with, it's time to customize it to your liking. In general, you can change the layout, colors, typography, and sometimes even replace the logo icon that you started with.
You can also usually add extra shapes and other elements to your logo to further make it yours.
 And, you know, what with these logo templates being used by people all around the world, you definitely want to try to make it yours.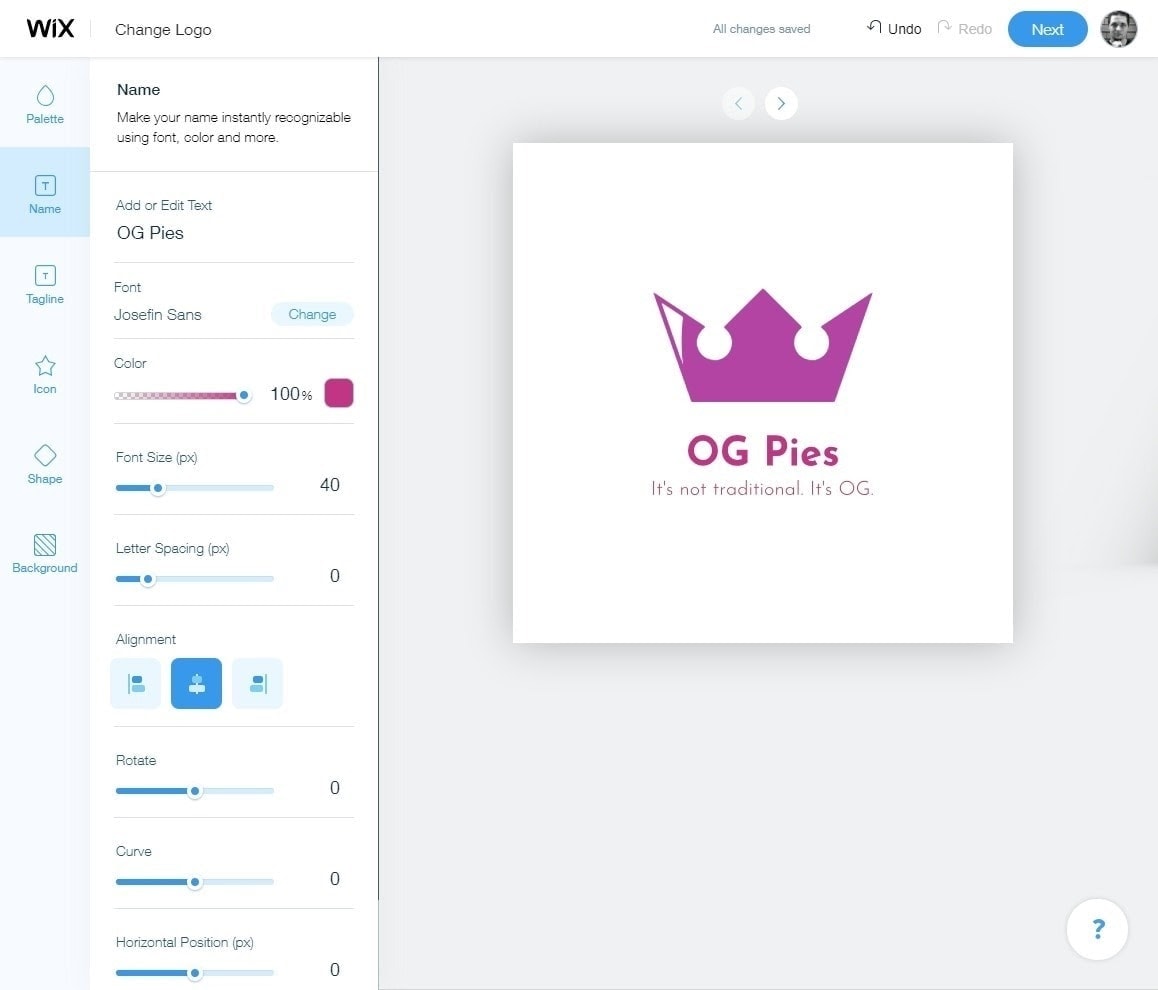 Once you have a result you're happy with, you can pay to download the files that you'll actually use on your website and/or business cards and letterheads. It's usually a one-time fee, although with some logo makers, like
Tailor Brands
, you have to pay a monthly subscription fee. Some of these apps will charge more for higher-quality and print-ready files, though, so be sure to check the pricing carefully.
Benefits of DIY Logo Apps
They're fast: Even when things go well, dealing with a human designer is going to take a little time. I've seen some impressive turnaround times, but even the fastest-working designer needs to, I dunno… eat. And doing their absolute best work takes time.If you don't mind having a logo that's a bit generic, an app can make a logo for you in as little as 5-10 minutes,not counting the time it takes to type out your credit card information. I mean, I'd spend an hour or so customizing your logo just to be sure it's as good as it can be, but the potential for speed is there.
They're affordable: These apps aren't always the cheapest option, but some platforms only cost a few dollars. That's certainly cheaper than hiring a top-name design agency for $10,000. On the other hand, you can hire a professional designer on Fiverr for $5 and get a logo that's really unique, so… you do the math.
They're simple: Though these apps have some things in common with professional graphics apps like Adobe Illustrator, Affinity Designer, or Inkscape, they're a lot easier and faster to learn.
Drawbacks of DIY Logo Apps
The logos are almost always unoriginal: While you might own the copyright to the logo you've made with an app, it's almost guaranteed to look like a lot of other people's logos which are using the same exact icon and font combination.You can mitigate the risk of this by taking the time to properly customize your logo… but by then, you almost might as well have a professional do it.
It can be hard to match existing brand guidelines: If you have a style guide that needs to be followed, with a little-known font designated for logo use, then you might be in trouble. DIY logo apps typically have a smaller stock of fonts (and sometimes colors) to choose from, and that can make it hard to meet specific guidelines.
It can be hard to go back and get edits: So with a human designer, you can go back and get revisions to your logo made easily enough. If you need a lot of revisions (or you've already paid), you may need to pay extra, but it's still an easy process.
Some apps will let you edit your logo indefinitely. Some won't.
Our Top DIY Logo Makers for 2023
Tailor Brands:
 Tailor brands uses AI to help determine the kind of logo you need, and has a fairly robust, if simplistic, set of logo customization features. You can print your logo on business cards and shirts if you want, and there's also a handy Android app.
Wix Logo Maker:
 Yep, Wix has a logo maker. It also uses AI, but has a much more flexible logo editor once you've chosen a logo to start with. It's also handily integrated with the Wix site builder, so you can get a website and logo to go with it all at once.
Looka:
 Looka's claim to fame is the math it uses to make almost every logo look fantastic. Of course, following a mathematical formula means that some ability to customize your design is lost, but I can't really argue with the results.
DesignEvo:
 This is my personal favorite logo design app, as it provides the most direct control over the design of your logo, and some very nice logo templates to start with. It also has one of the better free plans.
When should you use a DIY logo designer?
 They are best used when you're working on a
very
 low budget, and need something done in like half an hour. Company newsletter need a logo? How about your kid's lemonade stand? Boss/kid asking when it'll be done already? Just go make a logo and be done with it. But if you need a professional logo for your brand, you'll want to keep reading.
DIFM Logo Design Services… Vary Greatly
When I say DIFM (do-it-for-me) logo design services, I'm referring to are that special range of websites that sit somewhere between super-expensive agencies, and that computer-savvy kid in your neighborhood. In general, they act as a platform where you can go and hire a designer.
The idea is that somewhere in there is a designer who's absolutely perfect for you and your project.
 The website's job is to help you find that person. And here's how most of them do it:
How (Most) DIFM Services Work
These websites operate on two main models: design contests and direct hiring. Some do one or the other, and some do both.
Fiverr, for example, specializes in direct hiring.
 You just browse through different logo designers, optionally filtering out irrelevant results with industry, experience, and price options until you find one you like.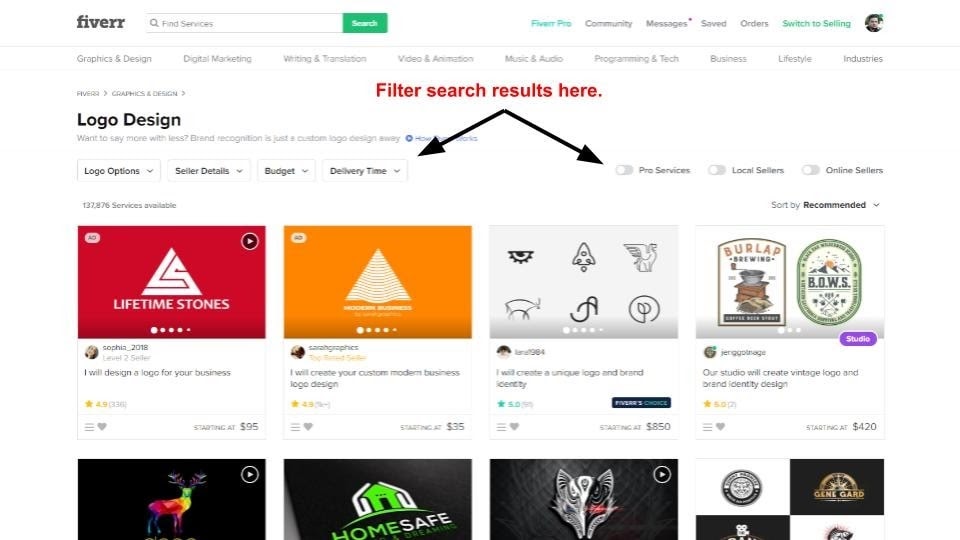 Once you find a designer, you hit the big green button on their profile to hire them and move on from there. The prices on Fiverr are another thing that varies greatly. That's why I tested three different logo designers for three very different prices. You can see the results and read all about my experience in my
expert Fiverr Logo Design review
. If you run a design contest on a site like DesignCrowd, things are going to go quite a bit differently. First, you have to choose what kind of contest you're going to run. Basically, paying more means that higher-level designers will be attracted to your contest, and you'll get a lot more design submissions. Then, you'll create a brief for your project by answering a bunch of questions, much like you'd do on a logo design app. In general, you need to specify what the logo is for, what visual style you want, simple stuff like that.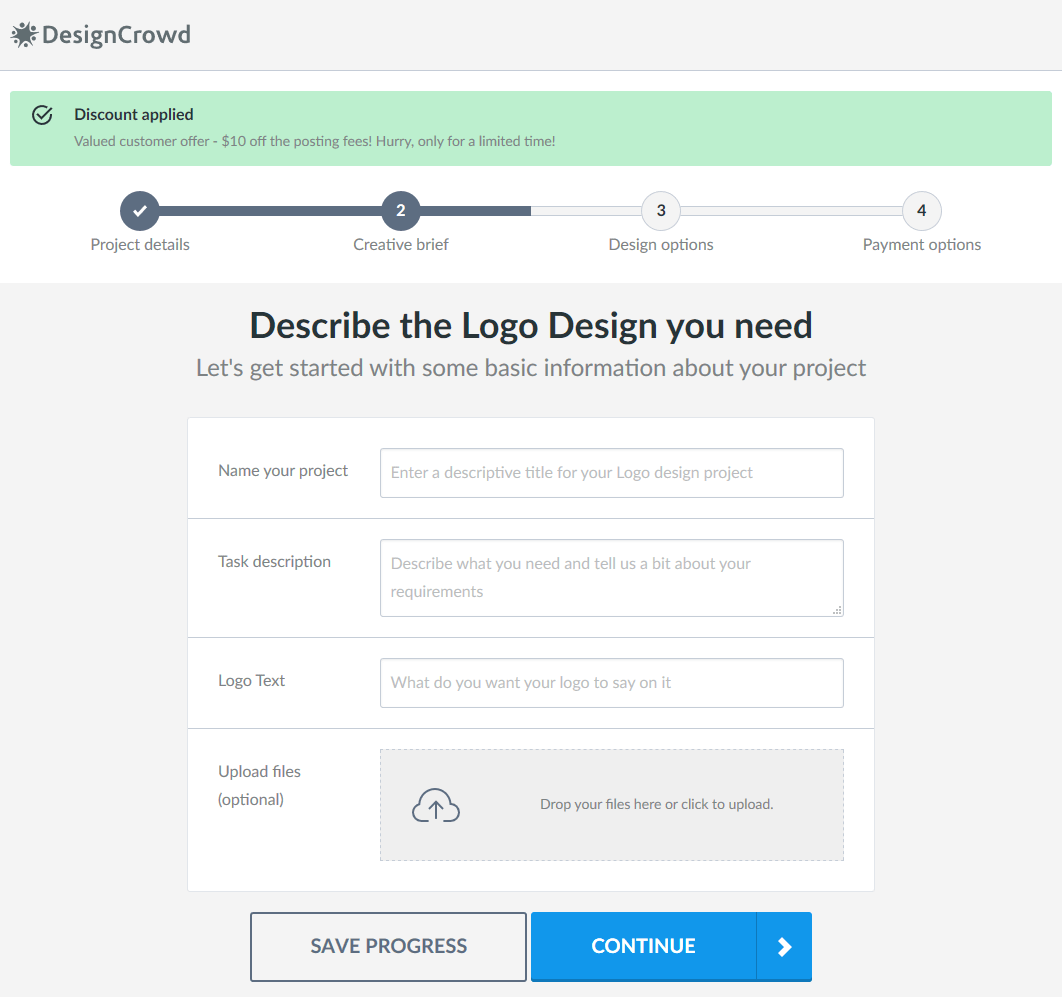 After you submit your brief, you'll mostly have to sit back and wait.
When I tested 99designs
, I got over 40 submissions in five days.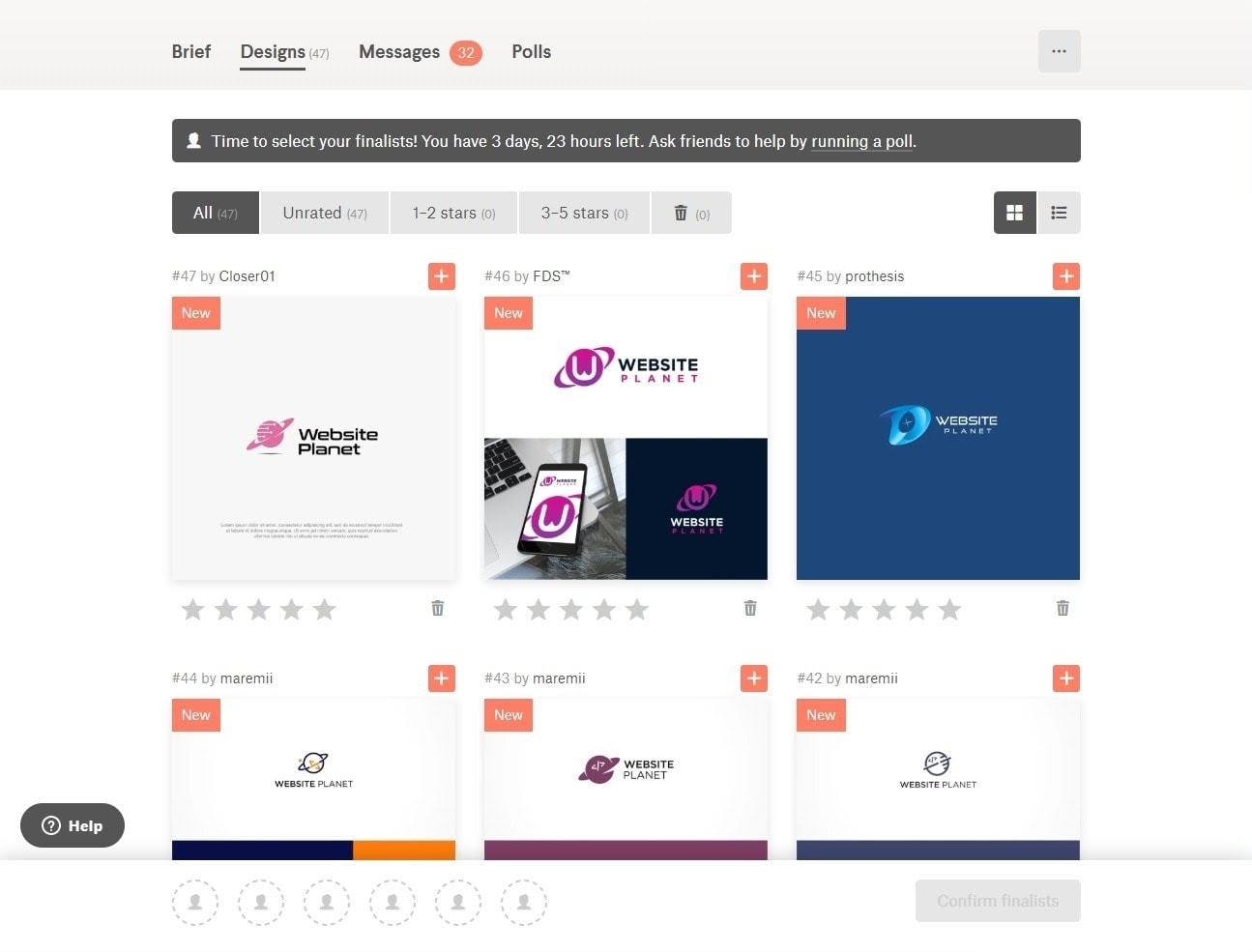 And here's the part that's the same on pretty much all DIFM services: the revisions.
 Once you've chosen a winning submission (or hired a designer directly), you'll be put in direct contact with your designer via a messaging screen. Here, you will receive the initial drafts of a logo, and any revisions you ask for.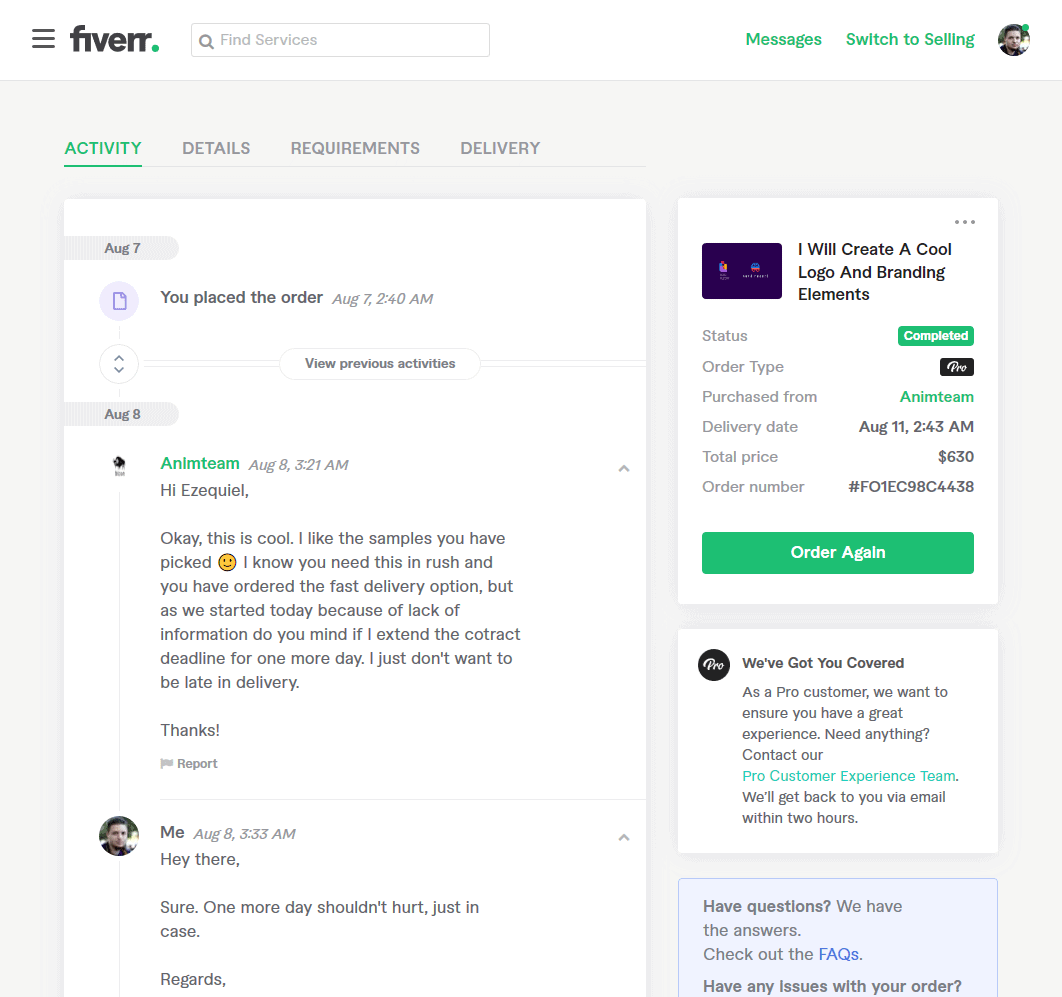 The whole process can take anywhere from a couple of days to a couple of weeks, depending on who you've hired, or what kind of contest you've decided to run. You pay for the service at the beginning, but the designer doesn't actually get any money until you sign off on the logo design.
Benefits of DIFM Design Services
You can get lots of choices: This is most true of logo design contests. I regularly got dozens of logo options, and more than 100 options on at least one occasion. You might see logo ideas in there you'd never even imagined, but that could be right for you.
You get more original work: Now, some designers on contest sites will try to pawn off pretty much the same design in several different contests. But then, there are hordes of other designers who are genuinely doing their best to provide original work, though in a short timeframe.
And if you hire a designer directly, you can ask for exactly what you want.
Logo designs can be made to match your style guide: Enough said.
They can be pretty cheap: Okay, so you can easily spend hundreds of dollars on a site like 99designs, but contests elsewhere will be cheaper. And hundreds is cheaper than the thousands you'd pay to an agency.
And then there's Fiverr.
Fiverr is the cheapest platform of them all
, with some designers starting their prices at, well, $5.
Drawbacks of DIFM Design Services
Possible choice paralysis: Having loads of choices from a contest can backfire if you're the kind of person that has trouble making decisions. Much better, in this case, to just pick one designer and go with the two or three options they give you.
Getting your logo takes a little longer: Quality work requires time. Therefore, if your aim is to acquire a logo by day's end, enlisting the services of a professional designer may not align with your timeline. The process of engaging an individual designer necessitates a minimum of one day to receive initial logo concepts, while opting for a design contest could extend the duration to one or two weeks. Generally, this shouldn't pose an issue in the majority of business scenarios. However, if rapid execution is a critical consideration for you, it might be necessary to undertake the task personally.
It can get expensive: On the opposite side of the $5 logos are the designers that, even on DIFM services, can cost a couple of thousand. Even contests can get pretty expensive, especially on 99designs. Plan accordingly.
Our Top DIFM Logo Design Services for 2023
Fiverr Logo Design:
 Fiverr offers logo design (and loads of other services) for as low as $5. Of course, the cheapest designers aren't always the best, but that's still a
custom
 logo for you, at pretty much the same price you'd pay with a DIY app.
DesignCrowd:
 Offers contests, direct hiring, and a service where DesignCrowd staff will actually choose a single (good) designer for you. That last option is actually how we got the logo you see at the top of this page.
99designs:
 …is expensive. But with that high price tag comes a solid reputation for excellent design. If you have a bit more of a budget to work with, I can heartily recommend 99designs for its overall experience.
When to go with a DIFM logo service:
 Honestly? You do this when you want a logo that's better than what you can design yourself. As most of us (myself included) are not logo designers, that means you should hire someone
most of the time
.
Hiring Someone (or Running a Contest) Is Almost Always Better
I mean, think about it:
you can get original custom work for as little as $5 on Fiverr
. That's… really hard to compete with. Though if you check my
list of the best logo design services
, you'll see plenty of services that try. Keeping in mind that the logos are more likely to fit your brand and be original work, it's hard to justify using the apps for anything but the quickest and dirtiest of jobs. In most cases, I'd have to recommend getting a designer, and spending a little more than $5. I've gotten some quite good ones for $40.
| | | | | |
| --- | --- | --- | --- | --- |
| | Custom Design | Cheap | Turnaround Speed | Original Work |
| DIY Apps | Yes (limited by app) | Yes | 1 day or less | No |
| Logo Contests | Yes (limited by time frame) | Not really | 3 days – 2 weeks | Probable |
| Direct Hiring | Yes | Yes (on Fiverr) | 2 days – 1 week (or more) | Yes |
FAQ
Can I make a DIY logo for my business?
Absolutely. You can. But I wouldn't. Why should your business' logo look just like so many other people's logos, when you could pay $5 on Fiverr, and get an actual designer to make you a custom logo? If you have a bit more in your budget, check out our list of the best logo design services to find the one that's right for you.
Who owns the copyright to the logo?
The DIY apps are a little split on this. Some will let you have the copyright (and the logo) for free, but you usually have to pay for it. Sometimes you have to pay for a more expensive "plan" to get the copyright. Just be sure to double-check this before you purchase. For designer-hiring services, copyright almost always changes hands the moment you sign off and let the designer have their money.
Are there any free DIY logo makers?
Only a couple of them are actually free, and the rest are free-to-try at best (but still worth checking out). The best completely free logo designer I've used is the aptly named Free Logo Creator. It's got all the features you need, and isn't too hard to learn, but there are no helpful wizards around to get you started. You'd have to be comfortable designing every aspect of the logo yourself. In any case, before you pay for a logo, you should check out our logo design coupon page to make sure you're getting the best deal.
What should you look out for when hiring a graphic designer?
Finding the right graphic designer is easier if you just remember a few things: Check their past work: Don't just look for good-looking logos. Check specifically to see if they've done anything related to your industry or field of interest. And be sure to look for consistent quality. Check the ratings and reviews: Sites like DesignCrowd include lots of ways for people to leave public feedback on a designer's profile. Check to see that most of those customers are happy. See which languages they're fluent in: Communication is the difference between a logo that kinda does what you need, and one that'll blow you away. You need to be able to talk to your designer with no doubts that they understand what you mean. Double-check their listed services: Make sure they actually offer the specific service that you want. When in doubt, contact them to ask.