You're starting a new business, NGO, or project and need a logo. And unfortunately, you have no designing skills, and/or no time to try making the logo yourself. So you could either use the services of a professional graphic designer, or get your logo created by some kind of artificial intelligence (AI) tool. If you're uncertain about which way to go, you've come to the right place.
Both options have their pros and cons, so it's important for people needing branding services to understand the difference between an AI logo designer and a graphic designer. Either can provide a creative solution for your logo, but the better option for you depends on several factors. Read on to help yourself decide.
What Are AI Logo Designers?
AI-powered logo designers are website-based tools providing logos complete with graphics, typography, and the colors for it. These websites are relatively easy to use. First, just enter the name of your company/NGO and a tagline (if you have one). Next, type a few keywords that describe your brand. Then in a few moments, you'll get several suggestions for your logo that should relate to the information you inputted. Some AI logo designer websites allow you to further fine-tune your logo's color, typography, and image — all according to your personal preferences.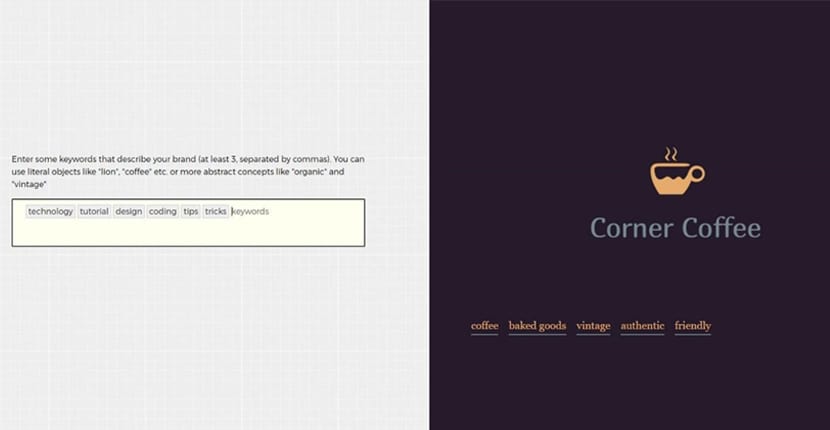 Once you're done with your tweaks, you'll be able to see the mockups using the logo on different promotional materials and websites. If you see something you like, you can choose to buy the logo only, or an entire set of marketing materials.
One example of an AI logo designer website is Tailor Brands — which boasts more than 3 million users and 100 million designs to date. It usually takes only a single second for this tool to design your logo. Once you create your logo with Tailor Brands, you'll gain access to their branding toolbox to help you with your social posts, brand strategy, brand analytics, your landing page, and much more.
What Do Graphic Designers Do?
Graphic design is meant to convey a message or persuade an audience, and graphic designers convey that message by communicating visual information. A professional who works in graphic design should know the basics of design, including:
color theory

typography

print layout

image development

web interface design
They should be able to build brand assets and make sure they're consistent across all of a brand's designs. This all said, creating logos should be well within a graphic designer's skill set.
Generally, graphic designers don't need to know how to code. So if you need any coding for a project, you might need to hire a developer, such as a front-end developer.
An example for an online marketplace where you can hire a human graphic designer is DesignCrowd, which offers designs from a large pool of freelance designers from across the globe. Calls for designs on this platform are in the form of competitions. You decide on the parameters of your competition, such as the budget and the deadline. Designers then send in their proposed designs (of a logo, in your case), and you pick the winner.
The Five Must-haves of a Good Logo
Regardless of whether your logo is being created by an AI logo designer or a professional graphic designer, make sure it ticks off all of the following:
Simplicity

– Your logo should be easy for customers to digest, and simple designs usually work best. (A good example is Apple's logo.)

Brand consistency

– Make sure that whatever your logo conveys is compatible with your company's message and your brand's overall image.

Memorability

– Your logo should be easy to remember. When customers think of your logo or encounter it during their day, they should be reminded of exactly who you are and what you stand for.

Remarkability –

Your logo shouldn't look like everyone else's. Make it unique!

Legibility & flexibility

– The best logos are versatile.

They work well in a variety of environments and applications

, such as in color and black-and-white, large and small, digital and print, static and animated, etc.
So which should you choose for your logo: an AI Logo Designer, or a Graphic Designer?
To help yourself decide, consider the following questions:
What is the budget for your logo?

– The cost of your logo to be designed by a professional designer can reach thousands of dollars. By contrast, the cost of an AI-designed logo can be as little as a few dollars. How much money are you willing to invest in a logo?
 

When do you need your logo by?

– Is it urgent, or is your deadline relatively flexible?

A professional designer can take days, weeks, or even months

to make the final design of your logo. On the other hand, an

AI logo designer can take just a few seconds

to produce a logo after you enter your data.

 

In which development phase is your project or business?

– Have you already undertaken any branding activities for your new venture? Despite the advanced use of fonts and shapes, designs created by AI logo designers can detract from your original brand concept, and these AI tools may offer little-to-no opportunity for tweaking. However, a human graphic designer will ensure your logo is compatible with your brand.

 

Do you already have ideas about how your logo should look?

– AI logo tools use formulas involving typeface, structure, and color (among other things) to produce logos. So if you have a crisp idea of how your ideal logo should look, there's a chance that this formulaic approach will result in a miss; you might be disappointed in the design the AI web tool suggests to you. In this case, you're better off with a

professional graphic designer who will carefully listen to your ideas, ask questions to help you refine them further, and then design your custom logo accordingly

. But if you have no strong ideas about your logo design and are completely an open book, there's no harm in trying out an AI logo designer.

 

How will you perform market testing of your new logo?

– Logos should communicate the core of what your business is about, and its design needs a heart.

Artificial Intelligence can't help you connect with your customers, nor can it help you understand new markets. However, human designers and branding agencies can.

They can organize focus groups to provide feedback for a few of their logo designs before they choose to offer you one as the best one.

 

What are your current and future logo needs?

– Are you going to use the logo for a time-limited project, or for a long-term business?

AI design tools are constantly creating new designs, and their machine-learning capabilities can collect user data that, collectively, can provide insight into emerging design trends.

For that reason, AI-produced logos might work well for your branding strategy, at least in terms of what seems to be popular. Human designers, on the other hand, may have no access to such data, and what they produce may run contrary to current trends.
The Verdict?
By choosing your logo, you're committed to a particular identity and are building a brand. So get it right the first time. If you're working on a personal side project or a startup that's just taking off the ground, then paying a few dollars for a generic logo might not be a bad deal at all. However, if you're very serious about your actual business and customers and wish to build your brand identity around them, you can't afford to replace the human designer with a robot.
—
IMAGES
TechCrunch: https://techcrunch.com/2018/05/09/tailor-brands-series-b/
Corner Coffee: https://www.hongkiat.com/blog/artificial-intelligence-logo-design-brandmark/