99designs and Crowdspring may seem very similar on the surface, but did you know that
Crowdspring typically costs hundreds of dollars more for nearly identical logo design contests?
Or that you'll pay that much more and
still
get a money-back guarantee that's only half as long?! Lower price, longer guarantee…these are just two of the many reasons why
99designs
 comes out on top. Sure,
both platforms let you run design contests, but there's really no contest between the two.
Read on to find out why the battle of 99designs vs Crowdspring has one clear winner – and it's
not
Crowdspring.
Hiring Options
Both Sites Let You Hire a Designer OR Host a Contest
Both 99designs and Crowdspring are most well-known for their crowdsourced logo design contests, but both platforms offer one-on-one hiring, too. Here's how they stack up.
Host a Logo Design Contest
Logo design contests look very similar on 99designs and Crowdspring.
On both platforms, you'll follow the same basic steps to host a contest:
Write up a project brief describing what you want (see the example screenshot from 99designs below).
Choose and purchase your preferred contest package (more on pricing below).
Receive logo concepts and provide feedback to designers.
Choose a winner and make final revisions together.
Officially approve your project to release funds to pay the designer, and receive your logo files.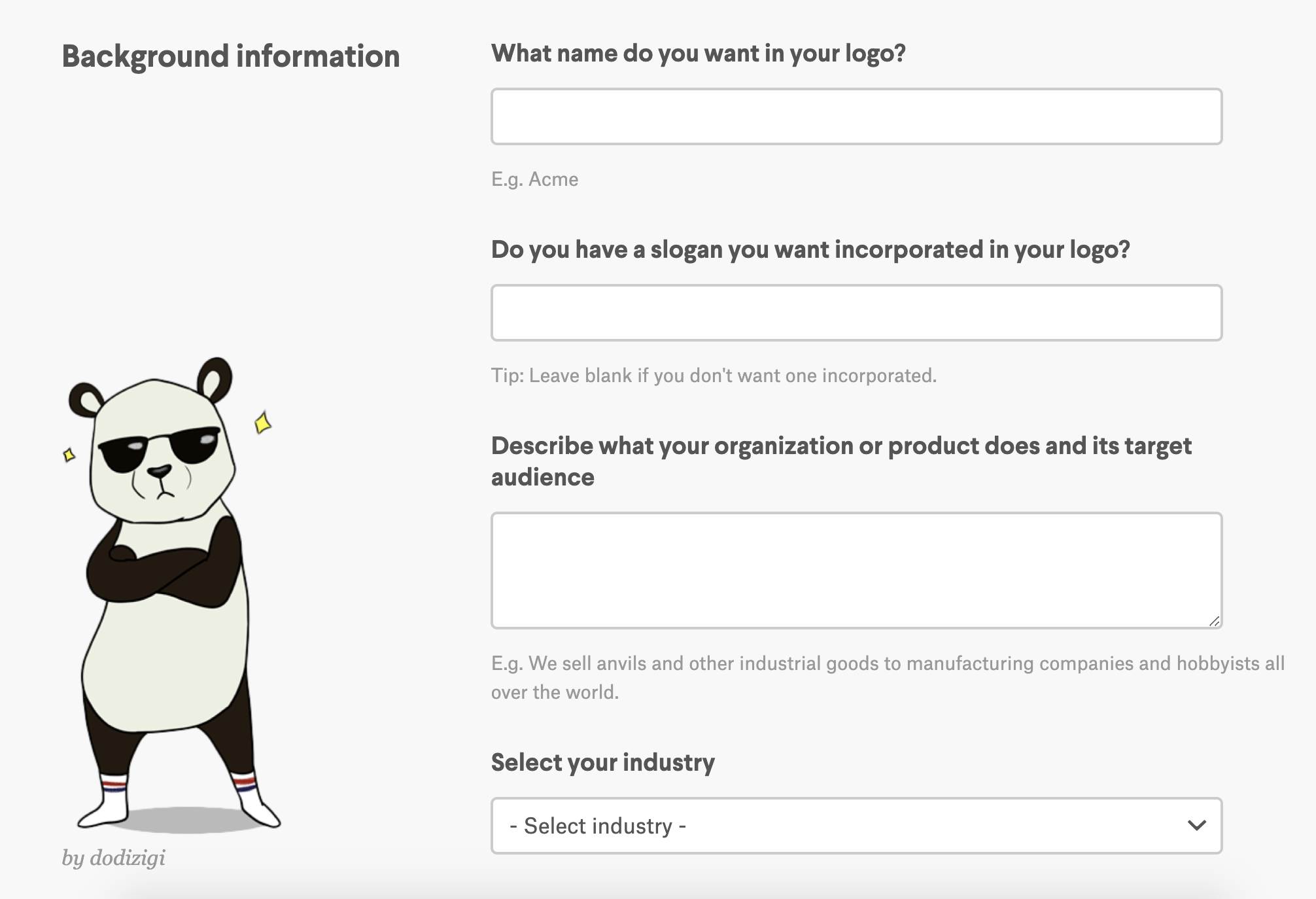 Hire an Individual Designer
If you aren't feeling the crowdsourcing route, both 99designs and Crowdspring allow you to
hire a logo designer directly
.
The options are so similar that the
"find a designer" screens look nearly identical
on 99designs (left) and Crowdspring (right). From these pages, you can:
Browse designers' logo portfolios
Read client testimonials/reviews
Use search filters for industry, country, and designer level
Invite specific designers to your project
Message designers to ask questions and get quotes before hiring
One distinction between Crowdspring and 99designs is that
Crowdspring uses a "reputation score" to rate its designers
on a scale of 1–100, compared to 99designs' more conventional five-star rating scale.

Another small but notable difference between the two hire-a-designer options is the number of logo designers available.
A search on Crowdspring shows around 1,100 designers available for hire; the same search on 99designs shows around 3,000.
And the winner is:
It's a tie. 99designs and Crowdspring not only offer the same two ways to get a logo designed, they also:
Have similar timelines available, ranging from one to seven days
Give you the option for private contests, including NDAs (non-disclosure agreements) and search engine exclusion
Provide all industry-standard logo files: JPEG, PNG, PDF, and infinitely scalable and editable vector files (AI, PSD, or EPS)
Support languages from around the world
Give you full commercial rights to your final logo design
Logo Packages and Pricing
99designs Is More Budget-Friendly
Whether you're planning to host a contest or hire an individual designer, you want to know which logo design website has the best pricing. Let's take a look.
Logo Design Contest Pricing
Both
99designs and Crowdspring have four levels of design contests available
, each with a different set of features and prices. On 99designs, the four contest levels are tiered into Bronze, Silver, Gold, and Platinum.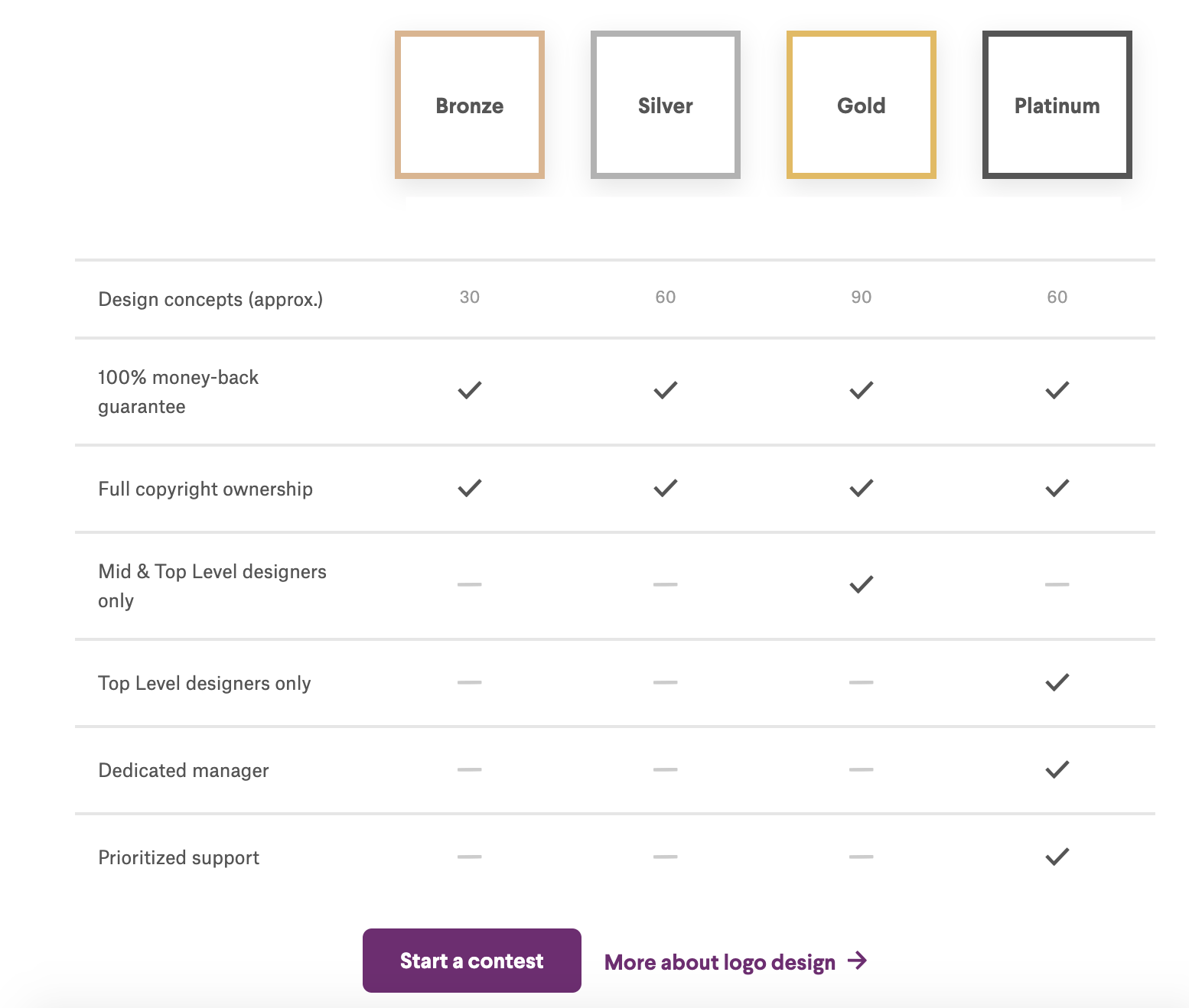 I haven't tried all of 99designs' contests, but I do have some experience with the Silver package. My teammate ran a Silver-level design contest on 99designs as part of his quest for the new Website Planet logo, and he received over 40 logo submissions in five days.
To read more about his experience and see the results of our 99designs contest, don't miss his
logo design service comparison
! On Crowdspring, the options are Silver, Gold, Elite, and Platinum.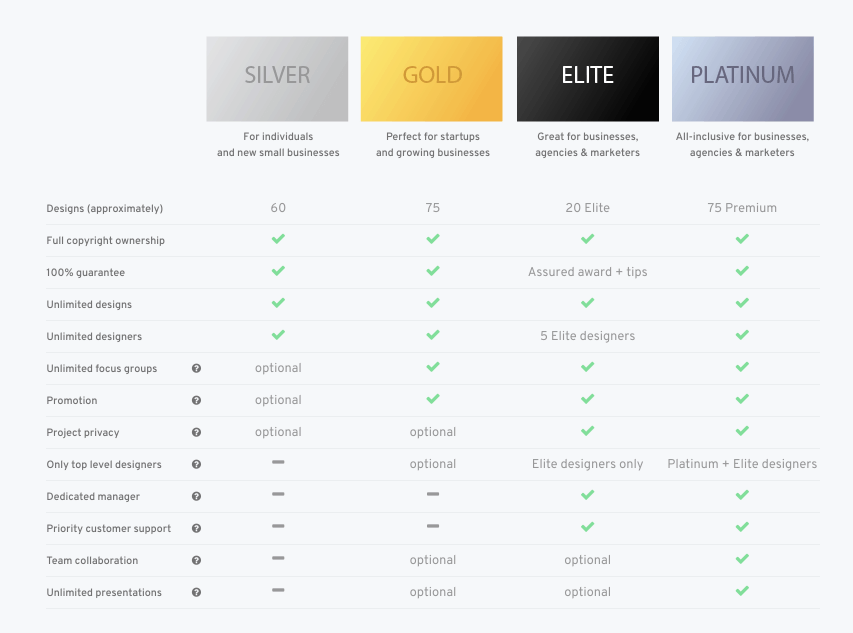 As these two screenshots show, many of the packages look very similar across the two websites. The major difference?
Crowdspring's contests are more expensive at every level
– often by hundreds of dollars. However,
the higher price tag does come with more approximate logo submissions
: 60 on Crowdspring's basic plan (Silver) compared to just 30 on 99designs' basic plan (Bronze). Keep in mind that each contest varies, and there is no guarantee regarding the number of designs you'll receive. Another interesting difference is that
99designs offers a "name your own price" option
. The only stipulation is that your price must be higher than the Bronze package. Naming your own price would be most useful if your budget falls between 99designs' official package options. For instance, maybe you want to pay more than Bronze (to attract more designers to enter your contest) but don't have quite enough to afford Silver. Name your own price and the problem is solved.
One-on-One Hiring Prices
On both 99designs and Crowdspring, the pricing of one-on-one projects depends on your chosen logo designer. You'll work directly with designers to request quotes, negotiate deliverables, and set the final price.
Crowdspring's one-on-one projects have a set minimum budget,
while 99designs has no stated set minimum.
And the winner is:
99designs. Because 99designs and Crowdspring offer such similar features, I can't see a compelling reason to pay so much more for Crowdspring. Of course, it's hard to overlook the fact that 99designs is relatively pricey itself, at least compared to more affordable logo design solutions like Fiverr, where you can
hire a professional logo designer for as little as $5.
If you'd like to read more about the platform and see what kind of quality you can actually expect for $5, read our
full Fiverr review
.
Money-Back Guarantees
99designs Gives 60 Days to Change Your Mind – Crowdspring Gives Only 30
Along with the stated prices themselves, another important feature is the money-back guarantee. After all, even the cheapest logo maker can end up costing a lot if the results are low-quality and you're left with no way to get a refund! Fortunately,
both 99designs and Crowdspring offer a 100% money-back guarantee on all contests
. This helps ensure that you'll only pay if you actually like the logo submissions you receive. Keep in mind, however, that both platforms only offer this money-back guarantee for design contests –
not for one-on-one projects
. If you choose a one-on-one project and don't like your logo, you can request revisions. If you're still unsatisfied even after revisions, you're free to request a refund, but it will only be honored if the designer consents.
| | | |
| --- | --- | --- |
| | 99designs | Crowdspring |
| Term of Validity | Within 60 days of contest opening | Within 30 days of contest closing |
| Applicable Contests | All contests at all pricing levels | All contests except the Elite level |
| 100% Refund? | No – contest posting fees are non-refundable. | No – contest posting fees are non-refundable. |
| How to Claim | By phone only | By phone or written contact form |
On both platforms, you can also opt to
waive your right to a money-back guarantee
– through "Guaranteed" projects on 99designs and "Client Assured" projects on Crowdspring. Doing so makes the contest more attractive to designers (since they know that a prize will be awarded), but it increases the risk for you.
And the winner is:
99designs. In this round of Crowdspring vs. 99designs,
99designs wins thanks to a money-back guarantee that's almost twice as long
, even though it might be easier to ask for your money back via Crowdspring since you can use the contact form. For more information, don't miss our
in-depth 99designs review
.
Freebies
Both Offer Free Consultations – Crowdspring Gives a Little More
Everyone likes a freebie. So can you get anything on these platforms completely for free? Neither 99designs nor Crowdspring offers any kind of free trial or free sample – at least not in the same way as
DIY logo makers that are 100% free to
try
. However, they
do
offer some freebies to help guide you through the logo design process.
Free Design Consultations
Both 99designs and Crowdspring offer free design consultations.
Simply fill out a quick online form on either website to have a design expert get in touch with you.

Unlike 99designs,
Crowdspring lets you specify phone or email for your free consultation.
(Perfect for those of you, like me, who hate talking on the phone.)  The consultation sign-up page also gives some upfront reassurance that it
won't
be a sales pitch, which makes me feel better.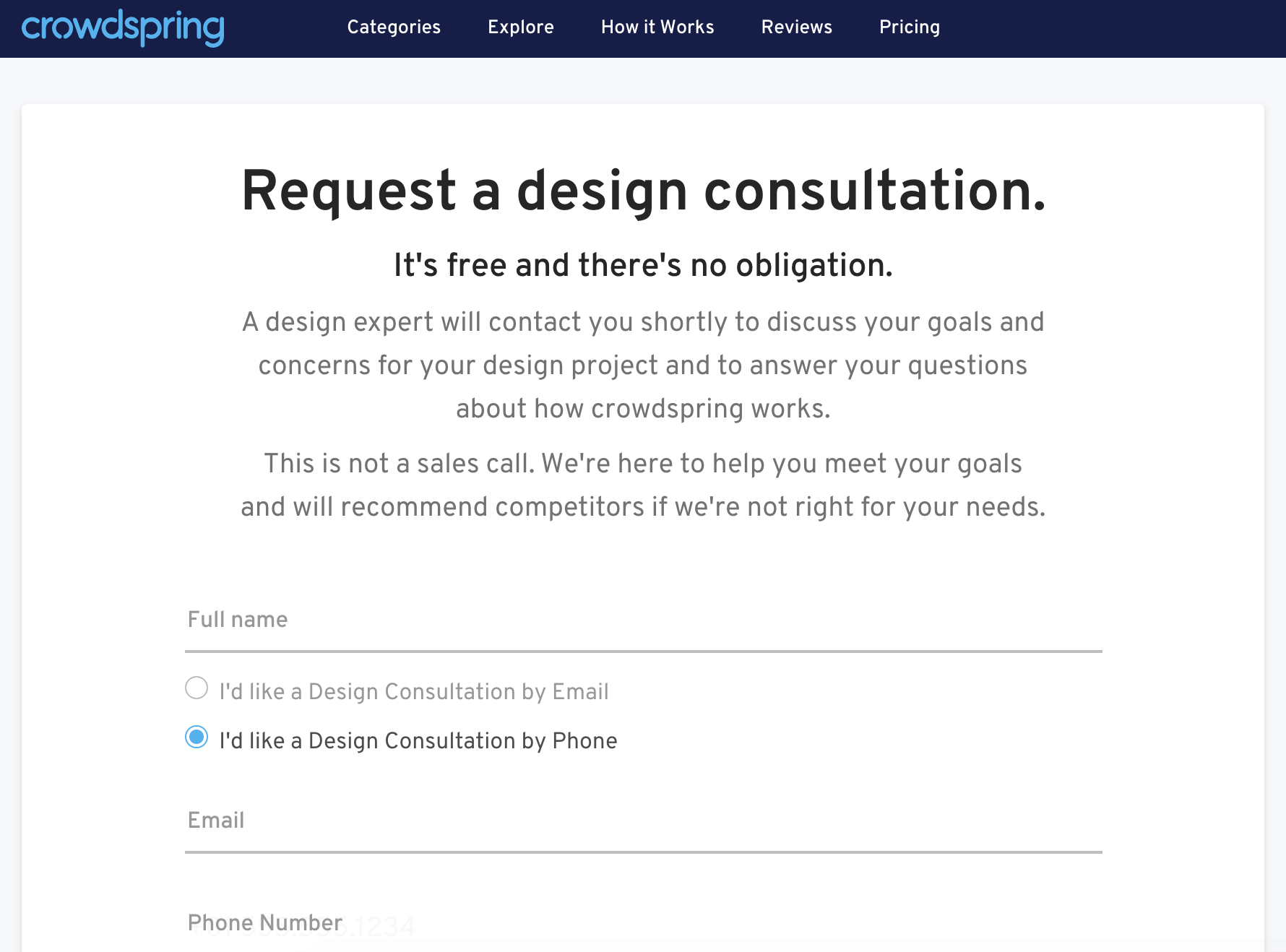 Free Branding Guide
In addition to the free consultation,
Crowdspring gives one more freebie that 99designs doesn't: a free brand identity guide
, sent directly to you by email.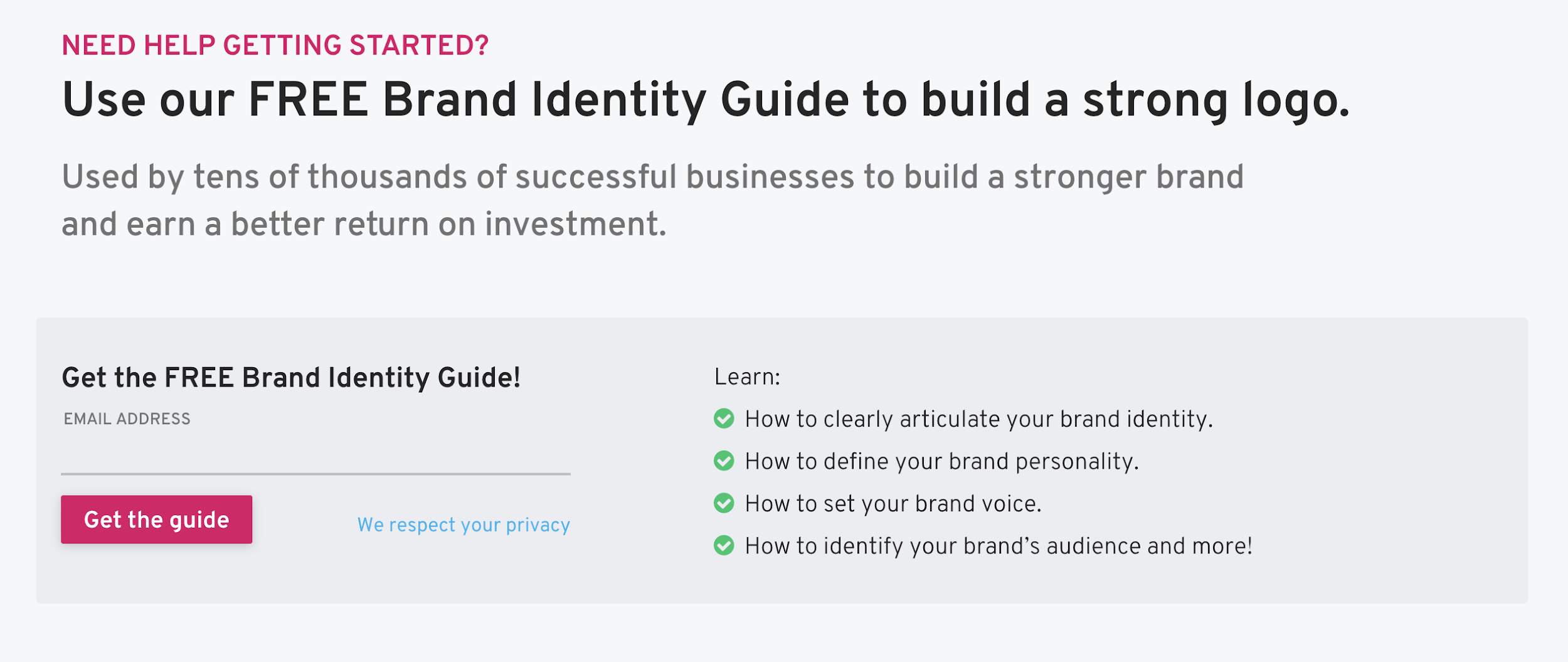 I signed up for this freebie myself and found it to be quite beginner-friendly and thorough. It covers key aspects of logo design, along with some "action items" to help you work through your own branding ideas.
If you don't have much design experience, it may help you think about logo design details you'd otherwise have missed.
And the winner is:
Crowdspring. The free brand identity guide isn't strictly necessary – especially since you're hiring professionals rather than designing your logo yourself. It wouldn't make me choose Crowdspring over 99designs, but it's still a nice touch.
Add-on Services
99designs Has a Few Add-Ons – Crowdspring Has Lots
If you want more than just a logo alone (maybe a flashy new website that matches?), both 99designs and Crowdspring can deliver.
Both offer bundled branding packages as well as add-on logo design services
, though they differ slightly.
Bundled Branding Packages
On 99designs, you can choose logo design alone or select one of these
four bundled packages
for a discount on the total price.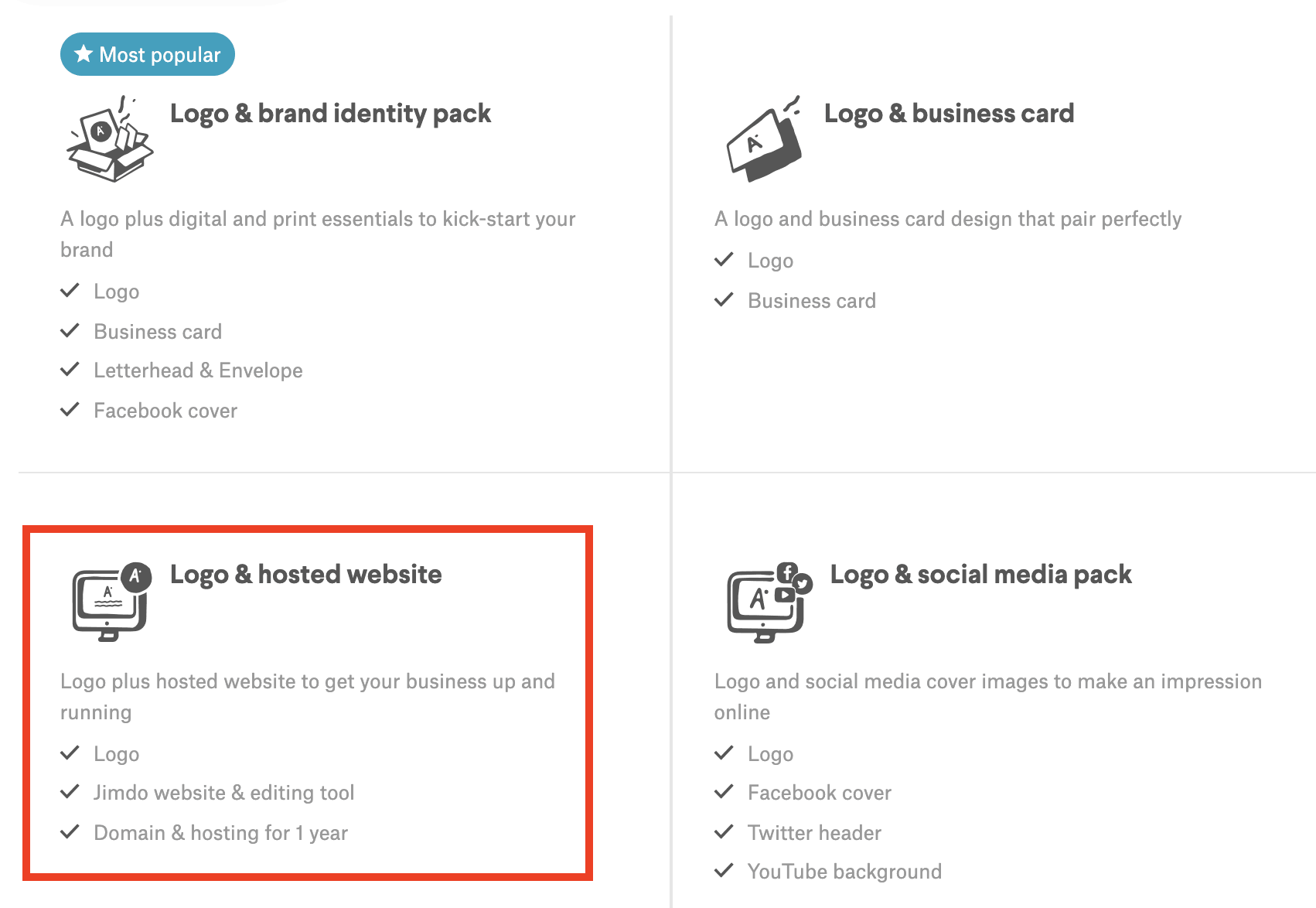 With the "Logo & hosted website" bundle highlighted above,
you'll get your logo as well as free use of the Jimdo website builder platform, which uses artificial intelligence (AI) to build custom websites
. Note that the domain and hosting are only free for the first year, though, so beyond that, you'd have to pay for the service yourself. To find out whether Jimdo is worth bundling into your logo design package,
read our expert Jimdo review
first.
Crowdspring offers similar logo design bundles
, though it notably lacks a hosted website option. (You
can
opt for this service on its own, but not as part of a logo design package like on 99designs.)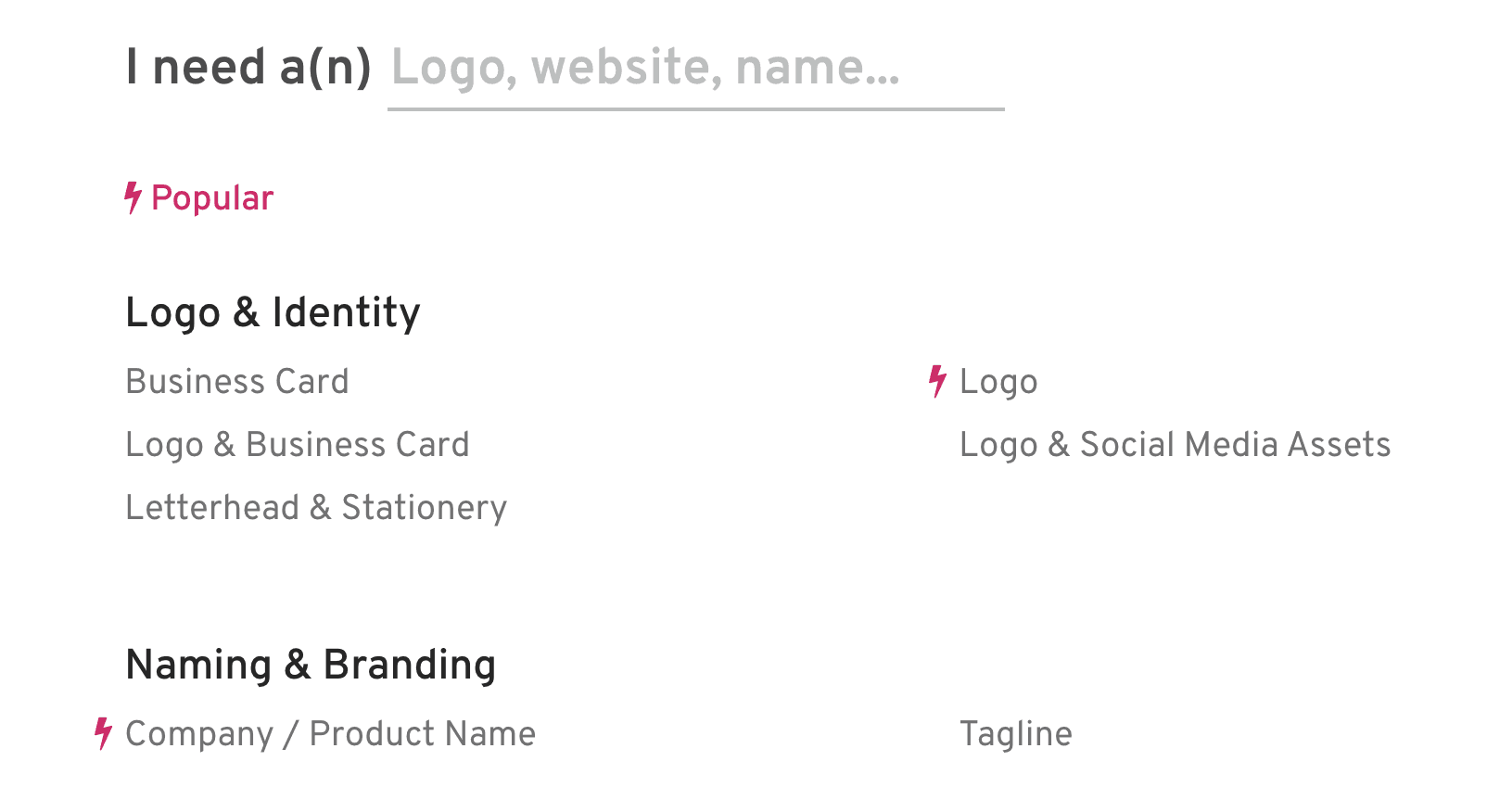 Interestingly, as shown in the screenshot above, you can even start hiring on Crowdspring
before
you know your company name! You could host a contest to name your new company or product before continuing to your logo design.
Other Add-Ons for Your Logo
You don't necessarily have to choose a bundled package to get a few more features with your logo – especially if you go with Crowdspring. Unlike 99designs,
Crowdspring offers à la carte logo add-ons
, making it easier to customize even the most basic Silver plan. You can choose from a variety of pay-per-product add-ons like:
Express timelines
Branded presentation decks
Focus groups – Share up to 12 logo designs with anyone via a unique link
Collaboration – Add log-in credentials for your entire team to access your design contest
Paid promotion – Market your logo design project directly to Crowdspring's top designers
While 99designs does have bundled packages as discussed above, it doesn't offer pay-per-product add-ons like Crowdspring does.
You'll instead have to choose a predetermined package, either for logo design alone or for one of the bundled sets.
And the winner is:
Crowdspring and 99designs both provide comparable bundled branding packages, but Crowdspring surpasses the others with its extensive range of à la carte options. However, if you prefer a hosted website to be included with your logo package, then 99designs is the better choice to opt for. If you want to know more, read our
in-depth Crowdspring review
.
Logo Quality
The Big Question: How Do the Logos Look?
But even after all of this, you're probably still wondering, "Are the logos any good?" Is it even worth posting a contest on 99designs or Crowdspring, or would you be better off with a more affordable logo design service like
Fiverr
?
Because every logo design contest has very different requirements, creative briefs, participating designers, and financial awards, it's hard to directly compare the quality of the logos from each platform.
But "hard" doesn't mean "impossible," so let's give it a try. By taking a closer look at public contests on 99designs and Crowdspring, we can get at least
some
insight into whether these logos are worth the cost or not. (For easier comparison between the two platforms, I chose logos within the same industries.)
Logos Made by Designers on 99designs
Logos Made by Designers on Crowdspring
So Which Logos Are Better?
As the selected logos above show,
designers on both 99designs and Crowdspring came through with customized, professional-looking logos.
Each of the logos shown above was selected as the winning design for its contest, often from a pool of hundreds of entries. Of course, many of the logo entries on both platforms were
not
so great, as you might expect from large-scale design contests that practically anyone with a computer can enter. Case in point: the logos below. These logos aren't awful, but they're not great, either. (Notice the uneven text curving, lackluster fonts, and clip art-y shapes.) However, these logos were
also
the winning designs from their contests. In fact, they were often chosen ahead of logos that I personally found much more appealing and well-designed. To each their own, I guess?
And the winner is:
It's a draw. 99designs and Crowdspring both have the capacity to provide high-quality results. After looking at numerous logo design contests, I am certain that both platforms can offer a personalized, superior logo for your business. You may just need to sift through hundreds of submissions to discover the hidden treasures.
Final Thoughts on 99designs vs Crowdspring
No matter which features are most important to you, you can get great results from both
99designs
 and
Crowdspring
. It all comes down to what you want and how much you'd like to pay.
99designs is my top choice – especially if you're budget-conscious.
Whether you're designing from scratch or
rebranding an old logo
, you can typically save hundreds of dollars over Crowdspring while still getting comparable packages for any logo design contest. Plus, you'll still get everything you absolutely need:
The ability to request revisions to your logo
Direct feedback and messaging with designers
A wide variety of usable logo files
Full commercial rights
Money-back guarantee (that's twice as long as Crowdspring's)
Get more detail in our
expert 99designs review.
Crowdspring vs. 99designs: A Final Comparison
| | |
| --- | --- |
| Feature | Conclusion |
| Basic Hiring Options | 99designs and Crowdspring offer nearly identical options for contest-based and one-on-one hiring. |
| Logo Packages and Pricing | Both platforms have four pricing tiers, but 99designs is more affordable at every level (while still offering comparable features). |
| Money-Back Guarantees | 99designs gives you 60 days to claim a money-back guarantee; Crowdspring gives just 30. |
| Freebies | Both platforms offer free design consultations, but Crowdspring also provides a free brand identity guide. |
| Add-On Services | Crowdspring excels with its pay-per-product add-ons, though you'll need a bigger budget to afford them. |
As a final note, both 99designs and Crowdspring
do
allow you to work with one specific designer from the start, but neither platform would be my first choice to hire an individual designer.
Instead, I would use both of these platforms where their strengths truly lie: in contest-based design.
For one-on-one hiring, there are equally good but much more affordable options out there. To see for yourself, I'd recommend
jumping over to Fiverr
 and exploring the thousands of logo designers available at prices as low as $5. (Find more tips on hiring the right designer for you on our
detailed Fiverr review
.) For even more logo design ideas, don't miss our list of the
top logo design services
.