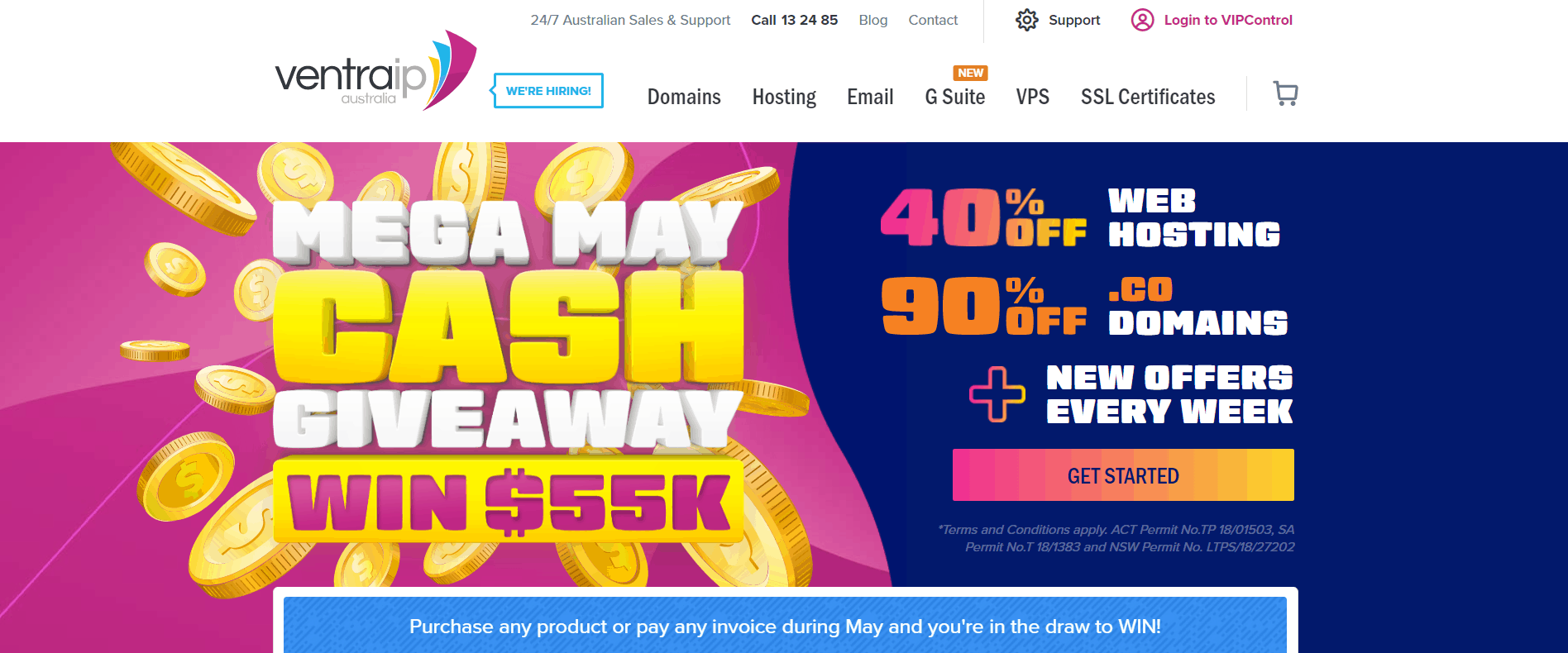 If you are in a hurry, and just want the bottom line: for the same price as Ventraip you can get much better servers with 24/7 support with
Hostinger
, so why even bother?!
Founded in 2010, Ventraip is a privately-owned hosting company that serves over 150,000 customers in Australia. They offer a range of solid web hosting and virtual servers along with domain registration and SSL certificates.
Features and Ease of Use
Ventraip is the number one Australian SSD hosting provider and offers more than a dozen hosting features under cPanel at all levels and reliable hosting solutions. I can attribute their remarkable performance to a range of Dell servers with Samsung SSD storage arrays. With any hosting plan, you get 99.9% uptime SLA  and a good number of features such as:
Acronis hourly backups and restore
Basic email services (POP3, IMAP, and SMTP)
website caching
Free database and website migrations
Sonic hardware firewall
Comodo SSL certificates
VentraIipis a good choice for anyone who's looking for a Managed VPS service. Optimized for speed, their SSD virtual servers can meet the diverse needs of modern businesses. Overall, their hosting environment is user-friendly and secure. They use dynamic security rules, such as CXS, LFD, CSG, and CageFS to protect your websites. They also have a 45-day money back guarantee.
With scalable hosting packages, VentraIP lets you add resources to your online services in order to meet the growing needs of your business. You can buy more storage space, email boxes, SSL certificates, add-on domains, databases, and increase your CPU speed.
VentraIP gives you three options under shared hosting. The basic package is the Starter plan. It's suitable for anyone who has started a personal blog, a small store, or a new business website. With this plan, you get 5 GB storage in SSD and a CPU allowance of 2GB.
If you want to build an online gallery or a website for an established business, you may want to consider the Freedom plan which comes with 15GB storage and a memory allowance of 4GB. If you want to transfer to a high traffic site that is built on WordPress, or Moodle or Magento, the best option for you is the Premier plan. With it, you get 25GB SSD Storage and a memory allowance of 6GB. The added advantage is the free priority support.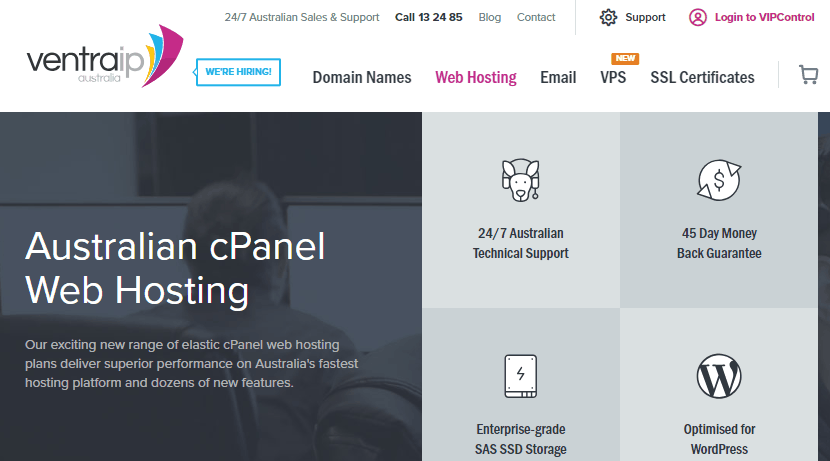 Ventraip doesn't discriminate when it comes to goodies. All their hosting plans include unmetered bandwidth, unlimited MariaDBs, unlimited email accounts, unlimited add-on domains, regular backups, and free Comodo SSL Certificates.  You can unlock these features by signing up and paying for your hosting account.
Pricing and Support
Their shared hosting plans are reasonably priced. With multiple options, you can find one that is within your budget. I had an easy time comparing plans as they're all laid out in a table. ID protection comes free as an add-on.  Their VPS is quite expensive though. I believe you can get one with similar specs at a lower price.  With five billing cycles, Ventraip lets you choose the one that suits you best. You can conveniently pay using PayPal, BPay, credit card, or EFT bank transfer.
Customers enjoy real-time local support at all levels. You have the option to open an eTicket, send a message via the online contact form, or call the support team that is available 24/7.  From migrating your websites or databases to configuring your new VPS, the support team will handle your case in a timely and professional manner.
Are you a hands-on person? Ventraip also has a Support Center where you can learn the basics of troubleshooting, file management, website transfer, CMS, emails, logs, and backups. There are step-by-step guides and useful tutorials that will help you get a grip on their hosting features so you can administer your web space efficiently.
For a reasonable fee, you can boost your CPU speed to meet increased traffic needs. You can also get additional 5GB storage and a dedicated IP address. Priority support is also available to customers who want ongoing security monitoring, performance optimization, and software updates.
How much does Ventraip cost?
Ventraip offers plans from $6 to $70. The price depends on which type of hosting plan you choose. You can see the updated pricing table (updated weekly) below.

Which Ventraip plan should I get?
My recommendation is to start with a cheaper plan. You can always upgrade later on. Ventraip can help you with the migration to a more expensive plan. The increase in visitors many times takes longer than expected and you shouldn't pay a lot of money until the need arises. Of course, your needs may vary, and you can consult with a hosting expert from Ventraip
here
.
How good is Ventraip's customer support?
Ventraip is not ranked as one of our top web hosts. But that can also be a result of Ventraip being a small, under the radar, hosting provider. There are advantages to a small hosting company – as a customer, you are more important to them. You can also check out our comparison of the
most popular web hosting services here
.