To compare the best web hosts, we hosted the same WordPress website on each one and tested performance, customer service, and value for money.
Check out the results here.
As the name implies, Total Server Solutions provides fully managed servers as well as server management, restoration, and maintenance services to both individuals and businesses of all sizes. They have data centers located worldwide, including the United States, Canada, Amsterdam, London, Tokyo, and Sydney. Founded in 2005, they're currently based in Atlanta, Georgia.
Features and Ease of Use
Total Server Solutions are known for their server management packages, which allow companies to outsource the maintenance and management of their servers rather than hiring more IT staff to do the work. Their Total Server Management package includes:
Availability even if your server is located outside their facilities
Alerts and warnings as any incidents happen
30-minute response time to any issues (the average is <10 minutes)
Up to 30 minutes of time with their technical team every month
R1Soft Server Backup
Expert monitoring of all the services on your server
Five-hour reactive monitoring and proactive patching
Over a dozen other services
Total Server Solutions also offers individual services such as server optimization, restoration, and migration.
Besides their management services, Total Server Solutions also provides e-commerce and cloud web hosting. Their e-commerce pans are excellent for online shops of all sizes. The Startup e-commerce hosting plan features:
5GB storage
Unlimited bandwidth
Unlimited FTP accounts
Unlimited email accounts
A free one-year SSL certificate
CloudFlare
250+ one-click app installations
On the other end of the spectrum, the Enterprise e-commerce hosting plan provides 10x the amount of storage as well as a dedicated IP address.
Pricing and Support
There is no free plan available, but that's understandable given their product offerings. Their plans begin from their affordable e-commerce hosting solutions, go all the way up to high-performance cloud hosting packages. Their premium package also offers dedicated server management. Their e-commerce hosting packages include a 60-day money back guarantee.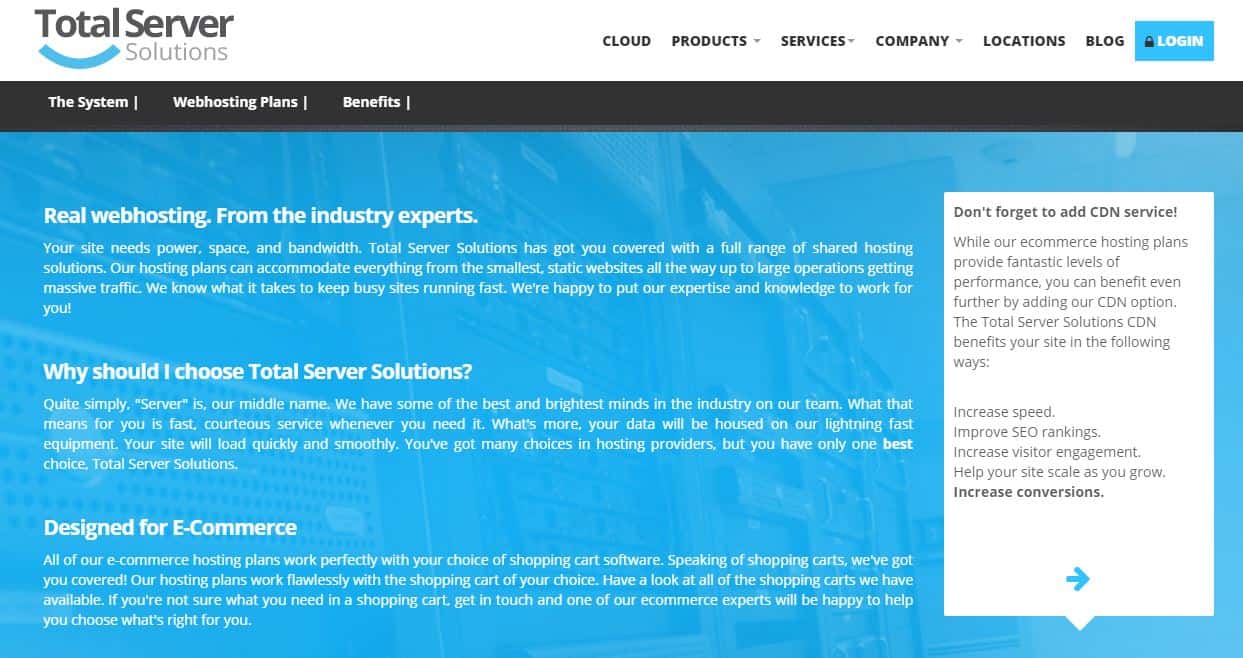 Considering the level of service they provide, it's not surprising that switching between plans requires more than simply clicking a button in your account management portal. If you want more information on upgrading or downgrading your plan, you'll need to communicate with their customer service representatives.
Total Server Solutions prides themselves on first-rate customer support, with most tickets responded to within 10 minutes no matter the time of day. Support is available around the clock. Each and every agent is a highly-qualified system administrator able to expertly field any technical questions. When I contacted them via live chat, I was connected to an agent in under a minute. Total Server Solutions also has an email and toll-free number listed on their website.