Some hosts don't offer the features you need to rapidly deploy websites and integrate with various frameworks.
Some lack vital storage space or have rigid plans that make you pay for resources you don't need. For an accurate perspective on the best web hosts for developers, you need to understand what each provider does best, and what all the different plans include exactly. To save you some time,
I tested dozens of services to see if they can actually provide what a developer needs.
These are the ones that stood out from the crowd. Amongst them,
Kamatera came out on top
– specifically for the customizability of its plans and their scalability. However, there are a number of other hosts to consider as a developer. The best of which we've reviewed so you can decide which is the top option for you.
In a Hurry? Here Are the Top Web Hosts for Developers in 2023
Kamatera

– Fully customizable cloud VPS with flexible pricing

Scala Hosting – Managed and unmanaged VPS plans well-suited for multiple client management
HostArmada – Dedicated developer plans with tons of tools and managed services
What We Look For in the Best Web Hosting for Developers
While evaluating the best web hosting services for developers, I prioritized the following criteria:
Adequate Resources. You don't want to have to turn down potential clients because you don't have enough storage, RAM, CPU, or bandwidth to accommodate database-driven web apps.
Scalability. The ideal web host lets you scale up when you need more resources and scale down when you don't. Pay-for-what-you-use models are preferable because they give you the flexibility to switch between different-sized projects.
Developer Frameworks. In most cases, you can manually install the needed dependencies using SSH, but pre-configured PERL, PHP, Python, Ruby, or MySQL can save time.
Debugging Support & Security. A developer-friendly web host will meet you halfway: if you've got a high-level technical problem that you can't wrap your head around, they should offer debugging. Advanced security tools and secure virtualization architecture are always a plus, especially on shared and VPS plans.
Reliability. Uptime guarantees backed by a service-level agreement (SLA) are a big plus. You need a reliable web host that is proactive in ensuring the highest possible uptime standards.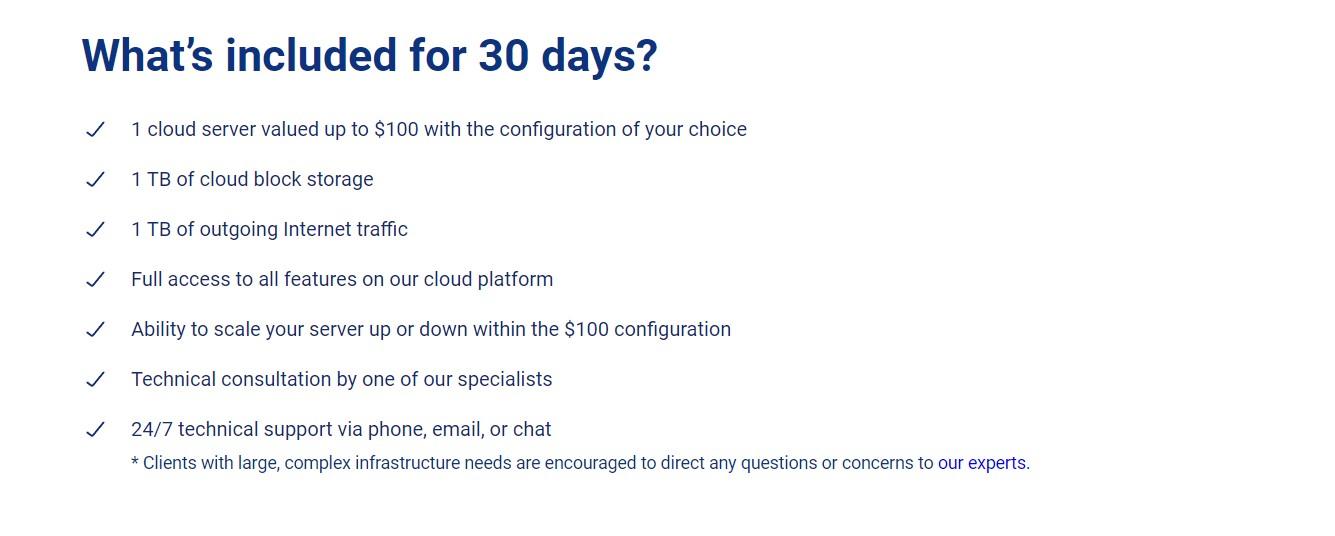 Kamatera offers you a high level of customization that many other hosts simply can't match.
It allows you to build a cloud VPS from the ground up, setting the exact vCPU, RAM, and storage you need
. As visitor traffic to your website(s) fluctuates, you can scale these resources any way you please. This also allows you to adjust the overall pricing of your server at any time. Kamatera bills by the second, so any resizing of your server's resources will be reflected immediately. It's easy to scale temporarily to deal with a surge in traffic without having to pay a monthly premium. What's extra nice is that
Kamatera's entry-level servers start at budget prices
.
If you just have a small project or prototype you'd like to run, you can get away with just paying a few dollars per month. However, Kamatera is best for those looking for an unmanaged server – while it does offer managed service, you can get a better deal on managed VPS elsewhere.
Features
Fast and dependable performance, backed up by powerful Intel Xeon processors and a 99.9% uptime guarantee
Server images for common configurations – one-click installation of Linux & Windows OSs, cPanel, WordPress, and development frameworks
Global coverage – 14 data centers across 3 major continents
30-day free trial grants you access to a single cloud VPS with $100 credit. You'll also get technical consultation with one of Kamatera's specialists.
For the full breakdown, check out
our Kamatera review
.
Rapid Deployment Tools

Large list of server images available with one-click installations

Managed Support

Optional add-on

VPS Resources

1-104 cores, 1-512GB RAM, 20-4000GB SSD

Extra Features

Extra services include a configurable cloud firewall, block storage, and load balancers

Uptime Guarantee

99.9%

Starting Price

$

4.00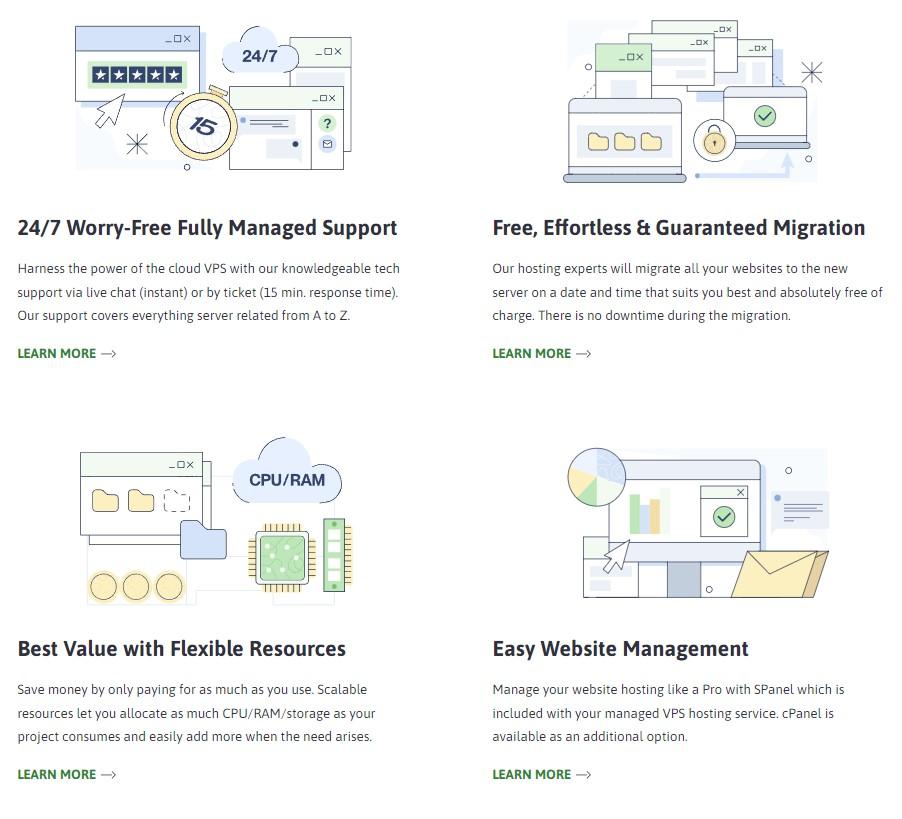 I consider Scala Hosting a diamond in the rough for web developers.
Its proprietary all-in-one SPanel hosting platform is one of the reasons why. Aside from sparing you a license fee, this powerful, white-label API streamlines the administration of individual hosting accounts.
Scala Hosting's self-managed VPS plans
are just 20-25% cheaper than the managed ones. Given the additional value you get from a fully-managed service, though, it makes more sense to choose one. Yes, the unmanaged plans would save you a couple of extra dollars every month, but in the process, you'd give up access to specialized technical support. On top of its in-house EU and US data center, you also have the option to choose from AWS servers in the US, UK, Canada, France, Germany, Ireland, Singapore, India, Japan, South Korea, and Australia. However, if you have clients with local businesses in Asia or Australia, loading speeds may be slightly slower. If you have specific resource requirements, though,
Scala Hosting gives you the possibility to fully customize your VPS resources
. Let's face it; it would have been somewhat embarrassing (given their name) if the service didn't allow easy scaling.
Features
Affordable fully-managed VPS plans with 24/7 expert live chat and ticket support. Expect a response in 30 seconds (live chat) and 15 minutes (tickets)
99.9% SLA-backed uptime guarantee. If your uptime is less than this, the service will issue a full refund for your month's expenses
Free, white-label SPanel hosting control panel and an individual account manager
OpenLiteSpeed integration for fast loading times
Check out our
expert Scala Hosting review
 for more details.
Rapid Deployment Tools
Free SPanel
Managed Support
Yes, for higher tier VPS plans.
VPS Resources
2-24 cores, 4-64GB RAM, 50-2000GB SSD
Extra Features
OpenLiteSpeed Integration
Uptime Guarantee
99.9%
Starting Price

$

20.00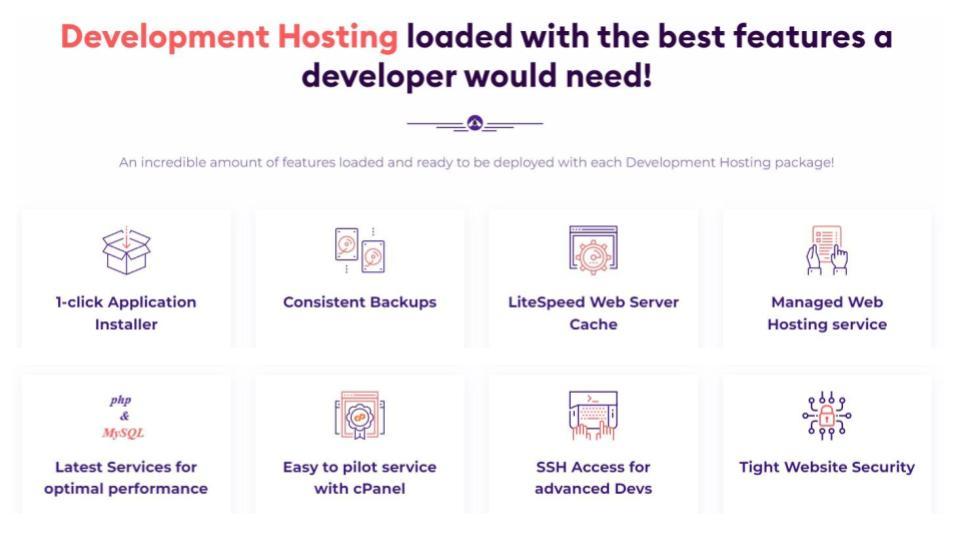 HostArmada is a new favorite – not just because of its cute, sci-fi, and game-inspired plan names. The host offers some seriously competitively-priced managed shared cloud hosting packages. Even the most powerful
HostArmada Speed Reaper shared cloud hosting plan
 is excellent value. That said, your scalability and customizability are limited to 3 core shared hosting plans – unless you
upgrade to HostArmada's VPS cloud or dedicated CPU plans
, which are a lot more expensive. All shared and VPS plans except the basic Start Dock option do feature unlimited website designs, though. Another plus is that they come with
tons of developer, performance, and security tools
, including Imunify360, cPanel, Softaculous, Cloudflare CDN, and NGINX or LiteSpeed caching.
Full SSH/Bash, WP-CLI, and Git access is granted,
and plans support Perl, Python, Node.js, Drush, and Symfony/Laravel/Zend.PHP frameworks, too. You can pay via PayPal on top of the major credit cards – triennially, biennially, annually, and monthly.
HostArmada's 45-day money-back guarantee
is another bonus, giving you an additional two weeks to decide if it's the host for you than your standard 30-day guarantee.
A free domain name is included with some hosting plans from HostArmada
Features
Advanced security features and tools. Besides the Imunify360 Firewall on all plans, access to an advanced AI and herd immunity firewall, 24/7/365 live server monitoring, virus/malware scanning, account isolation, brute-force protection, and tons more security features are included.
Daily backups. Back your site up to 7-21 times per day (depending on your plan). Forming part of the cPanel control panel, backups are automated by default on all plans.
Free cPanel control panel. With HostArmada, you get the use of cPanel free to manage your hosting products and websites.
Hacked website support and restore. HostArmada will help you restore your website should it be compromised.
Read our expert HostArmada review for more details.
Rapid Deployment Tools
1-Click Application Installer, Softaculous
Managed Support
Yes, for all shared and VPS cloud hosting plans
VPS Resources
1-6 cores, 2-16 RAM, 50-320 GB SSD
Extra Features
NGINX, CloudFlare CDN, Imunify360 Firewall, cPanel
Uptime Guarantee
99.9%
Starting price

$

41.21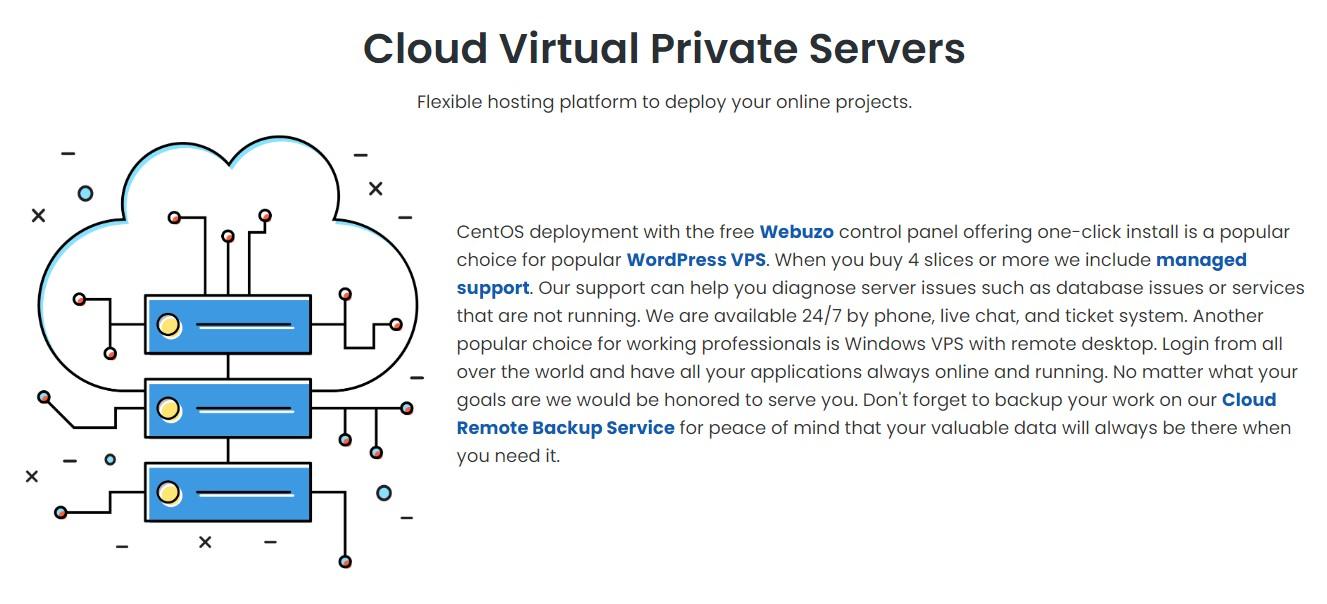 I have nothing but praise for InterServer's decision to move its VPS to the cloud.
It now offers higher performance, more reliability, and increased resource flexibility for web development
. If you're looking for affordable high granular control, this is it.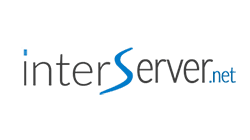 Get your first month of hosting for just $0.01!
Take advantage of this exclusive deal to try out InterServer.
424 users used this coupon!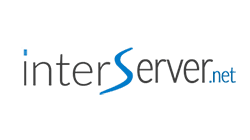 Get your first month of hosting for just
$
0.01
!
Copy and paste this code at InterServer
You can start working on your virtual machine almost instantly with InterServer since it has an average provisioning time of 15 minutes from the moment your payment is approved.
You can start with InterServer's cheapest VPS hosting plan featuring 1 Xeon Haswell CPU, 2GB RAM, 30GB SSD configured as Raid 10, and a free premium Webuzo license
that helps you 1-click install Joomla, WordPress, Drupal, or any other CMS. With Webuzo, you can configure your VM to act like a Python, Java, LAMP, or LEMP server.
InterServer's VPS plans come with managed support and the promise to fix any server-related issues
, such as DNS, Mail, or SQL service bugs. The support team will also re-install operating systems and/or control panels when needed. Shared plans come equipped with a LAMP stack, which is ideal if you're experimenting. As a student, you are
eligible for one full year of free standard InterServer shared hosting
with unlimited websites, storage, and emails.
Features
Reliable and customizable virtual machines running on cloud technology, Xeon Haswell cores, and nested Raid configuration with data redundancy
99.9% uptime guarantee backed by an SLA. If network availability falls under the uptime guarantee, you can be eligible to receive up to 50% of your monthly fees in credit
Free Webuzo control panel with Bread basket scripts for VPS plans and DirectAdmin (or optional paid cPanel, Plesk, and DirectAdmin) for Shared Plans
Managed support included in higher-tier (4+ slices) VPS plans, including assistance with patches, diagnosing issues, and control panel assistance.
To learn more, read our
in-depth InterServer review
.
Rapid Deployment Tools
Free Webuzo on VPS
Managed Support
Yes, for higher tier VPS plans
VPS Resources
1-16 cores, 2-32GB RAM, 30-480GB SSD
Extra Features
Instant Cloud Provisioned VPS
Uptime Guarantee
99.9%
Starting Price

$

6.00

Hostinger provides the cheapest web hosting for developers
. Like InterServer, it has moved its VPS technology entirely into the cloud (though you can purchase both cloud and VPS hosting). This move is a significant upgrade for you and your clients, who benefit from better uptime, faster page loading speeds, and full root control to boot.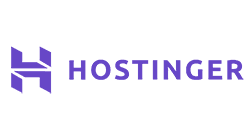 Save up to 75 % on your Hostinger plan!
Limited-time offer - Don't miss it!
7002 users used this coupon!
If you want to run a medium-to-high traffic e-commerce website with as little cost and as much flexibility as possible, Hostinger's Cloud or VPS offers are perfect for you. Your server resources are guaranteed and, thanks to the control panel, you can easily install scripts, applications, or manually back-up your files. You benefit from both IPv4 & IPv6 protocols and a dedicated address. You'll never have to deal with a null-routed IP, and your extensions will run at lightning speed. Several fail-safe mechanisms, Raid 10 configuration, and weekly backups will protect your data.
All of Hostinger's cloud hosting plans offer managed support.
Whenever there is a roll-out of new versions for critical software, the tech crew will make sure to keep your system up-to-date and secure.  Each server is equipped with Bitninja or Imunify360, custom firewall rules, Wanguard anti-DDoS traffic analyzer, and more.
Features
Reliable and affordable cloud VPS, Xeon technology CPUs, and nested Raid 10 raid configurations
99.9% Uptime guarantee backed by an SLA. If you experience more than 0.1% of downtime you are eligible for a 5% credit usable for Hostinger services and products
LiteSpeed Cache included on all plans to keep your web applications running smoothly
Fully-managed support on cloud plans and back-end support on VPS
Find out more in our
complete Hostinger review
.
Rapid Deployment Tools
Custom hPanel
Managed Support
Yes, for Cloud Plans
VPS Resources
4-8 cores, 4-32GB RAM, 5-40GB NVMe
Extra Features
LiteSpeed Caching
Uptime Guarantee
99.9%
Starting Price

$

9.99
6. Liquid Web: Offers Everything a Developer Could Need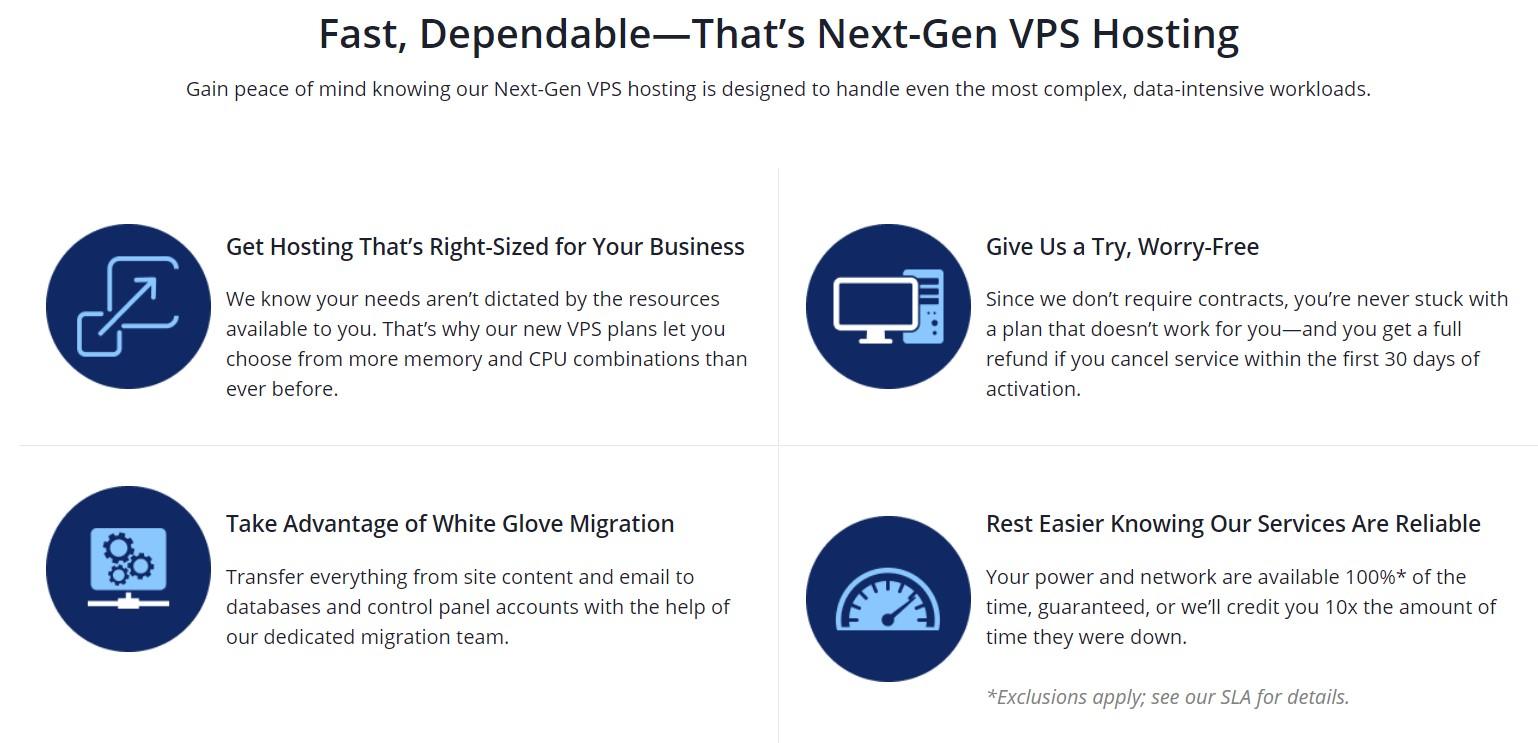 If you don't mind paying a bit more for a premium service, Liquid Web is one of
the best hosting solutions money can buy
. You can play around with various CMSs on
Liquid Web's entry-level VPS plans
, that include cPanel/InterWorx or Plesk license. Or you can go with a serious server cluster to scale an e-commerce business. One of the things I love about Liquid Web is the ability to create a staging domain or a staging server. With this feature, you can easily clone one website (or everything on a server) and then test whether new features work as intended before they go live. Aside from being HITECH Certified,
the company combines the processing power of a traditional dedicated server with the flexibility of cloud technology in its Cloud Dedicated plans.
If you know your way around the back-end of a server, you can save some money with the core or unmanaged options. If you work as a developer in an Agile company and strive to reduce your overhead, you can rely on Liquid Web's Private Cloud. Liquid Web's Private Cloud provides all the features of an isolated network infrastructure without encountering any associated drawbacks.
Features
Powerful and up-to-date server infrastructure backed by Intel Xeon Silver technology.
Guaranteed uptime of 100% for all services. You will get a credit worth 10x the amount of actual downtime
Phone support with response time of under 59 seconds for all core and fully-managed services
High-performing servers guaranteed by third-party cloud analytics
Get more information in our
in-depth
Liquid Web Review
.
Rapid Deployment Tools
cPanel, InterWorks, or Plesk license
Managed Support
Yes
VPS Resources
2-12 cores, 2-12GB RAM, 40-200GB SSD
Extra Features
Staging Environment
Uptime Guarantee
100%
Starting Price

$

15.00
7. A2 Hosting: Shared and VPS Plans with Advanced Tech Support 

One of the best things about A2 Hosting is its advanced support crew.
The Guru Crew will lend a helping hand with debugging wherever possible, even on shared hosting plans. While the unmanaged VPS plan is very cheap, keep in mind that it doesn't include a control panel. You'd have to add the cost of a cPanel or DirectAdmin license to your budget. The good news is that
all A2 Hosting's managed VPS plans have cPanel included.
While I love the fact that I can select where my VPS server will be located (Asia, Europe, or either of the two US centers), A2 Hosting's customizable VPS configurations can be quite pricey
. The most affordable unmanaged option comes with just 1GB of RAM. If I want the baseline 1GB, the subscription price is double. A2 Hosting boasts a 90 days money-back guarantee, which means if you discover the service isn't right for you, it's easy to cancel your plan. Still, your goal is to choose a reliable, affordable, and easily scalable web developer environment from the start, not switch to one later on.
A2 Hosting doesn't have cloud hosting plans for you to upgrade to.
In the long run, if your projects involve high-traffic and require a serious amount of storage and bandwidth, switching to A2 Hosting's dedicated option will be more expensive than going with Hostinger's or InterServer's cloud hosting.
Features
Knowledgeable support squad that help with debugging wherever possible
Anytime money-back guarantee. Claim a full refund within the first 30 days fo service. Or, receive a prorated refund for cancelling anytime between 30-90 days after commencing your plan.
Easily-scalable VPS configurations. Scale up, down, or switch to or from an unmanaged or managed service – A2 Hosting offers a wide range of VPS plans to cover your needs
Pre-installed developer tools: PHP, MySQL, Python, PERL, Node.js and more
If you'd like to learn more, don't miss our
full A2 Hosting review
.
Rapid Deployment Tools
Webuzo for Unmanaged, cPanel for Managed
Managed Support
Yes, on managed VPS plans
VPS Resources
1-10 cores, 1-32GB RAM, 20-450GB SSD
Extra Features
Pre-installed Developer Tools
Uptime Guarantee
99.9%
Starting Price

$

2.99
8. HostPapa – Fully Managed Solutions for Small Businesses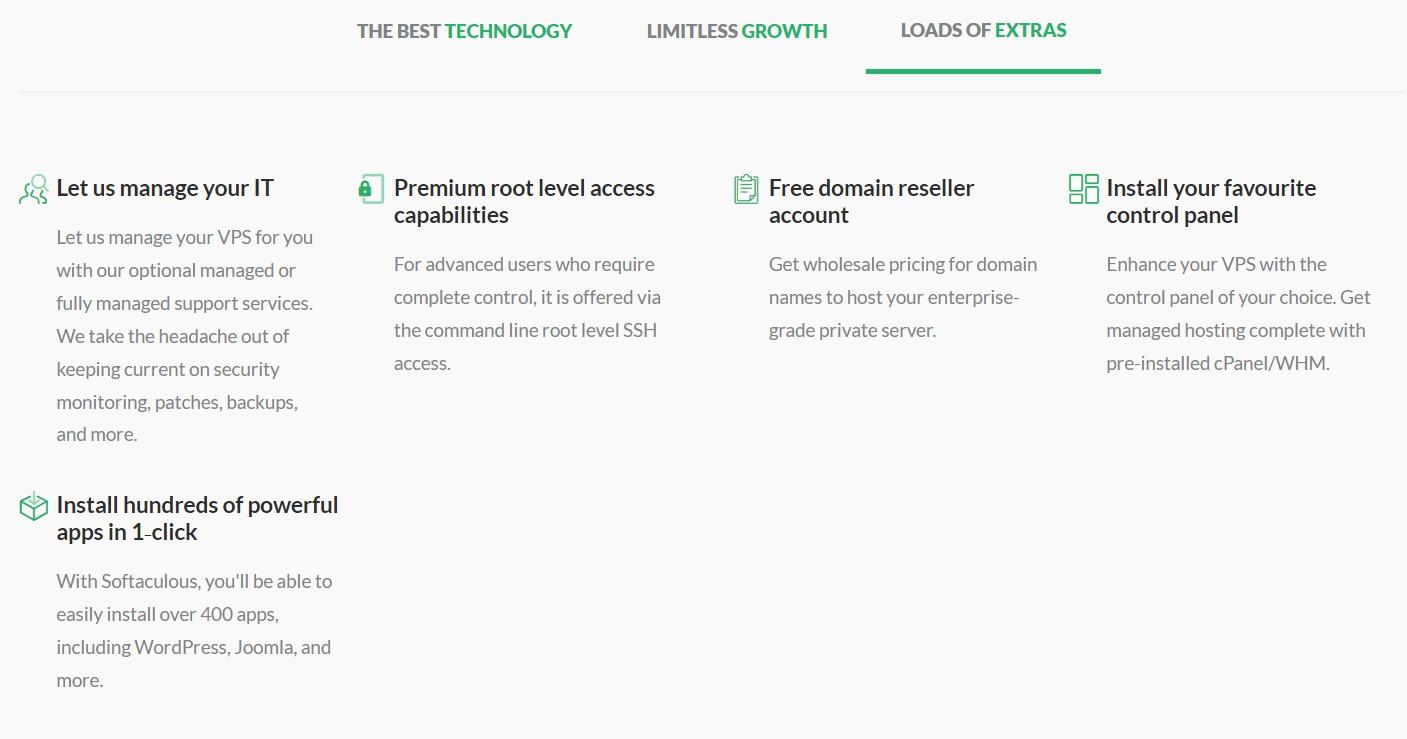 HostPapa's hosting plans
 suggest that its target audience is mostly new users and small businesses.
As a developer, your choices are limited, since the company does not offer an affordable unmanaged VPS solution.
While you can opt for a self-managed VPS, this won't make a difference in terms of your monthly costs. You're better off going with a managed option, which gives you a solo cPanel/WHM license that will ensure rapid deployment of your developer frameworks. Despite its higher price tag, the basic plan starts at a comfortable 4 cores, 60GB SSD, and 2GB of memory. HostPapa's real strength lies in its reseller hosting options.
Its Gold and up plans includes a free billing and automation suite, namely Client Exec or WHMCS, 8 core CPU, 8-32GB RAM, and 15-120GB SSD.
HostPapa does not offer cloud hosting or dedicated servers. If you know you're going to need to scale up soon, it might not be the best fit for you.
Features
Data centers powered by 100% renewable energy from wind, solar, and other green energy plants within the USA
Reseller plans with great value, featuring 20-150 cPanel account licenses, 4-8 cores, 2-32 GB RAM, 50-250 GB SSD storage, 500 GB to 2.5 TB bandwidth, and free (Gold< plans) WHMCS or Client Exec billing and automation suite
Proactive security measures, including monitoring of network infrastructures, server firewall, IP deny manager, brute-force detection, RAID redundancy, website security, FTPS, and free Let's Encrypt SSLs
PHP modules installation and upgrades (managed plans)
Don't miss our
expert HostPapa review
 for the full list of features.
Rapid Deployment Tools
On Managed or Fully-Managed
Managed Support
Yes
VPS Resources
4-12 cores, 2-32GB RAM, 60-1000GB SSD
Extra Features
100% Green Energy Hosting Solution
Uptime Guarantee
99.9%
Starting Price

$

19.99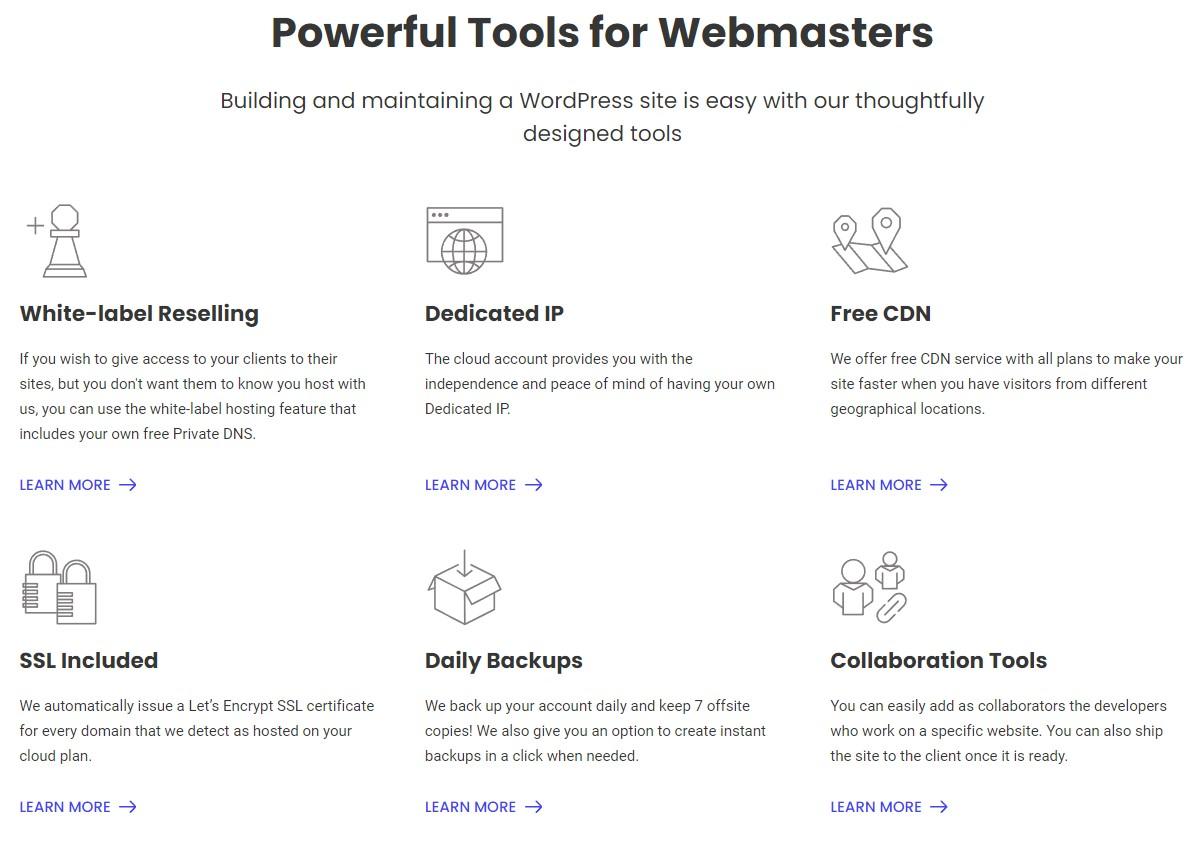 SiteGround is an
excellent choice for independent developers who regularly need to scale for big projects.
I appreciate the capability to manually enhance the resources of my VPS or activate SiteGround's auto scaling functionality. This functionality
allows for the automatic addition of more RAM and CPU in response to sudden increases in traffic
that could potentially strain the existing resources. This aspect provides me with reassurance that
my clients won't encounter unresponsive pages
even during instances of high load on their e-commerce storefronts. Even though you pay extra, cloud VPS servers come equipped with CentOS, Apache or NGINX, managed PHP versions, as well as complete support and active security monitoring. Overall,
SiteGround's web hosting plans
are perfect for you if you work with major applications and companies. Still, I would have liked to see a premium cPanel license included.
Features
Fully-managed and easily scalable cloud virtual machines. Choose from 4 pre-configured plans or configure your own cloud server (cores, RAM, and SSD storage) according to your needs
Fail-safe, redundant data storage thanks to Google Cloud infrastructure. Geolocation, daily automatic and on-demand backups, restore tools, distater recovery, and more tools further ramp-up site security.
Intuitive customer area GUI with separate control panel
Git and WP-CLI integration, as well as staging tool
See all the pros and cons in our
in-depth SiteGround Review
.
Rapid Deployment Tools
Crystal cPanel Theme
Managed Support
Fully-Managed and Monitored.
VPS Resources
4-33 cores, 8-1308GB RAM, 80-1000GB SSD
Extra Features
Smart Dynamic Caching
Uptime Guarantee
99.99%
Starting Price

$

100.00
The Best Developer-Friendly Hosting, Especially for You
There isn't one best web host for developers. You have your own list of must-haves, and each service has its strengths and quirks. Whether you are starting out as an independent professional or searching for an infrastructure to improve client management, it is vital to carefully evaluate your needs and choose a web host accordingly.
If you require total flexibility, I'd go with Kamatera.
It offers a level of customizability unmatched by the other hosts on this list. Additionally, its global network of data centers allow you to serve your target audience anywhere in the world.
In contrast,
Scala Hosting makes it easy to host all of your projects
, offering both unmanaged and managed services. Plus, the use of its proprietary SPanel for free, which makes managing multiple clients and sites simultaneously so much easier and more affordable. Let's face it – developer-friendly hosting is rarely low-cost, as it often demands additional resources.
With HostArmada's shared cloud hosting plans
, you can enjoy some of the most affordable developer-friendly hosting around featuring tons of developer, security, and performance tools, as well as decent resource quotas.
For an overview of all the web hosting options included in my list, check out the table below.
| | | | | |
| --- | --- | --- | --- | --- |
| | Rapid Deployment Tools | Managed Support | Extra Features | |
| Kamatera | One-click installation of server images | Optional add-on | Cloud firewall, block storage, load balancers | |
| Scala Hosting | Free SPanel | Yes, for higher tier VPS plans | OpenLiteSpeed Integration | |
| HostArmada | Low-cost plans with tons of security, performance, and development tools. | Yes, all plans are managed | NGINX, CloudFlare CDN, Imunify360 Firewall, cPanel | |
| InterServer | Free Webuzo on VPS | Yes, for higher tier (4+ slices) VPS plans | Instant Cloud Provisioned VPS | |
| Hostinger | Custom hPanel | Yes, for Cloud Plans | LiteSpeed Caching | |
| Liquid Web | cPanel, InterWorks, or Plesk license | Yes | Staging Environment | |
| A2 Hosting | Webuzo for Unmanaged/cPanel for Managed. | Yes, on managed VPS plans | Pre-installed Developer Tools | |
| HostPapa | On Managed or Fully-Managed | Yes | 100% Green Energy Hosting Solution | |
| SiteGround | Crystal cPanel Theme | Fully-Managed and Monitored | Smart Dynamic Caching | |
Frequently Asked Questions
Which is the fastest web hosting provider?
Page loading speeds are dependent on where you host the website, the location of visitors, as well as the configuration of the site itself. Kamatera, Hostinger, A2 Hosting, and InterServer frequently achieve page loading speeds that are under 1 second and even under 0.5 seconds, in many cases.
What is the best free web host for developers?
Free web hosts are usually quite limited in features and resources, and their users often experience long periods of downtime. A free web host won't be your best bet for long-term hosting – one of our top-rated paid developer-friendly hosts would be a better bet. However, they can be a good solution if you just need to test a site you're working on.
I'm learning to develop – should I use AWS for web hosting?
AWS is expensive, complex to set up, and better-suited for businesses rather than individuals. If you're looking to design a few Joomla/WordPress sites to learn web development, AWS is not the right choice for you. Rather choose one of the top developer-friendly hosts, such as Kamatera, Scala Hosting, or HostArmada.
What is the best website hosting service for developers?
It depends on you and your clients' needs. In this article, I've covered everything from the most affordable website hosting for novice developers to services that scale your resources to match multinational-level loads. If you're not sure which host is best for you, I'd recommend you check out our list of the best web hosting services right now.