💎

Service Type
DIY logo maker

🚀

Free to Try
Yes

📁

File Formats
PNG Files

🔄

Free Revisions
No
Hatchful: A Completely Free Logo Maker by Shopify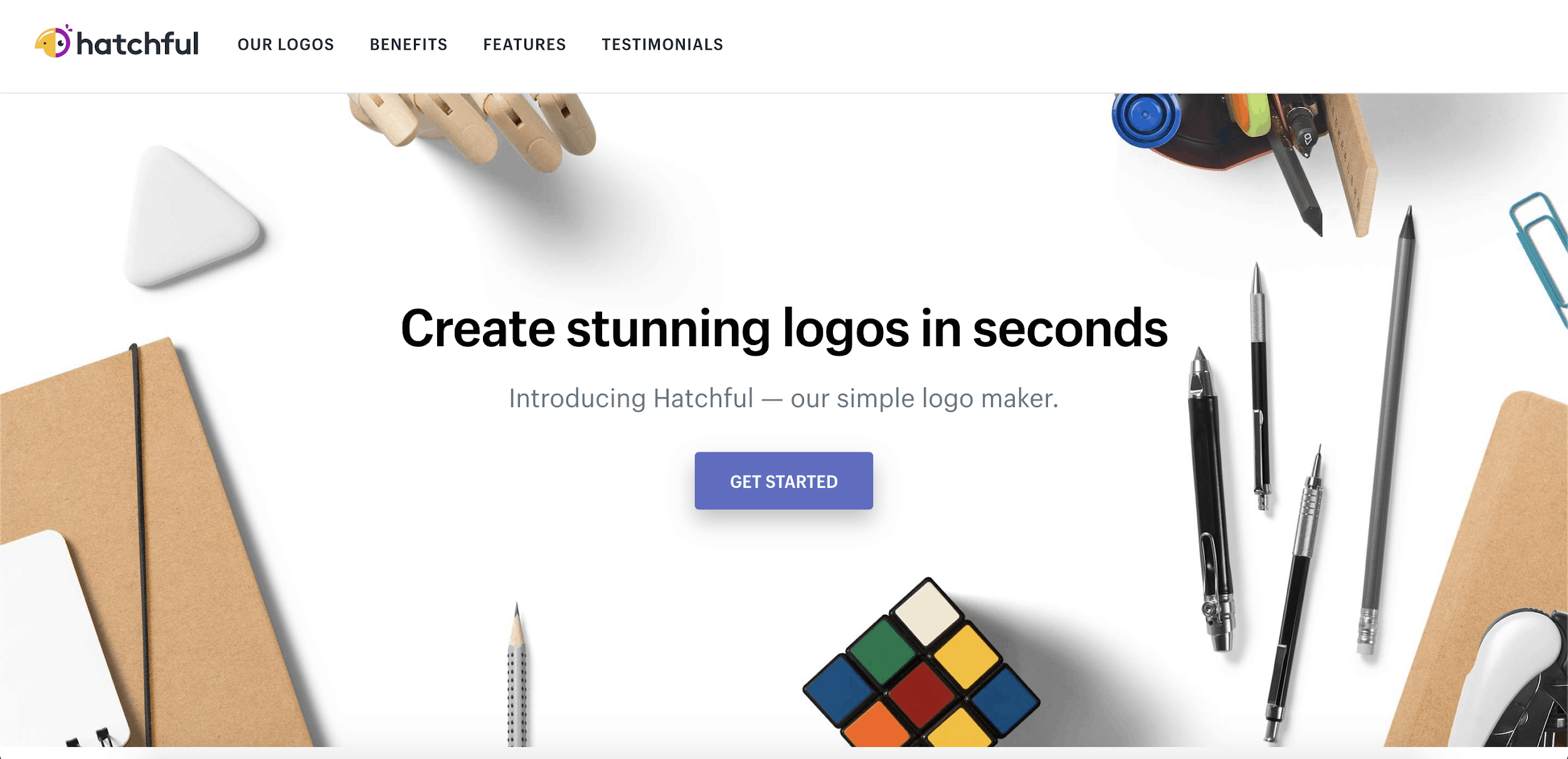 Shopify is one of the biggest names in e-commerce today, powering online stores big and small. Shopify's e-commerce solutions get excellent reviews…but what about the company's online logo maker, Hatchful? Is it just as good?
Relatively new to the Shopify family, Hatchful is free to use and offers completely free logo downloads – even if you don't use Shopify for e-commerce or anything else. Unfortunately, Hatchful's website is only available in English and Japanese (which is strangely perfect for my Japanese-American self but slightly more limited for the 7 billion other people on the planet).
As long as you can navigate the website, though, you can use Hatchful to create a logo in almost any language. I tested Vietnamese, Thai, Greek, Russian, Japanese, and Hindi, and they all worked well. I only say "almost any language" because there's surely one language in the world that won't work…but I wasn't able to find it.
Just for clarification before we go any further: Hatchful is the official name for this tool, but it's often known simply as Shopify logo maker. I'll use the terms interchangeably throughout the rest of this review.
Is Hatchful the best option for you? Would you be better off with a different logo maker? (We tested all the major players as part of a big project.) Should you just hire a professional designer on a platform like Fiverr, sit back, and let them do all the work? Read on to find out.
Features and Ease of Use
Polished Interface with a Quick Startup Process
Hatchful advertises "stunning logos in seconds," and I have to agree with the "in seconds" part at the very least. The startup process is quick, largely because this tool does not use artificial intelligence (AI) technology. Since you don't have to train the AI about your likes and dislikes, you'll only have to enter basic information about your business to get started.
After four quick informational screens, you'll be shown 100+ logo templates. You can click on any template to start customizing it.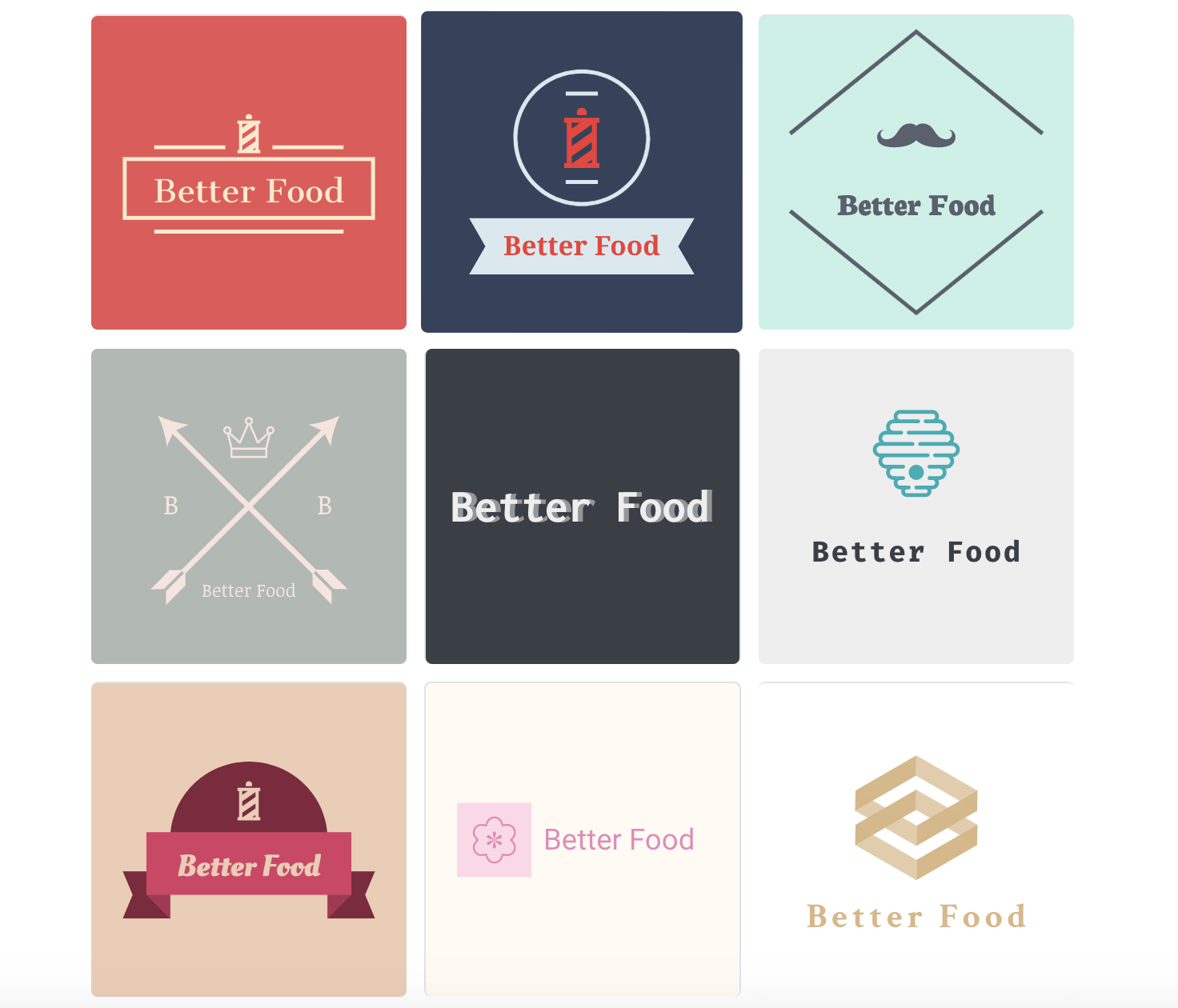 As you can see, Hatchful's logo templates span a variety of colors, font styles, and layouts. Of course, no amount of variety in the world can make up for the seriously mediocre designs, which you can also see for yourself in this screenshot. (And no, it doesn't get much better than this.)
With no AI to help generate designs for you, the icons definitely won't be relevant to your business…but you'll at least be able to get some inspiration from diverse designs, and you can always change icons later.
On the other hand, if you have a specific vision for your logo (and want to get there as quickly as possible), Hatchful is probably not the best tool for you. You'd get much more personalized designs by using a logo maker with an AI-powered startup wizard – like Wix Logo Maker, where you can choose a specific icon, or Looka, where you can choose up to three color palettes.
By the way, if you're curious about how all of these logo makers compare (not only in terms of startup wizards but results, too), check out my colleague's face-to-face logo design platform showdown! He tested all of the biggest names in logo design to find which platform is the very best.
Just as Pleasing to Use as It Is to Look At
Right from the get-go, Hatchful stands out for one reason: it's really nice to look at. (You might even be tempted to say that Hatchful's interface is much more attractive than its logos… And okay, yes, I am saying exactly that.)
Especially for a tool that's designed to build brands, appearance matters – and the Shopify online logo maker uses well-designed, vibrant visuals to guide you through the design process.
For example, I love how the "visual styles" step (number two of the four-step startup process) uses imagery and color to explain each term. You aren't left to wonder what makes Industrial different than Energetic or what on earth Reliable might mean.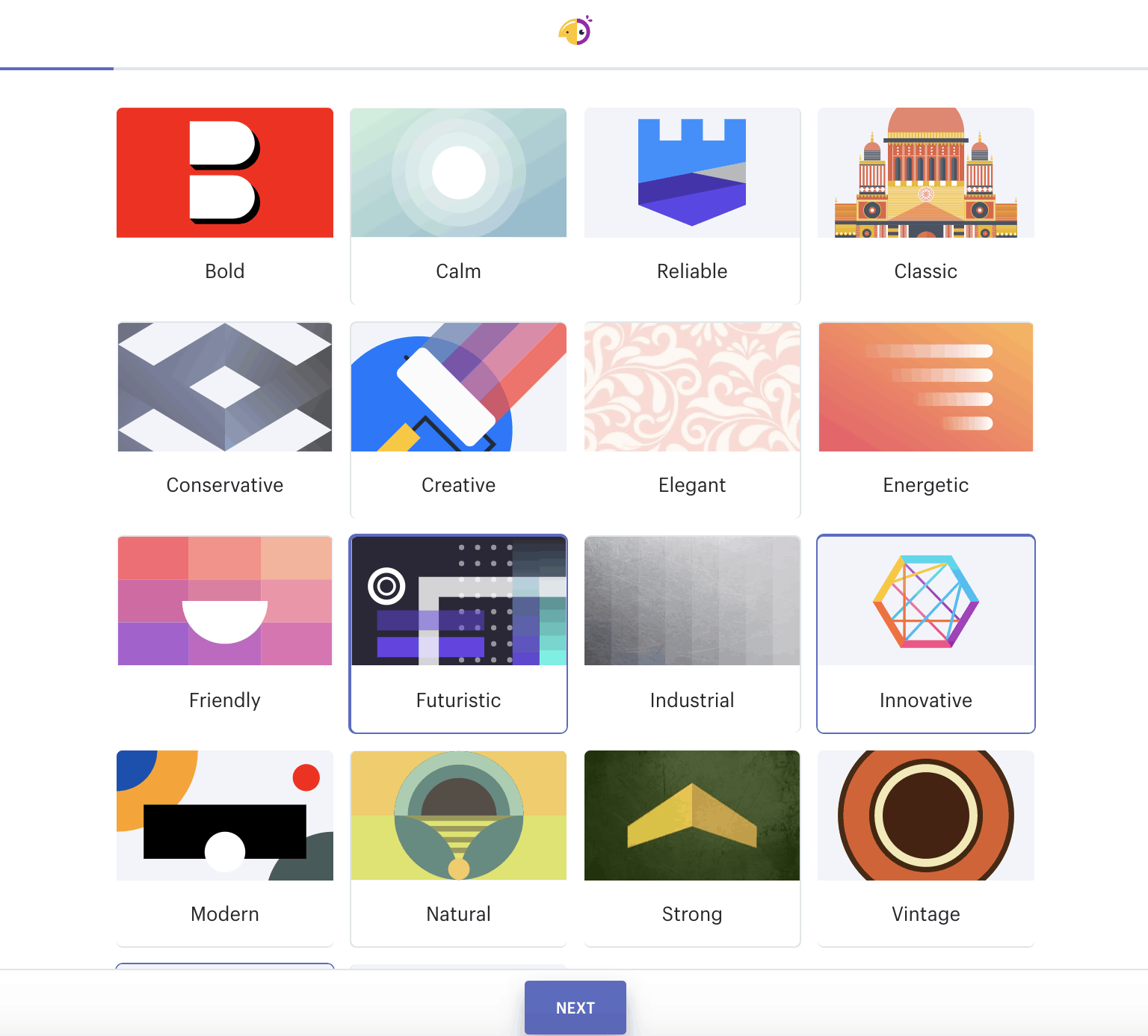 Customization Options Are Not Great
Now that we've covered some awesome aspects of Hatchful, it's time to chill the vibe a bit. Compared to other logo makers, the customizations you can make are much less exciting.
Exactly how much you can customize your logo will depend on the template you've chosen…but none of the templates offer the precise customizations of a paid tool. You won't get the drag-and-drop functionality of Wix Logo Maker, for instance, or the unlimited design capabilities of DesignEvo (another logo maker that offers free downloads, even for commercial use).
What you will get is a set of basic logo customizations. In most templates, you can:
Change fonts
Try new colors
Replace an existing icon with a new one
Change your company name
Add or delete your company slogan
Even these limited options aren't available in all templates, though. The template below, for example, says that you can change colors, but a quick glance shows that "All Colors" means…all of the same colors.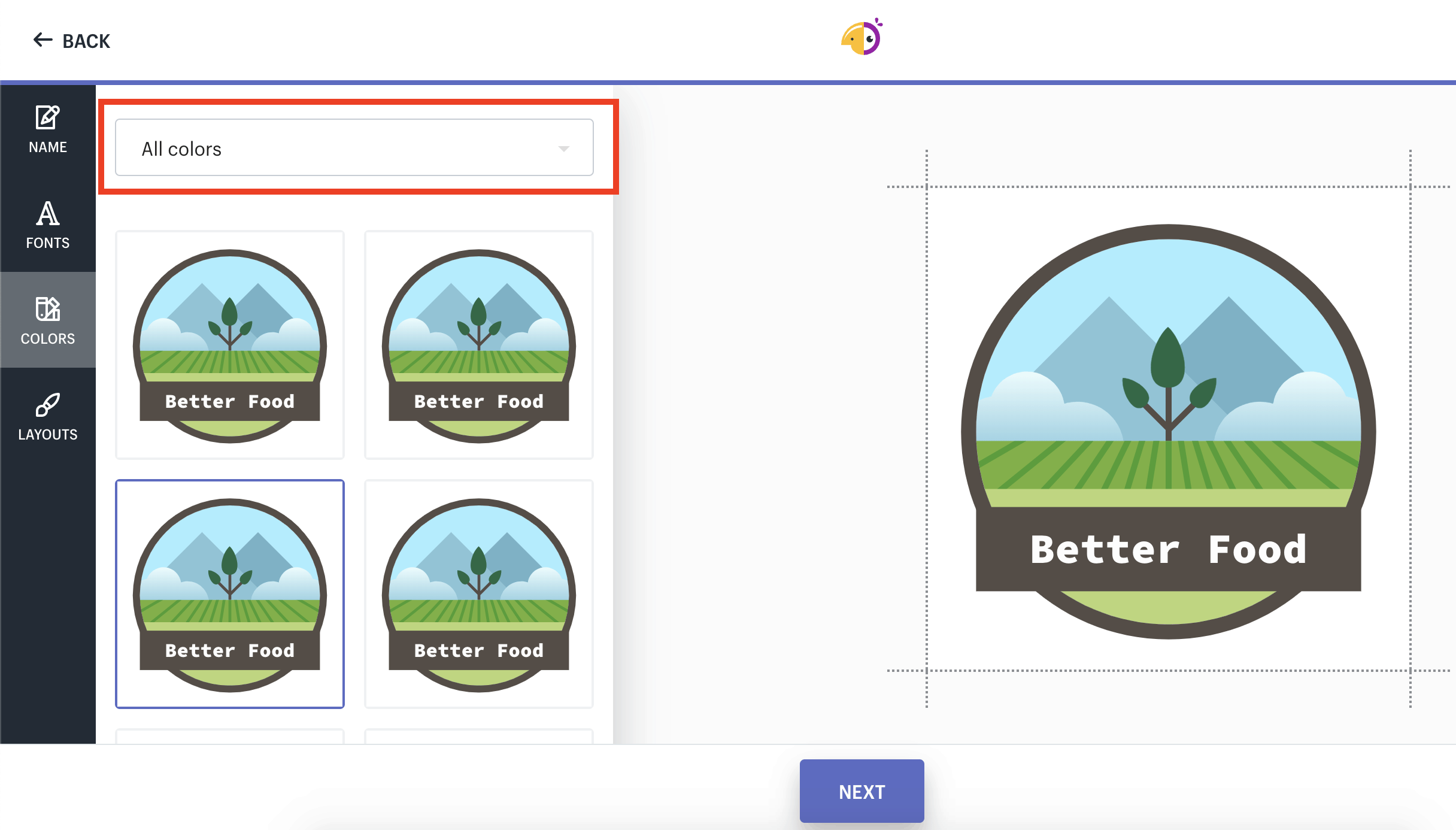 And with the template below, you should be able to change the icon, right? But once you enter the editor, you'll see that you can't. Hopefully, your business has something to do with plants.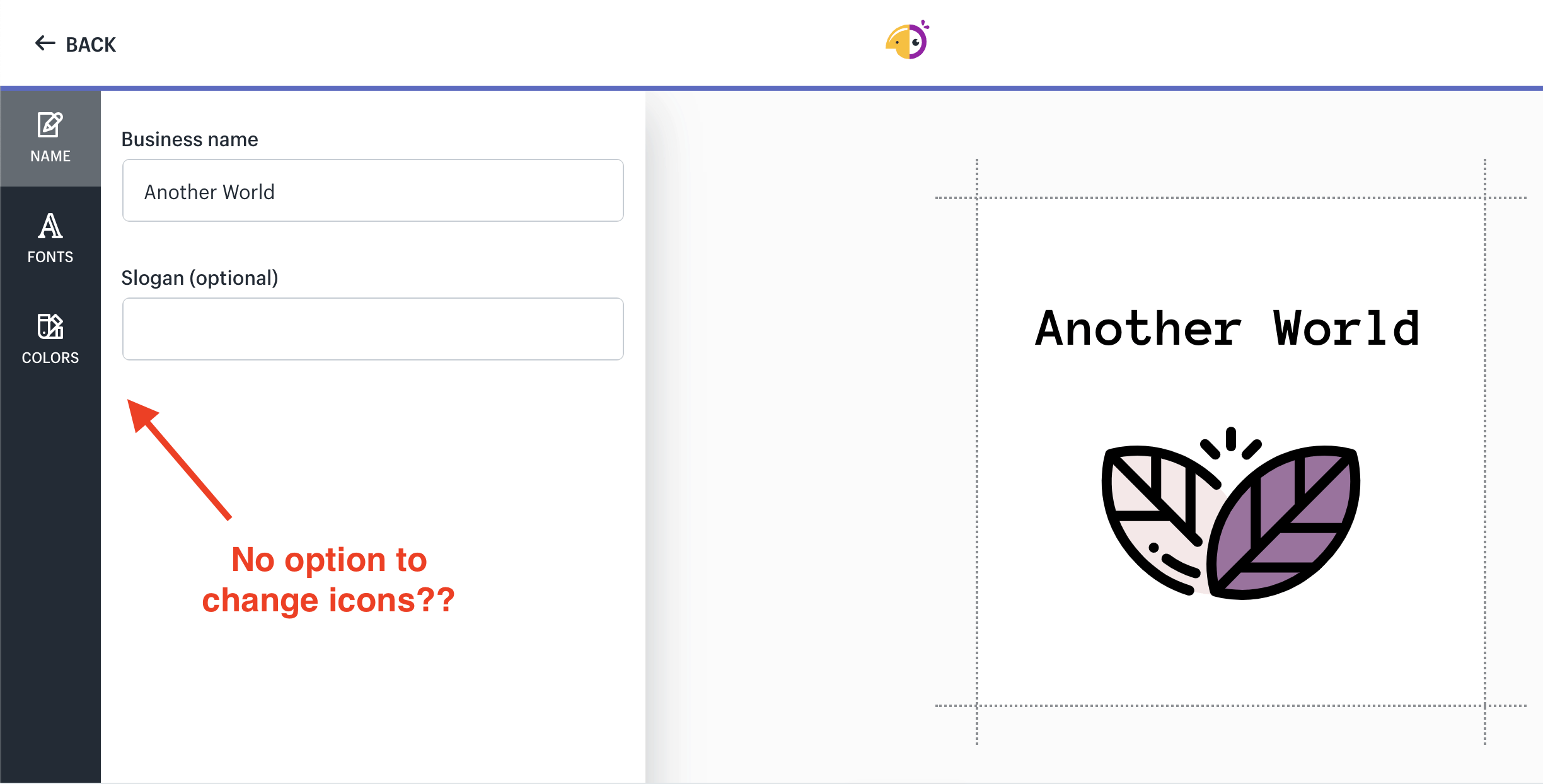 Finding a good, or even "just okay," template can take some work with Hatchful, and unfortunately, I don't have any earth-shattering tips on how to find a good one. Since there's no way to narrow your search results with keywords and no way to tell which template allows which customizations…you'll simply have to scroll and click, scroll and click.
The bottom line? Even though the templates can sometimes be decent (with enough time spent searching), you can't truly personalize your logo. Two businesses that have both used Shopify logo maker may end up with eerily similar logos – which is definitely not what you want for your brand.
The best way to avoid a generic logo is to work with a professional to design your logo from scratch. (And when prices start as low as $5 on Fiverr, you really don't have to spend much to get a unique, custom design.)
You'll Get TONS of Logo Files for Free
As soon as you're done customizing your logo, you can click Download to have your files sent by email. (I forgot to mention this earlier, but you'll have to create a Hatchful account to download your files. But doing so is easy and free).
Your emailed ZIP file of brand assets will include:
High-resolution PNG with full color
High-resolution PNG with transparent background
Favicon
Facebook profile image and cover photo (x2)
Instagram profile image
Twitter profile image and banner (x2)
Pinterest profile image and board photo
LinkedIn profile image and banner (x2)
YouTube profile image
For a completely free tool, these file formats are both diverse and useful – especially since the transparent background makes it easy to display your logo in various web contexts. The downside is that you can't download scalable vector files, which means that you can't use these logo files for printing at large sizes. (You can use a high-res PNG for very small print applications, like business cards or stationary, but not too much else.)
Pricing and Support
Your Logo Really Is Free
With Hatchful, free means free. Your logo is free to download, and you can edit and re-download the same logo as many times as you'd like. You can even make multiple logos if you own multiple businesses.
Commercial Usage Rights
Here's one point where Hatchful could be more helpful. There's no clear statement anywhere on the website or within the logo maker about commercial usage rights.
I combed through the Terms and Conditions and found language stating that Shopify may use third-party elements in its logos and that it's your responsibility to verify that these elements do not infringe upon anyone else's rights – like the creator's.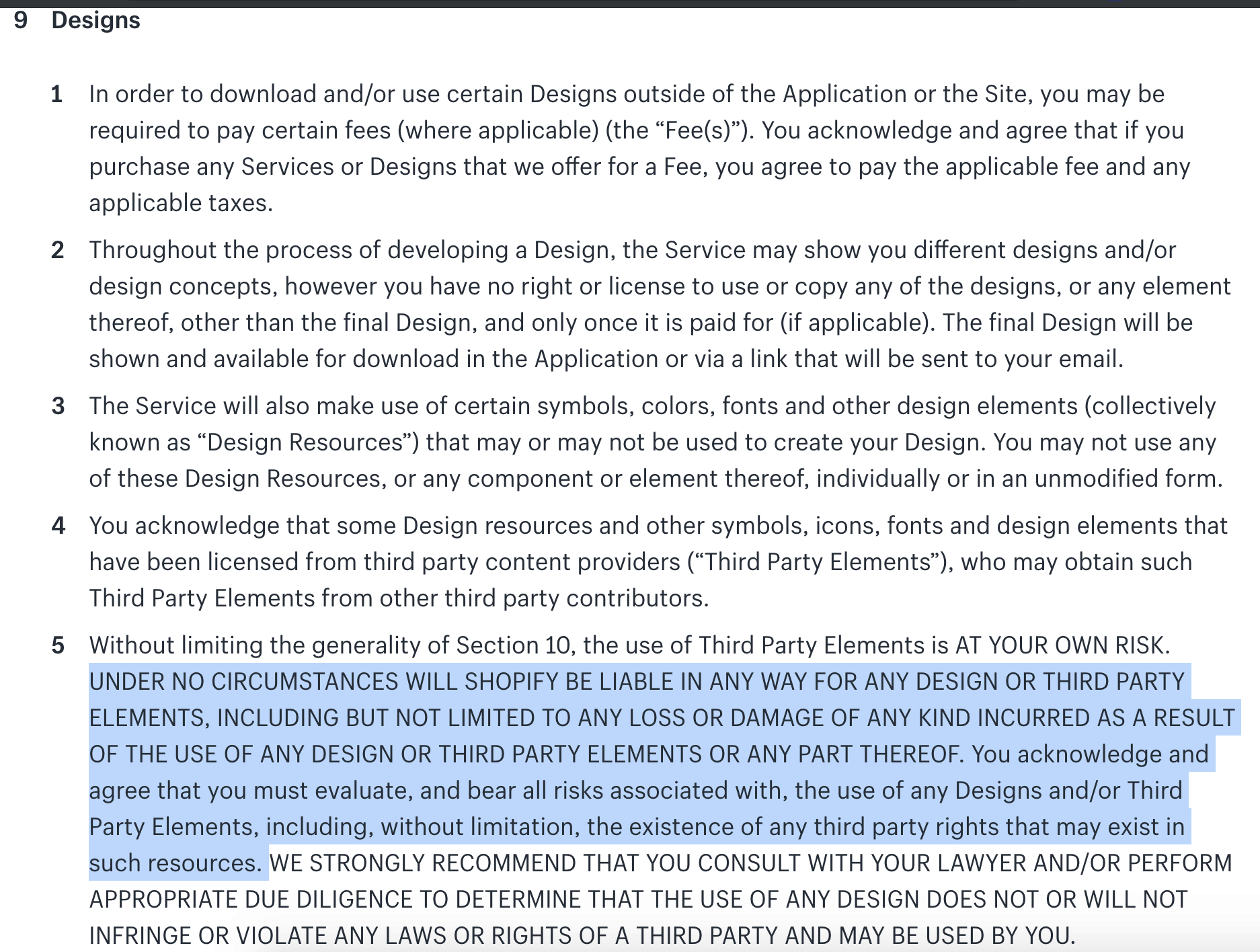 However, the platform does not provide any indication of which icons, fonts, or designs are classified as "third-party elements." Furthermore, users are not able to upload their own images. It appears that the terms and conditions are attempting to be overly cautious, which may not be particularly helpful to both users and myself.
So can you use your logo for business purposes? Honestly, I can't say with 100% certainty.
Since customer support is seemingly nonexistent (more on that next), I can't give you a better answer than that. If and when I hear back, I'll make an update.
Customer Support Is Email-Only
Although Shopify offers robust customer support for its core services, support for the Shopify online logo maker is limited to email only. There's no live chat or phone support.
I can't rate Hatchful too highly AT ALL for customer support, as I sent an email nearly six days ago at the time of writing and have yet to hear back (or even receive a "We're working on it" kind of message). I wish there were a phone number I could call.