Buyer Beware!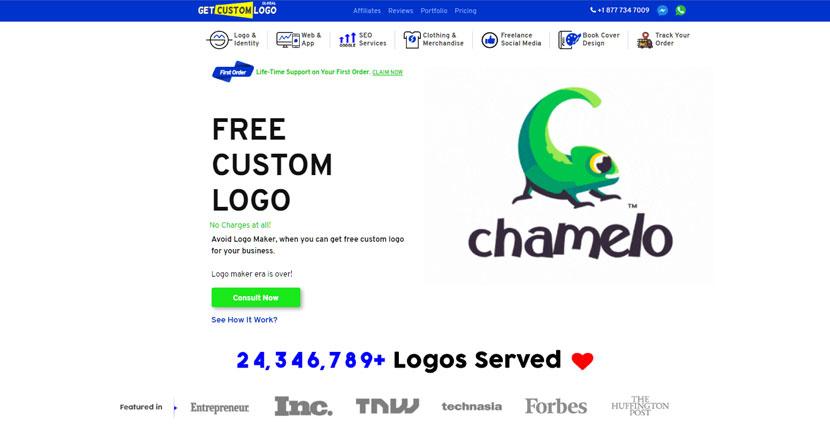 Based on the very limited information I could find, Get Custom Logo is possibly based in or near India and claims to have served over 5,000 businesses with more than 24 million logos. But I would take this information with a grain of salt.
Actually, I'll cut to the chase here: I'm not convinced this site is legitimate at all. Read on to learn all about my experience with it (or, non-experience), and why I'd strongly recommend using Fiverr for your logo instead. You can hire a professional designer on Fiverr for as little as $5 and get a real custom design – plus, it's definitely safe to use.
Red Flag #1: Get Custom Logo claims it's been featured on top-ranked sites like Huffington Post and Forbes. My editors and I looked into these claims, but nothing checked out. It appears as though nobody has heard of Get Custom Logo, and the only reviews are the ones shown on its own website.
Features and Ease of Use
I wish I could tell you more about how Get Custom Logo works. It looks professional on the surface, yet many of the links are broken or lead to nowhere (and I tested the site in several different browsers with the same result).
At first glance, it seems super easy to use Get Custom Logo. You don't need to have any design skills, and there's no confusing logo maker features to figure out – a team of design experts does all of the work for you. Great!
Your first order is even absolutely free with lifetime support. Sounds too good to be true? It probably is.
Supposedly, you just have to fill out a handy-dandy contact form (or you can chat with a representative if there's one online). Just provide information about your business and logo design ideas, and within approximately 48 hours you'll receive several custom logo concepts to choose from. Or will you?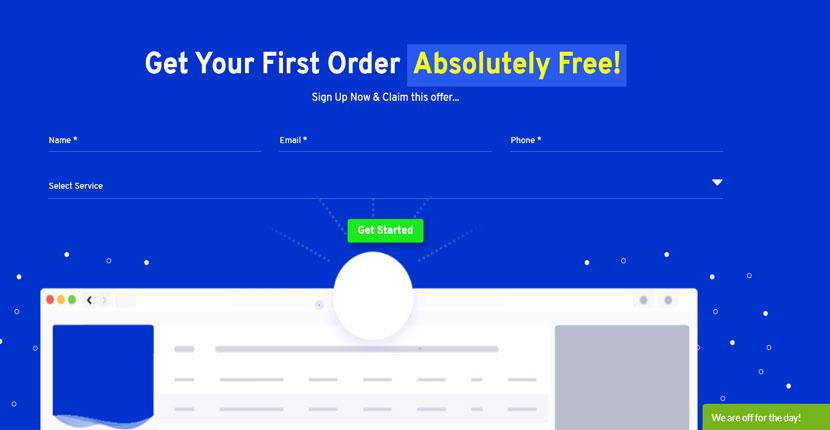 Red Flag #2: I filled out the form, but I never heard back (even several days later). The chat window said We are off for the day no matter when I tried to get in touch. Good thing I didn't send any payment information, but they do have my name, email, and phone number… hmm.
Let's take a look at the portfolio while we wait, shall we?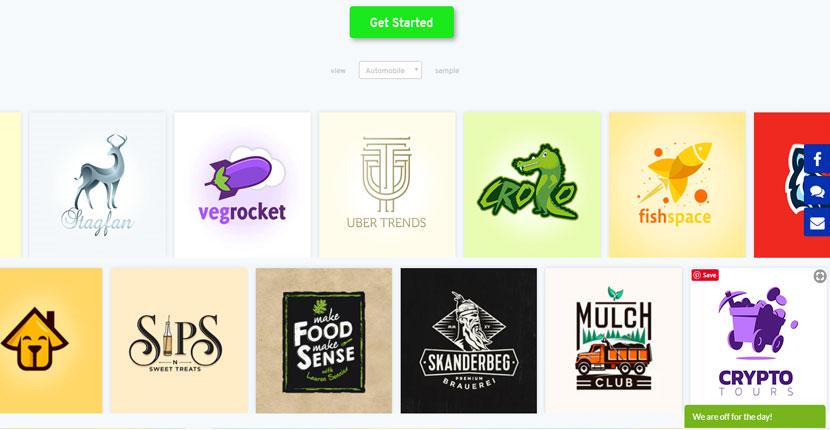 The "portfolio" of work seemed awfully similar to logos I've seen on other websites. I ran a quick Google search to confirm my suspicions.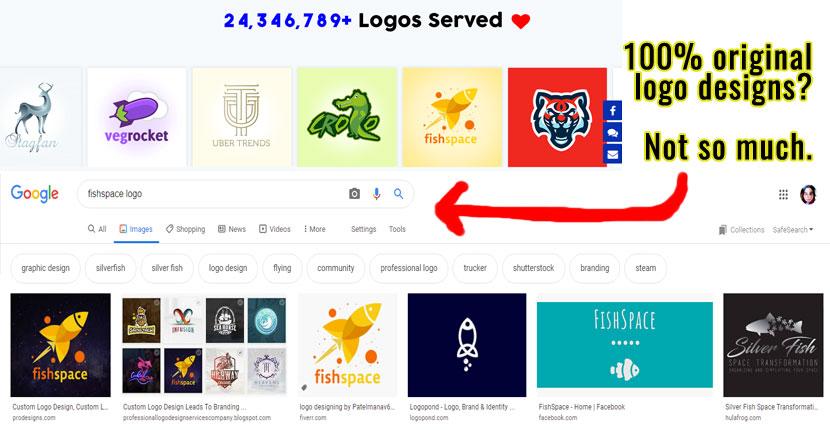 I ran a similar search for a few "custom" logos featured in the portfolio, including VegRocket, FishSpace, and UberTrends.
Red Flag #3: The logos appeared on other websites, including other logo design services. I wouldn't call that original work. No matter who originally designed them, someone ripped these designs off. So, even if your logo order does go through, there's no telling if the design will be 100% original and eligible for trademarking.
Also, there's very poor spelling and grammar used throughout the site, which further takes away from its credibility. At this point, I'd say stop reading this and go directly to Fiverr or one of the many trusted logo design sites my colleagues have reviewed instead.
Pricing and Support – About That…
File Formats and Ownership
Get Custom Logo asserts that they will provide you with a complimentary logo (although the timing remains uncertain). Allegedly, they will furnish you with a variety of file formats suitable for both on-screen and printing applications. These formats encompass AI, EPS, PSD, JPG, PDF, and PNG. Additionally, you purportedly have the option to solicit any other formats you may require.
It also states you'll receive 100% copyright ownership, and boasts 24/7 award-winning technical support.
If you want (if you even can), you can upgrade to paid packages that include stationery, social media graphics, 3D mockups, and more, depending on which plan you choose.
Red Flag #4: Please note, if you can't get past the first crucial step in actually reaching a designer or customer support, these options mean nothing. I would have loved to see what concepts they could come up with, but again, they didn't reply.
Accepted Payment Methods
Get Custom Logo claims to accept most  major credit cards. Would I type in my credit card number? No way.
Red Flag #5: Although the site appears to have a valid security certificate, I'm skeptical, given the lack of verifiable information. In my honest opinion, you shouldn't share any financial information. It's just too risky when there are far better logo design services more worthy of your time and money.
Support Options
On the website, there appear to be several methods for getting in touch with the support team, but I tried them all and never heard back from anyone.