Zyro recently revamped its builder and added a bunch of shiny new features
. It's now got a decent selection of good-looking templates, some neat AI tools, solid e-commerce features, and a very reasonable pricing structure – more than enough to potentially tempt people away from old favorites like Wix. So, now that Zyro is trying to play with the big boys of website building, I decided to put it to the test. I created new websites with both builders to see how they compared on features, ease of use, templates, support, and much more. Ultimately, I found that
Zyro still has a long way to go
 to catch up with Wix. It's a decent builder for simple websites, but it can't beat Wix on customization options or add-ons for extending your site's functionality.
Check out Wix's latest deals
, or read on to find out why it's still my favorite.
Templates
Zyro's Templates Have Improved, But They Can't Match Wix's Variety
Zyro has more templates than it used to – and they are definitely better-looking, trending towards that pared-back minimalism that's just so
in
right now. However, it'll take a long time for Zyro to catch up with Wix's library of
more than 900 templates
. Compare that with the
120+ templates
 on offer with Zyro, and you can see that
Wix is winning the numbers game.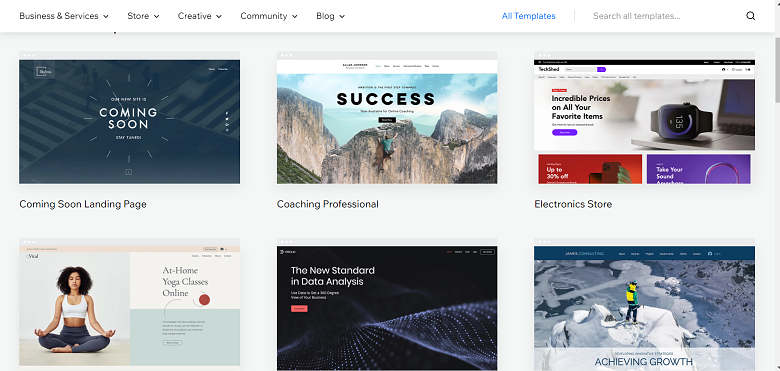 Wix has a template for pretty much anyone and everyone. Most of them are well-designed (although it has to be said there are a few duds). And in case you don't find one that's exactly right,
your customization options in terms of layout, colors, and fonts are virtually unlimited
. You can choose from a wide variety of elements to add to your site, and you can stick them anywhere you like on the page. Zyro also gives you plenty of options for fonts, colors, and layout. One big difference, though, is that
its editor uses a grid function.
This means that there are limits to where you can place elements. For example, when you move a text box to the left or right, it snaps into place on the page grid. This isn't necessarily a bad thing, as it ensures that all elements on your page are well-spaced, but you don't exactly get full creative control like you do with Wix.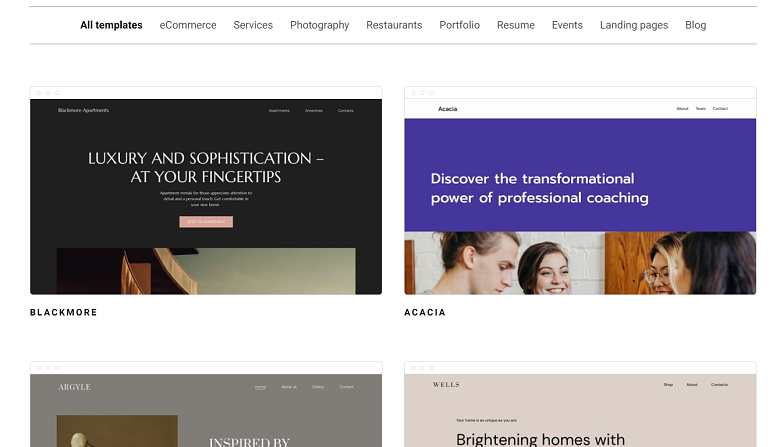 The grid system makes sense, though, when you consider that
all of Zyro's templates are mobile-responsive
, so they have to be able to look good on any device. (There's also a mobile editor in case you want to put your own personal touch on this display). Wix also has a mobile editor, which I found that I had to use a lot more, because
Wix templates are not automatically responsive
. One downside with both website builders is that once you've chosen a template and started editing, you can't switch to a different one. You'll have to start from scratch – so be sure of your choice before you take the plunge! Although I'll give Zyro a special mention for "most improved" (it's more than tripled its number of templates since our last review),
I've got to give this point to Wix. It just has soooo many more templates… and better customization options too.
Features and Ease of Use
Both Builders Are Beginner-Friendly, But Wix Wins on Features
Zyro has added some new features in recent months. For instance, it now has blogging and e-commerce tools that I'll discuss in a minute. However, even with these new additions,
the builder still can't offer the same power as Wix
. With Zyro, it feels like you've got the basics covered, but Wix really goes the extra mile. From an ease-of-use perspective, Zyro's simplicity works in its favor.
The drag-and-drop editor is very, very easy to use
, presenting virtually no learning curve. Even complete beginners should have no problem jumping right in. That being said, Zyro does do things a little bit differently than other website builders, and I sometimes found that features weren't exactly where I expected them to be. But that might be my prior experience with different platforms talking, and not necessarily a problem for complete beginners. In terms of adding elements, you've got nine options:
Text
Button
Images / Gallery
Videos
Maps
Instagram feed
Contact form
Subscribe button
Social icons
You can also add extra pages, like a blog or an online store – but these only come as full page layouts, rather than content blocks. You can't, for instance, add a featured blog post or a promoted product on your homepage. Once you've decided what element you want, you simply drag it onto your page. As I mentioned before,
Zyro uses a grid layout for its drag-and-drop editor
, which helps keep everything well-spaced and mobile-friendly.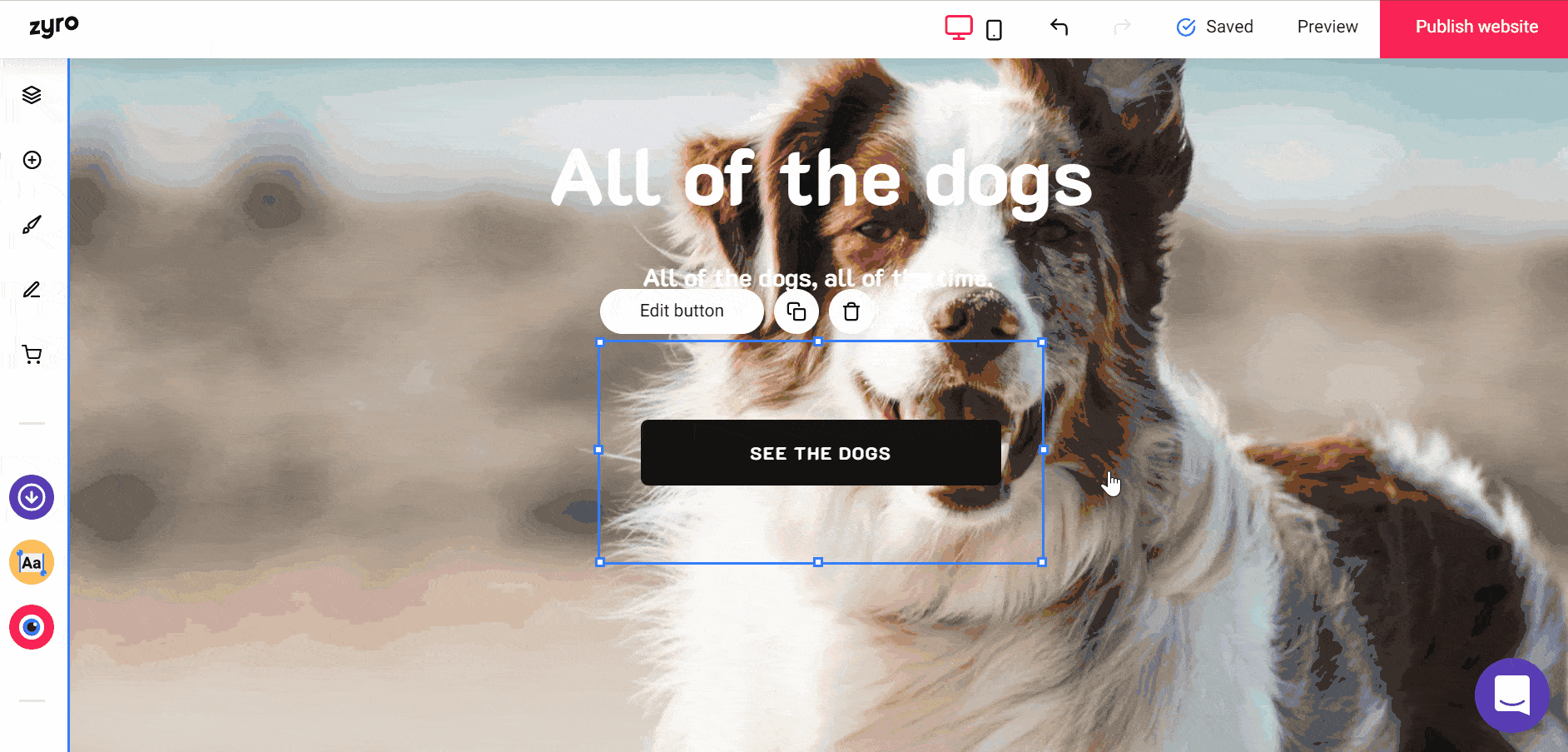 Wix has a lot more features
, which at first glance makes the editor feel more complicated. For example, there are more than 20 kinds of elements that you can add to a page: everything that Zyro offers, plus things like service and price lists, customer reviews, music players, event lists, featured product sliders, feedback forms, and much more. Because there's so much choice, it takes a little longer to get your bearings with Wix, but in general, I actually found Wix more intuitive.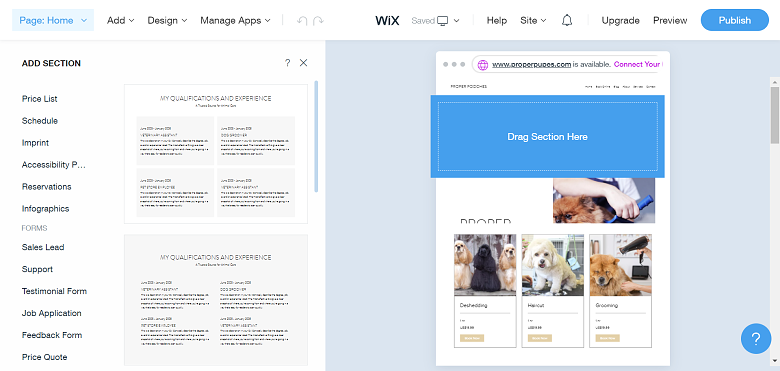 If you want to make the site-building process even easier
, you can use Wix ADI (Artificial Design Intelligence), a wizard that will build the basic shell of your website for you based on your answers to a few questions. You can select a theme and customize it, but you don't get as much creative freedom as with the classic Wix editor. While it doesn't have an ADI wizard to help you build a website, Zyro does offer a bunch of AI tools, including an AI business name generator, a slogan generator, a blog title generator, and even an AI writer to create pages of SEO-friendly content. So how do these new tools perform? Well, if I was going to be super harsh, I'd say these are the kinds of tools that sound flashy but in reality you'd probably only use them once, if at all. The AI writer created a lot of text that sounded okay, if a little on the bland side, but unfortunately it didn't really work with the rest of the content on my website. So, while Zyro has got the basics covered and might improve in the future, I'm going to have to give this one to Wix for now. Wix
offers far more choice in terms of features, and it's still pretty easy to use.
Apps and Integrations
The Wix App Market Knocks Zyro's Integrations Out of the Park
When it comes to apps, add-ons, and integrations,
unfortunately once again Zyro can't hold a candle to Wix
. The latter offers hundreds of apps via the Wix App Market that can extend the functionality of your website in just about any way you could think of. Zyro, on the other hand, offers only a handful of integrations, including:
Facebook Messenger
Facebook Pixel
Hotjar
Google Tag Manager
Google Analytics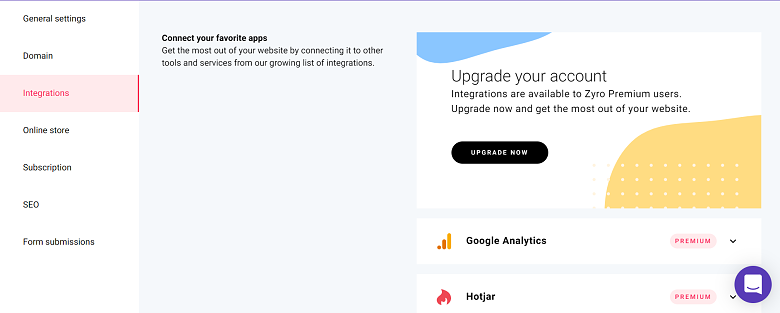 As far as integrations go,
these are on the basic side
 and mostly tending towards the analytics and SEO side of things. Adding a Facebook pixel helps you track users who land on your website from a Facebook advert, while the Facebook Messenger integration lets you live chat with customers from your website. Meanwhile, Hotjar creates heatmaps of your web pages based on where visitors are clicking, tapping, and scrolling, to help you optimize the layout of your website. This is all useful stuff, but…
Compare it to the 250+ apps offered on the Wix App Market, and you'll understand why there's no contest
. Importantly, you don't need a paid plan to access the App Market. Many of the apps themselves are also free to use, while some require an extra paid subscription.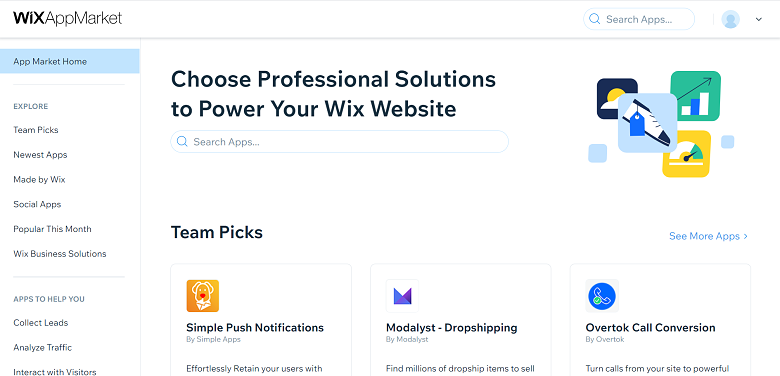 Wix breaks the apps down into categories like Marketing, Sell Online, Services & Events, and Media & Content. You can either browse through the categories or search for something specific by entering it into the search bar.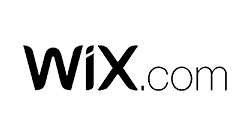 Save up to 33 % on your Wix plan!
Limited-time offer - Don't miss it!
Your Wix with your first % on 30/06/2023!
3901 users used this coupon!
Blogging
Both Builders Have Blogging Features, But Nothing to Shout About
One of Zyro's brand shiny new features is that it now offers blogging functions. So, how does it compare with Wix? Well,
 I'm going to call this one a draw
. Both website builders offer simple but effective blogging systems – there's actually not much difference between them. Adding a blog to Zyro is simple. Just navigate to the little button that looks like a pen in the left-side menu and click
Start a blog
. A blog page will automatically be added to your website, and you're ready to start writing!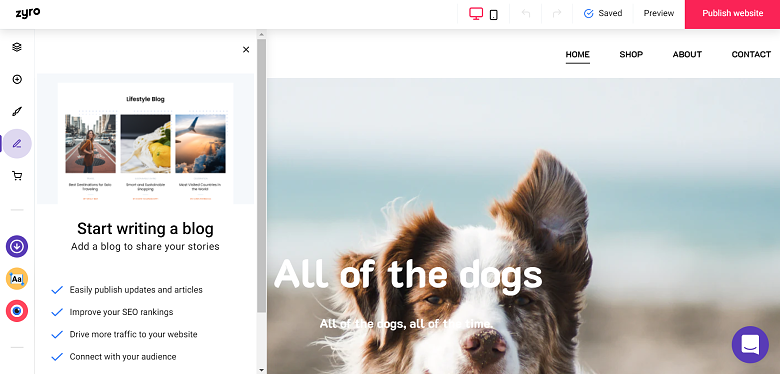 Zyro blogs come with all of the usual features
, like the ability to set publishing dates, define post categories, have multiple authors, and so on. You can also design and format your posts just like you do with the overall site editor, although you can't control how your blog itself looks within your website. With Wix, you'll need to add a blog through the app market (unless you used a blogging template that comes with one pre-installed). Once you've added it to your site, you can create and schedule new posts, manage tags and categories, add authors and contributors, and even view blog analytics from your Wix blog dashboard.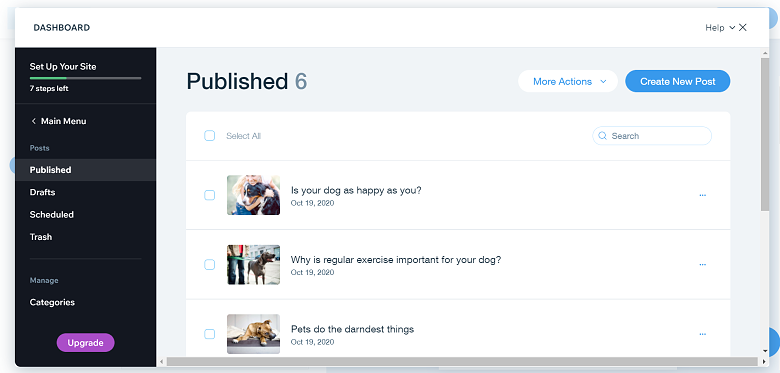 The blog editor itself is super easy-to-use,
 and offers lots of options for customizing your posts with text styles, images, videos, HTML code, and GIFs. A neat feature that Wix offers is the Wix Owner mobile app, which lets you edit and publish articles on-the-go. If you want to monetize your blog, you can also sell subscriptions to your posts.
E-commerce
Zyro Matches Wix for Features, But Falls Down on Price
Another feature that Zyro has added relatively recently is e-commerce tools. From the eCommerce plan upwards, it now lets you create an online store, but since even its cheapest e-commerce plan is pricier than the Wix equivalent,
Zyro offers less value for money
. To start an online store with Zyro, you can select one of the online store templates, or alternatively select the shopping cart icon on the left-hand side of your screen. It couldn't be quicker to set up, and within minutes you'll have a working store.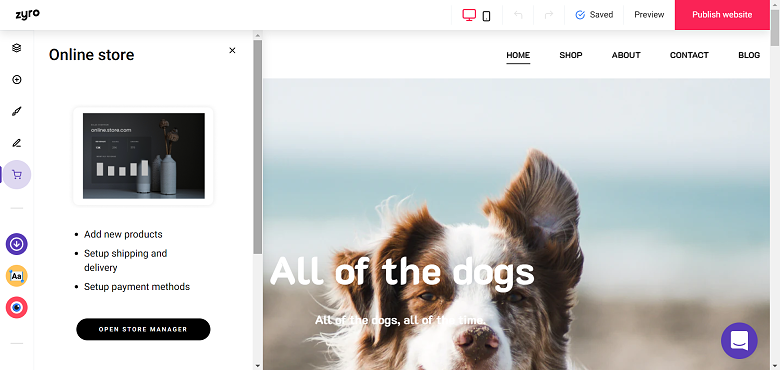 Zyro offers e-commerce features like inventory tracking, customer service, order tracking, and even marketing campaigns, all within its Store Manager dashboard.
You can choose from dozens of payment and shipping options and sell your website products directly via Amazon, Facebook, and Instagram.
 There's a customer relationship management tool and even an app that lets you manage your store on the go.
Adding product variants proved to be a little trickier (I found myself stuck in the middle of a bunch of error messages that I couldn't make head or tail of for about five minutes), but definitely not impossible. If you opt for the most expensive eCommerce Plus plan,
you can also set up a multi-language store
, which is ideal if you plan to sell internationally. However,
all of those features are also available on the most basic Wix Business & eCommerce plan
, which comes in at quite a bit cheaper than the Zyro plans. With the Wix plan, you can sell both physical and digital products on your online store, set product variants, and add multiple images or even videos to product listings. You also get multiple shipping options and, with apps like Shippo or ShipStation, you can print labels and access competitive postage rates.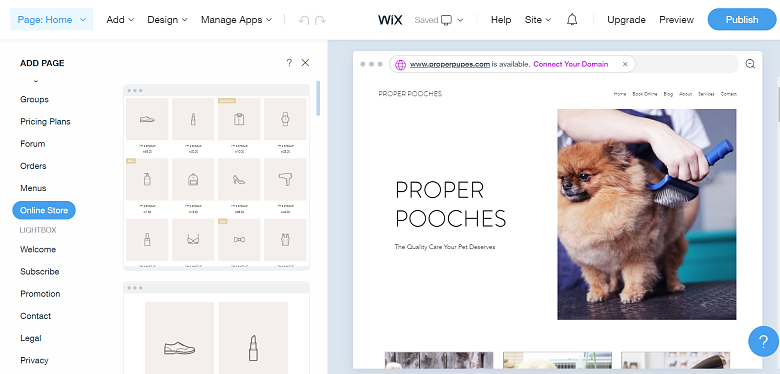 Wix's eCommerce plan also includes multichannel selling, which lets you list your website products on platforms like Amazon, Facebook, and Instagram. You can set inventory levels to help you manage your stock automatically when you make a sale, and even set up a dropshipping website. Even with its competitive prices,
Wix doesn't charge any sales commission
. Setting up an online store on Wix is super easy. Either choose a template with an online store, or start with a different template and integrate a store later via the
Add a page
 menu. You can then start adding products from the Wix Online Store dashboard.
Marketing & SEO
Zyro's SEO Tools Pale in Comparison to Wix's SEO Wiz
As I mentioned above, most of Zyro's integrations tend towards the marketing and SEO side of things – although
one big feature it's lacking is a built-in email marketing tool
. As well as offering basic functions like the ability to change your website page titles and meta descriptions, Zyro has some basic apps like the Facebook Pixel, Google Analytics, and Hotjar. These tools are definitely useful, but Zyro doesn't have many of them on offer. So I have to give the marketing & SEO crown to Wix.
It has far more options in this area
, and they're all actually pretty solid. For example, one tool that I'm a big fan of is the Wix SEO Wiz. This is an easy-to-use feature that creates a personalized SEO plan for your website and then guides you through the steps you need to take to optimize your website for search engines – from basics like adjusting meta tags to adding must-have pages.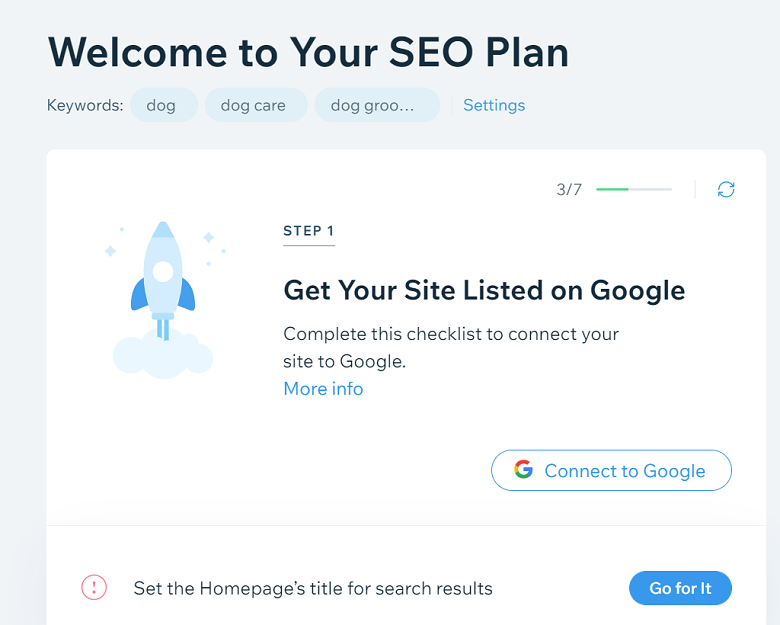 On top of that, there's an
extensive SEO guide
 that gives you a basic overview of how Google reads and understands your site and what you can do to improve its performance. Other interesting tools on offer include Wix's integrated email marketing tool, analytics tools, social media marketing tools, review tools, and live chat integrations. So,
 if you want a website builder that will not only let you build a website, but also help you improve your reach
, Wix is likely a better choice. You'll have plenty of options to explore if you want to promote your products or examine how your visitors interact with your content.
Pricing
Wix's Free Plan Goes Against Zyro's Money-Back Guarantee
Unlike Zyro,
Wix offers a free plan
, which gives you 500MB of storage and bandwidth, but displays Wix banners on your site. If you want to upgrade, Wix has a wide range (are you spotting the pattern here?) of paid plans to choose from. These are divided into regular "Website plans" and "Business & E-commerce plans", which let you accept payments on your website.
Zyro doesn't offer a free plan
, but it does have a straightforward
30-day money-back guarantee
, so if you aren't happy with your subscription, it will refund your money no questions asked. Out of Zyro's four paid plans, only the top two (eCommerce and eCommerce Plus) let you sell online. As for the two cheaper plans, the prices are only a dollar apart. The main difference between them is that the more expensive one gives you unlimited bandwidth and storage.
Here's how two Zyro plans compare to their closest (price-wise) Wix equivalents:
| | | | | |
| --- | --- | --- | --- | --- |
| Plan | Zyro Unleashed | Wix Unlimited | Zyro eCommerce | Wix Business Unlimited |
| Storage | Unlimited | 10GB | Unlimited | 35GB |
| Bandwidth | Unlimited | Unlimited | Unlimited | Unlimited |
| Free Domain | For one year | For one year | For one year | For one year |
| Website analytics | Yes | Yes | Yes | Yes |
| SSL Certificate | Yes | Yes | Yes | Yes |
| Online Store | No | Yes (but cannot accept online payments) | Yes | Yes |
| Customer Support | Live chat | Live chat & 24/7 callback | Live chat | Live chat & 24/7 callback |
| Included extras | None Mentioned | $300 in ad vouchers; free form builder app; free site booster app | None mentioned | $300 in ad vouchers; free form builder app; free site booster app |
As you can see, Zyro offers more storage with its plans, but when you consider the extra features you get with Wix,
the latter offers better value for money overall
.
Support
Wix Offers Live Chat – And So Does Zyro
Both Wix and Zyro offer 24/7 support to their customers
. Wix does this via its callback service (its 24/7 guarantee is for the English-language service only), and Zyro with its live chat support. I wanted to put these promises to the test, so I reached out to both platforms with the same question. In addition to its callback service, Wix offers a help center with a ton of articles and guides, plus live chat support. Personally, I'd rather not pick up the phone (thank you very much), so I pinged a message off to the live chat service. I was greeted by a bot, but after a minute or so, an agent joined the chat. She was definitely not a bot (always a bonus), and gave me some useful advice. She'd
clearly taken a look at my website to give me suggestions
 as to what plan I should upgrade to based on my personal situation. I also appreciated that she was honest about what features I would actually need, and didn't try to upsell me.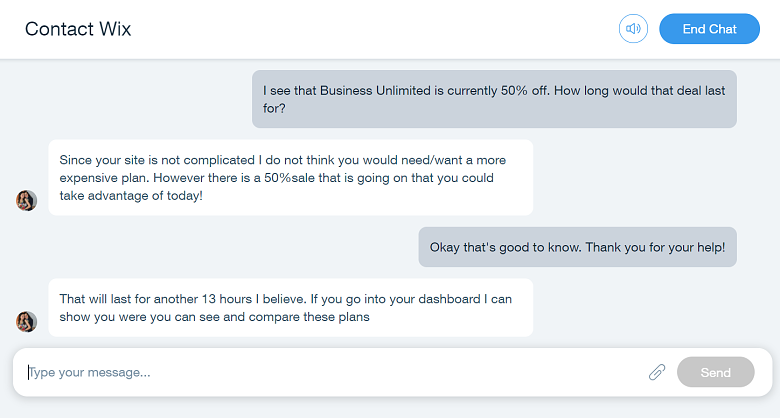 Zyro also offers live chat, but
you need to be signed in to your account to access it.
Once you open the chat window, you can choose your issue from a list or simply type in what you want to ask about. A bot will tell you how long you're likely to wait (I was told a few minutes), and then load up some relevant articles for you to read in the meantime (unfortunately, none of the ones it gave me had anything to do with what I'd asked about). Fifteen minutes later, I was still waiting. After about twenty minutes, an agent joined the conversation and offered some helpful advice on choosing the right plan. Although the agent was very friendly,
his answer seemed as if it had just been copy-pasted
 into the chat screen from a list of "approved responses".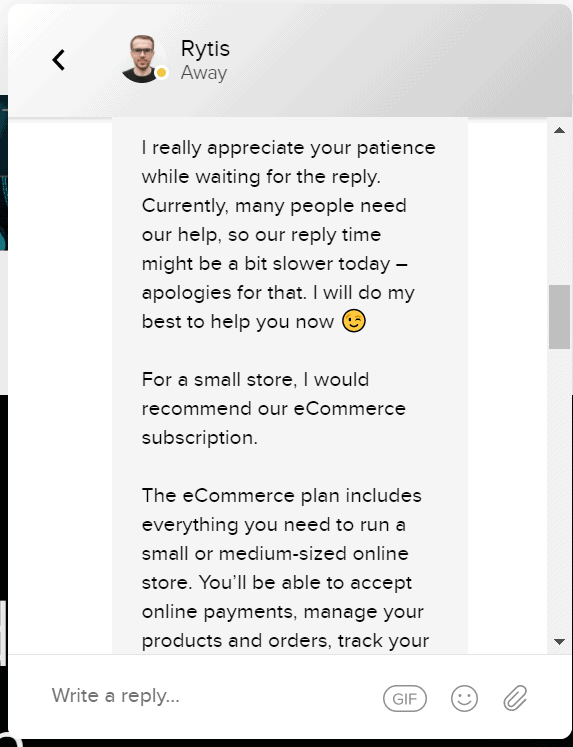 I tried contacting Zyro a few more times after this and had mixed results – sometimes I got through to an agent almost immediately, and other times I had to wait a while. But we're talking a matter of minutes, not days. I'd say this category is pretty much a draw, although if I had to pick, I'd likely hand it to Wix. I felt like the
agent went above and beyond to scope out my specific situation
and give me detailed advice based on my actual site.
Wix Takes the Win, but Zyro Is Close Behind
Zyro has done a lot to improve its offering in recent months, but
it clearly still can't quite measure up to frontrunner Wix
. Its templates may be well-designed and its customer service team friendly, but when you dig a little deeper, it's clear that there's just not enough on offer… yet. As a relatively new website builder, Zyro still has a long way to go, and a lot more features to add, before it can start to command the same prices – and dedicated following – as a giant like Wix.
Wix takes the crown in nearly every category in this comparison
, offering
a generous free plan
, a large selection of well-designed templates, robust features, remarkable flexibility, and a range of powerful e-commerce, SEO, and marketing tools. If we boiled all of that down to just a few words, a direct side-by-side comparison would look something like this:
Free plan available
No
Yes
Features and Ease of Use
Easy drag-and-drop editor with minimal features
Easy drag-and-drop editor with lots of features
Apps, Add-Ons and Integrations
Only 5 integrations available
300+ apps via the Wix App Market
Blogging
All of the essential blogging features
All of the essential blogging features
E-commerce
Robust e-commerce features available on two most expensive plans only
Robust and affordable e-commerce features
Marketing & SEO
Basic tools like analytics, Facebook Pixel and Hotjar
Wix SEO Wiz, email marketing, and extra apps
Pricing
30-day money-back guarantee, prices relatively high for features on offer
Free plan and varied pricing structure to suit all budgets
Support
24/7 live chat and email support
24/7 callback service and live chat
FAQ
Which website builder is better, Zyro or Wix?
With its revamped templates, easy-to-use drag-and-drop editor, additional features, and boosted prices, Zyro is clearly gearing up to take on Wix, one of its biggest competitors. Overall, it can be a decent solution for simple websites, but still has a long way to go before it can compete in terms of templates and extra features. For more in-depth information, check out our Wix review and our Zyro review.
Is Zyro really free?
Zyro used to offer a free plan, but it doesn't anymore. It now offers four different paid plans and a 30-day money-back guarantee so you can try out the platform and see if you like it. Before you take out a subscription, however, make sure to visit our coupons page to take advantage of the latest deals.
Is Zyro or Wix better for e-commerce?
The e-commerce tools on offer from Zyro and Wix are broadly comparable. With both builders you'll get a fully functional online store, the option to add product variants, inventory tracking tools, shipping options, and the ability to sell your website products via third parties like Instagram, Facebook, and Amazon. However, Wix has a slight edge since it offers a wider variety of e-commerce plans to suit different online stores and different budgets.
Is Wix the best website builder?
With its generous free plan, extensive selection of well-designed, ultra-customizable templates, and robust features, Wix has amassed a dedicated following in recent years. It's certainly one of my personal favorites – partly because it offers even complete beginners an easy way to create their own website without sacrificing on power and flexibility. But you don't have to take my word for it. See how Wix compares to the competition in our ranking of the best website builders in 2023.