Zyro is a new website builder from Hostinger, the web hosting giant. It has a super-simple site editor and some interesting features to speed up the process of creating your site. But can this website builder compete with Wix, a giant in its own right?
I decided to put both builders to the test. I created new websites with them both to compare their features and ease of use.
I'll admit that Zyro does have a couple pretty big advantages over Wix. It is cheaper, which is a major plus, and its customer service is slightly better. Plus, its AI features make it super easy to create a professional site. On the other hand, Zyro doesn't have as many offerings or customization options as Wix.
In this article, I'll compare the two website builders in a number of different categories, so you can see exactly where they differ and where each provides better value so you can decide which is right for you. Click here to see Zyro's latest deals, or keep reading to see why Wix comes out as the winner of this website builder comparison.
Templates
Wix Gives You More Designs in More Categories
Wix has a selection of over 500 templates, while Zyro only has 20. Zyro's templates are sleek, modern, and well-designed, but that doesn't excuse the fact that there's a very limited number of choices.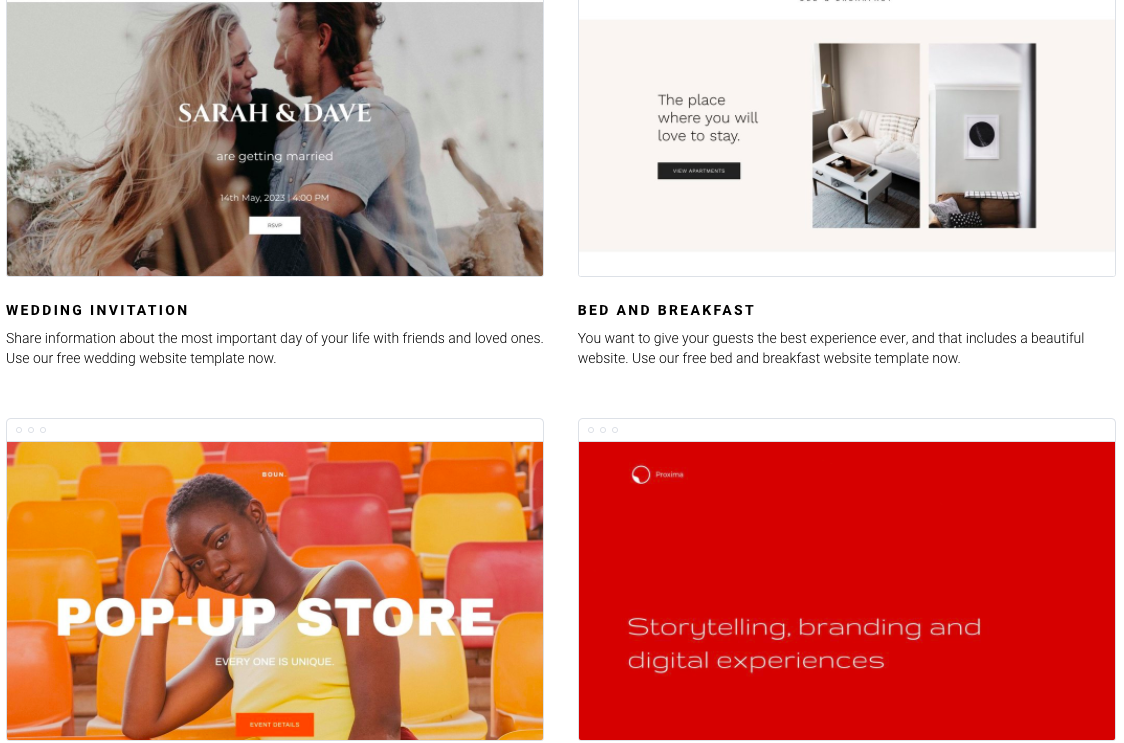 Zyro's template gallery
Of course, you can choose a template and customize it to your liking in the site editor, but it would be nice to just be able to choose one that fits your industry.
By contrast, Wix has hundreds of templates in plenty of different categories, and as most of them are beautifully designed, you have a much better chance of finding one you like. If templates aren't your thing, you can even start with a blank one and build your site from scratch.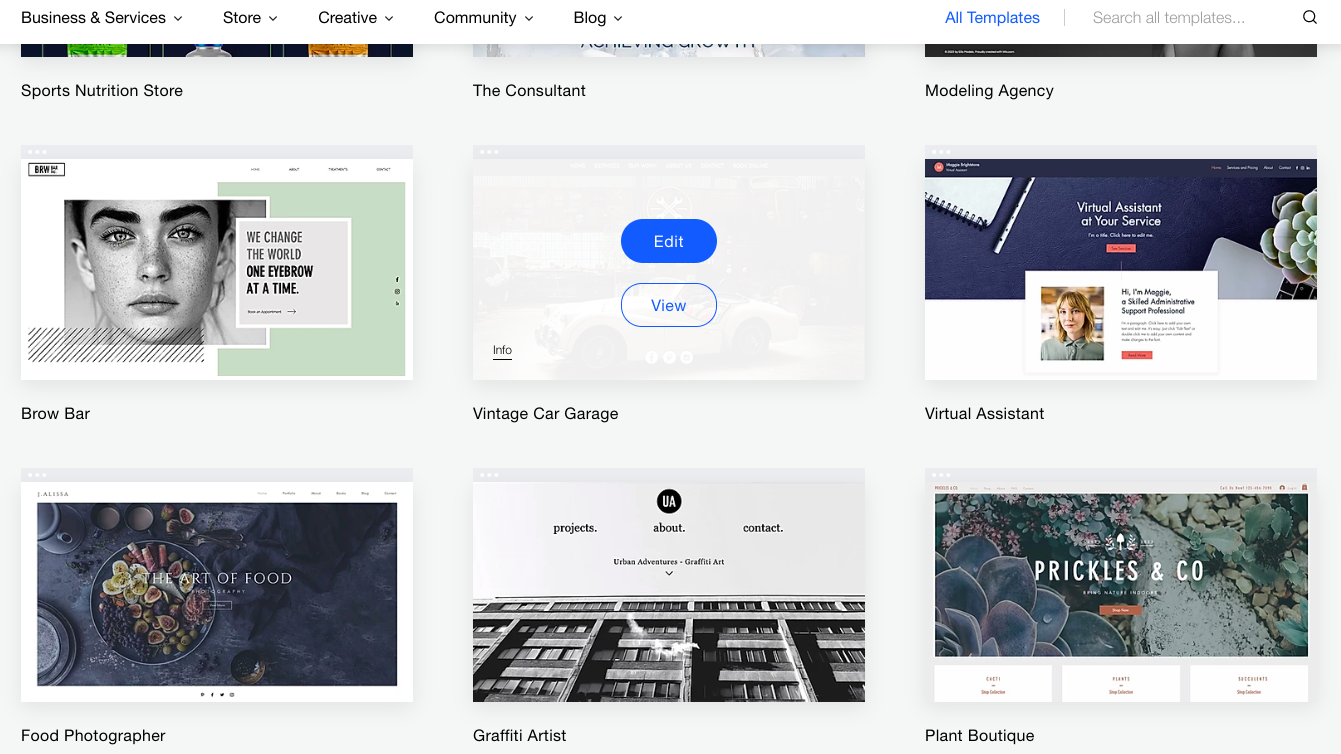 Wix's template gallery
Once you choose a template, Zyro will let you drag elements around the page and resize elements like text boxes and images, but the overall design of the template can't be drastically changed. A major disadvantage is that once you choose a template, you're stuck with the fonts that come with it as well as the basic layout.
Wix, on the other hand, gives you almost complete creative freedom with your template. You'll be able to change the colors and fonts, and choose from a wide variety of elements and sections to add to your site. Another advantage with Wix is that elements aren't stuck in place, you have the freedom to place them anywhere on the page.
Now, Wix's templates aren't perfect. One thing they are lacking is mobile-responsiveness. While each template comes with a mobile-friendly version, this version can get a bit messy if you make a lot of customizations to your desktop site. There is a mobile editor view you can use to make adjustments to your mobile site if necessary.
Zyro has the upper hand here, as all its templates are mobile-responsive and will automatically look great on any device. It also has a mobile view editor, but I didn't need to use it much.
One thing that is somewhat annoying about both builders is that once you choose a template, you can't switch to a different one. You'll need to start over from scratch and re-input all the text and images you've uploaded.
Since Wix still offers many more templates and customization options than Zyro, it's the clear winner in this category. The competition isn't even close.
Features and Ease of Use
Both Builders Are Easy to Lean, but Wix Offers Way More Features  
Since Zyro is relatively new, it is still growing and adding new features regularly. At the moment, it does feel like the website builder is very basic in what you can accomplish and there are a lot of missing features.
That being said, Zyro is very easy to use. Its site editor presents virtually no learning curve, and  even if you've never built a website before, you'll be able to use it right away.
To me, using Zyro's drag-and-drop editor felt like I was playing with Lego. When you select an element to drag, you're presented with a grid depicting where that element can be dropped. When you move it, it snaps into place. This means there are limitations on where elements can be positioned.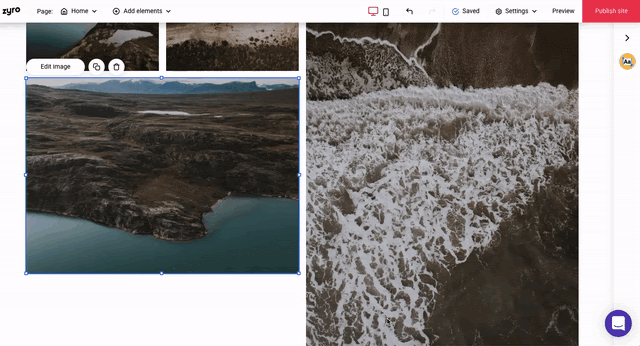 At first glance, Wix's editor looks more complicated than Zyro's. Since Wix has more features, there are more menu options and categories. For example, there are two dozen different kinds of elements you can add to a page (Zyro only has six). There might be a little more of a learning curve here, but the Wix editor is actually quite easy to use once you get the hang of it.
For an even easier site-building process, you can use Wix ADI (Artificial Design Intelligence). This is a type of wizard that asks you a few questions about your business and the site you'd like to build, and then generates a site for you. You can select a theme and customize your site, although you don't get as much creative freedom as you do with the classic Wix editor.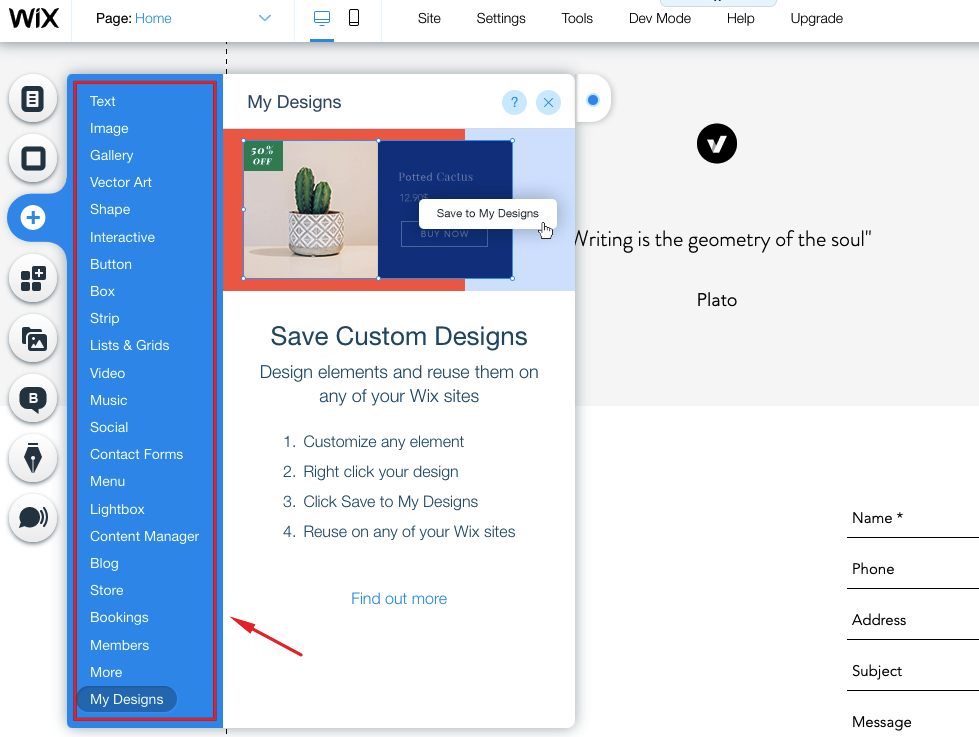 Wix's site editor
When it comes to features, Wix has everything you'd expect and more. Much more, actually. There are tons of features you can add to your website, such as a blog, an online store (more about that later), contact forms, different types of image and video galleries, and social media integrations to allow visitors to share your content with their followers.
But that's not all. You can animate different elements on your site or add a pop-up lightbox to promote a special deal. You can easily set up your own mailing list, and you can even create a members-only area on your site with a forum, event pages and more.
Zyro's features, on the other hand, will allow you to build a basic website, but not much more. You can add a blog, create an image gallery, and embed videos. You can also add social media icons anywhere on a page and a map with your business's location.
Zyro does have a couple of artificial intelligence features: AI Writer and AI Heatmap, but they are nothing like Wix ADI, which actually builds your site for you.
The AI writer will generate basic text for your website pages, but to be honest – it probably won't be usable unless you really don't care about the quality of your content.
The AI Heatmap will help you predict how visitors interact with your website by analyzing what they might click on so that you can optimize the layout of your site for CTR. This one is actually pretty cool.
Perhaps Zyro might offer more features in the future, as the company grows. As of now, Wix offers many more valuable features that will help you create a professional-looking website with ease.
Apps and Integrations
The Wix App Market Outshines Zyro's Limited Integrations
When it comes to apps – once again, Zyro can't compare to Wix. You can find hundreds of different apps in the Wix App Market to enhance your website with just about any type of functionality you can dream of. Zyro, on the other hand, has only a handful of integrations.
Not only that, but if you want to use integrations on Zyro, you'll need to upgrade to a paid account. Is it worth it? I'm not sure about that. The integrations available are pretty basic, such as Facebook Messenger, Facebook Pixel, Hotjar, Google Tag Manager, and Google Analytics.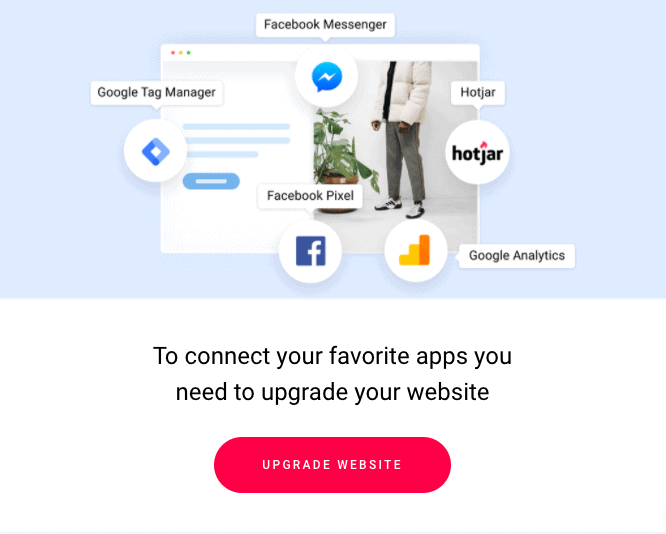 Zyro makes you upgrade to a paid plan to access its apps
Wix, on the other hand, offers 300+ apps, and you don't need a paid account to access them. Many apps are free to use, though some of them require an extra paid subscription.
The apps in Wix App Market are broken down into categories like Blog, Online Store, Forms, Restaurants, Analytics, and more..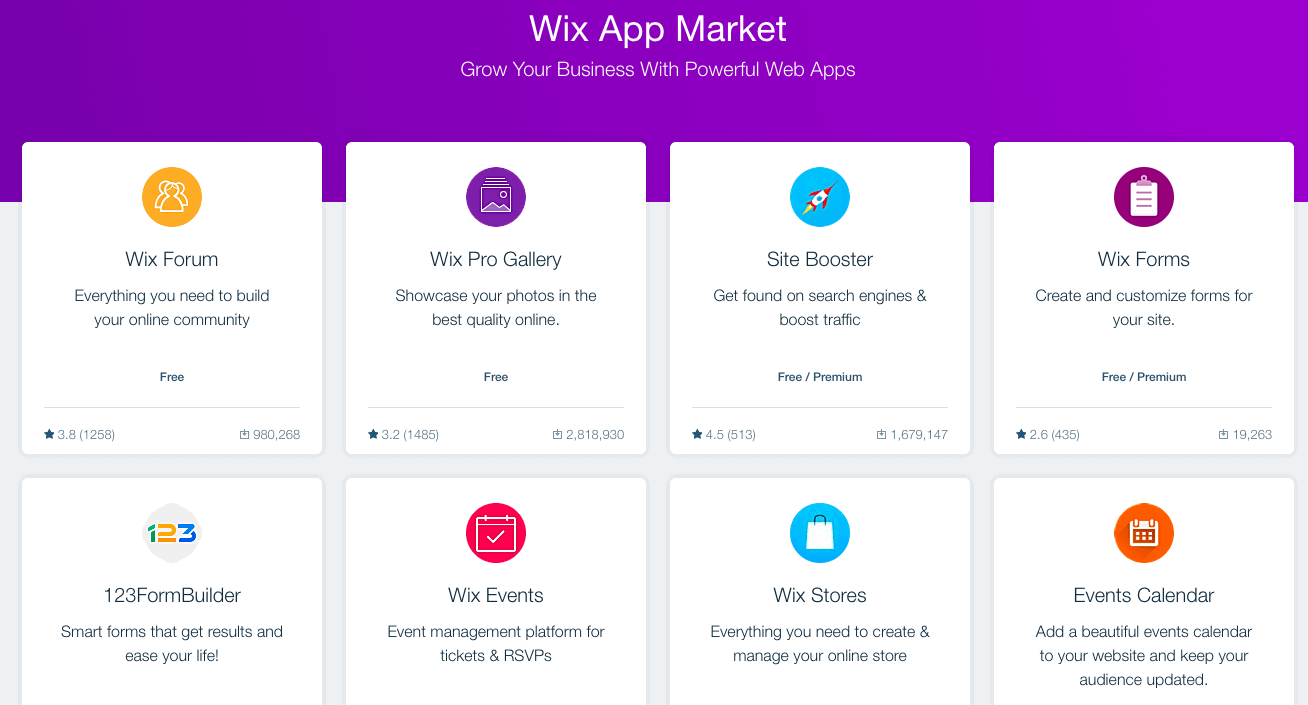 Wix App Market
If you just want to build a very basic website, then Zyro might be enough for you. But it's hard to overlook the added value that the Wix App Market provides, making Wix clearly superior in this category.
Pricing
Zyro Is Cheaper, but Wix Offers More Value
Zyro offers three different plans: Free, Basic, and Unleashed. On the free plan, you get 500MB each of bandwidth and storage space, along with access to most features.
The main difference between the two paid plans is the amount of bandwidth and storage space you get. For a few dollars a month on the Unleashed Plan, you'll get unlimited bandwidth and storage along with access to integrations.
In addition to Wix's free plan, which also gives you 500MB each of storage and bandwidth, you have a variety of paid plans to choose from. These plans are divided into regular "Website" plans and "Business & E-commerce" plans, which allow you to accept payments on your website.
If you upgrade to a paid plan on either builder, you can connect a custom domain to your site and the builder's branding is removed.
Wix's plans cost significantly more than Zyro's, but considering all the extra features Wix has, I believe the cost is justified.
Let's take a side-by-side look at two popular plans from each website builder:
Wix
Zyro
Plan
Unlimited
Unleashed
Storage
10GB
Unlimited
Bandwidth
Unlimited
Unlimited
Free Domain
Yes*
Yes*
Website Analytics
Google Analytics
Google Analytics
SSL Certificate
Yes
Yes
Online store
No
No
Logo Maker
Yes
Yes
Customer Support
Help center, premium ticket queue
24/7 customer support on live chat
Included Extras
$300 in Ad Vouchers*

Free Form Builder App*

Free Site Booster App*

None specified
*Note that free domain and extras are not included for monthly subscriptions.
Zyro's plan is cheaper, and it outshines Wix with its unlimited storage space compared to the 10GB you get with Wix. In most other aspects, the plans look the same.
Zyro's pricing is cheap enough that you can try it out for a while without having to make a large investment. However, you probably don't want to put a lot of time into building your site only to have to rebuild it from scratch somewhere else.
If Wix's free plan isn't enough for you and you decide to upgrade to a paid plan, you know you're going to get much better value for your money. Wix is definitely a better solution for the long term.
Support
In This Category, The Winner Isn't Who You Are Expecting
Neither Wix nor Zyro are perfect in terms of customer support, but one is definitely better than the other when it comes to getting quick responses from real people.
Wix is not known for its customer service. There is a vast help center with tons of articles and guides to virtually every feature, but it's difficult to speak with a support agent when you need one.
There is a customer support bot that tries to point you in the direction of relevant articles. If these articles don't answer your question, you'll be offered a couple other support options, including either submitting a ticket to get a response via email, or getting a callback. That's it. There is no live chat option, and definitely no incoming call center.
Upon submitting a ticket, you'll usually get a response back within a few hours. The response to the question I submitted was satisfactory, but felt a little dry and impersonal.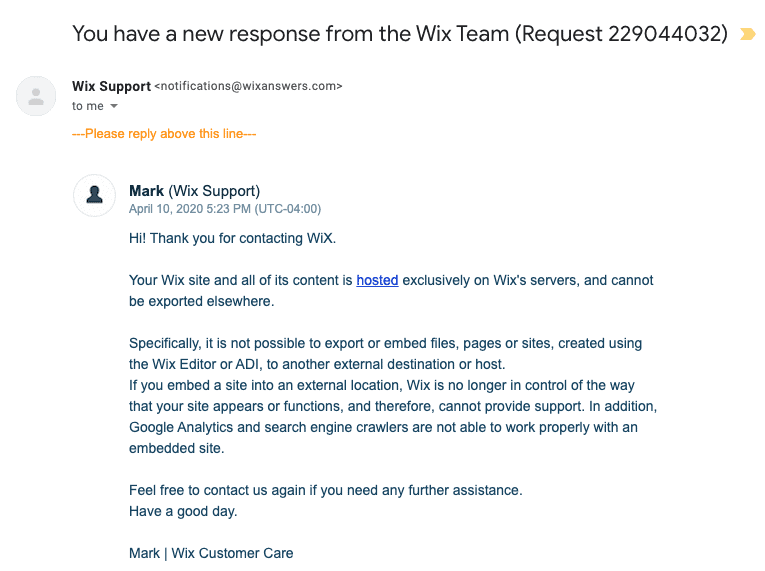 Zyro, on the other hand, offers customer support through live chat and email. They don't currently have any phone support, but the live chat agent I spoke with explained that the company is looking to add that in the near future. I must point out that every agent I spoke to at Zyro made customer service a personal experience by offering specific, original replies instead of canned responses.
In order to chat with Zyro's support team, you need to be logged into an account. In the live chat window, it says that you can send a message and an agent "will typically reply within hours." At first, I was worried about this long response time, but each time I started a chat, I got a reply within about five minutes. The best part is that the agent I spoke with was definitely not a bot, provided extra information beyond my questions, and was very personable.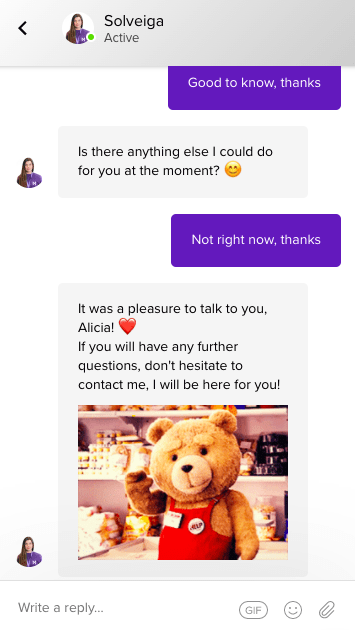 Zyro is based in Lithuania, so the customer service team's availability is based on Eastern European time. Live chat is available between 9am-11pm EEST, and  though they do advertise 24/7 support, it seems that this is only via email. During their regular work hours, they do respond to emails as quickly as they respond to chats.
Zyro's live chat feature is definitely more helpful than Wix's customer support options. When you're stuck on something on your website, the last thing you want to do is wait hours for an agent to get back to you by email. Zyro is the winner of this match.
E-commerce
Only One Website Builder Lets You Build an Online Store
If you want to build an online store, then your only option between these two website builders is Wix. Zyro currently does not have any e-commerce functionality (but again, their customer support team said this is something they will be adding in the future).
Wix has some great e-commerce features. You can choose from one of the templates in the Online Store category, or start with a regular site and add a store later. Either way, it's easy to upload your products and add details like price, size, and description. You can sell both physical and digital products, set up specific shipping rates, and add multiple images or even videos for each product.
Wix is the only builder of the two that allows you to sell products online
There are a bunch of other interesting e-commerce features, like multichannel selling, which allows you to sell your products on social media platforms like Facebook and Instagram. You can set inventory levels to help you manage your stock, and even set up a dropshipping site.
If you sell services,, you can use Wix Bookings, which allows your site visitors to book services and pay for them through your site.
You can accept payments through PayPal or credit and debit cards through Wix's own payment processor (this may vary depending on your location). Wix doesn't charge any sales commissions.
Wix is the winner here, for obvious reasons.
Marketing
Wix Has More Marketing Tools to Grow Your Business
This probably won't come as much as a surprise at this point, but when it comes to marketing tools, Zyro is very limited. It does not offer any email marketing options, nor does it have the huge variety of marketing apps Wix offers.
You can gain marketing insights through the basic apps, like Facebook Pixel, Google Analytics, or Hotjar. These can be useful in understanding where you site visitors are coming from and how they are interacting with your content. However, Zyro doesn't have apps that actively help you reach a wider audience.
Wix has plenty of options when it comes to marketing tools, and this probably won't come as much as a surprise either. You can take advantage of Wix Shoutout to send customized newsletters to your mailing list. Wix Shoutout even allows you to integrate social media with your email campaign to share it more widely, and you can also analyze the success of your campaign.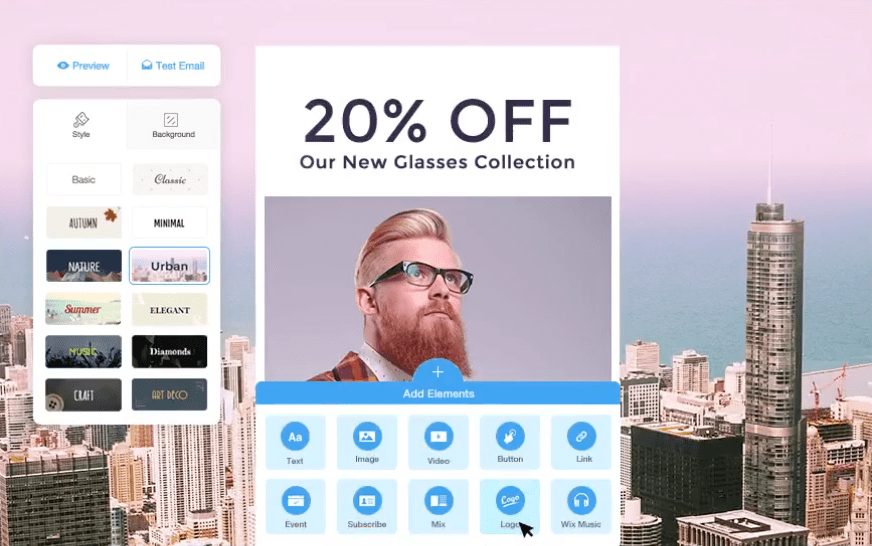 You can find many other marketing tools in the Wix App Market. You can add everything from analytics tools, social media marketing tools, apps that help you gather reviews and testimonials, and live chat integration for your website.
One of my favorite Wix features is called Wix SEO Wiz. This easy-to-use wizard creates a personalized SEO plan for you and guides you through the steps you need to take to optimize your website for search engines.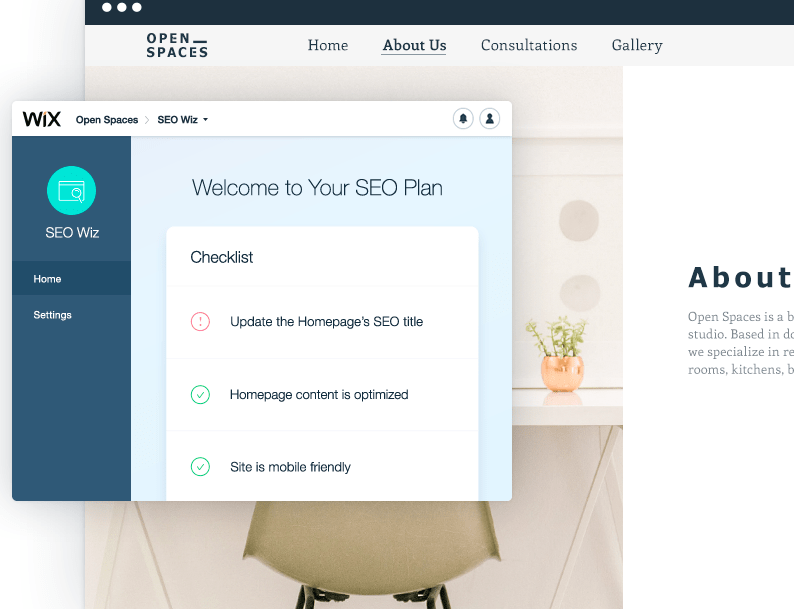 Wix SEO Wiz
In comparison, SEO is not Zyro's strong suit. You can customize your  page titles and descriptions, but beyond that, there are not many other options.
If you want a website builder that will not only let you build a website, but also help you grow your reach, Wix is the platform for you. You'll have plenty more avenues to promote your website or products and interact with your site visitors.
Wix: The Obvious Choice
Zyro's modern templates and great customer service team might make it seem like a good option at first glance, but when you dig a little deeper, it's clear to see that there's not much there.
Even though Zyro is a relatively new website builder, it'll take the company years to develop enough features and options to make it strong enough to even compete with Wix.
Wix wins in almost every category except for customer support, and while this may be a little frustrating if you find you need to speak with an agent often, the huge choice of features, well-designed templates, and powerful e-commerce and marketing tools will outweigh that one drawback.
Want a closer comparison? Here's a one-on-one Wix vs Zyro comparison in all categories:
| | | |
| --- | --- | --- |
| | Wix | Zyro |
| Free plan available | Yes | Yes |
| Templates | 500+ | 20 |
| Features and Ease of Use | Easy drag-and-drop editor with tons of features | Easy drag-and-drop editor with minimal features |
| Apps, add-ons, and Integrations | 300+ apps in the Wix App Market | Only 5 apps available |
| Pricing | Affordable monthly and yearly pricing | Very cheap monthly and yearly plans |
| Support | Ticket support and callback center | Email and live chat support |
| E-commerce | Yes | No |
| Marketing | Wix Shoutout and many additional marketing apps | Marketing tools only with the limited apps |
| | | |