WordPress.com is the better option for most websites
, and here's why.
WordPress.org (self-hosted WordPress) is suited to tech-savvy users comfortable with coding and other advanced website details.
It offers limited technical support and leaves hosting, security, maintenance, and updates up to you. Its big appeal is total freedom, though that can also be something of an Achilles heel. On the other hand,
WordPress.com (hosted WordPress), while still a powerful CMS, is an all-in-one solution much like any other popular website builder.
It's easy to use and gets you an attractive website for your business, blog, or store in short order. If you're also looking at Wix or Squarespace, WordPress.com is the best version of WordPress for your site. Keep reading for a detailed one-on-one comparison, so you can decide which is your best option.
Hosted vs. Self-hosted. What's the Difference?
When it comes to websites, the terms "hosted" and "self-hosted" refer to where your website's files and data are stored, and who's responsible for managing and maintaining them. With a hosted solution, all you have to worry about is setting up your website and creating and customizing its content – a domain, security/SSL certificate, backups, updates, and more are included. Hosting your own site means you'll have to purchase hosting or self-host on your own server. A top web hosting company like
Hostinger takes the work out of self-hosting
and leaves you free to focus on building your online presence.
Templates
WordPress.org Has Thousands of Themes but More Isn't Necessarily Better
WordPress.com offers a curated selection of 125+ themes suitable for any website type – blog, portfolio, business, store, and more
. You can filter and search themes by website type, features, layouts, design style, and whether they're free or paid. Or simply enter a criterion in the search bar to narrow your options even further.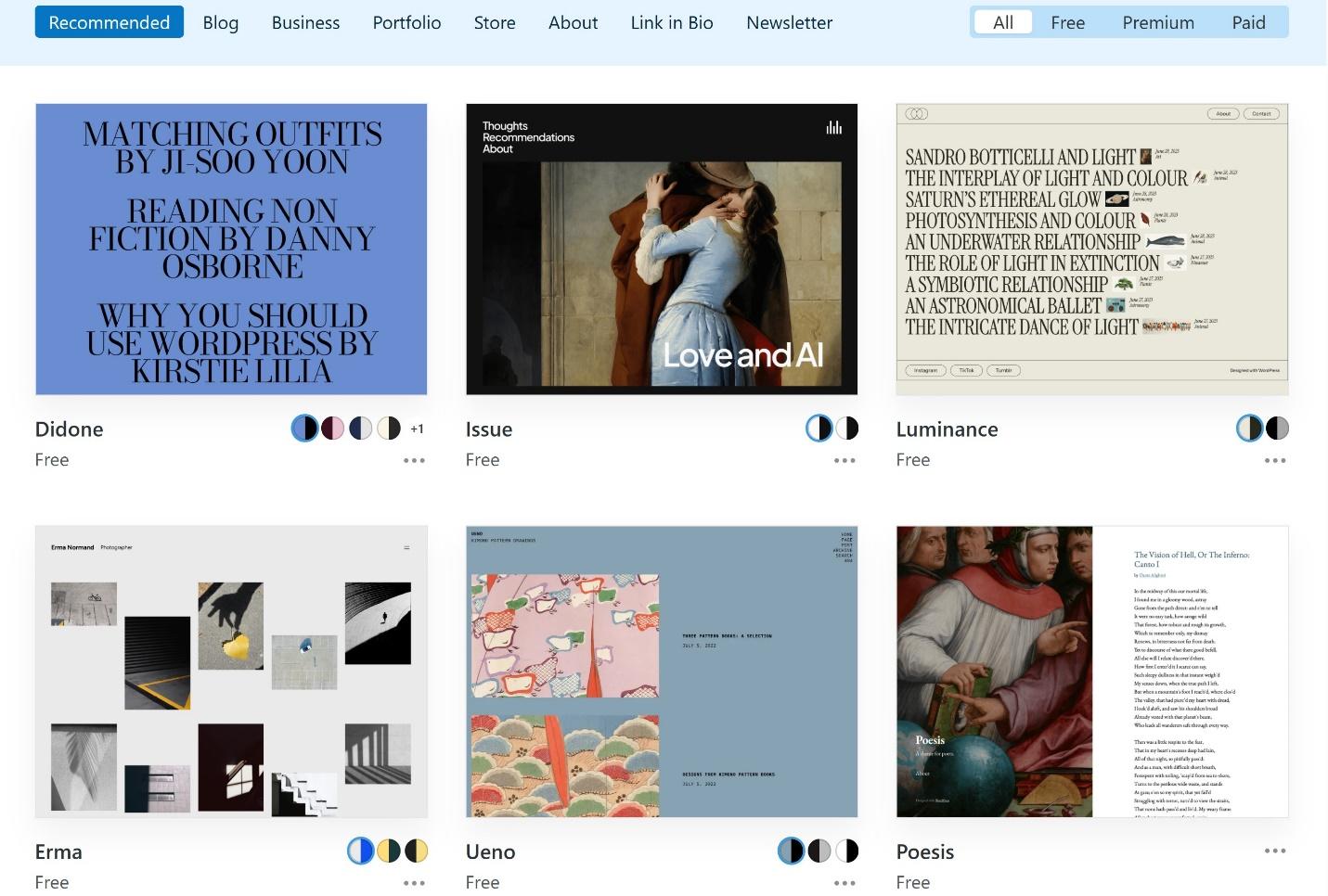 Themes are mobile responsive, and the design quality is consistently high
, so you're likely to find one that aligns with your goals and personal style. On a Business plan or higher, you can also access 200+ premium themes or choose a paid theme from a third-party marketplace. Meanwhile,
WordPress.org's theme library has more than 11,000 attractive themes
. Themes are sourced from a wide variety of developers, so the price and quality may vary. However, I think first-time website owners will find the sheer number of options overwhelming, as it's hard to select the right one. Fortunately, you can filter themes by website type and dozens of features, including layout style, custom colors, and more. As with WordPress.com, you can also eliminate themes that don't use the block editor.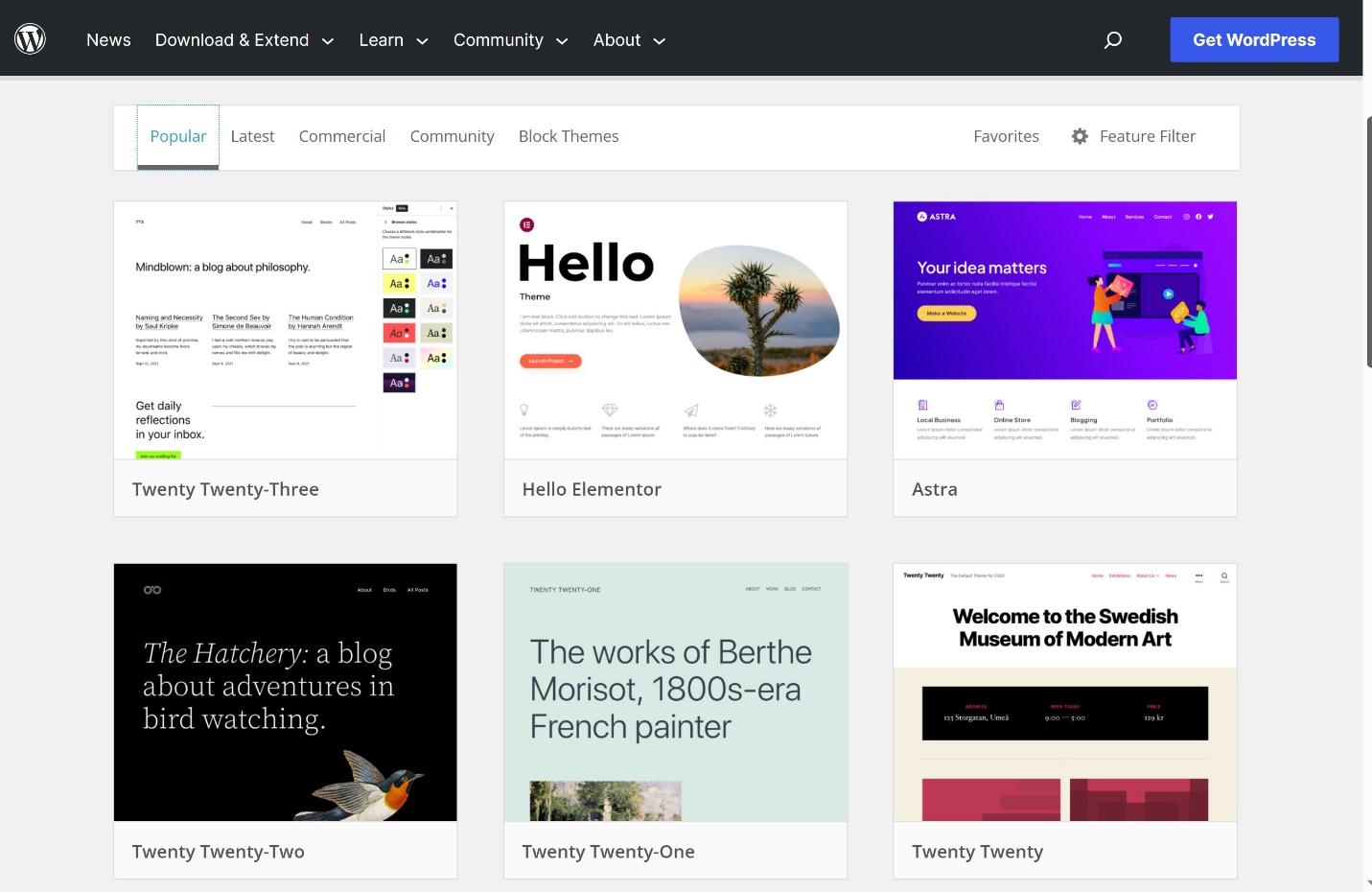 When it comes to customization,
both platforms share the Gutenberg Block editor and design tools like pre-built layouts, which are called "Patterns."
You can change fonts, colors, images, and text and use blocks to further personalize your theme by adding and reordering different content. While WordPress.com offers pre-built styles and layouts you can use to design a more unique-looking homepage, you'll have to upgrade to a paid plan to access advanced customization, like CSS editing. Since WordPress.org gives you complete control over your website's code, customization is virtually unlimited. You can change every aspect of your theme, add plugins (free and paid), modify CSS, and even change core files (though this last option isn't generally recommended). While WordPress.org has many more themes,
if you're new to website building, fewer options may make it easier to find one that's a perfect match for your needs.
That gives WordPress.com a slight edge.
Features and Ease of Use
WordPress.com is Easier to Use and Offers More Built-In Tools
A user-friendly interface and simplified setup mean you can start creating your WordPress.com website without worrying about hosting, server setup, or technical maintenance.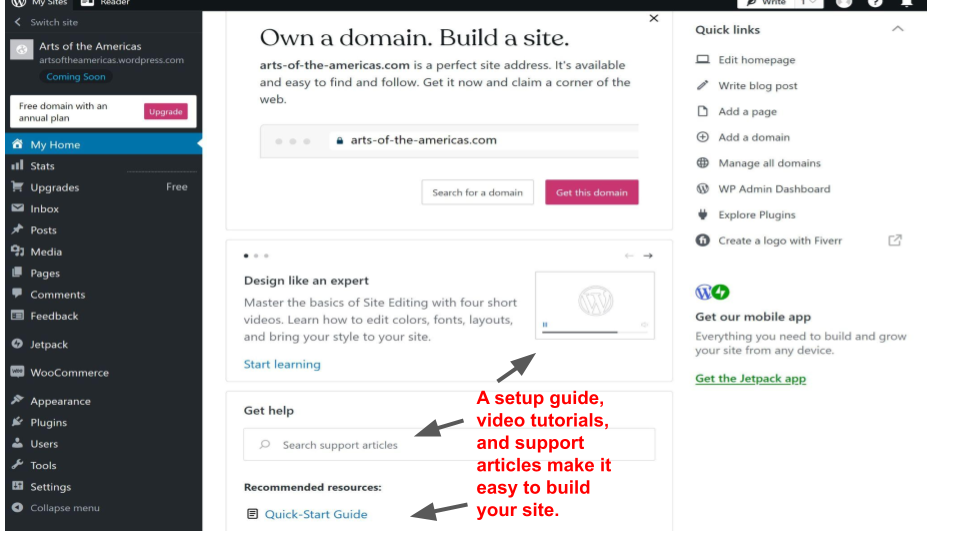 Another advantage is that
WordPress.com builds in features/functionalities
 that meet the needs of most types of websites. While these vary depending on the plan you choose, every plan has essentials like social sharing buttons, image galleries, SEO optimization tools, website statistics, and security measures
.
WordPress.com also offers extra tools like a business name generator and custom logo design, the latter through its partnership with Fiver.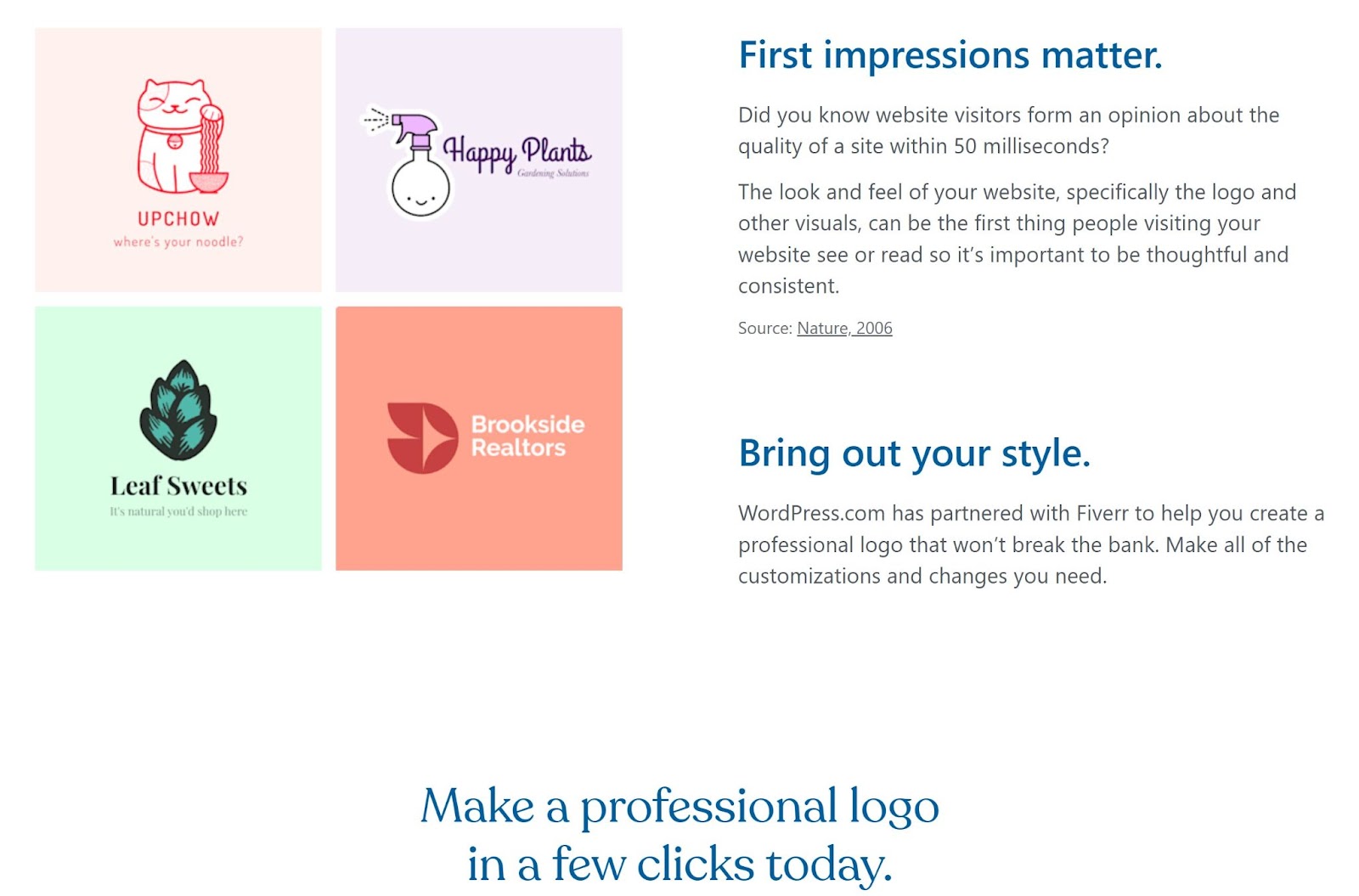 On the other hand,
WordPress.org's total freedom is what makes it both appealing and challenging
– you have to build everything on your own from the ground up. You do get some core functionalities like access to plugins, the ability to customize your site's navigation menu, built-in commenting, and widgets. You can also upload, organize, and manage images, videos, audio, and other media files within WordPress.
WordPress.org doesn't include hosting, security, backups, or other features WordPress.com builds in.
That said, after you download the software and arrange hosting (which isn't all that difficult to do), you're free to install any features or tools you like. Based on its pricing, features, support, and performance,
my top host for WordPress.org is Hostinger
. How easy it is to use WordPress.org will depend on your familiarity with website design, coding, and other technical skills. If you're a beginner, the learning curve may be steep, especially if you want to take full advantage of its capabilities. When it comes to ease of use, there's really no contest –
WordPress.com is a more user-friendly platform.
Apps/Plugins/Addons
Both Platforms Offer Thousands of Plugins
WordPress.com and WordPress.org use the same massive plugin, but access differs. There are 50,000+ plugins, for any feature or tool you can think of – from marketing, e-commerce, and SEO tools, to social media integrations.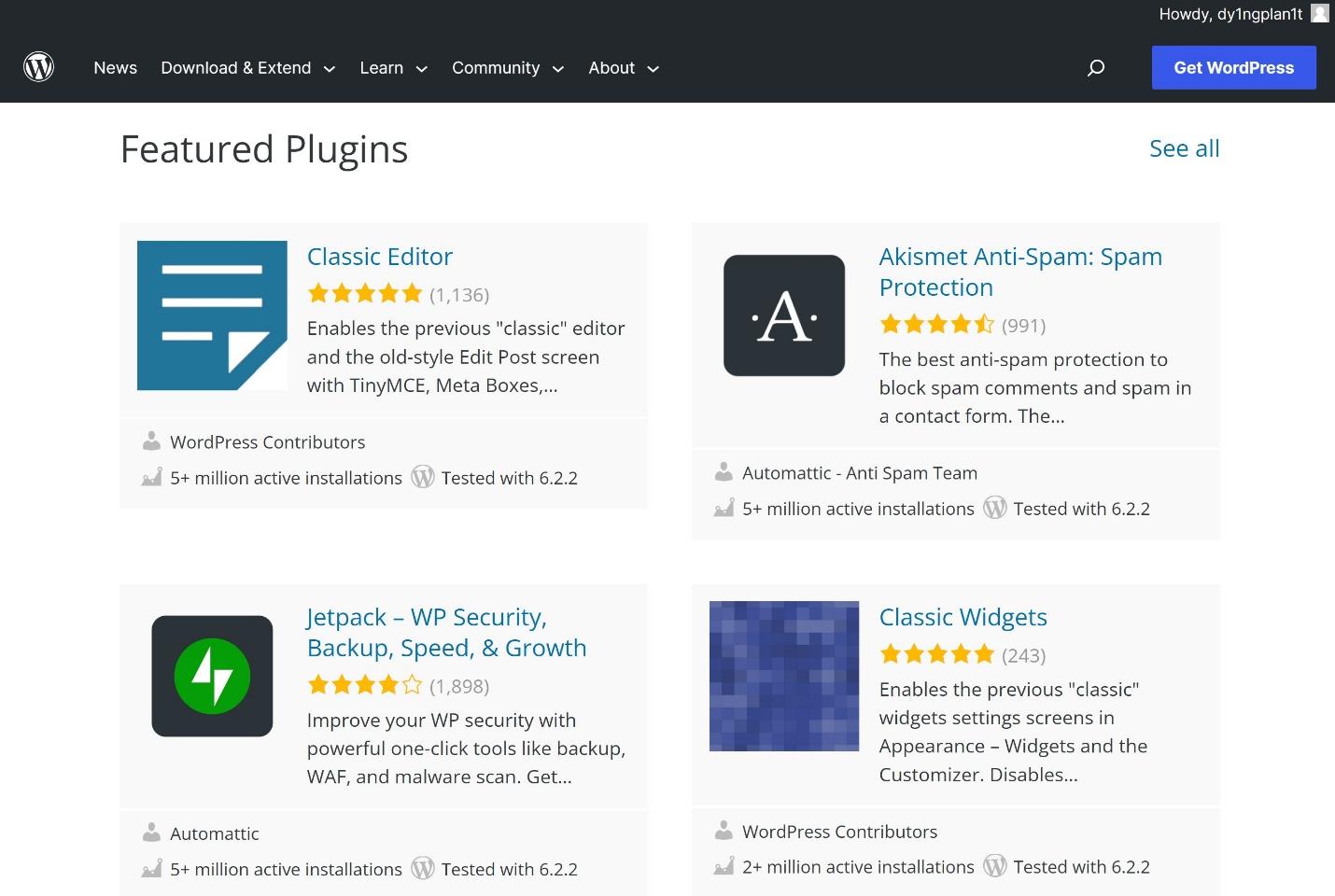 You'll need a Business plan or higher to add plugins to your WordPress.com website, though some plugins, like Jetpack and Akismet are included in all plans. Higher tiered plans like the Commerce plan come with WooCommerce and other essentials, so the cost is built into the plan price. On the other hand,
every WordPress.org user has their pick of plugins to enhance their site's functionality and features.
In fact, you'll need plugins to build a fully functional site. While many plugins are free to download, you'll typically have to pay a monthly/annual fee for advanced features.
Premium plugins can cost several hundred dollars per year or more
. Fees can quickly add up, which is one of the disadvantages to using WordPress.org. WordPress.com restricts plugin access on its entry-level plans, which can limit your ability to customize your site, while WordPress.org provides unlimited access to the plugin library. While this is something of a tossup because both share the same plugins, I found WordPress.org offers greater accessibility overall.
Blogging
WordPress.com Makes it Easier to Launch a Blog or Use Blogging to Build Your Brand
WordPress started as a blogging platform and just about every theme is designed for it or includes a blog page and access to powerful blogging tools. How easy it is to access these tools is where the two platforms differ –
WordPress.com builds in useful blogging features that WordPress.org doesn't.
To start you can save drafts, tag and categorize posts, and schedule a publication date. Every WordPress plan (including the Free plan) lets your visitors subscribe to your content via a newsletter or RSS feed.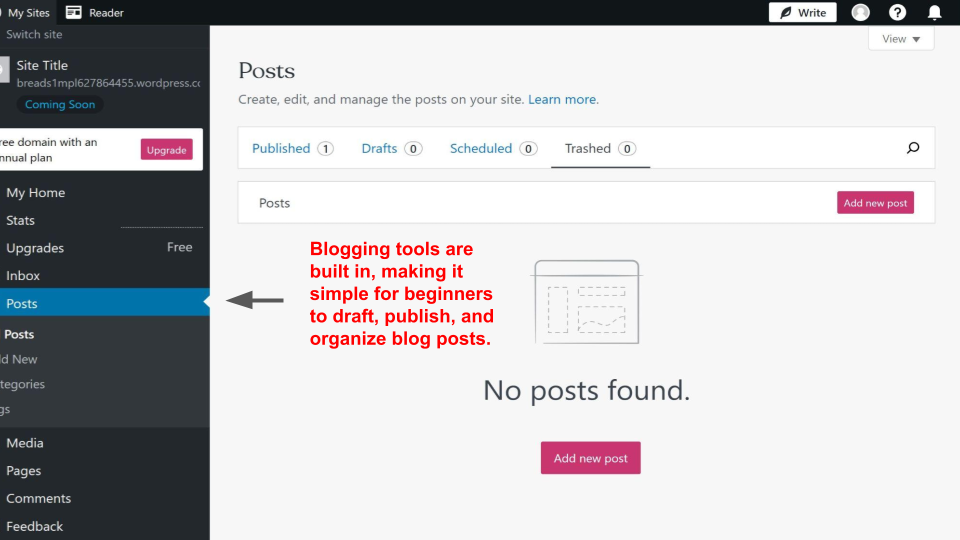 You can also
monetize your blog by selling subscriptions or access to premium content.
Followers can also support your blog with donations and tips. You don't have to upgrade to a paid plan to securely process credit and debit card payments with Stripe. I know would-be bloggers who chose WordPress.org for their site and paid for hosting, but never had the time to learn how to use the platform.
With WordPress.com, launching an appealing blog is simple
: choose a theme, customize it, write your first posts, add media (images, video, audio), and link your social platforms. That's why it wins this round.
E-Commerce
WordPress.com Gives You Different Options For Selling Online
WordPress.com's best value offering is its Commerce plan
at
$
45.00
(monthly, paid yearly), which lets you create an online store powered by WooCommerce. Since this plan comes with essential built-in features like unlimited products, inventory management, and custom automatic notifications, you won't have to add or pay for tons of plugins. But you don't need a Commerce plan to make money on your site.
Even the free plan lets you sell and collect payments for subscriptions and premium content.
Step up to a Business plan to sell individual items or services or add an online store to your website.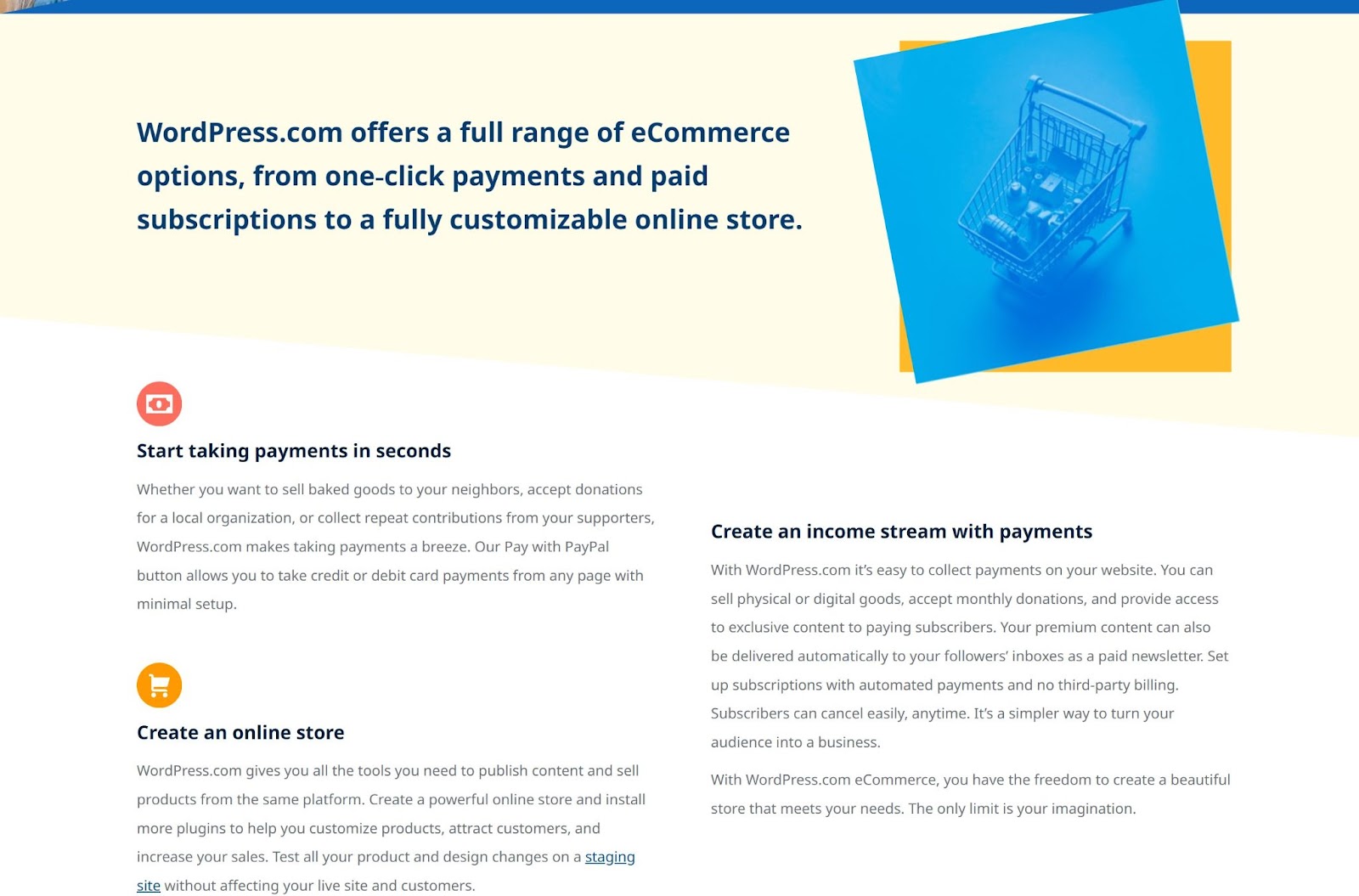 While WordPress.org doesn't come with any e-commerce features, you can build an online store by installing third-party plugins
like WooCommerce, Ecwid, or WP eCommerce. These plugins offer a range of e-commerce tools. But while they may have free starter plans, you'll have to pay to build a fully functional site and the cost can be hundreds of dollars per year. As much as I appreciate WordPress.org's flexibility, I found WordPress.com makes setting up a store or monetizing your site simpler.
Pricing
WordPress.com Offers Good Value and Predictable Pricing
WordPress.com has five plans, including a free option.
There's a paid plan for any type of website you want to build – personal, business or e-commerce
. Each pricing level includes extra features and functionality, so you can choose the plan that best fits your budget and needs. On the other hand, WordPress.org is free, open-source software that anyone can download, though you'll need a server – your own or a hosting company – to build a website. As such,
there are no plans, but your website isn't entirely free – you'll have to pay for hosting, a domain name, plugins, and even site maintenance
.
Here's What You Get for Free
The free WordPress.com plan gets you a functional blog.
It comes with a free SSL certificate, a WordPress.com subdomain, 1GB of storage, and support via the community. Your website will have an ad on your site, but it's discreet
–
a "This site is a WordPress.com site" link in the footer. Surprisingly, I found
the free plan gives you a fair number of built-in features, including several options for monetizing your site
. You can sell subscriptions or premium content, accept donations from followers, add a Payment button, and use Stripe to process debit/credit card payments.
While WordPress.org is technically free, that's just for the software itself.
To build a website you'll have to add plugins, which may have monthly or annual subscription fees. You'll also have to pay for web hosting and will be responsible for security, maintenance, upgrades, and other technical issues.
Here's What You Get If You Pay
In addition to its free plan, WordPress.com has four reasonably priced plans. Prices (monthly, paid yearly) are as follows: Personal
$
4.00
, Premium
$
8.00
, Business
$
25.00
, and Commerce
$
45.00
. There's also a custom Enterprise plan. Paying on an annual basis gets you a sizable discount.
The Personal plan is a great option for a serious blog, CV, or portfolio.
It removes WordPress.com branding and includes a free one-year custom domain, email support, site visitor data. If you upgrade to the Premium plan, you'll get live chat support, Google Analytics, advanced customization tools, premium themes, and 50 GB of storage. In my opinion,
the aptly named Business plan offers the best value for small businesses
. It's well-priced and includes everything in the Premium plan plus advanced SEO tools, plugins, and unlimited bandwidth. The Commerce plan is designed for online stores, with features for payments, shipping, and inventory management – everything WooCommerce offers and then some. While the software is free to download,
building a website with WordPress.org can get expensive when you add in fees for hosting, premium themes, and site maintenance.
While hosting can range from $2.95 to $29.99 per month (or even more for high-traffic sites), you can keep your costs down by
hosting your site with Hostinger
. Plans start at just
$
2.99
and you'll get premium features at a non-premium price. Then there's the cost of plugins. While many plugins have free plans, you'll have to pay $15 to $200 per month to access premium features or add specialized plugins. Site maintenance and troubleshooting are additional potential costs because you may have to hire a developer to solve problems.
For most sites, I found WordPress.com offers better value than WordPress.org.
Its all-inclusive solution and affordably priced plans suit different website needs. You can always start with the free plan to see if you like the platform and upgrade at any time. You can see how these platforms compare in the comparison table below.
WordPress.com
WordPress.org
Starting Price

$

25.00

$

2.99

for self-hosting with Hostinger, plus the price of plugins
Themes
125+ free themes and 200 premium themes
11,000+ themes
Beginner-friendly
Yes
No
Plugins
Yes
Yes
E-Commerce
Yes, built-in features or plugin
Yes, with plugin
Security/SSL Certificate/Spam Protection
Yes
Depends on your host company and plugins
Support
Community support forums, email, live chat, phone, knowledge base, webinars, and tutorials
Community support forums, knowledge base
Support
WordPress.com Offers More Support Options
Available help and support is one of the most important things to consider before you choose hosted or self-hosted WordPress for your website. You can
access support from within your WordPress.com dashboard
. Simply click on the "question mark" button in the upper right-hand corner and fill out a form. I got a quick answer to both my questions in seconds.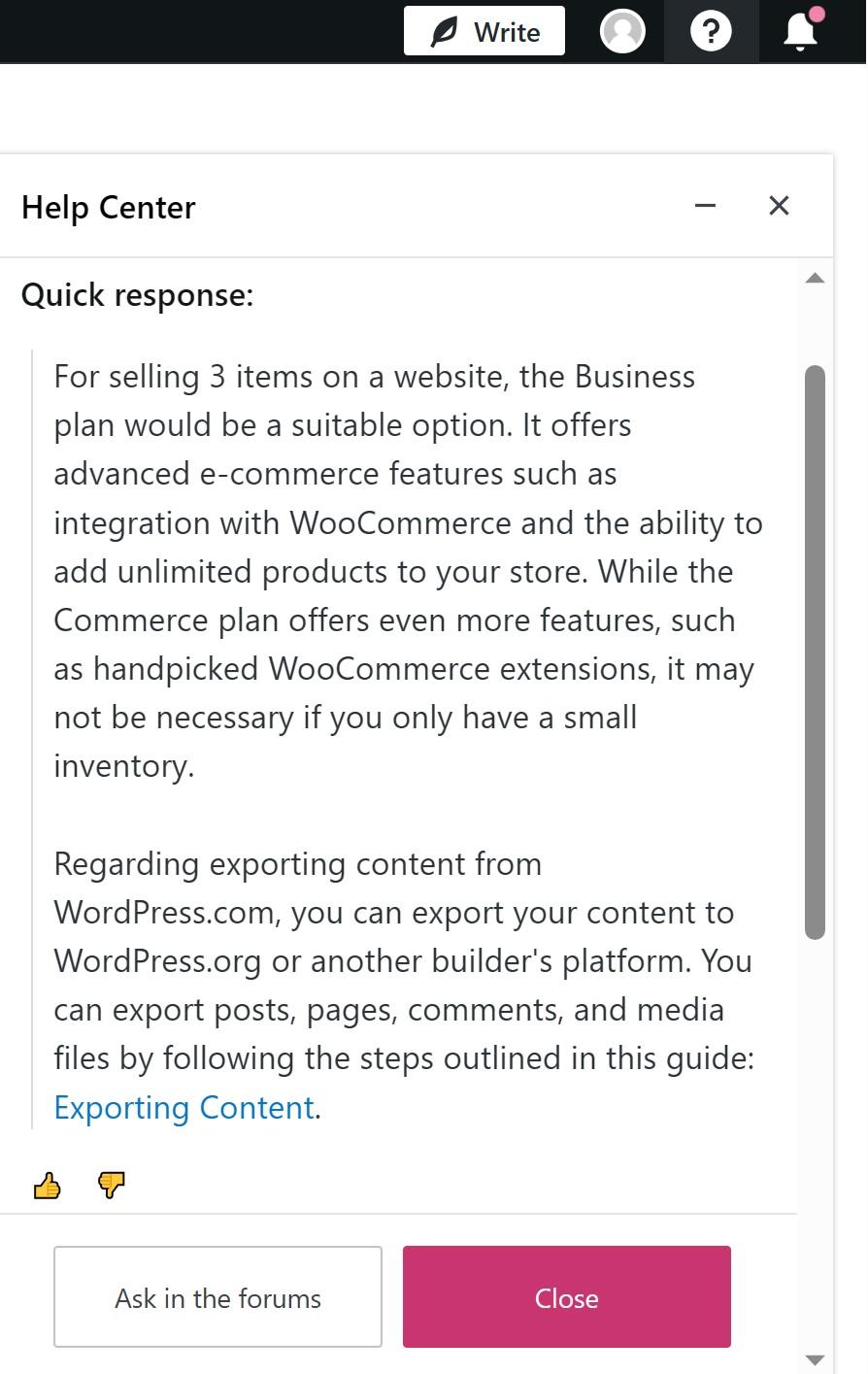 As with features, your support options increase as you upgrade your plan: support forums on the free plan, email support on the Personal plan, live chat on the Premium and Business plans, and phone support on the Commerce plan. With WordPress.org, if you run into an issue, you can
submit questions to one of the community forums, which are organized by topic.
Based on my experience, you may get helpful answers – or not.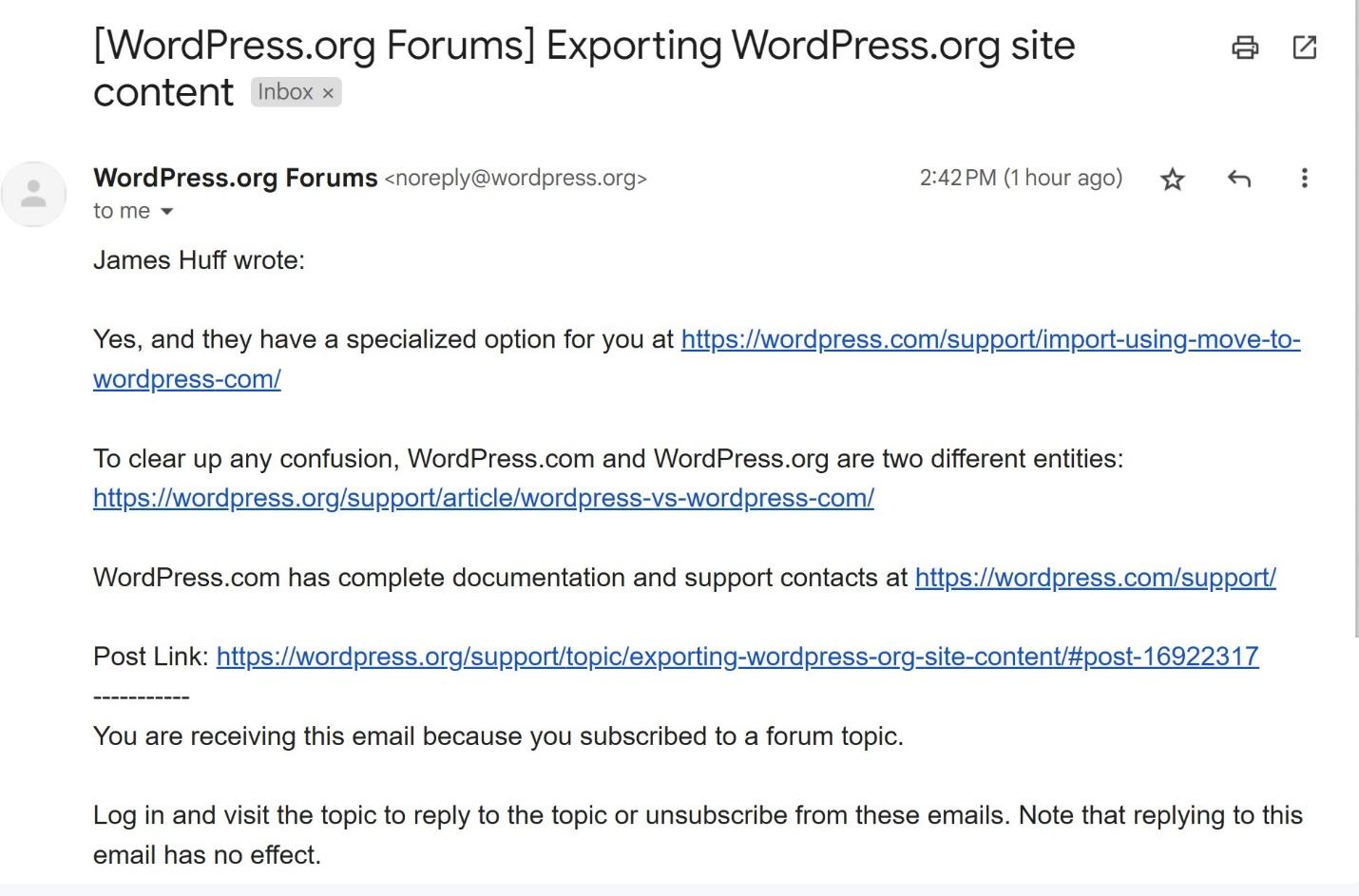 It took about three hours to get a response to my query, and I felt my community forum volunteer didn't actually read my submitted query because I only got an answer to one question. My question about setting up an online store went unanswered. There's really no comparison.
WordPress.com provides far better support options
, especially on its paid plans.
WordPress.com vs WordPress.org: Choose the One That's Right for You
If you're looking for a no-hassle way to build an appealing site,
then WordPress.com is for you
. All you have to do is sign up, pick a theme, and WordPress walks you through the process of building your website. There are no hosting and domain costs or maintenance, security, and updates – WordPress.com takes care of all that. On the other hand, if you have the skill and time to get into the nitty gritty of designing and maintaining your own website, WordPress.org is a worthwhile option. While you'll have to pay a web hosting provider to keep your site running smoothly, the cost doesn't have to break the bank.
WordPress.com
WordPress.org
Templates
125+ on free plan, additional 200+ premium themes (free with Business plan or higher), plus third-party paid themes
11,000+ themes plus commercial and third-party themes (free and paid)
Features & Ease of Use
An all-in-one solution with plenty of built-in features you can use to design and personalize your site
Tons of features come with more of a learning curve. You'll need technical skill and time to get your site up and running
Apps/Plugins/Addons
50,000+ plugins (free and paid)
60,000+ plugins (free and paid plans)
Blogging
Built-in advanced blogging tools
Plugins required for blogging features
E-Commerce
With Commerce plan, by adding plugins on Business plan, or with other built-in tools on any plan
With plugins (free and paid)
Pricing
Free plan plus several paid plans that add extra features at each pricing tier. Like other "website builders" plans include hosting, domain, maintenance, and security
Free to download but needs to be installed on a server – your own or a hosting platform of your choice. You'll also have to pay for hosting and a domain, plus you're responsible for security and maintenance
Support
Variety of support options depending on your plan: community, live chat, email, and phone. Plus, knowledge base, webinars, and built-in tutorials
Support limited to the WordPress.org community and articles in the knowledge base. Paid premium themes and your hosting provider may offer additional support options
FAQ
What's the difference between WordPress.com and WordPress.org?
The main difference between WordPress.com and WordPress.org has to do with hosting. While WordPress.com is a fully hosted platform, you'll need to arrange hosting for a WordPress.org site. WordPress.com is more beginner friendly – you'll need technical know-how to set up and maintain a self-hosted WordPress website.
What are the disadvantages of WordPress.com?
While WordPress.com is convenient and easier to use than WordPress.org, there are some drawbacks. It offers fewer themes and less design freedom and control over your back-end code, which can limit more advanced customizations. Free plans also display WordPress.com ads and branding on your site, which can look unprofessional.
Which is cheaper, WordPress.com vs WordPress.org?
This depends on your specific needs and resources. For small business websites or blogs, WordPress.com will be more cost-effective, especially when you take the convenience and cost of managing hosting, maintenance, security, and other server-related tasks into account. However, for websites requiring specific customizations and complete control, WordPress.org may be cheaper in the long run, despite higher setup costs.
Can you switch from WordPress.com to WordPress.org?
It's easy to export your WordPress.com website to WordPress.org or any other platform. Simply go to the "Tools" menu and click on the "Export All" button to generate an export file with all your site's data. Once you've downloaded your file you'll have to arrange hosting, which may require technical skills. You may want to check out our expert review of the 10 best website builders for 2023 to see if another  builder is a better option.