If you sell a product or service, probably the most important aspect of your website is the online store. You can have the most authentic, relatable brand message and the most impressive graphics, but none of that matters if you can't convert an admirer to a customer. All business owners need a reliable e-commerce solution to help them attract and sustain a customer base.
WooCommerce is the WordPress e-commerce platform.
It's a trusted, reliable solution that is free to install. But before getting started, it's important to understand that there are costs involved in building a successful online store.
Some aspects of the service are free, but if you're planning to launch a new website, you'll need to factor in other costs
to get your business up and running, particularly if you want to compete with the big boys.
What's Free About WooCommerce?
WooCommerce is open-source software that is compatible with WordPress, so it boasts tons of features that are not only free, but also customizable.
If you're just changing your online store host, you don't have to worry about website hosting and domain name fees.
You should already be on a WordPress Business plan that is compatible with plugins, so there are no other costs to start up.
Like WordPress, WooCommerce has
free themes
. The main theme is
Storefront
, which is free to install. It comes with the basics needed to run an online store, like
price tables, customizable display options, and built-in search engine optimization (SEO)
. It's also equipped with accessibility features to make shopping with your company a comfortable experience for all customers.  
Storefront also
allows users to code their own plugins and extensions
, so if you or someone on your team can code, that's potentially a great way to save money.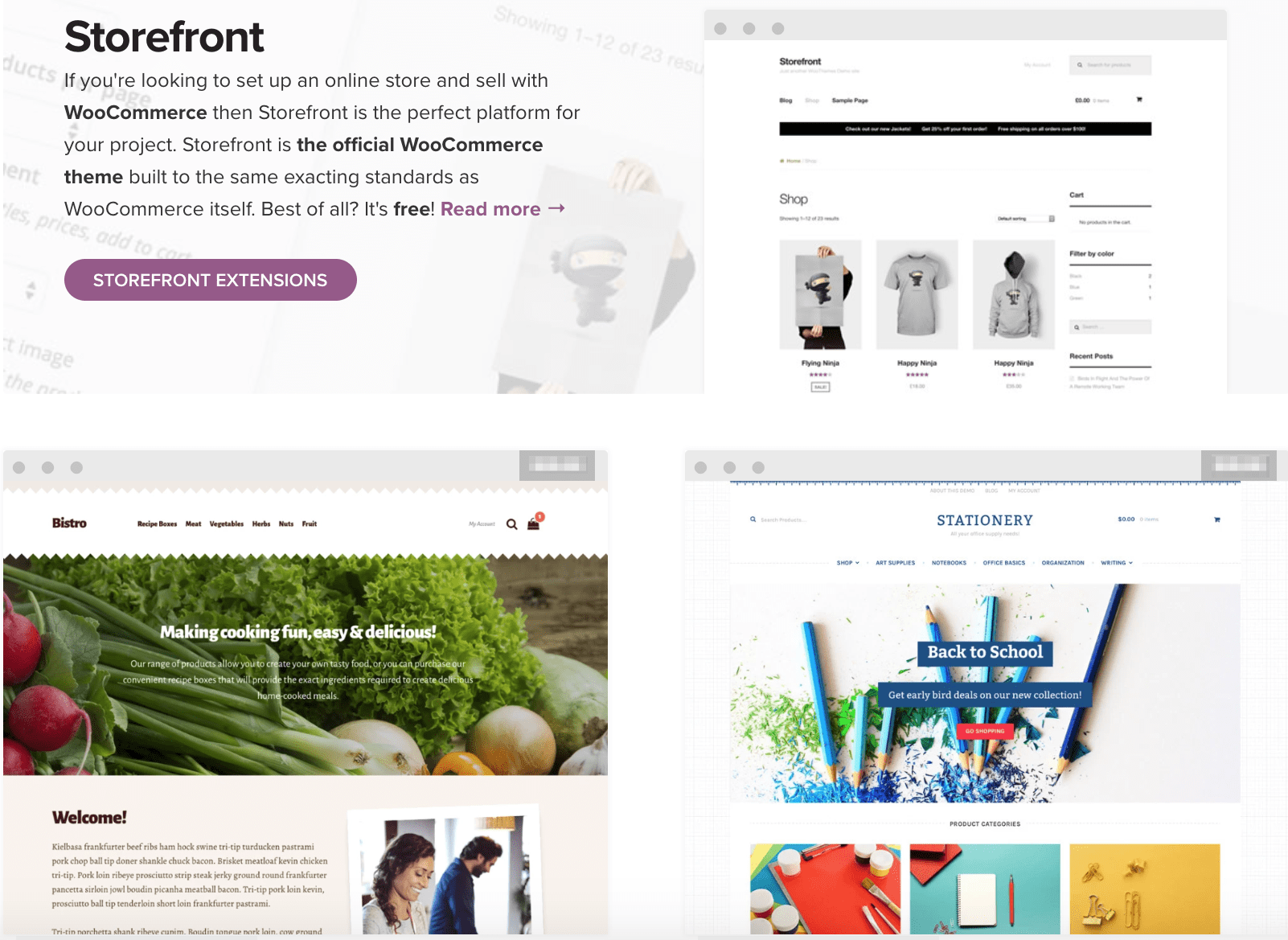 The official WooCommerce extension store has 200+ extensions to choose from, and plenty of them are free to use
. There are free extensions for data migration, payment options, layout customization, coupons, review integration, PayPal integration, and so much more.
It's impossible to tell you everything you can do on WooCommerce for free, as it is open-source. But if you know what you need and take a bit of time to search, you'll find extensions that will help you get a reliable online store up and running.
Essential WooCommerce Extensions
There's much more to an online store than just the website and the products. Many features — like product customization options, cart auto-recovery, shipping integration, and payment gateways — can either be built-in or serve as extensions to the platform. While you certainly don't need all WooCommerce extensions to run a successful store, there are a few essentials you simply can't go without.
After you establish the most fundamental components of your online store, consider essential extensions that will elevate your customers' experience.
Of course, which you choose will depend on your budget, but here are some extensions that I think are a must.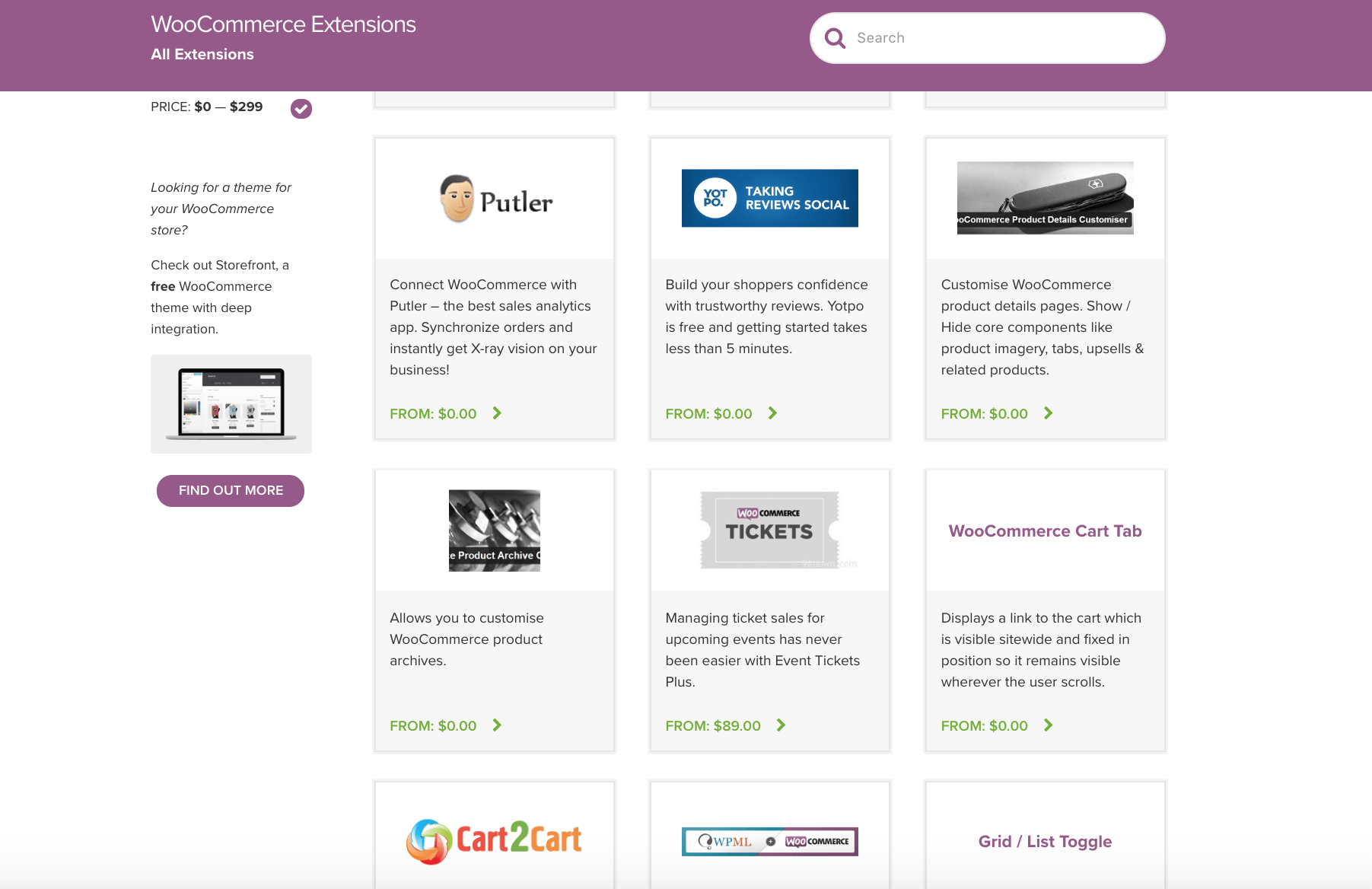 Free Extensions
ShipStation: Fill and ship orders easily (30-day free trial)
ShippingEasy: Print labels easily and provide discounted shipping rates (premium plan offered)
PayPal: Give customers the choice of how to pay
Stripe: Allow your store to accept a variety of payment methods
Mailchimp: Create a marketing plan with this popular marketing automation extension (premium plan offered)
Jetpack: Protect your store from hackers (premium plan offered)
Google Analytics: Track your store's data with analytics reports
Premium Extensions
To boost your online store's functionality and improve your customers' overall shopping experience, consider investing in premium extensions.
Below are some of the most popular ones, and their starting are all currently under $100:
Follow-Ups: Keep your store on people's minds by automatically contacting them after purchases
WooCommerce Social Login: Make checkout seamless for customers by allowing them to sign in with their social accounts
WooCommerce Product Search: Allow customers to easily find what they're looking for
Cart Add-ons: Encourage impulse buys and increase your bottom line
Smart Coupons: Create store coupons, gift certificates, store credit opportunities, and more
WooCommerce CheckOut Add-ons: Highlight features and products at checkout to entice customers
WooCommerce Brands: Create lists for products by brand and more
There are also a few premium extensions for specific kinds of stores that cost quite a bit more than most of the premium extensions above:
WooCommerce Subscriptions: Set up products with recurring payments
WooCommerce Memberships: Limit products to certain members
WooCommerce Bookings: Allow customers to make appointments or reservations
WooCommerce Tickets: Sell tickets for real-life or digital events
Creating an Online Store Budget
Ultimately, only you can build the perfect online store for your company. It's up to you to decide on a budget and choose your essential extensions and the extras you want to invest in to take your store to the next level.
To make smart decisions about your store, you need a budget. Here are some tips for creating one:
Learn about all the extensions you're interested in before making any decisions.
Pick A Number. Consider all your expenses and decide on an overall amount to spend on your online store.
Break down all extensions you want into categories, and rank each category and extension by importance.
Hold Your Bottom Line. If you let yourself go over budget even a little bit, you may keep finding reasons to go over again and again. Keep in mind that a store with too many features will overwhelm customers.
The WooCommerce Bottom Line Is Definitely Not $0.00
One of the main ways you'll end up paying for your WooCommerce store is when extending it with premium features.
Luckily, WooCommerce does provide many free extensions to help you get your foot in the door. However, if you take your e-commerce venture seriously, you're inevitably going to spend money to build your WooCommerce online store. There's no way around that. As WooCommerce is a plugin for WordPress,
many of your extra costs will depend on WordPress.com's pricing and its caveats.
Feel free to learn more about WordPress by reading our
WordPress expert review or visiting their
pricing page. First, you'll need a
WordPress Business Plan
to install the WooCommerce plugin to begin with. This already puts you in the same price range as other website builders' e-commerce plans, such as
Wix's VIP plan and
Weebly's Business plan. And, it's more expensive than some of
Site123's e-commerce plans
. Second, you'll probably want to
install a premium theme to make your store more unique and give it that "wow" factor.
Once again, you pay for what you get — chances are, the more expensive the theme, the more interesting and attractive it will be. Even among the premium WordPress.com templates, there are scant options that fit the bill. This means that you'll probably either want to purchase third-party templates or WooCommerce's Storefront templates. The only two free Storefront templates are uninspiring. That means
you'll either have to fork out close to $40 for a premium Storefront theme, or pay anywhere between $50 and $200 for a premium third-party theme
like Divi that's compatible with the WooCommerce plugin. Third, you'll need to consider your
extensions.
I already highlighted the most crucial WooCommerce extensions and which are free or premium. To even be close to the fully fledged e-commerce stores hosted on platforms like Shopify and BigCommerce, you'll need to invest in almost every one of the extensions mentioned under "premium." Almost all the prices are only for a single year. That means you could
possibly pay between $400 and $500 per year
just for extensions (and it could be way more if you need licenses for multiple websites). And if you need one of the specialized store extensions, then prepare to add on another $100 to $200… Although it hasn't reached the exact point, this brings you close to the pricing of Shopify or BigCommerce. Yet, remember that these platforms stand as industry giants. If you've acquired adequate extensions to compete with them, the investment is likely justifiable. To learn more about WooCommerce, read our
expert review
or
visit their website
.