Wix
, or you're seriously considering it. Good. We can help. Having explored Wix's templates for all things architecture-related, we can show you which templates to go for, and which to avoid. While you read through the list, think about what you need from a website.
You'll want to show off your work, so you want a template that focuses on imagery
. Some templates have appointment-booking functionality built in. For those that don't, you easily add it with an app. Enjoy!
Wix Architecture Websites Templates We Love
Now, Wix doesn't actually have a category for architecture website templates, but if you search for "architect," you'll get about 20 results, with varying degrees of relevance. The first five templates on our list come from that search.
Architect Company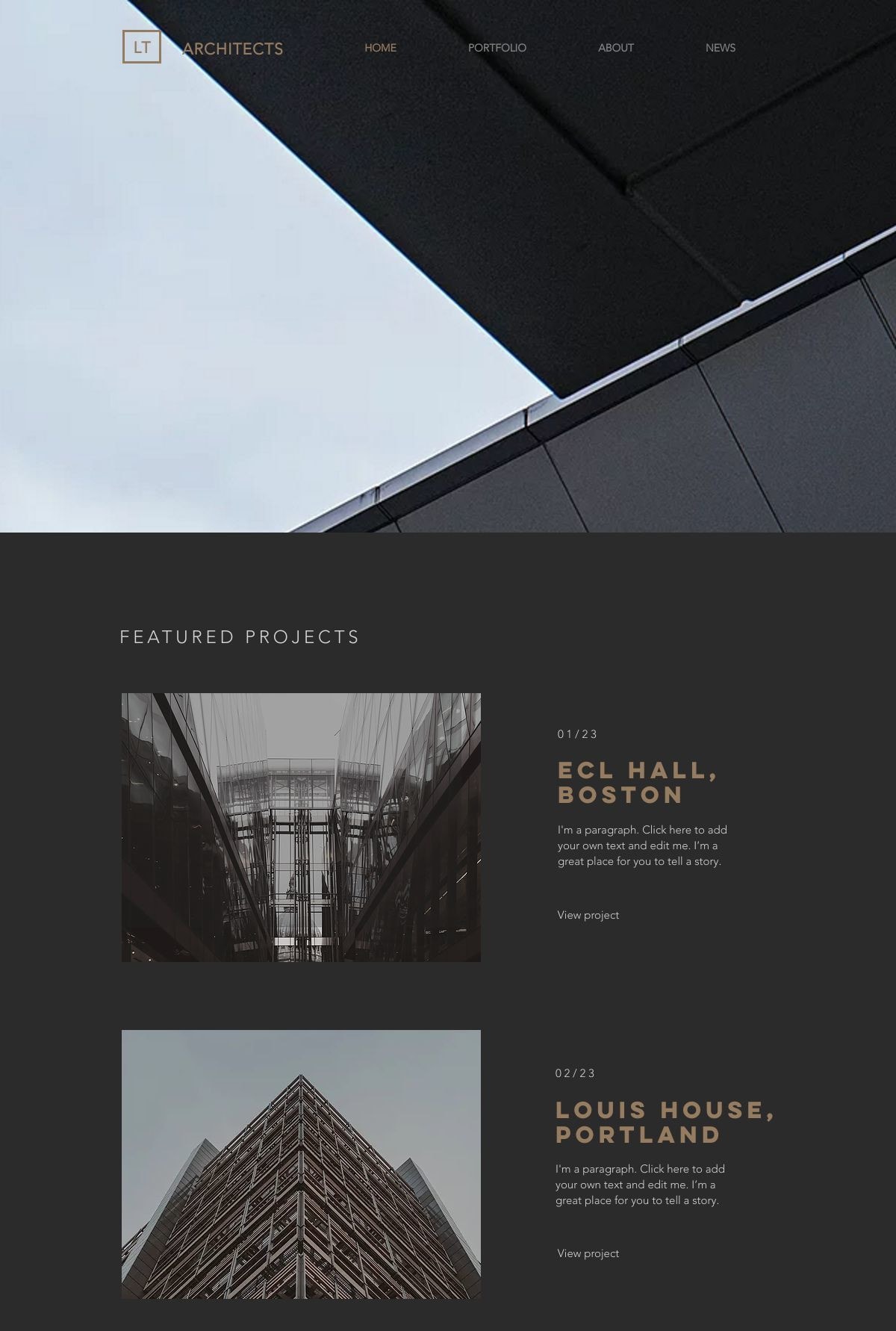 This first template is all about that dark, modern feel, with elegant typography and effective use of negative space.
If you want something sleek, yet subdued, this is the template for you
. There is a focus on photography, though you may want to skip whatever filter the example photos were run through. They'd actually look better if they contrasted with the rest of the template a little more. The template also comes with the blog module built in, if you want to keep prospective clients informed of the latest developments in the wonderful world of architecture. Keeping your website updated with fresh content is a pretty good way to keep people coming back, so you might want to put that blog to work.
Construction Company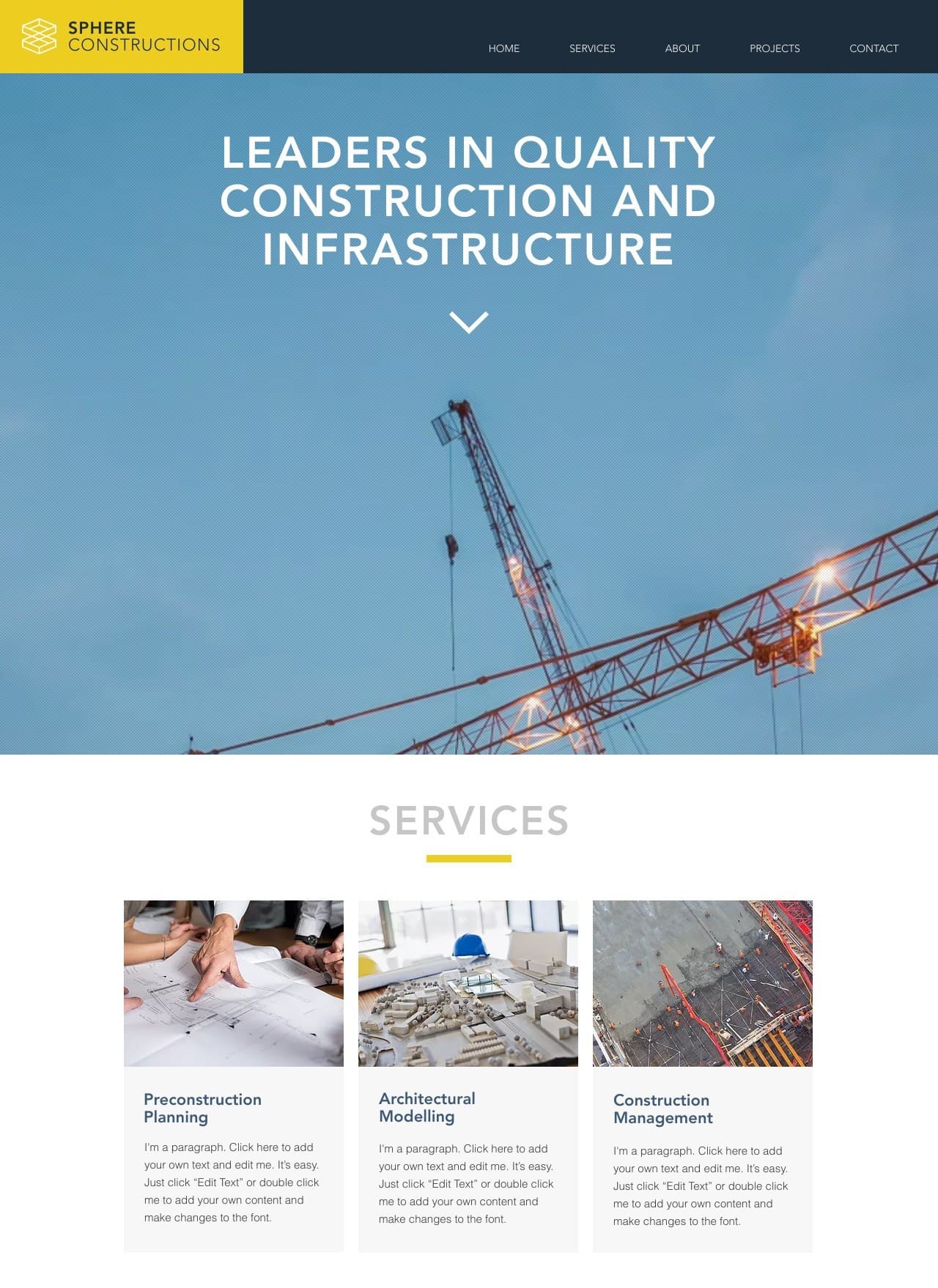 This template goes for industrial blues and yellows, with the occasional touch of gray. The whole aesthetic is one of classic reliability, modernity, and industry.
If you need a simple template to pitch your work to clients who appreciate the "heavy duty construction" sort of design, pick this one
. It should also be noted that although projects seem to get their own pages, the homepage does a lot of the heavy lifting in terms of content. I do like the way text is used to balance out the imagery, though. I think there's just enough of both. Plus, the template's use of background video is pretty great.
Interior Design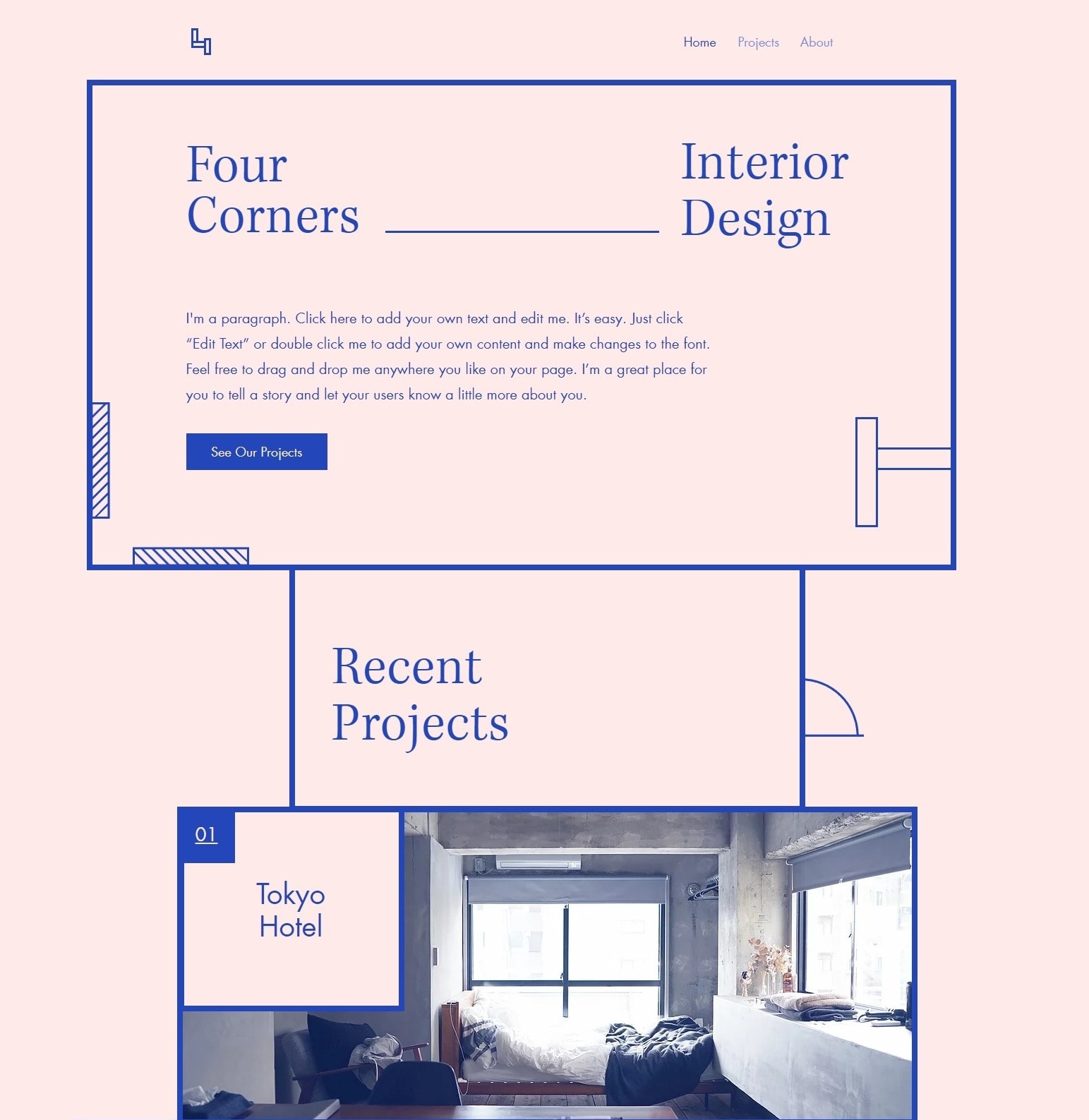 While this template is titled "Interior Design," don't let that stop you from using it to show off your architectural skills. Everything — including the color palette, type, and little illustrated bits — is designed to give your site a sort of quirky and personal touch. So if grand elegance or solid industrialism don't suit you, you could use this template to show off, say, any houses you design.
Wix Architecture Website Templates We Don't Love as Much
We promised to show you templates you should go for, and a couple you should stay away from. It's time to make good on the second part of that promise.
Wix has lots and lots of fantastic templates. These aren't them
. As a quick reminder, these templates come from the list of templates that appear after running a search for "architect."
Interior Design Portfolio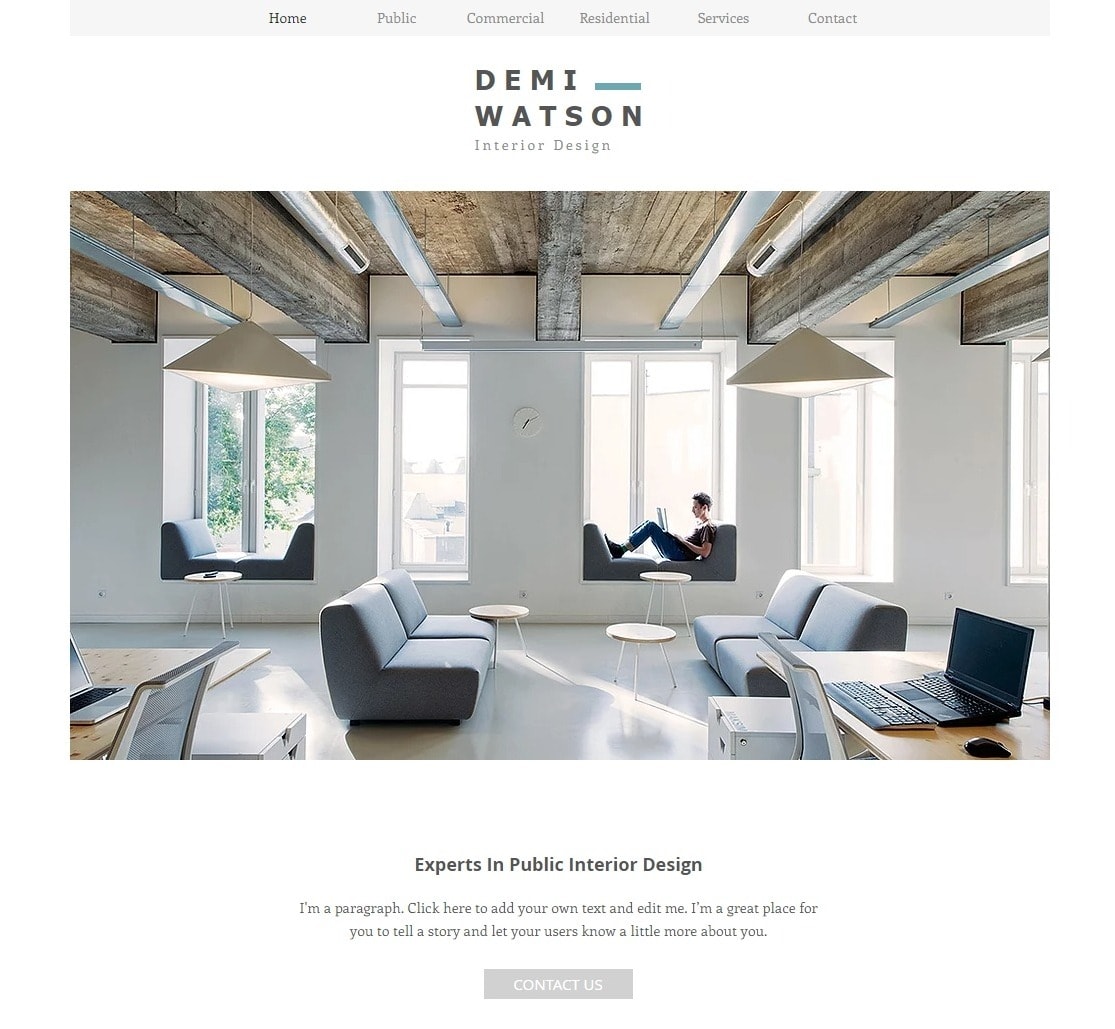 The problems with this site are the same as with most of Wix's templates that just don't make the grade.
The text is too small, some elements are low on contrast — and worse, those elements are the calls to action
. If there's any part of a website you want people to actually see, it's the navigation, the content, and the calls to action.
Landscape Architect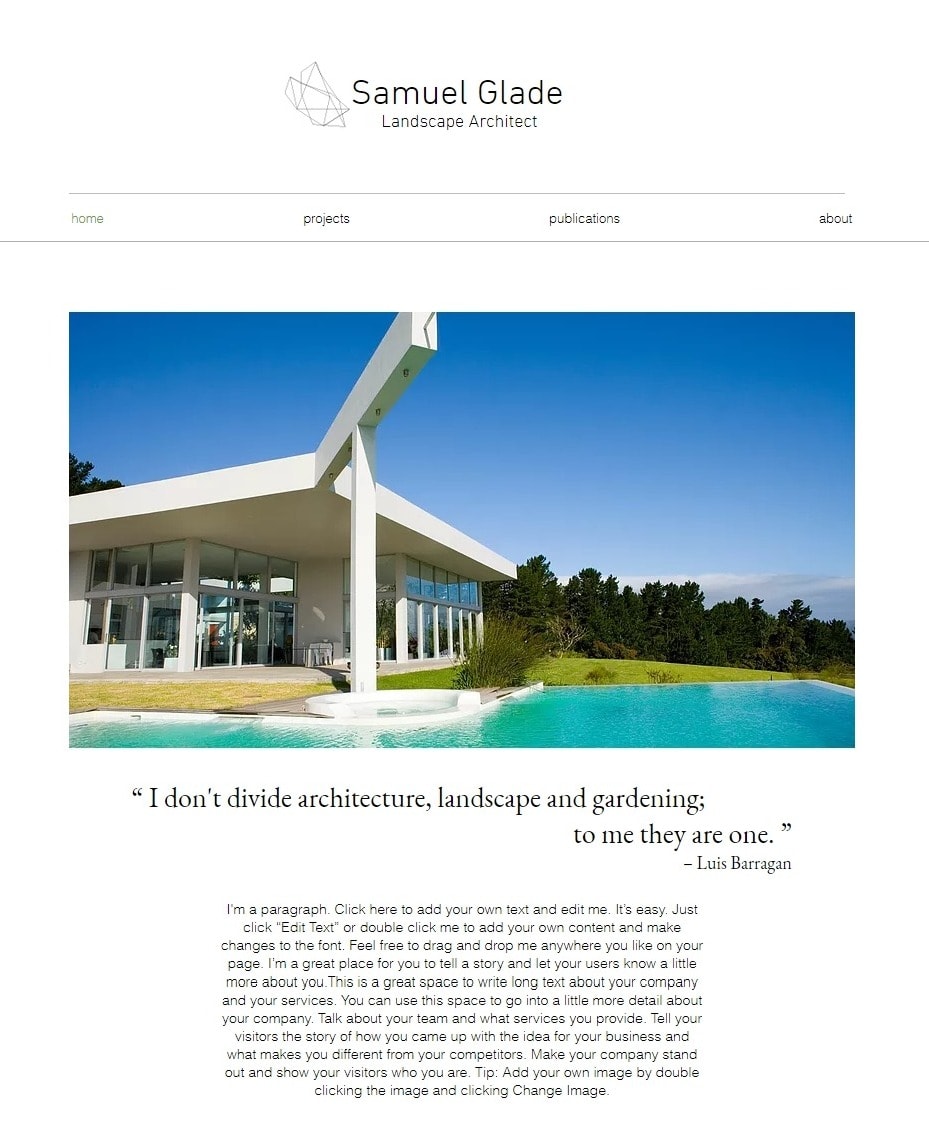 Again with the super small text
! Lots of people are going to need glasses to see the navigation bar at all. The layout is small, based on the "target screen resolutions" of days long past, and generally just feels cramped. This sort of minimalistic style needs room to breathe. I do like the sort of blueprint theme going on in the background. It's very faint, though, and hard to see in the screenshot. So, that counts against the template.
Other Wix Templates You Can Use for Your Architecture Website
Certainly, Wix enables you to personalize nearly any template to meet your requirements (although, as previously discussed in the last section, you might encounter difficulties with certain ones). This implies that you're not confined to a particular category or the roster of templates that appear when you search for "architect."
Carpenter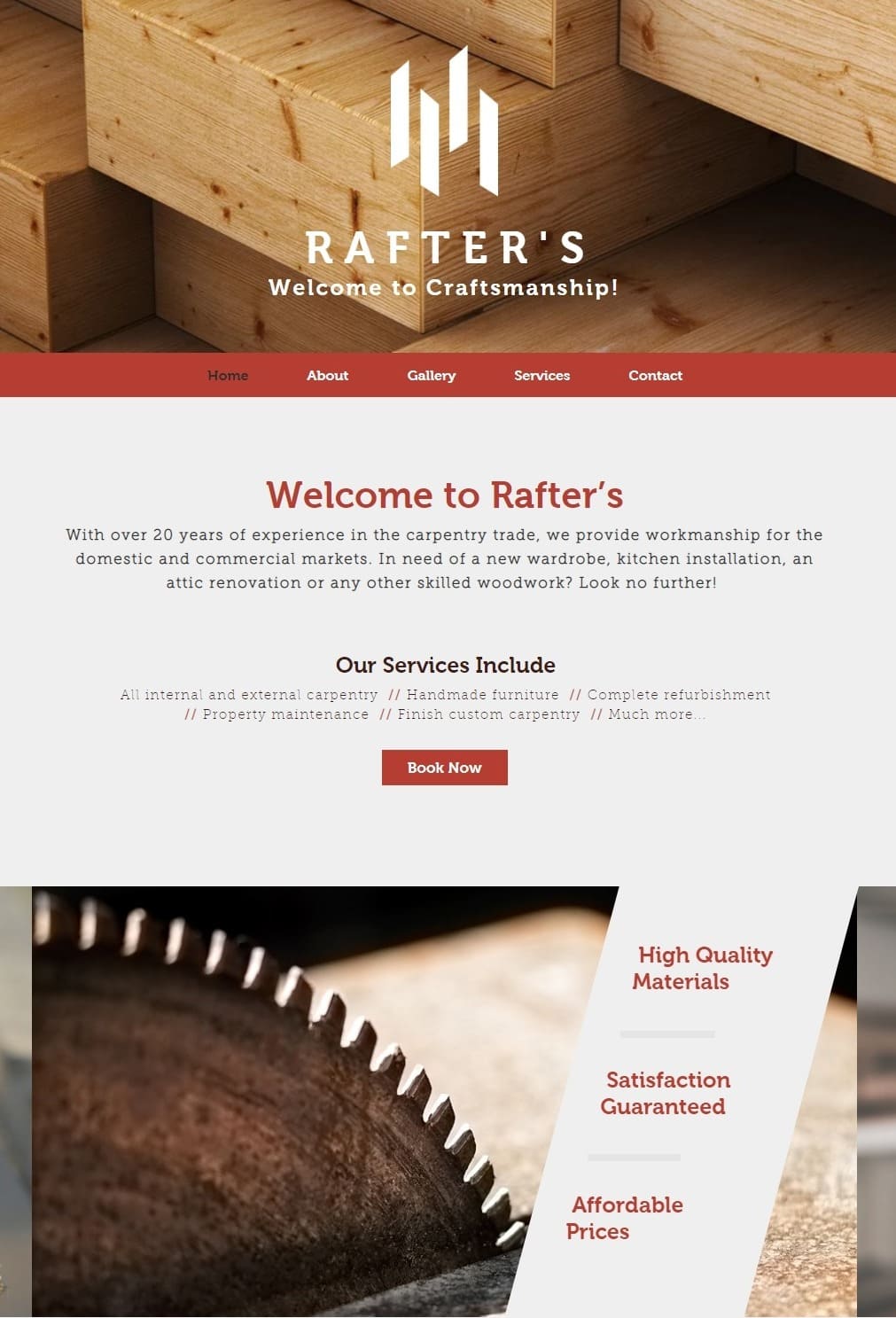 Category: Services & Maintenance
If you're pitching your skills to people who want something simple, reliable, and homey, you might try this template designed for carpenters. Switch out a few of the photos, and embrace the down-home feel of the serif-based type, and the rustic color palette.
Textile Designer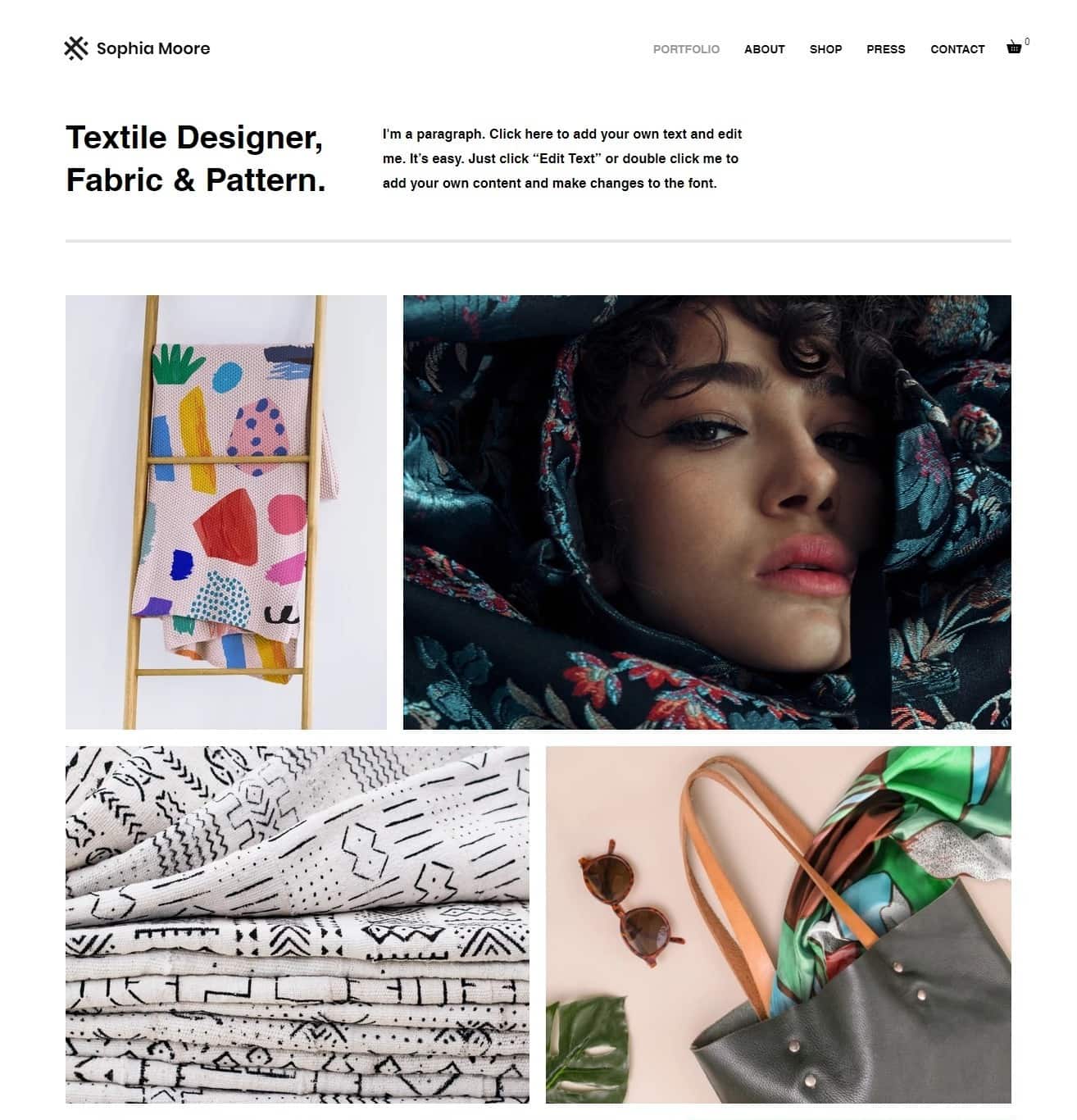 Category: Portfolios
This template uses a modern monochromatic aesthetic with big, bold type, and big photos. It may be a simple design, but it's not shy, as it puts your work front and center, without further ado. If you just want to put up some photos with minimal text and go, this is one of your best options.
It also has a shop module built in, in case you want to sell… I don't know… company mugs? T-shirts?
Graffiti Artist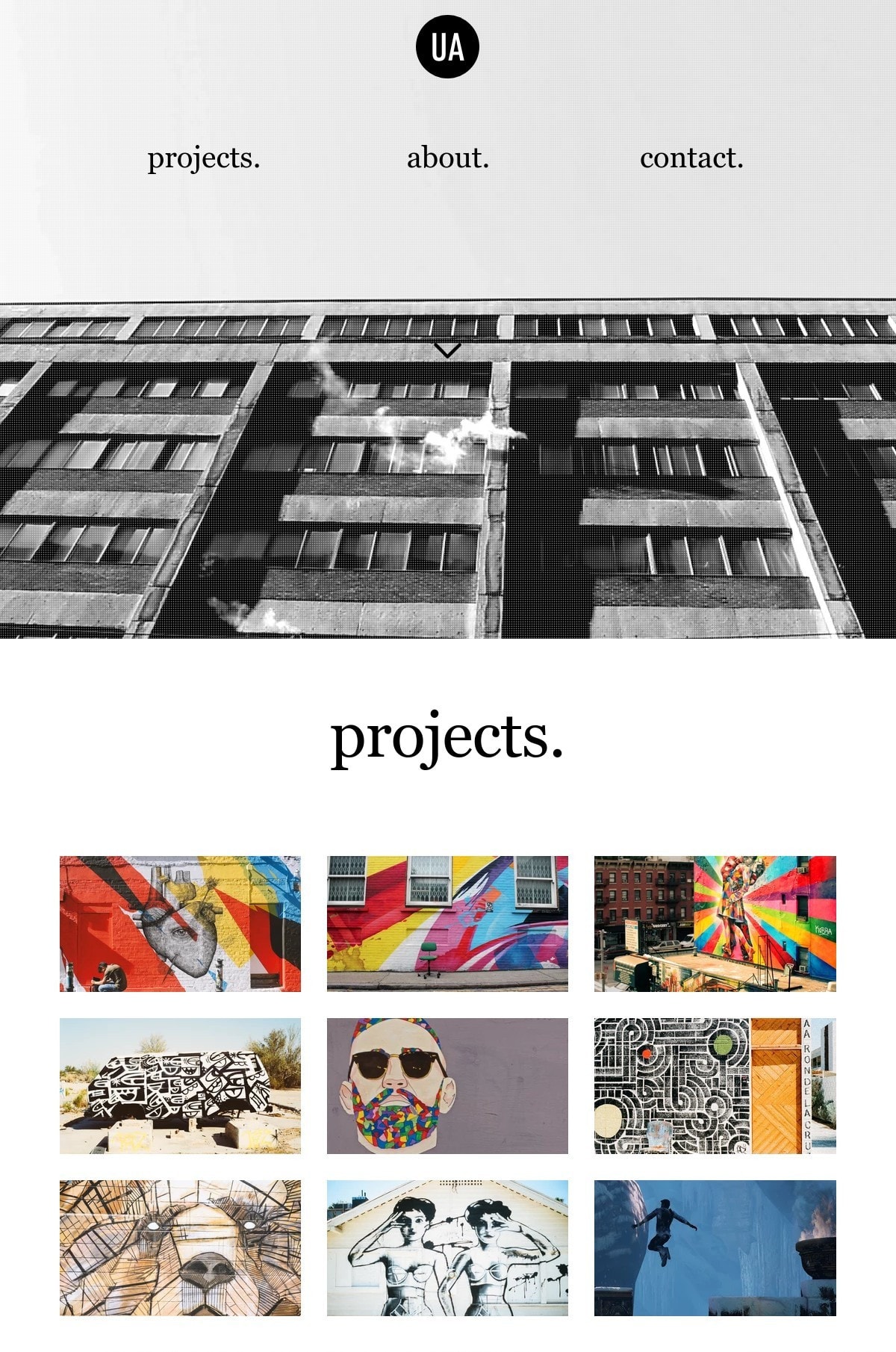 Category: Portfolios
If you work in a big city and want a website that represents the big-city aesthetic, look no further than this template. It's a bit bandwidth-heavy, but I like the touch of background video used at the top of this one-page portfolio. Where the last template was bold, this one feels almost brash — and ready to fight. It's the template to use if you want to show off your wild side.
Drawing a Conclusion (Get it? Because architects… never mind)
Of course, these are just a few examples from Wix's truly massive library of templates. You can go for one of the ones we chose, or you can always comb through Wix's library to find the template that's right for you. It all comes down to you, the kind of buildings you design, and the clients you want.
Go wild, because you can make just about any template in Wix's library work for you
. If you want more general information on
Wix
 as a service, its features, and more, do check out our
Wix expert review
. If you want help picking the plan that's right for your budget, see our guide to
Wix's pricing plans
. And good luck!