One of the truly unique features of Wix is its artificial design intelligence, ADI.
For users who are new to building their own websites and don't know where to start, or for those who find most builders too complex,
having an AI build a website for you according to your needs might seem like a dream.
However, with such a great website editor tool already, most of you are probably wondering how ADI compares with building a website using the Wix Editor. That's a good question. The key factors to consider for most users will be:
Design and flexibility
Ease of use
Apps
SEO
So, let's look at how these two compare so you can identify which one will provide the best experience for you.
Wix Editor vs Wix ADI
Wix Editor
The Wix Editor is Wix's classic website-building tool that lets you create and manage webpages; customize those webpages by positioning, adding, deleting, and changing the settings of elements; and handle just about every other aspect of your website.
It's a very in-depth drag-and-drop website builder that lets you do just about anything that any other website builder does.
In fact, you can build a webpage from a completely blank slate, although most people start off with a template.
Wix ADI
ADI stands for Artificial Design Intelligence.
So yes, believe it or not, it's Wix's in-house artificial intelligence that's supposed to help you design your website. Guided questions, built-in rules for good design, and scanning social media for relevant content and information are all combined and run through an algorithm to come up with what's supposed to be a professional and purposeful design.
Design and Flexibility
One of Wix's standout features among almost all other website-building platforms is its huge collection of 900+ templates.
Only the much more advanced self-hosted
WordPress
can rival it in this regard. The quality of these themes used to be varied; however, Wix has dramatically tightened up the quality, and most of these themes now come with superb designs with enough variation to be interesting and fulfill very particular niches.
Every single theme is also customizable down to the smallest detail.
The Wix Editor allows you to drag and drop elements in place up to the exact pixel you want. Nothing on your webpages is set in stone or off limits and can be moved, deleted, or have its content or settings changed.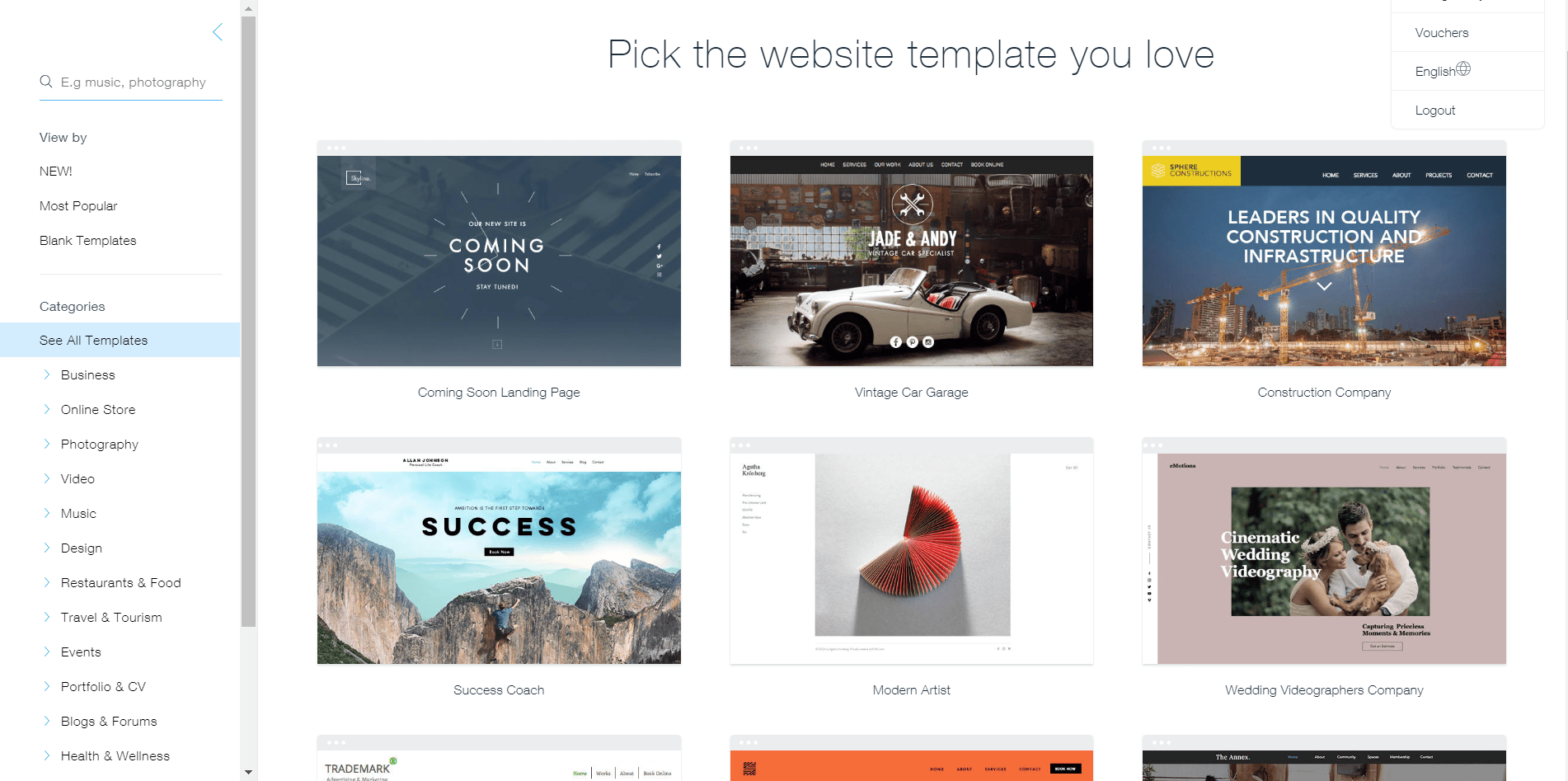 For the pleasure of letting ADI put together a website for you, you need to make the tradeoff of letting go of some customizing power.
The biggest compromise is not having all those templates to choose from.
For now, ADI is also limited to a few niche-type websites such as an NPO, Author, Blogger, School, etc.
This improves the ADI service. It doesn't leave you completely out of the design process; you can opt to base the colors used in your website with those in your logo as well as choose a "style" that loosely determines the fonts and background styling.
ADI will also come up with three designs for you to choose from.
I have to say, the results are surprisingly good. It's nothing groundbreaking, especially compared with the Wix templates, but it uses attractive color palettes, modern design layouts, and certainly feels like a website created for the intended purpose. For example, here is an Environmental NPO website created by ADI, with colors based on the logo in the top left: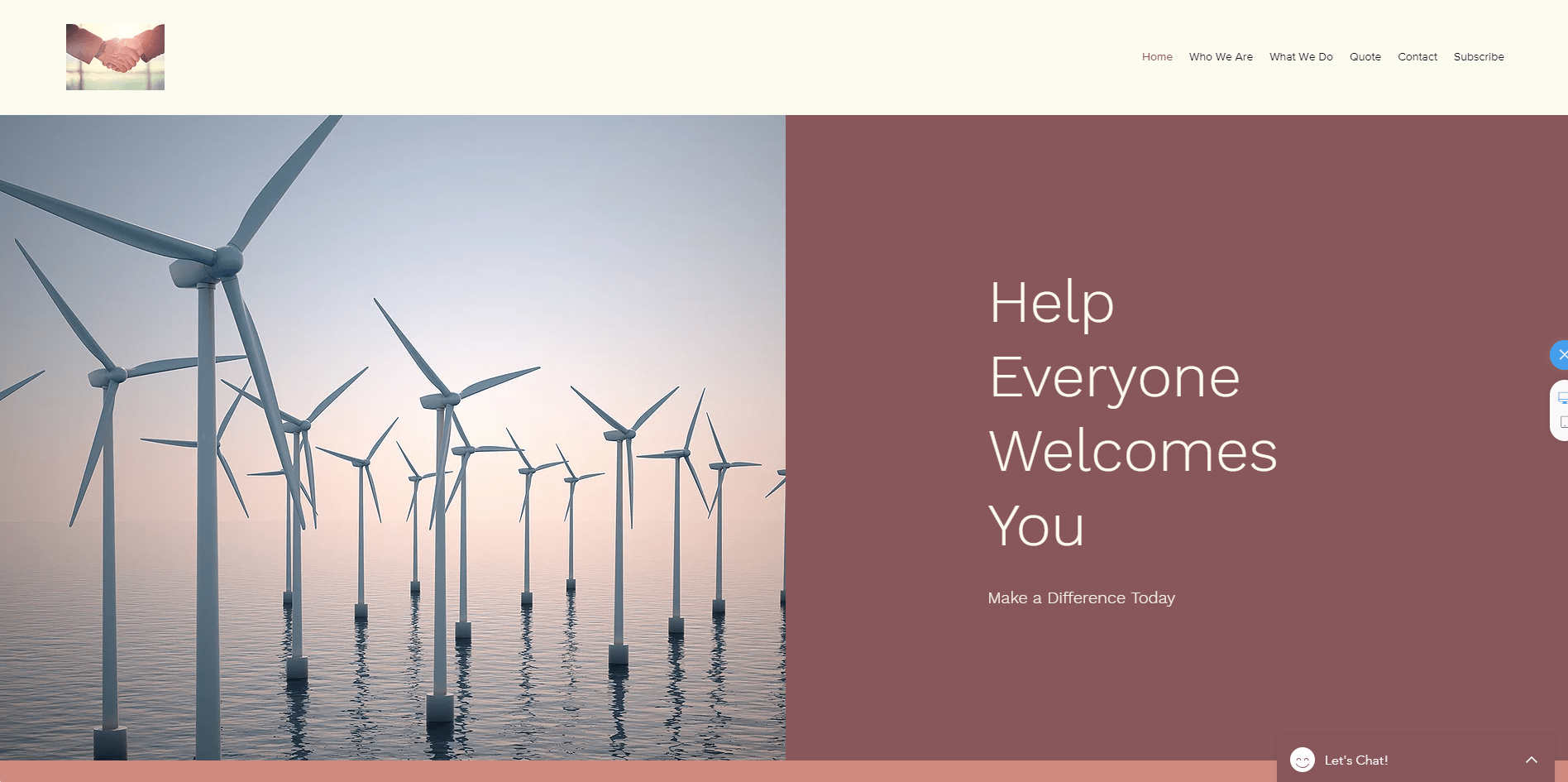 Wix ADI incorporates a more modular approach
where you click on a section and are then presented with options like editing the content, selecting a different preset design, or changing basic characteristics like the color. There is no drag-and-drop functionality, for example.
You'll have much more flexibility with the Wix Editor.
GET STARTED WITH WIX NOW
Ease of Use
It will take you a bit longer to get to edit your ADI-created website compared with a Wix Editor website.
With Wix Editor, you just choose the type of website as well as a template and you can start editing. With ADI, you'll need to answer about seven additional questions to give it the info needed to build a webpage. However, there's nothing tricky or complicated about the questions.
With both methods, Wix provides more than enough help in the form of short video tutorials, tips, etc.
Wix ADI's tutorials are even more beginner-friendly, as they follow a step-by-step process where you can pick up where you left off at any time. The standard Wix Editor tips and tutorials are spread throughout the website as you use new features/tools. This is where the similarities end. With all the options in the Wix Editor, beginners might find the learning curve steeper and all the options a bit overwhelming at first (I know I did), whereas ADI is accessible to the max. That's not to say that the Wix Editor is difficult to use, but you don't feel anxious to jump right in and start changing things with ADI.
The biggest decision you'll need to make is between ease of use and flexibility.
Last,
a great feature of ADI is that you can switch your website to the Wix Editor at any time.
However, you can't bring back any changes or migrate from the Wix Editor to the ADI editor, as the Wix Editor makes use of features outside of ADI's scope.
Apps
This is another area where there's a huge difference between the two.
When setting up your site with ADI, it will automatically install a few relevant apps.
For example, I said I wanted to build subscribers with my NPO website, so ADI automatically added the "Chat" app. However, I could only choose from three others (Online Store, Bookings, Blog), or I had to switch to the Editor.
With the Wix Editor, you will have full access to all the Apps in the Wix App store.
Of course, you will need to purchase the premium apps, but the important thing is that you can add them if you want.
SEO
SEO was never one of Wix's strong points. It used to provide little out-of-the-box SEO boosting and control over your own off-page SEO. The use of the SEO Wiz played a huge part in improving users' SEO prospects. Wix also gave you more freedom to edit your URLs to be more search engine optimized. ADI isn't much different from the Wix Editor when it comes to editing your URLs or other aspects of your off-page SEO.
The Wix Editor does provide a bit more control, but the biggest advantage the Wix Editor has is that you can install other Apps — such as SiteBooster, Rabbit SEO, etc. — to help you manage specific SEO features.
Wix Editor vs Wix ADI — Which One Wins My Heart?
While they are similar in some ways, they are also very different in others. What makes it challenging to choose one that's ultimately better is that both are great quality products in their own right. When it comes right down to it,
the most important consideration you might have to make is how much time and effort you want to put into your website vs how much flexibility you want when it comes to features and design
. ADI pretty much puts a finished website, complete with the most essential features, into your hands. However, it provides minimal potential when it comes to tweaking the look and expanding the functionality. However, the Wix Editor exudes immense power, placing everything within your reach — you can even intentionally disrupt your own design. You possess complete entry to over 900 Wix templates and the App Market, ensuring that there exist no boundaries to the potential functions or appearances of your website. Nevertheless, this does entail an additional dedication of time and responsibility on your part.
Overall, I still feel the Wix Editor is the better option.
It will take a bit more time to get used to — but in the end, you can't put a price on freedom.
If you want to ease into it, you can even let ADI design a website for you and then switch over to the editor when you feel comfortable taking more ownership of your Wix website.
Want to learn more about Wix?
Read our expert review.