Although bitcoin and other cryptocurrencies are growing in popularity, there are still relatively few web hosts that accept cryptocurrency payments – and not all of them are fast and reliable enough to host your website. You shouldn't have to compromise on things like features, performance, and security just to remain anonymous when you buy hosting.
Most big companies are still making their first steps in the bitcoin hosting market.
It's the smaller hosts that are leading the charge, and while some of them provide phenomenal hosting solutions, others are a recipe for disaster. 
The good news is that there are several major hosts that are accepting cryptocurrency.
Hostinger is already fantastic value for money
, but what about the other hosts that accept bitcoin as currency? Well, I tested the companies myself to help you avoid a potential tragedy. Read on and make sure you put your crypto coins to good use.
Short on Time? Here Are the Best Web Hosts That Accept Bitcoin and Other Crypto Payments in 2023:
Hostinger – Uptime is 99.9% and up, performance is fast, support is available 24/7, and multiple cryptocurrencies are accepted.
Hostwinds – Unlimited space and bandwidth, a choice between two US and one European data centers, and a money-back guarantee that works with crypto payments.
Namecheap – Cheap domain names, reliable hosting, and free domain protection, from a host that really values your privacy.
See 2 more web hosts that accept bitcoin | Comparison table | FAQ
What We Look For in the Best Web Hosting Companies that Accept Bitcoin and Other Cryptocurrencies
With each hosting company on this list, you can expect:
Payment through a cryptocurrency payment platform – While some of these hosts allow you to manually transfer funds, it's much easier to pay using a known crypto payment platform. Bitcoin is accepted by all, but I looked for companies that accept other crypto coins as well.
Reliable performance and uptime – I'm looking for quality hosting you can actually trust, with high, verified uptimes above 99.9% and fast performance. Take into consideration that real offshore hosting might be situated away from your target audience, which could affect their loading speed.
Plenty of storage space and bandwidth – Your website needs these resources, no matter how you pay for it. This list does not contain flimsy 500 MB plans that will run out of space after one backup.
Buying domain names with bitcoin – These hosts also let you purchase a domain name using cryptocurrencies, so nothing can be traced back to your account.
Extra privacy features – With cryptocurrency, privacy is the name of the game. If your money trail is hidden, but all else is visible, you're not getting much. The following companies have invested in additional ways to ensure your identity remains private.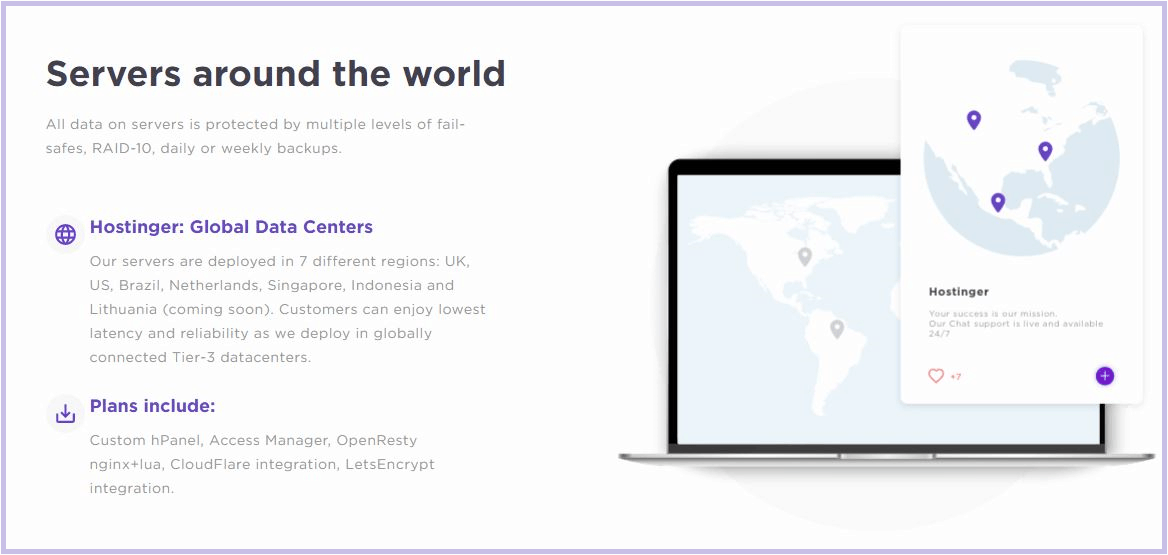 I mentioned how some big companies are still feeling out the whole cryptocurrency situation, but Hostinger is already all-in. It offers some of the
cheapest hosting plans on the market
, and now you can opt to pay for them with bitcoin and other cryptocurrencies. For additional savings, don't miss our latest
Hostinger coupons
.
Hostinger WordPress Hosting
Hostinger Reseller Hosting
A free domain name is included with some hosting plans from Hostinger
Don't let the low prices fool you.
Our independent performance tests have consistently shown Hostinger to be faster than far more expensive competitors
.
Additionally, you'll get 24/7 access to the company's support service, available through live chat. Hostinger's basic plan also offers a sizable 30GB SSD storage and 100GB bandwidth, so it's not only cheap, it's great value for money, too.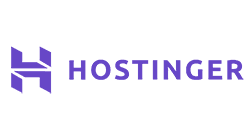 Save up to 75 % on your Hostinger plan!
Limited-time offer - Don't miss it!
7002 users used this coupon!
Features
Many supported cryptocurrencies

– Hostinger supports over 70 cryptocurrencies – whatever your choice of cryptocoin, Hostinger will likely take it. If your selected currency is supported by payment processor CoinGate, you can pay with just a few clicks.

Great value on advanced plans

– Hostinger's Premium Shared Hosting plan is slightly more expensive, but comes with a free domain name for a year. This makes it the cheaper option overall in the first year. You'll also get the benefit of more resources, advertising credits, and more.

30 GB storage space and 100 GB bandwidth – The most basic shared plan has plenty of space for your needs. More advanced plans come with higher specifications, and powerhouse VPS (virtual private server) machines are also available.
Domain privacy available for purchase – This feature will hide your domain registration details, making them unavailable to nosy parties running a Whois search on your domain.
See the results of our performance tests for yourself in our Hostinger review.
Money-Back Guarantee

30 days

Uptime Guarantee

99.9%

Data Centers

1 in the US, 3 in Europe, 2 in Asia, 1 in South America

Starting Price

$

1.99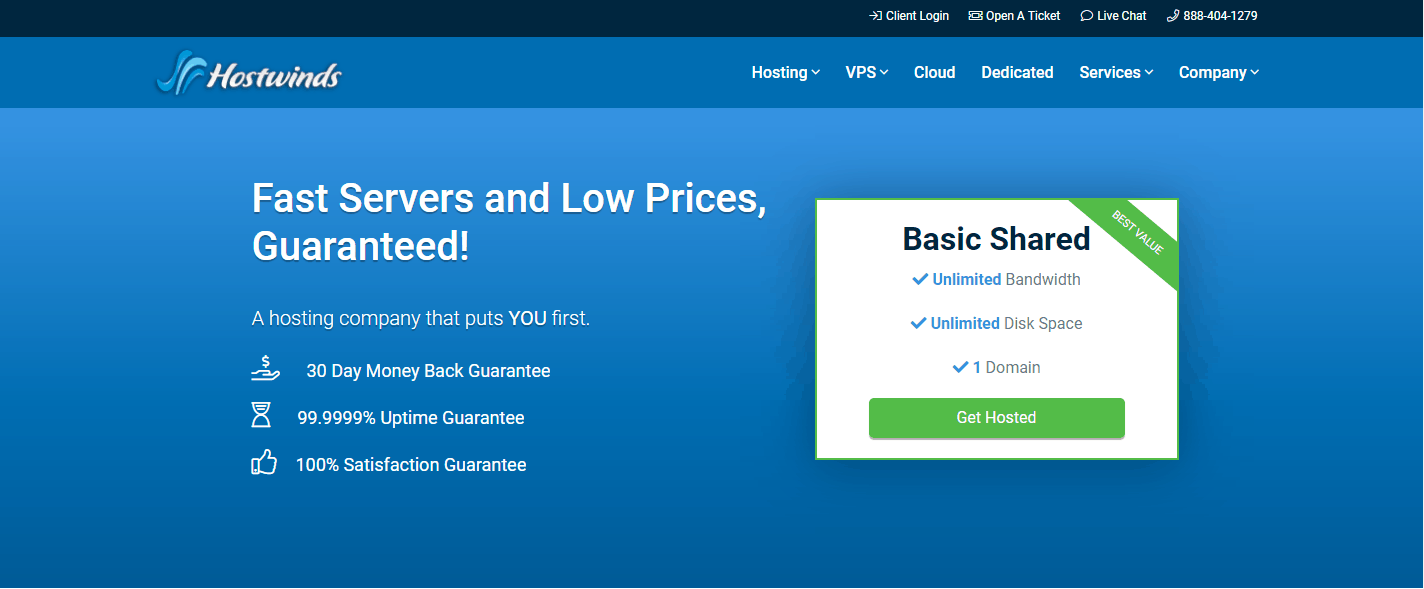 While Hostwinds is more expensive than Hostinger, it's still well within what I'd consider affordable.
It's probably the best host on this in terms of potential performance
. If you know your way around website optimization, you can get some really fast and reliable speeds.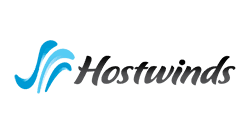 Get an additional 50 % OFF any Hostwinds plan!
This special offer applies on top of Hostwinds's discounts for annual plans.
287 users used this coupon!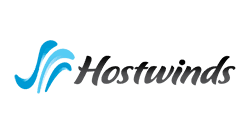 Hostwinds – Special Discount for WSP
Copy and paste this code at Hostwinds
Hostwinds' shared hosting plans come with unlimited storage, bandwidth, and databases. All hosting solutions can be paid for with cryptocoins, including special privacy features, like Hostwinds' VPN service and advanced SSL certificates.

A free domain name is included with some hosting plans from Hostwinds
Features
CoinPayments – Hostwinds accepts a wide range of cryptocurrencies using CoinPayments, from the popular bitcoin and Ethereum to lesser-known coins like Digibyte, Qtum, and Dogecoin. Additionally, crypto payments can be refunded as account credit within 30 days of signup.
Choose your data center – The company maintains three modern data centers, in Dallas and Seattle in the U.S. and Amsterdam, Netherlands. Choose the one closest to your target audience to enjoy the best speeds and availability.
Windows hosting – Hostwinds is one of the only companies to offer both Windows hosting and bitcoin payment. You can opt for Windows on any VPS plan with the company, whether managed or unmanaged.
Optional backups – A backup service is available for an additional monthly cost. The service works completely automatically, creating nightly copies of your website that can be restored if needed.
To learn more about Hostwinds, check out our expert review.
Money-Back Guarantee

None

Uptime Guarantee

99.9999%

Data Centers

2 in the US, 1 in Europe

Starting Price

$

6.47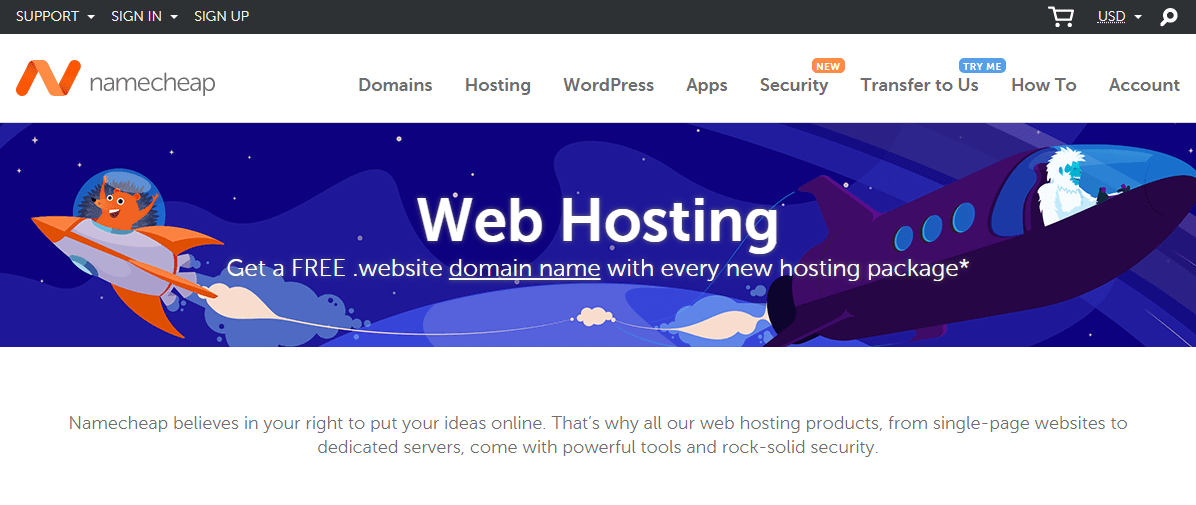 Namecheap, as the name implies, started out as an especially cheap registrar for domain names. It has since expanded its operation to include web hosting, from shared to VPS and dedicated servers, and it accepts bitcoin as a form of payment. I've come to think of the company as "Good Guy Namecheap," due to it being
one of the few companies in the industry to truly champion online privacy
. Customers really appreciate it because it donates to foundations fighting for users' rights to privacy and has publicly taken a stance against government initiatives that intrude on them. In addition,
Namecheap's
hosting services
are not to be taken lightly. Performance is more than adequate, especially if your audience is located around the US or the UK, and
all plans include great features like a free content delivery network (CDN) and backup tools
.
A free domain name is included with some hosting plans from Namecheap
Features
Use cryptocurrency to fund your account balance – Instead of paying for the services with CoinPayments and waiting for payment authorization, use BitPay to fund your account balance. Payment can be made with either bitcoin or Bitcoin Cash.
Free WhoisGuard – Namecheap provides Whois protection for no extra charge. Enable the option during checkout and your details will not be visible in the Whois database.
Easy WordPress hosting – WordPress plans come with automatic installation, an SSL certificate, and a one-click backup feature.
Secure SFTP access – Namecheap includes SFTP with its most basic plans, enabling you to keep your site-managing activities completely secure.
For more details, check out our comprehensive Namecheap review.
Money-Back Guarantee

30 days

Uptime Guarantee

100%

Data Centers

1 in the US, 2 in Europe

Starting Price

$

1.88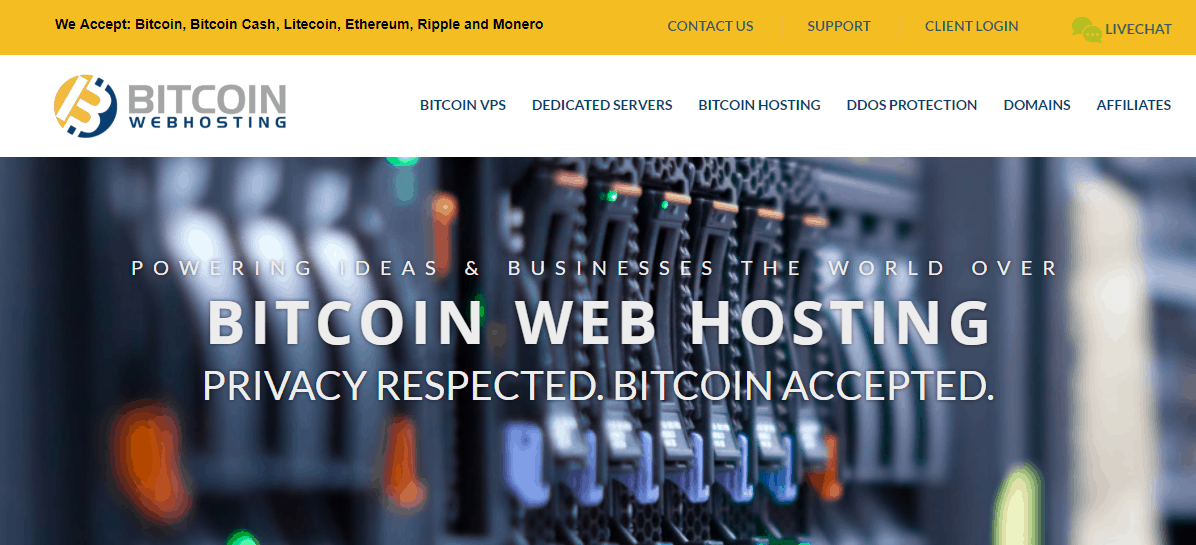 These guys did not beat around the bush when naming their company. More than that, it's not that the company
also
accepts bitcoin, it's that it
only
accepts it, and a few other select cryptocurrencies.
It doesn't support credit cards, PayPal, or any "classic" payment method
.
Bitcoin Web Hosting's plans
, which include shared, VPS, and dedicated servers, are heavily geared toward customers who wish to remain unknown and unreachable. The company also offers an optional upgrade to hosting that's safe from copyright lawsuits and surveillance.
The services are more costly than the others on this list. Still, if this is the level of protection you're looking for, you'll find few other hosts can compare.
Bitcoin Web Hosting Web Hosting
A free domain name is included with some hosting plans from Bitcoin Web Hosting
Features
Use CoinPayments to pay the invoice – After purchasing a hosting service, it won't immediately activate. Instead, you'll have to enter the invoice and pay through the CoinPayments link. Payment can be made with bitcoin, Ethereum, Monero, Ripple, and six other cryptocurrencies.
Optional European hosting – The basic plans are hosted on U.S. servers, but users can opt for an "offshore" European data center, which is safe from DMCA (Digital Millennium Copyright Act) issues, the PRISM surveillance initiative, and the Patriot Act.
Free domain for life

– As long as you pay on an annual term, Bitcoin Web Hosting will cover your domain costs for the duration of your account.

45-day money-back guarantee – No hassle, no-questions-asked money-back policy. Available for shared web hosting and reseller hosting plans.
Find out more in our Bitcoin Web Hosting review.
Money-Back Guarantee

45 days

Uptime Guarantee

99.9%

Data Centers

7 in the US, 1 in Canada, 6 in Europe, 3 in Asia, 1 in Australia

Starting Price

$

6.00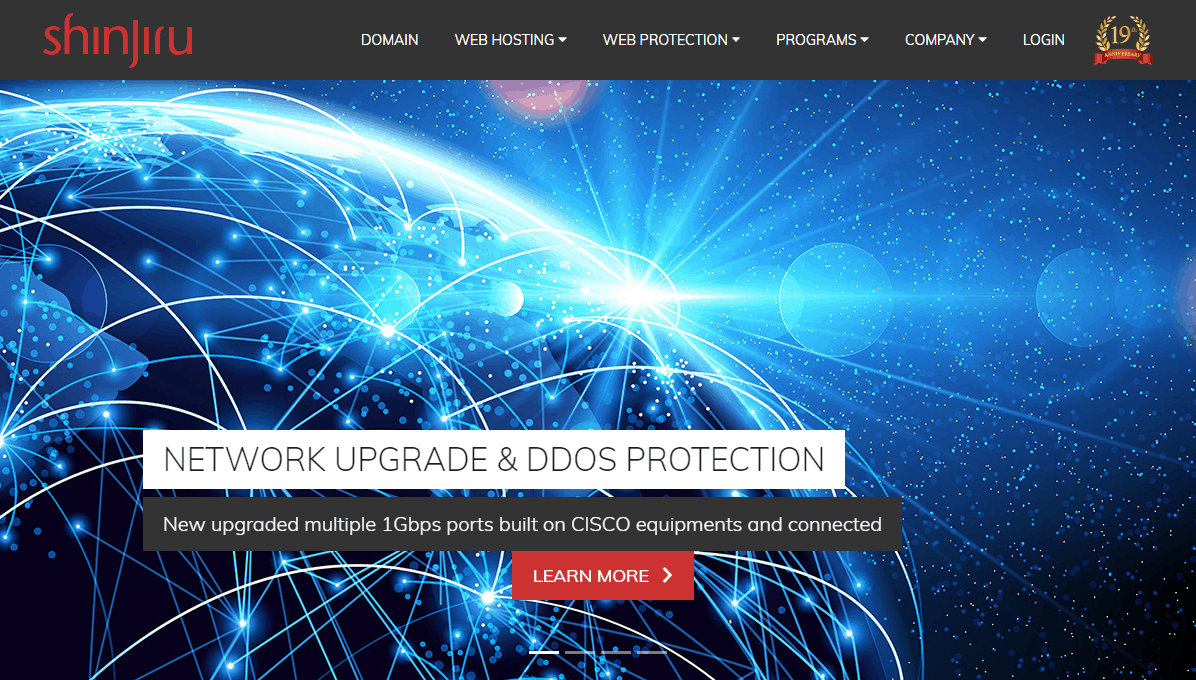 Offshore hosting is a funny term because it kind of depends on which shore you're standing on. What it really means is hosting that's located "far away," far from the first-world countries that are committed to copyright agreements and might violate your privacy because of it.
In Shinjiru's case, this faraway shore can be Malaysia, Bulgaria, Singapore, and five other locations
. The company operates state-of-the-art data centers in each country and offers shared hosting, VPS, and dedicated solutions. Prices are surprisingly fair, and even
Shinjiru's
basic shared hosting plan
starts with 100GB of storage space. While the company offers many security features, they aren't included with the basic shared plans.
These are unfortunately limited to the more expensive WordPress and Strongbolt plans.
Features
Pay with CoinPayments – Use the platform to pay with bitcoin and Ethereum, or manually transfer bitcoin to the company's bitcoin wallet. Manual transfer of bitcoin will result in a longer confirmation process and can't be taken back.
Uses LiteSpeed server technology – LiteSpeed is one of the latest and most efficient technologies available in today's market, although it is not yet widely adopted. Websites hosted with LiteSpeed can anticipate faster loading times and improved overall performance.
Strongbolt plans – These contain all the protections that the basic plans lack, including a hidden DNS (Domain Name System) and IP address, advanced DDoS (distributed denial-of-service) protection, and a security suite to defend your site against malware and hackers.
24/7 support – The company's agents are available to assist around the clock, through phone, Skype, live chat, and support tickets.
Check out our detailed Shinjiru review for all the details.
Money-Back Guarantee

30 days

Uptime Guarantee

99.9%

Data Centers

5 in Europe, 3 in Asia

Starting Price

$

3.50
How To Purchase Web Hosting with Bitcoin
The following guide covers purchasing Hostinger's affordable web hosting with bitcoin, but the process is similar with our other top alternatives. Here's how you can buy web hosting with BTC in just a few short steps: 1.
Sign up for a bitcoin wallet.
I recommend Coinbase, as it's very beginner-friendly. You can sign up by clicking the
Get Started
button on the top-right of its website and filling in the signup form. You'll need to upload proof of identity and set up a payment method when prompted. 2.
Purchase bitcoin.
You can now purchase bitcoin by clicking the
Buy/Sell
button in the top-right of the Coinbase dashboard. Select the
Buy
tab in the pop-up menu, select
Bitcoin
and a payment method, and enter how much you'd like to spend — there will be a small transaction fee, so be sure to take this into account. 3.
Choose a Hostinger plan.
Go to the Hostinger website
 and add a web hosting plan to your cart. Choose a billing cycle, enter an email address, and then choose
CoinGate
(Hostinger's crypto payment processor, not to be confused with Coinbase)
as your payment method. 4.
Pay with bitcoin.
In the CoinGate payment gateway, select
Bitcoin
as your payment currency and then scan the QR code to finalize the transaction in the Coinbase app. If you'd prefer, you can manually copy the bitcoin amount and payment address into Coinbase's
Send and Receive
function – either way works. CoinGate will then detect your payment and will give you an ETA on payment confirmation. Once your transaction is complete, you should be brought back to Hostinger to access your new web hosting account.
If you cannot access your Hostinger web hosting account after a few hours, you may need to verify the transaction with Hostinger support. To do this, go to the Assets tab on the left side of the Coinbase dashboard. Then, navigate to Wallet and click on the transaction to Hostinger. Finally, click View on block explorer. This will bring you to the transaction as recorded in the blockchain. Note the transaction ID, sender address, recipient address, and status. You can then give this information to Hostinger's live chat support to verify your transaction and get access to your web hosting account.
Understand Your Privacy Needs, and Choose Your Bitcoin Host Accordingly
There are cons to paying with bitcoin, as your account won't be activated immediately. Payment verification can take a few hours, or even longer, and because of the volatile nature of cryptocoins, who knows how much your refund will be worth – if you decide to ask for it. And still, if privacy, anonymity, and supporting the crypto community are important to you, there aren't many alternatives to bitcoin. No money trail will lead back to you, and with offshore hosting, you'll be as protected as can be against government meddling. While all the hosts on this list will serve you nicely,
Hostinger will provide you with the best prices
.
Need private hosting with great performance? I'd recommend Hostwinds
. If you know how to optimize a website, you can get some truly impressive performance at little cost.
If you need a company that makes security a priority, Namecheap may be right for you
. It offers cheap hosting and domain registration with free privacy protection.
Before you sign up for a long-term plan, I recommend hopping over to our
web hosting coupon page
to see where you can get the best deal. Use the following table to quickly understand the differences:
Basic Shared Plan
Cryptocurrencies Accepted
Starting Price
Hostinger
30 GB storage space, 100 GB bandwidth

Bitcoin, Bitcoin Cash, Ethereum, and 70+ more

$

1.99

Hostwinds
Unlimited storage space, unlimited bandwidth
Bitcoin, Bitcoin Cash, Ethereum, Litecoin, and many more

$

6.47

Namecheap
20 GB storage space, unmetered bandwidth
Bitcoin, Bitcoin Cash

$

1.88

Bitcoin Web Hosting

Unlimited storage space, unmetered bandwidth

Bitcoin, Ethereum, Monero, Ripple, and 6 more

$

6.00

Shinjiru
100 GB storage space, unmetered bandwidth
Bitcoin, Ethereum

$

3.50
FAQ
Can you buy a domain name with Bitcoin?
Yes, all the hosts on this list accept Bitcoin payments so if you buy a domain name at the same time as your hosting (if one is not included), then you can pay for the whole invoice using cryptocurrency. In addition, Namecheap accepts Bitcoin and cryptocurrencies for purchasing domain names without having to purchase web hosting at the same time.
Does Hostinger's money-back guarantee work with cryptocurrencies?
No, unfortunately not. Because cryptocurrency rates are always changing, if you choose to pay for your Hostinger web hosting using Bitcoin or another crypto payment method, you won't be able to get a refund, even if you cancel your plan within the first 30 days. 
Is it safe to buy hosting with Bitcoin and other cryptocurrencies?
Yes, it's safe to purchase web hosting and domain names with crypto – but you should always ensure your computer security is up to date and consider using a VPN for added security and anonymity. Most vendors allow you to use CoinPayments, which is the safest way to use cryptocurrency to pay for your hosting. Some cryptocurrencies, like BitDegree, can only be used via manual blockchain transfer, however, which is slightly more risky compared to using a secure platform like CoinPayments.
Is Hostinger easy to use?
Hostinger's extensive knowledge base and user-friendly control panel helps it to be one of the easier web hosts to get started with. Alternatively, many of the hosts in
our list of the best web hosting services
are appropriate for beginners. You may also wish to check out
our complete guide to building a website in 2023
.
Keep in mind that not all the providers in the above lists will accept cryptocurrency as a form of payment – be sure to check this before making any final decisions.