This SiteGround vs Hostwinds battle isn't a one-horse race. Both providers cover a large spectrum of hosting services and have a large clientele worldwide.
Which one is better?
Hostwinds may be cheaper and faster than SiteGround, but SiteGround is a lot easier to use and offers a broader range of features. When I tested SiteGround and Hostwinds across five important parameters, SiteGround won in three categories.
Click here to see SiteGround's latest deals or keep reading to find out what makes SiteGround the winner of this comparison.
1. Plans and Pricing
Hostwinds Offers Cheaper Shared Hosting Plans Than SiteGround
SiteGround offers shared, cloud, reseller, managed WordPress hosting, WooCommerce hosting, and dedicated servers. Hostwinds also has shared, cloud, reseller, and dedicated server hosting but doesn't provide WordPress hosting.
With SiteGround for shared hosting, you can choose to be billed monthly, annually, biennially, or triennially. With Hostwinds, you can subscribe monthly, quarterly, semi-annually, annually, biennially, or triennially. Naturally, you pay less when you sign up for the longest term.
A free domain name is included with some hosting plans from Hostwinds
SiteGround has three shared hosting packages, and Hostwinds has three personal, and three business shared hosting plans. Even though Hostwinds isn't the cheapest host and has high package renewal prices, it offers more affordable prices (even without discounts) than SiteGround.
Hostwinds also provides a free domain name with its plans, whereas SiteGround doesn't.
With SiteGround, you'll get a 30-day money-back guarantee, while Hostwinds has a slightly complicated refund policy. You get a 48-hour, 14-day, or 30-day money-back guarantee, depending on your subscription period.
Both hosts come with free website migration except for SiteGround's smallest shared hosting plan.
The winner? Hostwinds. Compared to SiteGround, Hostwinds provides more affordable prices for budget-conscious users and a free domain name.
2. Features
You Get More Premium Shared Hosting Features with SiteGround
With SiteGround, you can host from 1 to unlimited websites and get from 10 GB to 40 GB SSD storage, 10,000 to 100,000 monthly visitors, unlimited email accounts, unlimited databases, and managed WordPress.
SiteGround also provides free daily backups, free SSL certificate, free Weebly site builder, and free CDN with all its shared hosting plans.
The GrowBig and GoGeek plans come with speed-boosting caching, site staging, and you can add collaborators to your website (they get their own SiteGround accounts). The GoGeek plan also comes with free White-Label Clients, access to more server resources, pre-installed Git, and priority support.
Hostwinds offers unlimited SSD storage, unlimited bandwidth, unlimited email accounts, unlimited databases, and from 1 to unlimited hosted websites. It also comes with free SSL, free Weebly site builder, nightly backups, and free CDN.
Hostwinds uses cPanel, whereas SiteGround no longer does. It has developed a control panel called SiteTools, which is even easier to use than cPanel.
Use the following side-by-side comparison table to see more differences in features between SiteGround and Hostwinds:
| | | |
| --- | --- | --- |
| | SiteGround | Hostwinds |
| Hosting Types | Shared, WordPress hosting, WooCommerce, cloud, reseller, dedicated servers | Shared, reseller, White Label hosting, managed VPS (Linux and Windows), unmanaged VPS (Linux and Windows), cloud, dedicated servers |
| Free Domain | ✘ | ✔ |
| Free SSL Certificate | ✔ | ✔ |
| Disk Space | 10 GB to 120 GB | 30 GB – Unlimited |
| Bandwidth | Unmetered | 1 TB – Unmetered |
| Automatic Backups | Daily | Daily |
| Control Panel | SiteTools | cPanel |
| Email Accounts | Unlimited | Unlimited |
| Free CDN | ✔ | ✔ |
| Free Site Migration | Yes, but not on the cheapest shared or WordPress plans | ✔ |
| Money-Back Guarantee | 30 days | 48-hour, 14-day, or 30-day (depending on contract length and if it is at first billing cycle or renewal) |
The winner? SiteGround. Even though both hosts provide many quality features with their shared hosting plans, SiteGround comes with more value-added resources than Hostwinds.
3. Performance
Hostwinds Provides Faster Page Loading Speeds
While SiteGround operates via its servers located in the U.S.A., the U.K., the Netherlands, and Singapore, Hostwinds only has servers in the U.S.A. and the Netherlands. These server locations mean that SiteGround has a more global presence.
Both hosts use SSD storage, which is preferred over regular HDD storage as it processes website data at a faster rate. This rate reflects directly on your website's stability, loading speeds, and overall performance.
You'll get free Cloudflare CDN with all plans from both hosts. Among other benefits, a CDN, or Content Delivery Network, boosts your website's loading speed as it places it on a global network of cloud servers.
SiteGround promises a 99.99% uptime guarantee, and Hostwinds 99.9999%. When we tested the uptime, SiteGround exceeded its promise, yet Hostwinds reported minor downtime.
Even though I expected blazing loading speeds from SiteGround, to my disappointment, this wasn't the case. Several locations showed slow loading speeds resulting in a below-average global score. Check out the test details in our expert's full review.
On the other hand, when testing Hostwinds' speeds, all locations showed promising load times. This resulted in a perfect global score as you can see in Hostwinds' detailed review.
Despite SiteGround's performance-boosting features and high uptime, Hostwinds scored faster-loading speeds making it the winner of this round.
4. Security
SiteGround Has More Free Security Features
The security features that come with all of SiteGround's plans include a web application firewall (WAF), artificial intelligence (AI) anti-bot system to protect against malicious attacks such as DDoS and Brute-Force, 24/7 server monitoring, and access to the Sucuri-developed SG Scanner (antimalware).
On the other hand, Hostwinds doesn't include many security freebies with its plans. Instead, it offers a security package called WindShield as an optional paid add-on. This package contains DDoS protection, firewall setups, and security audits.
Another benefit of the free Cloudflare CDN, which both hosts include in all plans, is that it acts as an additional layer of DDoS protection against any attacks (DDoS/Brute-Force) targeting its network of servers.
Hostwinds doesn't use CloudLinux OS by default, but you can upload it if you want. SiteGround supports a similar system, called Unique Account Isolation, with all its plans. These systems isolate your account from other users on the same server to protect it from threats targeting others. They also ensure the fair allocation of server resources.
All plans from both hosts come with free SSL certificates and automatic daily backups.
SiteGround is more proactive about your website's security earning it the winning title of this round.
5. Support
SiteGround's Support Staff are More Knowledgeable
Even though both SiteGround and Hostwinds have informative and well-organized websites, SiteGround's knowledgebase is far more comprehensive.
SiteGround provides 24/7 customer support via live chat, phone, and ticket. When I tested the live chat, I instantly connected to an agent who was very helpful and professional. The conversation didn't end until he answered my questions thoroughly. He seemed well-trained and highly knowledgeable.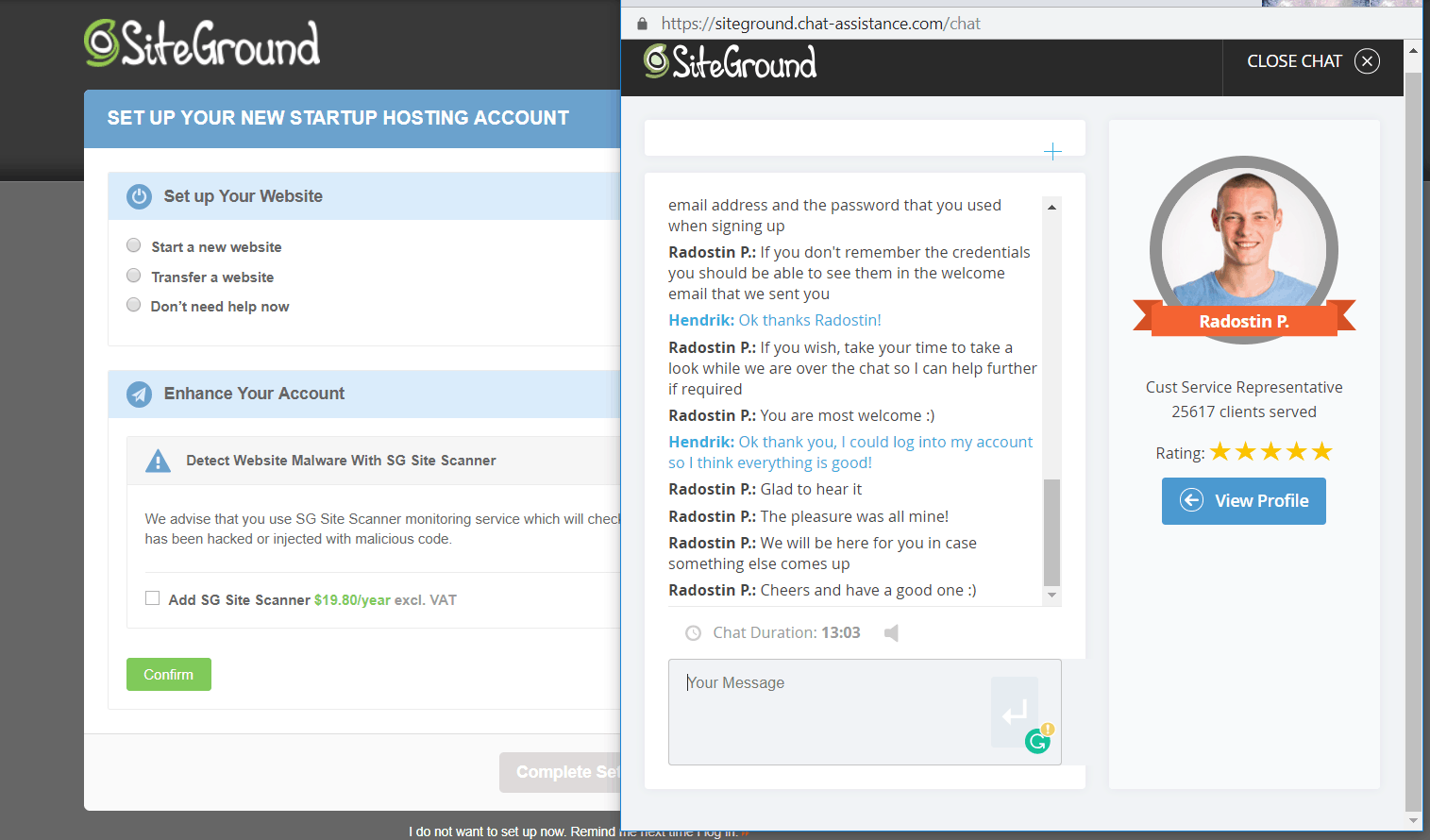 Hostwinds' support is also available 24/7 through live chat, phone, email, and support ticket. Even though I quickly connected to a live chat agent, they weren't as helpful as I'd hoped. Some of the information provided wasn't even accurate, which gave me the impression that the support staff could use more training.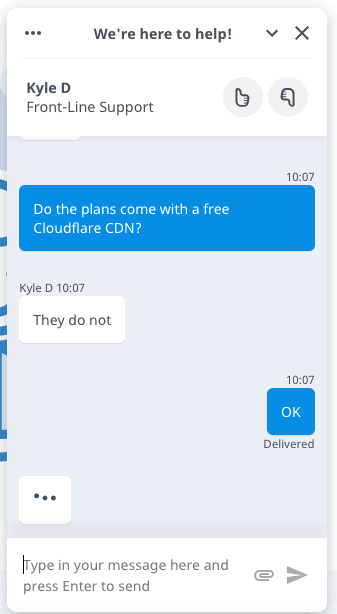 Both hosts have highly responsive customer support, but SiteGround's better-trained support staff makes it the more reliable host for customer service.
Close Match, but SiteGround Emerges as the Winner
While both SiteGround and Hostwinds offer feature-packed hosting packages for individuals and small to medium businesses, each one of them stood out in certain areas. For example, Hostwinds won the pricing and performance categories, whereas SiteGround took the lead in all the other three categories to be crowned as the winner of this challenge. See all SiteGround's hosting plans
These two hosts are both featured in our expert list of the best web hosting services in the market today.
Plans and Pricing
More expensive. Offers a 30-day money-back guarantee
Cheaper plans even after renewal. Offers 48-hour, 14-day, and 30-day money-back guarantee
Key Features
Free site migration, free SSL, SSD storage, free site builder, and unlimited email accounts
Free domain, free site migration, free SSL, unlimited email accounts, SSD storage, and free site builder
Performance
More server locations, free Cloudflare CDN, 99.99% uptime guarantee, no downtimes, slow loading speeds
Fewer server locations, free Cloudflare CDN, 99.9999% uptime guarantee, minor downtimes, fast loading speeds
Security
WAF, AI anti-bot system (DDoS/Brute-Force protection), 24/7 server monitoring, SG Scanner, Unique Account Isolation, free automatic daily backups
WindShield (optional paid add-on which includes DDoS protection, firewall setups, and security audits), CloudLinux OS (optional), free automatic daily backups
Support
Comprehensive and organized knowledgebase, 24/7 live chat, phone, and support ticket, staff are highly responsive and helpful
Less comprehensive and organized knowledgebase, 24/7 live chat, phone, support ticket, and email, staff are highly responsive but not helpful
FAQ
Which is better, SiteGround or Hostwinds?Both SiteGround and Hostwinds are among the top 10 web hosting services. However, SiteGround is better when it comes to robust infrastructure, ease of use, reliable support, and top-quality features.Does Hostwinds offer WordPress hosting?Hostwinds doesn't sell WordPress hosting plans. But you can use its Softaculous one-click application installer to get WordPress or other popular CMS applications. Hostwinds not quite right for you? Take a look at the top recommended managed WordPress hosting services.Is Hostwinds good for VPS hosting?Hostwinds offers a lot of managed and unmanaged VPS packages for both Linux and Windows users. You can get SSD storage, nightly backups, and 1Gbps ports. However, these VPS hosting services provide cheaper and more trusted VPS solutions.Does SiteGround use cPanel?No. SiteGround has ditched cPanel and developed its own control panel, SiteTools. It's even easier to use than cPanel and efficient in handling multiple tasks. Discover more cPanel alternatives.