the cost of using cPanel may no longer make sense
. Do you despair? Of course not. Alternatives exist. All hosting control panels are here to solve the same problem: While your web server
can
be configured using only the command line and complex-looking code, it just isn't practical.
It's so much easier to use a graphic point-and-click interface
. The best cPanel alternatives do exactly that. Using a clean and intuitive design, and built on efficient, fast-loading code, they provide a surprisingly similar management experience.
Some of them are even 100% free
. Sure, some parts are different, but learning them is worth your time. Why? Because cPanel is in the process of maximizing its business model, like Plesk did just a few years ago, when it raised prices over 40%. With time, as was the case with Plesk, this will result in a shift toward other panels. If you don't even try the alternatives, you'll make it even harder to switch in the future if prices become completely unbearable.
Don't be complacent. Read on to explore the options, and get yourself a backup plan
.
Our Top Picks for cPanel Alternatives
What We Look For in the Best Alternatives to cPanel
The panels on this list can act as a cPanel alternative, giving you access to all the same basic features we've come to expect. Specifically, they provide:
Full support for all Linux distributions – cPanel runs only on Linux machines and acts as the interface between you and the command line. The five panels on this list can all run on the same machines as cPanel, and some even support Windows and additional Linux distributions.
Easy installation – Many shared hosting plans won't give you the option of choosing your own panel, but VPS (virtual private server) solutions are yours to command. All the panels on this list offer easy installation via one or two command lines. If you're not comfortable with installing them yourself, a good hosting company can do it for you.
Same basic features – I wouldn't recommend a panel that will leave you hanging where cPanel didn't. These alternative panels provide all the basics: managing domains, emails, FTP, databases, backups, and easy CMS (content management system) installations. Some go even further in their integrations and options.
Easy-to-use interface – A graphic interface needs to be intuitive and straightforward. Not all panels on this list are a thing of beauty (cPanel isn't, either), but after getting to know them, you'll be able to breeze through any configuration.
Price – The price hikes and the fear of what's to come are what triggered the mass migration from cPanel. The panels on this list have either been especially stable with their pricing, or are complete open-source alternatives. Yep, open-source means they're 100% free.
Alrighty. Let's start!
1. DirectAdmin – Offering All the Same Features, with No Limits on Domains

One of cPanel's leading competitors, DirectAdmin continues to gain momentum and build its client base.
Since cPanel's announcement, it has been the number one alternative for resellers and private users
alike.
DirectAdmin manages to deliver on all of cPanel's features while being
considerably faster and much less resource-hungry
. That means less server power spent on management and more power available for your users and customers. In my book, that's a win-win. Moreover, the DirectAdmin team made
strides in design and security
, and the panel has a new theme coming soon. If you're looking to get on board, website hosts like
InterServer
 are already offering DirectAdmin VPS solutions.
Easy CMS installations – Install via Installatron or Softaculous, the same service that powers cPanel's CMS installations. WordPress, Joomla, and many others are all available with one-click installation.
Support – For any question or problem, DirectAdmin has a help desk team ready to assist. Support is also available through email, and the web contains a ton of helpful resources and community advice. Just check the date to make sure it's relevant.
Advanced features – DirectAdmin offers plugins and add-ons that can enhance the panel's features. Among them are plugins for webmail, custom graphic skins, security, marketing, and more.
Price – The standard license is slightly more expensive than cPanel's, but unlike cPanel, there is no limit on domains. In addition, you get "protection against price increases." Gosh, I see why cPanel didn't provide that.
2. Plesk – A Competitor That Plays for the Same Team

Plesk is currently the
second most popular hosting panel
on the market and has a complete monopoly over Windows hosting (which cPanel doesn't support). It's widely known for being the prettiest panel available, and there's no doubt that it provides a
flawless user experience
. Unlike cPanel, which delegates its server-side management to Web Host Manager (WHM),
Plesk provides all user and server-side configurations on the same panel
. Depending on the amount of control and advanced options you want at your fingertips, it's either a blessing or a curse. Interestingly enough,
Plesk is owned by the same company that controls cPanel
. This leads to much speculation about the future of both services, as the community fears a price hike from one will soon be followed by the other. Despite those worries, I still recommend familiarizing yourself with Plesk, as it's going to be
the only Windows panel around
for a long time. You can check the options out at
Hostwinds
and
Liquid Web
.
Outstanding graphic interface – With animated effects and colorful icons, this is really a notch above the rest of the competition. That isn't so important in the long run, but it sure does feel like a premium experience.
Available for most operating systems in the market – Unlike cPanel, which is limited to a few Linux distributions, you can run Plesk on anything from a Windows machine to a Linux Debian distribution.
Support – While cPanel offers expensive support on a pay-per-case basis, Plesk includes 24/7 professional support through email and phone. Whatever problem you run into, you'll always have the representatives on your side.
Price – Depending on the number of domains you're looking to manage, Plesk can either be more or less expensive than cPanel. In terms of price increases, it's been quiet on the Plesk front for a few years now, but remember to stay vigilant.
Want to learn more about the differences between cPanel and Plesk? Read my
in-depth comparison
.
3. Froxlor – A Lightweight Open Source Solution with a Strong Support Community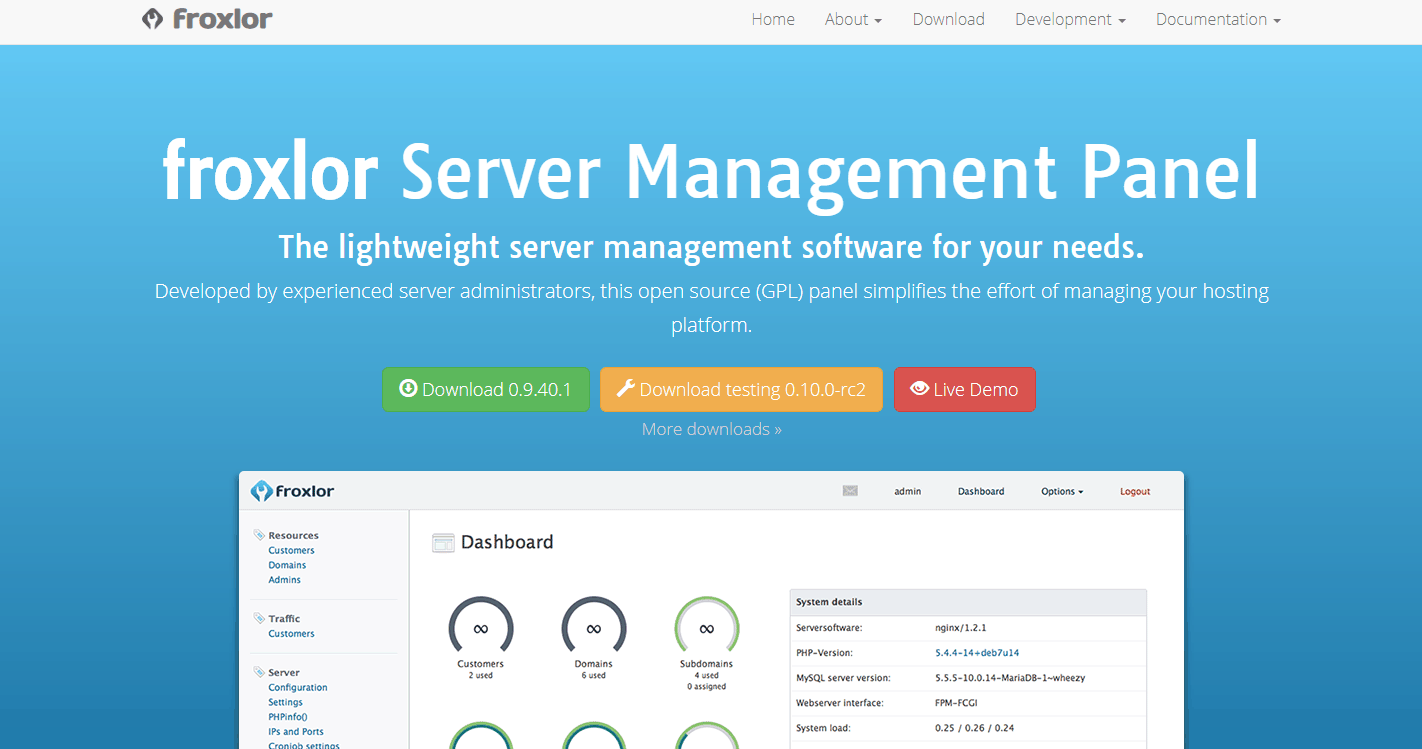 Pricing structures can be a real headache. Add this, take that into account, round up … I wish things could just be free. Apparently, I'm not the only one! The good people of the internet have come together to create a
completely open-source, free-to-use hosting panel
. Does that sound too good to be true? It isn't, but there are some things that are important to remember. The community (the "Froxies") supports and contributes to Froxlor, continuously updating it, but
it's extremely hard to compete with cPanel's paid, full-time crew
. That's why some things are just slower with open-source projects.
Some bugs take longer to solve, and support is really limited to online forums and Reddit
. Still, this panel packs a wallop — all basic management features, a ton of options for reseller administration, all for zero dollars a month. Just ask the good guys at
InMotion Hosting
or
A2 Hosting
 to install it for you.
Lightweight and powerful – Designed by a team of seasoned server administrators, Froxlor delivers all necessary features, but never at the cost of performance. Speedy and light on your system's resources, it's a joy to play around with.
Powerful reseller administration options – Customize each domain on your server with ease, according to your clients' demands. Each domain can be configured with its own resources, a different web server (NGINX, Apache, and more), and a different PHP version. Just point and click, ladies and gentlemen.
Easy SSL integrations – Let's Encrypt, the most commonly provided SSL certificate, is actually a free service that many companies integrate into their hosting. With Froxlor, just create your own certificate with ease and get your padlock on.
Be part of the process – If you have ideas for features, thoughts about the condition of things, and bugs that came your way, just share! This is an open community that works together to get better. Join in.
4. Virtualmin – The Most Advanced Configuration Options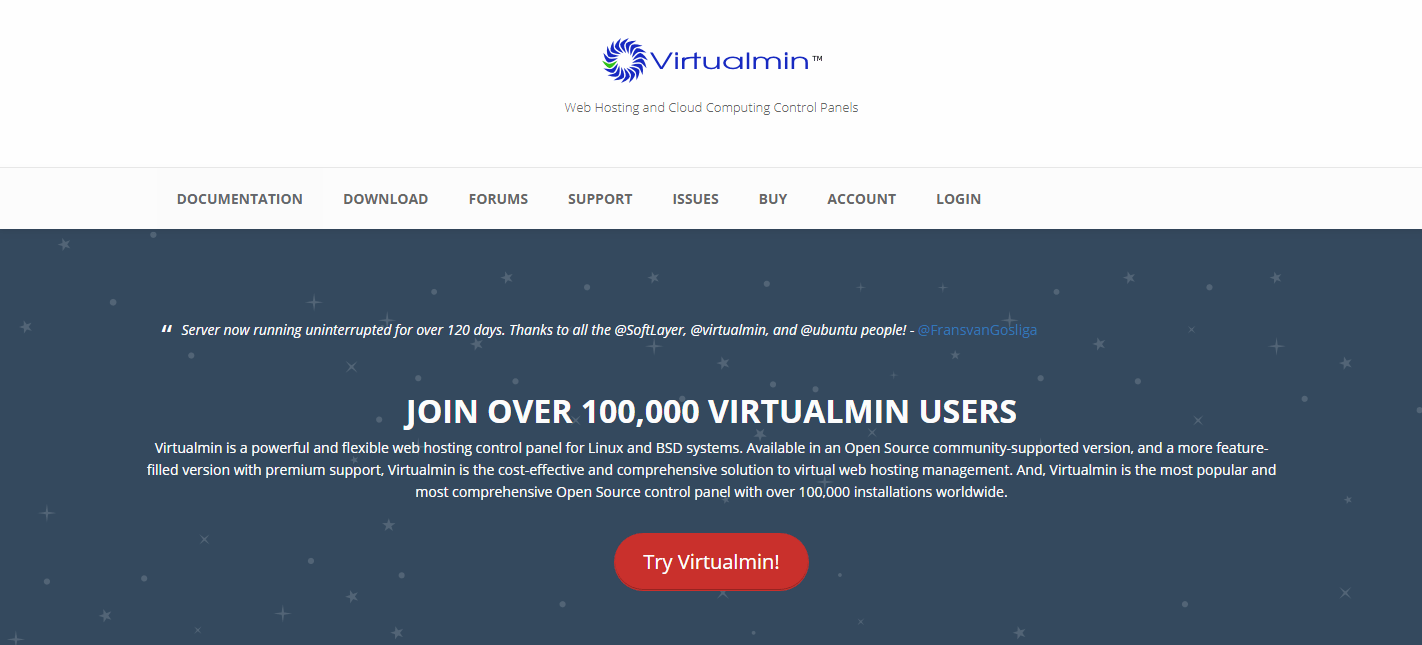 Built atop Webmin, a popular system administration interface for Linux, Virtualmin aims to provide advanced hosting management for the dedicated pros. It's completely
open source and free to use
, although a paid
Professional version is also available
. For an open-source alternative, Virtualmin is
surprisingly well designed
. It uses styled side menus, not unlike Plesk, and provides a detailed system health dashboard — a basic idea that is missing from cPanel. Still,
I wouldn't recommend Virtualmin to beginners
. There are
a lot
of options here. Configurations and settings and customizations… if you don't know what you're doing, things can get messy. If you're willing to learn, that's a whole other story.
Hostinger
 has some great prices for VPS plans, so you can give this relationship a shot.
Complete control – Most panels, including cPanel, do a good job of offering you ways to manage your server via their interface. Very few panels, if any, reach the complete level of customization Virtualmin offers.
Mobile responsive – Managing servers is known as a job for the big screen, but it doesn't have to be. Virtualmin has been optimized for mobile and provides all the same options through your Android device or iPhone.
Professional version – In addition to its free, open-source solution, Virtualmin also offers a Professional version. It includes dedicated support, easy CMS installations, and an advanced site-building tool. It's as close to an all-in-one solution as control panels get.
Security tools – Virtualmin comes with security tools to protect you against the dangers that lurk online. Enjoy brute force protection, two-factor authentication, and a slew of extra services that can be incorporated.
A free domain name is included with some hosting plans from Hostinger
5. Ajenti – Best for Small-Scale Experiments and Personal Projects

In the developers' own words, this is an admin's tool for a more civilized age. I think it deserves a spot on this list just for the Obi-Wan reference, but luckily, Ajenti offers some very interesting possibilities.
Completely open source and supporting many popular Linux distributions
, this free tool was made (and is maintained) by a team of server administrators and website developers. It isn't the best option for regular Joes and Janes looking to replace cPanel on their live website, but it does have specific use cases. Being both lightweight and free,
Ajenti can serve as a great alternative for projects that can't afford a proprietary solution and aren't looking for an overwhelming number of options
. University applications, personal web experiments, and other open-source initiatives should definitely check it out.
Simple interface – Ajenti offers a modern-looking interface, incorporating all best practices. It's not the most beautiful panel around, but every feature is easy to find and easy to edit.
Firewall protection – The service provides a firewall that can be enabled and configured from within the panel. Manage your defenses the point-and-click way, granting access only to services you approve of.
Monitoring and analytics – Browse detailed statistics regarding your configured domains, including current resource usage, monthly averages, server tasks, and more.
Personal support – Ajenti isn't run by corporate moguls and a marketing department. They're real people, and they would love to hear from you. Any problem that arises, just post on the forums. The developers will get back to you.
There's a Future after cPanel
Right now,
the situation with cPanel remains unclear
. Will there be more price hikes? How fast will the shared hosting market react? Will DirectAdmin replace cPanel as the go-to option, or will one of the other panels rise to the top? Whatever the answers to these questions, the important thing is for you to be prepared.
If you familiarize yourself with the best cPanel alternatives
and implement them in your hosting,
you'll never be dependent on a single panel
. It's a whole new world behind cPanel, as some of these panels let you point-and-click your way around advanced Linux configurations.
As you dig deeper into the world of servers, you'll gain knowledge
that most website owners just don't possess.
That knowledge will enable you to understand more, pay less, and optimize your website
and server to their full potential. Not a bad deal, if you ask me.
| | | | | | |
| --- | --- | --- | --- | --- | --- |
| | Free/Paid | Available with Shared Hosting | Easy SSL Integration | One-Click CMS Installations | Best Host |
| Direct Admin | Paid | No | Included | Included, through Installatron or Softaculous | InterServer |
| Plesk | Paid | Yes | Included | Included, through the Application tab | Liquid Web |
| Froxlor | Free | No | Included | Not included | InMotion Hosting |
| Virtualmin | Free, with an optional paid upgrade | No | Included | Included on the paid Professional version | Hostinger |
| Ajenti | Free | No | Not included | Not included | |