Featuring the first letter of your company in your logo is a great option for a straightforward yet memorable design. Whether you're a new company or revamping an existing business, showcasing a letter as the focal point is an effective way to convey your brand, without overcomplicating or cluttering the design. But just because a design is uncluttered, it doesn't mean it should look basic. An experienced logo designer can take a simple design concept and create something beautiful and effective, perhaps merging the N shape with an icon or using clever lines and negative space.
Keep reading, as I'll show you how you can hire a professional designer for $5.
---
9 Best N Logos
My colleague conducted an extensive logo design experiment where he tested some of the best services out there. Head over to his
expert logo design service review
 to see how the most popular services compared in design quality and value.
Getting Your $5 Logo
Your logo design is a vital part of your company's story and image, so it's important it reflects your brand. If you went to a creative agency – as many big, established businesses do – a branding package for a logo could range anywhere from a few hundred dollars to hundreds of thousands. So, how is a five-dollar logo design even possible? The answer is Fiverr. Fiverr hosts freelance designers from around the world and allows them to sell their logo design expertise from just $5. Each designer can set their fees from $5 upward, but many choose to offer entry-level packages at this price point to remain competitive in the market. There are thousands of skilled designers ready and waiting to design your ideal logo at an affordable rate. Want to have a browse to see for yourself? First,
head to the Fiverr homepage
. Search for a term like "initial logo", "monogram logo", or "minimal logo" to find a designer who specializes in letter designs. Browse through the results until you see a designer that interests you, then click to see their full profile. If you want to compare multiple designers, open up different profiles in tabs to keep your options open.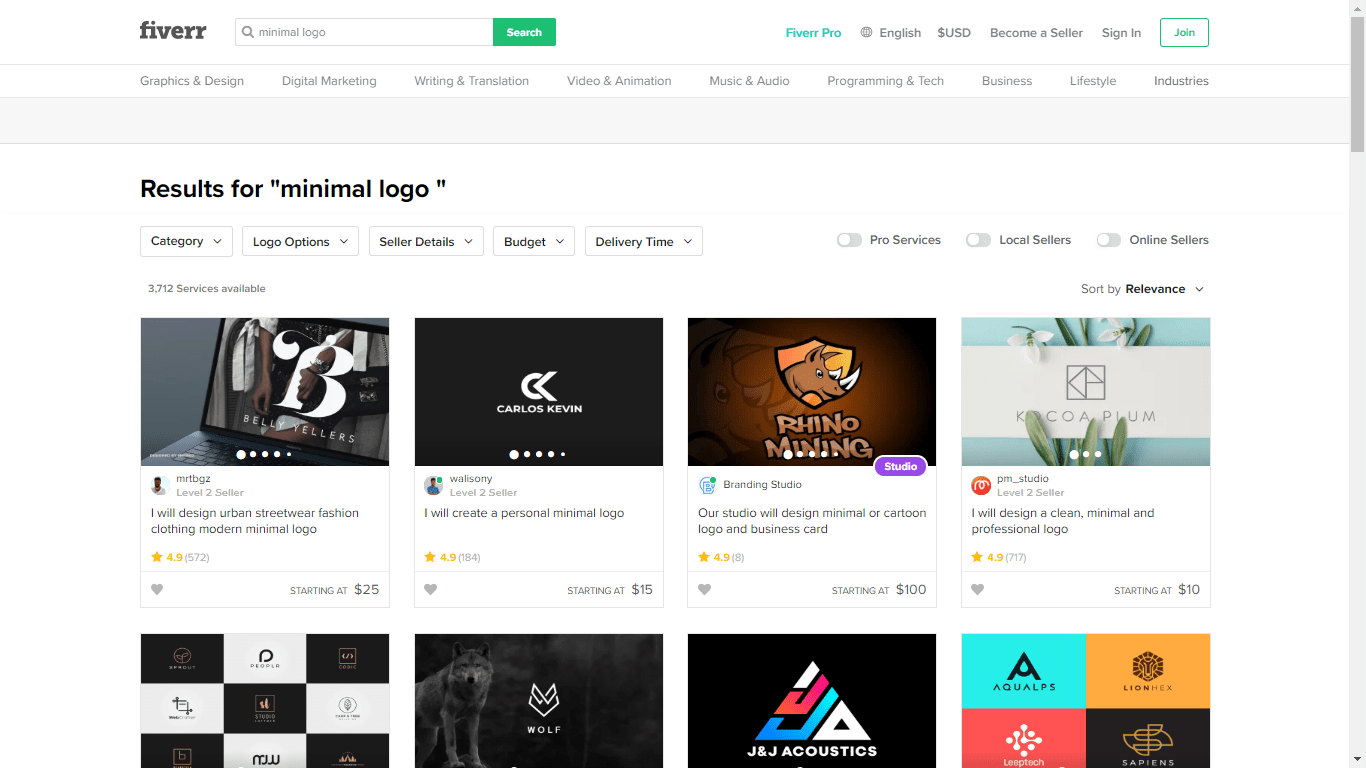 A designer's profile will show you exactly what they offer and the cost for each of their packages. Their "About This Gig" section and portfolio helps paint a better picture of their design style and package specifics. Like what you see? Click
Continue
to move ahead.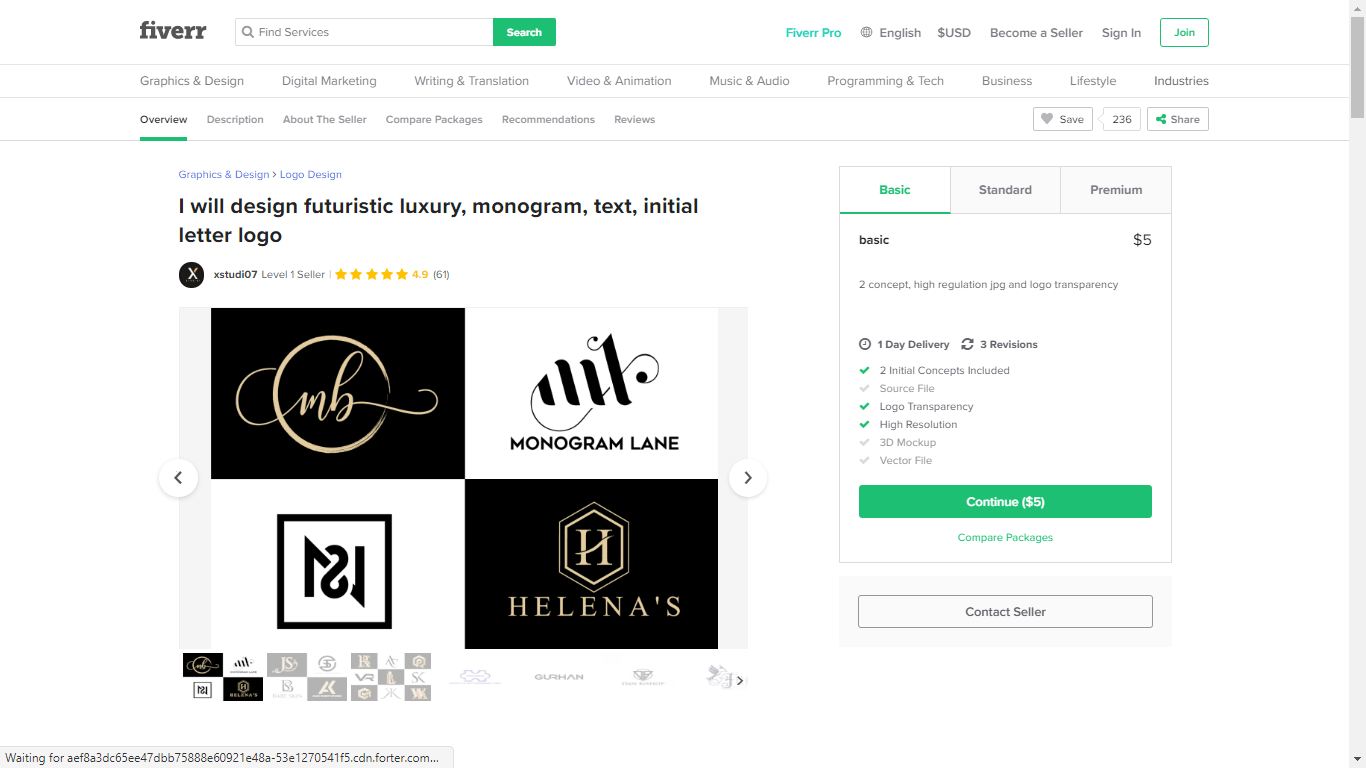 Add any optional extras, if you like, then review the final costs of the package before clicking
Order Now
to commission your designer.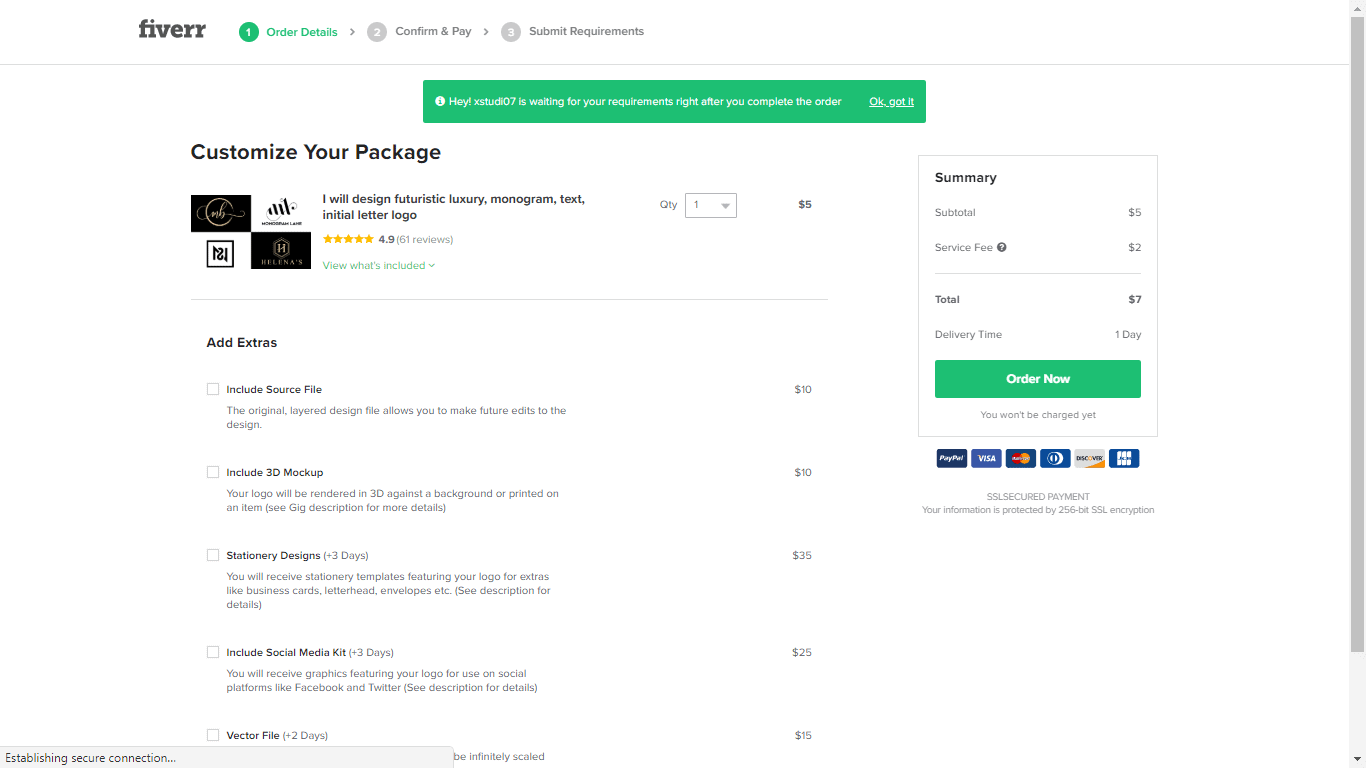 Once you've paid, you can send a full brief to your new designer, including any photos or graphics that inspire you. Here are a few Fiverr perks to bear in mind:
Customize set packages – Some designers (like in the example above) offer package extras that can be added for an additional fee. These can include multiple revisions, expedited delivery, and 3D mockups.
Clear seller levels – Each seller is given a level based on their time on the site and customer reviews. If you're looking for a more experienced designer, then opt for a higher-level seller.
No surprise costs – You won't get stung by any hidden extras. Your designer can never add fees once they've been hired.
Protected payments – Since all payments are made before your logo is complete, Fiverr holds the payment and won't release it to the designer until you're happy with the work you receive.
Interested in Fiverr? Check out
our in-depth review
for more tips and example logos.
Making Your Own Logo Design
If you're feeling adventurous, you may decide to design your company's logo yourself. This is possible if you know which tool to use, but be sure that you're ready to invest some time and energy tapping into your creativity. The best way to make your own logo is to use a DIY logo maker. I'll save you time researching options by recommending Wix Logo Maker. With this easy-to-use tool, you start by answering a few questions and you'll get hundreds of bespoke, editable logo suggestions to choose from. Want to see how it works? It's pretty simple.
Head to the Wix Logo Maker homepage
 to create a profile and get started. Enter your company name and tagline to begin.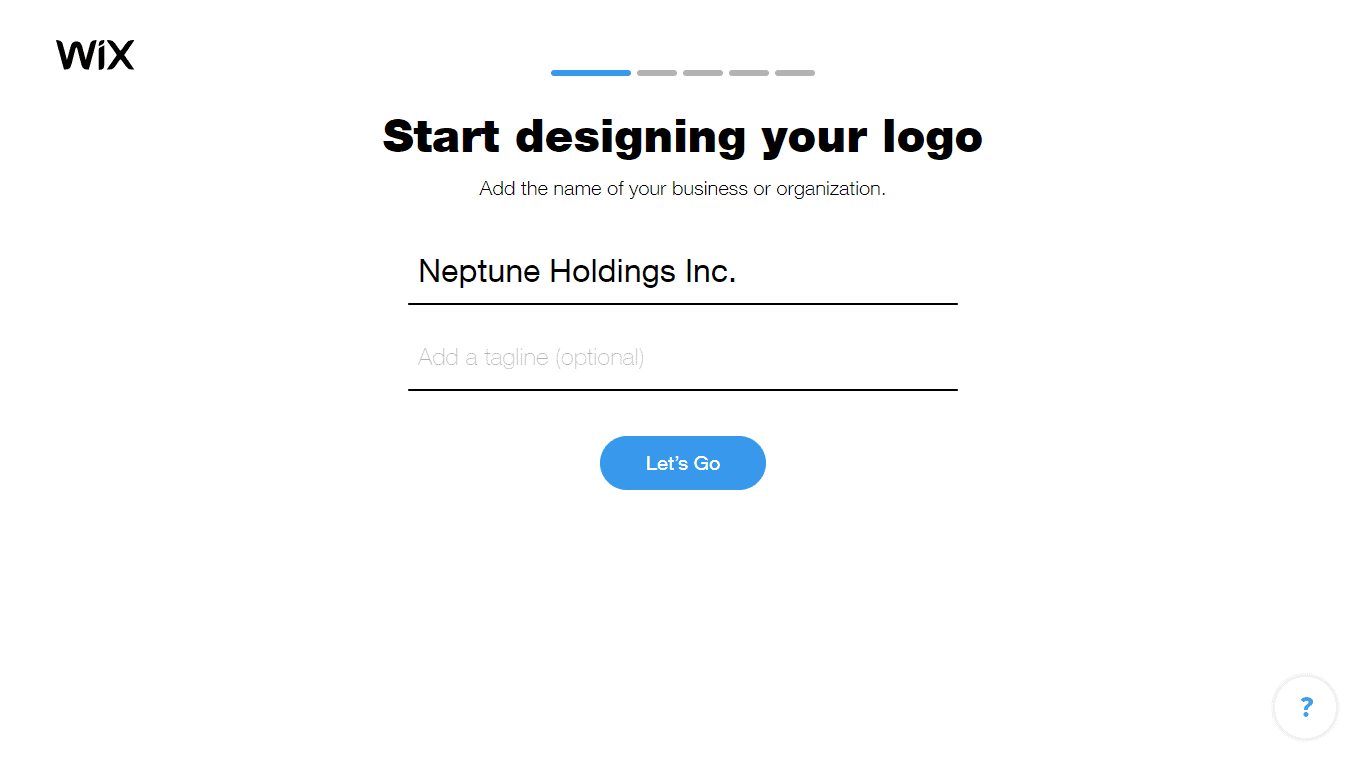 Start typing in your industry and a list of options will appear in a dropdown list. Choose the closest option to your business.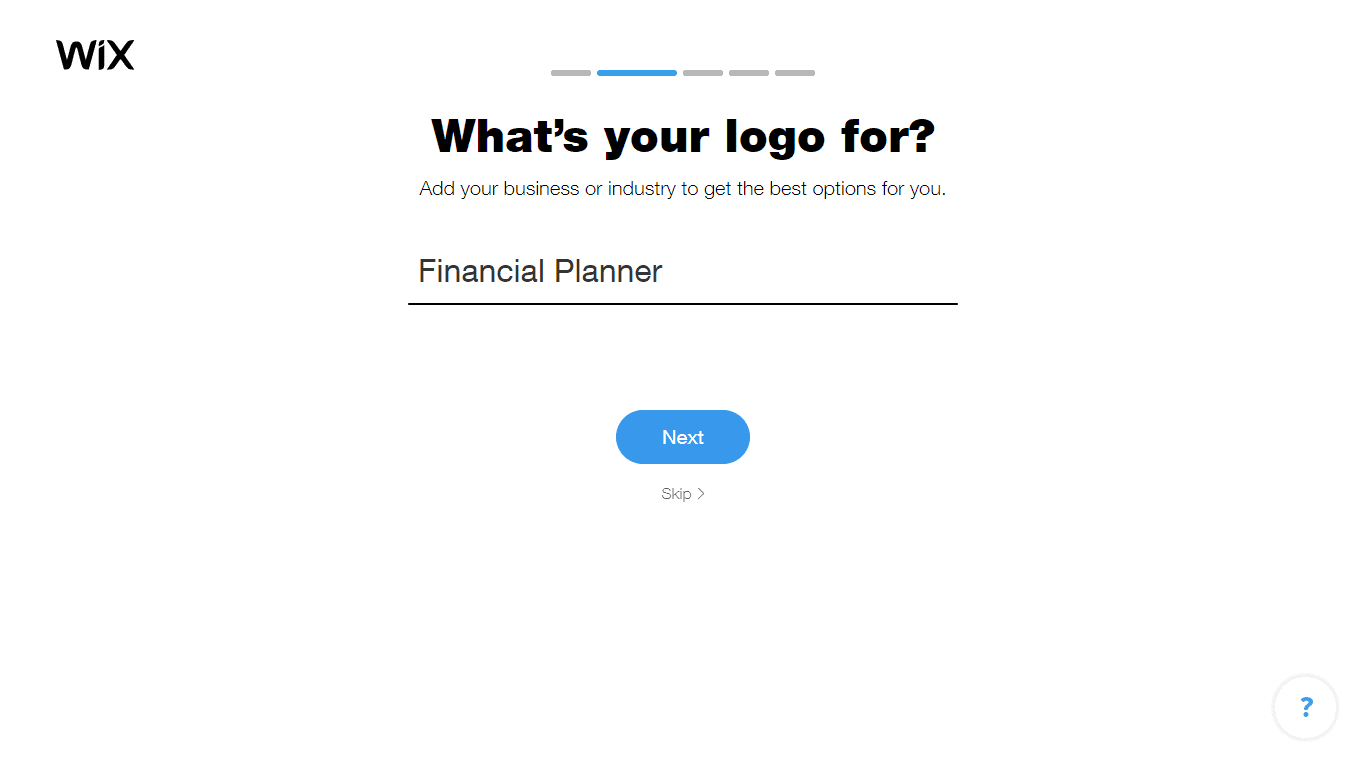 Next, a group of descriptive words will pop up. Choose any words that describe your ideal logo's aesthetic. You can choose as many as you like here, depending on how specific your vision is.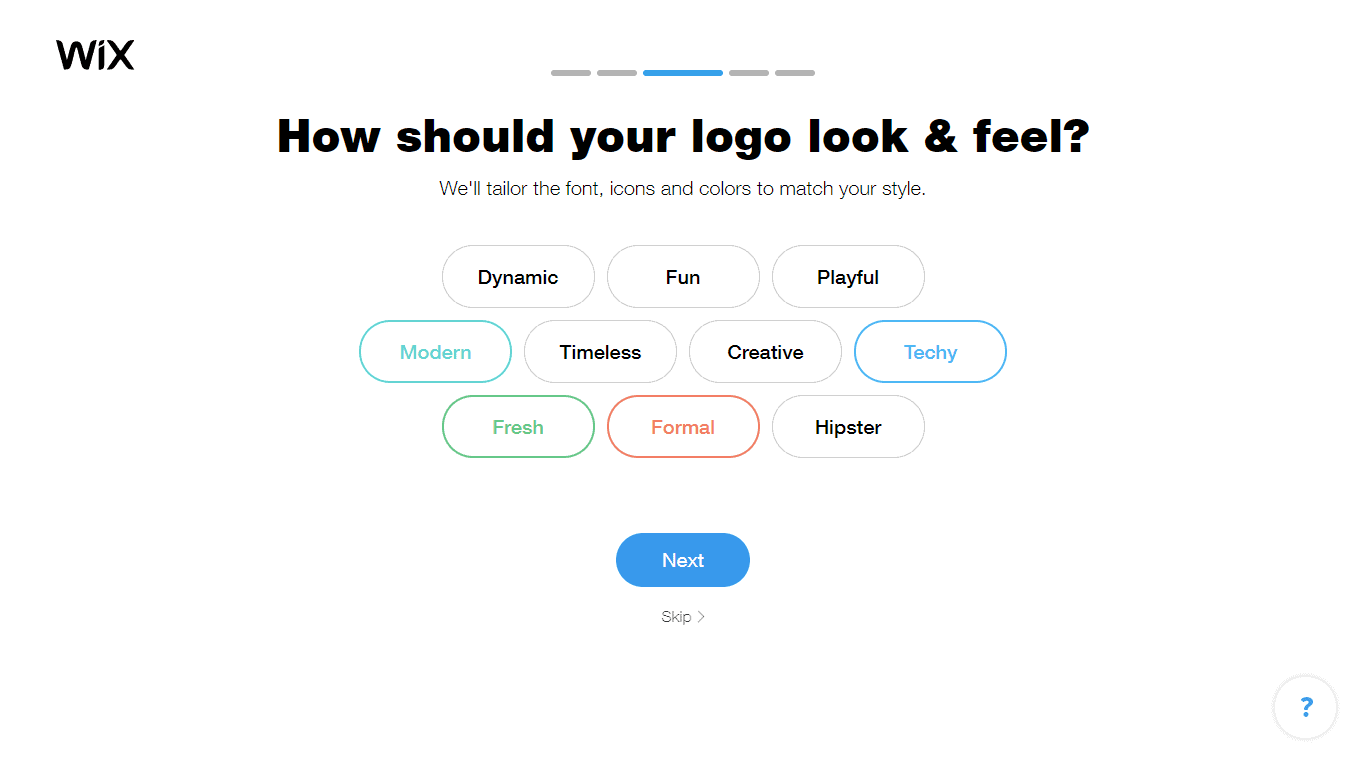 In the next step, you'll find a series of contrasting logo pairs. For each pair, you'll need to select which design you prefer. This helps the artificial intelligence (AI) learn your likes and dislikes.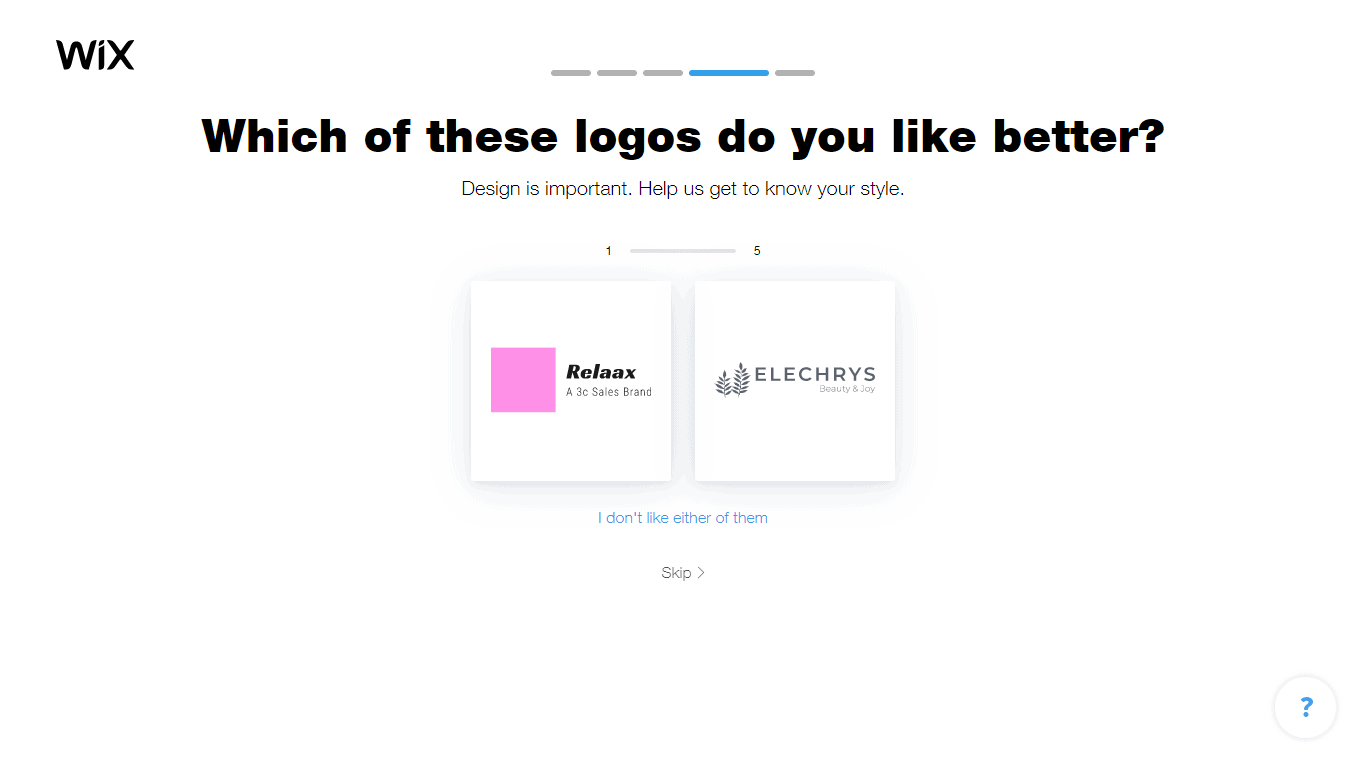 Lastly, tell Wix Logo Maker where you'll be using your logo, like on social media or on merchandise.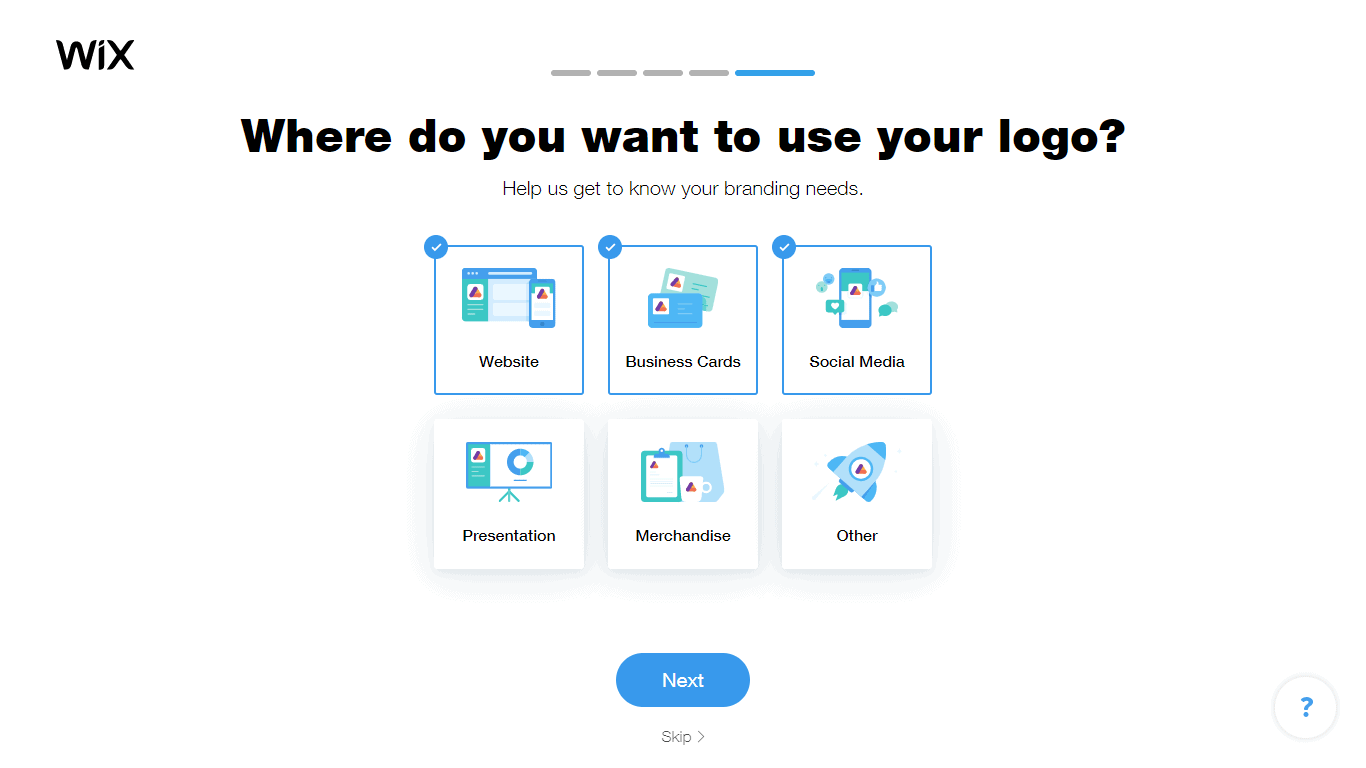 And now, it's time to check out the logo suggestions! Each template has been tailored to you by AI technology. Scroll through the results to find a logo you'd like to edit.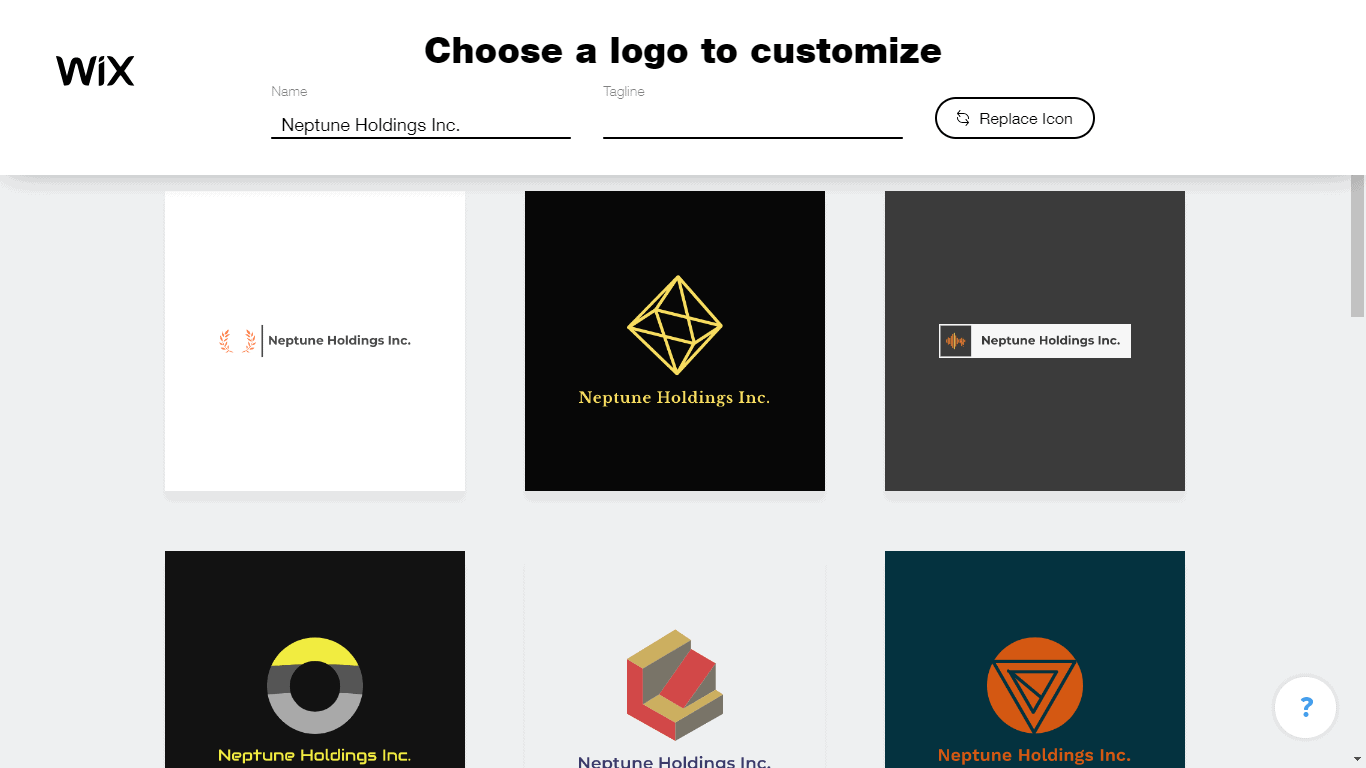 If you'd like an image as well as a letter in your logo, you can see more icon options at this stage. Click
Replace Icon
and do a quick search for a term related to your industry or name. I was pleasantly surprised that my search for "finance" icons turned up quite a few interesting options. Click your favorite icon to replace all of the others on the results page.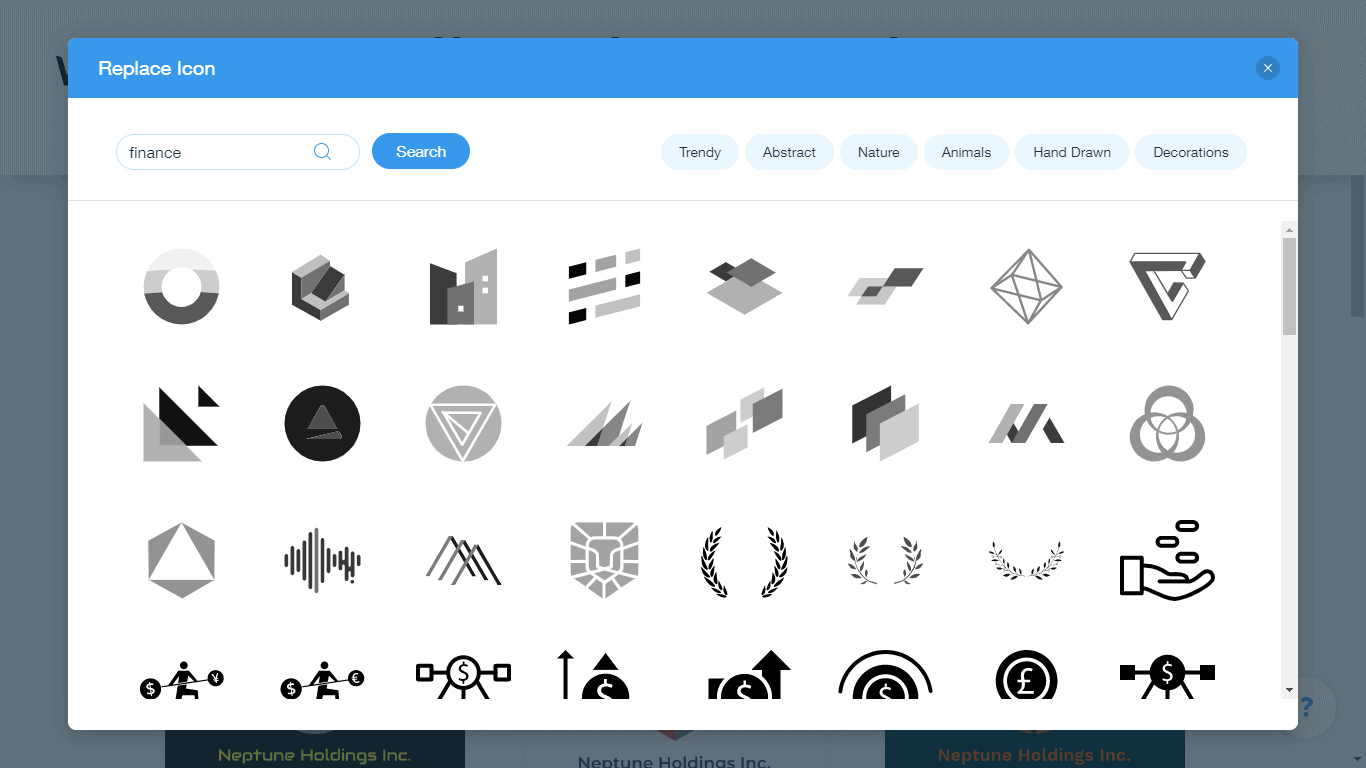 When you've found the logo template with the most potential, click
Customize
to personalize it in the easy-to-use logo editor. This is where you can add the "N" to your logo using numerous font options. You can also experiment with different icons, borders, and shapes to make your logo your own.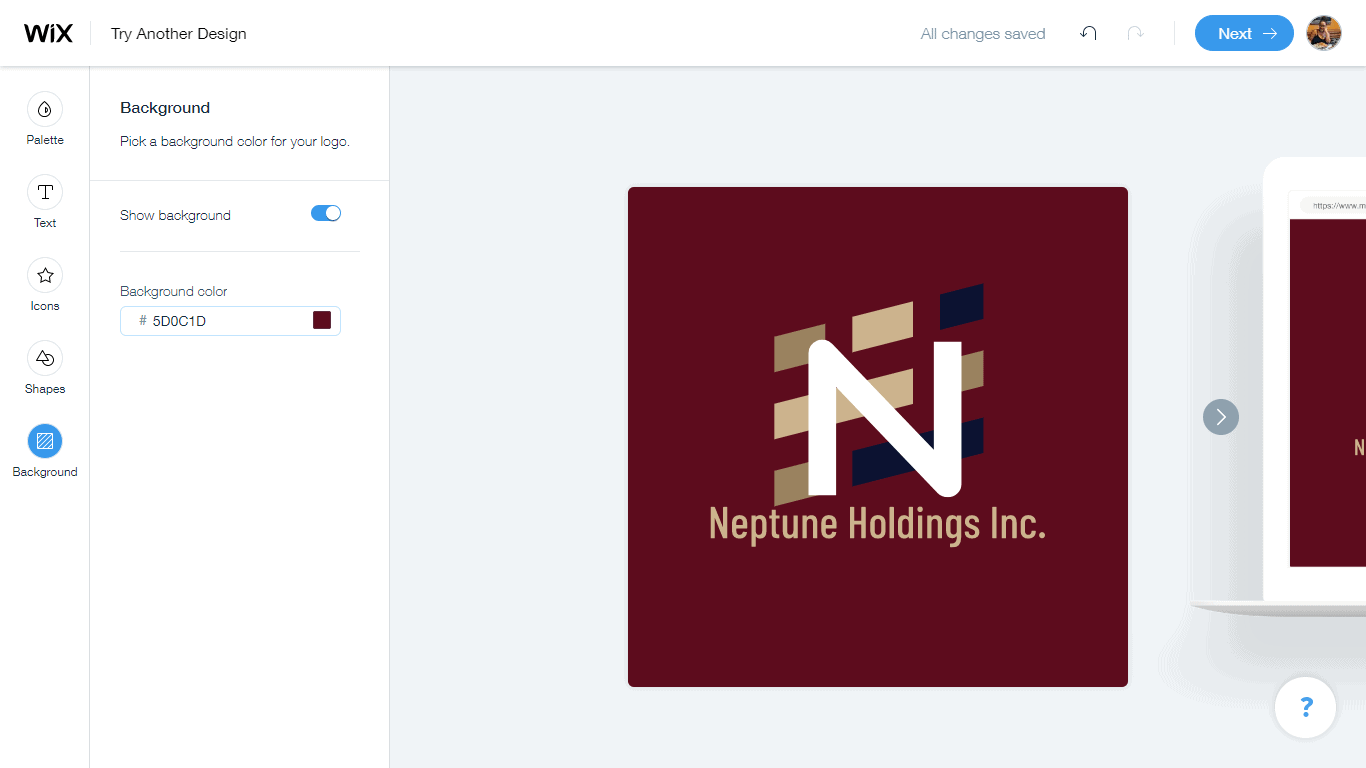 When you're ready to download your finished product, click
Next
to choose your package and pay. If you want, you can download a free, smaller resolution logo file if you're not quite ready to purchase. After you've paid, you'll be able to download your logo in high resolution and begin using it immediately. Want to know more? Read our
expert Wix Logo Maker review
to see some logo samples.
Wix Logo Maker Alternatives:
DesignEvo – DesignEvo offers over 10,000 logo design templates, ensuring the swift and effortless creation of logos. The platform includes a dedicated "Letter" category designed specifically for letter-centered logo designs, making the process even more convenient and user-friendly for you.
Looka – Do you have more branding needs than just a logo? Create your logo and then purchase business cards, website design, and more using Looka.
In Conclusion
My best advice? Make
Fiverr your first stop to find an affordable, skilled designer
 who can take your elementary logo design dreams and turn them into something unique. For a more hands-on approach, try out
Wix Logo Maker for your at-home design needs
 and personalize your logo how you see fit. Still unsure? Check out my colleague's
full logo design service review
 to see how other popular platforms compared.