MailerLite is a seriously cheap email marketing service
. In fact, if you were to choose a service based on low cost alone, you'd be hard-pressed to find an alternative that beats MailerLite on price. But is it wise to pick an email marketing provider purely on price? We've all been stung by offers that were just too good to be true. And you may be wary about that name –
what exactly is Mailer 'Lite' all about, anyway? Is it Lite on quality and performance?
The company is at pains to explain that neither is the case. Instead, it points out that it takes a 'Lite' approach to email marketing in the sense of providing simple solutions that avoid complexity. Coupled with the low price, that sounds perfect for small business owners, freelancers, and bloggers who are just getting started with email marketing. But the bigger question still remains – MailerLite might be cheap, but does it offer value in terms of quality and performance? Does it let you grow your email marketing activities beyond the basics?
I took a deep dive into MailerLite's pricing plans to find out where the value lies – read on to discover what I found.
Short on time? These are MailerLite's two pricing plans in 2023:
Free – Full access to the majority of MailerLite's features and tools and up to 1,000 contacts. Read more below.
Premium – MailerLite's only paid plan which offers scope to grow your subscriber list as big as you like, plus extras including email templates, A/B testing and enhanced analytics. Read more below.
MailerLite Features & Pricing Overview
Great Value Email Marketing With a Solid Set of Features
When you come across a service that is noticeably cheaper than a lot of rivals, it's natural to ask – what's missing?
But despite starting at just

$

10.00

 a month for up to 1,000 contacts, MailerLite does everything you would expect from an email marketing service.
Granted, not all of these features are quite at the premium end of the scale when it comes to performance and quality. The email and newsletter templates on offer, for example, are pretty basic with only limited choice, and the system can be glitchy loading them, all of which we discovered in our in-depth
MailerLite review
. Similarly, while MailerLite offers an automation workflow editor,
it doesn't have any pre-made templates.
This slows things down as you always have to build even basic workflows from scratch and means there is a steeper learning curve if you are new to building automations. On the other hand, for what it costs, the list of features – flexible email creation options, campaign automation, testing and reporting, multiple list building and segmentation tools, eCommerce support – is impressive. Throw in a
generous free plan
, plus a 14-day free trial of all premium features – no credit card details required – and
you have one of the best value email marketing services out there.
Perfect for small businesses, startups, solopreneurs, freelancers, and bloggers, something else I really like about MailerLite pricing is how straightforward it is. There's just a free plan and a single paid-for plan, plus a couple of
optional paid-for extras
. When you do sign up to pay, all features are included so you don't have to spend any time wondering which you need and if it is worth the price. Just pick your number of contacts and away you go.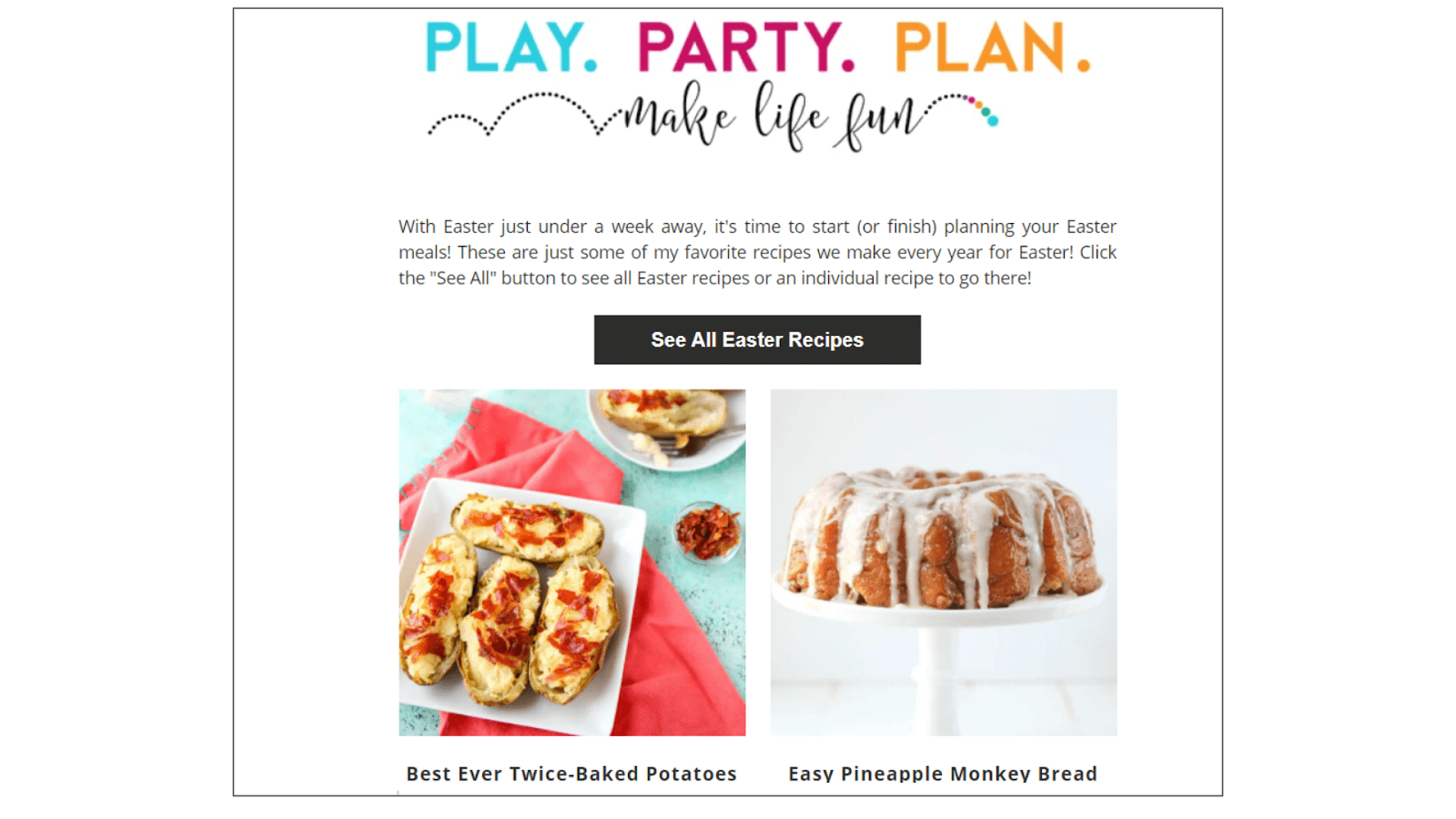 There aren't too many email marketing services that will let you use their platform for no charge at all for as long as you like.
 MailerLite is one of them, and in terms of the access it gives to its features, it is one of the most generous out there. You'd expect any free plan, as opposed to a free trial, to give you only very limited features. With MailerLite, though, you'd be pleasantly surprised. Not that it's an issue for the first 14 days after you sign up, anyway. As a new subscriber, you automatically get a no-credit-cards-required two-week free spin of the full service. When the trial period is up, only then do you have to decide whether to pay or carry on with the Free plan. The main restrictions on the Free plan are that you can have, at most, 1,000 contacts and can send a maximum of 12,000 emails a month. Just to put that into context, though:
you could email 1,000 people three times a week without ever having to move to the Premium plan.
 You can do a lot of promoting and relationship building with that sort of communication power. Even better,
you also get full access to the majority of MailerLite's tools and features on the Free plan
. This includes the choice of a rich text editor for creating simple text-based emails or a modern drag-and-drop visual editor for more graphic-based designs.
One thing you don't get on the Free plan is email templates.
If you are new to designing emails and think you might struggle without help putting them together, an alternative service like AWeber might suit you better.
AWeber's free plan
 is packed with good-quality templates ready for you to use as is or tweak to suit. A feature I like in the MailerLite visual editor is the built-in ability to edit photos.
It lets you crop, resize and adjust images all within your design – something many rival services don't support at all.
 You have to add your own images, though, as there are no stock photos available. Other features you get full access to on the Free plan include email automation and list segmentation, which let you achieve an impressive level of behavior-based targeting and personalization. You can also A/B test campaigns to see which designs or subject lines perform better before you send them out to a larger list, and review performance with straightforward open and click rate reports. For growing your lists, the MailerLite Free plan lets you build landing pages and sign-up forms. You can even build a standalone website to house your landing pages and forms – the MailerLite Free plan includes a drag-and-drop site builder and hosting for up to five pages. If you are looking for an even broader range of features, MailerLite offers 120+ third-party integrations, including major names like WordPress, Facebook, Shopify, and WooCommerce.
In my opinion, these integrations are particularly good news for anyone who runs an online shop.
 By connecting your Shopify or WooCommerce store, you can import product listings directly into emails to build promotional campaigns in minutes. You can also set up automated emails based on shopper behavior. These can offer extra assistance to shoppers who abandoned their cart before paying, welcome first-time customers and invite them to subscribe, or offer rewards and special deals to your most loyal customers. And let's just remind ourselves – all of this is available completely for free.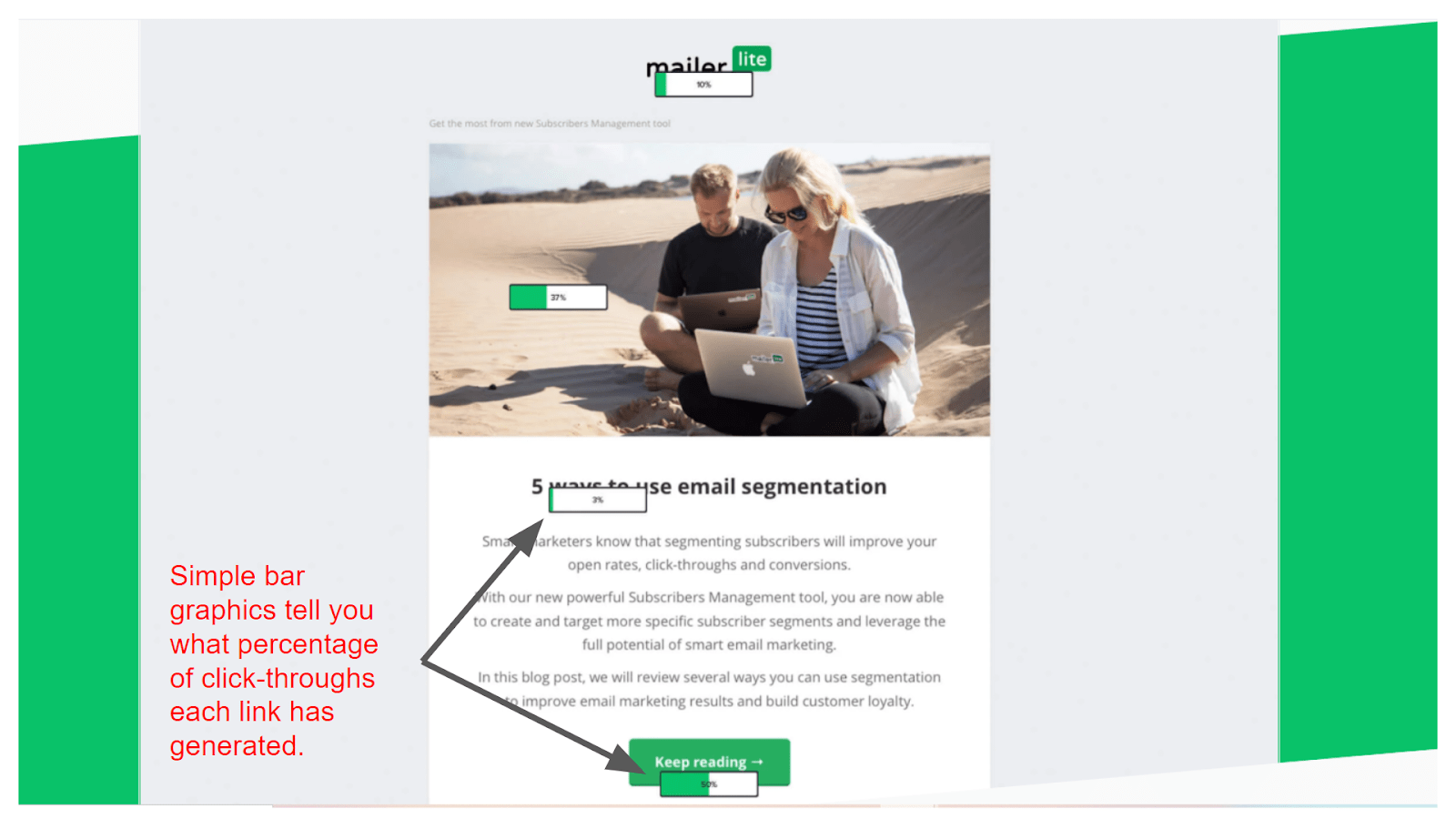 As already mentioned, MailerLite keeps things simple with its subscription pricing. It offers just a single paid-for plan starting at a very attractive
$
10.00
a month for up to 1,000 contacts and unlimited emails. A quick comparison with some other
top email marketing services
tells you straight away why this sounds like such a good deal. ConvertKit costs
$
29.00
a month for 1,000 contacts, Benchmark
$
8.00
a month, and AWeber
$
20.00
a month.
If you choose to pay annually, MailerLite also offers a fantastic 30% discount – or the equivalent of close to four months absolutely free.
Another thing I like about MailerLite's pricing is that it lets you build what you need in small steps. I've included a
summary pricing index below
, but after you hit the 5,000 contact mark, you can keep increasing your subscription by 5,000 additional contacts at a time up to 50,000. After that, the steps increase to 10,000 contacts up to 200,000, after which it becomes steps of 20,000 (the annual payment discount also ends at 200,000 contacts). This means there is plenty of scope to grow your subscriber list as big as you like (rival services like GetResponse cap contacts at 100,000), but all the while keeping control of costs by only paying for what you need at any one time.
While paying for the Premium plan does unlock some features, in my opinion, they don't offer much of an incentive to upgrade from the Free plan.
 For example, you can't create any more websites or landing pages than the Free plan allows, although you can use your own custom domain.
The main reason to pay is to grow your list and remove the cap on the number of emails sent, not to gain access to enhanced features.
The extras you get with the
Premium plan
 include email templates – 62 in total, and not the most impressive selection, as already mentioned. 
There is an Auto Resend option that automatically sends emails out again to anyone who does not open them the first time
 around, and the option to adjust sending times by time zone. You also get enhanced campaign analytics showing open rates by location and 'click maps', which show which links in your emails are getting the most click-throughs. Apart from email campaigns, you can build and save your own landing page templates and promotional pop-ups, set up A/B testing for your pages, and view click map interaction analysis of your landing pages.
One other clear benefit of the Premium plan over the Free one is the extra support on offer.
Like most online business services these days, MailerLite has a solid self-serve knowledge base for searching out answers to your questions or issues, including a useful library of 100-plus video tutorials. Whether you pay or not, MailerLite backs this up with what it claims is 24/7 email support – although there is no commitment to how quickly someone will get back to you.
If you want the extra assurance of real-time support, the Premium Plan includes Live Chat, again available 24/7
– something our expert rated highly in our
MailerLite review
.
| | | | |
| --- | --- | --- | --- |
| Contacts | Monthly price | Monthly price if paid annually | Price per year if paid annually |
| 1,000 | $10 | $7 | $84 |
| 2,500 | $15 | $10.50 | $126 |
| 5,000 | $30 | $21 | $252 |
| 10,000 | $50 | $35 | $420 |
| 15,000 | $75 | $52.50 | $630 |
| 25,000 | $120 | $84 | $1,008 |
| 50,000 | $210 | $147 | $1,764 |
| 70,000 | $285 | $199.50 | $2,394 |
| 100,000 | $360 | $252 | $3,024 |
| 200,000 | $660 | – | – |
| 300,000 | $975 | – | – |
| 600,000 | $1,915 | – | – |
Paid-for Extras
Although MailerLite only offers a single paid-for plan, there are a few optional add-ons you can include for an extra fee, even if you're on the Free plan.
For a flat fee of $100 a month, regardless of how many contacts you have, you get a dedicated MailerLite manager to help you with your account.
The main benefits are help with importing subscribers, custom-branded email and landing page templates, and support with analyzing performance metrics.
You also get what MailerLite describes as 'priority support' via email tickets and live chat, which will get you support ahead of users without MailerPro. Another interesting feature is specialist help with GDPR compliance, which is very useful for businesses looking to promote their services within the EU without breaking the strict personal data laws. If you are a busy business that needs top-quality results from email marketing but don't have the time or expertise to dedicate to it in-house, MailerPro makes sense. But you need to have the resources to pay for it.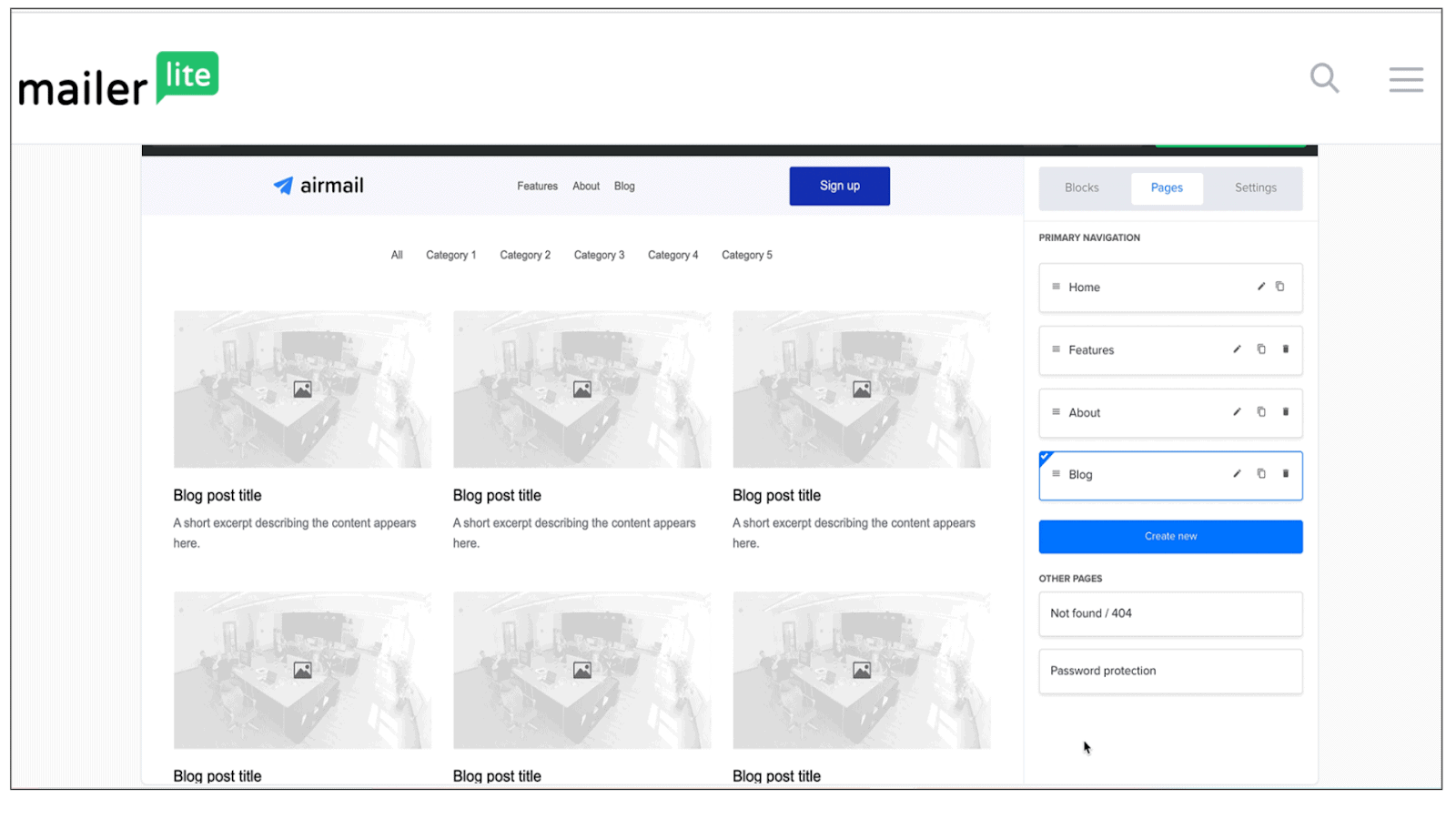 For $10 extra a month, SitesPro removes the five-page limit on building and hosting landing pages and websites. With a drag-and-drop editor, customizable templates, a variety of password-protected content options, and unlimited pages, SitesPro gives you the option to build and host complete websites from scratch. Don't expect the rich range of features you would get from a specialist website building service like
Wix
or
Squarespace
. SitesPro is most useful for building sites that directly support your list-building efforts, with features like interactive forms, quizzes, maps & pop-ups. SitesPro strikes me as a better deal the bigger your email marketing operations are. If you are already paying, say $210 a month for 50,000 contacts, $10 extra a month is very little to have no limits on the number of dedicated pages you can build tailored to every customer segment on every campaign.
On the other hand, rival services like AWeber let you build as many landing pages as you like, even on its Free plan
, so definitely make sure you factor this into your costs. MailerLite may be cheap from the offset but, what if you need these add-ons, the price starts climbing.
Dedicated IP
Finally, you can purchase a dedicated email IP for $50 a month, which is recommended to help with deliverability once you start getting into sending very high volumes of emails (anything above 50,000 a week).
MailerLite Pricing Plan Comparison Table 
Plan
Minimum price for 1,000 subscribers (monthly)
Subscriber limits
Email Automation
Advanced analytics
Email templates
Best feature
Free

$

0

1000

✔

✘

✘

Access to 120+ integrations, e-commerce support
Premium

$

10.00

600,000

✔

✔

✔

Cheap prices and 30% discount for annual billing
MailerLite Cancellation & Refund Policy
Easy to Downgrade to Save Money But No Refunds
The fact that MailerLite's pricing structure is so simple with just a single paid-for plan makes cancellations straightforward.
There are two options if you want to reduce what you pay for the service: stop paying entirely and go back to the Free plan, or pay less by reducing your number of contacts.
In both cases, you have to change your subscription details manually.

The main thing to be aware of is that this works differently depending on whether you pay monthly or annually. If you subscribe monthly, billing automatically repeats month to month. Any changes in payment, a full cancellation or downgrade, will be applied at the start of the next billing period. So if you decide to cancel a week after your last payment, you will remain on the paid plan for another three weeks, and then switch back to the Free plan, without being charged any more.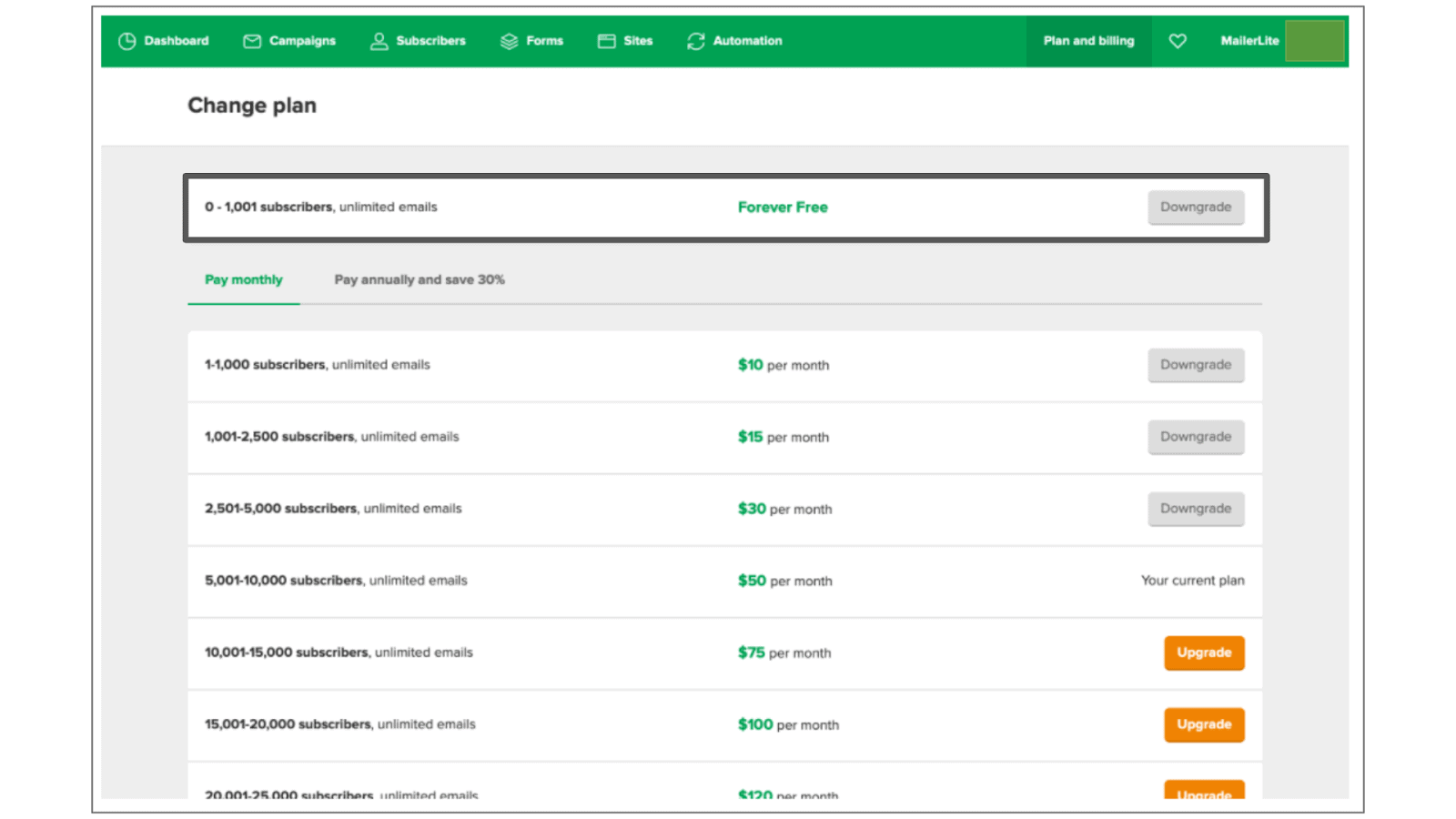 Annual billing does not automatically roll over – if you want to carry on your account, you have to opt in manually.
But equally, once you pay upfront for a year, that is it – your account will be active until the end of that billing period, with no option to cancel or downgrade in the meantime.
Alternatives to MailerLite
MailerLite might be cheap, but none of its features are exactly what you would call best-in-class examples – they're functional, but not spectacular. If you're a business start-up or freelancer, value matters – I know this from first-hand experience. But value isn't just about cheapness,
it's about getting the most for your money
. Here I've picked three alternatives that, depending on what your priorities are, may offer better value than MailerLite.
Two let you do even more for no charge at all, and one costs a little more than MailerLite but provides more sophisticated marketing tools.
Sendinblue Free Plan: MailerLite's Free plan is generous, but Sendinblue's is even better. Two things really stand out about Sendinblue's Free plan: one is that you get access to exactly the same set of features that are available with its cheapest paid-for Lite plan; the second that you can have as many contacts as you like.
The only major limitation to Sendinblue's Free plan is that it includes a cap of 300 emails sent per day, which works out at roughly 9,000 a month – slightly fewer than MailerLite. But the unlimited contact allowance makes Sendinblue perfect if your first priority is growing your list of subscribers. You can build up your mailing list for as long as you like for free and only pay when you're ready to start sending out more frequent emails.
AWeber Free Plan: If email templates are one of MailerLite's weak points, they are a major strength of AWeber's. Even on AWeber's Free plan, there are more than 700 attractive, fully responsive designs to choose from; perfect if you're looking for some help with your graphic design skills. I also love the AI template builder, which automatically creates branded templates from your existing websites. The Free plan lets you build an unlimited number of landing pages and gives you access to a huge library of stock photos.
Benchmark Pro Plan: Benchmark also has a Free plan, but with a maximum of 250 contacts it's nowhere near as attractive as AWeber or Sendinblue. What really makes Benchmark stand out is the range and quality of the features available on the paid-for plans, which are reasonably priced – the Pro plan costs

$

13.00

a month for 1,000 contacts. In particular, Benchmark's automation tools are a step above MailerLite's, and include an impressive choice of workflow templates that help you do everything from triggering personalized follow-up emails to building full conversion funnels.
MailerLite: Not Many Places You'll Find Better Value
I sometimes think email marketing services that offer generous free plans create a problem for themselves. Because the features you get on the free plan are so similar to those you get when you pay, upgrading doesn't always feel like great value. Yes, if you want to grow your email marketing operations beyond the contact or send limits the free plans impose, you have no choice. But, as a small business owner, if you don't feel as though you're getting a good deal moving to a paid-for plan, you might decide to hold off on expanding your marketing efforts. So does that mean I don't think MailerLite represents good value? No – in fact, I think MailerLite is great value.
I would recommend the Free plan to any start-up business, freelancer or solopreneur looking for a starting point for their email marketing.
The Free plan offers an impressive list of features that you can use indefinitely, giving you all the necessary tools – and possibly even more – to kickstart your journey. When your contact list exceeds 1,000 or your monthly email sending needs surpass 12,000 emails, you have the option to upgrade. While the Premium plan doesn't introduce an abundance of extra features, it does come at an affordable price. If you are looking for more sophisticated functionality, particularly as your business grows, that's when I'd recommend paying the extra for a service like
Benchmark
. Otherwise, you might prefer
AWeber's free plan
 (its paid-for plans are reasonably priced, too) for its large number of high-quality email templates and automated custom template builder.
FAQ
1. How much does MailerLite cost?
MailerLite starts at

$

10.00

a month for up to 1,000 subscribers if you pay monthly, although you can get a 30% discount if you are prepared to pay for a full year in advance. You can also save money by using one of our MailerLite coupons. The price increases according to how many contacts you have, all the way up to a maximum of 600,000 contacts – after that you'll need to contact them directly for their high-volume pricing.
2. Is MailerLite free?
MailerLite has a Free plan that you can use for as long as you like without charge. You are allowed a maximum of 1,000 contacts on the Free plan and can send a maximum of 12,000 emails per month. In addition, you can use most of the features and tools you get with the paid-for plan, including email automation, list segmentation, A/B testing and campaign analytics. Features you can't access on the free plan include email templates, automated re-send if contacts don't open your email, and advanced reporting like click map analysis. If these features are deal-breakers for you then I'd suggest looking at our review of the top email marketing services in 2023 for our best recommendations.
3. Is MailerLite better than Mailchimp?
If you are new to email marketing or just want a straightforward, no frills service that focuses squarely on email marketing without any distractions, MailerLite is a far better option than Mailchimp. While the latter can easily leave novices feeling overwhelmed with too many feature choices, MailerLite is beautifully simple, with great navigation and clear explanations for how everything works. It's pricing plans are also a lot cheaper and it offers much better support than Mailchimp.