The most expensive plans don't offer valuable features or professional marketing tools either.
Instead, upgrading is all about adding more pages to your website. So if you need a large site, stop here and go check out top website builders like
WordPress.com
or
Squarespace
instead. Or, if you'd like a
free
plan that allows you to create more than five pages, head over to
Wix
or
SITE123
. However, diving into Jimdo's wide range of subscriptions,
I've discovered a couple of plans which could provide value to your local business or small nonprofit
 – particularly if you're looking for a quick and easy setup.
Jimdo Dolphin vs. Jimdo Creator
A couple of years ago, Jimdo introduced a new beginner-friendly AI website builder. But it also retained its editor-based builder, which requires customization.
The AI builder became known as Jimdo Dolphin, while the traditional one is called Jimdo Creator.
 It's best to think of them as
two entirely different website builders
. When you sign up for Jimdo, you're asked what kind of site you'd like to create. If you want to create a blog, you're directed straight to Jimdo Creator.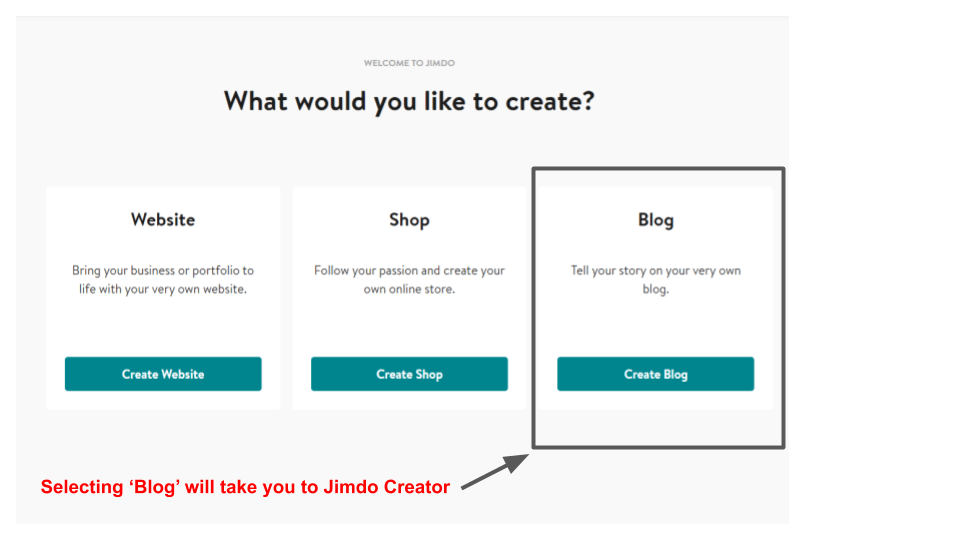 But if you click 'website' or 'shop,' you'll be presented with two options. If you want to create a site which requires no code, you'll be brought to Jimdo Dolphin – the AI builder. But if you select the editor for the coding experts, you'll be directed to Jimdo Creator.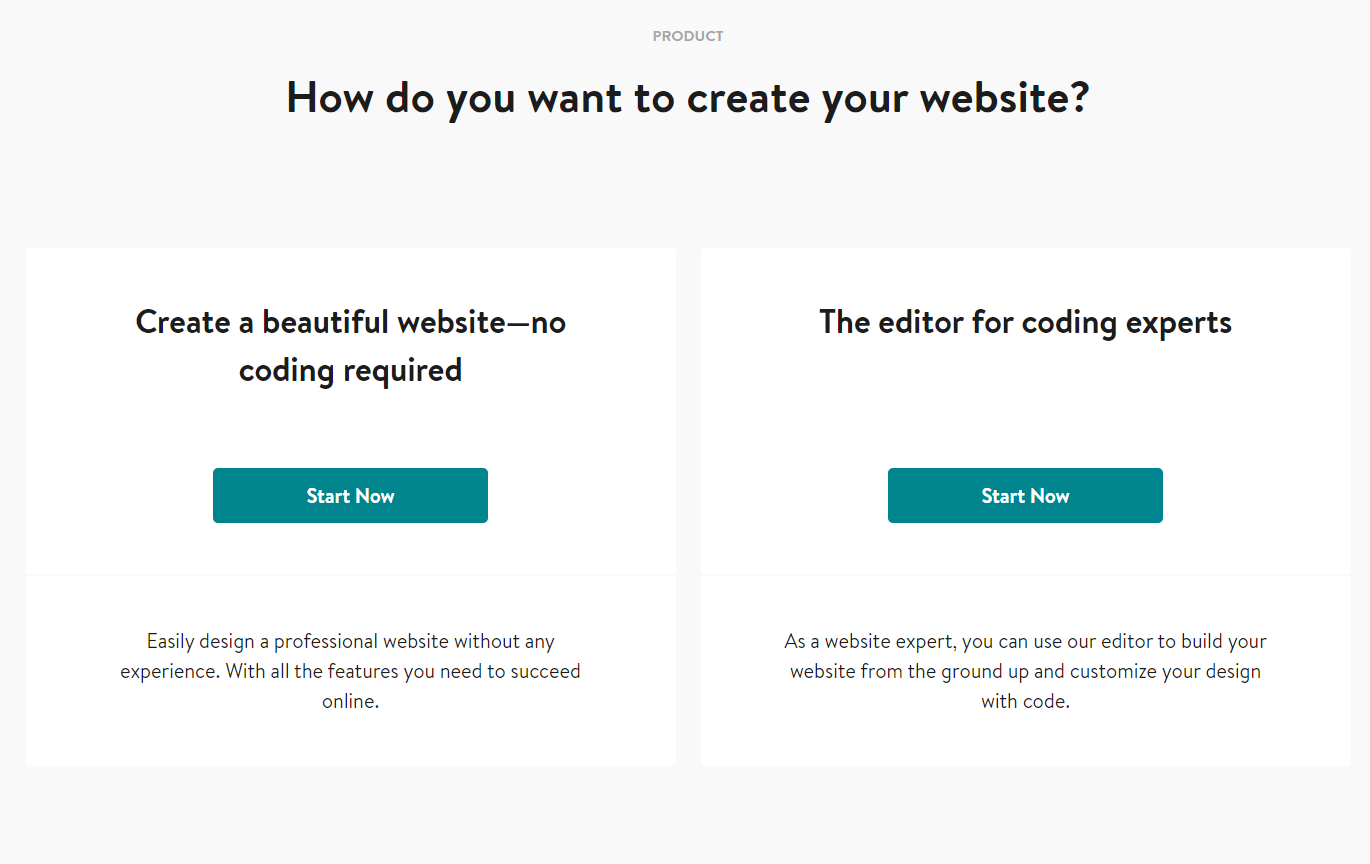 But the way these options are presented is misleading.
With Jimdo Creator, you can actually build your entire website without any code.
 But if you're familiar with HTML, CSS, or Javascript, you can edit the code too. The Creator editor also lets you use widgets to add the likes of share buttons, email sign ups, and slideshows to your site. With Jimdo Dolphin, you have to rely on built-in features. The two editor options have a totally different set of pricing plans too. Most notably,
Jimdo Creator plans don't have page limits.
When you sign up for Jimdo, choose your editor wisely. Once you create a site with Jimdo Dolphin, you can't move to Creator – and vice versa. But the good news is
both versions offer free plans, so you try them before making a decision.
Jimdo Dolphin Pricing
Jimdo Dolphin has seven plans in total: four for creating general websites and three for building online stores. Here's an overview of what you can expect from its website plans:
Website plan:
Play
Start
Grow
Unlimited
Cost per month:

$

0

$

9.00

$

15.00

$

39.00

Features:
Contact forms, free images, and Jimdo branding
A custom domain and email, as well as SEO and analytics tools
Support in under four hours
Help from a designer and support in less than an hour
Number of pages:
5
10
50
Unlimited
Ideal users:
Small nonprofits on a tight budget
Local SMBs like restaurants, bars, and salons
SMBs with lots of services
Nobody!
And here's an overview of what you can expect from its e-commerce plans:
| | | | |
| --- | --- | --- | --- |
| E-commerce plans: | Basic | Business | VIP |
| Cost per month: | $15 | $19 | $39 |
| Features: | Core e-commerce tools and access to payment gateways | Discounts, product variants, and different product page layouts | Business directory tools and design advice from a pro |
| Number of pages: | 10 | 50 | Unlimited |
| Ideal users: | Stores with up to six products, small nonprofits that want to accept donations, and SMBs that sell gift cards | Stores with small inventories of up to 40 products | Online stores which sell 50-100 products |
Monthly prices are based on paying for an annual subscription –
there's no option to  pay on a monthly basis.
Let's take a closer look at each of Jimdo Dolphin's subscription options.
The Play Plan
Limits:
 2GB of bandwidth, 500MB of storage, and up to 5 pages. With the free Play plan, you can set up a five-page, mobile-optimized website. All sites come with HTTPS encryption, which can help foster trust among visitors.
 But you won't be able to add a custom domain name with this plan, which won't look very professional.

The Play plan is a great way to see if Jimdo's AI tool can generate a design that you like. It could also be suitable for community groups or clubs who want to put their information online for free. But it won't work for businesses who want a custom branded website.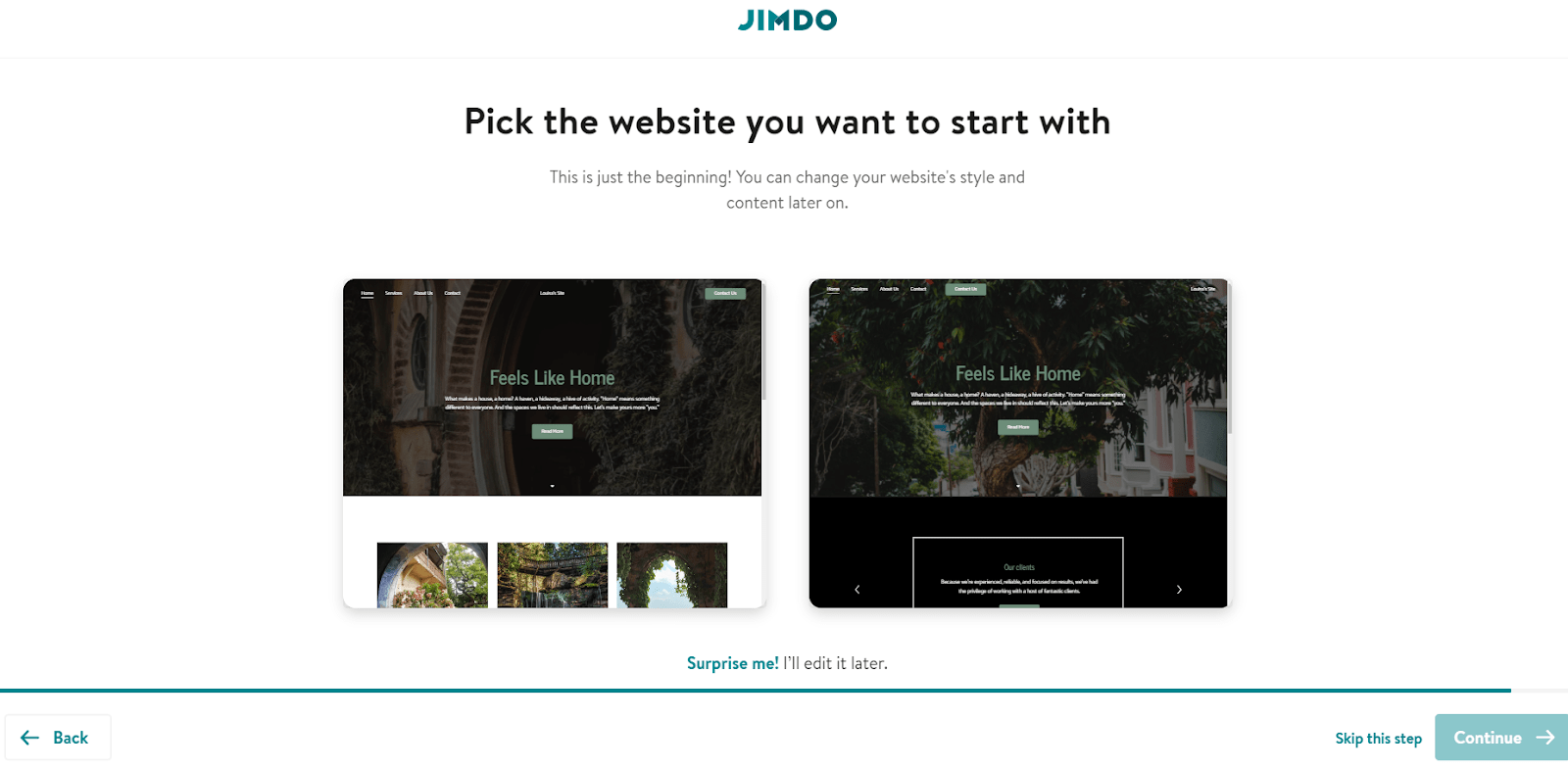 The Start Plan
Limits:
 10GB of bandwidth, 5GB of storage, and up to 10 web pages. The biggest benefit of the Start plan is that it's ad-free and allows you to connect your own domain. This means it's suitable for businesses. However, with just ten pages of content available, you'll need to keep your site small. This could work for the likes of coffee shops and bars that want to drive foot traffic to a physical location.
Restaurants, salons, barbers, coaches, and consultants could also use this plan to set up online appointment bookings.
 You can do this with the booking block or by linking to an external tool.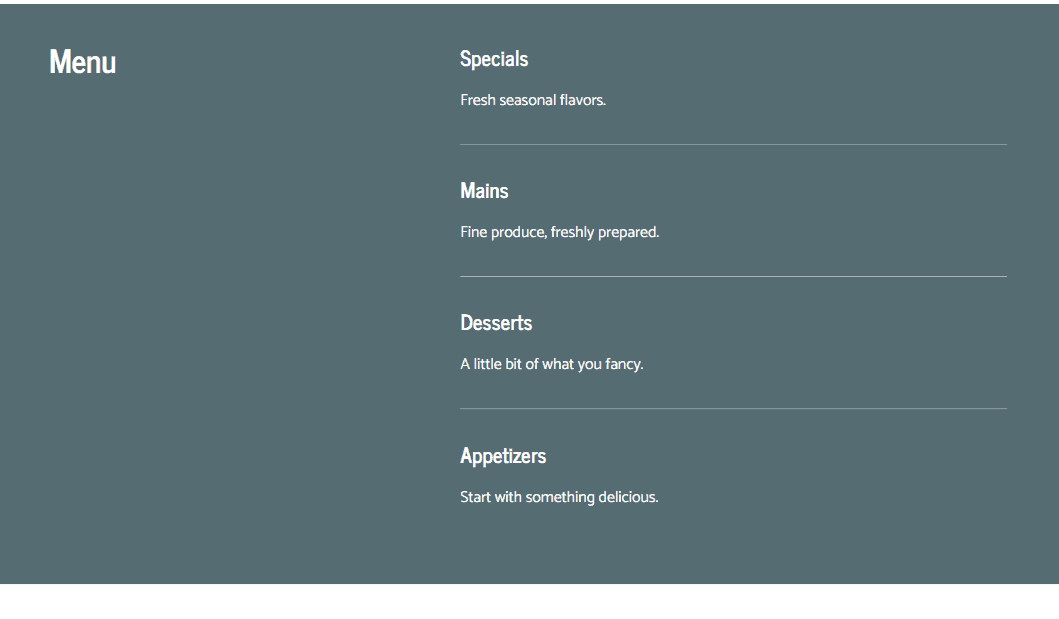 But if you want to continually add new content to your site, this plan won't cut it. If you have multiple locations or services, you could quickly reach the ten page limit too. With the Start plan, and all Jimdo's premium plans, you also get:
SEO tools: The likes of URLs and page titles are auto-filled. But you'll receive in-platform guidance if you prefer to fill them out yourself.
Google indexing: You can submit your sitemap to Google Search Console through Jimdo. This means your site could show up in search results more quickly.
Website analytics: You'll be able to see exactly where your website's visitors are coming from.
Connect an email address: Set up a custom email address to match your domain and messages will be forwarded to your personal email.
Customer support: You'll gain access to Jimdo support, but responses take one to two days.
The Grow Plan
Limits:
 20GB of bandwidth, 15GB of storage, and up to 50 pages. The Grow plan doesn't cost much more than the Start plan. But you don't get much extra with it either. Besides the ability to create more pages, the perks of upgrading include:
Faster support: You'll receive help within four hours.
Five forwarding emails: More team members can receive emails.
This means the Grow plan is only really for businesses and other organizations who need more than ten pages of content.
 This can easily happen as you start adding press releases, events pages, or galleries to your website.
The Unlimited Plan
Limits:
 Bandwidth, storage, and pages are all unlimited. Costing more than double the Grow plan,
Jimdo's Unlimited plan comes with a huge price tag
. If you're forced to upgrade just because you exceeded the Grow plan's page or storage limits, this would be crazy annoying! But that's the only reason I'd choose this plan, because its features aren't worth the extra cost. It comes with everything that's included in the Grow plan, as well as a few extra features, such as design analysis, premium support, and extra forwarding email addresses. If you're just setting up your website, you won't need this plan. It'll take a lot of content creation and website promotion before you need unlimited storage, bandwidth, or pages. Even then,
I wouldn't recommend this plan to anyone.
 Because, for the same price, you can sign up to a VIP plan and gain access to everything above, as well as extra e-commerce and business listing features.
The Basic Plan
Limits:
 10GB of bandwidth, 10GB of storage, and up to 10 pages. Jimdo's Basic e-commerce plan is pretty similar to the Start plan. You get a custom domain, a custom email address, email support, analytics, and SEO tools. But, on top of this, you also get:
An online store: This includes must-have e-commerce functionality, like checkouts and order exports. There's extra storage to accommodate product images too.
Payments: You can take payments by debit card, credit card, PayPal, or Stripe.
No fees: None of Jimdo's e-commerce plans charge transaction fees.
A $20 discount: To offset the cost of your domain, Jimdo offers $20 off if you connect a .com, .net, .org, or .info domain. Some European country domains are covered too.
On this plan, your website can have up to ten pages. After adding the home, about, contact, and store pages, this only leaves room for six product pages. While this will be a major limitation for most sellers,
I think this is a great value, no-frills option for nonprofits who want to accept online donations and the likes of restaurants, salons, and hairdressers who want to sell gift cards.
 It could also work for one-product stores or coffee shops that sell beans or other merchandise. It's worth noting that there aren't any product variants on this plan either. If you sell t-shirts, for example, you would need a separate product page for every size and color available, meaning you'd reach the ten page limit in no time.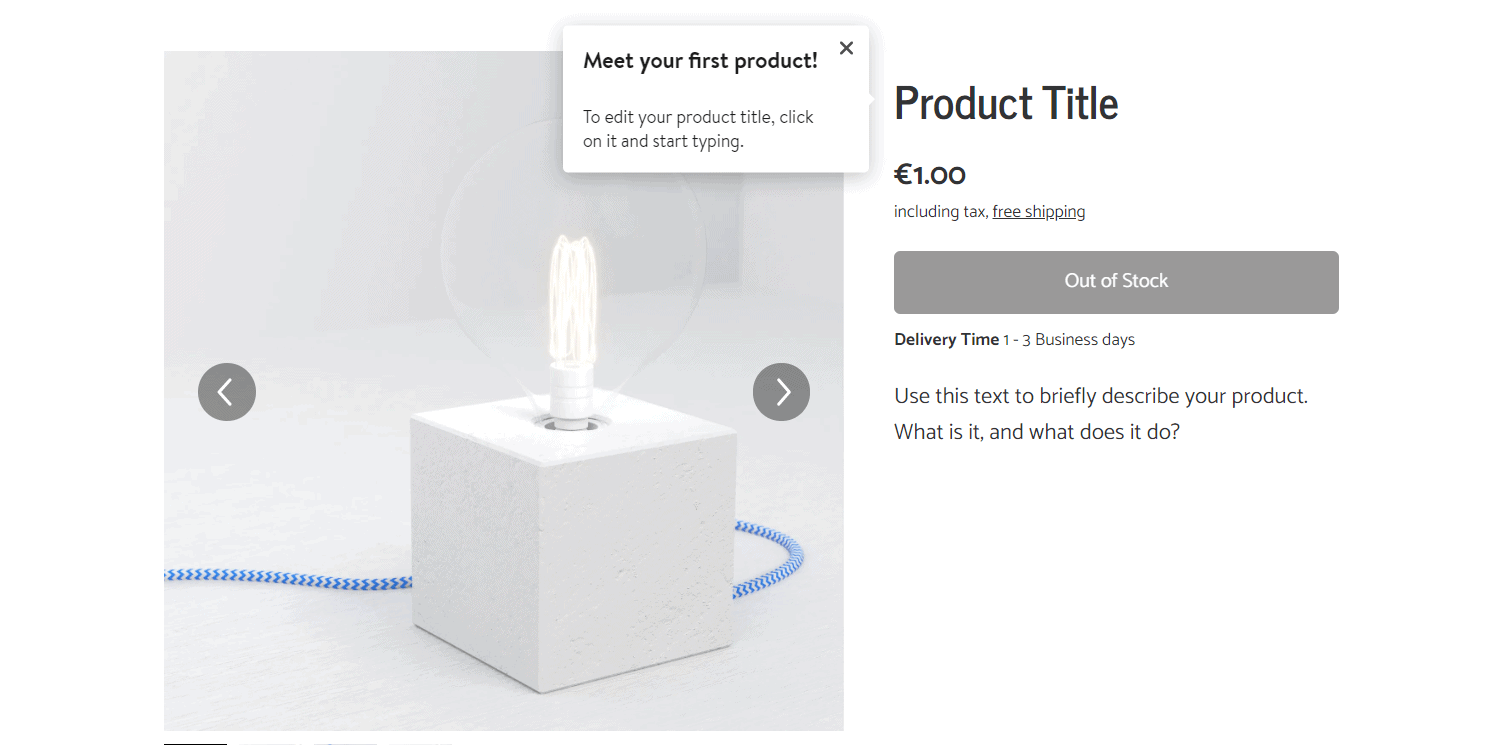 The Business Plan
Limits:
 20GB of bandwidth, 15GB of storage, and up to 50 pages. The Business plan costs just a few bucks more than the Basic plan, but it comes with some extra features to help you promote your products. These include:
Discounts: You can drive sales using Jimdo's discount codes.
Strikethrough prices: This lets shoppers know when you've cut your prices.
Product layouts: You'll have more choice over the design of your product pages.
Product variants: You can add a variety of sizes, colors, or styles to each product page.
You can add a lot more products to your store too – around 40. This would be enough for artists, craftspeople, and small boutique owners who have a small selection of stock.
You can create local pickup options too
, so bakeries, delis, or restaurants could sell some products using this plan too.
The VIP Plan
Limits:
 Unlimited bandwidth, storage, and pages. Like with the Unlimited plan, there is a big jump in price when you upgrade to the VIP plan. Similarly, this plan also comes with advice from a Jimdo designer, lightning fast customer support, and 20 forwarding email addresses. While I'd only recommend this subscription to those who've outgrown the Business plan's limits, there are a couple of extra features which could prove useful.
Business listing tools: If you edit your listing in Jimdo, it will sync across platforms like Google, Facebook, and Bing. You can also monitor the performance of each one.
Legal text generator: If you're based in France, Italy, Germany, the UK, or some other parts of Europe Jimdo will automatically generate custom, GDPR-compliant privacy policies for your site.
With unlimited products, you may think this plan could be used to build a megastore.
But Jimdo actually recommends its builder for stores with up to 100 products.
So if you plan to grow your inventory beyond this figure, you should check out an alternative builder like
Wix
or
Squarespace
.
Jimdo Creator Pricing
Because you choose a template and edit it, Jimdo Creator is similar to other website builders like Wix, SITE123, and Squarespace. However, it doesn't offer nearly as many features as these alternatives. With no apps or extensions readily available, finding add-ons to improve your site can be a pain.
But if you're dead set on using Jimdo and want to create a blog, Creator is your only option.
 There are five plans to choose from – all of which allow you to create a store too.
| | | | | | |
| --- | --- | --- | --- | --- | --- |
| Creator plans: | Free | Pro | Business | SEO Plus | Platinum |
| Cost per month: | Free | $9 | $15 | $20 | $30 |
| Features: | A blog and a password protected area | No transaction fees and access to analytics | Custom order confirmations, shipping, and discount codes | An SEO add-on for taking your blog to the next level | Design device from a pro |
| Ideal users: | Beginner bloggers | Stores with less than 15 products | Small e-commerce stores | Serious bloggers | Nobody |
Free
Limits:
2GB of bandwidth, 500MB of storage, and 5 products. With the free plan, you don't get a custom domain or any customer support. It's more difficult to use than Jimdo Dolphin too.
But there's a blog feature, and there aren't any page limits, which is a big plus.
 You also get access to all of Jimdo's mobile-ready templates. Other features include:
Contact forms: So you can generate leads.
A password protected area: Jimdo suggests using this to jot down content ideas.
An online store: Your free site can sell up to five products with PayPal.
Homepage SEO: You can add a title tag and meta description to your main page.
Jimdo Creator also has a pretty nifty app for Android and iOS that allows you to manage orders, update content, or design your site from scratch using the drag-and-drop builder. This plan could work for bloggers, hobbyists, and small nonprofits who want to create an informative website with no budget.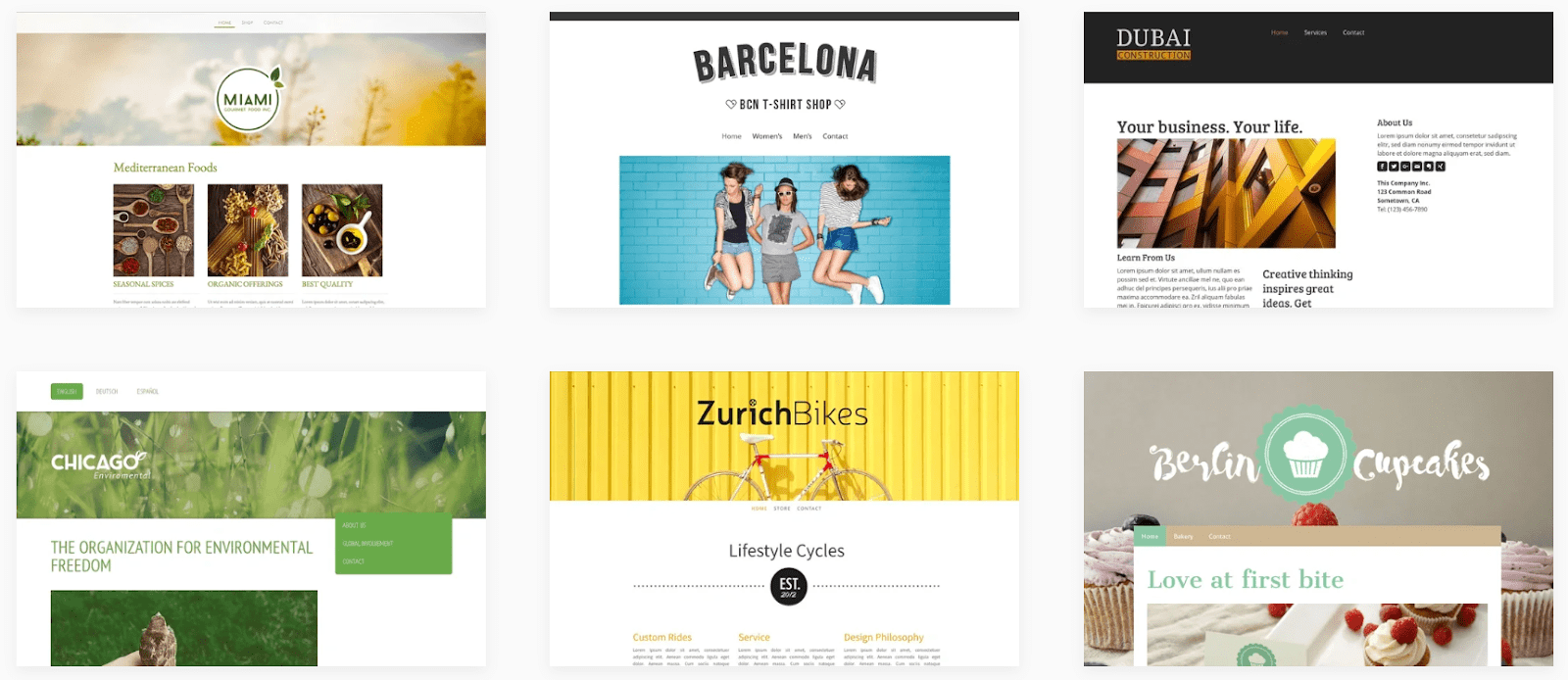 Pro
Limits:
 5GB of bandwidth, 5GB of storage, and 15 products. With a Pro subscription, you gain access to support, analytics, and a free domain. Jimdo's ads are removed from your site too. Other notable features include:
App compatibility: You can paste in code from external tools to add them to your site.
Extra SEO options: Meta descriptions and title tags can be added to any page. Your website will have a sitemap too.
Google indexing: To speed up your SEO.
This plan could work for stores that sell a small selection of items.
You can also use the Facebook Promote feature to drive sales through Facebook advertising.
Business
Limits:
 Unlimited bandwidth, storage, and products. With no limits, this plan can be used by small businesses to create a well-stocked online store. It comes with everything offered in the Pro plan, as well as:
Even more SEO options: You can add meta tags and URL redirects to your site.
E-commerce extras: You'll get custom order confirmations, discount codes, and extra shipping options. You can also use Stripe.
Unlimited password protected areas: You could make your whole site private if you want. But visitors can't set up accounts, so you'd have to share the password with everyone who needs access.
While this plan could be used by clubs and organizations to share updates among members,
you can do this for free with SITE123
.
SEO Plus
Limits:
 Unlimited bandwidth, storage, and products.
The only difference between this plan and the Business plan is you gain access to an external SEO tool called rankingCoach.
 This provides customized tips and reports to help improve your rankings. It also provides step-by-step video tutorials for Jimdo. It could be worth upgrading to this plan if your site is struggling to attract organic traffic.
Platinum
Limits:
 Unlimited bandwidth, storage, and products. For around an extra ten bucks each month,
the Platinum plan will give you access to one of Jimdo's design pros.
 He or she will advise you on how to improve the look of your site. Since this is the only perk that comes with this plan, I'd only recommend it as a last resort. If you have an established Jimdo site that's looking shabby and you have no idea how to fix it, this could be the solution.
Can Jimdo Compete with Other Website Builders?
Jimdo Creator features some perks that aren't available in its AI Dolphin builder.
But if you're going to use a template to build your site, you're better off using another platform.
 Wix, Squarespace, SITE123, or WordPress.com all offer way more built-in features, apps, and templates. But if you're a total beginner and want to use Jimdo's AI-driven website design tool, you might find a plan that works. With a five page limit, Jimdo's free plan won't get you far.
Wix
,
WordPress
, and
SITE123
 all offer better free options – especially for bloggers. (None of their paid plans have page limits either). However,
Jimdo's Start plan could work for local businesses who want to set up a low-cost web presence.
Jimdo Dolphin's top plans are pretty exorbitant – and this becomes even more obvious when compared with competitors. Both Jimdo's Unlimited and VIP plans cost just under 40 bucks per month. For a similar price, you could sign up to Squarespace's Advanced Commerce plan, which comes with impressive features like abandoned cart recovery, carrier-calculated shipping, and recurring payments.
This plan could accommodate the largest of online stores, so it doesn't seem right that Jimdo's store for small businesses costs the same.
Similarly, WordPress.com's e-commerce package costs around the same but offers way better features. If you can stay within the page limits,
Jimdo's
Basic plan is also a decent option for creating a store with just a couple of products.
 It costs less than the basic e-commerce plans available from Squarespace and Wix too. If you stock more products, the Business Plan is okay too. However, if you need more than 40 product pages, you'll be forced to upgrade to the VIP plan. And, like I said, that's a ripoff.
Are There Any Hidden Costs to Be Aware Of?
Despite Jimdo's complicated pricing structure, there aren't any nasty hidden fees. But, if you want to save a few bucks, there are a couple of things you should know.
24-Month Discounts
Jimdo offers 12-month and 24-month contracts. If you sign up for two years, you'll get a small discount for your commitment. Jimdo doesn't publicly advertise these discounts and the percentage varies from plan to plan. But you'll get around 10% off the Basic plan and 13% off the Business plan.
Payment Processing Fees
With a Jimdo store, you can accept payments through PayPal and Stripe.
Both of these platforms charge a fee for every payment they process.
 The precise costs vary by location, but here's what you'll pay if you're based in the US:
| | | |
| --- | --- | --- |
| Platform: | Payment type: | Fees: |
| PayPal | For domestic US payments | 2.9% + $0.30 per transaction |
| Stripe | For card and digital wallet payments | 2.9% + $0.30 per transaction |
Watch Out for Exchange Rates
Jimdo stands out from other website builders by not concerning itself with exchange rates. If a plan is priced at €15 in Europe, it will remain at $15 in the US. Given the current strength of the dollar against the euro, individuals in the eurozone have the opportunity to save money by employing a VPN to conceal their location.
Cancellation Deadlines Could Cost You
When you sign up to any of Jimdo's plan, you can cancel within 14 days and get a refund.
But if you want to cancel your plan as the end of your contract approaches, make sure to do so at least 28 days before the renewal date.
 Otherwise, you'll be charged for the next year or two,depending on your original subscription.
So, Is Jimdo Too Expensive?
For the features you get,
Jimdo's top-tier plans aren't worth the price.
 However, if you run a local business and want a simple website, the Start plan could work – as long as you can stick to ten pages!
The Basic plan lets you sell a handful of products, so nonprofits could set up donations
 or businesses could sell gift cards. Here, Jimdo's no transaction fee policy could be really beneficial. But in most other situations, Jimdo probably isn't the best option. You can turn to
Wix
or
SITE123
if ease of use is your primary concern. Or if you have a more ambitious project in mind,
WordPress.com
 offers a scalable option.
Squarespace
is also a good choice for blogs and e-commerce stores if you don't want limitations on products, bandwidth, or storage.
FAQ
Is Jimdo really free?
Yes, Jimdo offers two free plans. The Play plan uses AI to automatically create a free site for you. While the Free plan allows you to choose a template and edit it yourself. You can use either of these free plans for as long as you like. But they both come with some limitations: you can't connect a custom domain to your site, and Jimdo ads will appear at the bottom of every page.
Which is better: WordPress or Jimdo?
WordPress.com is a better website builder in many ways. But the better option will depend on your specific needs. Jimdo is a code-free website builder, so it appeals to a lot of beginners. WordPress.com, on the other hand, is trickier to use and some coding knowledge is helpful. However, in terms of features and apps, WordPress.com wins out. It can be used to build large and powerful websites and blogs. (Check out our expert WordPress review for more info.) But if you run a small business and need a simple website, Jimdo could work for you.
How much does Wix cost?
Wix pricing starts at the low cost of free and peaks at around $500 per month for its most advanced Enterprise plan. You'll find a full breakdown of Wix's pricing here. If you need access to Wix's premium features, make sure you check out our coupon page for the latest discounts on paid plans.
Which free website builder is the best?
Wix and SITE123 top our list of the best website builders in 2023 – and they both offer free plans. Wix is the best option if you want full creative freedom over your website's design. It has over 500 templates for you to choose from and its intuitive drag-and-drop editor makes it easy to edit your page's layout and look. On the other hand, SITE123's customization options are more restrictive. But its free plan is great if you want to choose a preset layout and simply fill in the content.