entirely separate website builders
. They have different features, and one might be better for you than the other, depending on
your technical experience
, the
type of website you're building
, or
your personal preferences
. Oddly enough, you won't find a clear comparison between the two site builders on
Jimdo's website
anywhere. But that's where I come in.
I thoroughly tested both builders so you don't have to
. I'll tell you exactly what they offer and highlight their main differences. Since once you start building your website with one of them, there's no going back, you'll want to read my analysis before picking a site builder.
Building a Site: Chat with AI or Choose Your Own Options
No matter which editor you pick, you start from the same point. When you create a new website in Jimdo, you'll be asked to choose which type of site you're making: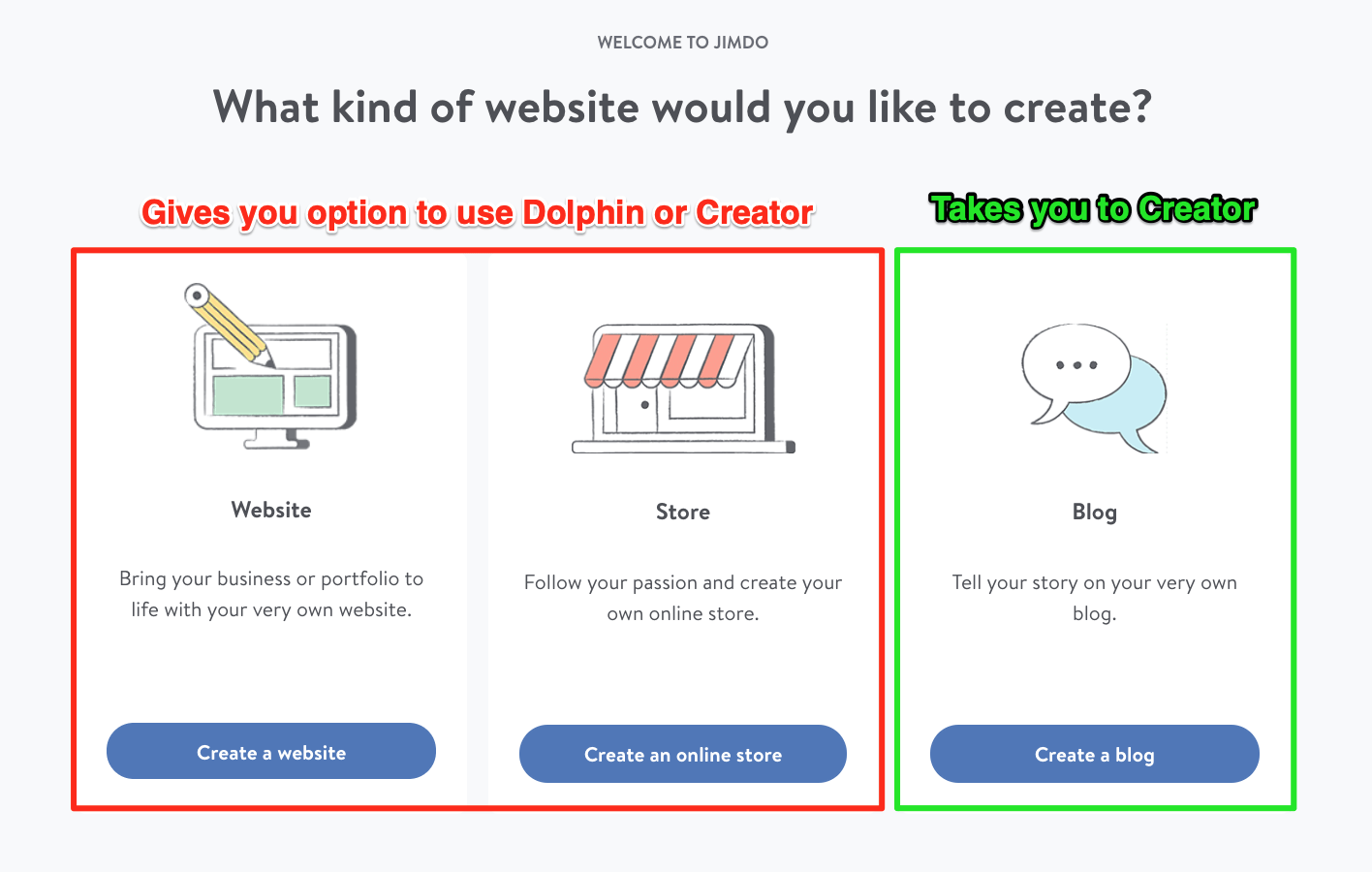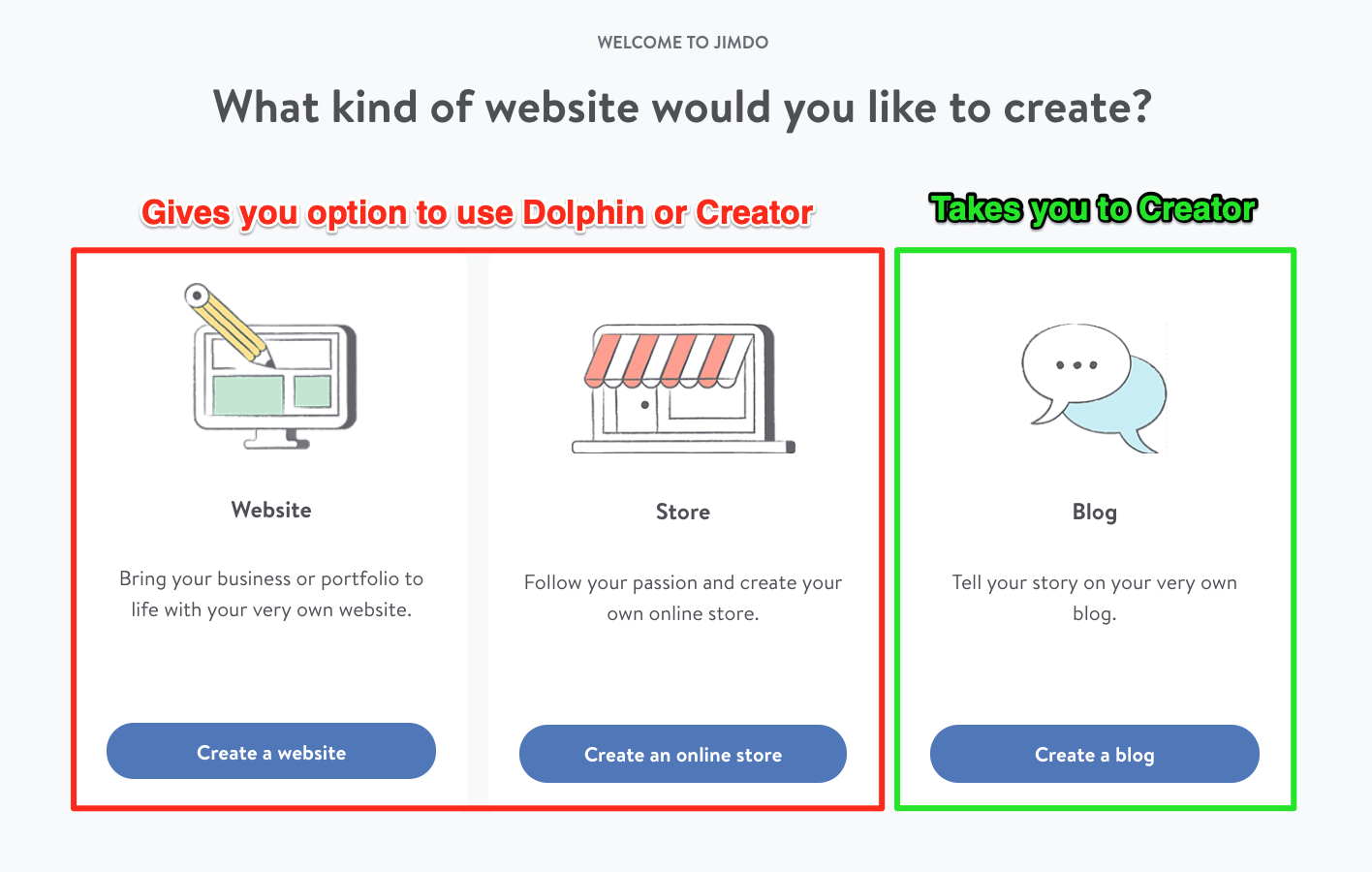 Depending on your answer, you may be able to choose between the two editors. For example, if you want to create a website or store, you'll be given the option to use either
Creator
or
Dolphin
to build it. However, if you want to create a blog, you have to use
Creator
.
Creating a Site with Dolphin
Dolphin
is powered by artificial intelligence (AI), which does most of the work for you. You answer a few questions, and Dolphin uses those answers
to create a site that it thinks you'll like
.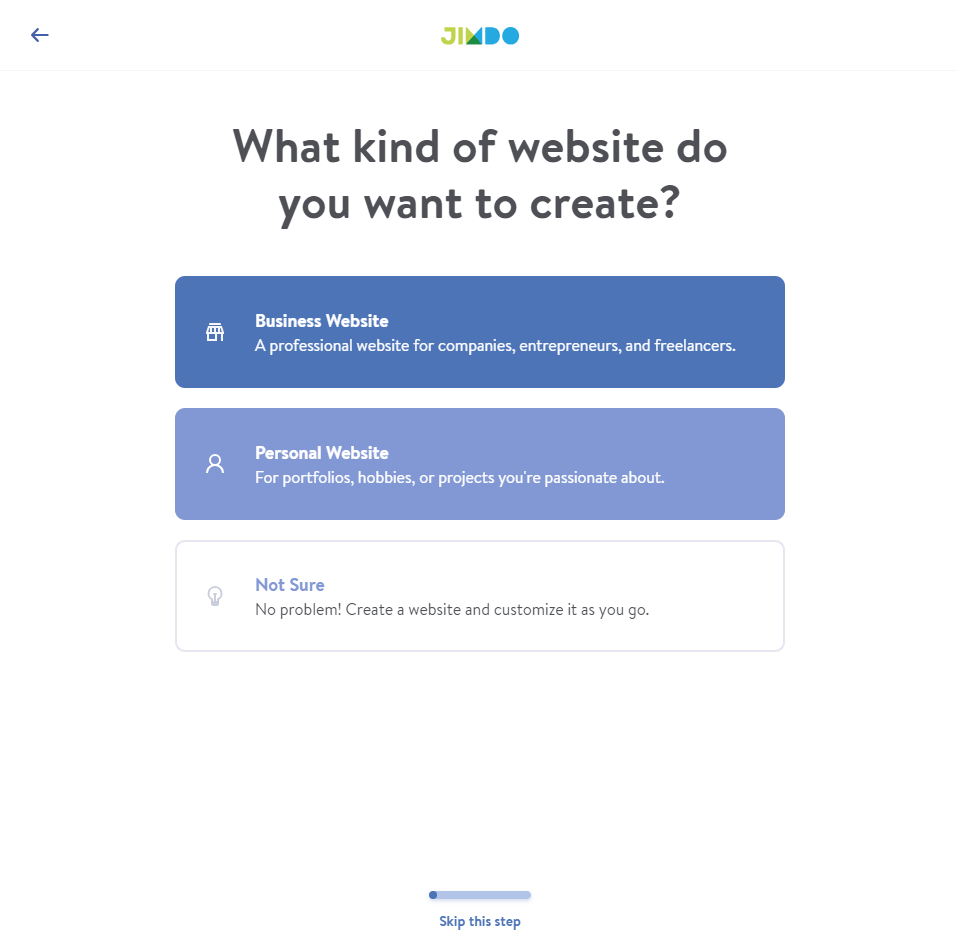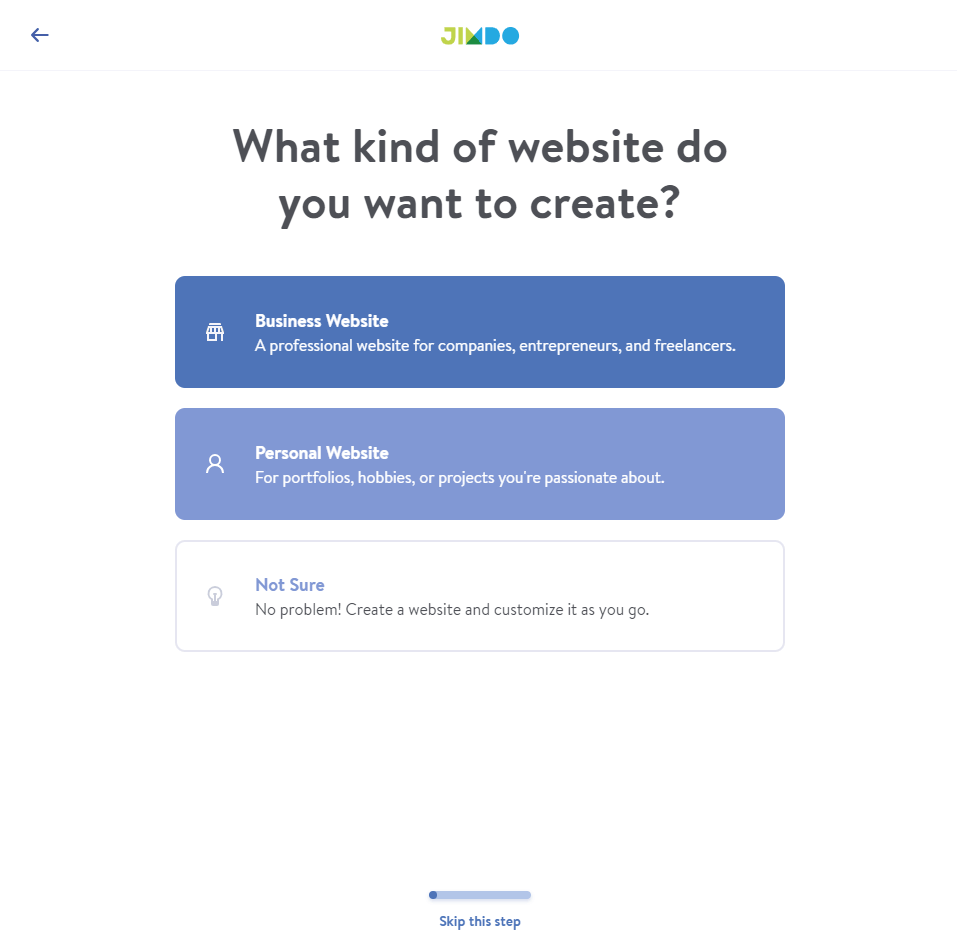 It shouldn't take more than a minute to answer the questions. You'll be asked:
The name of your website
Its primary goal (e.g., to promote business, to get bookings, etc.)
What style you like (e.g., minimal, modern, etc.)
What color you like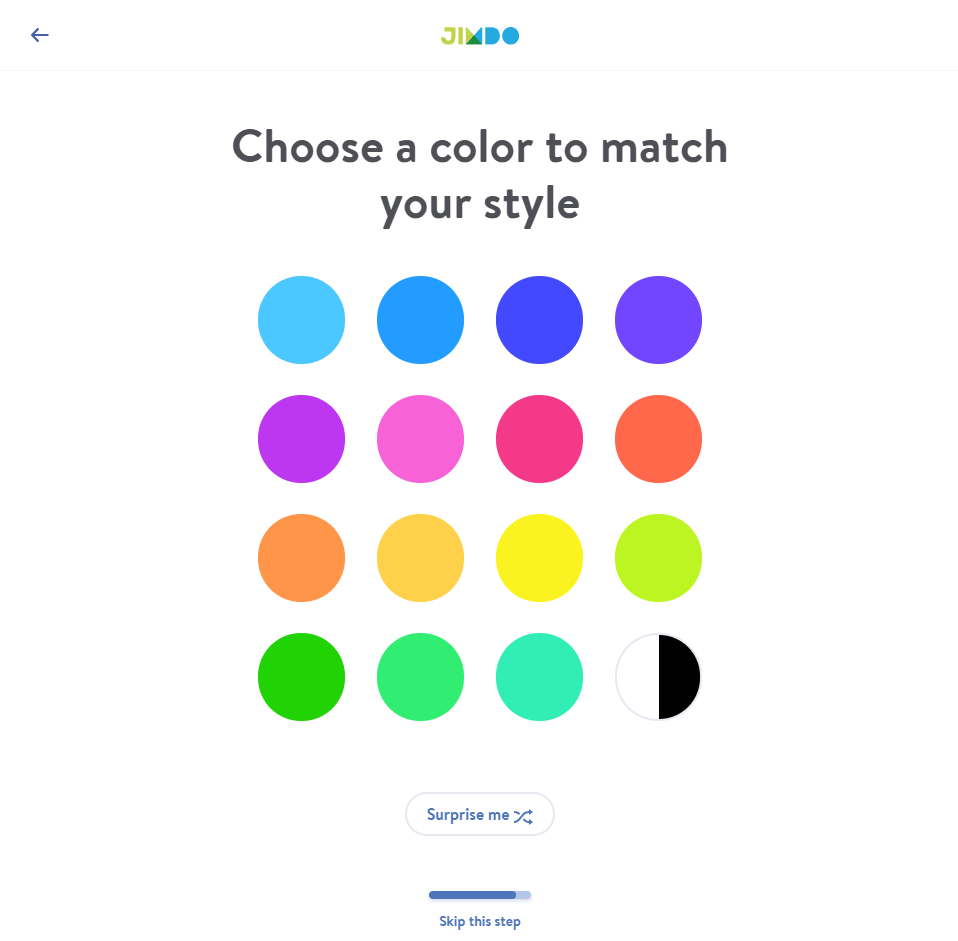 Note that you can skip any of these steps. But keep in mind that the less information you provide, the less likely you'll be fully happy with the initial website the AI generates. However, you can modify most of the settings later manually.
Creating a Site with Creator
It's possible to get a website up and running with
Creator
even faster than with
Dolphin
, depending on how long you take to pick a template. There are only three main steps. First, you pick the type of site you'd like to build (e.g., blog, store, personal):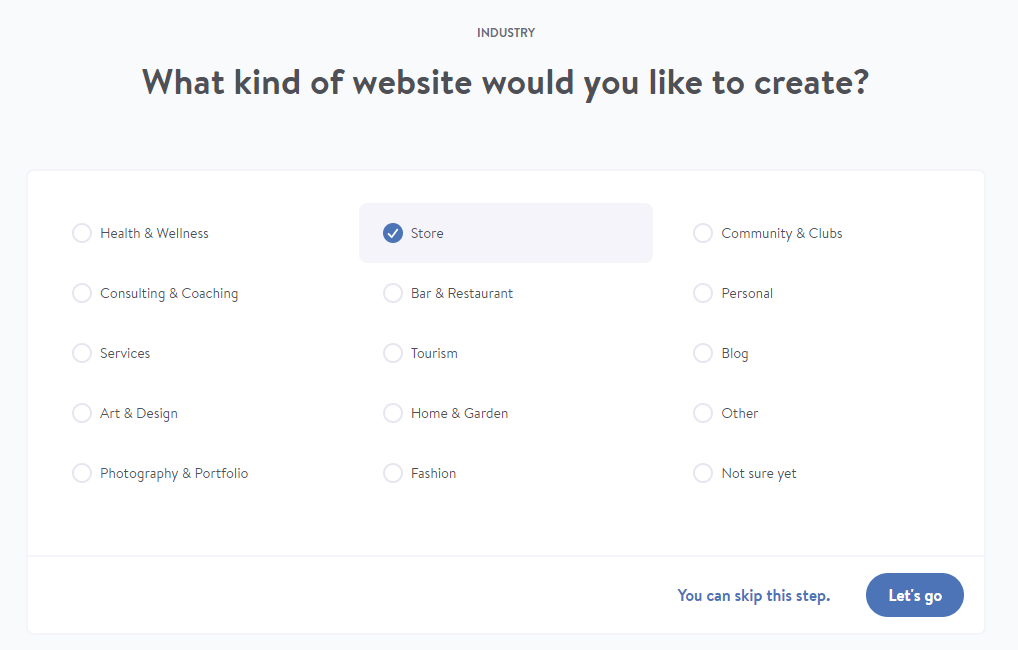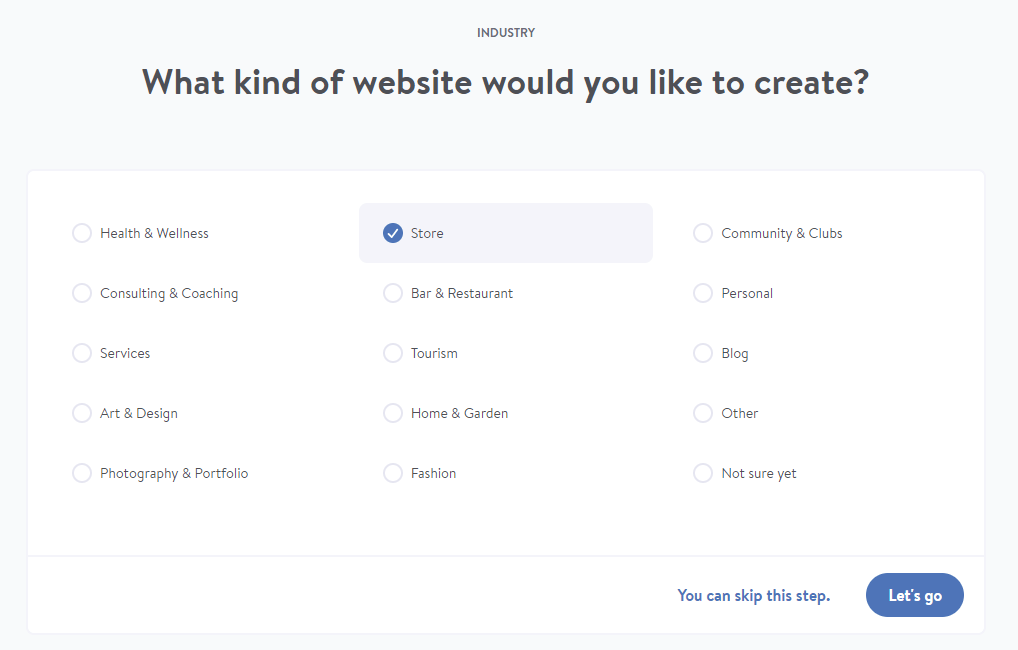 This will add some basic elements to your website to save you time adding them yourself. Next, you choose a template (or start from a blank one).
There are 15 templates total
, and you can change it later if you end up not liking the one you choose.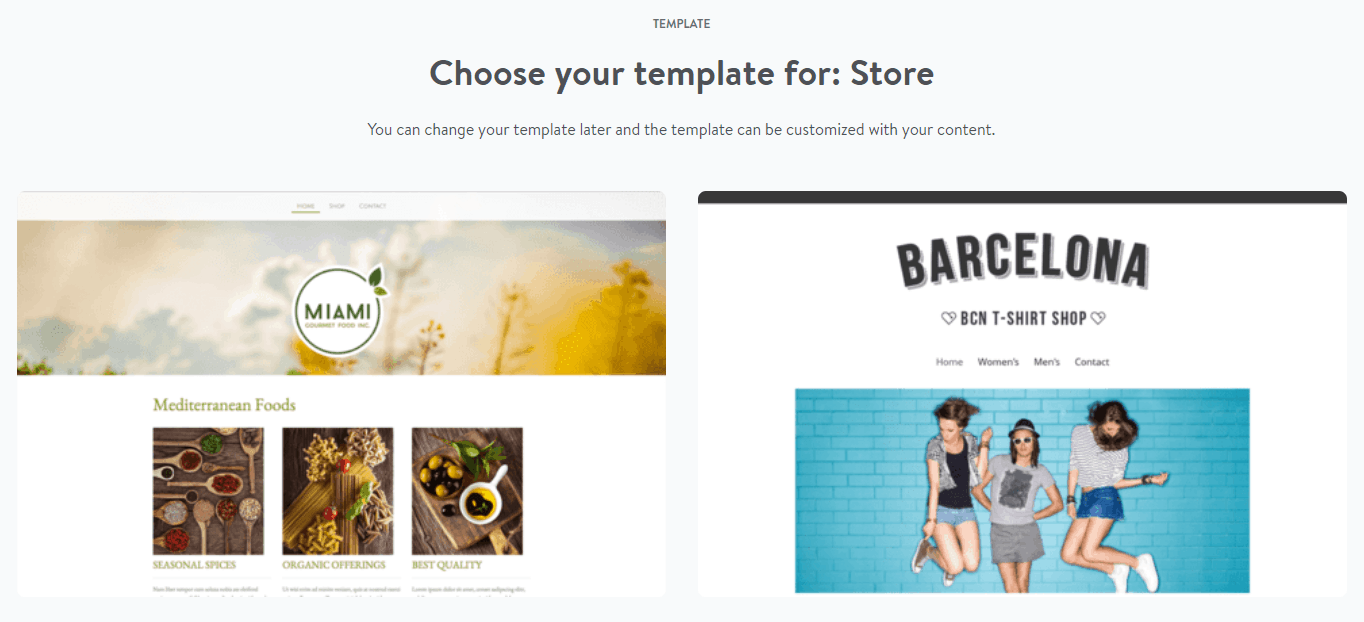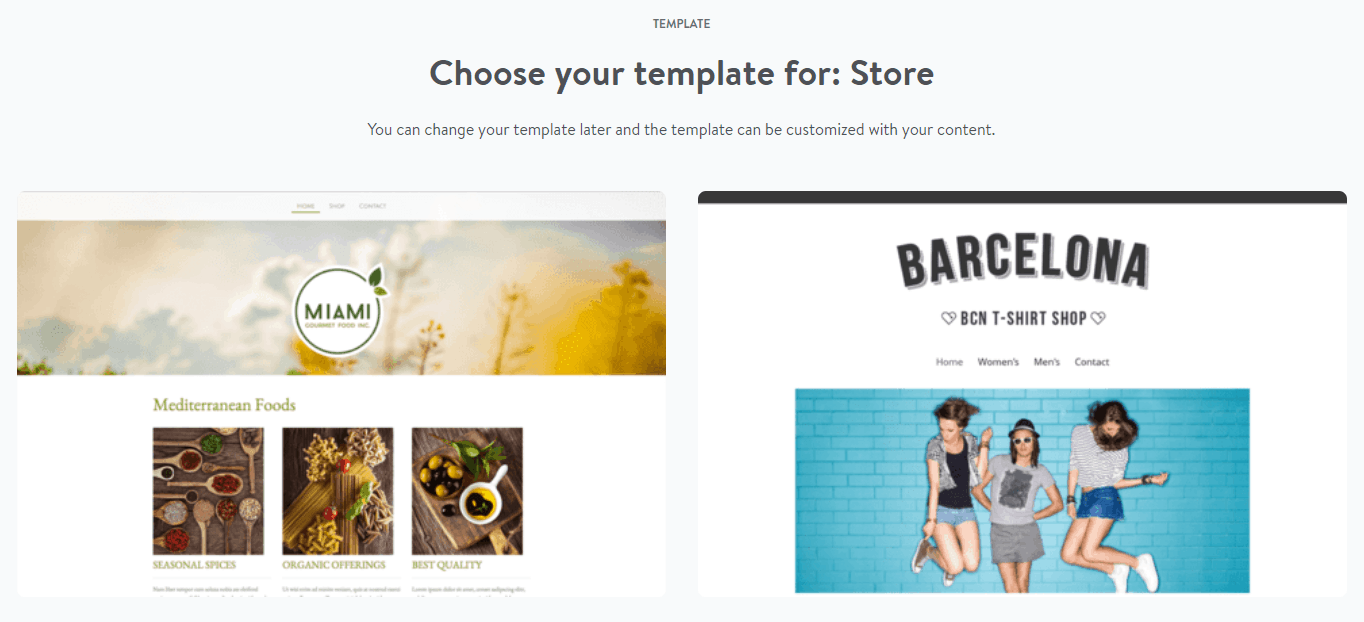 Then you pick a plan (the free plan is an option). Finally, you pick whether you'd like to connect your existing domain or buy a custom domain, or just use a subdomain of Jimdo (e.g., sitename.jimdosite.com). And that's it — pretty painless.
And the Winner Is…
It's a tie! When it comes to creating the first version of your website, both editors are very easy to use and take a few minutes at most.
Do You Want to Pick a Style, or a Template?
For either site builder, you can use the site editor to modify the original design or template you chose. You can change a few other style settings as well.
Styling Options in Dolphin
Dolphin
has three main menu options, one of which is "
Design
."

Here, you can change your website's design style. You can also edit any of the styles to gain a bit more control over certain elements:
Color theme
Font set (size + font)
Animations (e.g., slide in vs. fade in)
These design options will apply to all parts of your website.
The Dolphin editor also makes it easy to change the layout and style of any "block" on a page.
If you hover over a section, you can choose the "block design" option that pops up, which will give you styling options in a sidebar.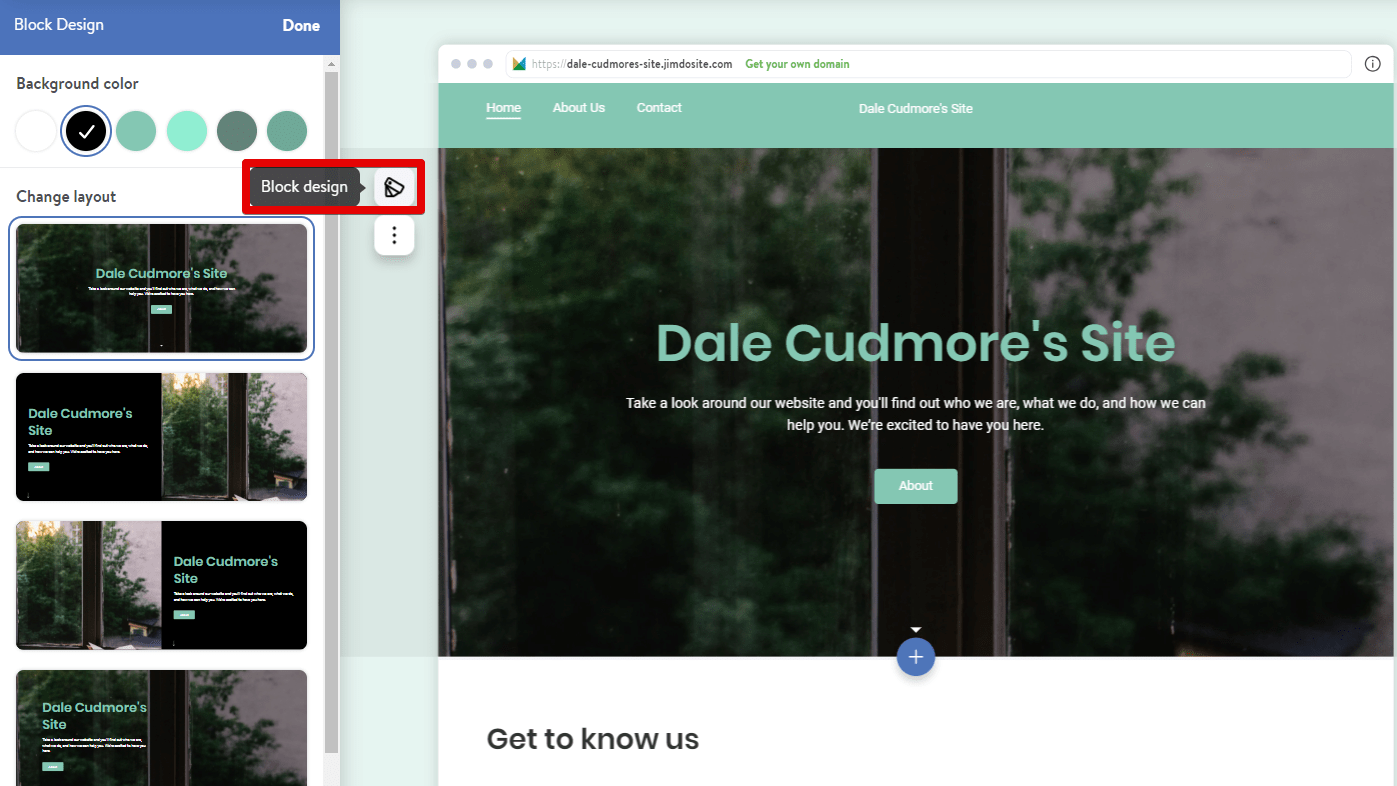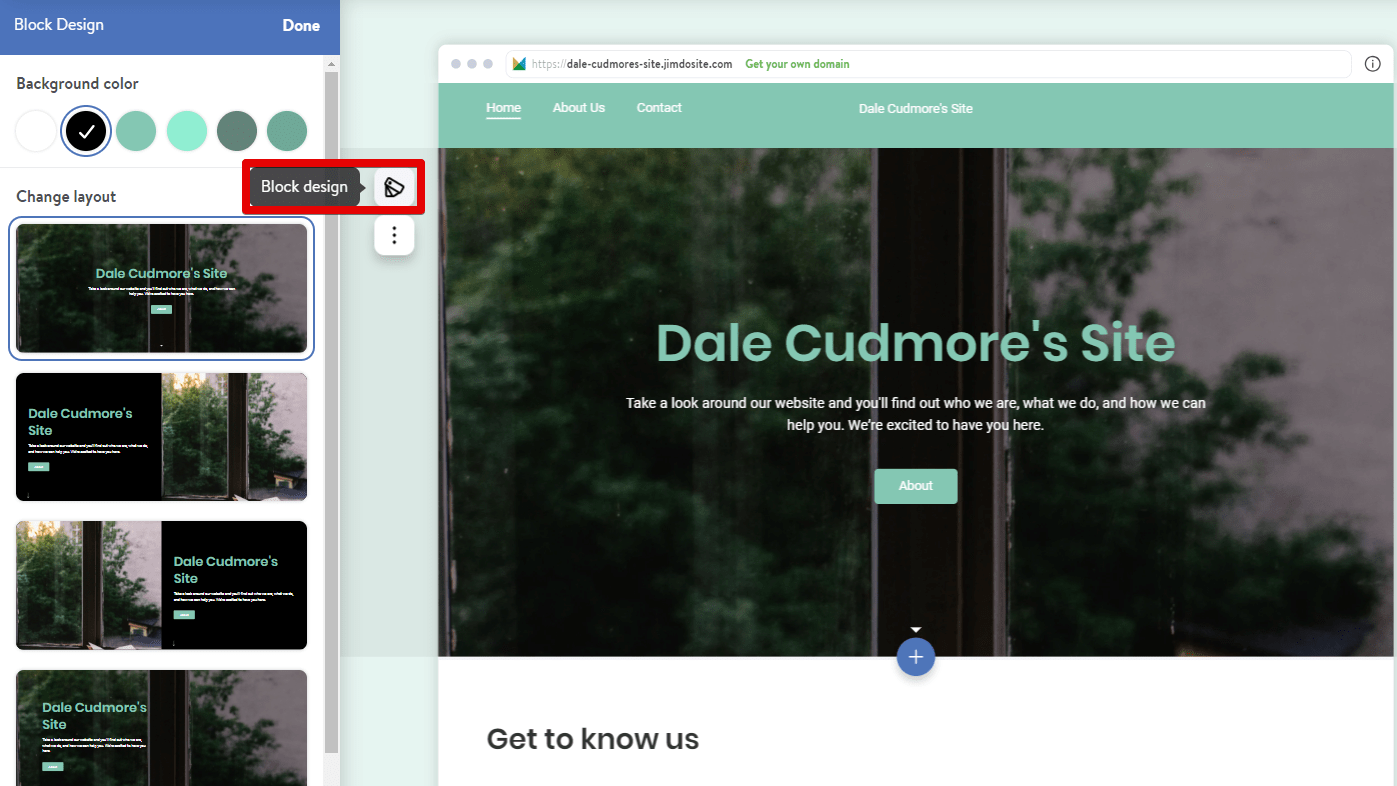 Besides the background color, you can also quickly change the layout of the whole block. Instead of trying to re-arrange individual text blocks to make them look nice, you can
pick from several professionally designed layouts
. While this doesn't give you full control over the layout, it's likely that you'll find at least one layout that you like. Overall, you can probably save more time using Dolphin than using many other website editors.
Styling Options in Creator
Creator
has a few more menu options. Let's look at the options you get in the "Design" tab.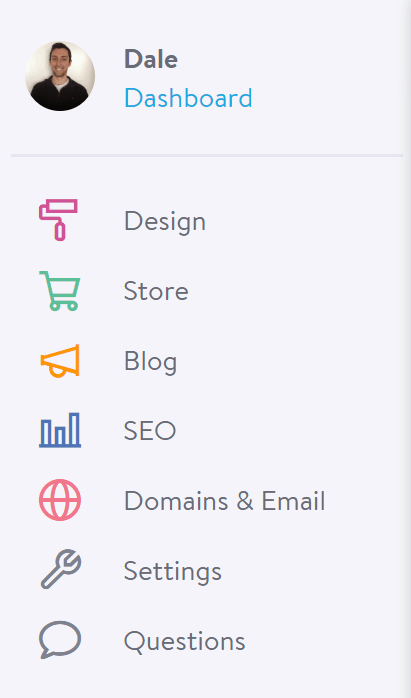 The Design menu has three main components:
Templates, Style, and Background
.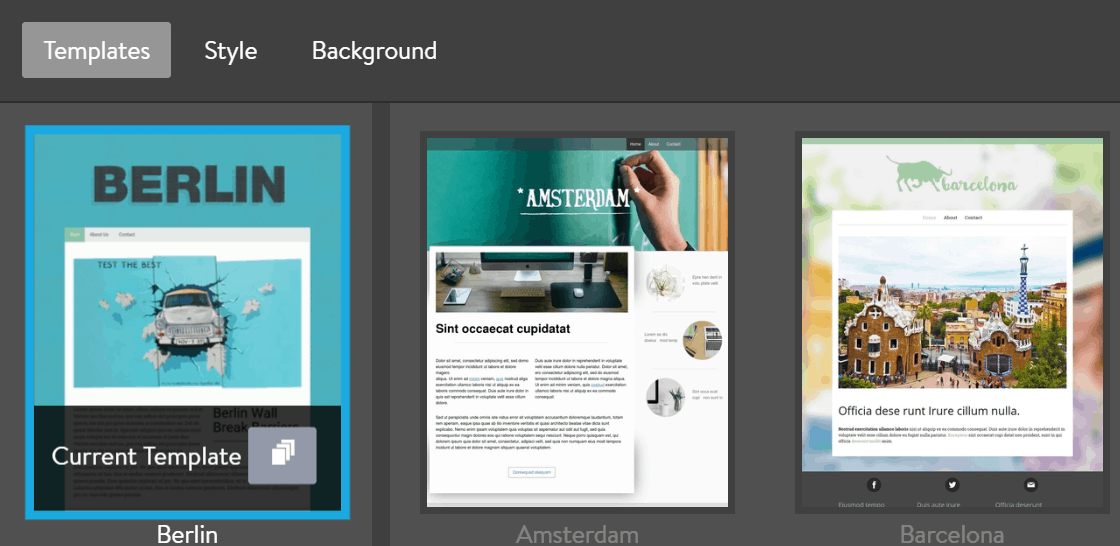 The Templates section will let you preview and change different templates. The previews load relatively quickly (under five seconds).
Note that if you change a template, it can mess up your whole layout.
The Style section lets you change your primary fonts and color scheme, and the Background section lets you change the page's main background. Unlike
Dolphin
, in
Creator
you need to organize page elements individually; there are no pre-made layouts to help you out.
And the Winner Is…
Dolphin
. The templates in
Creator
have unique layouts and styles, so changing them can mess up all of your customizations.
You can change Dolphin's styles without negatively affecting your website
, and the premade layouts will save you lots of time, as you won't have to change the design of individual sections on a page.
Would You Rather Add Elements in Groups, or Individually?
Regardless of which site editor you choose, you'll need to customize your pages. So, let's look at how you add elements to a page, and what options you have.
Customizing Pages in Dolphin
Whenever you hover over an edge between two sections,
Dolphin
shows you a circle with a "+" sign in it. Clicking this will bring up a left-hand sidebar that lets you add elements.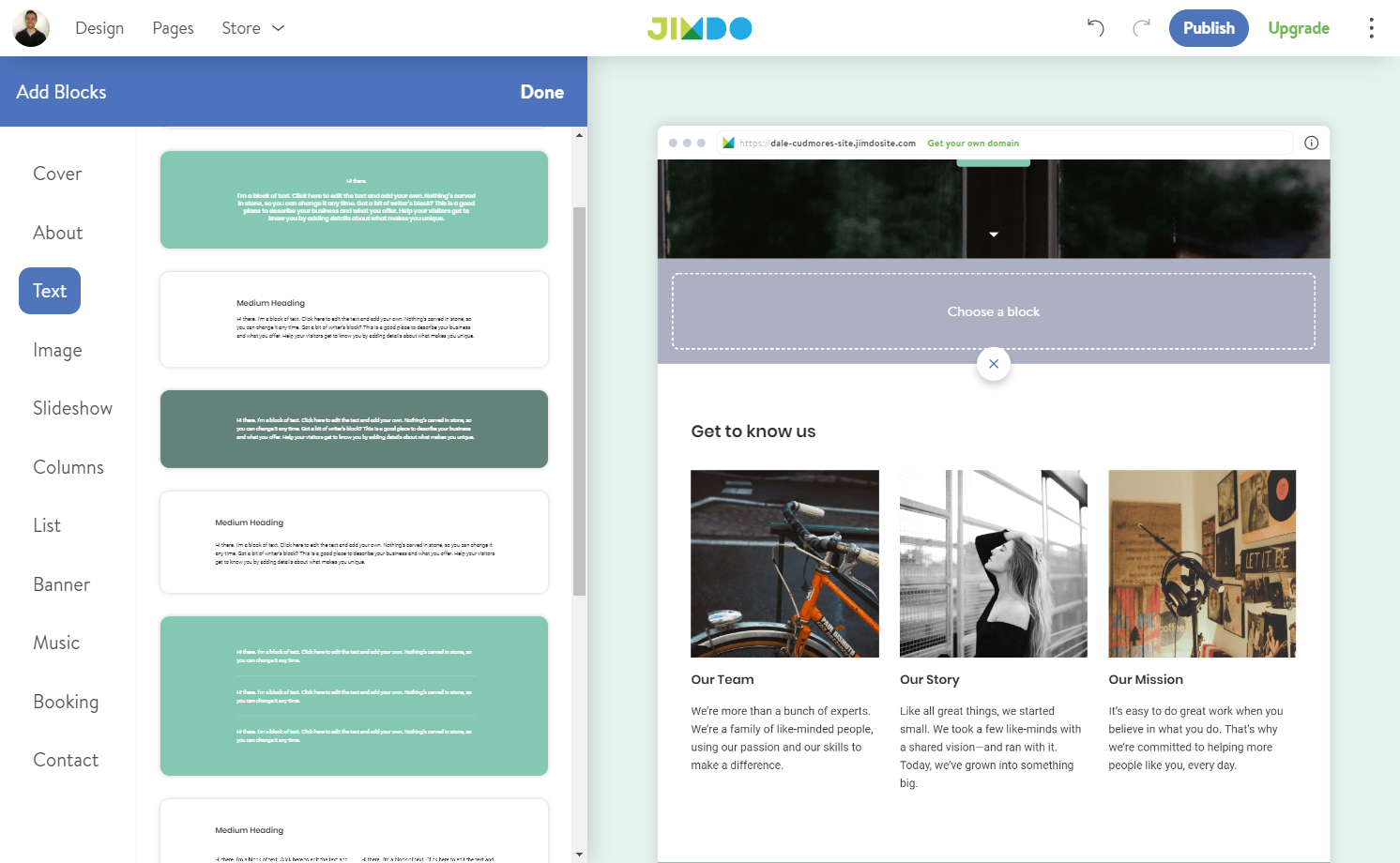 What stands out to me is that
you're not just adding an individual element
. For example, if you select even a basic element like text, you can choose from several types of text elements — all with their own formatting already done for you. On top of basic elements like text and images, there are quite a few page elements that are more advanced, including:
Slideshows
Columns
Music (to embed audio files)
Contact forms
It's a decent selection to pick from,
but if it doesn't have an element you want (e.g., a map), you're out of luck
.
Customizing Pages in Creator
The
Creator
site editor isn't quite as pretty, but it's simple to use and quite powerful. As you hover over your page, you'll notice pop-ups that say "+ Add Element." Clicking one of these will expand a small panel in that space: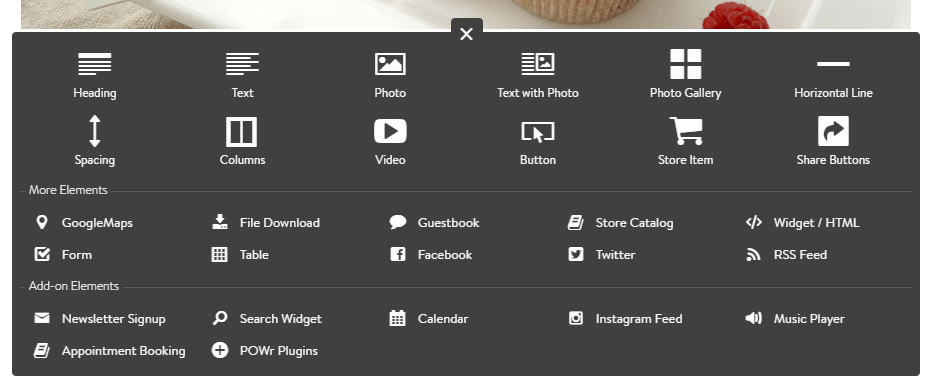 Instead of picking from several variations of layouts, you choose from individual page elements that aren't styled. While most of the elements are similar,
there are a few extras, like maps, and social media elements that Dolphin doesn't offer
.
And the Winner Is…
Dolphin
, by a small margin. Adding page elements in Dolphin is cleaner, and being able to choose from multiple layout styles will save you lots of time doing it yourself. Creator can be better if you need any of the extra elements it offers.
Dolphin Has Clean Page Management – Creator Lets You Blog
In most cases, you'll have more than one page on your site. The process of adding or selecting pages to edit is similar in both editors, but there are a few crucial differences.
Page Management with Dolphin
One of the three menu options at the top of the
Dolphin
editor is "Pages," which is an intuitive panel that displays all your pages and lets you create new ones: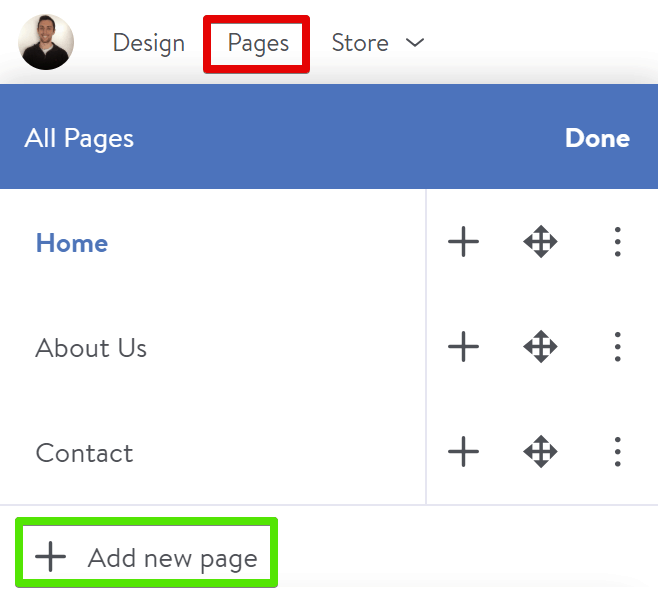 Adding a new page will also create a link to it from your site's menu
. You can hide it from the additional options for each page on the page panel. New pages are mostly blank, other than your standard menu options.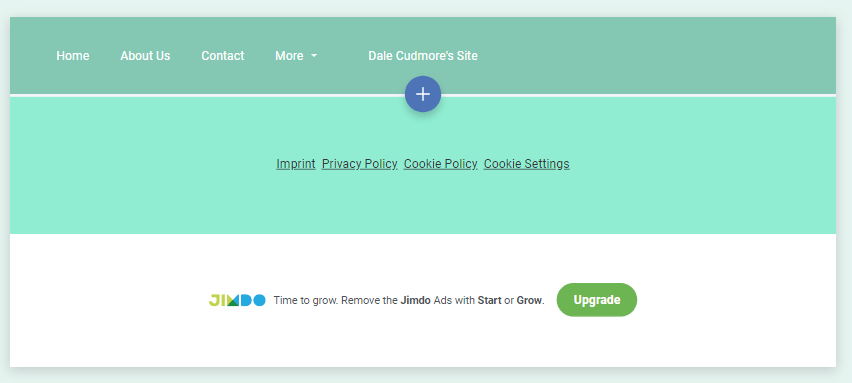 You can also find your "system pages" here, which are pages that all Jimdo sites have. These include:
A privacy policy page
A cookie policy page
A 404 page
You can see and customize them here if needed. Aside from standard pages, there's also the "Store" option from the top menu, which allows you to add and sell products on your website. I'll discuss that in more detail later.
Page Management with Creator
The process of creating pages with Creator isn't always obvious at first
, but it's simple once you know how. Hovering over your site's navigation menu will bring up an "Edit Navigation" button that you can click to open a panel of your pages.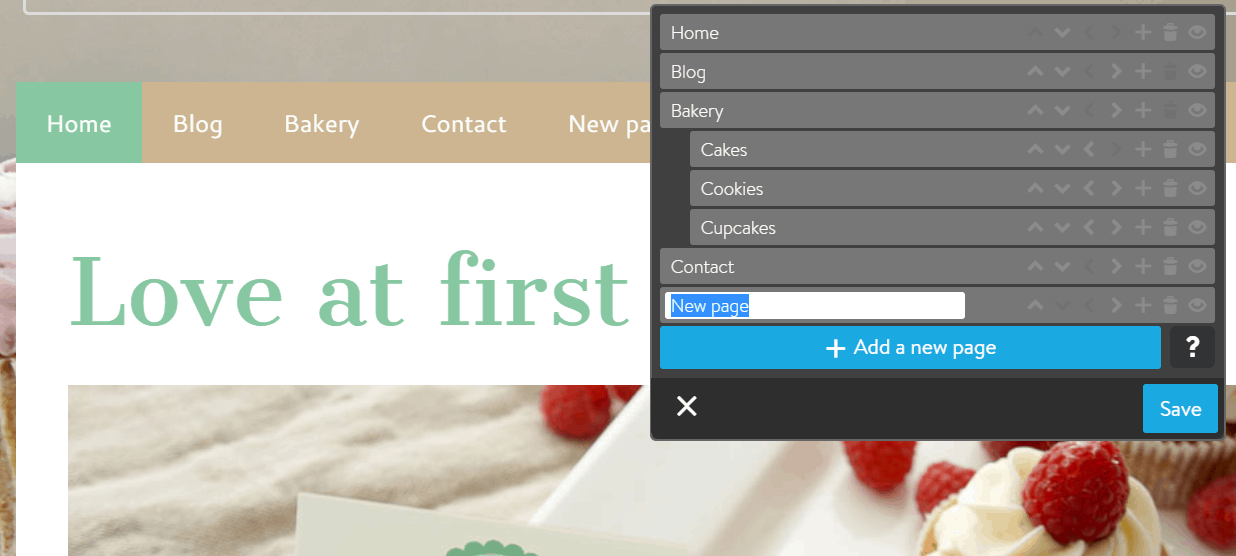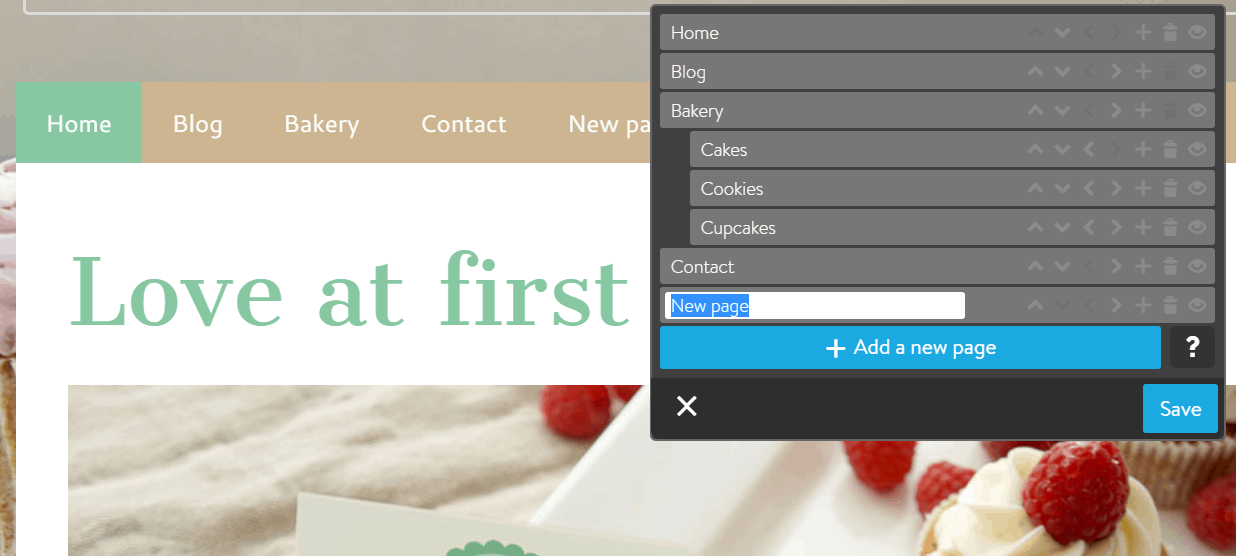 Once you've found that, it's fairly simple to add or select a page. In the main menu, there's an option for a store and a blog.
If you want to create a blog on Jimdo, you have to use the Creator site editor.
Creating a blog post resembles generating a standard page. In this process, you will incorporate separate text (or other) elements into the post. Consequently, you will possess a blog page that effectively connects to all your posts.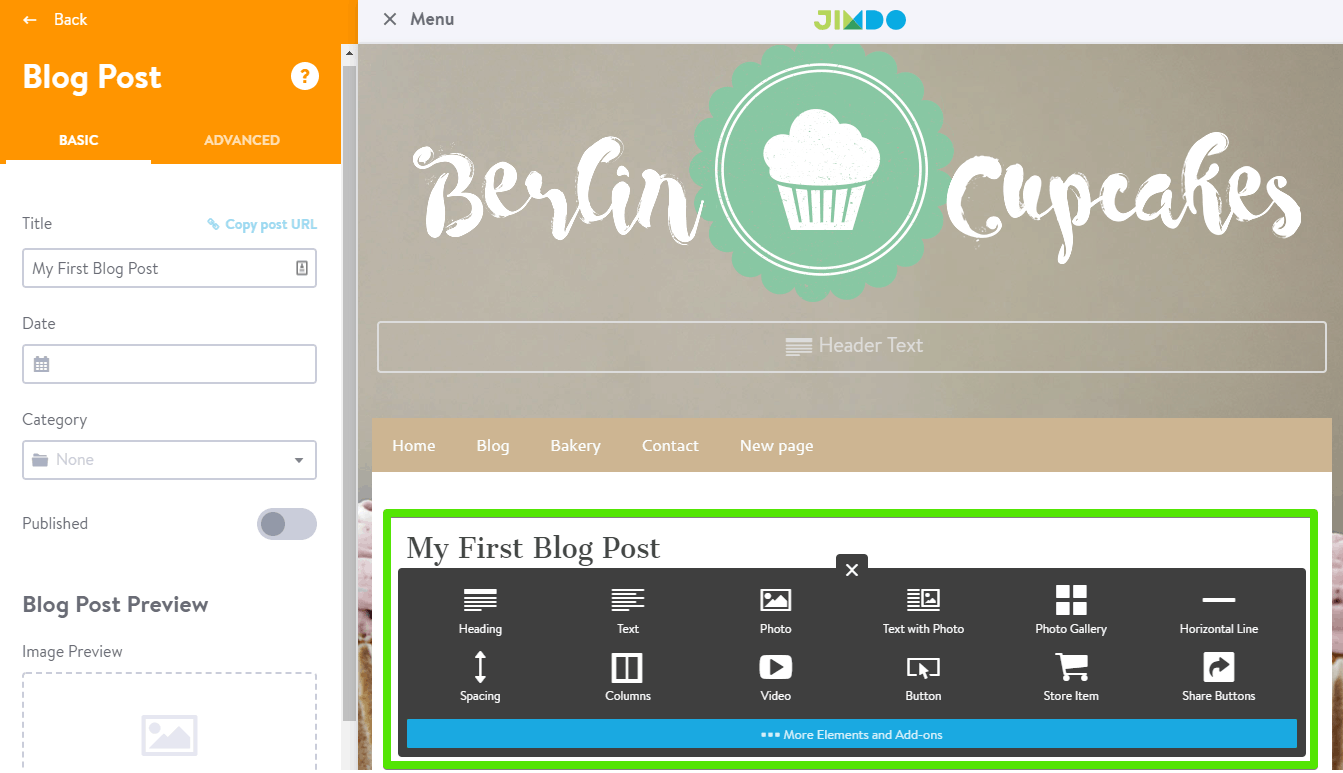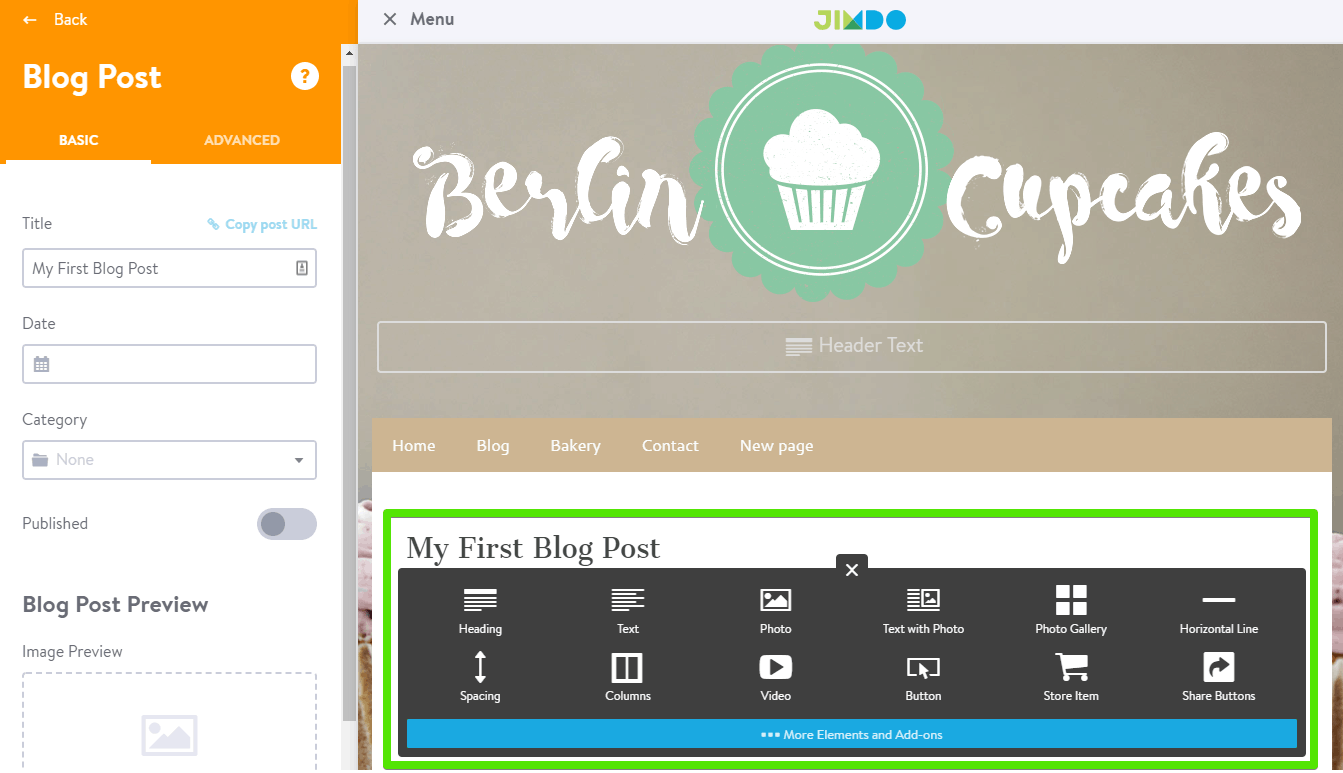 And the Winner Is…
Creator
. Most sites can benefit from having a blog, and
Dolphin
is missing that crucial functionality.
Dolphin's
page management is cleaner and easier to get to, but
Creator's
page management is still relatively similar.
Selling Products: Sleek and Simple vs. Robust and Ugly
Okay, "ugly" might be a tad harsh, but like many parts of the
Creator
site editor, the store works well — but isn't too pretty.
Store Management in Dolphin
Dolphin
has a simple store interface you can access from the main menu. It has all the basics for selling online. You can connect PayPal or Stripe, and choose shipping and tax options.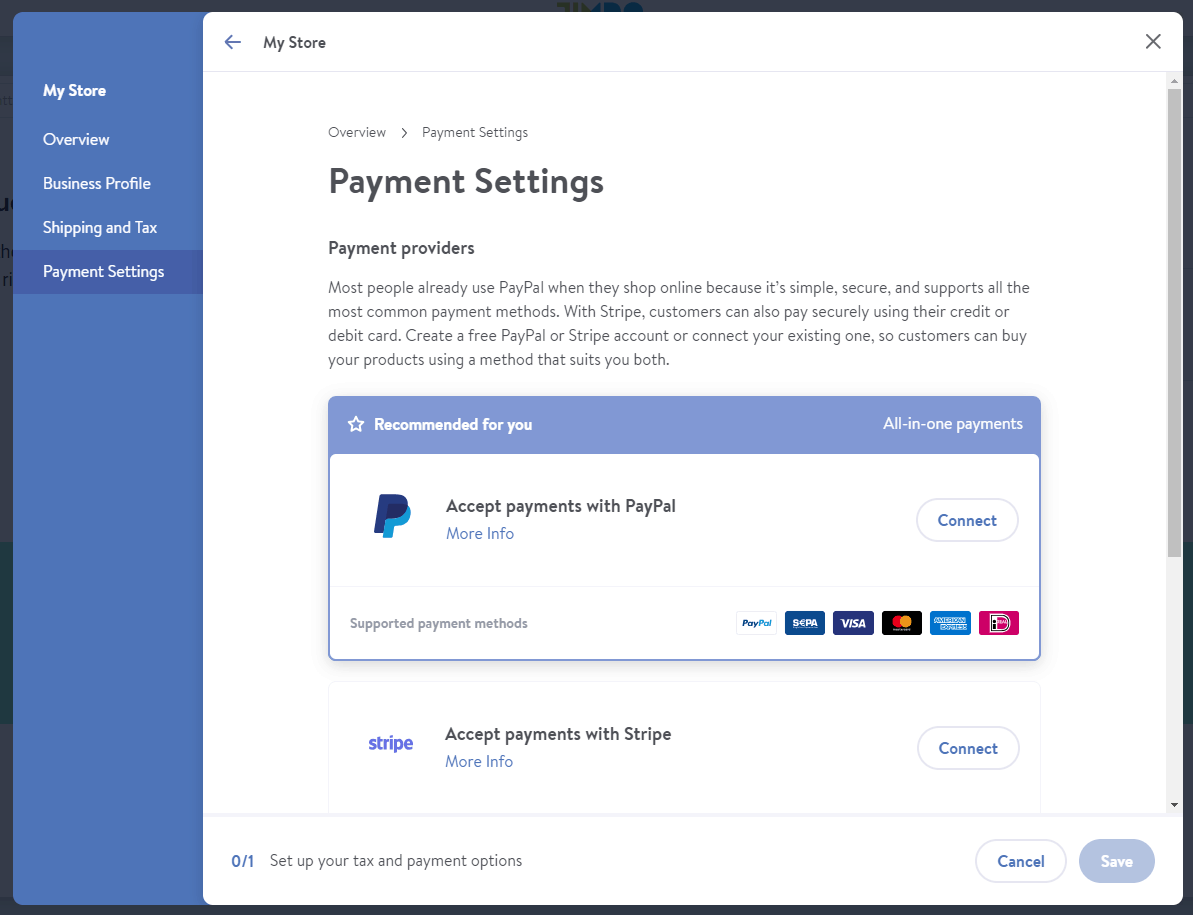 You can add a new product simply by giving it a name. Each product gets its own page and you can edit it just like a normal page in
Dolphin
. Thanks to a recent update, Dolphin has added an inventory management function. The update also allows you to offer your customers coupon codes.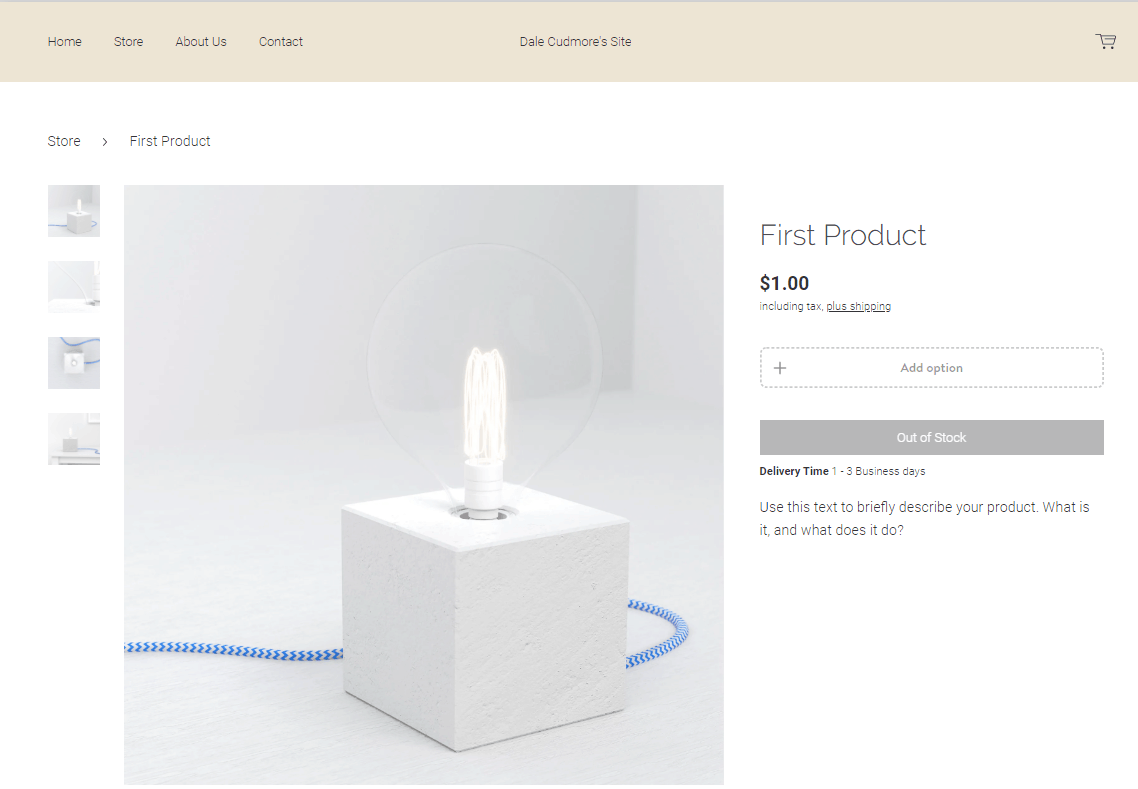 You're able to add the same sections to a product page that you can add to a regular page, and it comes with a nice expandable FAQ section by default. All your products will be added to your website's store page: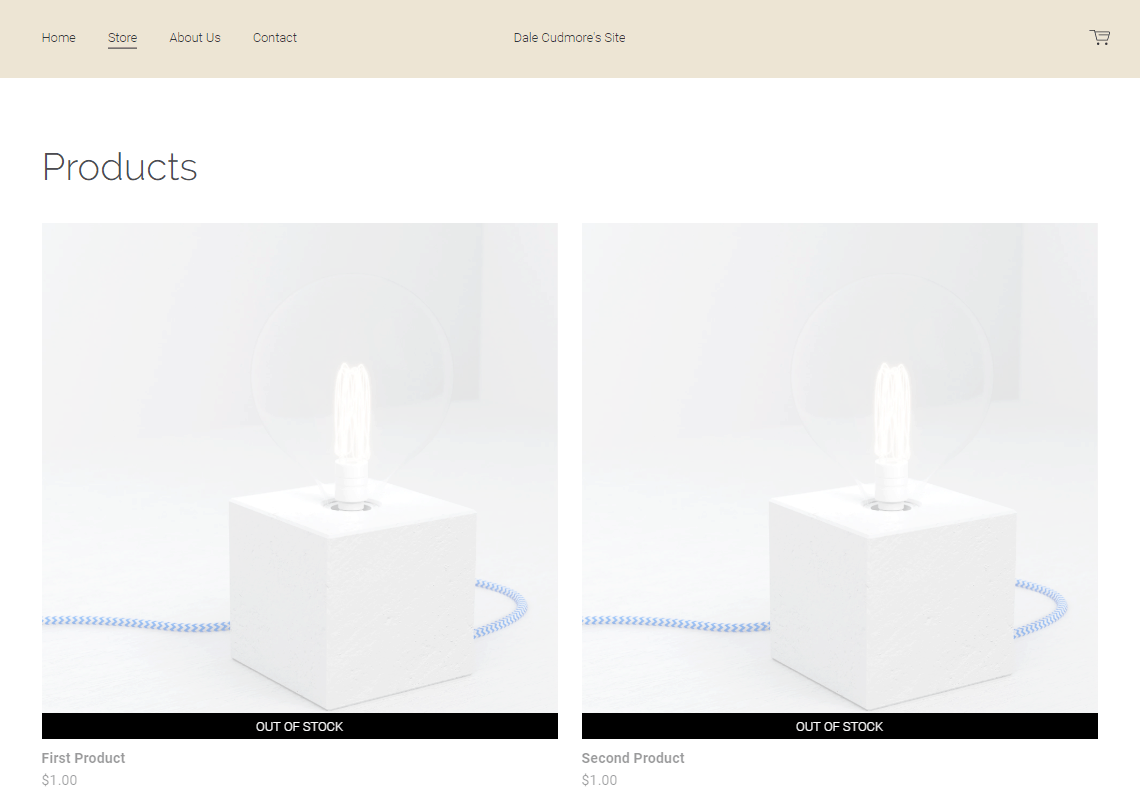 There's no filtering or sorting, which could cause issues if you're planning on selling many products.
Store Management in Creator
Compare
Creator's
store manager with
Dolphin's
, and you'll see that
Creator has a few extra sections, including inventory management
: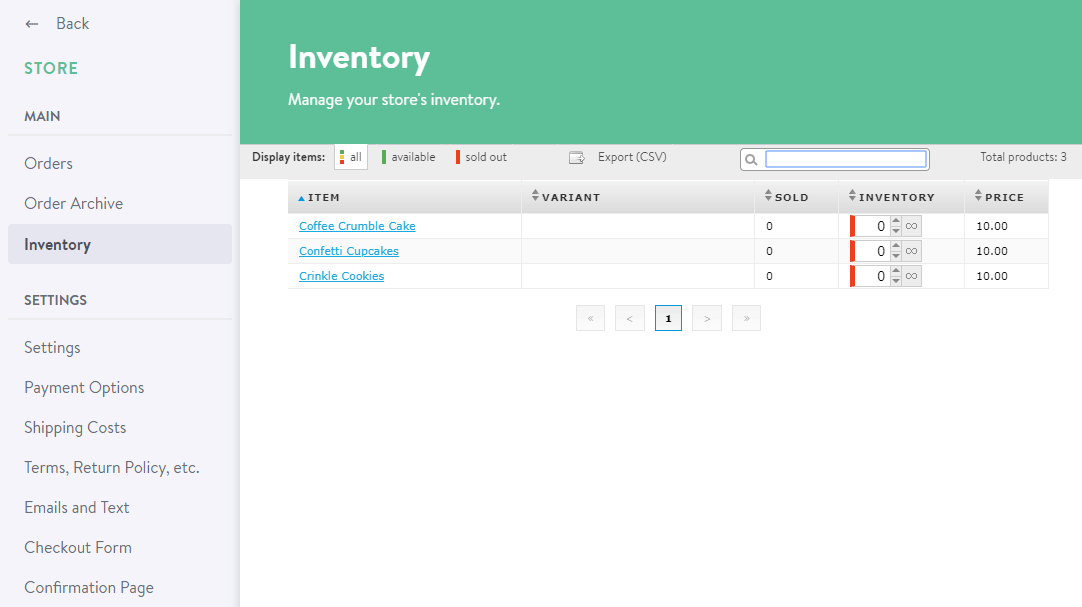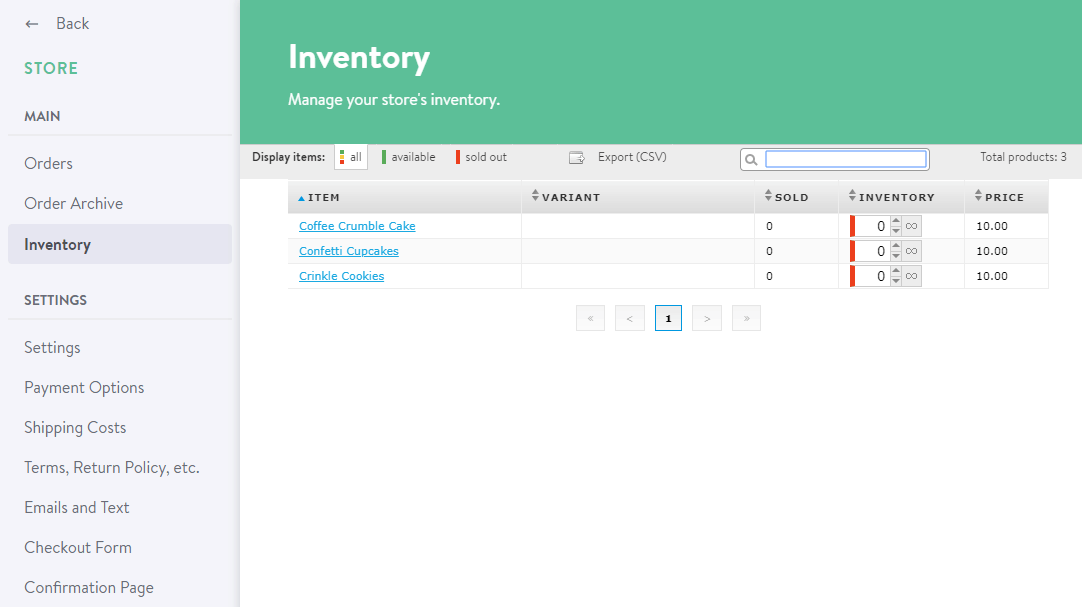 It's not as pretty, but has extra functionality. More importantly,
the product pages that visitors will see do look nice
.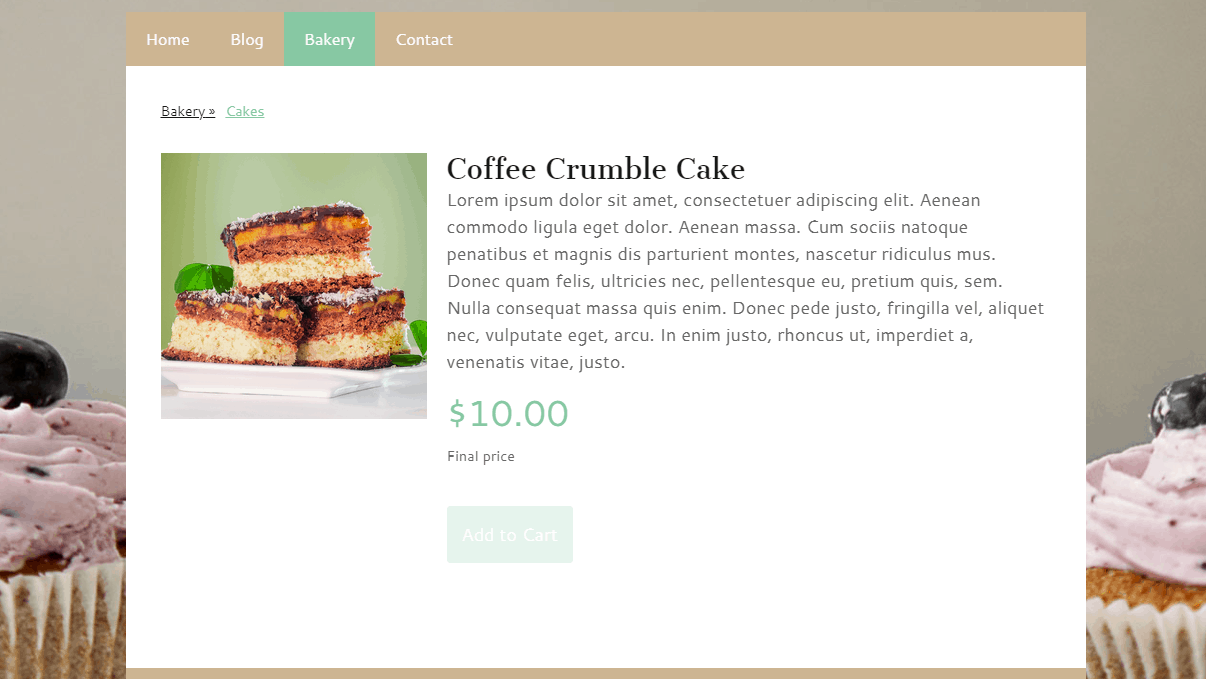 Again, you can edit them like normal pages.
And the Winner Is…
Dolphin
.
Dolphin
has the cleaner layout, and is more intuitive. However, if you're selling many products and need inventory management features, you'll need to stick with
Creator
.
Dolphin Is Typically a Bit More Expensive than Creator
The final aspect to consider is cost.
Dolphin
and
Creator
both offer fairly decent free plans, but if you want to remove Jimdo ads from your website, you'll need to upgrade to a paid plan with a monthly fee. The right paid plan for you depends on how big of a site you'd like to make, and whether or not you'd like to sell products. The pricing on Jimdo's pricing page is for the Dolphin editor. There are four paid plans to choose from:
Start
Grow
Ecommerce
Unlimited
The main differences between them are the storage and bandwidth limits, and whether or not you're allowed to sell products. (Only the two priciest plans, Ecommerce and Unlimited, let you create an online store.) There are also four paid plans for
Creator
. Once more, the key differences among the plans come down to the resources they offer. If you're interested in starting to sell products, the "Business" plan is the minimum you'll need.
And the Winner Is…
Creator
. While there's not a huge difference,
Creator
is generally cheaper. If you compare the most similar plans, the Business (
Creator
) and the Ecommerce (
Dolphin
) plans for example, you'll see that the Creator plans are a few dollars cheaper per month.
Which Jimdo Builder is Better for You?
We've seen some fairly significant differences between the two site builders. Overall, I'd say that
Dolphin
is the best choice for most situations. But if you need a blog, or an ecommerce site that can handle a decent number of products, Creator is the better choice. The summary table below recaps why I believe
Dolphin
is better:
| | | | |
| --- | --- | --- | --- |
|   | Dolphin | Creator | Winner |
| Creating a site | AI-driven process that involves answering a few questions about your preferences. | More hands-on process that involves choosing your site type and selecting a template. | It's a tie. Both allow you to easily create a basic website within minutes. |
| Design | You can change design styles without affecting page elements, and pick from premade layouts for each section. | You can change the template and basic site settings like font. | Dolphin. It's easier and faster to change the style of your site as a whole, and change individual sections of it. |
| Site editor | Clean editor that lets you choose from multiple variations for each element. | Inline editor that gives you more options than Dolphin does and lets you add individual elements. | Dolphin. Being able to pick from pre-made formats will save you a lot of time. |
| Adding pages | Nice page panel to add and select pages, but no option to create a blog. | Page management panel that's a bit inconvenient to access, but you can create a blog. | Creator, if you need to create a blog. |
| Selling products | Nice store management panel, and it's easy to add products. Missing a few features, most notably inventory management. | Ugly, but feature-complete store management panel. Product pages are fairly attractive. | Dolphin. Its store interface is more intuitive. However, if you need inventory management, Creator is better for you. |
| Price | Four paid plans to choose from. "Ecommerce" or higher to sell products. | Four paid plans to choose from. At least "Business" to sell products. | Creator. The prices for comparable plans are slightly cheaper. |
Consider which features are the most important to you, and choose based on that. If you're not sure, note that you can create and play around with multiple Jimdo sites for free. Try both editors if you need to, and see which one feels more intuitive for you. And if you're still unsure, you can read our
expert review
to learn more about Jimdo, or click the button below to visit the Jimdo website.