You might know people making $$$ by selling digital downloads online,
and here you are, ready to do the same. Amazing! It's a learnable skill and is not nearly as complicated as you might think. Spoiler: Getting started can take as little as a few hours! But before we jump into the what and how to sell digital downloads, it's crucial to think through the
where
. While you have many options,
building your own site is the best route
– you don't want to spend your marketing dollars sending people to marketplaces and platforms where your competition hangs out. But it's advisable to connect your site to marketplaces and enjoy its benefits while building relationships with your consumers through your site. Only your website gives you control over the language, design, CTA buttons, and blog – elements you can tailor to your audience to ensure high conversion rates.
Building a digital download website has never been easier, thanks to website builders like Wix.
I'm not talking off the top of my head – I've actually gone through the process myself and documented every step with photos and instructions
.
Let's hop on!
Tips for Selling Digital Downloads Successfully
Here are some important things to consider before jumping into action
Find a Niche for Your Digital Content
Just like with selling physical products,
you have to ensure there's a demand for your digital products.
People find it easier to connect with physical products, whereas, for digital products, it's essential to instill the idea that the product will produce a desirable outcome.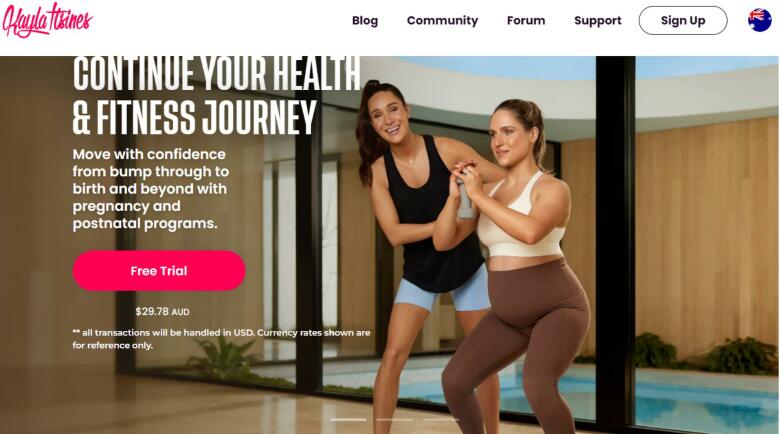 If you're a fitness guru, for example, you might want to sell some of your workout programs online. First, it might make sense to narrow your niche – what makes you stand out from other sculpted coaches in your field? Perhaps it's your approach to exercising (e.g., mind-body connection).
Think about other things you can sell related to your primary occupation.
For example, you can digitize your expertise in nutrition and create content on how to cook nutritious meals. Depending on your audience, narrowing this further to meal plans for getting lean, gaining muscle, or weight loss might be helpful. You can sell content separately or bundle it to accommodate different needs. How about a subscription with exclusive weekly content to keep your audience engaged (and secure a recurring revenue stream)?
Here are some questions you'd want to ask yourself at the very beginning:
What's your target audience?
How can you solve their problems?
How can your product make their life better?
Can you digitize your expertise?
If yes, are you sure you aren't competing with too much free content?
Is there an underserved space that you can enter?
Can you narrow your niche even further?
Research, research, research!
It will help you focus on
what people want
rather than
what you might think they need
.
Know Your Audience & Competition
Once you are clear about your niche,
it's time to learn what language your audience speaks,
where they like to spend time, and what appeals to them. At the same time, you want to see what your competitors are doing. Stalk forums, blogs, FB groups, YT channels, marketplaces, specialized platforms – any place that can give you insights!
Differentiate Your Brand
Are you the friendly expert, the sassy guru, the next-door geek? Don't be afraid to let your personality shine while tailoring the tone to your target audience. The same language that appeals to rappers will certainly not work for accountants.
Protect Your Digital Art
If you sell digital art, you own your content, but buyers can purchase a license to use it. When someone buys a physical product, they become the owner and can resell it. Your digital art is protected from unfair distribution, and no one other than you has the right to sell it. You can specify how buyers can use your art and grant different licenses. For instance, you can decide if your buyers can print your art in one or multiple copies, how they can display it, etc. Check ownership and licensing rules because every country has its own. Add a recognizable watermark to all your art pieces, display small-resolution images unsuitable for print, and display them in a flash slideshow instead of image files to avoid unauthorized downloads and screenshots.
Choose the Right Platform To Sell Your Digital Downloads
You can sell digital downloads on online marketplaces, your website, and specialized platforms.
But third-party platforms can't give you as much control over the branding, tone, and messaging as your website would.
A website is much more customizable and grows with your business.
Marketplaces and specialized platforms only sell your stuff.
They have hefty fees for listing and selling your products, giving you little to no conversion optimization, upselling, and cross-selling opportunities. Suppose you want to put your professional expertise into downloadable products to sell online, like educational courses and workout programs. In that case, you need a blog to build credibility and foster engagement. The best website builders typically have built-in blogging and SEO tools to optimize your site for search engines from the comfort of your dashboard.
To monetize through social media, you need a website as a destination for your customers to learn more about your products.
The last thing you want is to send your potential buyers to a crowded marketplace or platform where they'll get bombarded with competitor suggestions while browsing your shop.
On marketplaces and similar platforms, your customers are never truly yours.
These guys want customers to purchase – from your shop or any other. While you won't have to worry about driving traffic, you'd have to do some heavy lifting (and pay for ads) to get your shop noticed.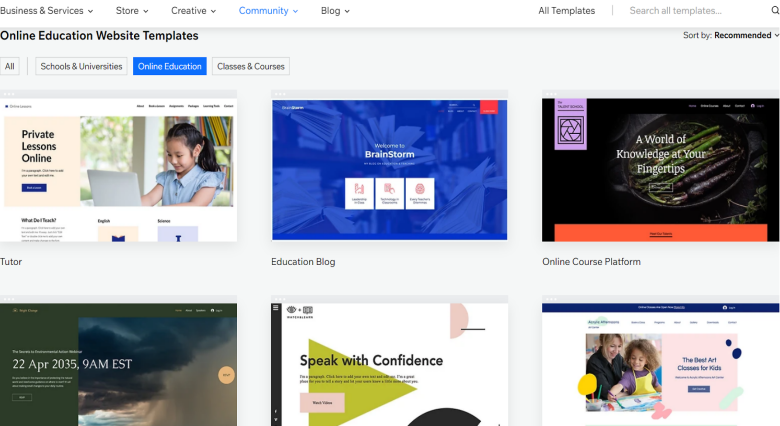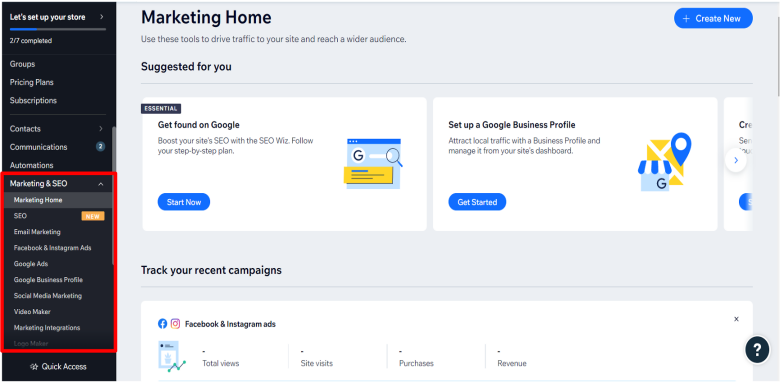 The main problem is that marketplaces and other platforms lack essential tools like customizable templates and marketing features that site builders like Wix have to help you stand out. It's best to integrate them into your site where you can keep direct communication with your customers. I will show you how easy it is to build a digital download website with Wix. You don't have to take my word for it – use Wix's free plan to try it yourself. If anything, you can
use Wix's AI technology Wix ADI to get a website in a few minutes
and customize it as you go.
Choose a Good Name for Your Online Store
A
domain name is what visitors see after www. in a web address
. It's the name of your site and should be the same as your store's name for branding purposes. You want to choose a short, easily-pronounceable, memorable name that reflects your brand. It should be specific to attract your ideal customer yet flexible enough to support your future growth. Do you have the right name for your store? Great! Before you rush to create your logo and branding,
make sure that there's an available domain that you can register under that name.
Wix allows you to check domain availability directly from your site's dashboard. If your name is unavailable, Wix will give you a list of alternatives. You can
purchase a domain name from Wix
 or connect an existing one to your site. Remember that domain registration is a subscription-based service separate from your website builder plan. All Wix e-commerce plans come with a free domain for one year.
Customize Your Digital Downloads Store
I have a degree in Economy, but I don't like other people controlling my schedule (spoiled full-time freelancer here!). Plus, my style is too young, (Rihanna) wild, and free to follow an office codex. Still, I can be an online financial guru! For this article, I'll play one for millennial women. Here's how I customized my store and how you can do the same. At the very beginning,
Wix asked me to pick a name for my store
. I wanted something sassy to make financial education sound cool, so I borrowed a verse from Cardi B's
Bodak Yellow
. And that's how
Make Money Moves
was born!
Wix then asked me to pick a template or let Wix ADI build the website for me.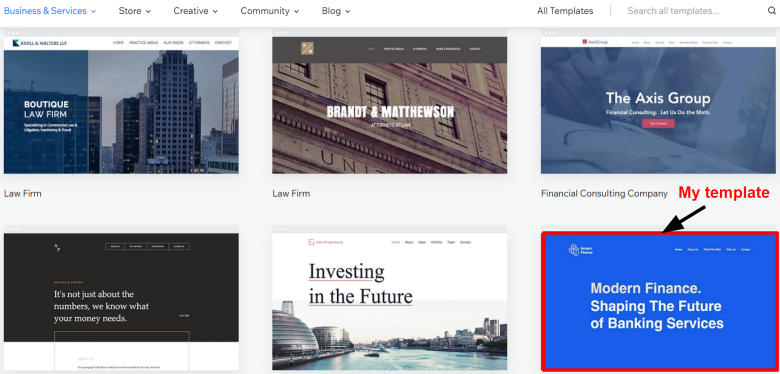 Wix ADI is good, especially if you want to get online as soon as possible.
You only need to answer a few business-related questions so Wix can personalize your site. Granted, it won't be a one-of-a-kind design, but you can customize it later. I prefer to do things my own way, so here I was, browsing through Wix's gallery of
800+ designer-made templates
.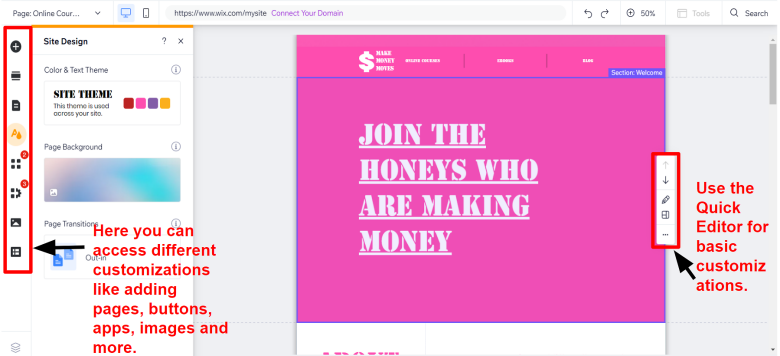 I chose a Finance & Law template to match my financial advisor role. I then created my own color scheme, added a dollar sign from Wix's free stock media library, customized my buttons, and tweaked the layout.
There's no grid, meaning you can go as crazy as you want with your design.
If you're a beginner, I'd suggest you stick to your template to ensure everything is well aligned.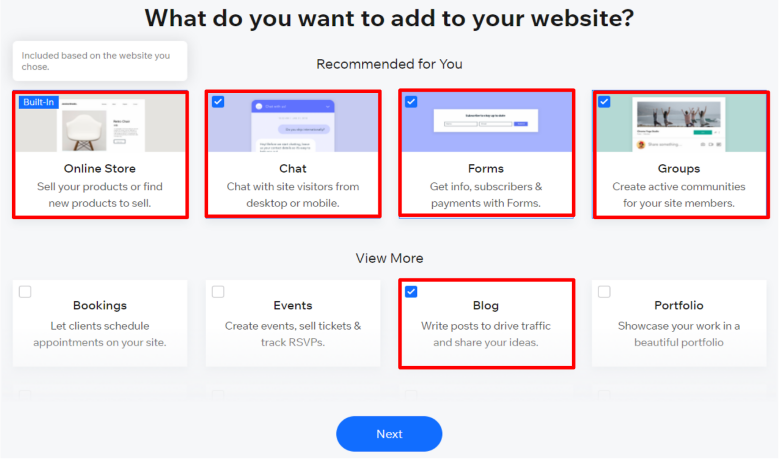 Based on the information I provided during the setup process, my template came with a bunch of pre-installed apps, including an online store, live chat, and forms.
There are 300+ free and paid apps that you can use to expand your site's functionality.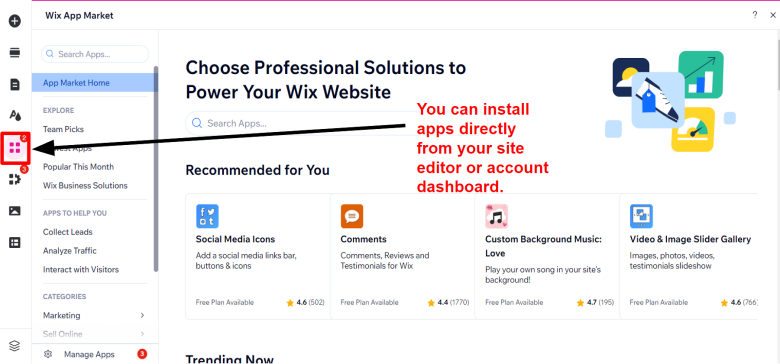 If you ever decide to sell your designs on prints, canvases, tote bags, or T-shirts, Wix can connect you with reliable print-on-demand services.
You won't need to run around to pack your goods, print shipping labels or ship them – everything will be handled for you. It's a great way to generate some cash with no extra effort! If you're selling photographs, the Wix Pro Gallery supports high resolution, automatically optimizing your images for the best quality and fast loading. This free tool comes with customizable layouts, edits, and effects that you can use to create stunning galleries.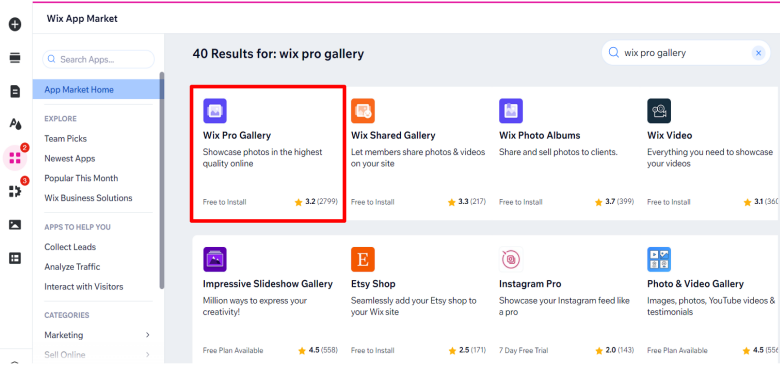 If you are a music artist, Wix Music is a free app that lets you sell your music online without upgrading to the Premium Plan.
If you want to sell videos, you can install Wix Video
for free
and monetize your video content by selling or renting digital downloads or creating subscription channels. Fit by Wix is another free app that enables advanced interaction between your clients and your fitness business.
How To Add a Digital Download on Your Website
Adding digital downloads to a Wix website is only possible with a site owner account
, not a
site contributor
. Go to
Products
from your dashboard and click
+ New Product
. Select
Digital File
from the dropdown menu and click
Upload File
. You can upload images, audio files, documents, and zip files.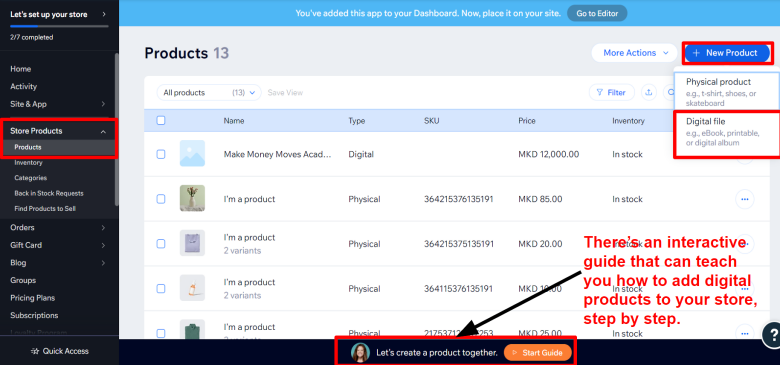 Choose the file type you want to upload and click
Upload Media
to add a new item. The file will appear in your
Digital Product Media Manager
, where you can select it and hit
Add to Product.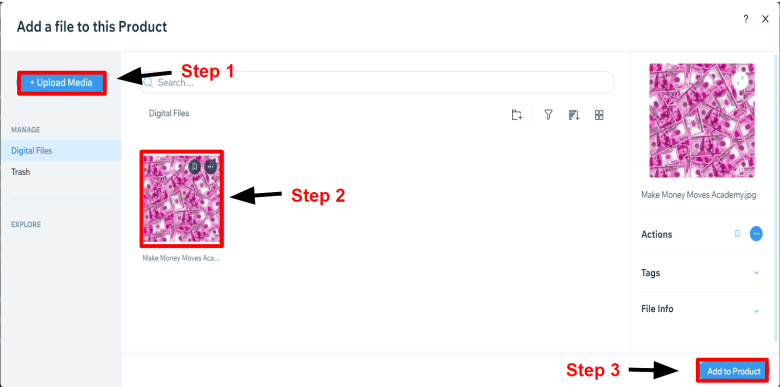 Next, you need to enter the basic product info
, which includes the name (up to 80 characters), and description (up to 8000 characters). Bring out your inner copywriter to highlight the best selling points about your product! If you're pasting the description from another source, make sure you use
Shift +Ctrl + V
to get rid of any formatting. Here, you can
add a ribbon to your digital product like Best Seller, New,
or whatever you like. Use these attention grabbers sparingly to highlight items or introduce new items. They lose their value and create a cluttered look when overused.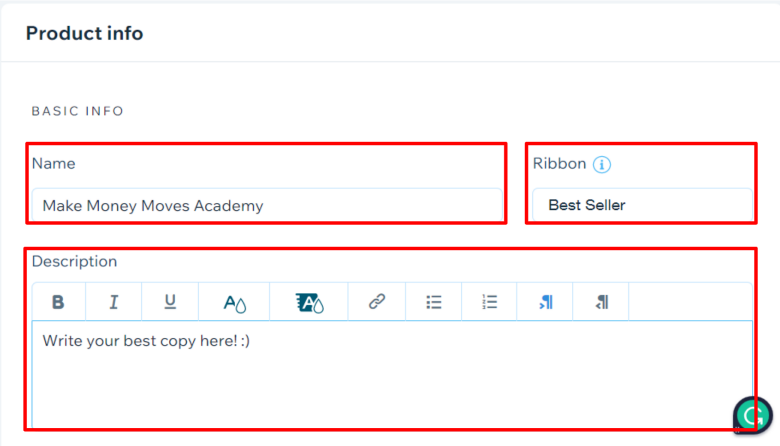 Finally, set a price for your digital download
. You can also add the
Cost of Goods
and let Wix calculate your profit and margin percentage. It's a cool feature that shows you exactly how much you'll make with each sale. Optionally, you can enter a discount amount or percentage.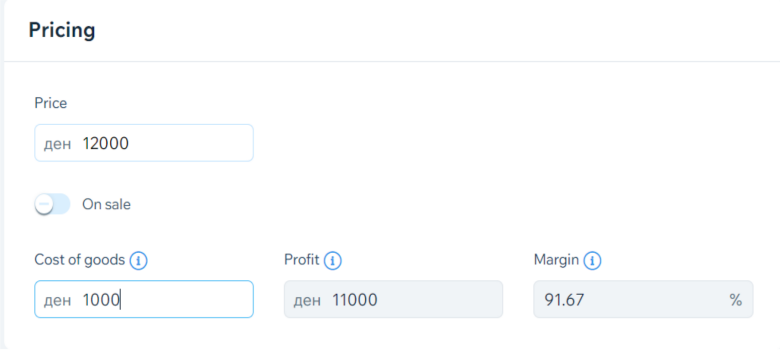 That's it! Hit Save and your digital download is ready to make you money!
Update Your Store Settings and Payment Information
My inner control freak took a well-deserved mental vacation, thanks to Wix. I didn't have to think much – the handy store setup checklist from my dashboard showed me all the steps to complete my store setup. While this list has all the essentials, you'd want to go to
Settings
to access all store settings and update them accordingly. Complete your business and tax information, and set your site language, region, and currency before publishing your site. Selling digital downloads internationally is just as easy as selling locally.
You can add Weglot Translate from the Wix App Market to make your site available in 100+ languages.
It costs extra but will ultimately
translate
into more sales. The app optimizes and indexes your site in any translated language, following Google multilingual SEO best practices. Depending on your location,
Wix connects you with 70+ payment providers
, making it easy to check out global customers with payment providers they trust. It also has an
in-house payment solution, Wix Payments
, which lets you keep your customers on-site for checkout, customize the payment process, and manage all your transactions from one dashboard. Combining it with popular and globally available options like Paypal and Stripe is best. This way, you can make your products available in more countries and let skeptics not keen on lesser-known providers like Wix Payments use a payment method they trust.
Preview and Launch Your Digital Download Store
Ready to introduce your stunning digital download store to the world? Congrats! But let's make sure everything looks pretty and well-aligned!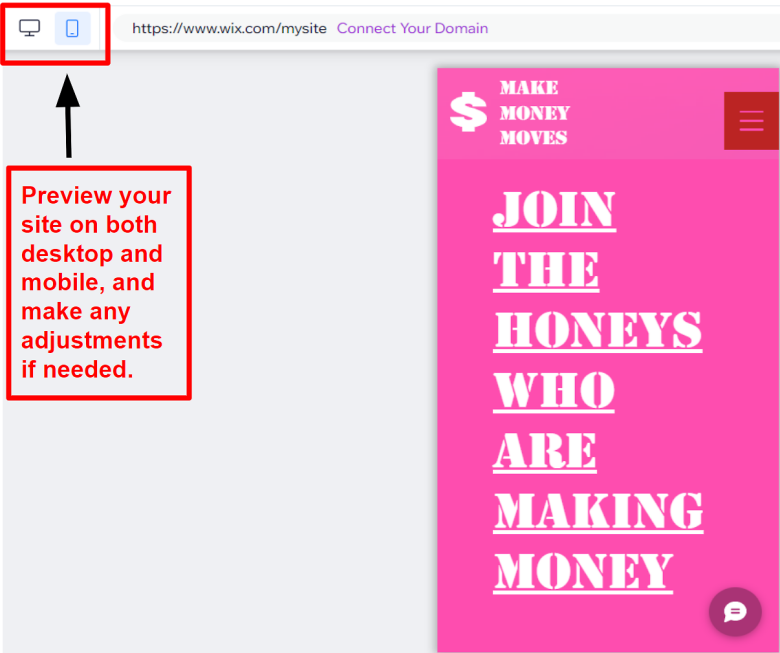 Test all your pages on different screens to ensure your content displays correctly.
Wix sites are mobile-friendly but not mobile-responsive. In essence, your site will look fine on mobile devices but may not support some advanced features. If you alter your template excessively, you may have to tweak things manually through the mobile editor. Test all your buttons, installed apps, contact forms, and other features. Search by product name to see if your search algorithm works, add items to your card, and test the checkout process.
Once your website goes live, you can monitor your site speed from Analytics & Reports.
The reports combine data from your site visitors and Google PageSpeed Insights. Wix provides out-of-the-box optimization, but you might need to adjust your content and design if they affect your site's performance.
Aim for under 3 seconds of speed load and a PageSpeed Insights score between 90 and 100.
Start Selling on Amazon, eBay, and Social Media
Now that you know the basics of selling digital products,
you can connect your Wix website to all major marketplaces and social channels to access a wider audience.
You will most likely pay more in fees and ads, but your products will get exposed to hundreds of millions of people.
Some channels, including eBay, Facebook, Google Merchant Feed, and TikTok
, are available from your account dashboard within Sales Channels. To add a shop button to your Instagram posts, you must set up a Facebook Shop and connect a business Instagram account to your Facebook page. Amazon Kindle is one of the largest platforms to sell downloadable ebooks globally, offering 12+ million titles. It's also a popular destination for selling online courses, digital art, software, and music. Commissions can reach up to 30% per sale, but you may get a significant boost in sales.
To connect your site to Amazon, install the app from the Wix App Market.
Etsy is where roughly 7.5 million artists sell to over 96 million buyers.
With the free Etsy Shop app on the Wix App Market, you can easily connect your Etsy shop to a Wix site.
But it's not the cheapest option for selling digital downloads – it charges $0.20 for every listing and a 6.5% transaction fee for every sale you make on top of payment processing fees.
Promote Your Digital Download Online Store
Can you win hearts with words?
Start a blog to drive organic traffic to your shop with SEO
. EBooks, courses, and programs are a great way to establish credibility with your audience. You can also offer bloggers an affiliate marketing program to recommend your products.
Wix has some of the best built-in SEO tools I've seen.
Its new SEO dashboard provides all the resources needed to optimize your site, even if you've never optimized for search before. It includes a personalized step-by-step SEO checklist and educational materials tailored to your level of knowledge. Search Console Insights are also available within the SEO dashboard
You can use email marketing to upsell, keep existing customers engaged, and announce releases, promotions, and sales.
People love free stuff – it could be a few printables or a chapter from your eBook – and it's often the bait they need to become customers. Check out the best
best email marketing services
if you need help building your list and running successful campaigns. If you sell printables, patterns, and digital art, work on building your social presence on visually rich-platforms like Instagram, Facebook, and TikTok. No matter your niche, you can maximize your social efforts with some of the
best social media management tools for business
. Most sites don't soar overnight unless you're a Kardashian launching a new whatever.
If you're feeling stuck, these
freelance websites
are filled with experts in just about any niche.
And more often than not, they deliver excellent service at affordable rates. You need to invest time and money into your commerce store for online digital products if you want to see it flourish.
Start Your Digital Download Store Today
Without many of the costs and risks associated with selling physical products, selling digital downloads has the potential to turn into a lucrative business. But, just like any business, you must invest resources to get it off the ground. And with little creativity and patience, those resources can result in a good income stream for years to come. Think of your new website as a newborn. You need to give it extra love and attention to grow into a happy, independent, successful individual – who might pay for your vacation or buy you a new car one day!
Keep your site fresh with new content, track its performance, and optimize when needed.
Now that you know how to sell digital downloads, it's time to take the first step.
A beginner-friendly yet feature-rich website builder like Wix makes setting up, running, and growing a digital download store easy.
Use a ready-made website to kick things off and return to your store later for further optimization and customization.
FAQ
How do I sell my downloadable items?
There are many ways to sell your downloadable items, but creating your own site is the best option. Marketplaces or third-party platforms are convenient but also pretty limiting at the same time. Wix is the best website builder for selling digital downloads and can help you build a site in a matter of minutes to hours.
How do I sell my digital downloadable art?
In just a few hours, you can create an aesthetically-pleasing site that aligns with your artistic business with Wix. Install Wix Pro Gallery for free to display your work while preserving the image quality. Through your Wix site, you can sell your art as digital downloads or grant licenses for others to use it.
Do digital products make money?
Yes, digital products can make money. Unlike physical products, digital products have little to no warehousing, distribution, and overhead costs. But you have to offer high-demand products and bring real value to rake in the big bucks.
Can I sell digital downloads on my website?
Yes, and it's the best place to do so! Unlike marketplaces third-party platforms, your website gives you control over the design, language, and critical conversion elements. You get to develop direct customer relationships and use them to drive repeat business. You can use some of the top website builders to create your own website fast and for less.