Fortunately, you don't have to be an artist to create and sell NFTs.
While NFTs were designed to help artists monetize their talents, the market has expanded into an ecosystem where anyone can sell any artwork they legally own. And, as this ecosystem has matured,
the process has become a lot simpler, with platforms like OpenSea making NFTs as accessible as possible.
I've just gone through the process of creating and selling an NFT
, and I'll explain every step I took – from commissioning an artwork at a decent price to listing the artwork for sale.
You do, of course, have to bear in mind copyright law
when you're commissioning artwork to use as an NFT.
So I've also dropped some helpful tips into this article to make sure you're not at risk of legal action. Just be aware that these are simply our recommendations and shouldn't replace any legal advice – make sure you do your own research too.
A Note on Commissioning NFT Artwork
NFTs are seeing a degree of backlash from artists on social media for a variety of reasons
, including the carbon footprint associated with NFTs and cryptocurrency. Many artists have also had their artwork minted as NFTs without their consent, leading to many refusing to work on NFT commissions altogether.
As a result, if you want to commission NFT art, it's far easier to look on freelance websites than scour social media
for artists. You're far less likely to be disappointed. I tested several of the top freelancer platforms as part of my research for this article, and
found that Fiverr was the best platform for commissioning NFT art.
Not only does it have a good range of really talented artists, but you'll be able to find an NFT artist for almost every price point.
Step #1 – Commission (or Create) Some NFT Art
I'll be honest with you. The last time I made any good-ish art was at school. And even then, the mock pop-art self-portrait I did was passable at best.
If you're anything like me, you'll want to commission your NFT artwork instead of trying to create something yourself.
Of course, I'm not saying you can't make something yourself if the creative urge takes you.
But commissioning artwork for your NFT is by far the easiest option.
Sure, you'll have to pay an artist, but you're more likely to end up with an NFT that sells for a profit. And it'll save you a ton of time and energy. When I started looking for an artist to commission, I tried out some of the top freelancing websites on the market. By a long stretch,
Fiverr has the most artists who offer NFT artwork
.
Plus prices start at – you guessed it – $5, so you can easily find an artist within your budget. Here's my step-by-step guide to hiring an NFT artist on Fiverr.
1. Find Your Artist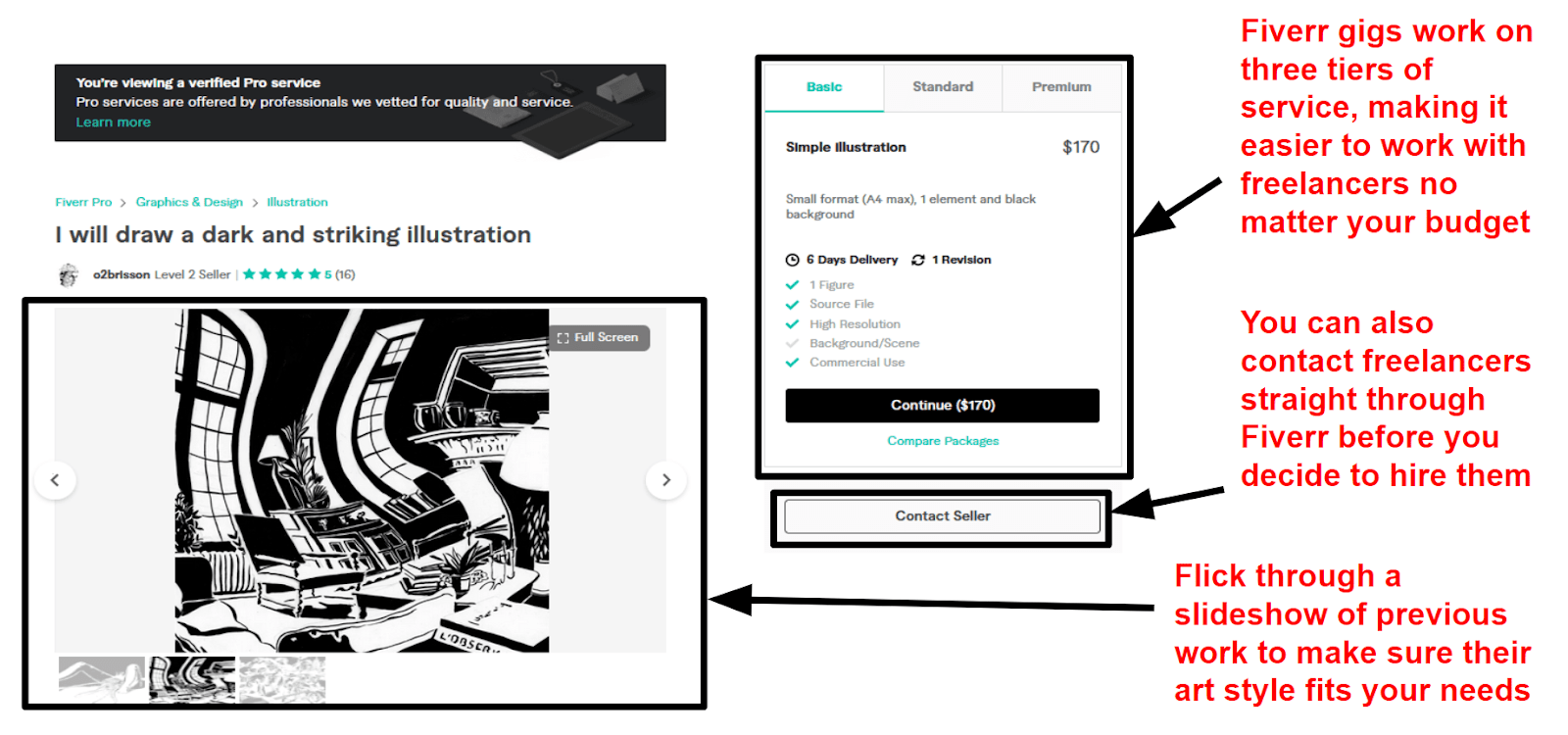 When you head over to Fiverr, search for "NFT illustration"
. You can easily filter this search by what kind of illustration you want, your budget, seller reviews, and whether you need your NFT on short notice. From there, you can start shortlisting gigs or artists that fit the style you're after. Once you've found a gig,
make sure to review each of the freelancer's packages.
Because Fiverr freelancers offer three different service packages per gig, you might find lower tiers don't include revisions or all of the deliverables you need.
2. Start a Conversation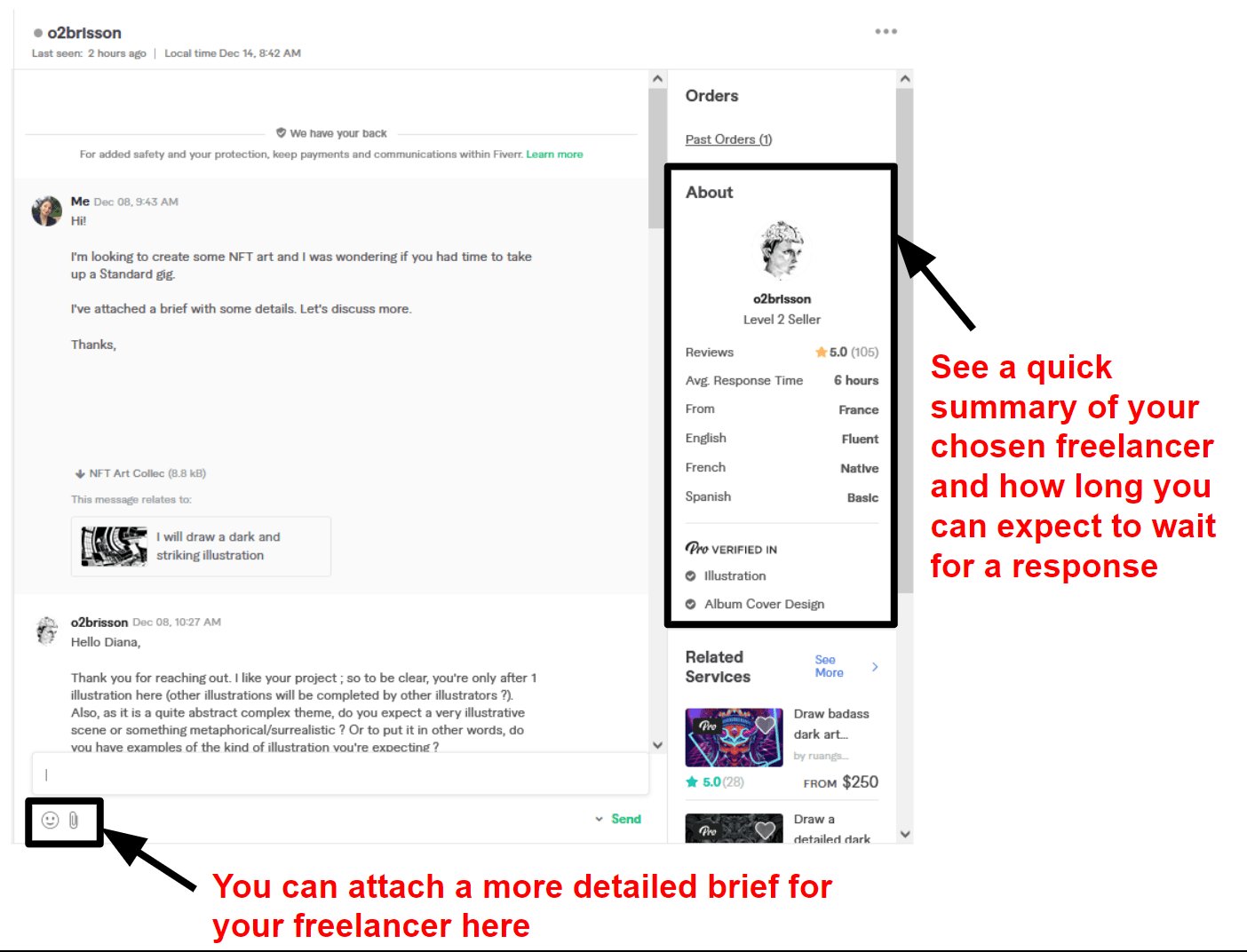 We always recommend contacting freelancers before hiring them on Fiverr.
Click
Contact Seller
, introduce yourself, tell the freelancer what package you're interested in, and provide them with a detailed brief of what you're looking for.
We wanted to create an NFT collection on the theme of the GME short squeeze from January 2021 to find the best NFT artists and designers to hire in 2023. So, we put together a detailed brief highlighting the theme of criticism of the US financial system, with information about what colors, characters, and other visual elements we were looking to reference.
You should also discuss the deliverables you're after.
Make sure to include the dimensions and file format for your NFT art
– we chose PNG/SVG files and the biggest dimensions the artist offered to make sure there would be no quality issues when we minted our NFT. Once you've settled the details, you can ask the artist to send you a custom offer.
You're not obligated to accept the offer
, and you can use this to compare different freelancers you're considering. If you're happy with the offer, you can accept it directly from the chat window.
3. Hire Your Freelancer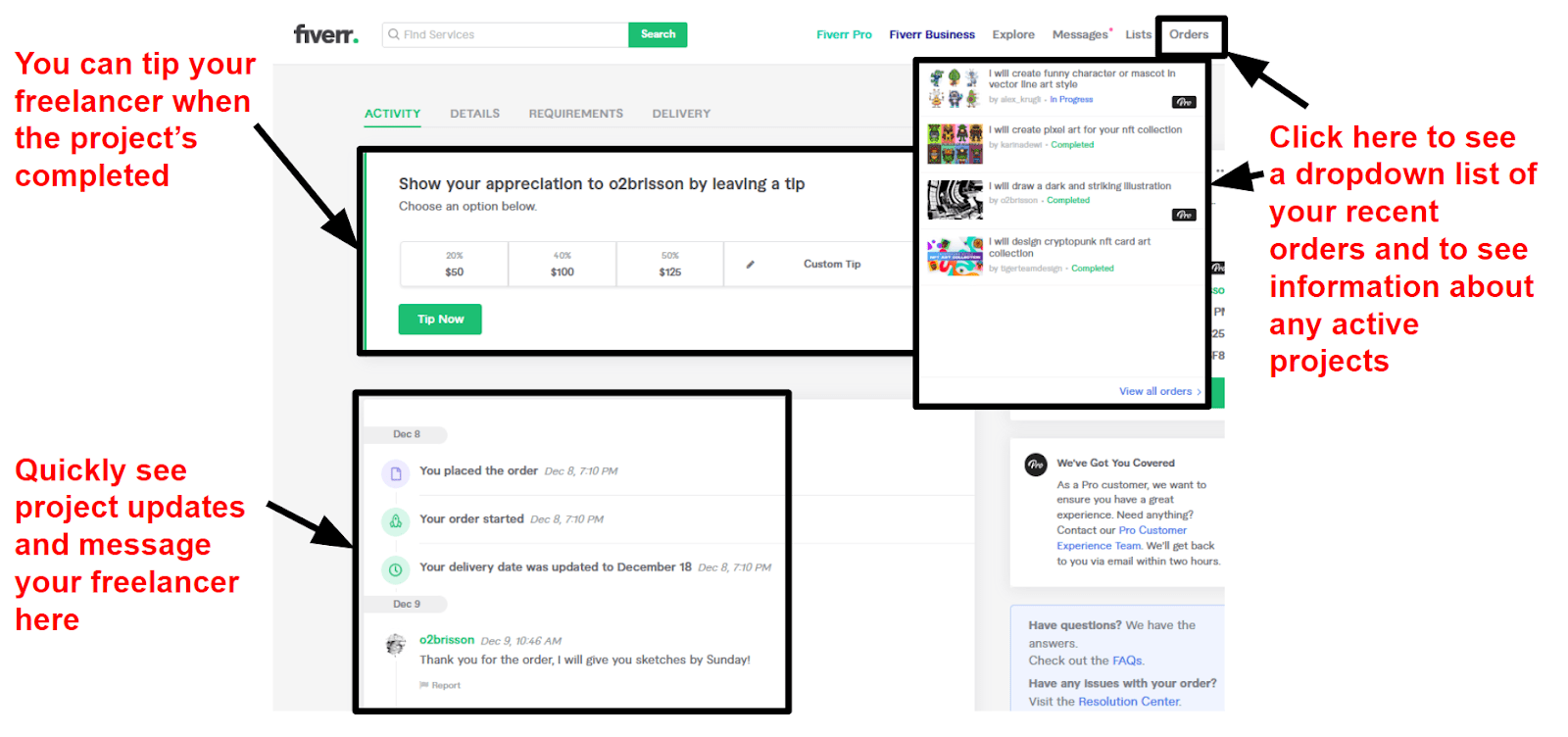 When you accept an offer, the conversation will move to your Orders page.
If you're working with more than one NFT freelancer, each order will have its own page. From this page, you'll be able to see when your freelancer sends an update about the project.
You should be able to see the final concept before the freelancer starts work on the final version.
In our case, o2brisson was really helpful and asked for our opinion along the way before they submitted a deliverable, which effectively gave us free revisions.
Bear in mind that it's against Fiverr's Terms of Service to ask for free revisions,
and not every freelancer will show you their progress before they submit a deliverable.
Once a deliverable has been submitted, you can either accept it right away or click I'm not ready to accept.
If you select this second option, you can ask for revisions or tell the freelancer they haven't delivered what you've asked for. You can keep repeating this process until you're ready to accept the project or, in rare cases, need to ask for help from the platform.
4. Send Feedback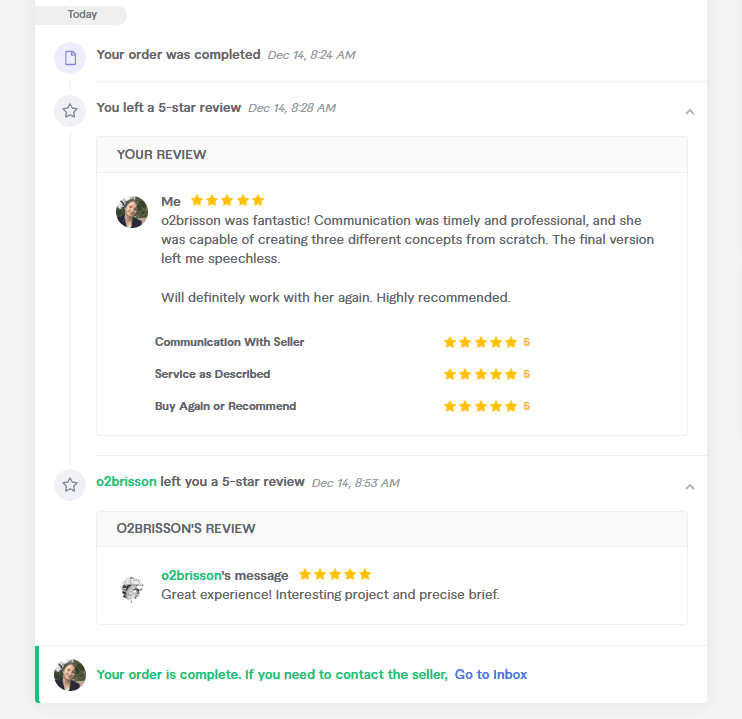 Once you've accepted the order, the project will close and you'll be asked to leave two reviews. One review is for Fiverr's eyes only, which asks how satisfied you are with the work you received.
You'll also be able to leave a public star rating for Communication, Service as Described, and Buy Again or Recommend.
At the same time, the freelancer will be asked to review you as an employer.
This review will be publicly available on your Buyer profile,
so other freelancers on Fiverr will be able to see what you're like as a client. If you'd like to hire the freelancer you just worked with for another project, you can easily go back to your inbox to contact them again.
Our Fiverr Commissions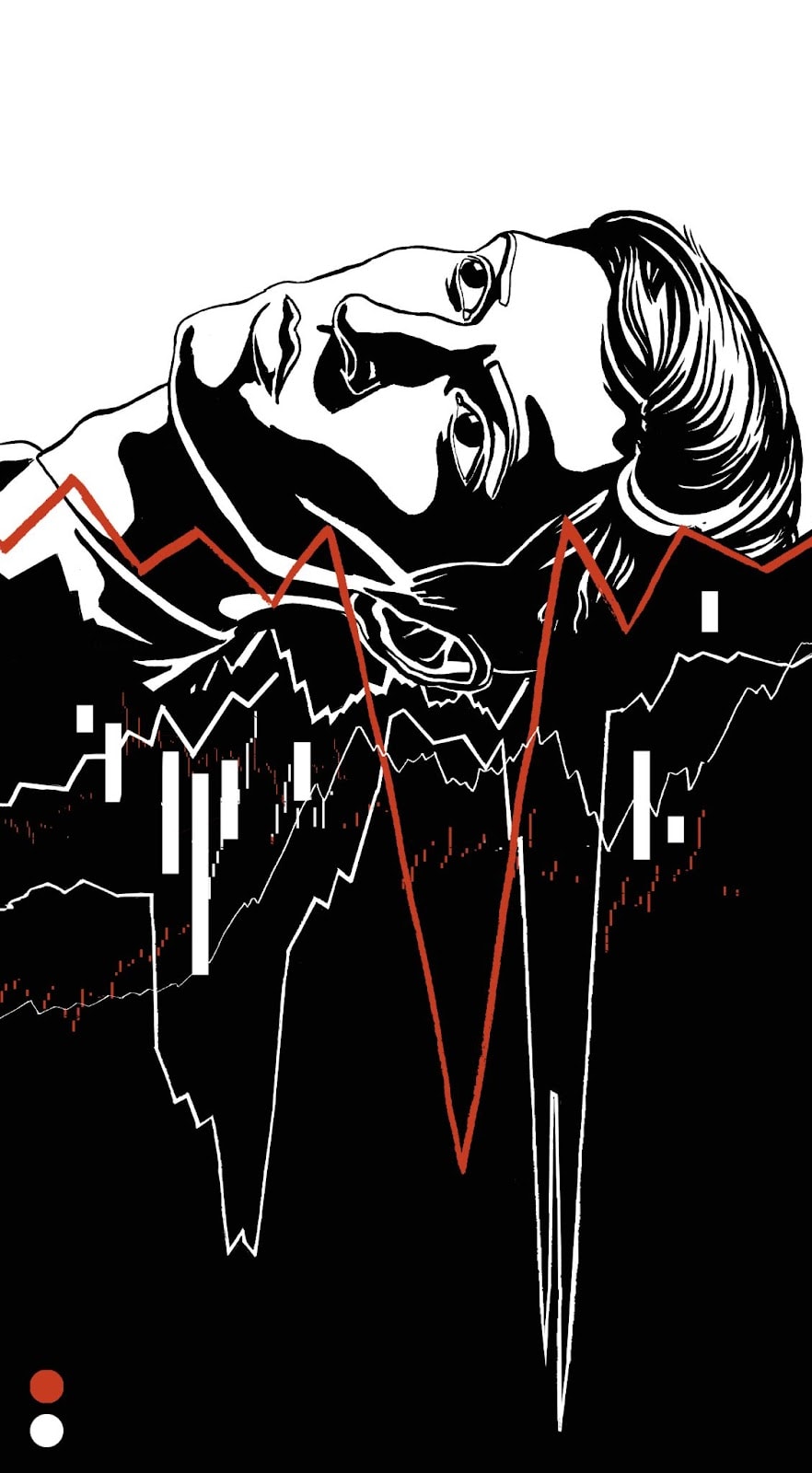 We were thrilled with the work we received from o2brisson.
It's a stunning piece of original art, and it's well worth the $250 we paid for the gig. However, if you're working with a tighter budget, don't worry – Fiverr has a ton of options at lower price points, and we've commissioned a few of them ourselves.
We commissioned karinadewi on Fiverr for $15,
and we received this lovely pixel art with a few different color variations.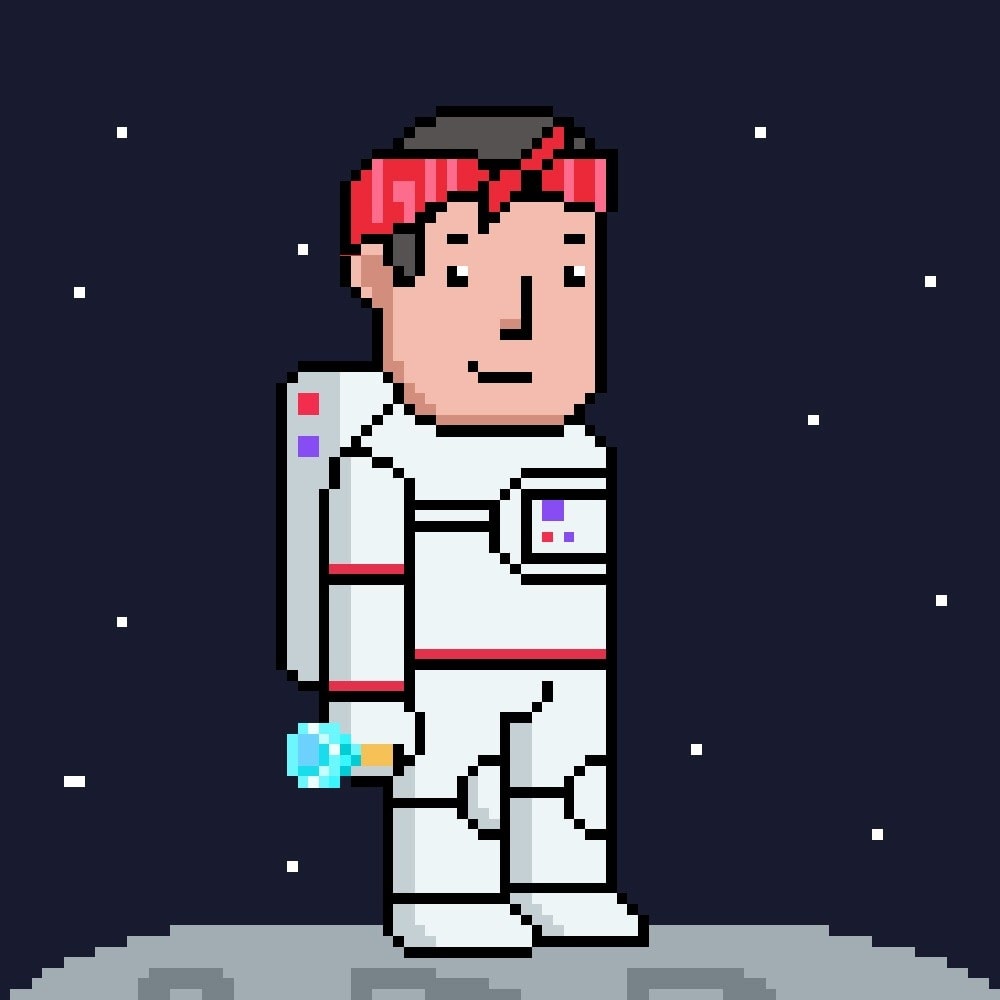 It really doesn't matter if you're working with a budget of $15 or $1,500
– you can still commission stunning artwork to mint as NFTs.
Tips for Hiring an NFT Artist on Fiverr
Read their profile thoroughly.
Once you've found a gig you like, click on the artist's profile and take a look at their other gigs, reviews, portfolio, and average response time. If any details are missing or they don't have good (or any!) reviews, then you'll know to take them off your shortlist.
Talk to the artist before you hire them.
This doesn't just tell you if they're available for the job, but gives you a good idea of how they'll communicate with you if you hire them. Take a look at our
Fiverr review
to see how the process works in detail.
Only communicate with them on Fiverr.
Fiverr will ban your account if you share your contact details with the seller. Even if you don't mind risking this, Fiverr's customer protections won't apply if you pay for the gig or arrange work outside of the platform.
Check your rights.
Fiverr automatically grants full ownership of your commissioned artwork once you've paid for it. This will cover you minting this artwork once, but if you want to sell multiple copies and/or merch with that artwork, you'll need commercial usage rights. Some artists will sell you this for an extra fee, but if you can't find this on the gig extras, you'll need to contact the artist to see if this is something they offer. Make sure you get it in writing if they offer you commercial rights outside of your gig payment.
Do your research.
Don't just pick the first freelancer you like. I recommend spending a few days searching through gigs and coming up with a shortlist of artists you want to work with.
Communicate well.
Just as you expect your freelancer to be professional, you should treat them with respect. Answer their questions promptly so they can deliver your project on time, and don't forget to leave them a good review if you're happy with their work.
Step #2 – Get Some Cryptocurrency
Once you've got your artwork sorted, you'll need to buy some Ether (ETH), which is the cryptocurrency of the blockchain Ethereum.
Almost all NFTs are hosted on the Ethereum blockchain
because this particular network was built with marketplaces for artwork, games, apps, and other projects in mind.
Regardless of which platform you use, you'll need ETH to mint an NFT
as you'll need to pay a fee to the platform where your NFT will be posted
.
Note that, more often than not, you'll also be charged "gas fees", which is to cover the energy cost of processing your blockchain transaction. Some platforms will also charge you service fees upfront, too.
Unfortunately, I can't tell you how much ETH you'll need to load your wallet with.
Seriously, gas and ETH prices can change in the blink of an eye, so it's really hard to tell how much minting an NFT will cost.
Staying Safe with ETH
Because cryptocurrency can fluctuate rapidly, I wholeheartedly recommend going into this process by thinking about ETH in terms of its value in dollars. While I was writing this article, I watched the price of 1 ETH fluctuate by $200 in the space of a single day. Most crypto price trackers will update every few minutes because prices can grow or crash in literally seconds. So, instead of purchasing a specific amount of ETH, think of it as putting dollars into your wallet. Of course, the amount of ETH (or any cryptocurrency) you can purchase for those dollars will vary by the day, but reframing your purchase in this way will help you keep your spending under control. The crypto wallet I prefer is MetaMask.

This is one of the most widely accepted wallets out there, and it's available as both a mobile app and a browser extension so you can manage your crypto wherever you are. MetaMask also has an ETH token wallet so you can keep track of your NFTs.

Setting up a MetaMask wallet is easy. Simply head over to the MetaMask website, click Download, then choose where you want to download it.

I chose to install MetaMask as a Chrome browser extension, but you can also get it as an app for iOS or Android. Once you've downloaded MetaMask, it'll ask if you want to import your existing wallet or create a new one. Unless you've got access to a wallet already, select the option to create a new wallet.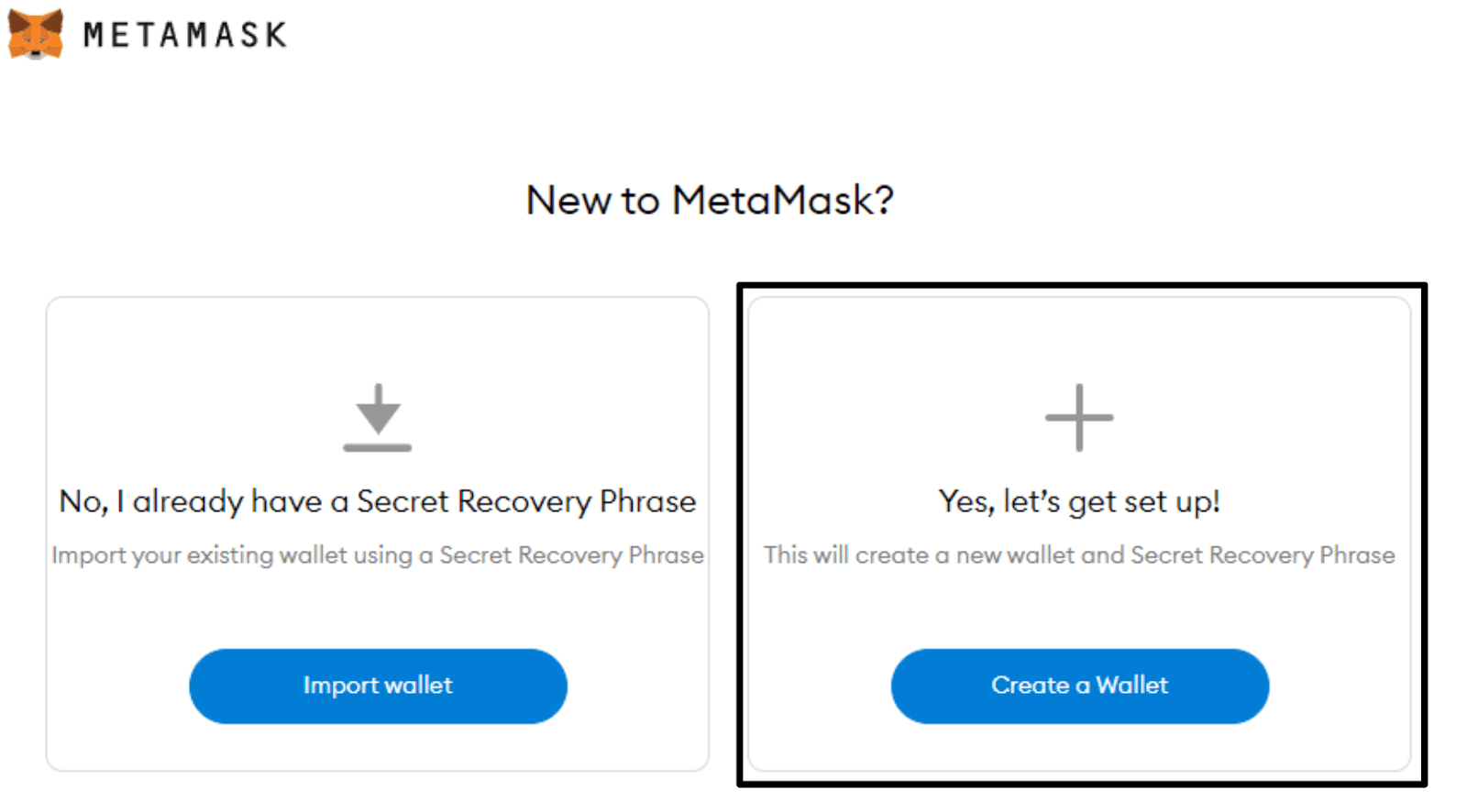 From here,
MetaMask will ask what data it's allowed to collect and use
– which, it assured me, was fully anonymized, and allows you to opt-out at any time. Whether you allow MetaMask to use some data or opt-out here is up to you. Next, you'll need to create a password. I recommend creating a strong, completely randomized password to keep your wallet as secure as possible.
Remember to save your password somewhere safe.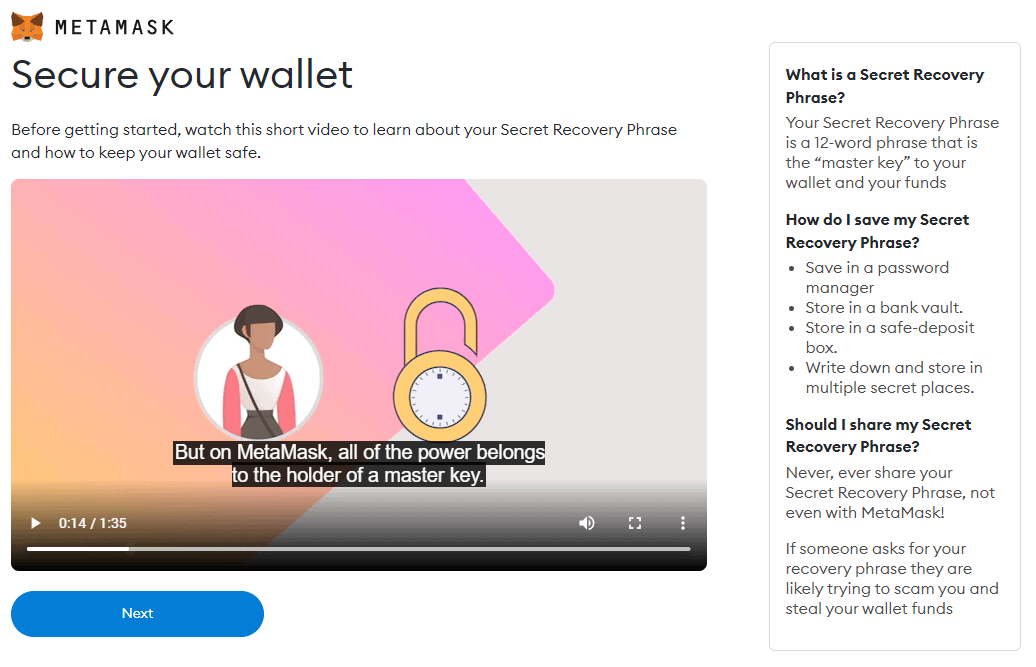 You'll then be asked to watch a video to understand how your Secret Recovery Phrase works.
Your recovery phrase is 12 random words that allow you to access your account from wherever you are.
If you lose it, you'll completely lose access to your wallet because not even MetaMask stores your answers. MetaMask suggests that you save this phrase in your password manager, write it down and leave it in a safe in your home, or keep it in a safety deposit box at a bank. I didn't screenshot this next part for my own security, because
after this page, you're given your 12-word Secret Recovery Phrase.
Once you've copied it down, you're then asked to repeat your recovery phrase to make sure you've copied it down correctly.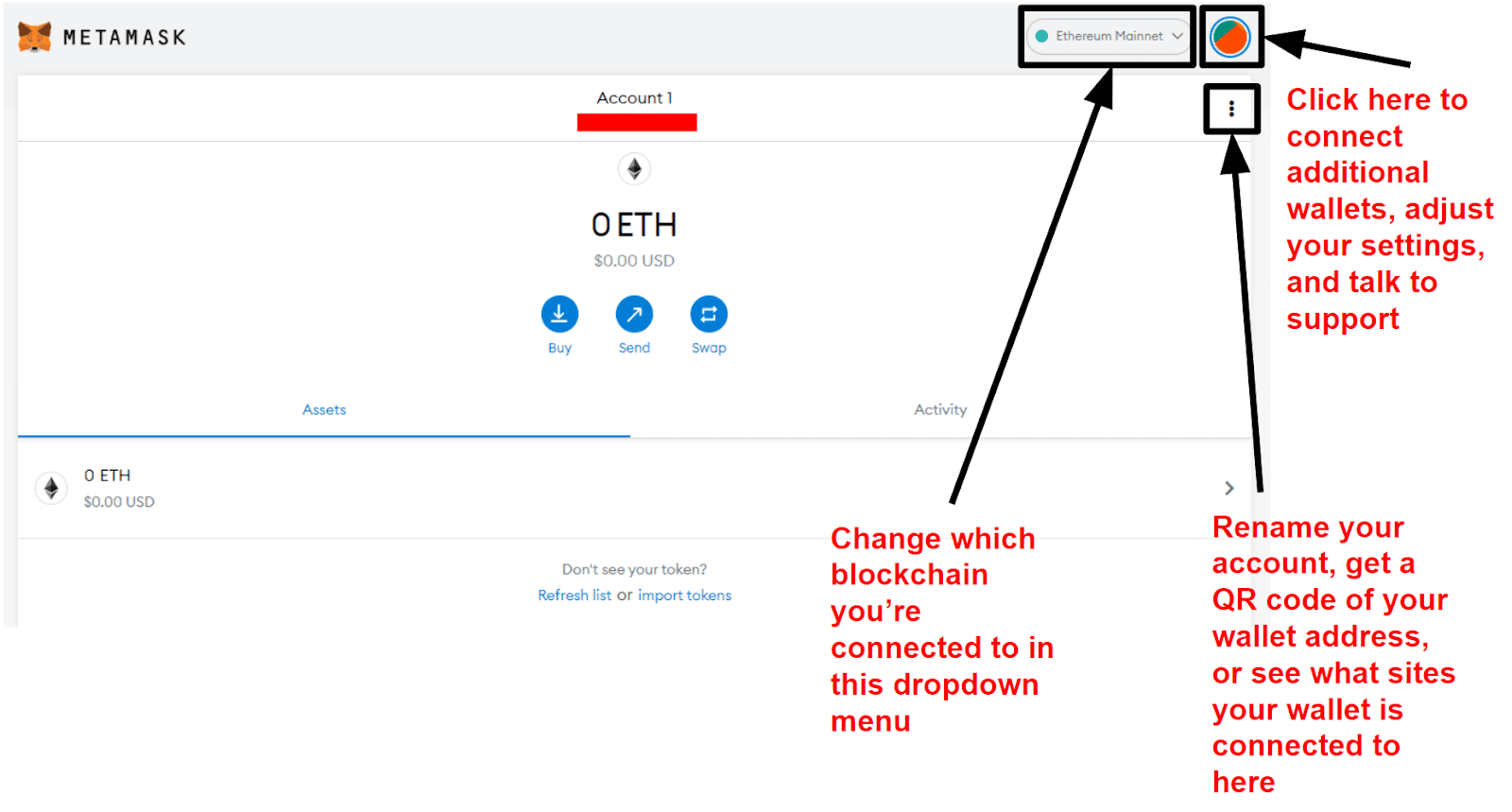 Now you've set up your MetaMask wallet, go into your settings and make sure it's set up to your liking. If you're new to cryptocurrency and NFTs, I'd recommend leaving your settings as they are.
MetaMask defaults to USD and ETH and automatically connects you to the Ethereum blockchain.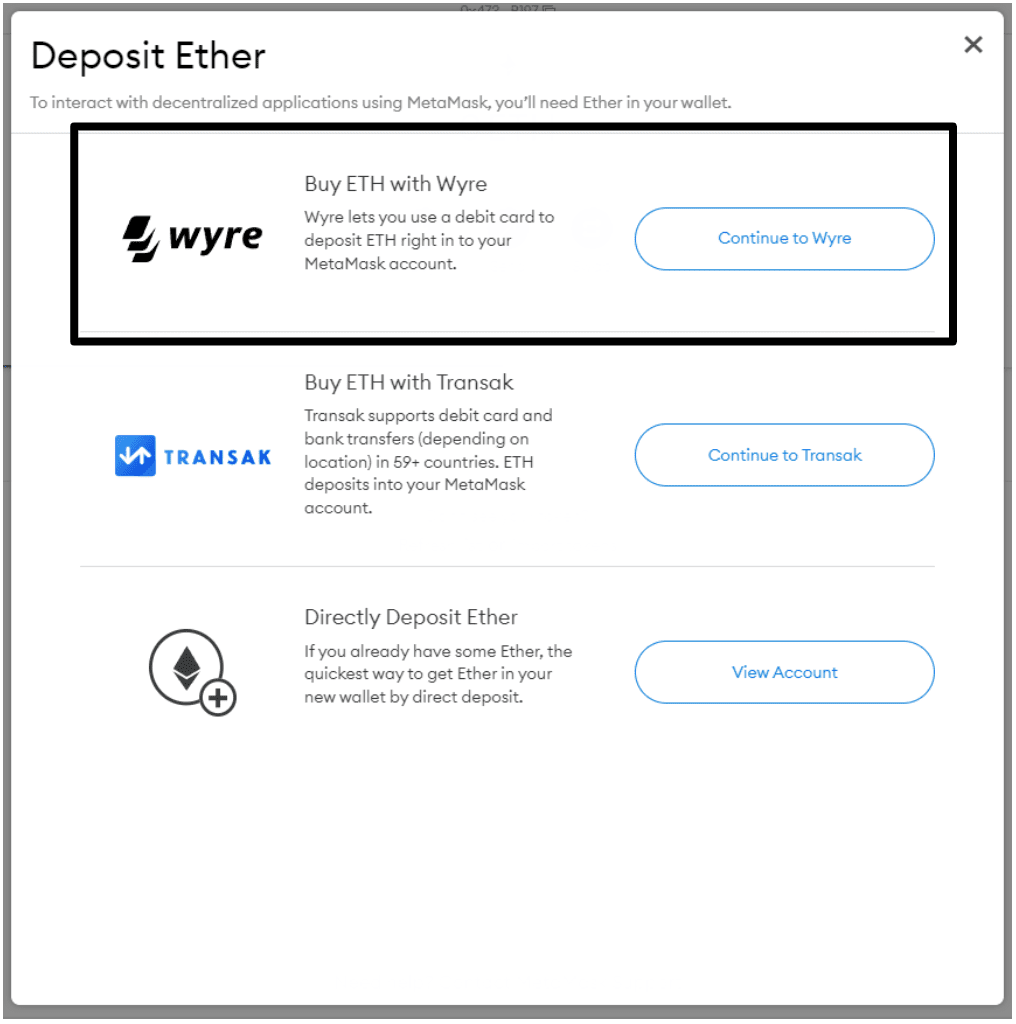 Okay, now it's time to grab some ETH. Click the
Buy
button on your wallet dashboard. You'll see the above popup with a few different options for adding ETH to your wallet.
I used Wyre for this example because Transak has a minimum purchase amount of $30.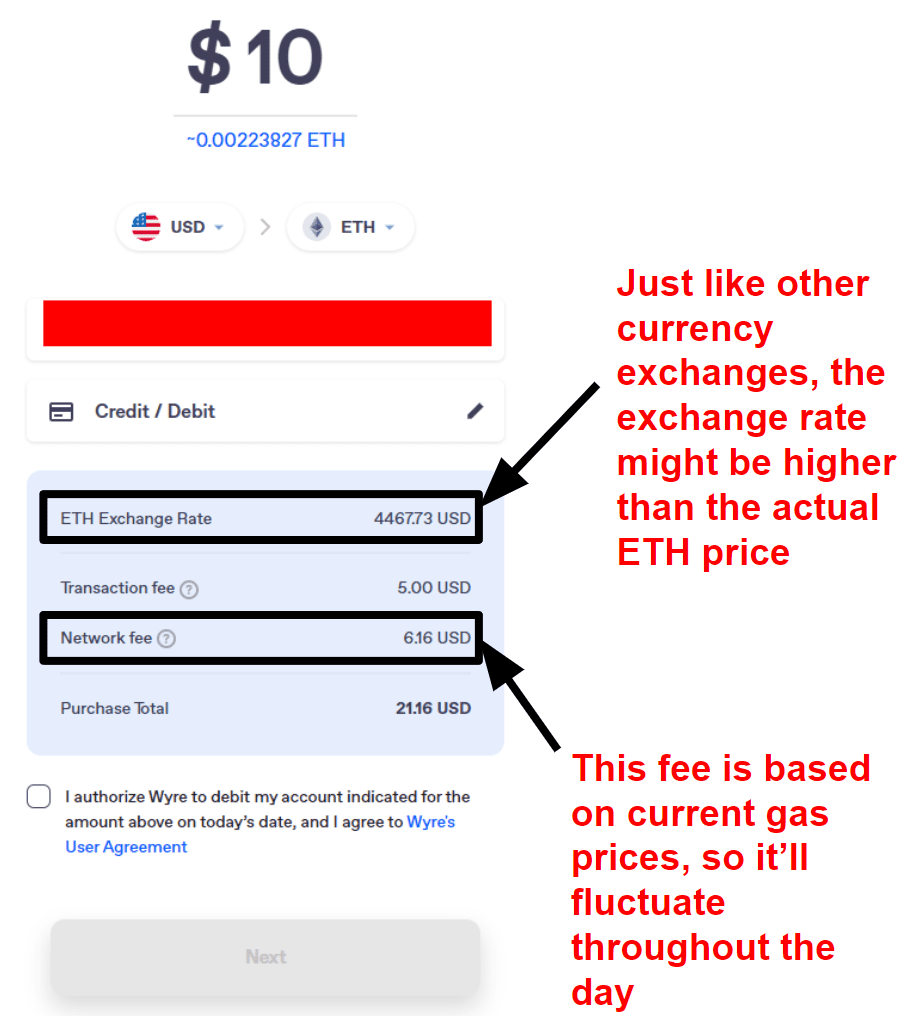 With Wyre, you can purchase with a credit or debit card, Apple Pay (if you're using the iOS or Android versions of MetaMask), or ACH transfer. If you're using a credit card, debit card or Apple Pay, you can purchase up to $500/week in ETH that's instantly deposited in your wallet.
Wyre takes a 3% transaction fee, set at a minimum of $5 for these transactions.
If you need more, there's a limit of $25,000/week through ACH transfers, but it can take up to 5 business days to receive your money. There is a lower transaction fee of 0.75%, however,
which makes ACH transfers a better option if you need to purchase a larger amount of ETH at once.
As with most cryptocurrency transactions, you'll also have to pay a network fee (or gas fee).
Gas fees are paid directly to miners, and exchanges have little control over how much these are.
What are gas fees?
Gas fees are paid to blockchain miners. These effectively cover the cost of energy for your transaction. Gas prices can heavily fluctuate throughout the day, and the payable fee will depend on how soon you want the transaction to be completed.
Step #3 – Pick an NFT Platform
Now that you've got a chunk of ETH to play with, it's time to get set up on an NFT platform. There are a fair few of these around now, but at their core, they're all the same.
NFT platforms are just marketplaces that allow you to buy and sell NFTs.
Not every NFT platform is created equal, however.
Some platforms, like Nifty Gateway, require artists to apply to list their NFTs and are well-known for only trading in expensive NFTs from high-level designers, celebrities, and other people of interest.
My NFT platform of choice is OpenSea.
OpenSea does charge a one-off fee for your first listing.
It also charges a (pretty standard) 2.5% service fee for each transaction, and you'll have to pay gas fees if you buy or transfer an NFT or cancel a listing. But you don't have to apply to join OpenSea, and you don't have to pay to mint NFTs. That's because, unlike some other platforms, OpenSea uses what's known as "lazy minting", so your NFT isn't actually minted until it sells. Given that the NFT market is getting bigger every day, this could potentially save you a ton of money if your NFT doesn't perform as well as you'd hoped. Another reason I prefer OpenSea over other platforms is how easy it is to see the history of each listing before you decide whether to purchase the NFT – I always take a look at this before making a purchase.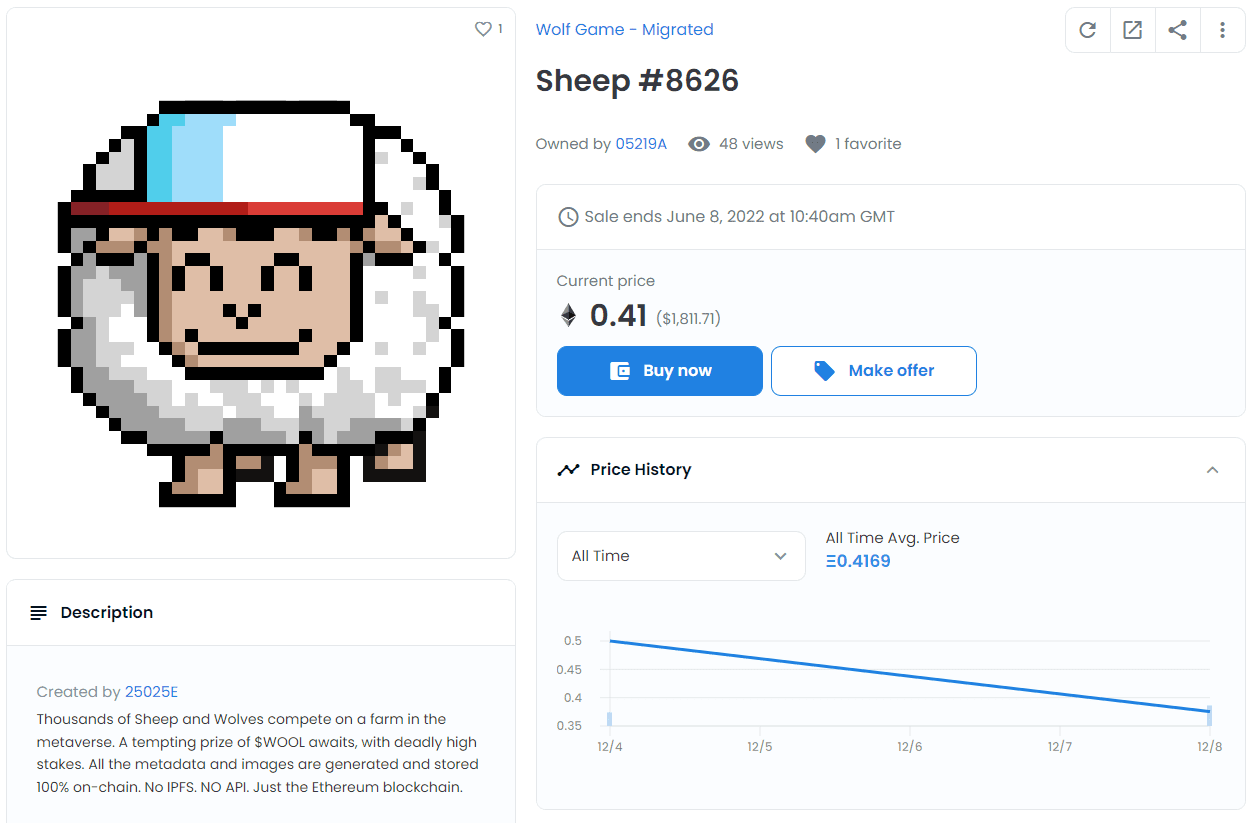 It's also super easy to buy NFTs on OpenSea.
You can either bid on an NFT or buy it outright.
Bidding works just like other auction platforms – you add your bid to the pool, and, if you win, the NFT is yours. I'd need a whole other article to explain to you which option is better, but OpenSea makes it easy to bag your chosen NFT whichever option you choose.
Finally, I also love that you're asked to review the details of the NFT before you hand over any money.
With more and more scammers attempting to sell non-authentic NFTs claiming they're from a popular collection, OpenSea is working hard to make sure you're only buying the real deal.
Step #4 – Set Up Your Account
Like I mentioned earlier,
one of the biggest benefits of OpenSea is that you don't need to apply to set up an account.
All you need is a cryptocurrency wallet, like MetaMask, with some ETH loaded in there. While ETH isn't the only currency you can use on OpenSea, it's certainly the most common.
It's also completely free to set up an OpenSea account
. You'll only need to start paying fees when you list or purchase NFTs. Because I downloaded MetaMask as a Chrome extension, I'm going to show you how to set up your account through your Chrome browser. To get started, click the person or wallet icon in the top right corner of OpenSea's homepage.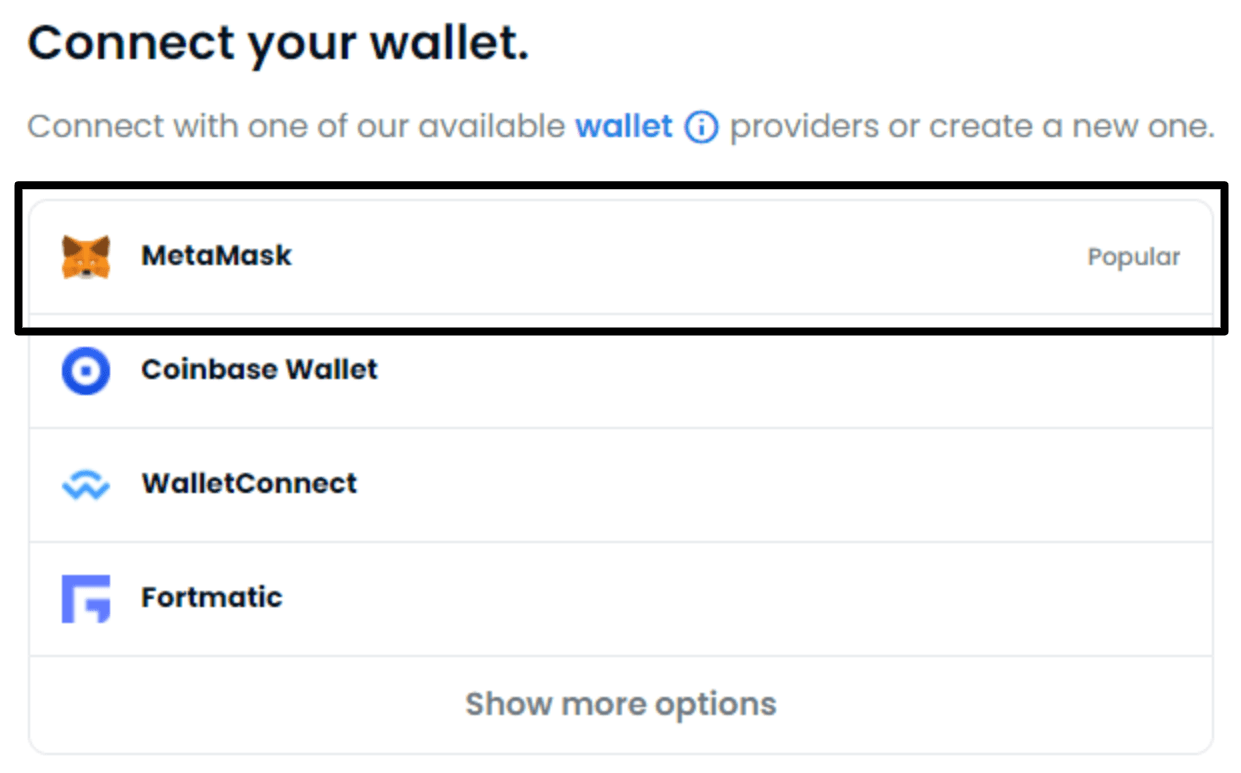 Click the MetaMask option.
Or, if you're not using MetaMask, click on the option for your wallet and follow the instructions.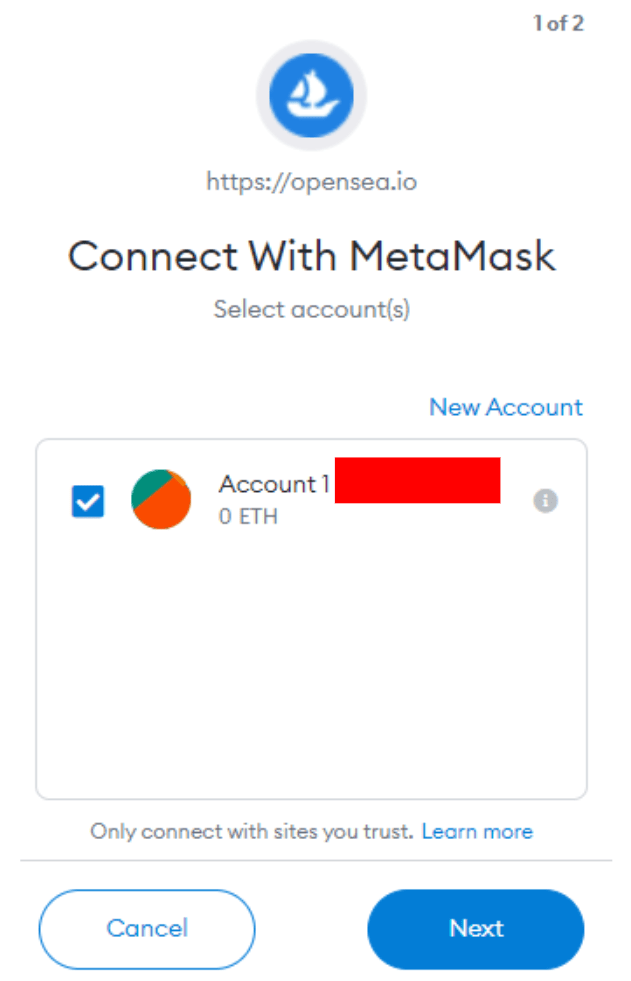 Click
Next
, and you're all set!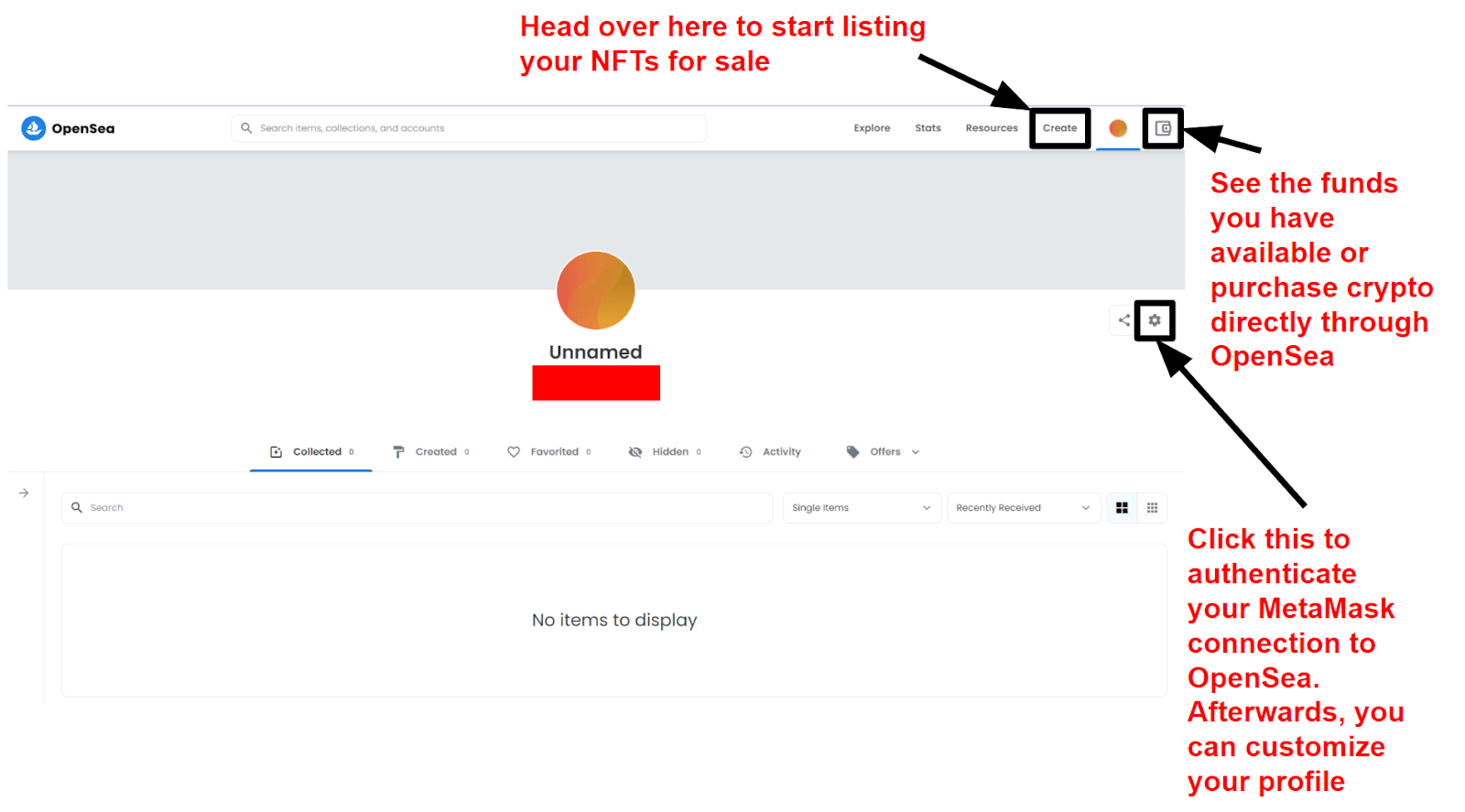 Step #5 – Upload Your NFT Collection
Okay, let's start uploading NFTs. Click
Create
next to your profile icon.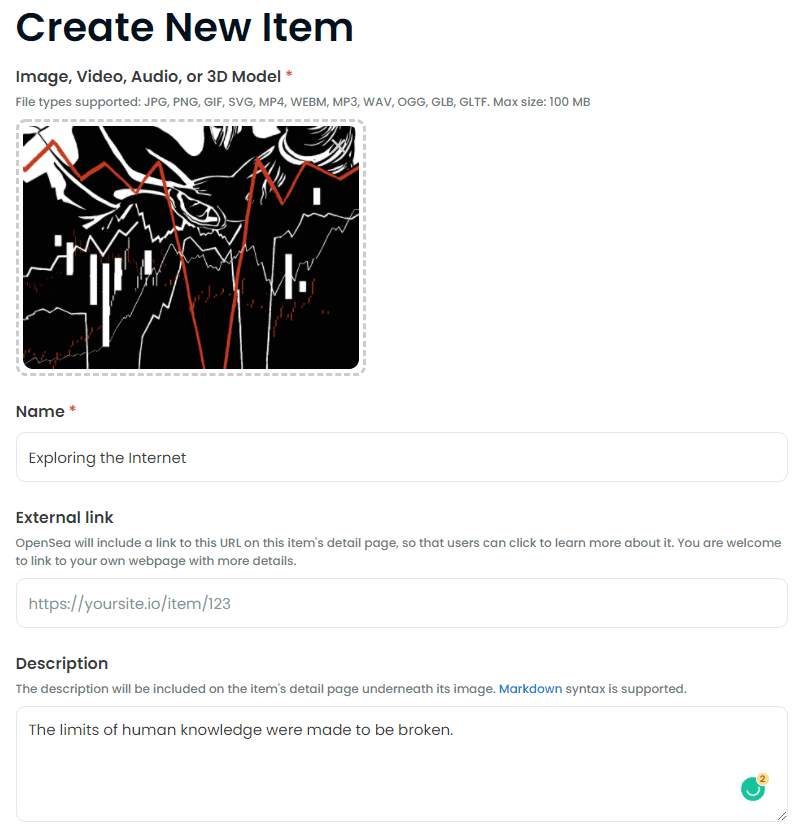 First, you'll want to click the image icon to upload your commissioned artwork.
OpenSea allows most media file types up to 100MB
. You then need to give it a name. If you want, you can also include a link to an external website that contains more information about your NFT or collection. You can also add a description of your NFT, but it's not mandatory.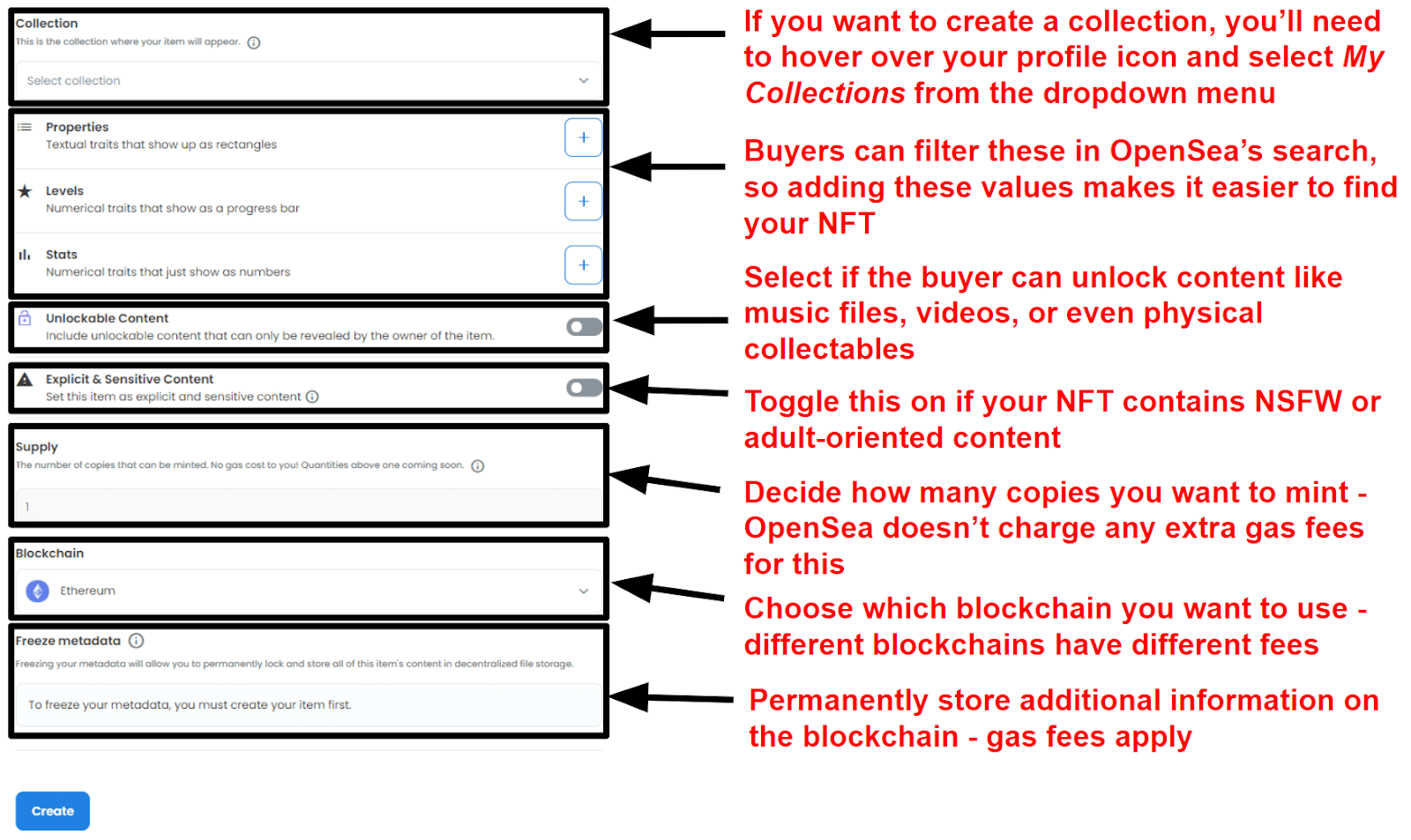 Once you're happy with this information, click
Create,
and this will mint your NFT – no gas fees required!
Step #6 – Sell Your NFT Art
Before you create your first listing, you need to decide how you want to sell your NFT.
OpenSea gives you four options for listing your NFT if you've minted it on the Ethereum blockchain:
Fixed price, or Buy Now: This is exactly what it sounds like – you set a price for your NFT sale and a deadline for when the listing ends. This listing can last for up to 6 months.
Auction: This works the same way as other auction platforms. You list your NFT for a minimum price and any interested buyers add increasing bids until they reach a price you're happy to accept. You can accept a bid at any time, and you can also set a reserve price. This listing lasts for a week.
Dutch auction: With this system, you set a higher starting price and a minimum price. Over time, the price decreases, and buyers can purchase the NFT at any time. This listing lasts for a week.
Reserved: If you've already got a buyer lined up, you can reserve your NFT so only they can see when it goes up for sale. This listing can last for up to 6 months.
If you mint your NFT on the Polygon blockchain, you'll only get the option for a fixed price sale.
It's worth noting that minting on Polygon doesn't incur any gas fees.
However, when I tried to list an NFT I minted on Polygon, I couldn't initialize my wallet, so I ended up having to use Ethereum.
Honestly, OpenSea's fees are pretty reasonable.
No matter what listing type you choose, you'll have to pay a 2.5% service fee. You'll also only have to pay gas fees on your first NFT listing. All listings after that are free. It's worth noting that
whether you pay gas fees when your NFT sells will depend on how your item is listed.
If you're running a fixed-price listing, then the buyer will pay the gas fee. On the other hand, if you're running an auction and accept an offer, you'll have to pay.
Still, overall, OpenSea is one of the cheapest platforms out there for listing NFTs
. The invite-only SuperRare charges sellers 15%, while Rarible charges gas fees to mint NFTs. Once you're ready to list your NFT, head to your profile, click on the NFT you've just minted, and click
Sell
.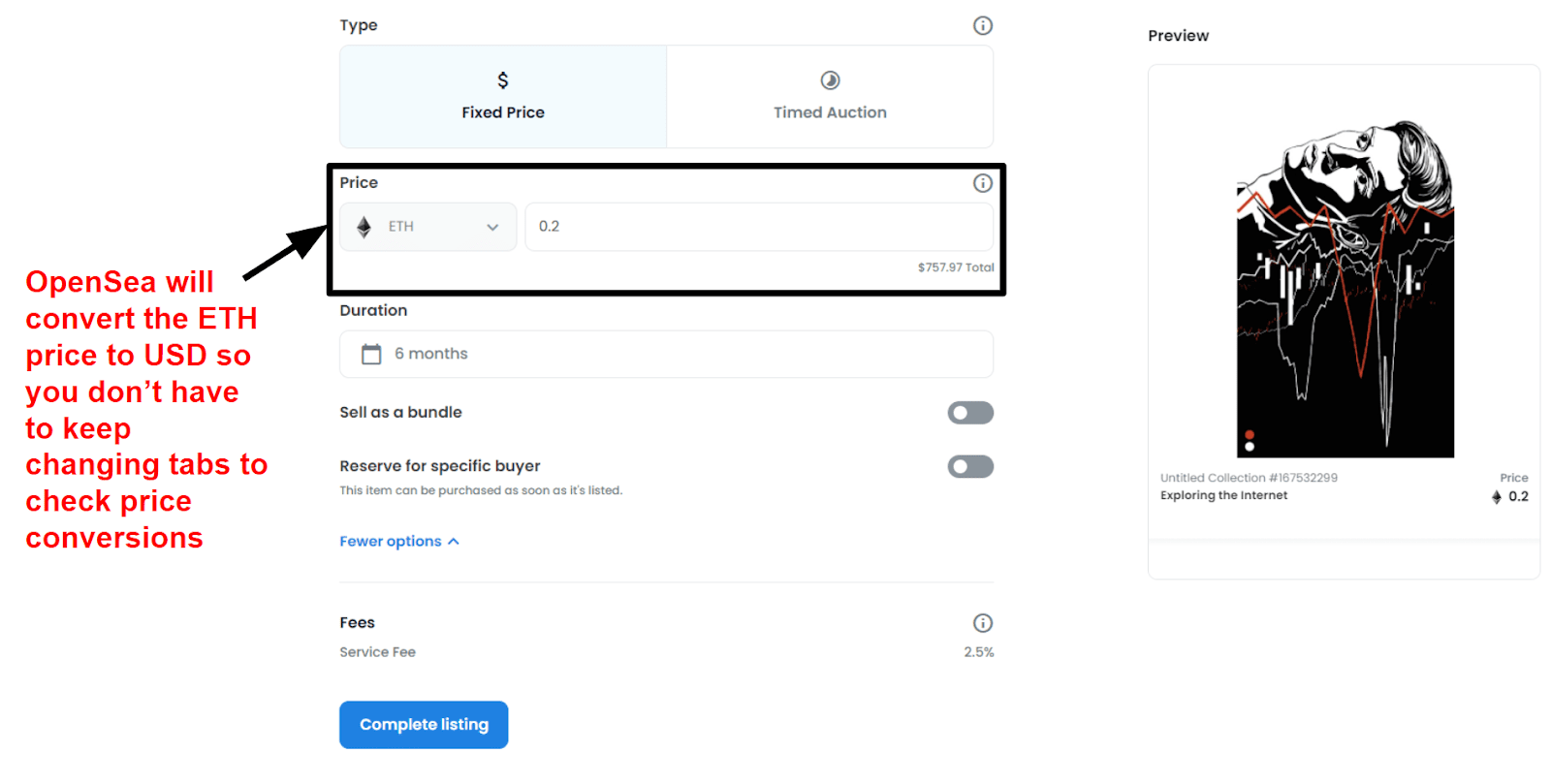 From there, you can set what type of listing you want and a price for your NFT.
OpenSea will also convert your ETH price to USD
, which can help you make a profit from your listing. Now, bear in mind what I said earlier about having to pay two separate gas fees to initialize your account.
OpenSea doesn't give you an estimate of how much these fees are or even make it clear you'll need to pay them here.
I know that gas fees fluctuate by the minute, but I would have appreciated it if there was more clarity over how much I'd have to pay. Once you're happy, click
Complete listing
.
If this is the first time you've listed an NFT, you'll see this: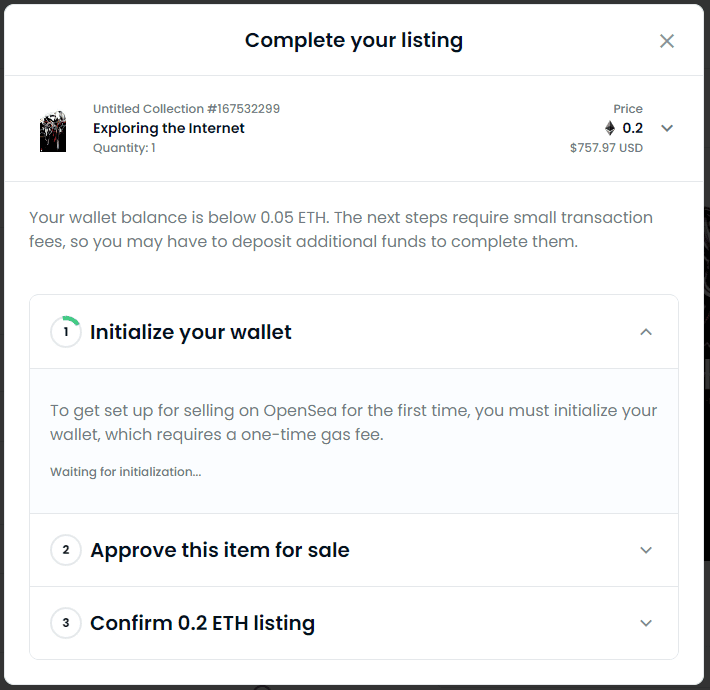 If you're using a MetaMask Chrome extension like I am, then you'll see a popup with the gas fees you need to pay here.
The first gas fee I was asked to pay was $106.
When I checked five minutes later, it was $130. Again, bear in mind that you get no estimate of how much these fees are. You also can't see how much the second fee will be until you've paid the first one.
NFT Art Is for Everyone (Not Just Artists)
If you've got an idea that you think would make a great NFT, there are very few barriers to making your dream a reality. With a little time and monetary investment,
you can create an NFT – or even a collection – that you can sell for a neat profit.
Saying that,
you should always do some basic research on the NFT market
to see what kind of artwork, music, or other collectibles are selling. Otherwise, you could easily end up losing money when your commissioned art doesn't sell as well as you'd hoped.
A good way to do this is to get involved with NFTs on social media.
Social media is a great place to get your NFT drops noticed as new NFTs can often fly under the radar on popular platforms like OpenSea. By talking to experienced artists and NFT investors, you can get a deeper understanding of how to profit from these crypto assets.
FAQ
How do you sell an NFT?
Selling an NFT is simple, particularly on OpenSea. Simply upload your NFT to the platform, set the price, and decide what kind of sale you want. Choose how many copies you want to mint, and specify whether the buyer will get any additional content when they purchase the NFT. Finally, click Sell (and pay any gas fees if this is required).
What is the best NFT marketplace?
My go-to NFT marketplace is OpenSea. It's one of the easiest platforms to navigate and it has an extremely simple fee structure. Because it uses lazy minting, you don't have to pay any gas fees upfront when you list an NFT (except for your first listing), and it only charges a 2.5% transaction fee.
How do you become an NFT artist?
The great thing about NFT art is that almost anything goes. You can create something yourself, whether that's music, digital art, or even animations. Or you can save yourself time and commission art from one of our top freelance websites – I recommend Fiverr because it has a ton of NFT artists with gigs starting at only $5.