AWeber may not be perfect, but it was true to its word and gave me a full refund when I canceled my account. The process was completely hassle-free, even though I had
signed up for the cheapest plan
.
AWeber is a powerful email marketing service, but it's far from the cheapest option available. If you want to decrease your monthly costs or get more bang for your buck, canceling your AWeber account is incredibly easy, and you can complete the entire process in just a few clicks.
Although AWeber doesn't technically have a money-back guarantee, you can get a refund if you act quickly – and if you know who to ask.
I recently went through the cancellation and refund process, so let me show you how to close your email marketing account and get your money back. An equally-robust email marketing platform with industry-leading segmentation and email automation is ActiveCampaign. I've included an
updated list of AWeber alternatives
below to make the switch as smooth and painless as possible.
Quick Guide: How to Cancel AWeber and Get a Full Refund
To close your AWeber account, follow these steps:
Select My Account and navigate to the Billing information page.
Click Change my plan.
On the next screen, click No thanks, just cancel.
Choose the reason you want to cancel.
Scroll down and select whether you plan to switch to another provider. Then click Next.
Consider the retention offer, and then click No, cancel my account.
Enter your account password, and then click Yes, cancel my account.
Request a refund if you're within the initial 30-day window.
My Experience: Here's How I Canceled My AWeber Account
In my experience, canceling an AWeber plan is a breeze. Yes, there are quite a few steps to go through, but there's nothing unusual, and I didn't hit any hurdles. Here's a closer look at how the cancellation process works:
Step 1: Log Into AWeber
Start by entering your username and password to
log into your AWeber account
.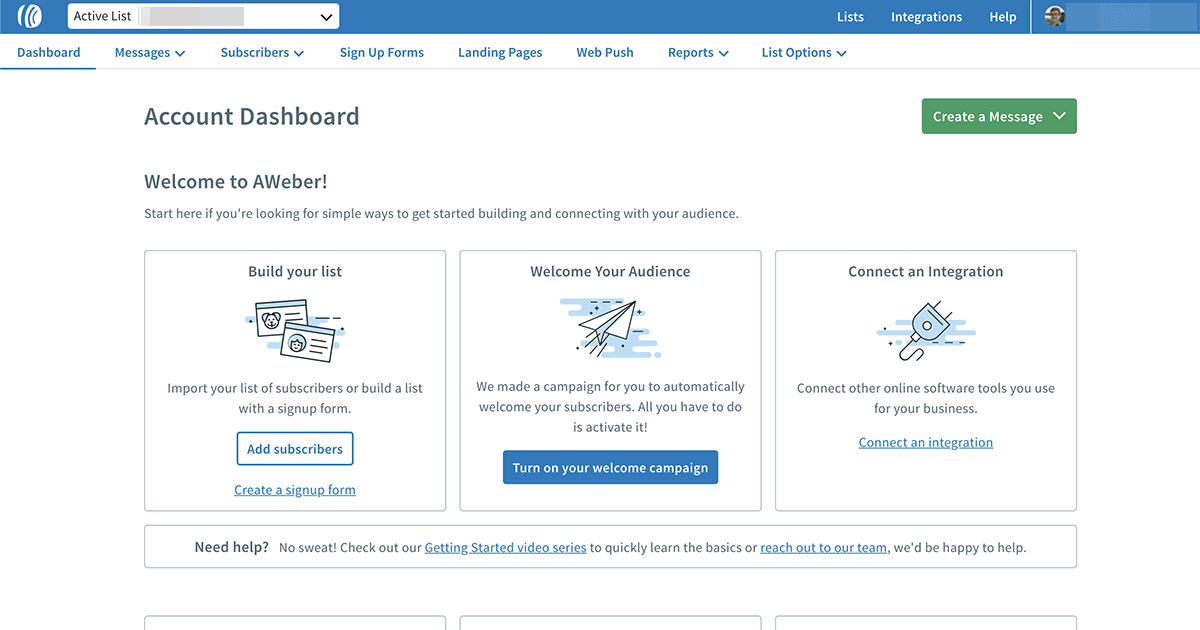 Step 2: Locate Your Billing Information
Once you're logged in, click in the upper right corner, so the dropdown menu appears. Select
My Account
 from the menu, and on the next screen, click
Billing
. So far, so good!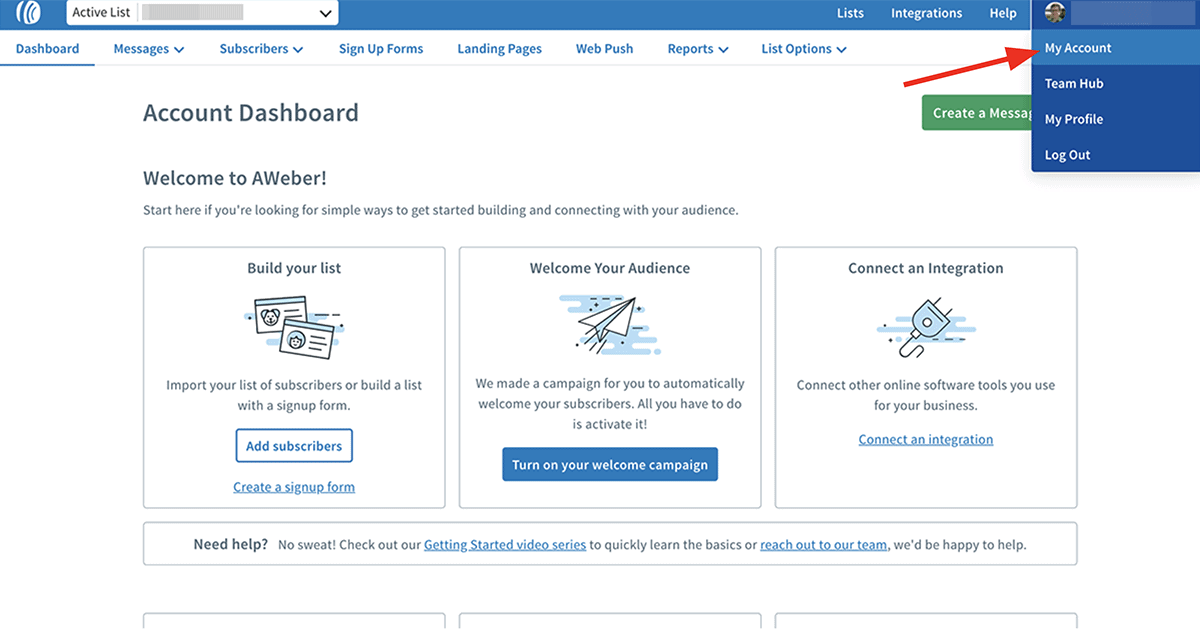 Step 3: Opt to Change Your Plan
On the Billing information page, scroll to the bottom. Click the gray
Change my plan
 button. There aren't many options to click on this page, so this part is pretty straightforward.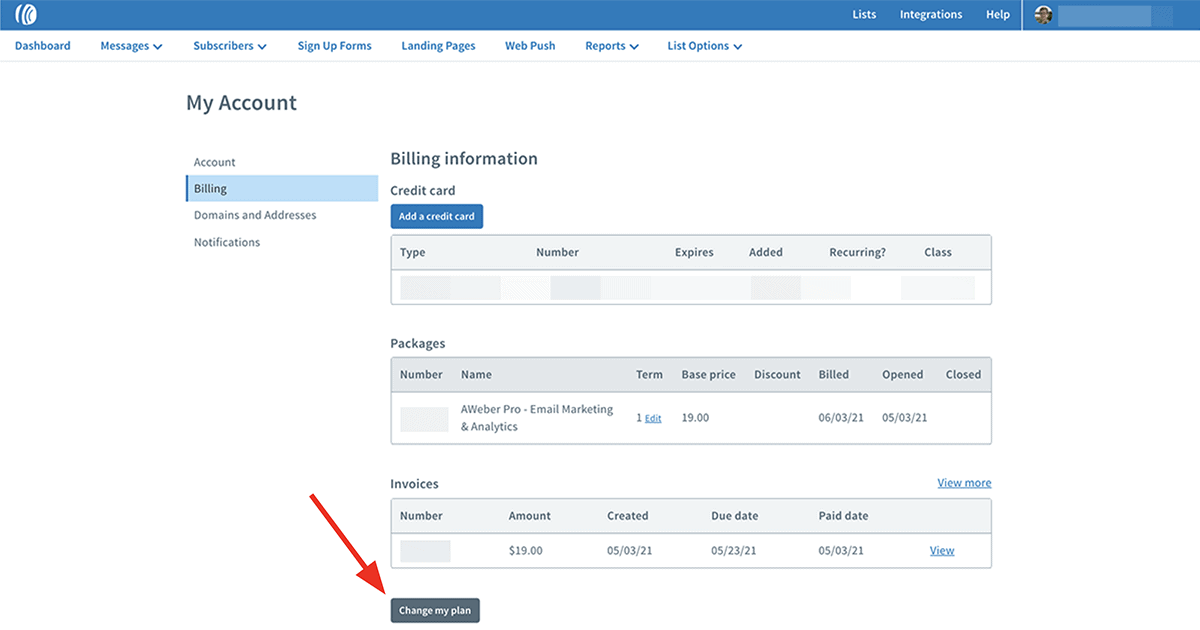 Step 4: Start the Cancellation Process
After choosing to cancel your plan, a live chat window and popup appear on your screen. I contacted the live chat agent as I was curious about the refund process, but you can ignore this window unless you have a question. Simply click on the
No thanks, just cancel
 link at the bottom of the popup. (You can see my live chat conversation in the
Getting Help With Cancellation
 section below.)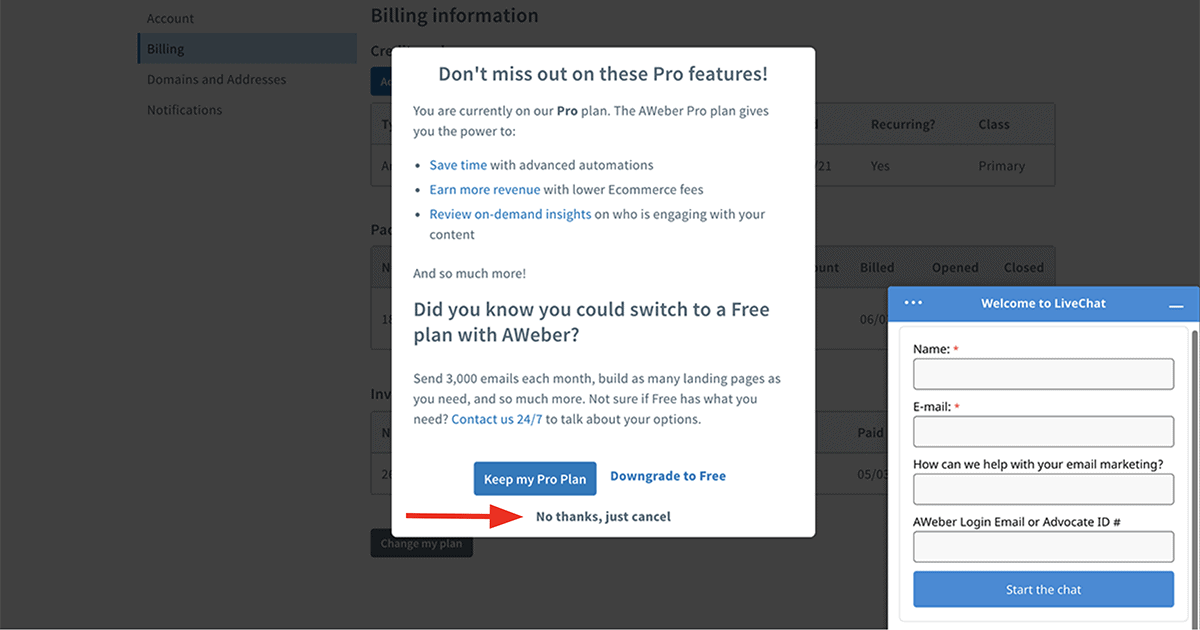 Step 5: Give a Reason for Canceling
On the next screen, you have to select one of the reasons to proceed. Any of them will do! I chose
AWeber is too expensive
 since it aligns best with my experience.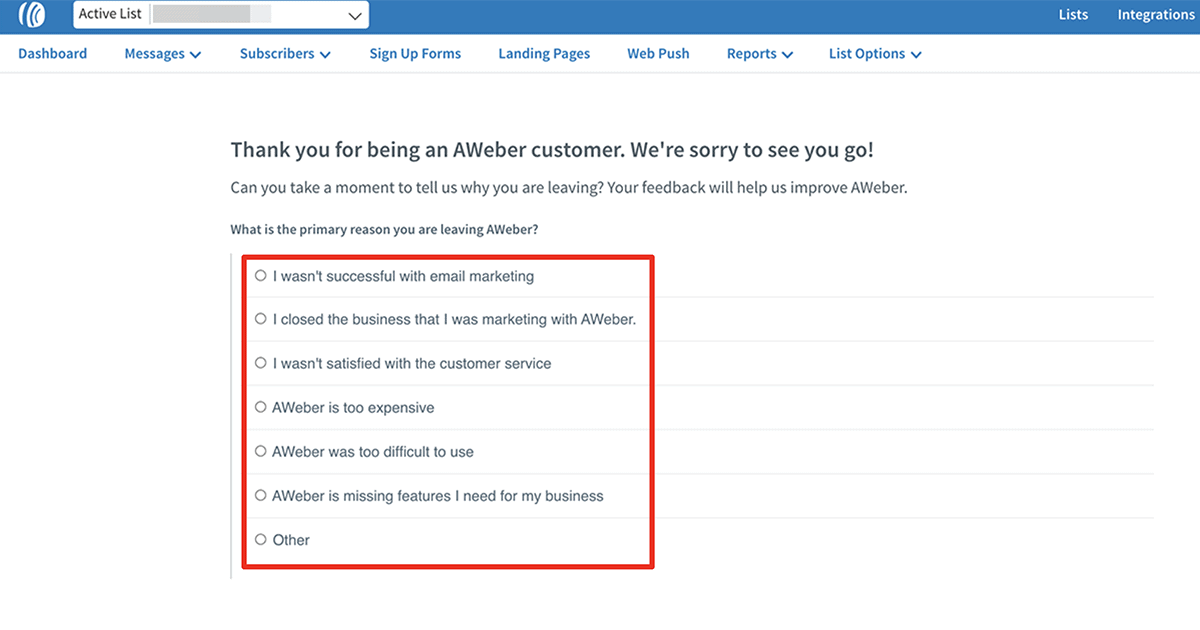 Step 6: Provide Some Additional Information
After choosing one of the cancellation reasons, scroll down and select whether or not you plan to switch to another email marketing service. If you do, choose the one you'll use. I can see why AWeber would want this information, but it's a little unusual and too in-depth for my liking!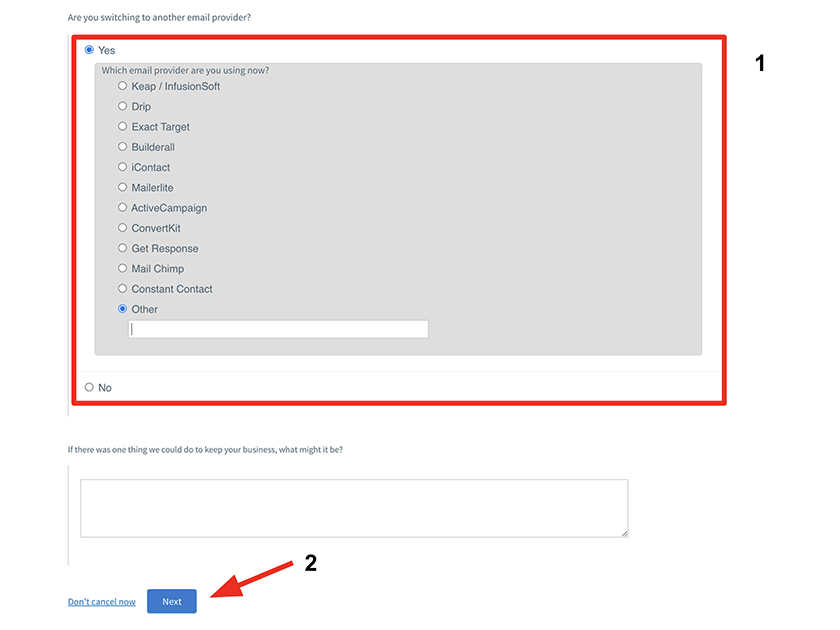 You can type additional feedback into the final textbox, but this step isn't required. When you're ready to move on, click the blue
Next
 button. You're almost done!
Step 7: Consider a Retention Offer
Next,
AWeber may provide an incentive to keep your account open.
 I've got to give them some credit; they won't let you go easily.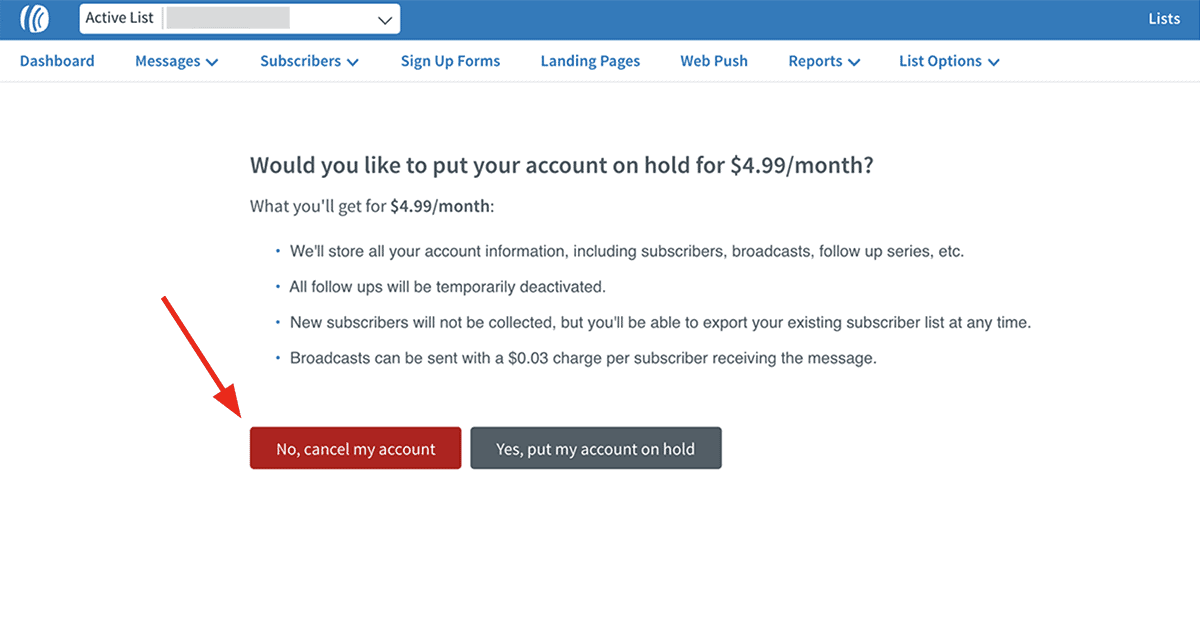 In this case,
it suggested that I put the account on hold for a discounted rate
until I wanted to resume using it again. I understand that they don't want to lose me as a customer, but paying to keep your account on hold isn't a great deal. If I already found AWeber too expensive, why would I want to keep paying for nothing?
 Switching to AWeber's Free plan would probably make more sense
. To decline this offer, just click the red
No, cancel my account
 button.
Step 8: Complete the Cancellation Process
Finally, you've made it. Enter your password and click the red
Yes, cancel my account
 button to complete the process. If you haven't already downloaded your subscriber lists, check the box next to
Email a backup of my account information
.
You can still access your account until the end of the billing cycle
, which is helpful if you haven't got everything in order ­– but if you request a refund, it's a different story (see below).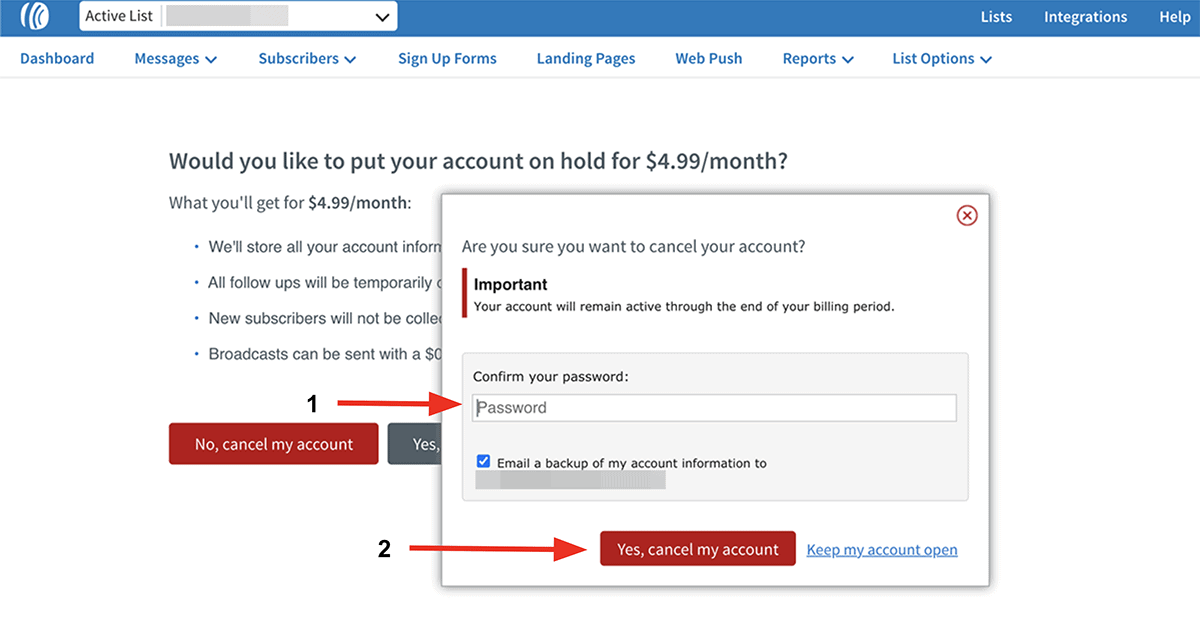 Step 9: Request a Refund If You Qualify
A few minutes after completing the cancellation process, you should receive an email confirming your account cancellation. If you opened your account in the last 30 days, you
might
 qualify for a refund.
I'd love to tell you the criteria for a refund, but AWeber doesn't provide that information.
 I went through the process step-by-step to request a refund, which I outline in the
How to Get a Refund
 section below. You can do the same.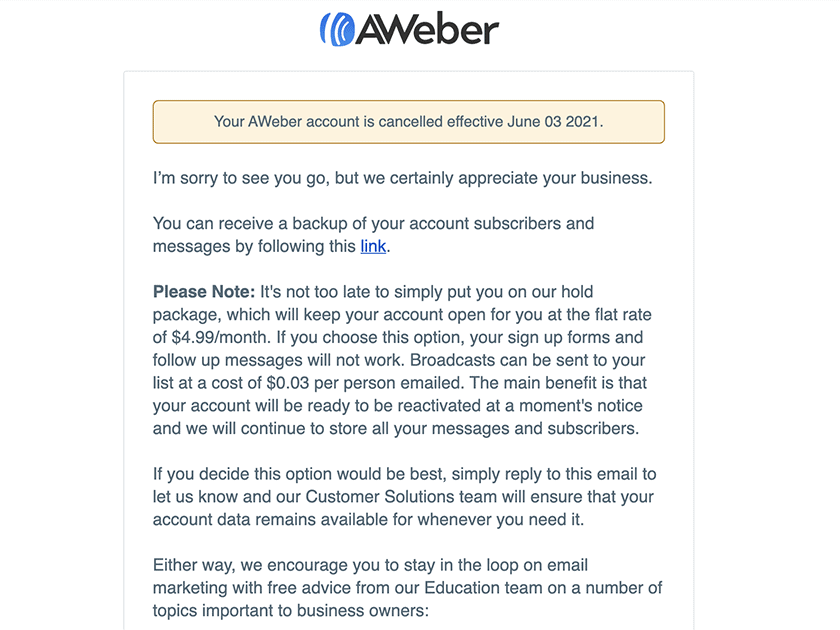 AWeber's Refund Policy
While I found AWeber's cancellation process easy to understand, I wanted to confirm if I could get my money back after canceling – I couldn't find mention of a refund anywhere. I even looked at the service agreement and there was no mention of anything there.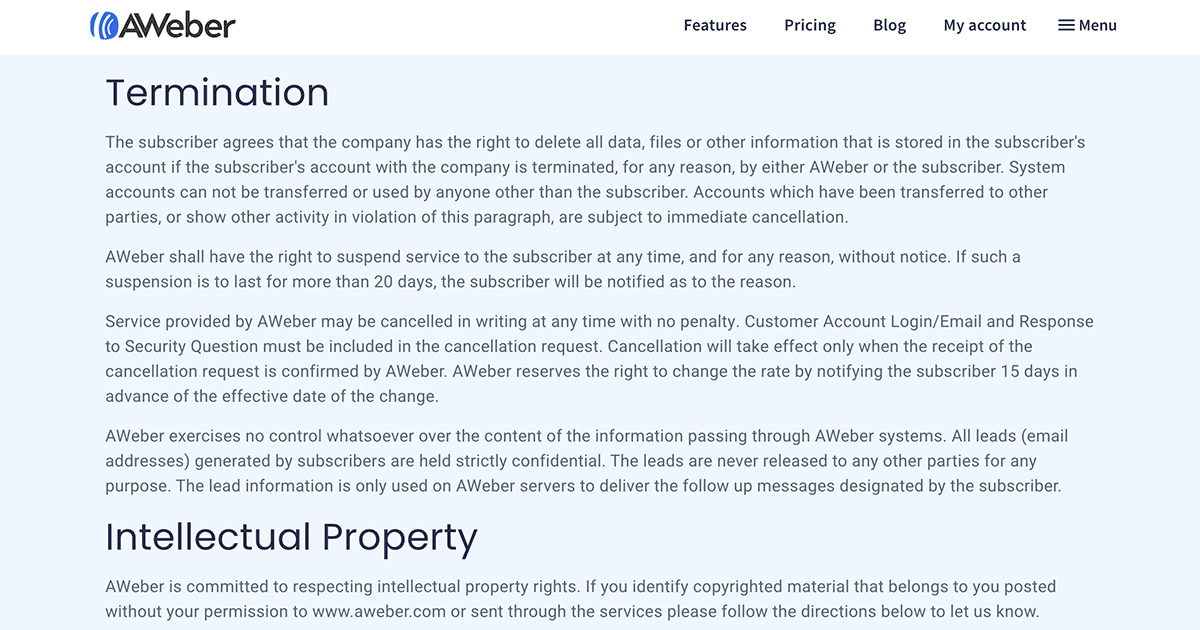 So when I decided to inquire further and speak to one of AWeber's support team over live chat,
I was surprised to learn that AWeber actually has a 30-day money-back policy for new accounts.
I was hoping the support rep could share a link to the policy, but they confirmed it wasn't a published term. Why the secrecy, AWeber?
I pressed for more information, and the helpful rep confirmed that
you qualify for a refund up to 30 days after creating a new account
. The refund only covers base pricing and doesn't include charges related to acquiring over 500 leads, which is the first tier of price rises. If you've got an issue with AWeber Pro's price, you can
downgrade to the Free plan
rather than canceling your account altogether. You'll still qualify for the refund if you meet the terms above.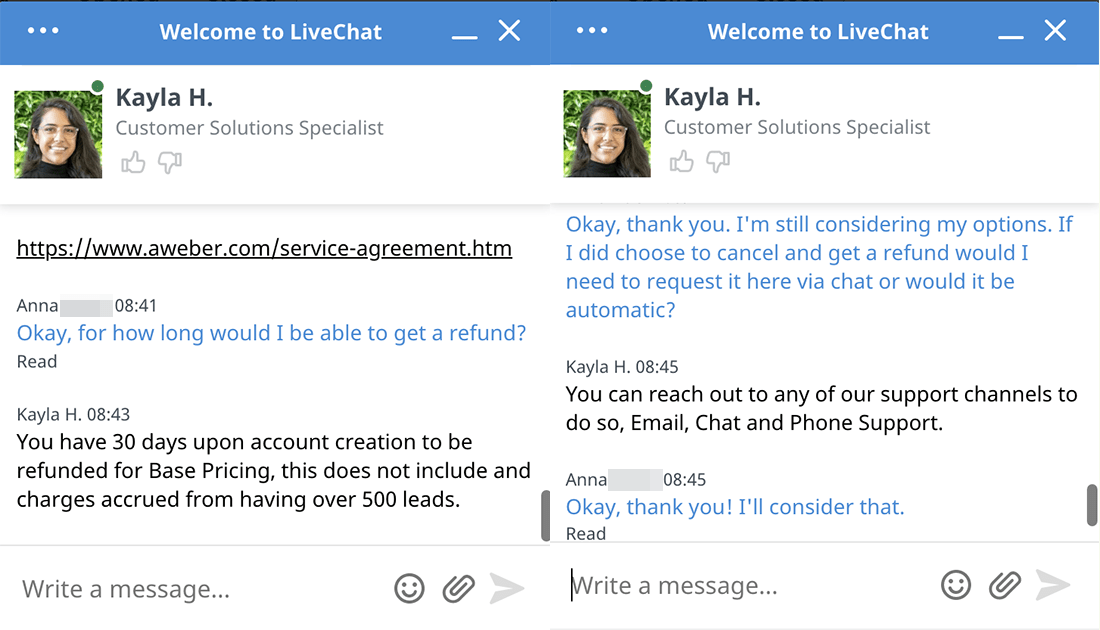 How to Get a Refund
As I mentioned above, AWeber doesn't have a published refund policy. The terms simply indicate that you can close your account without penalty. However, as I learned via live chat support, they
 offer a 30-day money-back guarantee if you are willing to ask.
You can request a refund through any support channel
: live chat, phone, or email. I wanted to complete the process as quickly as possible, so I opted for the chat.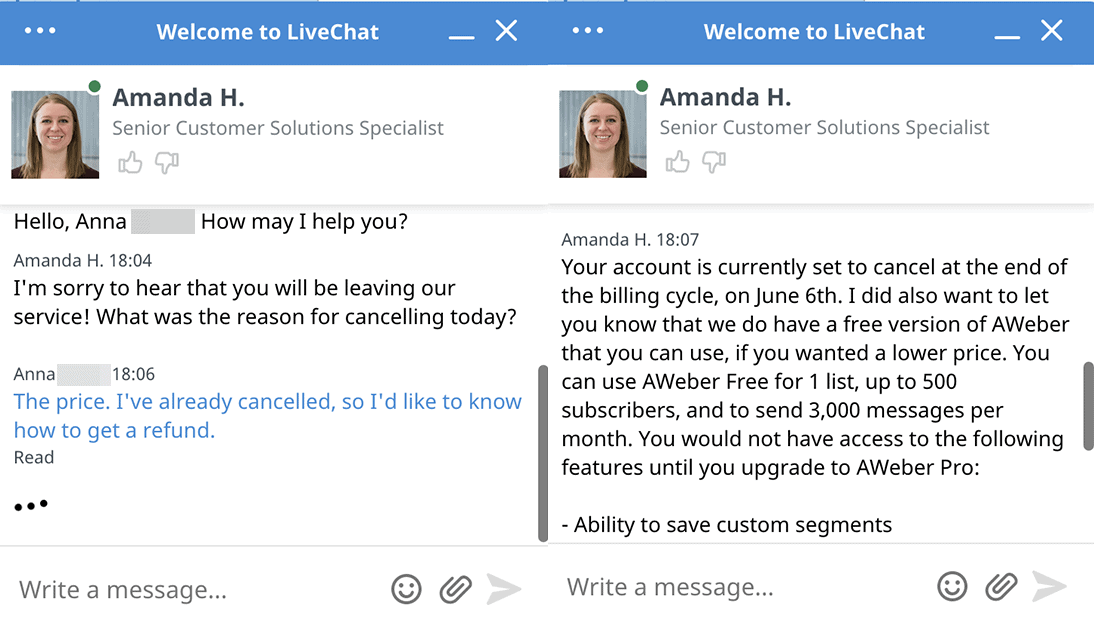 Even if you've already canceled your account, the support rep may recommend that you
switch over to a Free plan
. That's fine; I didn't expect them to give in straight away. So decide whether or not you want to keep your account (I opted to close mine) and ask to move forward with the refund.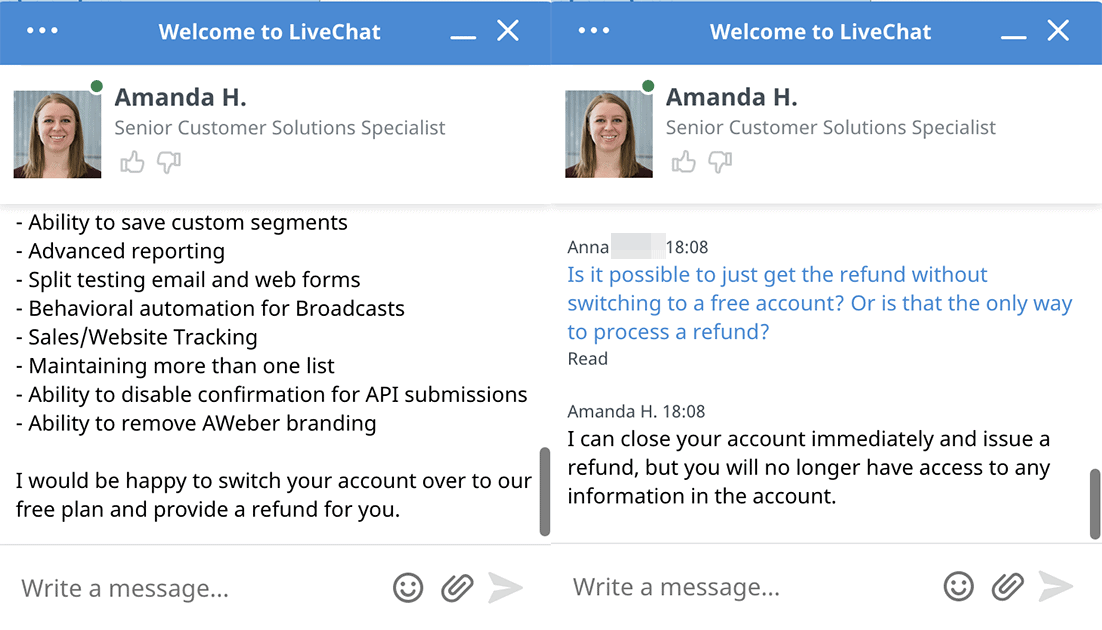 Be aware that
requesting a refund results in your account closing immediately, which means you lose all access to your data
. If you haven't already downloaded your subscriber lists, this is your last chance, and you do
not
 want to lose your contacts!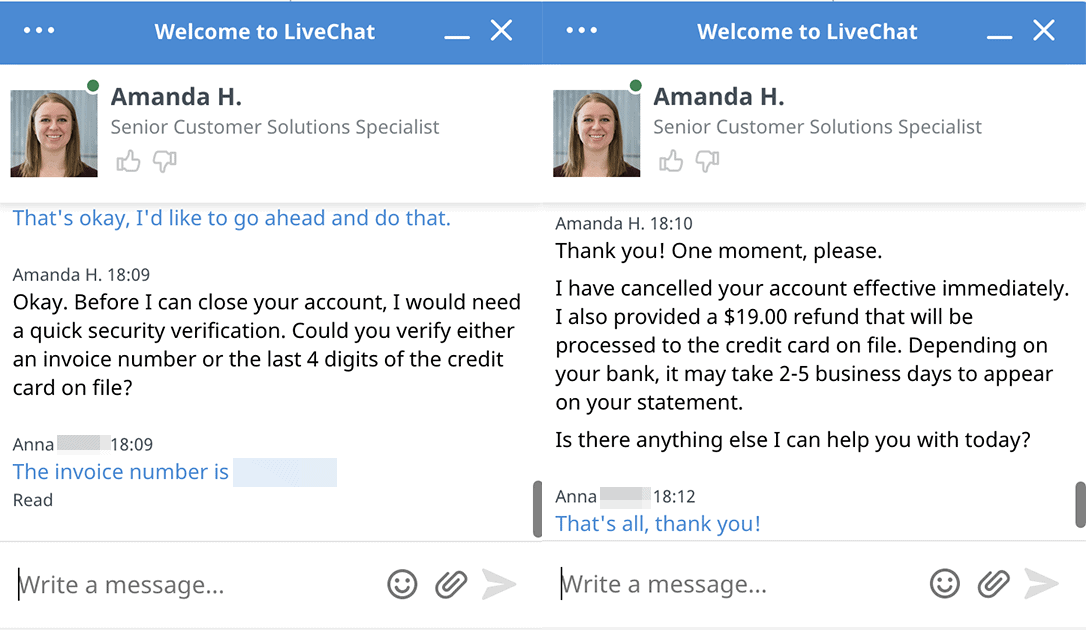 Be prepared to provide either the invoice or credit card number associated with your account. The support rep can then process the account closure immediately.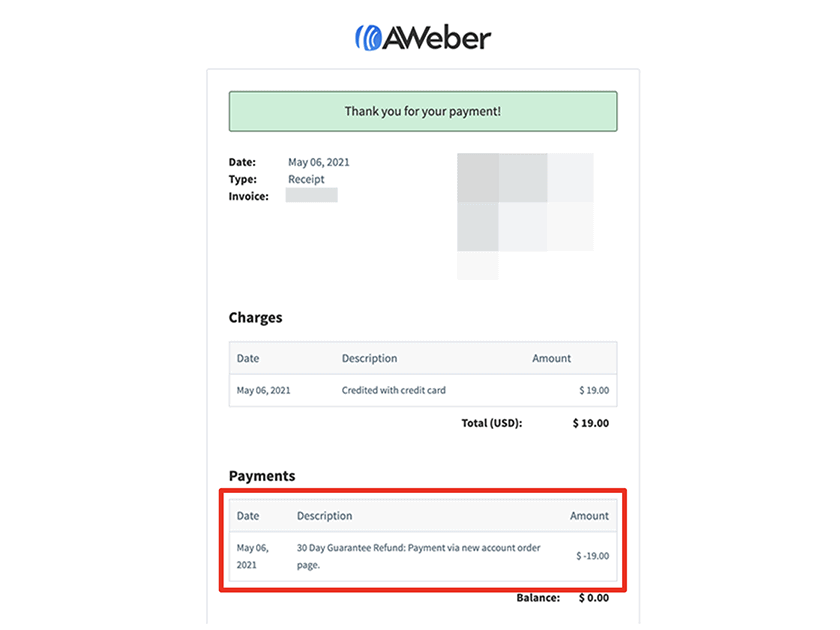 You'll receive an email confirming the refund shortly after completing this process. Mine appeared in my inbox moments after the chat ended, and the refund appeared in my account about 12 hours later – which is incredibly fast. I appreciated the simplicity of the process and AWeber's quick work with handling my refund. I also loved that I could complete the entire process via live chat rather than having to spend time on the phone.
3 Best AWeber Alternatives for Growing Businesses
If you've read our AWeber review, you'll know we think it's pretty decent, but it's not perfect, and it's not for everyone. If you've closed your account with AWeber, but you still need an email marketing service,
there are some really strong AWeber alternatives out there
. For now, here's a quick look at my top three recommendations:
ActiveCampaign outperforms its competitors and will quickly become your new favorite for email marketing now that AWeber is no longer in consideration. Its standout features include boasting one of the market's most advanced automation systems, offering robust segmentation options, and providing excellent customer service. While a free plan is not available, you can experience the majority of ActiveCampaign's premium features through its 14-day trial.
AWeber's Free plan is decent, but Sendinblue's Free plan is even better. With Sendinblue, you can
add unlimited subscribers (compared to 500 with AWeber), send 300 emails per day
 (compared to 3,000 per month with AWeber), and access advanced segmentation.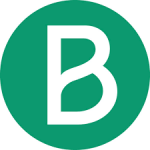 Save up to 10 % on your Brevo (formerly Sendinblue) plan!
Limited-time offer - Don't miss it!
2179 users used this coupon!
Although GetResponse's Marketing Automation plan costs a bit more ($59 per month) than AWeber Plus (
$
20.00
per month) to start, it is far more powerful. With GetResponse, you can create unlimited conversion funnels, design unlimited automation workflows, and use hundreds of templates to make your marketing efforts more efficient.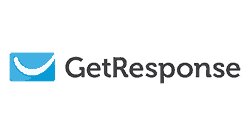 Save up to 30 % on your GetResponse plan!
Limited-time offer - Don't miss it!
157 users used this coupon!
AWeber Makes Canceling Super Easy
AWeber has one of the simplest and most straightforward cancellation processes of any email marketing service.
 You can complete your account closure entirely online and request a refund via live chat. Since you receive cancellation and refund confirmations almost instantly, you can quickly check this item off your to-do list without having to worry about additional follow-ups. Now that you've cancelled your AWeber account, you're free to sign up to a new email marketing service like
ActiveCampaign
or
Sendinblue
. Both make
our list of the best email marketing services in 2023
, and get on with marketing your business.
FAQ
How do I cancel my AWeber account?
You can cancel your AWeber account by logging in to your account and going to the billing page. Select Change plan and proceed through the automated steps to complete the cancellation. You can follow the step-by-step process here.
How much does AWeber cost?
AWeber's pricing is pretty straightforward – we've put together a detailed breakdown of all AWeber's pricing plans for you. In short, there's a forever-free plan, and there's also a Pro planthat starts at

$

12.50

per month with monthly billing.
Does AWeber give refunds?
Yes, AWeber has a limited 30-day money-back guarantee for new accounts. However, this is an unpublished policy that you won't find in the terms and conditions.
What is the best email marketing platform?
ActiveCampaign and Sendinblue top our list of the best email marketing services in 2023. ActiveCampaign is best if you want a strong all-rounder service that's suitable for beginners but also grows with you. Sendinblue is my top pick if you want an easy-to-use platform with modern-looking email templates, advanced personalization, and affordable plans. It also has the best free plan allowing you to send up to 300 emails daily.