Paying more doesn't necessarily mean you're getting more.
While HostMonster's packages are pricier than HostGator's, it's HostGator that comes out on top as the better hosting option.
The results of my testing show that HostGator offers more features and functionality than HostMonster, not to mention higher levels of customer support and better overall performance. Especially if your site is high-traffic, HostMonster will probably struggle with meeting your needs. My HostGator vs. HostMonster comparison took five key factors into account, from pricing plans to security and performance. While HostMonster does have a few nice features, like a plethora of e-commerce cart options, in most use cases HostGator provides better value. That said, if I had to make a choice,
I wouldn't go with either of these hosts. I'd choose Hostinger instead.
Not only is it cheaper (prices start as low as
$
1.99
), but it can provide better features and performance.
Click here to see Hostinger's latest deals
, or keep reading to see if one of the other two hosts is the right one for you.
1. Plans & Pricing
HostGator's Plans Clearly Offer More Value
Both HostGator and HostMonster have a fairly straightforward three-tiered price plan model. HostGator offers Hatchling, Baby and Business plans. HostMonster's corresponding plans go by Basic, Choice and Choice Plus.
No matter which plan you choose, you'll end up paying more for HostMonster.
Like most other hosting options, you'll get a monthly discount with both services the longer you commit. Paying upfront for an annual subscription commitment will cost you less per month than simply paying on a month-to-month basis. With HostGator, you have the option of choosing month-to-month, yearly, or 36-month plans. However, HostMonster's minimum service length is 12 months, making it a less flexible option.
You'll also discover that HostGator offers more features than comparable HostMonster plans. For example,
HostMonster's cheapest Basic plan
 gives you 5 email accounts and 25 subdomains.
HostGator's cheapest plan, Hatchling
, offers unlimited email accounts and subdomains, at a cheaper price than HostMonster Basic.
A free domain name is included with some hosting plans from Hostmonster
HostGator also provides more transparency than HostMonster in terms of what exactly you'll receive with each plan.
 Things like email hosting and control panel features are broken down on a very granular level on HostGator's website. The bottom line is that not only are HostGator's plans cheaper overall, but they also deliver substantially more value.
You'll receive the same – if not more – features with HostGator, along with the month-to-month flexibility that HostMonster lacks.
2. Support
HostGator Has More Channels – and More UpSells
All HostGator plans include 24/7/365 customer support via live chat and telephone. I put live chat support to the test, and the results were mixed. The support agent wrote English well, and their responses seemed authentic. I waited about one minute to receive a response and the agent initially seemed confused at my question. However, the agent did seem technically versed in the WordPress issue I was inquiring about.
Although I was asking about an existing WordPress site, the agent still tried to upsell me on a more expensive plan with the Gator Website Builder.
HostMonster also offers 24/7 technical support via phone and chat. I waited about one minute to connect with a live chat agent, and their English skills seemed decent enough.
HostMonster's agent didn't seem as technically well-versed as HostGator's but didn't annoy me by attempting any upsells.
They were transparent with which plan would best suit my needs, the Choice plan in this instance.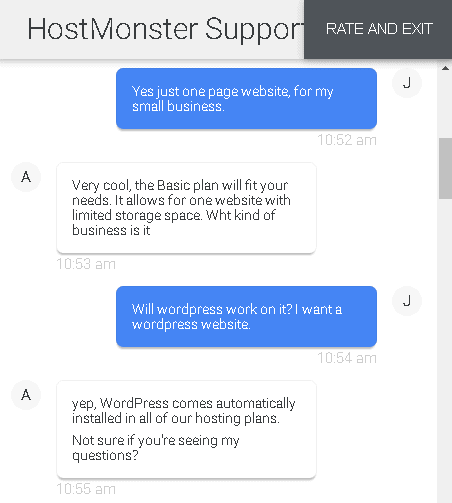 Based on both experiences, I'd recommend HostMonster support over HostGator.
But the margin is razor-thin. Wait times were pretty much the same, but the HostMonster agent didn't bother with upsells and answered my questions a bit faster. But it's also important to note that HostGator has an extensive knowledge base for support issues on their website, something that HostMonster doesn't.
3. Features
HostGator Has a More Comprehensive Feature Set
HostGator's feature set is superior to HostMonster for a variety of reasons.
First, HostGator offers WordPress hosting, something that HostMonster lacks. You can still host a WordPress site on HostMonster, but you won't get some of the main benefits that come with specialized WordPress hosting. Server optimization and enhanced security, for instance. Both hosts offer their own website builders. HostMonster offers a Weebly-based drag-and-drop website builder. But when I jumped into HostGator's Gator Site Builder, I was pleasantly surprised. Gator Site Builder offers an array of attractive templates to get started with, and the overall interface felt a lot like
Weebly
.
You'll have to upgrade to Plus for unmetered disk space and unlimited email accounts with HostMonster,
 features that are free with all HostGator plans. HostMonster does offer more e-commerce shopping cart options and free site migrations. Features like instant on-demand backups and SEO tools are included in HostGator's plans, while you'll be paying a-la-carte with HostMonster. Although
HostMonster doesn't offer specialized WordPress hosting,
 it does have an easy one-click WordPress installation. HostMonster also offers four separate e-commerce cart integrations. With HostGator, you're limited to either osCommerce or ZenCart.
But overall, HostGator offers more features at a lower price. 
| | | |
| --- | --- | --- |
| | HostGator | HostMonster |
| Hosting Types | Shared, WordPress, VPS, Dedicated Servers | Shared, VPS, Dedicated Servers |
| Free Domain | ✓ | ✓ |
| Site Builder | Gator Website Builder | Weebly-Based Site Builder |
| Free SSL Certificate | Yes – Manual Installation | Yes |
| Disk Space | All plans unmetered | 50GB – unmetered depending on plan |
| Advertising Credit | $200 for Google AdWords and Bing | $200 marketing credit (Plus and above only) |
| Bandwidth | Unmetered | Unmetered |
| Subdomains | Unlimited | 25 for Basic, unlimited all other plans |
| Control Panel | cPanel | cPanel |
| Email Accounts | Unlimited | 5 for Basic, unlimited all other plans |
| E-Commerce Carts | osCommerce and ZenCart | osCommerce, ZenCart, Agora, Cube |
| Free Site Migration | One free site migration | Up to five free site migrations |
| Money-Back Guarantee | 45 Days | 30 Days |
4. Performance
HostGator Trumps HostMonster in Loading Speeds and Uptime
My performance testing shows HostGator to be the clear winner in overall performance
. Page load speeds are pretty similar between the two services, but HostGator gets the edge because high-traffic sites are less likely to get bogged down. Load impact testing showed that HostGator had no noticeable dip in performance with increased users and traffic.
HostGator also offers a 99.9% uptime guarantee.
In the event of excessive downtime, HostGator will provide users with one month's credit in honor of their uptime guarantee.
HostMonster offers no uptime guarantee, but
my testing did show that HostMonster's uptime performance was reliable, matching that of HostGator. There are certainly more robust hosting options on the market in terms of page load and server response times, but both HostGator and HostMonster perform well considering their price point. HostGator comes out on top due to its ability to handle traffic and downtime guarantee.
5. Security
HostMonster Covers the Basics for Less Than HostGator
Despite a higher price point and poor performance, HostMonster does give users more than adequate security features with all its packages.
Daily backups, malware scanning and a free HostMonster SSL certificate are included in all plans. You can choose to upgrade SiteLock or buy additional backups using CodeGuard, but HostMonster's basic security features are sufficient. HostGator also provides a free SSL certificate, but it needs manual installation.
HostMonster offers a free version of SiteLock with all packages – something you'll have to pay extra for with HostGator's shared hosting plans
 (the WordPress hosting plans include SiteLock and CodeGuard for free). The same applies to HostGator malware scanning, which you may have to purchase. If you haven't gotten the picture already,
I'll drive home the point that security costs can quickly add up with HostGator.
Some HostGator security features are admittedly cool, like GSuite Privacy Protect, that prevents your personal domain registration information from being publicly accessible. Both hosts provide anti-spam software for your email accounts. In this aspect, HostGator gains a slight advantage by offering Spam Assassin free of charge across all three packages. On the other hand, HostMonster incorporates the SpamExperts tool within the Plus and Choice Plus plans, while opting for the Basic package would require an additional payment for spam filters. In the end, you can get equivalent security features out of the two services.
You'll simply end up paying more with HostGator in most scenarios.
Which Host Should You Choose?
HostGator is the clear choice in the HostGator vs. HostMonster debate.
You'll get the same features – and sometimes more – with HostGator at a much lower price point.
HostGator provides specialized WordPress hosting
, has a more robust website builder, and superior all-around performance.
HostMonster might be a decent choice for smaller businesses or personal websites.
 Receiving a basic suite of security features in all packages is also nice, instead of having to pay for upgrades with HostGator. But if you're looking for the best value and performance, and a hosting provider that's flexible and can scale, HostGator beats out HostMonster by a mile. That said, neither HostGator nor HostMonster cracked our
list of the top hosting services
. Before making your final decision, I'd definitely recommend checking out the rankings.
Comparison Table
Plans & Pricing
Good all-around value
Overpriced for what you get
Key Features
Gator Site Builder, WordPress hosting. Unlimited storage, bandwidth and email.
Standard features like free SSL and website builder. Underwhelming for the price tag.
Performance
99.9% uptime guarantee and fast loading times
No uptime guarantee. Sites slow down with heavy traffic.
Security
May have to upgrade depending on plan.
Good security suite included in all plans. Upgrades optional.
Support
24/7/365 chat or telephone support. No email support available, performance is slightly above average.
24/7 support via phone, live chat, telephone or email. Knowledgebase is clunky and outdated. Agents not especially helpful.
FAQ
Is HostGator as good as some of the top web hosting providers?
While HostGator edged out HostMonster in our comparison, there are a few things keeping HostGator from cracking our list of the top web hosting providers. Some other hosts offer more value, while others are superior in performance.
How do I install WordPress on HostMonster?
Although HostMonster doesn't offer specialized WordPress hosting plans like HostGator, there is a one-click installation feature on HostMonster. You don't need any programming knowledge to install WordPress on HostMonster, but do also have the option of using custom scripts. If you'd rather have a host that does all the work for you, check out our list of the best managed WordPress hosting providers.
Is paying more for HostMonster actually worth it?
In short, there are very few reasons why paying more for HostMonster than HostGator makes sense. Other than basic security features, you'll get better value for your money with HostGator packages and also receive slightly better support at a lower price. If I were you, though, I wouldn't go with either of these hosts. I'd go with Hostinger, which offers high-quality hosting at unbelievable prices.
Is HostGator good for e-commerce?
HostGator offers slightly fewer e-commerce cart plugins than HostMonster, but you're still better off running an online store with HostGator. HostGator plans can accommodate increasing amounts of traffic to your store and offers a more customizable website builder.