But are you getting the most benefits possible from the time you spend on Twitter?
Maybe. It's easy to assume so, because you are following the most commonly cited best practices. But you actually have no way of knowing for sure, unless you know exactly how your current Twitter presence is performing. And then, most importantly, you need to use that information to improve your Twitter habits. Did you know that there was a free tool already in your Twitter account that gives you most of the information that you need? If you haven't heard about Twitter Analytics, you aren't alone. But when you finish reading this guide,
you will know everything you need to know about Twitter Analytics
from how to access your account to how to improve your conversions.
7 Reasons You Need to Add Twitter Analytics to Your To-Do List
There are a bunch of really important reasons why content marketers should use Twitter Analytics:
You can learn what tweets your followers like most. Your top tweets will give you insight into which hashtags are most effective. And you can see which tweets were most retweeted and received the most comments.
It's updated in real time. Social media moves fast, and you need to capture interest and activity right away. By watching Twitter data during campaigns or leading up to an event, you can make corrections and change your strategy right away.
It tells you when your followers are most active on Twitter. It's a source of constant debate online – when is the perfect time to post? The answer to that depends on your audience. So Twitter Analytics tells you what you really need to know – the best time to post for your specific audience and followers.
You get the inside scoop on your followers. It's a cliché because it's true – you have to know your audience. With Twitter Analytics, you get all the information you need to target your tweets to your audience – their top interests, occupation, income, top consumer interests, and more. If you don't know these things, you are likely wasting tweets and possibly losing followers.
Your competitors are using it. This means that if you don't use Twitter Analytics, your competitors are better able to target their social media than you are. And in today's competitive market, you can't afford to give up such an advantage.
Your boss will think you are brilliant at the next staff meeting. Dazzle your team with information and stats. We won't tell that it took you only a few clicks to become an expert on your Twitter account and followers.
It's free. And you don't have to install anything. Log in and you are good to go. Enough said.
Getting to Know Your Twitter Analytics Dashboard
Now that you are aware that a bunch of really useful information about your Twitter account, followers, and activity is just sitting there waiting for you, don't waste any time accessing your analytics for Twitter. The first thing you need to know is how to see your Twitter Analytics. It's super easy. Just follow these quick instructions and you'll turn on Twitter Analytics in no time. Go to analytics.twitter.com, log in with your Twitter username and password, and your Twitter Analytics dashboard will be displayed.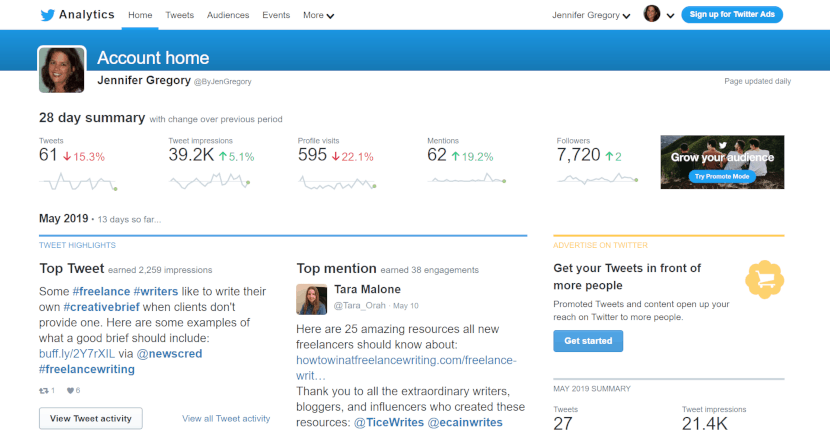 If you have had your Twitter account for more than 14 days, you can see your Twitter Analytics account. Otherwise, you will need to wait until that time has passed. Then your dashboard will show you everything that has happened with your account in the last 28 days.
Pro Tip: Don't be tempted to check your dashboard only once a month just because you see the number 28. Make a habit of checking the dashboard weekly – we find setting a time each week and putting an appointment on our calendar to be super helpful. By checking your dashboard weekly, you can spot patterns quickly and make changes right away to increase your engagement and impact.
Because it's easy to get overwhelmed with all the information on the dashboard, let's take a quick tour of the highlights.
28 Day Summary
The first thing to check out is your 28 day summary at the top. This shows you tweets, tweet impressions, profile visits, mentions, and followers.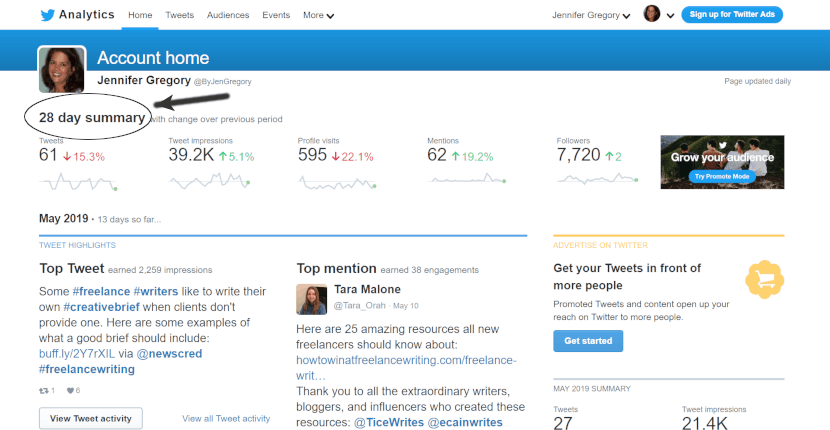 As you probably guessed, the number of tweets refers to the number of times you have sent a tweet from your account.
Pay attention to the increase or decrease in your number of tweets to see the impact this activity has had on your other metrics.
Next up is Twitter impressions. People often mistakenly think Twitter impressions means the number of people who have seen your tweets. It's actually
how often one of your tweets has shown up in someone else's timeline.
Based on my dashboard, I had the possibility of 39K people seeing my tweets this past month. The number of profile visits refers to people who clicked on your profile to learn more about you.
A high number is a good sign that your tweets are engaging people enough for them to want to learn more about you or your business.
I've noticed that a decrease in profile views often correlates to a decrease in the number of tweets during the same period. Mentions is a great metric to know as well – because
each time someone mentions you, that means they are engaged
enough in your content, tweets, or consider you an influencer to mention you in a tweet. Although my number of tweets was lower, my mentions were significantly higher, likely because I spoke at a conference and several people live-tweeted my session. The followers metric is important to track as well.
This number will likely fluctuate, so don't panic, but it's good to keep an eye on the general trend.
And yes, the fact that I only gained two followers this month isn't great. This means I need to work on following people who follow me, as well as actively seeking out people and businesses to engage with. While it's easy to get caught up on the followers number, engagement is more important. That said, you want to see a steady increase in followers.
So focus more on the change than the actual number for this metric.
Tweet Highlights
This section is broken down by month, not by the past 28 days, which makes it unnecessarily confusing. So you will need to be sure to look at all of the months that are shown to gather information, especially if you are looking at the end or beginning of a month. The information in this section – Top Tweet, Top Mention, and Top Follow – can be very helpful to understand what's working and where to focus your efforts.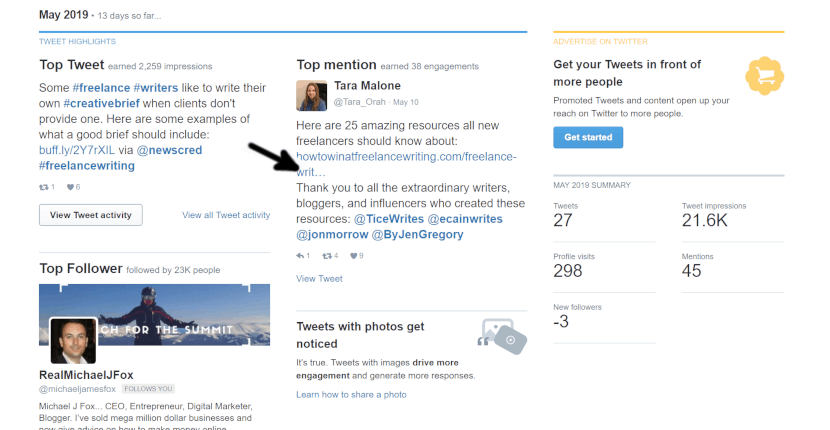 Top Tweet: It's easy to assume that this tweet is the one that saw the highest level of engagement – meaning likes and retweets. But that's not the case. This is the tweet with the highest number of impressions throughout the month. Because this means that the tweet showed up in the most timelines, it's important to note the hashtags used and the day and time you tweeted.
Top Mention: To us, this one is less important. It's not something as actionable as the others because it just includes the mentions with the highest number of impressions. But it's interesting to note.
Top Follower: This is someone whose stuff you want to retweet, and probably even mention in your tweets. They are the person with the highest number of followers who followed you in the past month, which is a good indicator that they have a solid influence on a lot of people.
Know (Almost Everything) You Want to Know About Your Followers
One of our favorite parts of Twitter Analytics is hidden in the tabs, where you can find lots of juicy information about your followers. But it's super easy to miss. You first have to click on the
Audiences
menu at the top of the dashboard, and then select what audiences you want to analyze. We don't find
All Twitter Audience
to be overly helpful, and instead use both
Followers
and
Organic Audience
.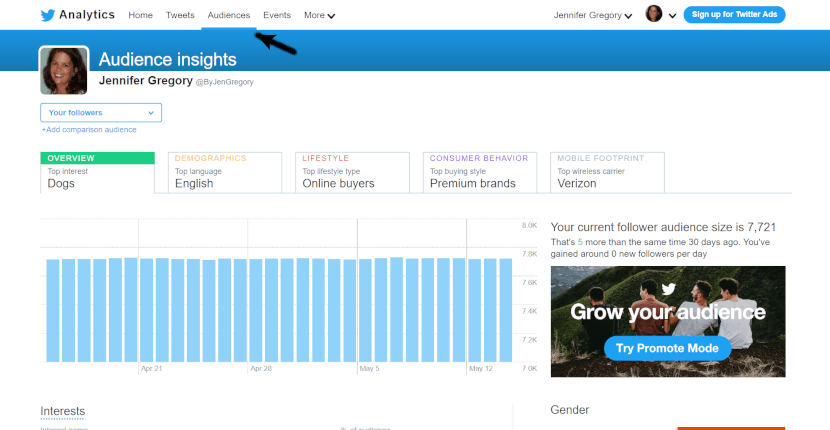 Click through tabs to learn more about your audience. A few key metrics to be sure to note include Household Income (on the Demographics tab), Region (at the bottom of the Demographics tab), and Consumer Buying Styles (on the Consumer Behavior tab).
Even if you aren't selling products, this information can help you craft your messaging and pick topics your audience is interested in.
For example, if you are a dry cleaner and notice that many of your followers are interested in natural living products, then you can be sure to promote your store's green practices and lack of chemicals in your services.
4 Pro Tips to Turn Numbers into Dollars
Looking at Twitter Analytics is a great first start. But looking at the numbers won't magically help you increase engagement and conversions. You have to actually do something with the information those numbers represent. Here are our best tips to help turn tweets into customers and sales:
#1: Use Twitter Cards
Very few people are going to click on a tweet if its formatting is messed up and the image is positioned awkwardly. When it comes to social media, looks matter. A lot. But it can be time-consuming to get everything perfect, especially with complicated formatting, links, and images. Instead of spending your evenings making your Twitter posts look pretty, use Twitter Cards to create standard formatting templates that you can reuse over and over again. You can pick from seven types: summary, summary with large image, photo, product, video/audio player, gallery, and app. Yes, it takes a little bit of (simple) coding, but it will save you a lot of time and likely increase conversions.
#2: Look for Clues in Your Engagement Rates
The best clues to conversions lie in your past tweets. But looking only at engagement or impressions won't give you the full picture. For example, if you looked at the number of impressions for the tweet below, you would think that it was very successful.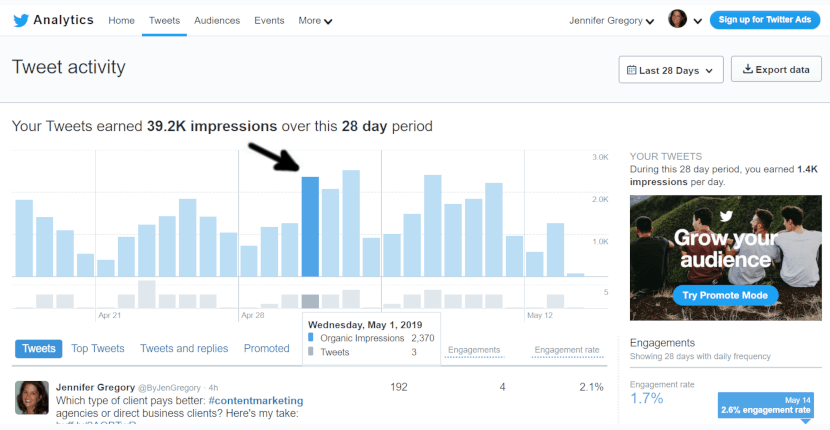 But when you look closer, you will see that it only got four engagements, which gives it an engagement rating of a little over two percent. When you run across tweets of your own like this, you want to figure out why people didn't click on it after they saw it. The answer is in looking for patterns. Is it the time of day? How about the hashtags? Do all your tweets on a specific topic get low engagement? Next, you want to go through the same review process for tweets with high engagement rates.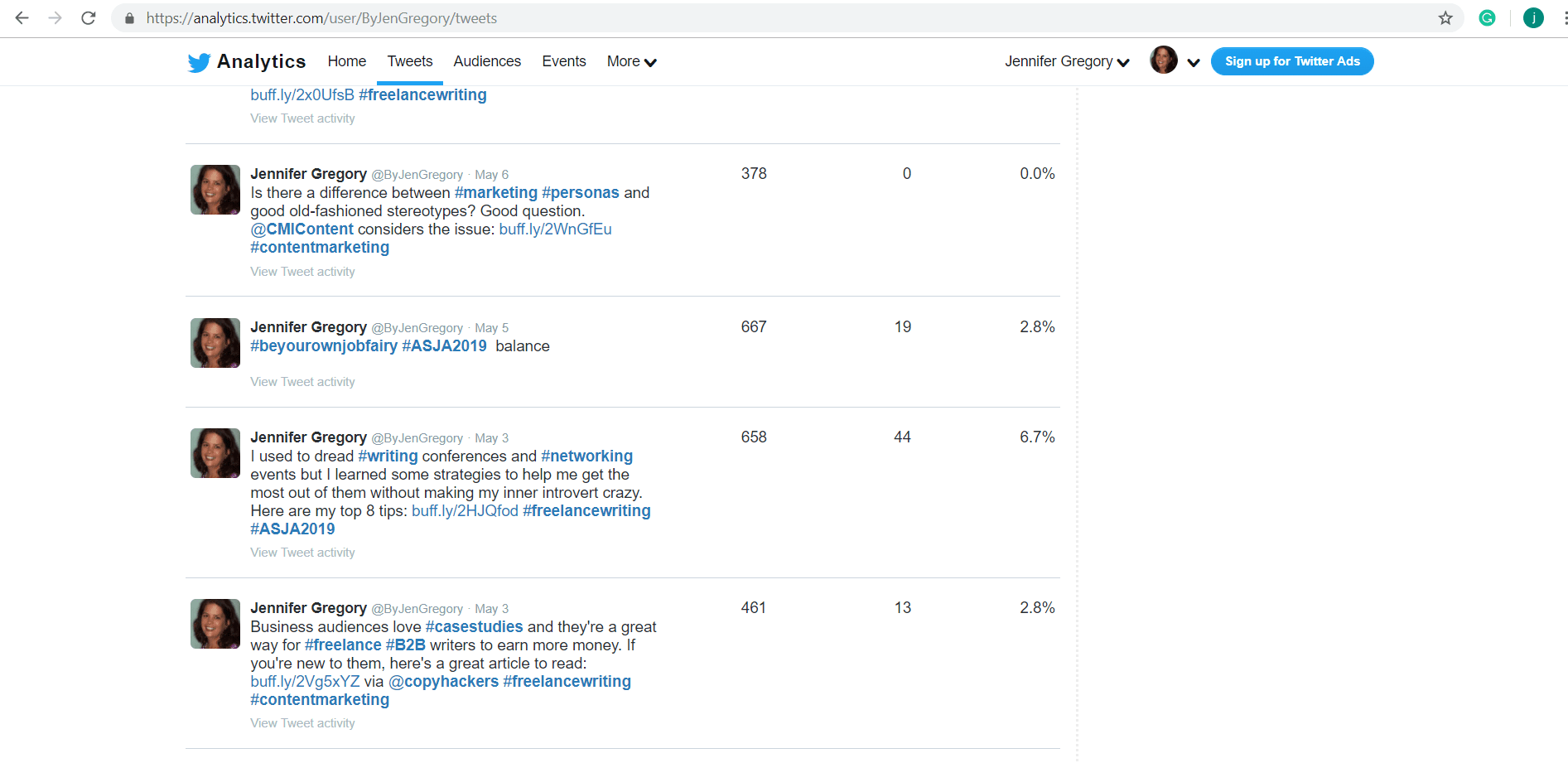 It's not that there was some single magical component to this tweet, but the fact that everything worked together – meaning it was at the right time, included effective hashtags, and focused on content of interest to my followers. This exercise actually gave me the lightbulb moment that my tweets on freelance writing get higher engagement than general content marketing tweets. Keep looking until you find the clues that give you the information needed to improve your rates.
#3: Schedule Tweets at the Optimal Times
This seems like a no-brainer. But many businesses do not follow this advice. Or they plan to post at the optimal time and then find themselves busy putting out fires at that moment.
The right people have to be online at the right time to see your tweets and be converted into customers. If you don't get this right, you can only get so far with your tweets.
So look at both tweets with high engagement rates and high impressions to determine your best time to tweet. Then, don't count on you having the time –
use a tool to schedule your tweets
to be posted automatically. Set up a meeting on your calendar (no one but us will know it's just you, your computer, and your coffee cup) each week to write and schedule posts. Of course, you will want to add new tweets – both in real time and to the schedule – as the week goes on. But scheduling ahead of time ensures that you have good tweets set for the right times. And your Twitter success isn't dependent on a slow day (what's that?) at the office.
#4: Install Conversion Tracking on Your Website
Twitter recently released a new tool that lets you accurately track conversions and not just guess based on engagement. On the
More
menu item, click
Conversions
.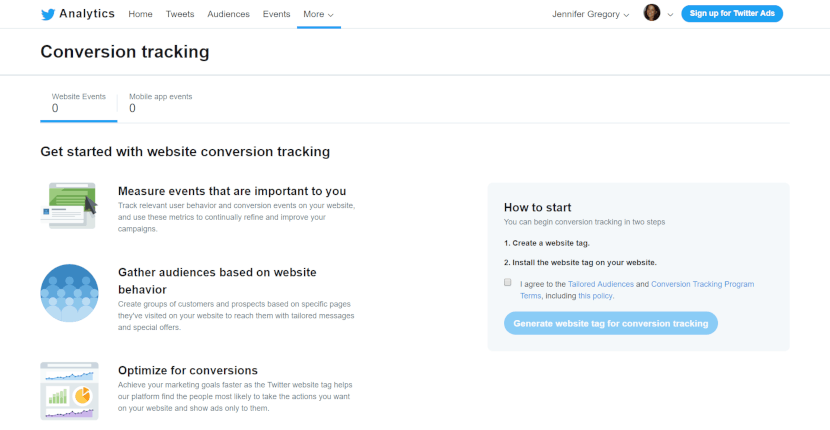 The way this works is Twitter generates website code specifically for you, and then you paste it into the header of your website. This will give you much more detailed information about conversion and how your tweets impact this rate. Follow the directions on the screen to install the code, and then begin receiving information on conversions. But you can't just gather the conversion information. As we've said already, you have to actively use the information about conversions to create more tweets with higher conversion rates – and stop posting tweets that do nothing but clutter up your followers' feeds. Now is a good time to bring this up:
It's easy to assume that you lose nothing by posting dud tweets. But that is completely untrue.
Sure, your followers are very likely going to be fine with occasional tweets that are not interesting or helpful to them. But if this becomes a pattern, your followers know where the Unfollow button is – and they aren't afraid to use it. Over time, you will likely lose followers if you aren't meeting their needs and interests. And honestly, it's likely that you are already losing followers if you aren't actively paying attention to Twitter Analytics.
Tools to Use With Twitter Analytics
If you're a small company or a solopreneur, these free tools may give you all the information and features that you need. Most agencies or larger teams won't be able to use these tools to get their jobs done due to the limits on accounts and tweets in the free versions.
5 Free Tools
1. TweetDeck
Because this is a Twitter tool, its more tightly integrated with Twitter than other tools we tested. This tool was one of the easiest we found for managing multiple Twitter accounts from one place. While the scheduling features are similar to other tools, the Collections feature of TweetDeck, which lets you organize tweets into categories, is especially helpful. Additionally, TweetDeck lets you customize the dashboard by changing the size of the columns and switching between them.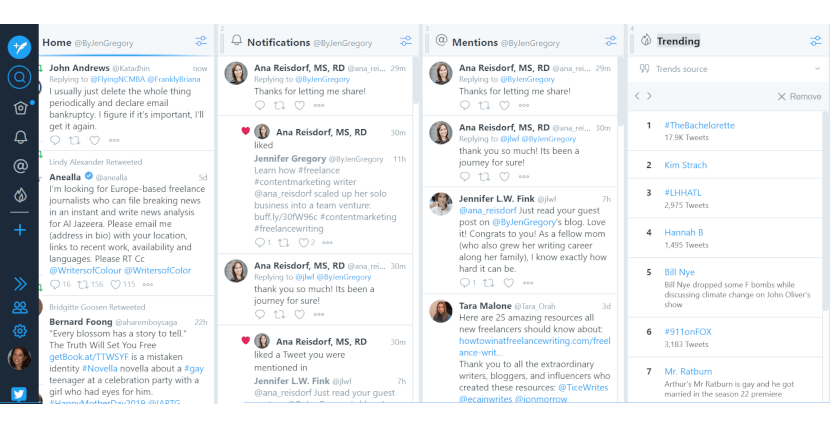 2. Hootsuite
If you want to manage multiple social media channels for a single user, this is one of the easiest to use. With the
Hootsuite
free plan
, you can manage one user, 30 scheduled tweets at a time, and up to three social profiles. If you want to manage multiple channels and not be limited to Instagram, Twitter, Linkedin, and Pinterest, Hootsuite is our top pick. We found the dashboard to be easy to learn and even easier to use. While you can definitely manage accounts using the free plan, many of the more unique and helpful features are in the paid plans (more on that in a minute).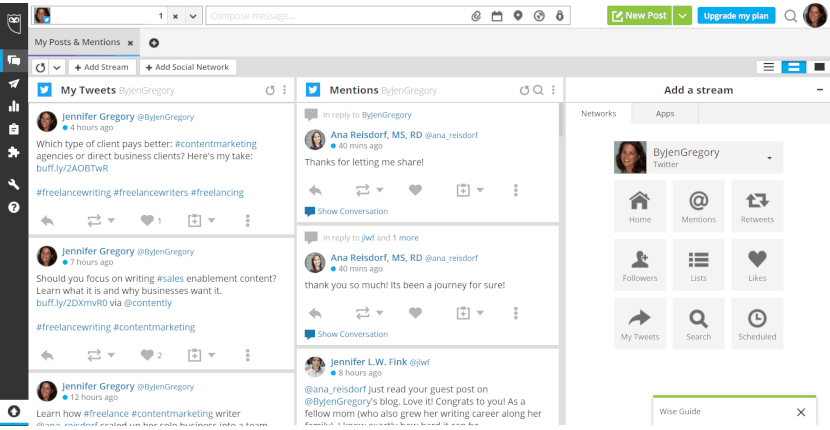 Curious to learn more about Hootsuite?
Read our expert review
.
3. Buffer
If you heard that Buffer limited its
free plan
 features, you may want to take a second look because they recently restored two of the most missed features – default profiles and turning off link shortening, which make the free plan a good option for many. The best word to describe Buffer is
simple
, which is both a positive and a negative. It's easy to use, but has more basic features than other tools. One of the biggest differences is that Buffer only allows you to manage limited social media channels.
Buffer and Hootsuite are two of the top social media management tools out there today. We compared the platforms on all of the categories that matter the most to content marketers.
Dare to guess a winner?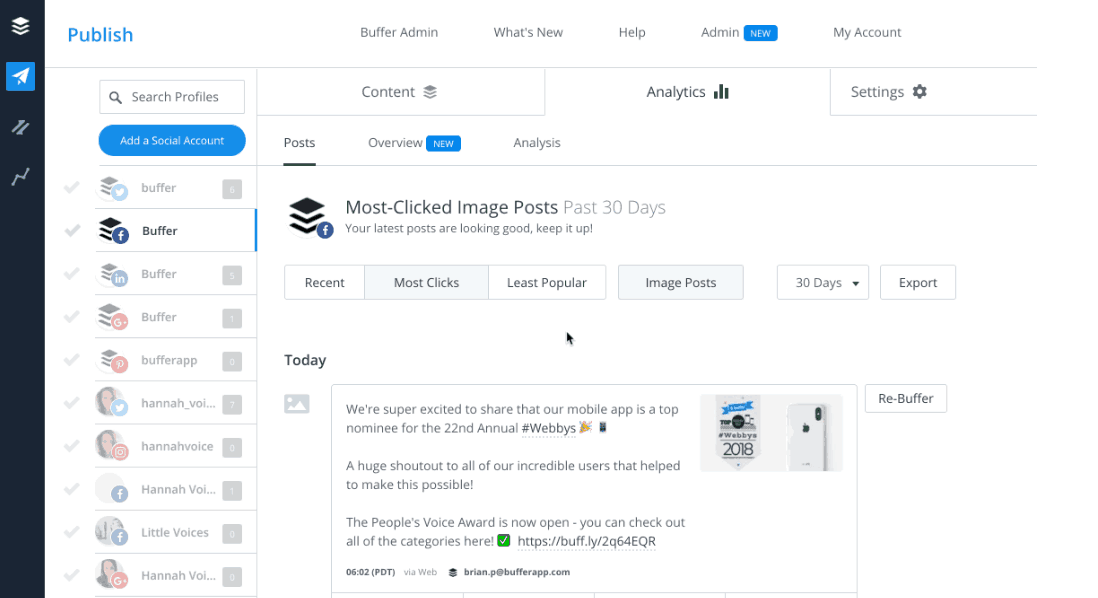 4. Trendsmap
While several of the tools we have mentioned are similar, we recommend using Trendsmap alongside the rest. This tool gives you a clear picture – or map, to be more accurate – of the types of topics that are working well for your competitors. While the basic plan is always free, you can get a seven-day free trial of the full version, which can be helpful if you are launching a new campaign. While Twitter Analytics tells you how your tweets are performing, this lets you analyze accounts other than your own.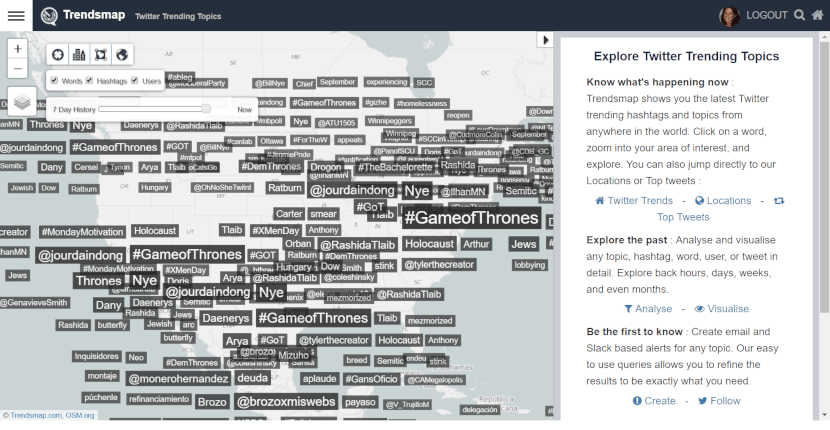 5. Tweriod
This tool gives us the simple answer that we kept looking for in Twitter Analytics – when is the best time to tweet. By analyzing your own tweets to see which are performing the best and then suggesting optimal posting times. You can do the same for your competitors to gain even more information on your audience.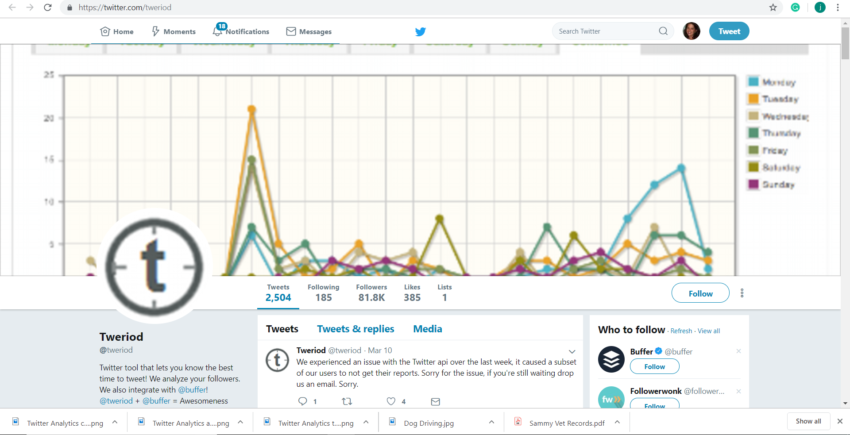 5 Paid Tools
1. Buffer (Again)
We know we are sort of cheating by putting this one on both lists. But because a team really can't use the
free version
and the paid is too much tool for a single person, you are likely not going to be choosing between free and paid. When you
sign up for the paid version
, you can manage
150 social accounts and 26 users.
Don't expect loads of features on the paid version – just mainly the ability to manage more accounts. And the limited types of social media accounts are still an issue with the paid version. However, we found the paid version of
Buffer
to be especially easy for accessing data and collaborating with coworkers.
Want to better understand Buffer's analytics?
Read our guide
and improve your social media strategy.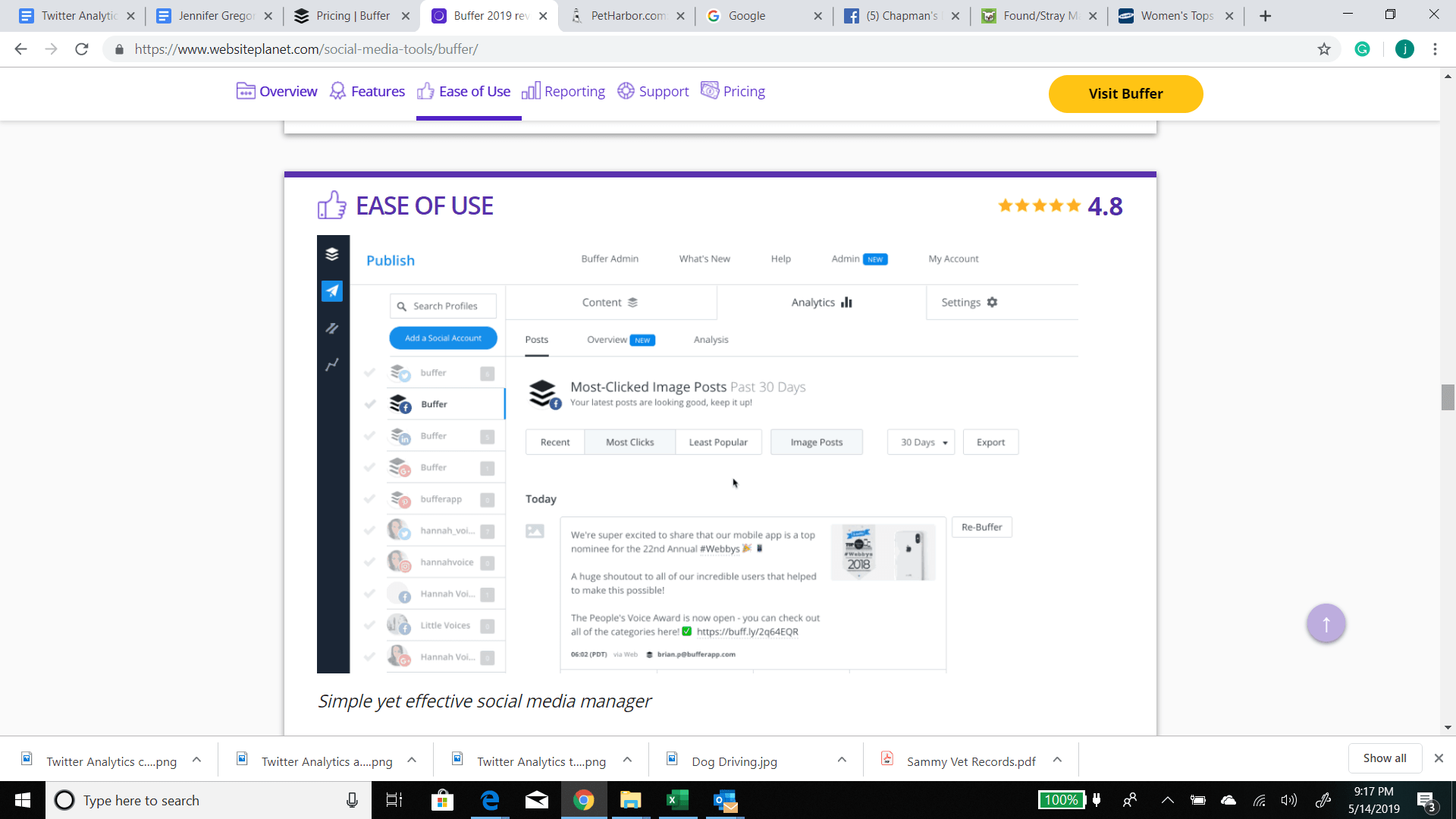 2. BuzzSumo
While Twitter Analytics can give you overview information on what events are popular on Twitter and what topics performed well for your accounts, BuzzSumo is our go-to if you need more in-depth research. Not only can you find out what people are posting about on social media, but you can also quickly learn who the top influencers are and what the top blog posts are for certain keywords. Yes, there is a free version, but we found that the limited number of searches makes it almost unusable other than to get a feel for how the tool works.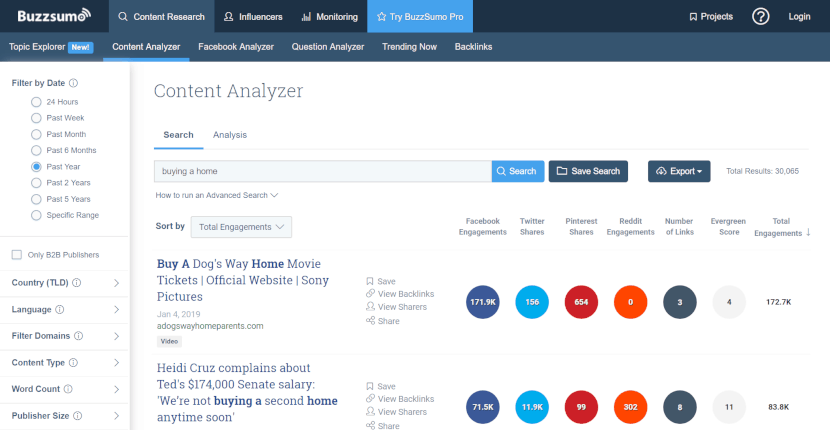 3. Sendible
While the features are relatively similar to those of Hootsuite and Buffer,
Sendible prices its plans
 based on services instead of accounts, which may be a better model price-wise depending on your needs. The tool defines a service as an interaction with a social media account, so posting to Twitter, replying to a DM and retweeting count as three services.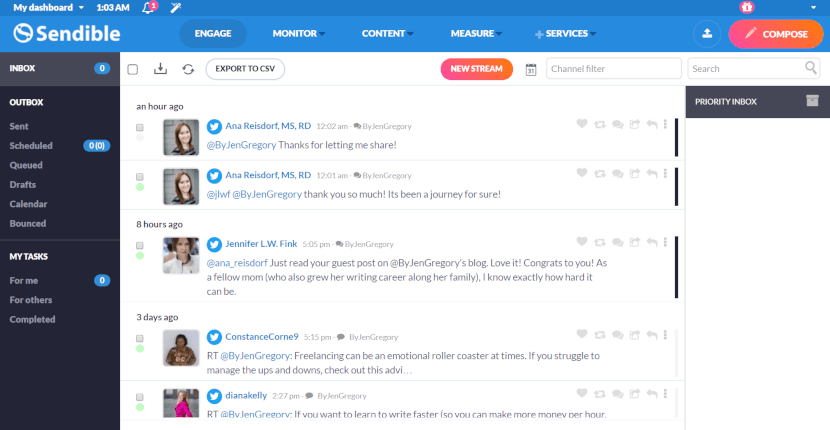 To find out more about Sendible,
read our in-depth review
.
4. Sprout Social
If you are looking to combine CRM with social media management, this may be your best bet. With social media now a primary source of customer support,
Sprout Social
 lets you keep conversation history, contact info, and notes between team members. You can even integrate it with your help desk with some of the paid plans using Twitter Analytics API.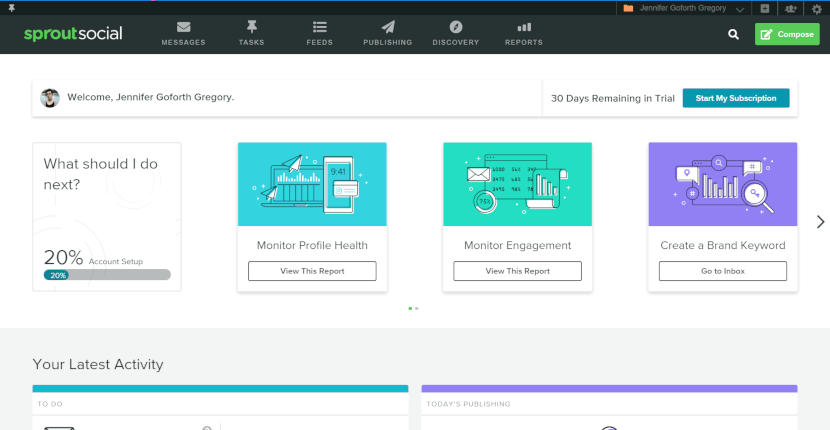 Not sure if Sprout Social is right for you? Learn more in our
expert review
.
5. Hootsuite (Also Again)
This is another tool that really deserves to be on both the free and paid lists. If you want more in-depth analytics, then you will really need to opt for the
Hootsuite paid plan
. One of the best features you get with a
Hootsuite
pro account is data on
all of your social media content
– not just what's been posted through the tool. This makes it easy to evaluate your communication strategy as a whole, and adjust accordingly.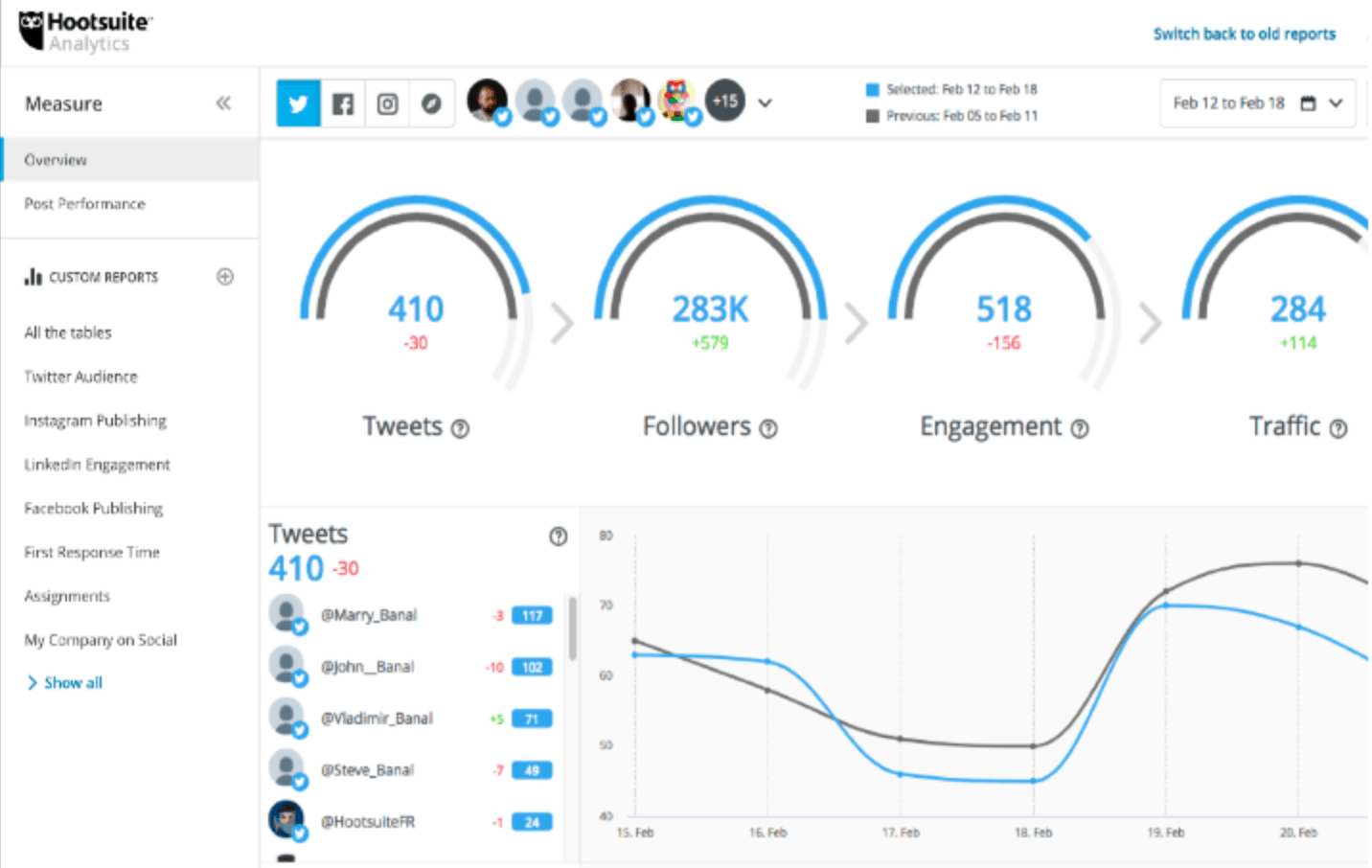 Moving from Analytics to Action
Numbers hold significant value, but the real treasure lies in crafting strategies to transform these numbers into impressive conversions. You now possess the knowledge to access the Analytics dashboard and decipher the true significance of those metrics. What's more, we have equipped you with a variety of approaches to leverage this information to your advantage. But reading this article won't magically result in more customers. Although we really wish it could, because that would be super cool. And neither will just looking at the numbers. You have to actually do something – take action, change your patterns, try a new topic – to see the results you want. And you won't see results if you only use Analytics occasionally. You need to turn Analytics into part of your regular routine and process. Because honestly, it's the patterns that matter most. And over time, you will see the patterns that will help you create your own magic with Twitter.