You'll also want insights and analytics that can help you improve your reach
. The only trouble is, there are a bunch of tools out there, and it's hard to know which one has the right features for your particular situation. Two of the most recommended social media management tools are
Hootsuite
and
Buffer
. But how do you know which one is better for personal bloggers, and which one works best for digital marketing teams? We've done the hard work for you, pitting Hootsuite against Buffer in a range of categories, including:
Supported social networks
Integrated external services
User interface and ease of use
Publishing, scheduling and exporting content
RSS imports
Social conversations
Reporting and analytics
Team features
We looked at what's available in each tool for free, as well as some of the pro features, to give you a reliable guide to what will work best in your situation. By the end of our comparison, you'll have the information you need to make up your own mind, and
decide whether Hootsuite or Buffer wins
for you.
Supported Social Networks
Buffer Supports Five Social Networks – Hootsuite Supports Even More
A social media scheduling tool is useless if it doesn't support the social networks you need.
Buffer supports Twitter, Facebook, LinkedIn, Instagram and Pinterest
, although you can't use Pinterest in the free version.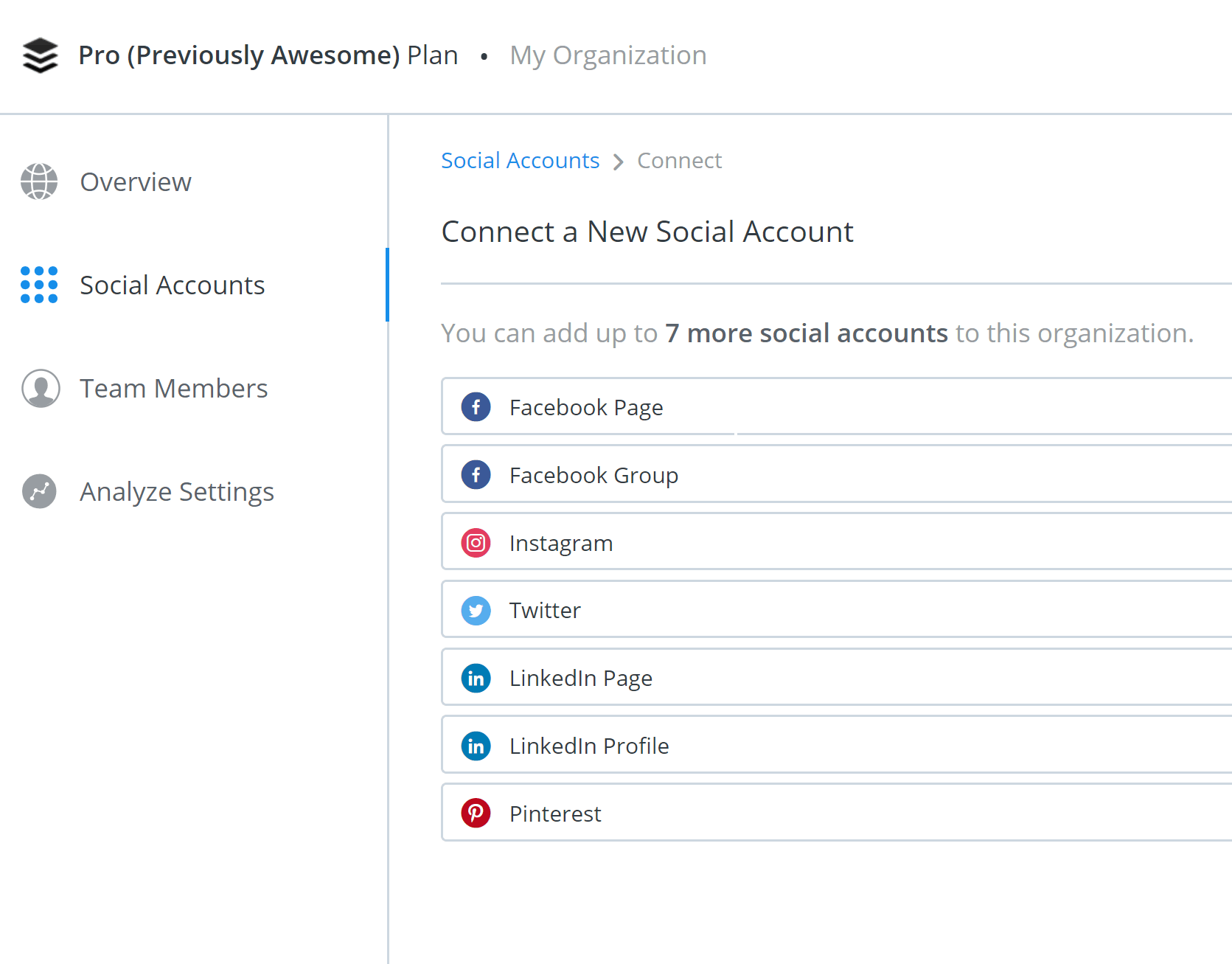 With Buffer, you can add both Facebook pages and groups, as well as LinkedIn profiles and pages. Depending on your plan, you can add multiple profiles for each platform.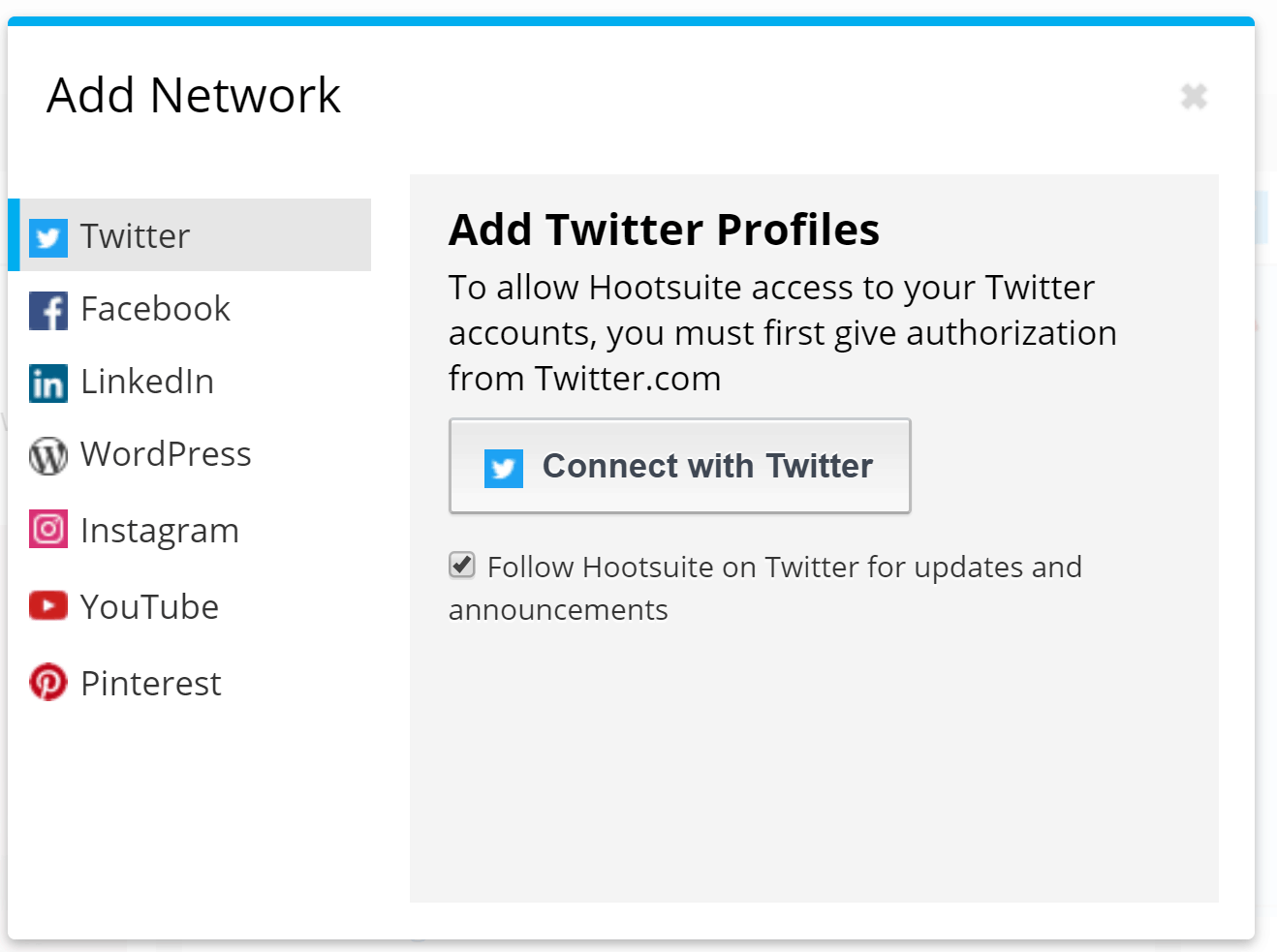 You have more options with Hootsuite. In addition to Twitter, Facebook (profiles, pages, and groups), LinkedIn (profiles and pages), Instagram, and Pinterest,
Hootsuite also allows you to schedule content for WordPress blogs and YouTube channels
.
And the Winner Is…
Hootsuite. It has the edge in terms of the number of platforms it supports. And if you're also looking to schedule video and blog content, then it's really the perfect choice. But if you're only using the standard platforms, other Buffer features might make it the better option for you.
Integrated External Services
Hootsuite Supports 140+ Integrations – Buffer Has Fewer
If you're a digital marketer using multiple tools, then you'll want to make your life easier by bringing everything under one roof. Hootsuite makes this easy, with
more than 140 integrations
available via its App Directory. It's got apps for marketing automation, managing ads, influencer marketing, and other common digital marketing functions. In contrast, Buffer's list of integrations is a lot more modest (around 65). Bloggers will find its Feedly and Pocket integrations useful as they let you share content to Buffer with a single click.
And the Winner Is…
By the numbers, it looks like Hootsuite's the winner – but not so fast!
Both have Zapier integrations, which levels the playing field
. That's because Zapier connects applications to each other to give a wide range of functions, like automatically importing and scheduling content, even from sites that aren't natively supported. That makes it a tie in our book.
User Interface and Ease of Use
Buffer Has a Modern Interface – Hootsuite Needs a Refresh
Do looks matter in a social media scheduling tool? We think they do, because if you're staring at your screen for much of the day, you want it to be easy on the eyes. Seriously, though, Buffer has a clean, modern interface, where it's
easy to add and manage social media accounts
. You can also quickly add new content to your Buffer queue, see what's already scheduled, and check out analytics.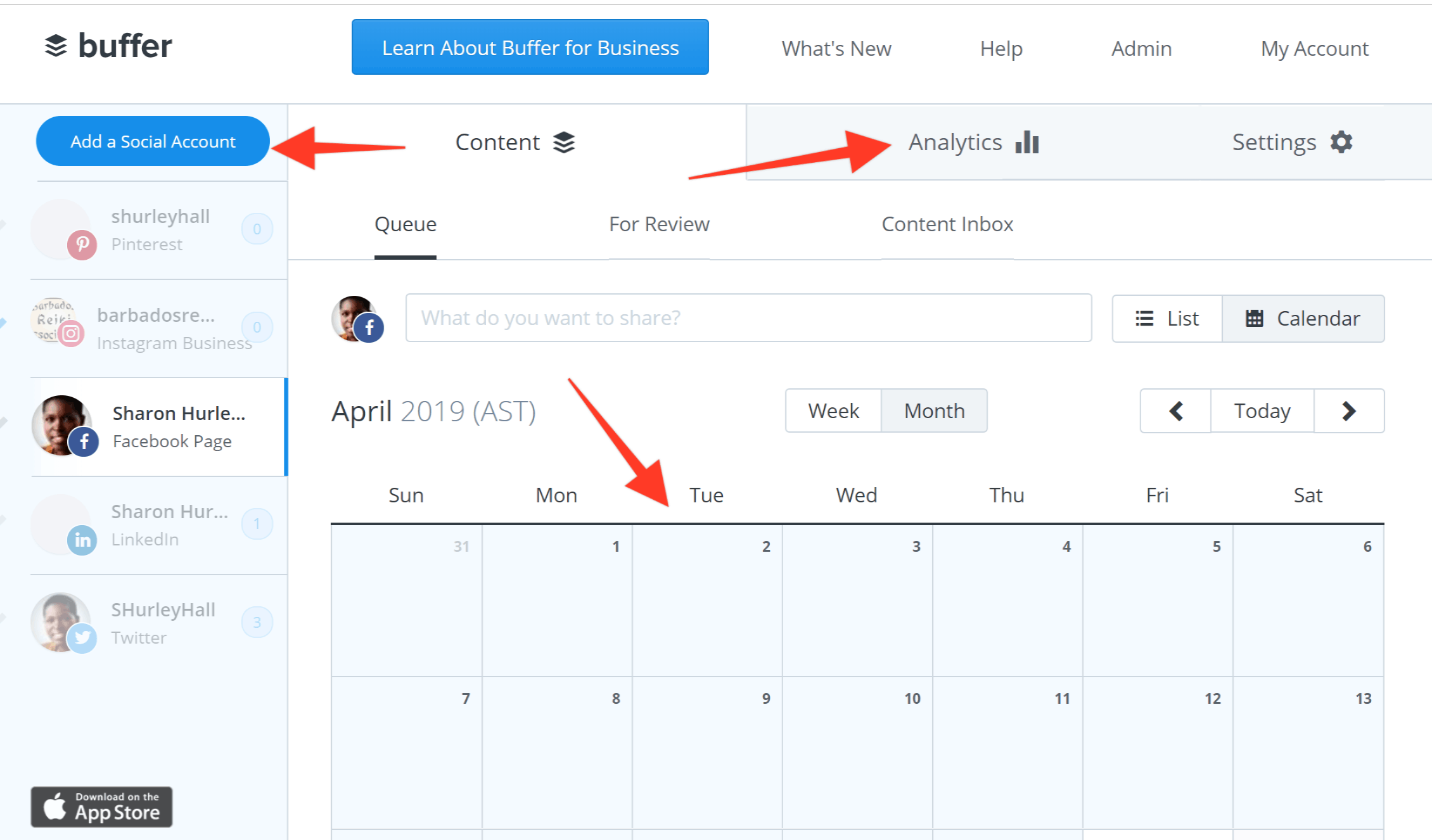 Hootsuite's dashboard looks clunky and cluttered next to Buffer's. Of course, Hootsuite isn't JUST a social media scheduling tool.
The dashboard includes widgets for keeping tabs on social media streams
, as well as posting tools (we'll look at those a bit later), so it's no wonder things can get a bit unwieldy.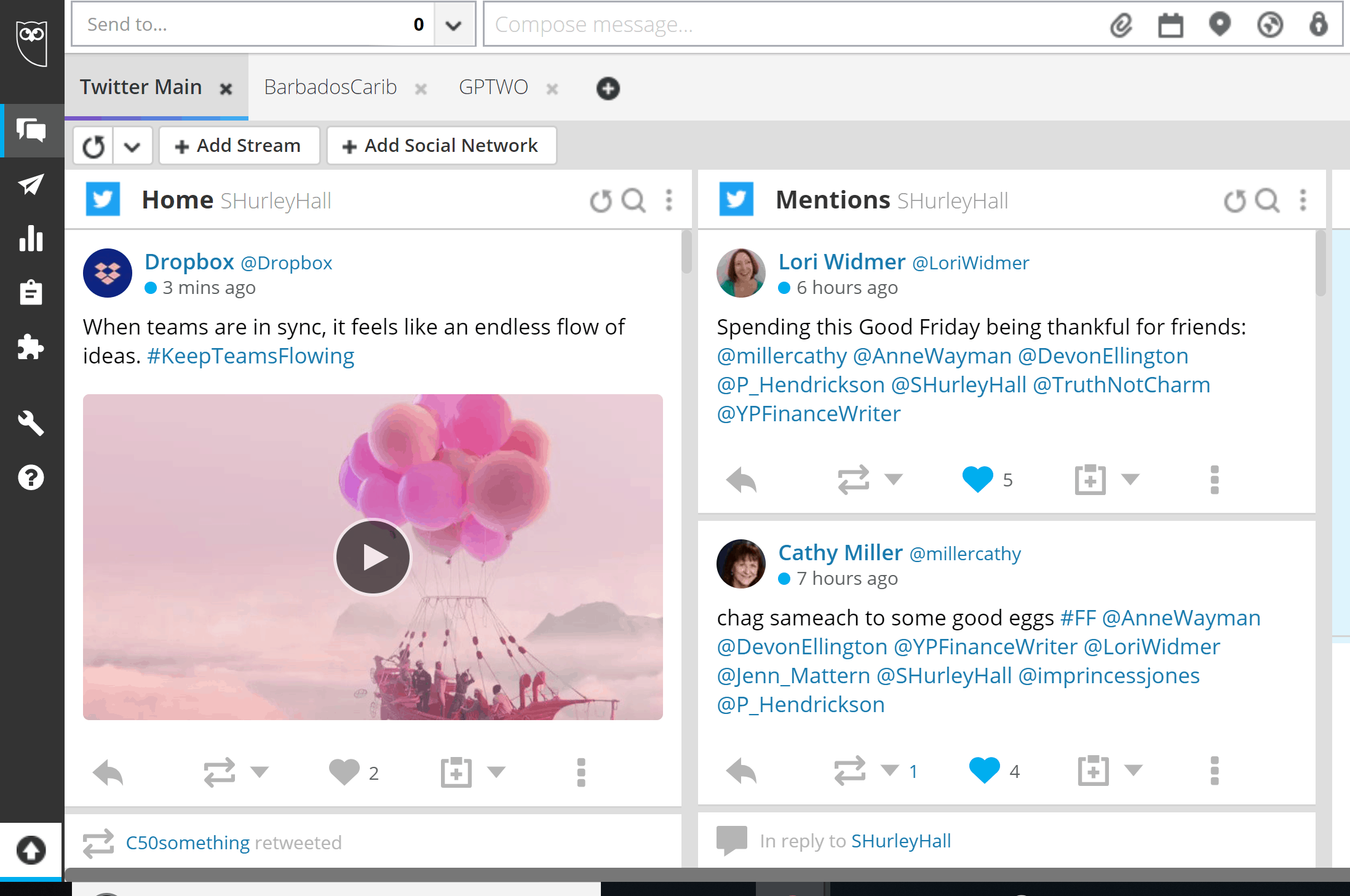 And the Winner Is…
Buffer, by a mile. Hootsuite is powerful, but Buffer's simplicity is hard to beat.
Publishing, Scheduling and Exporting Content
Buffer Rocks For Publishing and Scheduling – Hootsuite Has Other Advantages
Once your Buffer account is set up, publishing can be as simple as clicking on the calendar date you want, typing in your post, and pressing
Add to Queue
to include it in your publishing schedule. With Buffer, everything you need is in one handy place, making it easy to:
Add emojis to your social media post
Upload images
Share the same post to multiple networks
Decide whether you want to share content immediately, add it to your queue, or schedule it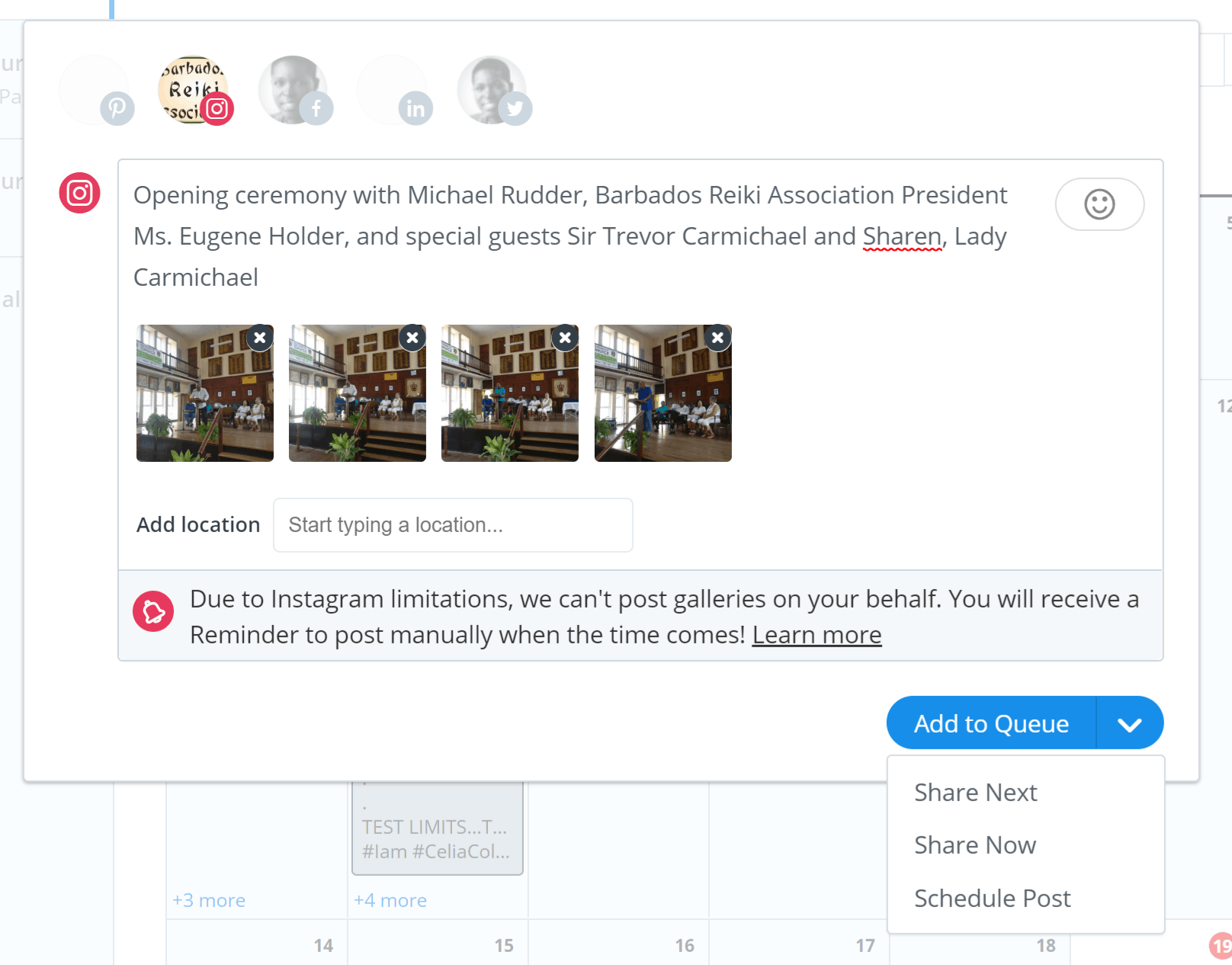 It feels intuitive and easy.
Buffer also includes the Pablo image creation tool
, which is great for quickly developing and sharing visual content that looks professional. With Hootsuite, the process is slightly different. If you're in the
Planner
view, you can click on a date to bring up the post creation function. Otherwise, press the
New Post
button in the
Publisher
view, and it brings up a window where you can:
Select your social network
Add emojis
Upload images
Select social networks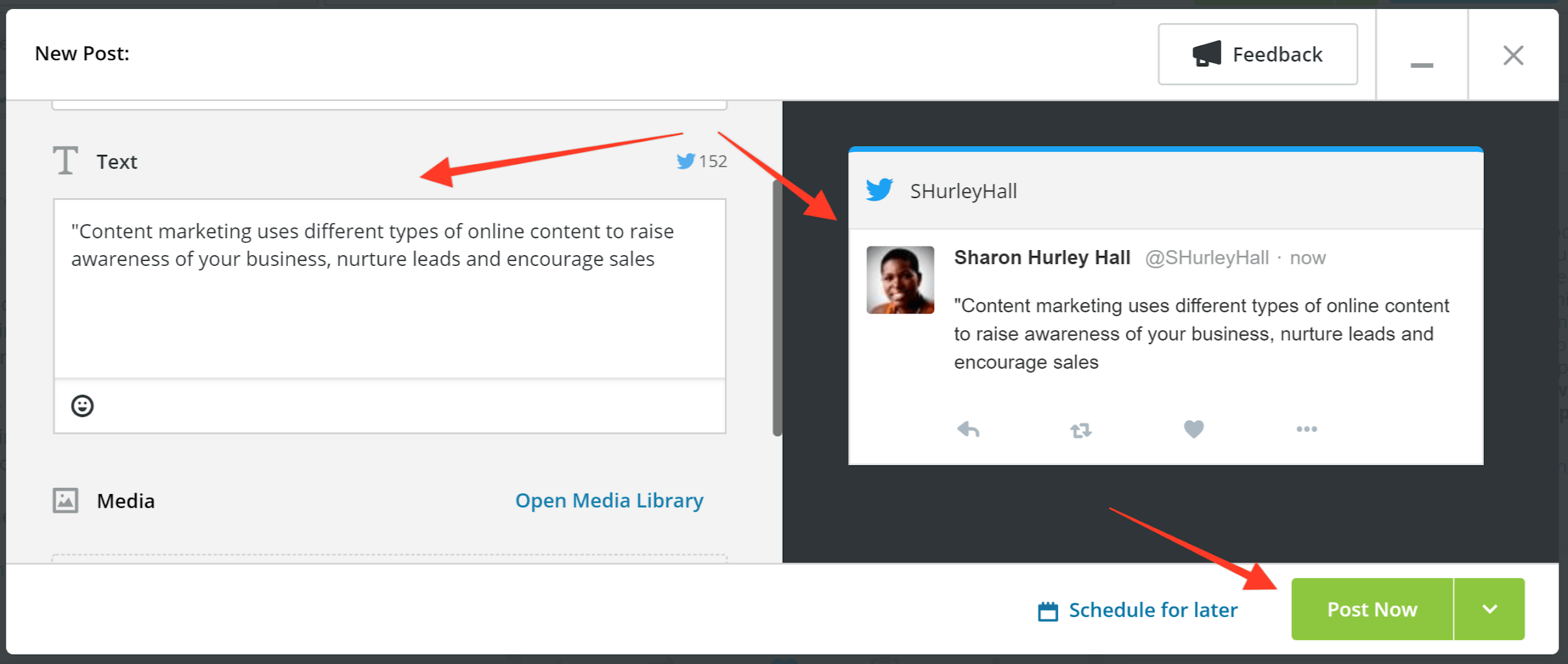 Hootsuite is better than Buffer at showing an immediate post preview, which is a timesaver. You press a different button depending on whether you want to post content immediately or schedule it for later. Hootsuite also has a handy
Save Draft
function (only available in Buffer Business or Pro plans). You can see scheduled content in the Buffer dashboard, a month at a time, which is handy, and you can also switch to a weekly or a list view. Hootsuite's Planner only shows you a week at a time. However, Hootsuite does have an auto-scheduling feature that some will find useful. It's worth noting that
both Buffer and Hootsuite have browser extensions
to let you share or queue content on the fly from any browser. With Buffer's tool, you can also easily share any image you find on the web. Buffer's also integrated into a bunch of other social media sharing tools and plugins. However,
there's a big difference in the number of social posts you can pre-schedule
with each platform, and that might be a deal breaker for a busy marketer or blogger. Hootsuite's free plan lets you schedule 30 posts, compared with just ten on Buffer. When you upgrade, you get unlimited posts with Hootsuite, while Buffer still imposes caps.
And the Winner Is…
It's a tie. Buffer edges Hootsuite out because of its compact interface, ease of use, and its image creation tool.
Scheduling is what Buffer excels at, while Hootsuite has a whole range of other functions
. But if you're looking to plan your social media content well ahead, Hootsuite's unlimited scheduled posts is an attractive feature of its paid plans.
RSS Imports
Hootsuite Offers It Free, but Has Limitations
An important feature for both bloggers and digital marketers is being able to import content from RSS feeds. This allows you to both get content from your own blog for easy scheduling, as well as to import content from the blogs you follow so you can
share the best content with your networks
. Both Buffer and Hootsuite have this feature, although it's a paid feature with Buffer. As always, Buffer makes it easy to find, as it's prominent on the one-page dashboard. Once you add the RSS URL, Buffer shows you the latest content almost instantly.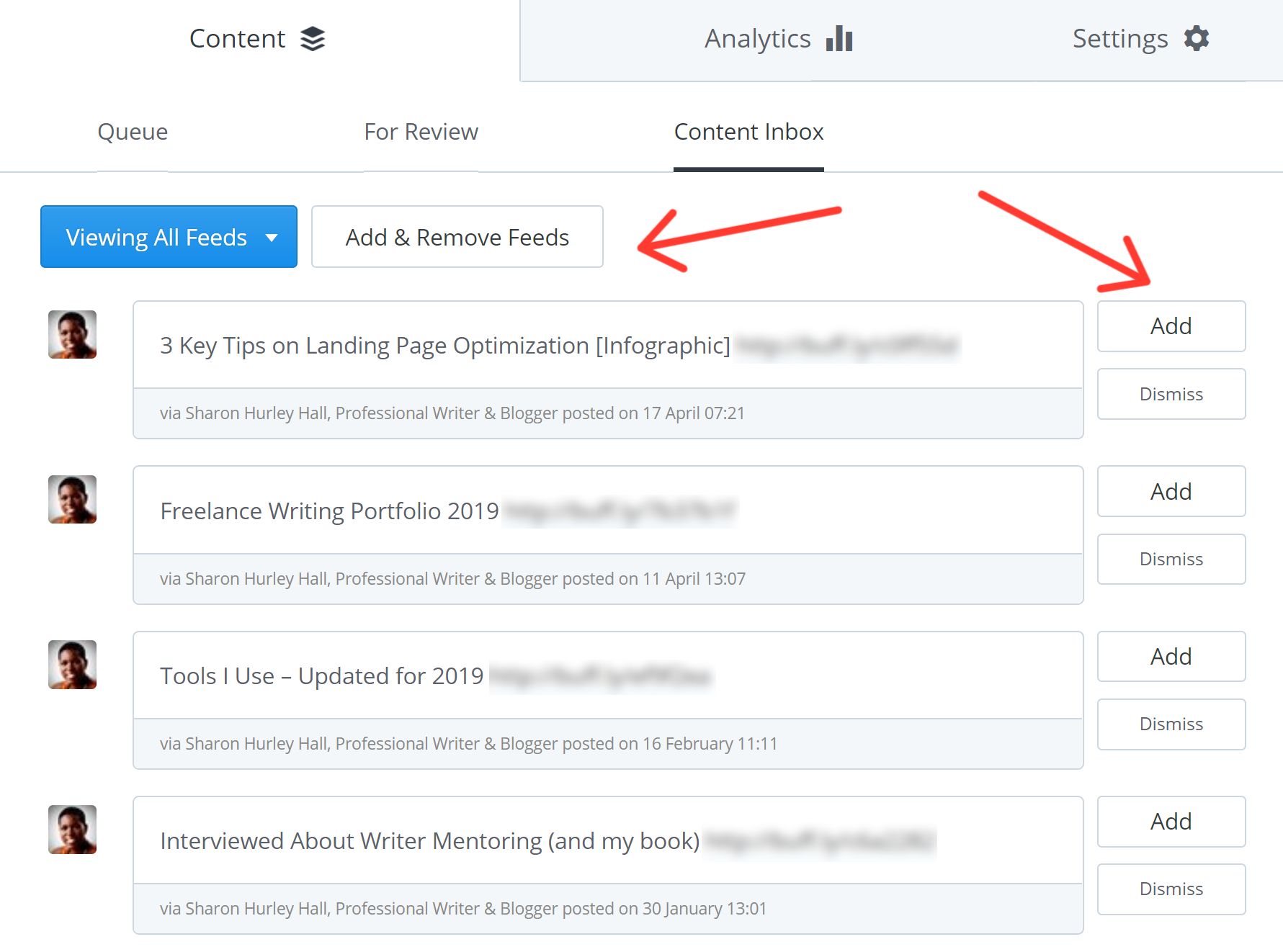 With Hootsuite, you'll need to navigate to the
Content
tool and go to
RSS feeds
. But adding a feed is more complex, as you also have to choose a default social account to post to when you do. Sure, this is useful, but do you really need to decide this
now
? Plus, changes to APIs for Twitter and Facebook mean that this feature no longer works for those platforms.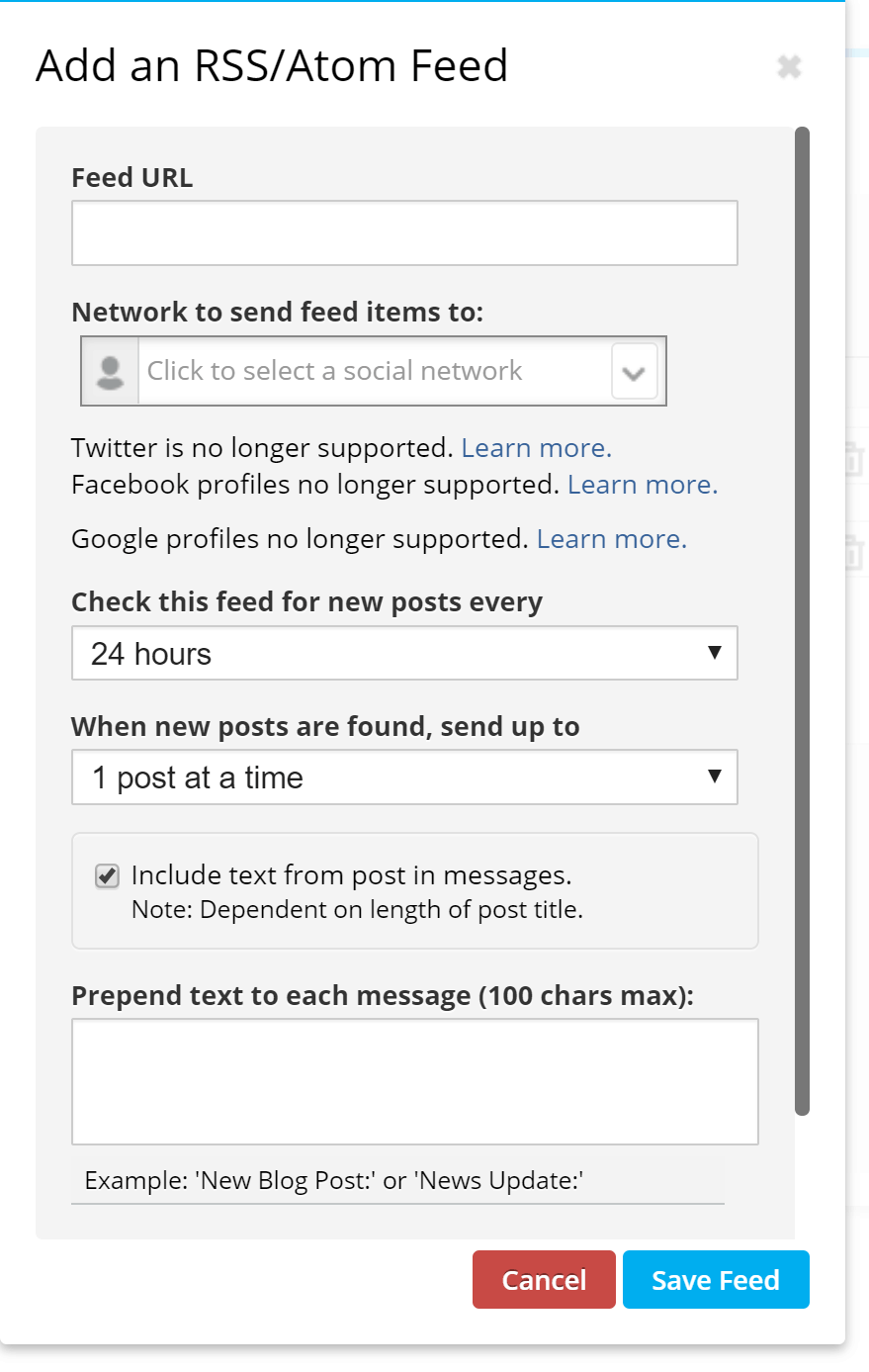 Both tools will show you recent content for the feeds you follow, and allow you to schedule this content quickly and easily. In our trial, however, when trying to schedule with Hootsuite, it asked us to authenticate our Twitter account again, which seemed like an unnecessary step.
And the Winner Is…
Hard to say, so we'll call it a tie. Since this function is available for free, Hootsuite looks like the winner, though its functionality is limited. But if you're paying for Buffer, its version is slicker and easier, with no unnecessary complications.
Social Conversations
Hootsuite Has You Covered
Social media is about being social, obviously, so it's handy to be able to respond to your messages in the same platform where you're scheduling content.
Hootsuite makes this simple with its Streams feature
. With this, you can interact with social media just the same as on the native interface, which is pretty cool. Unfortunately, you won't get this with Buffer unless you spring for a Buffer Reply subscription, which can be pretty costly.
And the Winner Is...
Hootsuite, easily, since Buffer Publish doesn't include it.
Reporting and Analytics
Buffer Offers Basic Analytics on Posts; Hootsuite's Got Even More
Whether you're a marketer or a blogger, you'll want to know how your content is performing. Both platforms will help you to do that, but one's got something extra. Buffer provides some analytics on content, and you can see this for each post in the
Analytics
tab. However, the analytics function in both the free and Pro plans is very basic.
If you want in-depth analytics
,
you'll have to upgrade
to a Buffer Premium plan or higher, or take a pricey Buffer Analyze subscription.
Need some extra guidance? Here's how to use Buffer analytics to improve your social media strategy.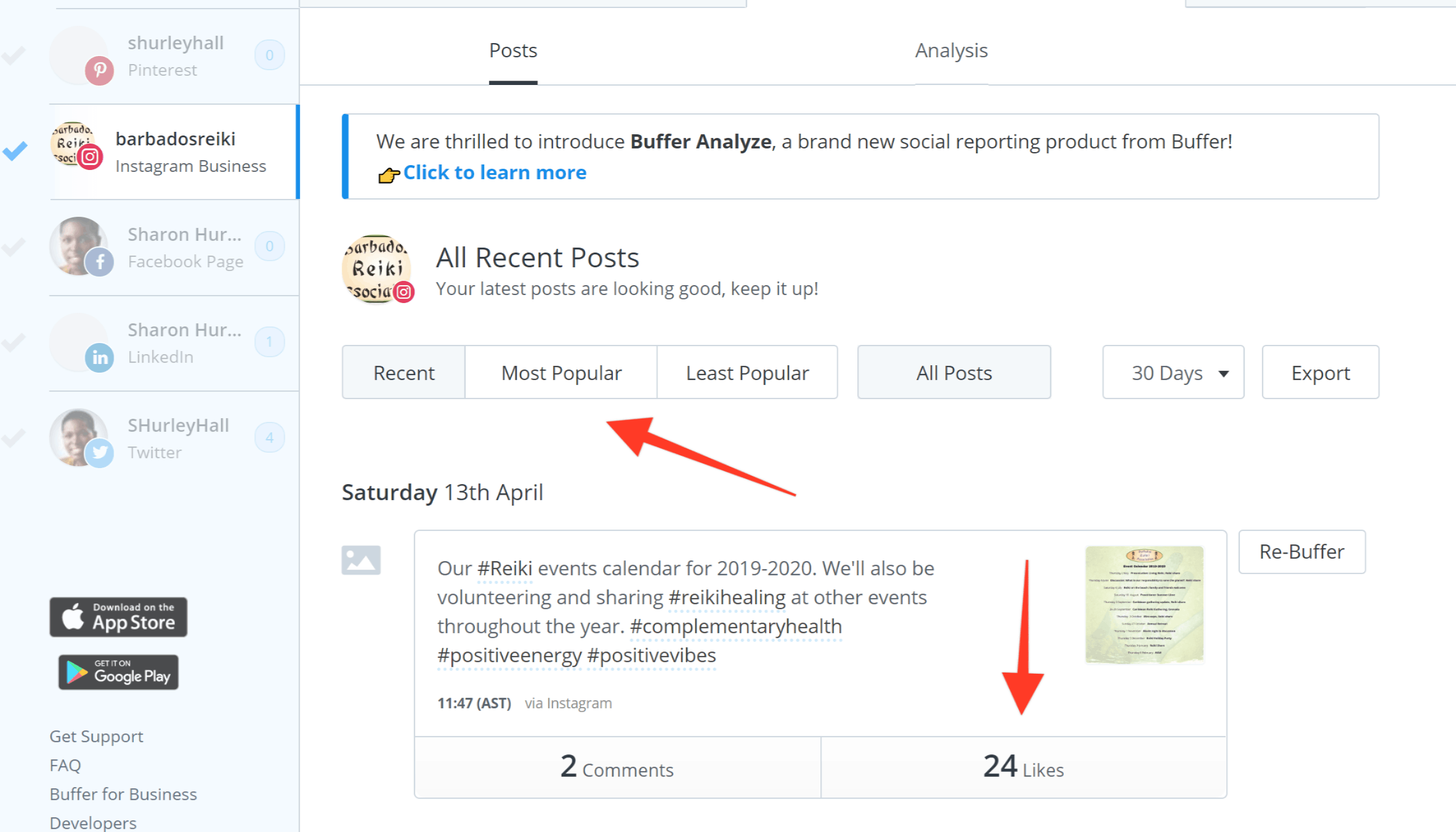 In contrast, once you've added your social media accounts,
Hootsuite will analyze ALL of your social content
, whether posted through the platform or not. This is a useful feature for social media managers, especially as you can create and send reports on social media performance. However, you'll need to upgrade to a team plan to create custom analysis reports that pulls from more than 200 metrics.
And the Winner Is…
Hootsuite, for offering analytics around your entire social media networks, not just the individual posts that you've scheduled through the tool.
Team Features
Hootsuite Simply Has More Team Features Than Buffer
For digital marketers or social media managers, it's useful to be able to hand off some of your social media tasks to colleagues. Both Buffer and Hootsuite have plans that work well for teams. For less than $100 a month, Hootsuite's team plan gives you:
3 users
20 social profiles
Unlimited scheduling
Team messaging and assignments
Custom analytics
You can check out and compare Hootsuite's pricing plans below:
6 users
25 social profiles
2,000 scheduled messages (per social account)
Advanced social analytics
And you can check out and compare Buffer's pricing plans below:
And the Winner Is…
The competition results in a tie. If your team consists of three people or fewer, you cannot surpass the unlimited scheduling and team messaging features provided by Hootsuite. Nevertheless, for larger teams, Buffer clearly presents a more cost-effective solution, and honestly, who truly requires more than 2,000 scheduled messages anyway?
So, Which Social Media Tool Takes the Crown?
After comparing
Hootsuite
against
Buffer
, the winner was clear. As a longtime Buffer user and fan, I confidently expected Buffer to win, but the evidence says that Hootsuite takes the crown. Here's a summary of the key results:
| | |
| --- | --- |
| Feature | Conclusion |
| Supported social networks | Hootsuite supports way more social networks than the five Buffer supports |
| External integrations | Hootsuite has double the number of integrations of Buffer, but since both work with Zapier, it's a tie |
| User interface | Buffer's interface is cleaner and simpler than Hootsuite's |
| Publishing and scheduling | Buffer is primarily a publishing and scheduling tool, and does it better than Hootsuite – but Hootsuite has a wider range of features |
| RSS import | Hootsuite is great because this feature is available in its free plan, but Buffer's paid feature is much more intuitive |
| Social conversations | Hootsuite wins because conversations are part of a separate paid Buffer tool |
| Analytics | Hootsuite wins because it's got analytics for ALL your social content, not just content posted via the platform |
| Team features | Hootsuite has a greater range of features for smaller teams, but for larger teams, Buffer is the better choice |
But which one is the right one for
you
? If you're just posting content on the big five social networks and want a clean and simple interface, Buffer is a great choice. But if your social network is wider and you want an all-in-one social media dashboard, then Hootsuite is the only option. Check out our in-depth
Buffer
and
Hootsuite
reviews for even more insight.